December 11, 2017
Holiday Gifts for the Home Baker
It's the season of holiday gift ideas and roundups, and I'm jumping on board this year with my list of holiday gift ideas for the home baker!  As someone who loves to bake, I've amassed a collection of tools of the trade and I'm excited to share some of my favorites with you! (Plus a few things on my own personal wish list!)
I love kitchen gifts – whether it's a cute new spatula, a different shaped bundt pan, or more sprinkles, I can never get enough!  So here's some fun ideas for your favorite home bakers – just in time for the holidays!
Also, be sure to follow Bunsen Burner Bakery on Facebook, where I'm sharing more of my favorite gift ideas all month long!
Some of the following links are affiliate, which pay me a (very) small commission for my referral at no extra cost to you! Thank you for supporting Bunsen Burner Bakery!
FAVORITE GIFT IDEA COOKBOOKS:
I love cookbooks — the kind with interesting stories and big, beautiful pictures.  My current 3 favorite baking related cookbooks are The Perfect Cookie from America's Test Kitchen (ATK can do no wrong in my eyes), Sweet: Desserts from London's Ottolenghi (full on obsession after eating at Ottolenghi and Nopi while in London), and BraveTart: Icon American Desserts (a gift from my best friend, and full of the most mouth-watering, incredible takes on classic desserts).
FAVORITE GIFT IDEA BAKING PANS: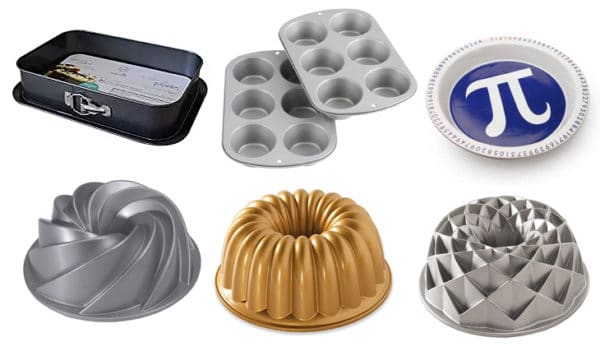 Most people who love to bake have the basics: a 9×13 pan, 8-inch or 9-inch cake pans, muffin tins, etc.  Here's a few of my favorite less common pans that make great gifts!
My most-used baking pan is this rectangular springform pan.  I use it for everything from sheet cakes to cookie bars, lasagna to tiramisu.  It makes removing things a dream because the side comes off — no trying to wiggle a spatula down the side to get out that first cookie bar.
Most people have regular sized muffin tins, but I love both mini-muffin tins and jumbo-sized muffin tins: perfect for little bite sized treats (both sweet and savory!) and those giant bakery muffins everyone loves.
Bundt pans! Bundt pans make a great gift; I'm always surprised by how few people own one.  Give a gift of a unique bundt pan (and direct them to my bundt cake series for some great recipes!).  This Heritage Bunt Pan is my favorite shape (love that spiral!), but I also have the Original Bundt Pan (my most commonly used shape) and the Square Bundt Pan in my baking arsenal.  I definitely have my eye on adding the Jubilee Bundt Pan and Elegant Party Bundt Pan shapes to my collection!
Most people have a simple pie plate, but I get more complements on my Pi Pie Dish than anything else in my baking collection. Have a science or math lover in your life who also likes to bake? Get this Pi Pie Dish!
FAVORITE GIFT IDEA BAKING NECESSITIES:
Sometimes, it's nice to just get a fancier version of a staple.  Something you already have, but an upgrade (and something you wouldn't necessarily spend the money on yourself).
In this category, we have my absolute favorite silicone oven mitts, which allow me to plunge my hand into boiling water, grab hot baskets right off the grill, and pull pans out of the oven with ease.
My husband bought me these All Clad Stainless Steel Measuring Cups a year or two ago, and they are perfection,  I love them, and never would have thought to buy such an expensive set of measuring cups for myself.  Perfect gift!  I love the matching set of Measuring Spoons as well, although I don't have them personally (it's on my wish list!).
I consider a set of cooling racks a total necessity, and love this collapsable 3-tier cooling rack.  The rack space is large, but since each tier folds up, it doesn't take up a ton of room in your cabinets.  Plus, the racks stack on top of each other, which is key when you work in a small kitchen with a limited amount of counterspace.
If the person on your holiday gift list already has a KitchenAid Artisan Stand Mixer, upgraded accessories are a great gift.  I can't use mine without the official BeaterBlade, which scrapes the side of the bowl for you. The 5 quart glass bowl has also been on my "to buy" list for ages — I'd love to have a second bowl for heavy baking days, and the glass is so pretty!
Trust me when I say you can never have too many spatulas if you're a baker! Most of mine are plain white, but I have a cupcake spatula I received many, many years ago as a wedding shower gift and it is my absolute favorite.  A few fun spatulas — like this cookie spatula or this cupcake spatula — are always great go-to gifts!  Or a pie server with a fun phrase; I'm just here for dessert, too!
FAVORITE GIFT IDEA COOKIE AND CAKE DECORATING:
Know someone who loves to bake cakes or cookies? I guarantee they will love anything off this list! AmeriColor Soft Gels are THE BEST food coloring for bright, vibrant colors.  Get a full set of decorating tips for the novice decorator, or Russian piping tips for someone looking to take their decorating to the next level.  A rotating cake stand is a necessity for decorating cakes, along with a decorating comb/icing smoother.