June 14, 2018
Cherry Bakewell Tart
With a crisp and buttery shortbread crust, cherry jam, and an almond frangipane sponge layer, this Cherry Bakewell Tart is a perfect breakfast or dessert.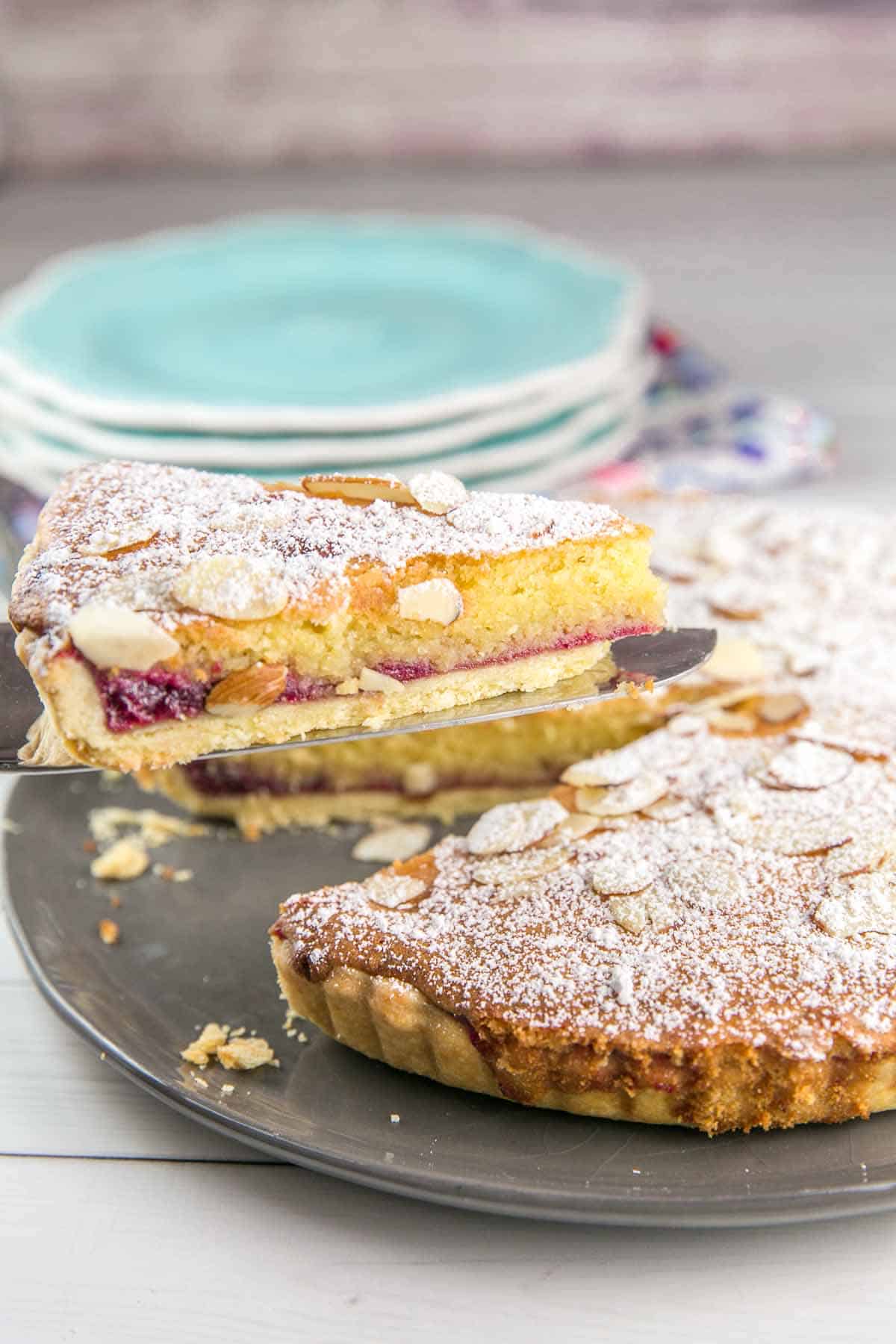 A long, long time ago (we're talking a decade here), I participated in monthly challenges with a group known as the Daring Bakers.
Each month, someone would select a recipe that was either a bit off the beaten path or something a little more challenging. Then everyone would make a version and discuss the results.
There was a even a Daring Cooks side of things, too. (I could sure use that now to spice up the dinner rut we're stuck in!)
Participation in the group encouraged me to try many things I don't particularly like enough to make by hand (French macarons, cannoli shells) or things that require so much time, it's just plain easier to buy them in the store (puff pastry, phyllo dough).
One month, a member chose a traditional British Bakewell Tart for the challenge. I'm pretty sure this is my favorite thing I made while part of the group.
I'm a big fan of fruit-flavored sweets and love almond in any form. I sliced away at that Bakewell Tart for breakfast for a week and was truly sad when it was gone.
Fast forward 10ish years, and I came across the old Bakewell Tart post on my old blog… and obviously had to make it again. Immediately.
Would it be as good as I remembered it? Did 10 years of memories exaggerate my enjoyment?
Not in the least. Still as absolutely delicious as I remembered it! (But really, fruit + almond pretty much has to be amazing, right?)
What is a Bakewell Tart?
So what on earth is a Bakewell Tart, anyway?
It's a not-super-sweet dessert with a layers of a shortbread crust, fruity jam, spongy frangipane, and flaked almonds. It's not challenging to make, although it is a little time consuming with chilling the dough.
But trust me: this is well worth the effort.
How to Make a Bakewell Tart
We have four layers at play in a bakewell tart:
Shortbread Crust
Fruity Jam
Frangipane Layer
Almonds
With these four layers, we get a whole variety of texture: the crispy crust, the smooth jam, the spongy squishy frangipane, the slightly crunchy almonds. Which all pair together deliciously.
The shortbread crust is basically like any other you've made. Mix together ingredients, cut in butter, roll out the dough, and press into the pan. Refrigerate and blind bake.
The jam is self-explanatory, right? Right.
The frangipane layer is where things start to get interesting! Frangipane is a pastry cream, made out of butter, eggs, sugar, and ground almonds. It's soft and spreadable and poofs up while it bakes. (And if, like me, you love almond, it's really really really good.)
We'll top the cake with the almond layer. You can use chopped, sliced, slivered – whatever you have. I like sliced both because it looks pretty and the sliced almonds add a super-subtle crunch.
What kind of Jam for a Bakewell Tart?
I don't think there's a traditional flavor of jam that is generally used, but I used a sour cherry jam. Cherry pairs so well with the almond and I definitely recommend it, although of course any other flavor of jam can be used.
I used store bought jam (because that newborn life..) but this is the perfect way to showcase your own homemade fruit preserves, too.
Bakewell Tarts aren't particularly common here in the U.S. (I never heard of one before the Daring Bakers' challenge, and I've never seen one since!), so I think it's a fun unexpected treat for a gathering or party. When everyone else brings cupcakes to a gathering, you get to stand out just a little.
Breakfast, brunch, dessert, mid-afternoon snack – I'll take a slice of a Bakewell Tart for any of these, please.
More Fruit Desserts:
Cherry Bakewell Tart
Total Time:
1 hour
30 minutes
With a crisp and buttery shortbread crust, cherry jam, and an almond frangipane sponge layer, this Cherry Bakewell Tart is a perfect breakfast or dessert.
Ingredients
FOR THE SHORTBREAD CRUST:
2 cups all-purpose flour
2 tablespoons sugar
1/2 teaspoon salt
1/2 cup butter, frozen
2 egg yolks
1/2 teaspoon almond extract
1-2 tablespoons cold water
FOR THE FRANGIPANE:
9 tablespoons butter, room temperature
1 cup plus 2 tablespoons confectioners sugar
3 eggs, room temperature
1/2 teaspoon almond extract
1 1/3 cups almond flour
1/4 cup all-purpose flour
FOR ASSEMBLY:
1 cup cherry jam
2 tablespoons confectioners sugar
1/2 cup sliced almonds
Instructions
To make the shortbread crust, whisk together the flour, sugar, and salt. Grate the frozen butter into the mixture and rub the butter into the flour, using fingers or a pastry cutter, until the mixture resembles breadcrumbs.
Lightly beat the egg yolks with the almond extract and stir this into the flour mixture. Continue to mix while adding just enough water to form a sticky dough. Roll out the dough on a lightly floured surface to 1/4-inch thickness. Transfer the dough to the tart pan, pressing along the sides and trimming any excess dough. Refrigerate for at least 30 minutes.
Preheat the oven to 400 °F. Once oven is up to temperature, line the top of the dough with parchment paper and fill with pie weights or dried beans. Blind bake the crust for 10 minutes, then remove the pie weights and parchment paper and bake for an additional 5 minutes until just barely golden. Reduce oven temperature to 375 °F and set crust aside to cool.
To make the frangipane, cream together the butter and sugar using a mixer on medium speed until light and fluffy, about 1 minute. Add the eggs, one at a time, beating well after each addition. Add the almond extract and beat for an additional 30 seconds. Spoon in the almond flour and all purpose flour while the mixer is running and combine well.
Spread 1 cup of jam evenly along the shortbread crust. Top with the frangipane, spreading to cover the entire surface of the tart. Smooth the top and bake at 375 °F for 20 minutes. Remove the tart from the oven and scatter the sliced almonds across the top. Return to the oven and bake an additional 5-10 minutes, until golden brown and a tester inserted into the center of the tart comes out clean. Dust with additional confectioners sugar and serve slightly warm or at room temperature.
Notes
Bakewell Tart will keep in an airtight container at room temperature for up to 3 days.
Recommended Products
As an Amazon Associate and member of other affiliate programs, I earn from qualifying purchases.
Nutrition Information:
Yield:

12
Serving Size:

1 slice
Amount Per Serving:
Calories:

447
Total Fat:

27g
Carbohydrates:

45g
Protein:

8g