August 4, 2016
Lactation Cookies (Oatmeal Chocolate Chip)
Bake up a special treat for the new mom in your life. Skip the lactation cookies that are all cookie and no lactation – these are the galactagogue-filled treats you need.
This post may include affiliate links. As an Amazon Associate I earn a fee from qualifying purchases.
Before we get any further, let's let the cat out of the bag: yes, this post is about lactation cookies. Yes, lactation cookies are exactly what the name implies — cookies to help with human milk production. Yes, these directly apply to a very, very small subset of those of you who read Bunsen Burner Bakery.
But chances are, even if you yourself are not breastfeeding, you probably know someone who is. A friend, a family member, a coworker. Your sister or niece or daughter. A neighbor, another mother in your child's preschool class, a friend from the gym. Before you completely skip over this post, you may be able to significantly brighten someone's day by baking them a batch of cookies.
Coincidentally, this week is World Breastfeeding Week. I think many people think breastfeeding is easy. I probably thought the same until my friends started having babies. I'm thankful they shared their own struggles with me so I had a realistic expectation of the journey facing me.
It is hard. It is isolating (I pumped every night at midnight at 3:30am from the time Ryan started sleeping through the night until he was a year old and it is so, so lonely sitting there in the dark pumping). Sometimes, it's downright painful. And it's frustrating, trying your absolute hardest and yet still watching your body fail.
So here's a virtual high five to all my fellow lactating mamas — whether your experience was wonderful and you nursed for 2 years, or your experience was disheartening and ended after 2 weeks — you did a great job. You are awesome.
(Also, can we please stop with the "and it's free!" argument? I had to rent a hospital grade pump for a year since my supply was so low – $65/month. Over $40/month in various galactagogue supplements. Plus the immeasurable cost of hours I wasn't working at work or sleeping at home because I was pumping. NOT FREE, PEOPLE.)
In a collision of worlds, today happens to be National Chocolate Chip Cookie Day. (I did not plan this post according to either World Breastfeeding Week or National Chocolate Chip Cookie Day. Coincidence on both accounts!).
So why not celebrate your breastfeeding friends by baking them a batch of these Oatmeal Chocolate Chip Lactation Cookies? New moms deserve a treat.
What exactly ARE lactation cookies anyway (and do they even work)? Lactation cookies are full of galactagogues. Some people swear they work, others say no way.
What are Galactagogues?
Galactagogues are substances that help increase mammalian milk production. Galactagogues can be synthetic prescription medications, or natural food substances.
Common galactagouges include oatmeal, fenugreek, brewer's yeast, marshmallow root, blessed thistle, alfalfa leaves, fennel, and goat's rue. I took all of these in combination for months in an attempt to boost my supply, in addition to "power hour" pumping session, pumping in the middle of the night, and nursing as frequently as I could on weekends.
Did the galactagogues help? It's quite possible that it is all placebo effect, but I did notice a boost in supply when I took them all in tandem.
What are Lactation Cookies?
Most women, however, don't have quite as big of an issue with supply as I do. Lactation cookies include some of the aforementioned galactagogues in smaller doses, with the goal of adding a little supply boost.
My issue with most lactation cookie recipes is that they are really just… cookies. An oatmeal chocolate chip cookie batter with 1 tablespoon of flaxseed divided among 2 dozen cookies is really just a cookie. Breastfeeding hanger is REAL, so if you want a cookie, have a cookie!
But if we're going to convince ourselves that it's a beneficial cookie, don't we want it to be overflowing with galactagogues? But inversely – we still want it to taste good, right? If it's not enjoyable to eat, why bother?
I've baked literally dozens of batches of cookies over the past month, perfecting my recipe (and delivering cookies to new mom neighbors all over Southwest Center City Philadelphia!). This recipe is the culmination of many batches tweaking ingredients. It has less sugar than my typical oatmeal cookie recipe (but it's still a cookie – definitely not a health food!).
I've packed it as full with as much oatmeal, brewer's yeast, and flaxseed as possible without severely impacting flavor. And of course, I added a few chocolate chips because… obviously.
Lactation Cookie Recipe Ingredients
Most of the ingredients in here are what you'd find in normal chocolate chip cookies: butter, sugar, flour, eggs, etc.
Let's talk about what makes these lactation cookies — and where to find some of these ingredients!
For starters, we'll use lots of oats. Use old fashioned rolled oats, not instant oatmeal.
The recipe also includes ground flaxseed. Flaxseed can be purchased as whole as whole seeds or pre-ground; you can grind whole seeds yourself in a coffee grinder but I just buy the already ground flaxseed.
The most important ingredient — and the one that generates the most questions — is the brewer's yeast. Brewer's yeast is not the same as baker's yeast. Brewer's yeast can be purchased at some health food stores, but I purchase mine directly from Amazon.
How to Make Lactation Cookies (VIDEO)
Really, it's no different than making normal chocolate chip cookies.
And if a picture is worth a thousand words, than a video is probably worth what, ten thousand?
So here's a video to show you exactly how to make this oatmeal lactation cookie recipe!
How Many Lactation Cookies Should You Eat?
This is a common question I am asked a lot. The answer is: there is no real answer.
Lactation cookies are just that… cookies! It's not a regulated FDA medication with a set dosage. Not every woman responds to galacatogogues, and those who do respond differently. Women have different needs when it comes to increasing supply; some are looking to boost one or two ounces per day, some are hoping to up by 10 ounces.
My advice is to start with one or two and see if it helps. I will say, however, that I had a friend eat a dozen all at once and then say she pumped 11 oz more than ever before the next day!
Other Ways to Make More Milk
Let's start with: I am not a lactation consultant. But I do have lots of experience building my own supply, so I'll share. I get a lot of questions on this post about non-cookie ways to make more milk.
Nurse or pump often. Milk production is supply and demand based; the more you remove milk, the more milk your body thinks it needs to make.
Fully drain your breast each time. Leaving a little milk behind gives your body the memo that it doesn't need to make enough. If you're pumping at work with a great supply, you can get away with a 15 minute pump session. But if you're really looking to boost your supply, keep pumping. Pump for 5 minutes after the last trickle of milk. You may also find you get a second letdown if you keep going — I always pump for at least 30 minutes, and usually get a second letdown sometime after 20 minutes.
Power pump a few times a week. Power pumping mimics a cluster feeding session. Pump for 10-20 minutes, rest 10 minutes, pump another 10 minutes, rest 10 minutes, pump another 10 minutes.
Feed or pump in the wee hours of the morning. This one stinks, but your body produces the most milk in the middle of the night. I can pump 3x more milk at 4:30am than I can at noon, or 6pm, or midnight.
Spend time with your baby! Skin to skin contact is really played up in the hospital, but the benefits extend well after you come home. Trying to boost your supply? Hold your baby as much as possible. Do skin to skin. If you're pumping, pump while holding your baby.
Now back to these oatmeal lactation cookies. Another question I often get: is it bad for someone who isn't lactating to eat these cookies? No.
Don't worry, dads – there's nothing harmful about eating these cookies if you're not lactating, aside from having to tell your wife you ate all her cookies. Good thing you have this lactation cookie recipe now, so you can bake her more.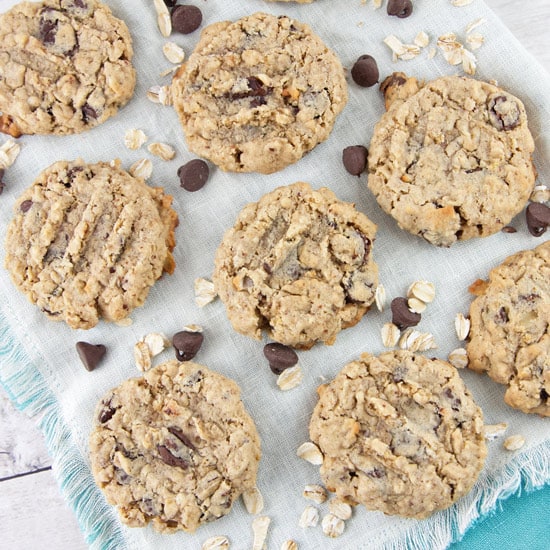 Oatmeal Chocolate Chip Lactation Cookies
Bake up a special treat for the new mom in your life. Skip the lactation cookies that are all cookie and no lactation – these are the galactagogue-filled treats you need.
Ingredients
2 sticks (1 cup) butter, room temperature
1 cup brown sugar, packed
1/2 cup granulated sugar
2 eggs, room temperature
2 teaspoons vanilla
1 1/2 cups all purpose flour
3/4 teaspoon salt
1/2 teaspoon baking powder
2 tablespoons almond butter (substitute in peanut butter or leave out altogether)
3 cups old-fashioned rolled oats
1 1/2 cups chocolate chips
Instructions
Preheat oven to 350 °F. Line two baking sheets with silicone baking mats or parchment paper.
Using a mixer, beat together the butter, brown sugar, and granulated sugar until light and fluffy, about 5 minutes. Beat in the eggs, one at a time, followed by the vanilla.
Whisk together the flour, salt, baking powder, flaxseed, and brewer's yeast. Add this to the mixing bowl and beat until just combined.
Add the almond butter (optional) and oatmeal, mixing again until just combined. Stir in the chocolate chips.
Drop 1.5 tablespoons of dough onto the lined cookie sheets. Bake 10-12 minutes, or until the bottom is golden brown. Cookies will puff up a bit in the oven; if you prefer flatter cookies, press down on the top of each cookie with the underside of a spatula. Cool on the baking sheet for 10 minutes, then transfer to a wire rack to cool completely.
Store cookies in an air-tight container for up to a week; cookies will keep frozen for up to 3 months.
Notes
Brewer's yeast is not the same as baker's yeast! Brewer's yeast can be purchased at some health food stores or directly from Amazon.
Lactation cookies can be stored in an airtight container for up to a week or frozen in a an airtight container for up to 3 months.
Lactation cookies are not an FDA regulated food; there is no "serving size" or guideline for how many to eat. Start with 2 or 3 a day and see if it helps your supply!
Remember - you're doing an awesome job!
A Bunsen Burner Bakery Original Protocol
Recommended Products
As an Amazon Associate and member of other affiliate programs, I earn from qualifying purchases.
Nutrition Information:
Yield:

36
Serving Size:

1 cookie
Amount Per Serving:
Calories:

208
Total Fat:

9.4g
Carbohydrates:

27g
Protein:

4.5g