December 14, 2017
Vegetarian Mushroom and Wild Rice Soup
The ultimate hearty winter soup, this vegetarian mushroom and wild rice soup is earthy, creamy, and the perfect way to warm up this winter.  Simmer a big pot on your stove for a few hours this weekend and enjoy a bowl of delicious soup all week long.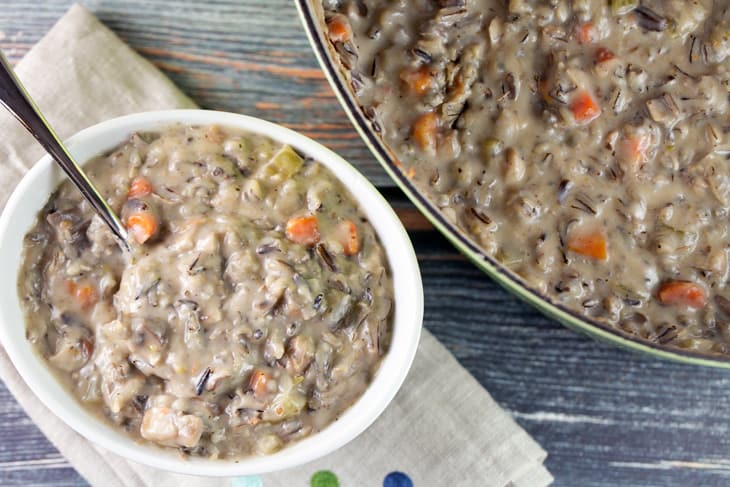 If you follow my stories on Instagram, you might remember the backstory of this soup.  This year, I joined a neighborhood "Soup Group."  Here's my crazy confession though: I don't really like soup.
I do, however, like meeting new neighbors!  And so because I'm a total extrovert, I was all "soup group! meeting neighbors! sounds awesome – sign me up!", because this is what we extroverts do.  An activity you're not totally interested in, but something interactive with other people?  All in!
And thus, a few weekends ago, it was my turn to make 8 quarts of soup to disperse amongst my neighbors.  Here's my criteria for soups I *do* enjoy.
Must be thick and hearty.
Must have lots of delicious "things" in it.
Must cook long enough that said things are soft and creamy and melty.
Must not contain chicken. (I don't like chicken, and I REALLY don't like chicken that has been boiled to death in soup.)
This vegetarian mushroom and wild rice soup met all of the above criteria.  In fact, it kind of blew my soup-disliking taste buds away.  And it's a really good thing, seeing as how half the people from our soup group failed to show up.  In other words, I was left with A WHOLE LOT of vegetarian mushroom and wild rice soup to eat myself.
I did not complain once about having to eat this every day for lunch and a few times for dinner.  (Which is kind of a miracle given how I normally feel about soup.)
Here's what makes this so good: an awesome mushroom mix.  I picked up a blend of cremini, oyster, and shiitake mushrooms from the "mushroom guy" at our local farmer's market and added in a package of white mushrooms from the grocery store.
The mushroom blend was spot on.  I roughly chopped half the mushrooms — stems and all — and put the other half in the food processor for a fine dice.  I loved the texture balance between the larger pieces and the tiny bits that basically melted into the broth.
You'll also want to use real wild rice for this – not brown rice or white rice or another type of rice. I wound up ordering my wild rice from Amazon (affiliate link) because I couldn't count on whether or not our grocery store would have the real deal.  The wild rice and mushrooms make this earthy, filling, unbelievably creamy and hearty soup and I'm already ready to make another batch.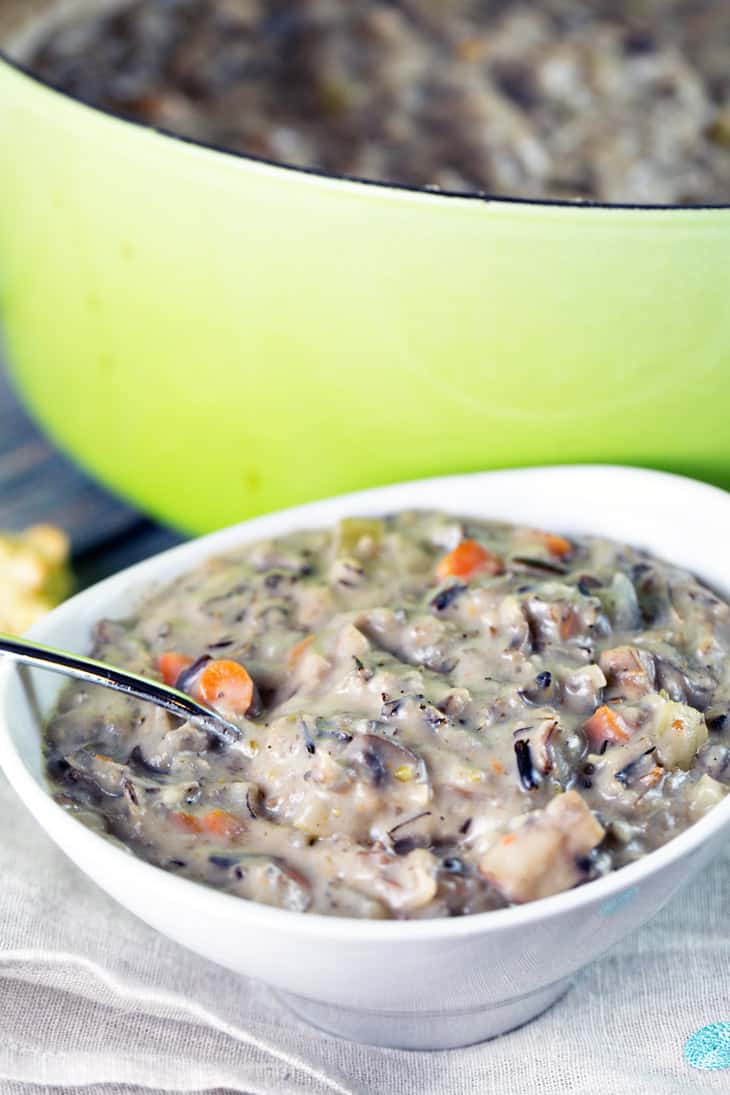 Also, it's vegetarian mushroom and wild rice soup.  You could 100% use chicken broth instead, but you also won't miss the flavor at all if you're looking to add a few meat-free dinners into the mix.
You definitely want to cook this for as long as the recipe indicates (and even longer won't hurt!).  I taste-tested around an hour and an hour and a half into the cooking time, and both times the mushroom stems were super chewy and the rice, while no longer crunchy, wasn't as dreamy creamy as I wanted.  Two hours was great.  Three hours, while waiting for the absentee soup group people, was even better.
I don't know about where you are, but we woke up to an inch of snow that fell overnight.  The wind is strong and my 3 mile walking commute to work is getting brutal.  (My two year old was a total champ walking to preschool, though!)
This is totally the kind of weather that calls for a big bowl of this hearty vegetarian mushroom and wild rice soup.  Serve with roasted broccoli or green beans and a loaf of crusty bread for a perfect dinner.  Next week doesn't look much better, so I know what I'm making over the weekend!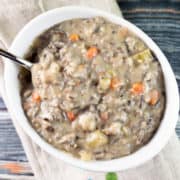 Vegetarian Mushroom and Wild Rice Soup
The ultimate hearty winter soup, full of a mix of mushrooms and earthy wild rice.
Ingredients:
2 teaspoons olive oil
1 pound carrots, chopped
1 pound celery, chopped
1 medium onion, chopped
5 cloves of garlic, minced
1.5 cups uncooked wild rice
16 ounces fresh mushrooms, chopped and/or minced (suggested combination: cremini, oyster, and shiitake)
6 cups vegetable broth
2 teaspoons salt
freshly ground pepper, to taste
1 tablespoon Italian blend seasoning (oregano, basil, marjoram, thyme, rosemary)
8 tablespoons butter
3/4 cup flour
2 1/2 cups milk
Directions:
Heat olive oil in a large heavy bottomed pot or dutch oven.  Add carrots, celery, onion, and garlic and sautee until soft and fragrant, 5 minutes.  Add in the wild rice, mushrooms, vegetable broth, salt, pepper, and Italian herbs.  Simmer over medium-low heat for 2 hours, until the rice is cooked and the mushrooms are soft.
Melt the butter in a small saucepan.  Whisk in the flour and cook until the roux starts to brown.  Slowly whisk in the milk until the sauce is smooth.  Mix the sauce into the mushroom soup.  Continue to cook over medium-low heat for an additional 15 to 20 minutes, until soup is thick.