November 29, 2017
Toffee Crunch Cookies
A little sweet, a little salty, a little crispy, a little chewy, these toffee crunch cookies are all delicious.  If you love your cookies thin, chewy in the middle but crispy on the edges, and like the salty-sweet flavor combination, you need to make these, ASAP!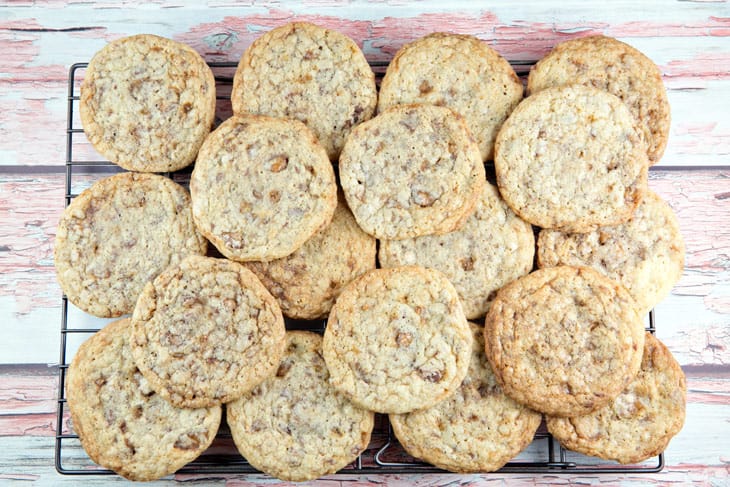 I'm here today to share the second cookie in for The Sweetest Season Cookie Exchange.  If you missed my post on Monday (Chewy Chocolate Mint Cookies), I'm participating in a cookie exchange with a group of other food bloggers.  We're helping to raise funds for Cookies for Kids' Cancer, a nonprofit organization dedicated to raising funds for research to develop new, improved, and less toxic treatments for pediatric cancer.
If you missed my post on Monday, CLICK HERE to learn a little more about the organization, my own research background in pediatric cancer, and why you should consider donating to this great charity!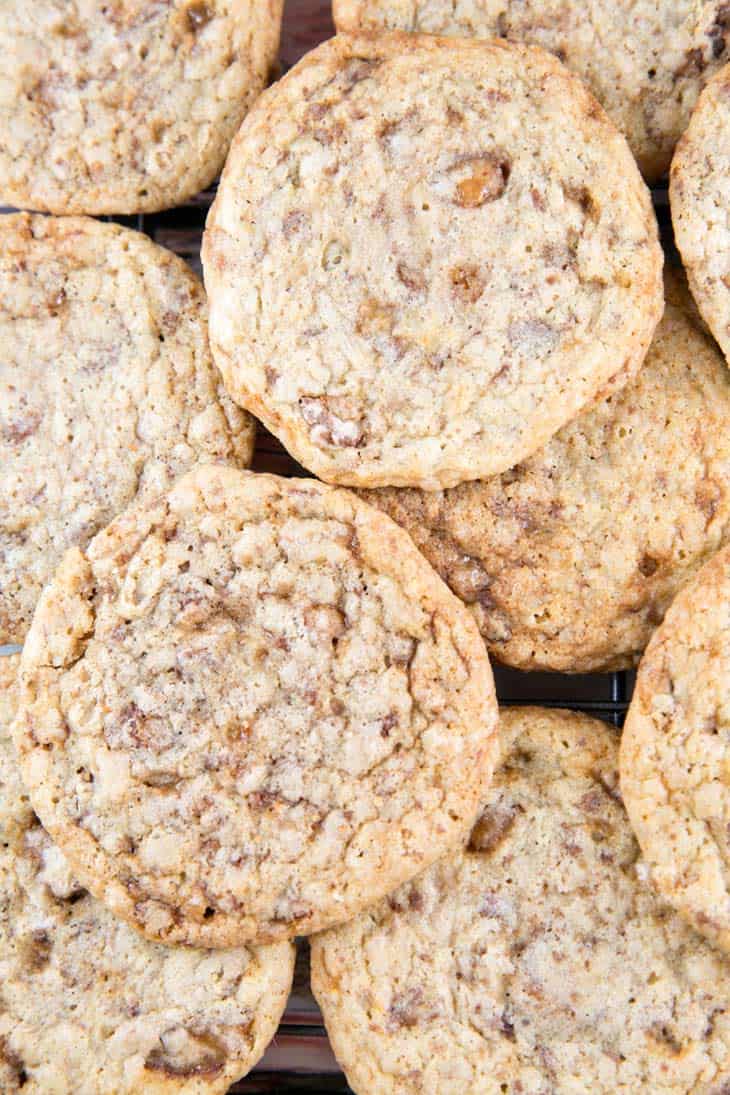 Because I'm a crowd pleaser, I'm bringing you three different cookies this week.  One soft and chewy, one thin and crispy, and one jumbo sized and cakey.
How do you like your cookies?  Thick or thin?  Chewy or crisp?  Chocolate or non-chocolate?  Sugary sweet or a little bit salty?
Everyone has totally different preferences when it comes to cookies.  My husband loves thick, soft chocolate chip cookies.  While I respect his decision, I… disagree.
I like my cookies thin, crisp on the edges and chewy in the center, and a little bit salty because I love the salty-sweet combination.  If your cookie preferences are at all like mine, make these toffee crunch cookies.  Right now.
Leave work immediately and go make these, because you will love them.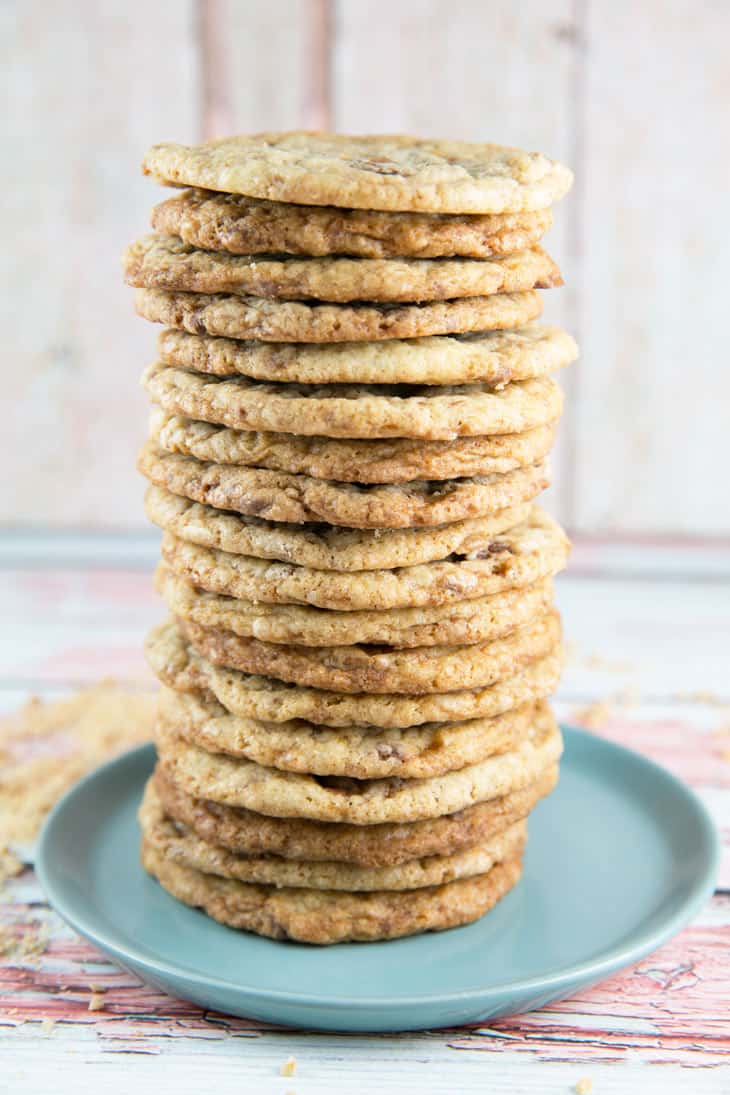 I don't have a huge sweet tooth, so I'm usually one-and-done when it comes to cookies.  I have my cookie, I enjoy it, and I'd rather save the rest for another day.
Except with these cookies, apparently.  I can't stop/won't stop. Two cookie minimum.
(I am happy to report I still have SOME self control, as the batch currently in my kitchen is almost 2 weeks old and I still have half a batch left.  Hooray, restraint! Plus, these last really well – just as delicious as fresh out of the oven.)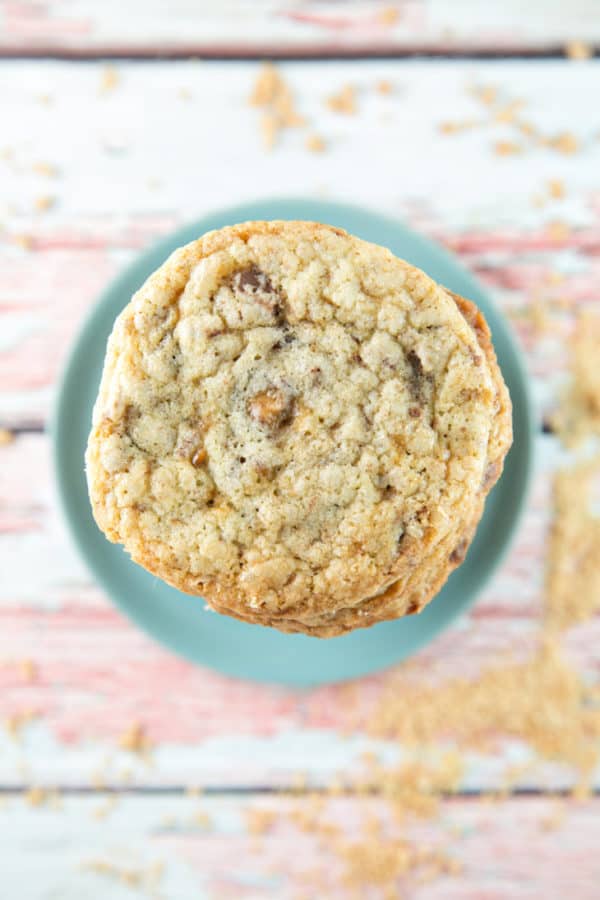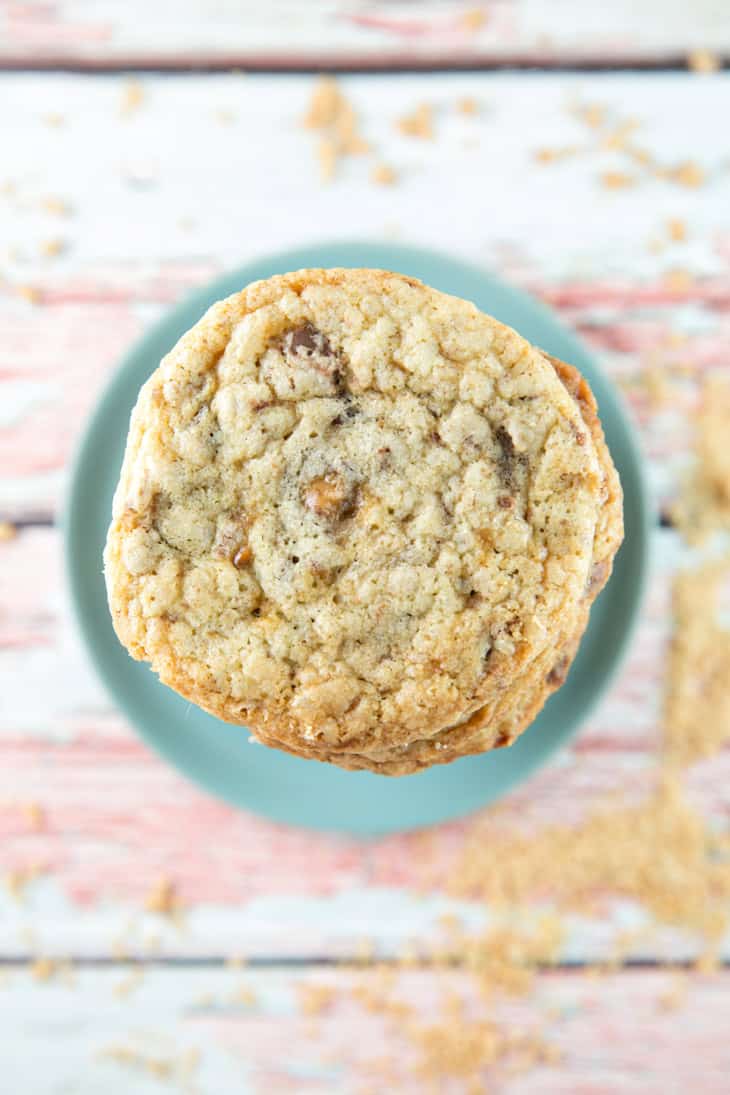 You can use whatever kind of toffee you prefer for these — homemade or store bought.  I took the really easy way out and used some chopped up Heath bars.  Heath also makes the "Bits 'O Brickle" toffee bits, but our grocery store does not carry them.
I tossed the Heath bars in the food processor, but you could just as easily go to town with a bag and a rolling pin.  You want the bits to be small enough that they don't overwhelm the cookie, but large enough that you still get a little crunch.  After all, this are toffee crunch cookies!
These cookies spread just enough that they get a little bit thin, meaning the inside stays nice and chewy, but the outside gets just a little crisp.  Combine with the crunchy, salty toffee and you have pretty much my ideal cookie.
I think my toddler might agree — he told me it was the best cookie he's ever had!  But then again, he's 2.5 — so I think the best cookie he's ever had is probably whichever one is currently in his hand. ?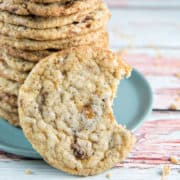 Toffee Crunch Cookies
A little sweet, a little salty, a little crispy, a little chewy — these toffee crunch cookies are all delicious!
Ingredients:
1 cup butter, room temperature
1 1/2 cups sugar
2 eggs, room temperature
2 teaspoons vanilla extract
2 1/2 cups all purpose flour
1 teaspoon salt
1 teaspoon baking soda
2 cups chopped toffee (homemade, store bought, Heath bars, etc)
Directions:
Using an electric mixer, beat together the butter and sugar until pale and fluffy, about 3 minutes.  Add in the eggs, beating after each addition, followed by the vanilla extract.
Slowly add in the flour, salt, and baking soda, continuing to beat until no streaks of flour remain.  Mix in the chopped toffee.  Chill dough for 30 minutes, until firm.
Preheat oven to 350 °F.  Line a cookie sheet with parchment paper or a baking mat.
Scoop cookie dough into one tablespoon sized balls.  Leave 2.5-inches between each cookie on the sheet.  Bake for 10 to 12 minutes, until the edges just start to brown, but the center is still soft.  Cool on the cookie sheet for 5 minutes, then transfer to a wire rack to cool completely.