September 29, 2022
Cookie Dough Cheesecake
This delectable Cookie Dough Cheesecake has not only one, but two layers of cookie goodness with a chocolate chip cookie crust, a cookie dough layer, and topped with a creamy cheesecake layer for maximum flavor!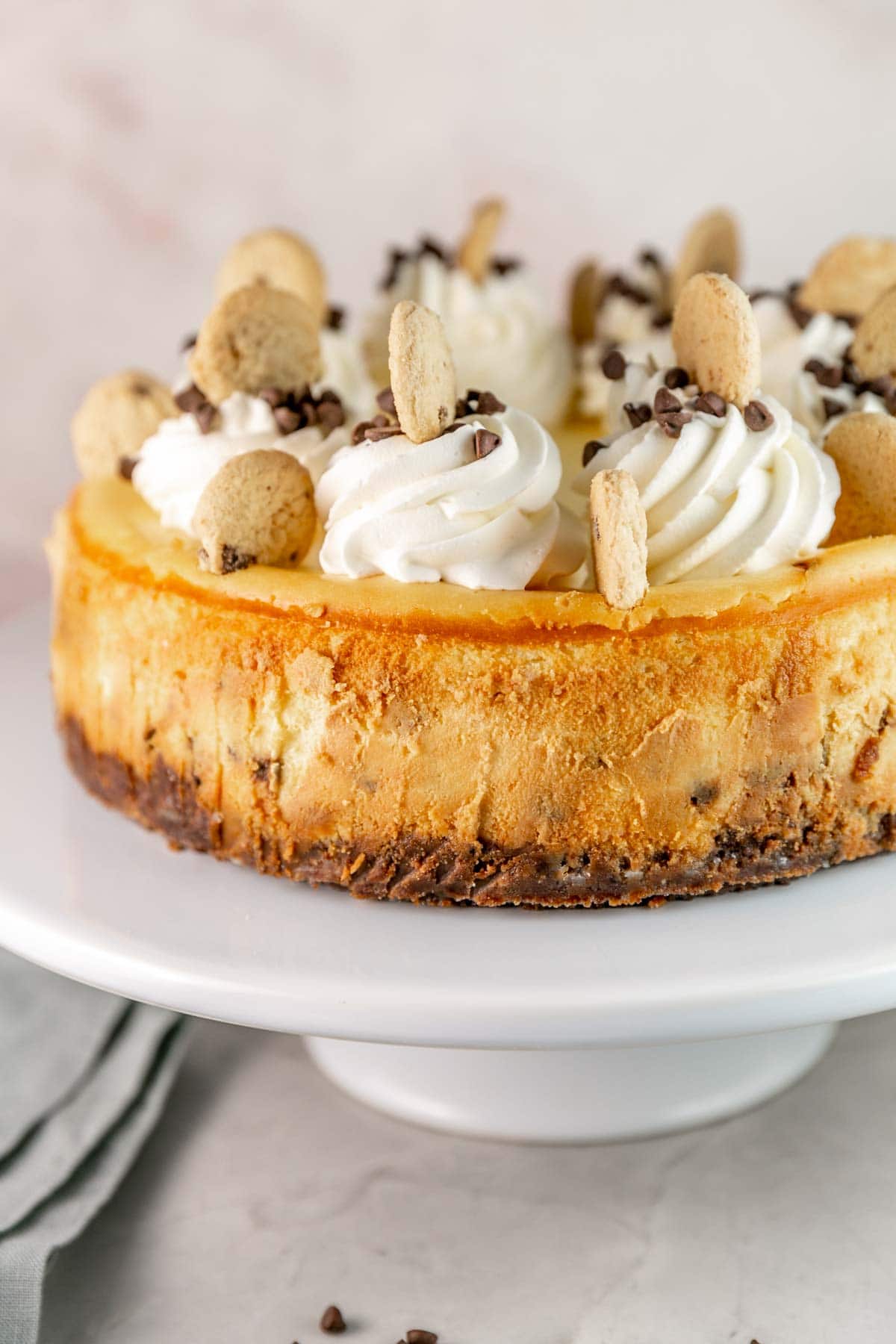 One of the reasons I chose cheesecakes for my Cheesecake of the Month series this year is because my husband loves cheesecake. He asks for a homemade cheesecake for all his birthdays and celebrations. To keep things interesting, he usually picks a different flavor for each one.
This cookie dough cheesecake was his idea for his birthday last year, and it was a serious hit! Cookie dough plus cheesecake is seriously the perfect indulgent dessert. Why decide between cheesecake and chocolate chip cookies (or cookie dough) when you can combine them together?!
If you love chocolate chip cookies, then this recipe is definitely for you. It starts with a chewy chocolate chip cookie crust, followed by a layer of cheesecake with cookie dough thrown in, and then topped off with another layer of cheesecake. To decorate, add swirls of whipped cream topped with more cookies and chocolate chips!
Chocolate Chip Cookie Crust
Let's start with the base of the cheesecake. We're going to use a chocolate chip cookie crust. We might as well pack as many cookies into this cheesecake as we can!
Most of my cheesecakes are made with graham cracker crusts or Oreo cookie crusts. You can absolutely use either of these if you want, but grinding up chocolate chip cookies for the crust takes this to a whole new level.
Storebought chocolate chip cookies work perfectly for this. But if you want to go all out, try using my homemade chocolate chip cookie recipe for this crust! Once baked, you'll want to crumble the cookies and mix them with butter and squish the crust into the pan for assembly.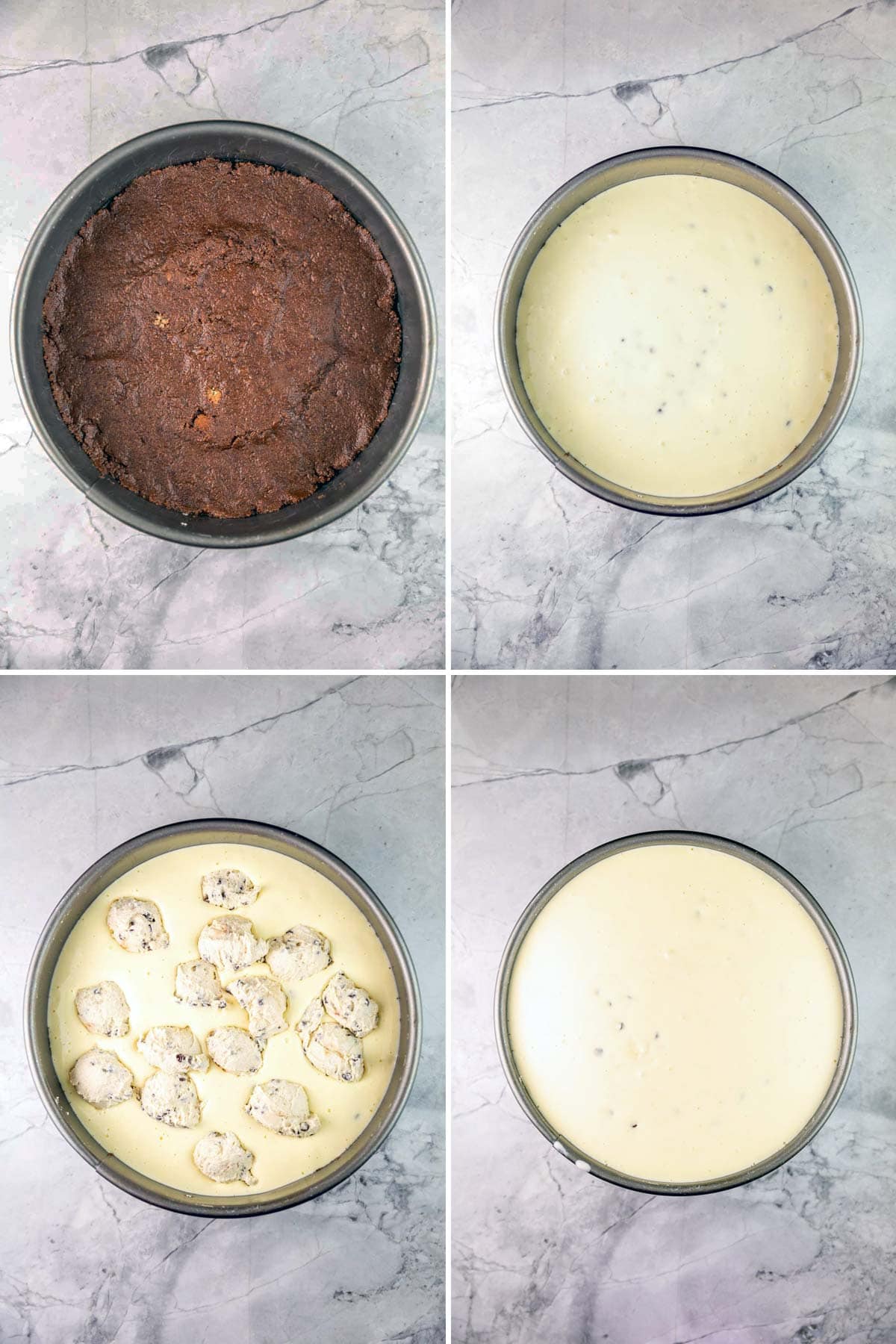 Cookie Dough Center
The shining star of this cookie dough cheesecake recipe is the cookie dough center. First, you'll pour half of the cheesecake mixture on top of the cookie crust, then you'll add your cookie dough layer.
We want the cookie dough inside the cheesecake to be chewy and not too dense. So whenever you make cookie dough, it is important not to over-mix the dough once you add the flour. If you're wondering why, we can explain it all with my favorite subject… kitchen chemistry!
Kitchen Chemistry

Over mixing cookie dough once the flour has been added creates gluten development. The gluten gets too strong and makes the cookie dense and tough, instead of tender and chewy like we want!
The key to the cookie dough layer is to keep the cookie dough super cold before putting it into the cheesecake. You can either scoop the cookie dough into balls and freeze them before using them, or you can keep the cookie dough chilled in a bowl and then scoop them into the cheesecake when you are ready.
Use a spoon or a cookie scoop to form balls of cookie dough and place these on top of the cheesecake batter. Then spread the rest of the cheesecake batter on top, covering the cookie dough balls. This leaves little pockets of cookie dough, surrounded by creamy, dreamy cheesecake!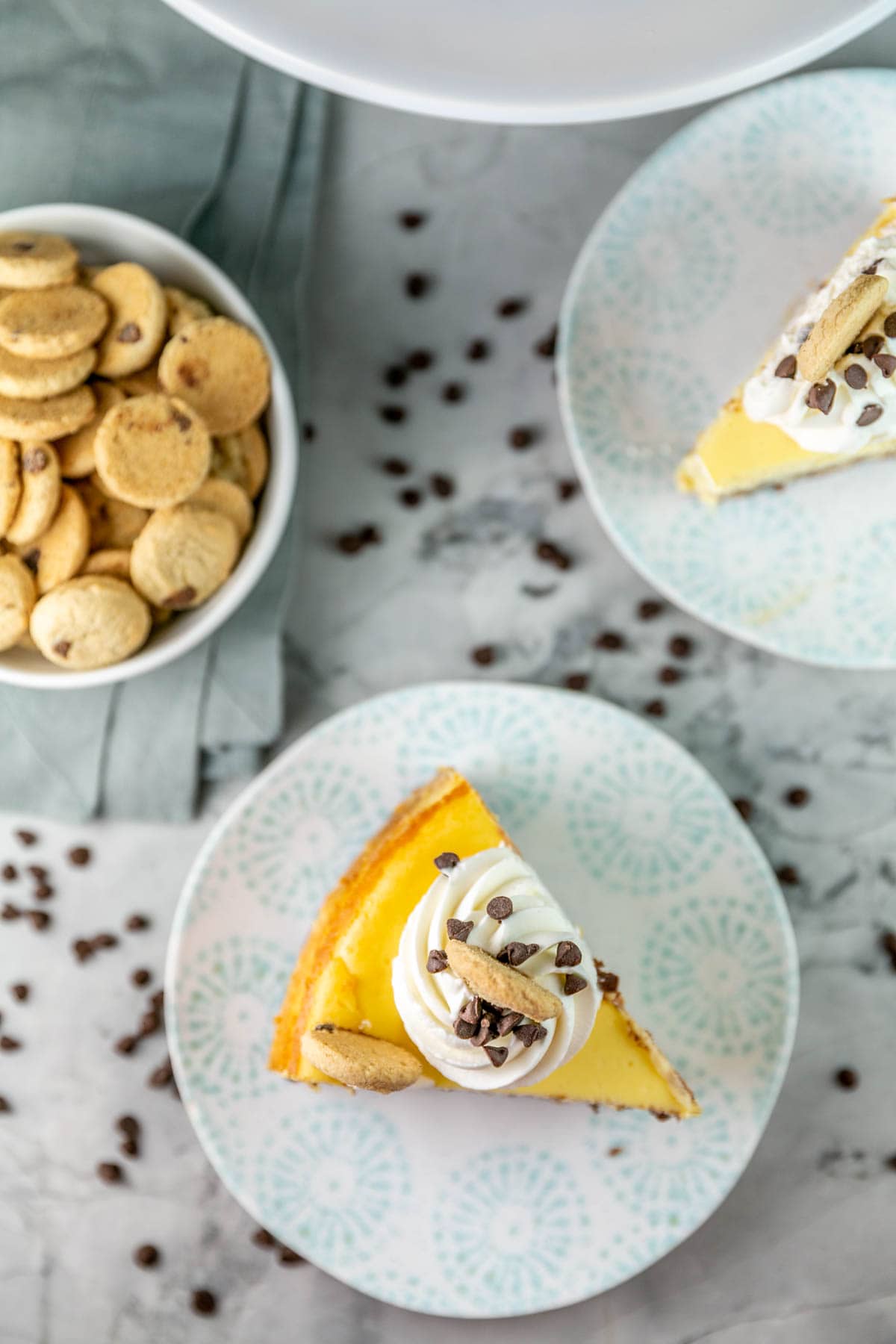 Decorating the Cheesecake
After you bake the cheesecake, make sure to chill it completely. You'll want to give it several hours at the very least, but I prefer to let it sit in the refrigerator overnight to really make sure it's set!
You can serve your chilled chocolate chip cookie dough cheesecake as is, or you can decorate it to make it extra special.
I always love whipped cream on cheesecakes, and piped swirls of it are so pretty! A mini chocolate chip cookie and a sprinkling of miniature chocolate chips on each dollop are both pretty and provide a hint of what is waiting inside the cheesecake!
Another option is to top with chocolate ganache, if you're making this for a big chocolate lover! You can follow the recipes for making ganache on my chocolate cherry cheesecake recipe.
For this cheesecake, I topped it with whipped cream, mini chocolate chip cookies, and even more chocolate chips! You can use store bought whipped cream and buy mini chocolate chip cookies from the store as well. If you're feeling crazy, drizzle with a homemade chocolate ganache or even make homemade whipped cream at home for a really dreamy topping!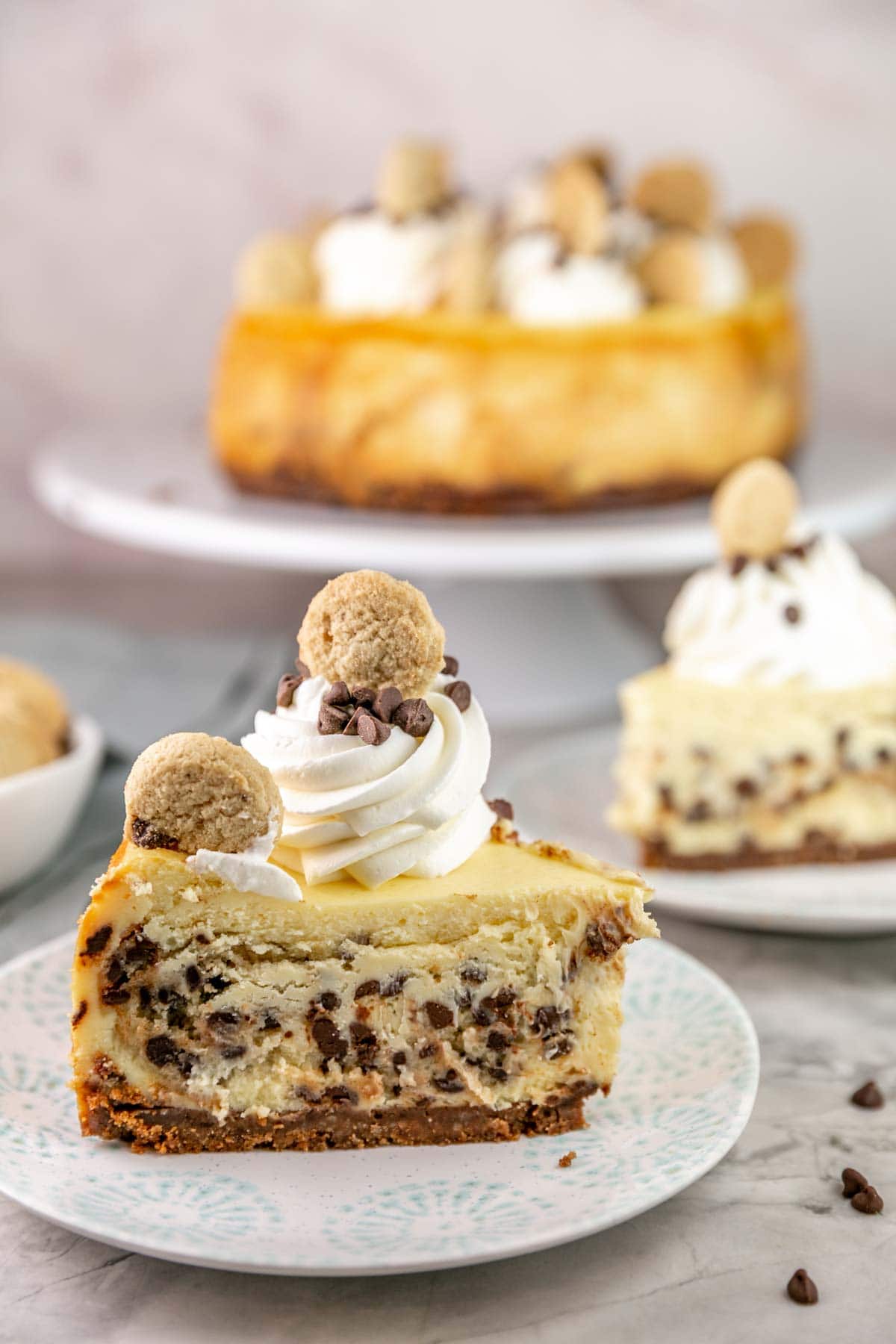 Tips And Tricks for the Best Cookie Dough Cheesecake
Don't overbake the cheesecake! The middle should still be a little jiggly when you take it out of the oven.
Use full-fat ingredients for your cheesecake batter. This is not the place to cut calories or use what you already had on hand – we need the cream cheese and sour cream to be full fat to ensure the appropriate flavor and texture of the cheesecake.
The water bath used to bake the cheesecake is meant to cook the cheesecake more gently and evenly. The humidity from the steam prevents the cracks in the cheesecake that every baker dreads!
Don't be tempted to peek into the oven while the cheesecake is baking. It is important to keep the temperature of the oven steady to prevent any cracks.
More Recipes for Cookie Lovers:
2022 Cheesecake of the Month Series
Cookie Dough Cheesecake
Cook Time:
1 hour
10 minutes
Total Time:
7 hours
40 minutes
This delectable Cookie Dough Cheesecake has two layers of cookie goodness topped with a creamy cheesecake layer for maximum flavor!
Ingredients
For the Cookie Crust:
2 1/4 cup (191 grams) chocolate chip cookie crumbs
1/2 cup (113 grams) unsalted butter, melted
For the Cookie Dough Layer:
1/2 cup (113 grams) unsalted butter
1/2 cup (106.5 grams) brown sugar
1/4 cup (49.5 grams) granulated sugar
2 tablespoons heavy cream
1 teaspoon vanilla extract
1/4 teaspoon salt
3/4 cup (90 grams) all-purpose flour
1/2 cup (88.5 grams) mini chocolate chips
For the Cheesecake:
32 ounces (908 grams) cream cheese, room temperature
1 cup (198 grams) granulated sugar
2/3 cup (151 grams) sour cream
2 teaspoons vanilla extract
1/4 teaspoon salt
4 eggs, room temperature
1 cup (177 grams) mini chocolate chips
Instructions
Make the cookie crust. Combine the chocolate chip cookie crumbs and melted butter in a bowl, mixing until combined. Transfer crumbs to an ungreased 9-inch springform pan. Press the crumbs firmly into the bottom of the pan and slightly up the sides. Refrigerate for at least 10 minutes before adding filling.
Make the cookie dough filling. Using an electric mixer or a whisk to mix by hand, mix together the melted butter, brown sugar, and granulated sugar. Beat on medium speed until well combined and the sugar no longer looks grainy, 2 to 3 minutes. Pour in the heavy cream, vanilla extract, and salt, and mix for an additional minute. Turn down the mixer to low and add in the flour, mixing just until incorporated. Pour in the miniature chocolate chips and mix until combined. Refrigerate the cookie dough for at least 1 hour, until thoroughly chilled and firm. Alternatively, scoop into balls and freeze the balls on a cookie sheet.
Make the cheesecake. Using an electric mixer with the whisk attachment, beat together the cream cheese and sugar until creamy and well combined, 2 to 3 minutes. Mix in the sour cream, vanilla extract, and salt, stirring until well combined. Crack the four eggs into a small bowl and mix with a fork to break up the yolks. Slowly pour roughly a quarter of the eggs into the cream cheese mixture, mix to combine, and repeat until all egg has been added, scraping down the sides and along the bottom of the bowl. Do not over-mix the cheesecake - this makes it more likely to crack.
Prepare the springform pan. Wrap the springform pan in 3 layers of aluminum foil, or create a pan-in-pan water bath by placing the 9-inch springform pan inside a 10-inch cake pan (both pans together will be placed inside the water bath). Pour half of the cheesecake batter into the graham cracker cookie crust. Using a cookie scoop or a spoon, scoop up 1 to 2-inch sized balls of cookie dough and place them evenly across the top of the cheesecake filling. Pour the rest of the cheesecake batter over top of the cookie dough balls, covering them completely.
Bake the cheesecake. Place the springform pan or larger 10-inch cake pan inside a larger roasting pan and add hot water until the water level comes approximately halfway up the sides of the springform pan (or the outer cake pan). Bake at 325 °F for 70 minutes, or until the edges have set but a 3 to 4-inch diameter circle in the center of the cheesecake still jiggles. Turn off the oven and open the door slightly; cool in the warm oven for 30 minutes. After 30 minutes, remove the cheesecake from the oven and let it sit at room temperature for 1 hour before placing it in the refrigerator to chill for at least 4 hours, preferably overnight before unmolding from the springform pan.
Notes
Use room temperature ingredients to ensure proper mixing with no lumps.
Mix the batter thoroughly, but do not overmix or mix at high speed which incorporates additional air into the batter.
Scrape the sides and bottom of the bowl frequently while mixing the batter.
Bake until the center of the cheesecake still jiggles or reaches a temperature of 145 °F on an instant-read thermometer.
Cheesecake can be refrigerated for up to 5 days or frozen for up to 3 months.
Recommended Products
As an Amazon Associate and member of other affiliate programs, I earn from qualifying purchases.