September 26, 2019
Mediterranean Tuna Salad
Mixed with marinated artichokes, bell peppers, Greek olives, parsley, and lemon juice, this Mediterranean Tuna Salad is anything but boring!  An easy make-ahead dinner or lunch that is full of flavor and gluten-free and dairy free, too.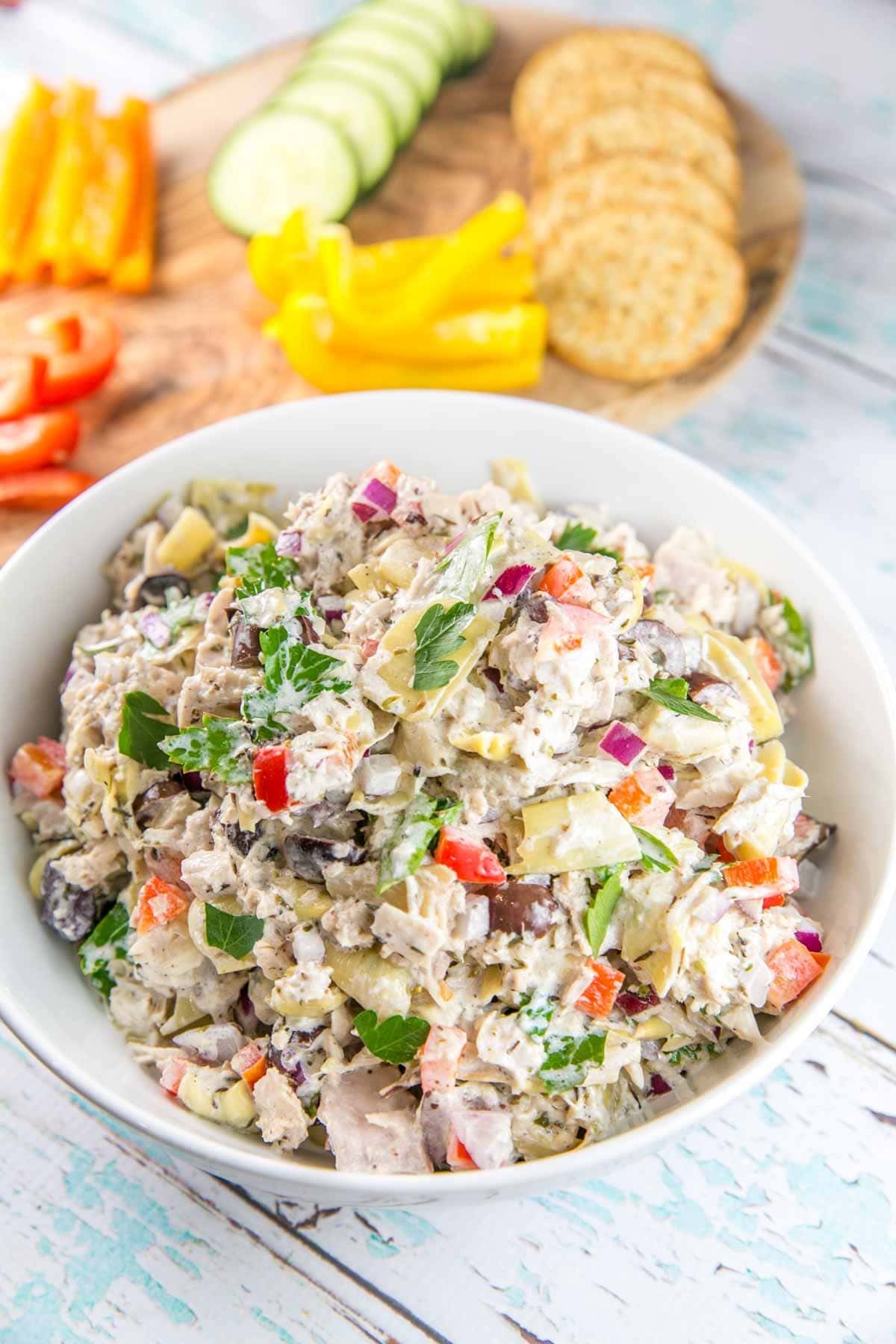 It's technically fall…. but it doesn't quite feel like it outside. (At least not around here – we're still getting days in the 90s!)
The back-to-school activities have started, so we need quick and easy weeknight dinners.  My children may only be 4 and not quite 1.5, but we still have weeknight activities after preschool and daycare, which mean we often aren't getting home and starting dinner until after 7.
Given the warm weather, though, we just can't get into the slow cooker/crockpot meals, we're seemingly months away from soups and stews, and the Instant Pot still takes too long to come up to pressure.
What are we supposed to do for warm weather, make ahead, back to school, early fall meal prep? This Mediterranean tuna salad is the answer to all our weeknight woes. And the best part? My kids love it.
It checks off all the requirements for me, too:
no cook
make ahead
easy
works for leftovers
serve with veggies
This is one of the two things my 4-year-old requests fairly frequently (the other, if you're curious, is tacos) – and I am pretty much always happy to oblige.
Read to see just how easy this is? Let's go!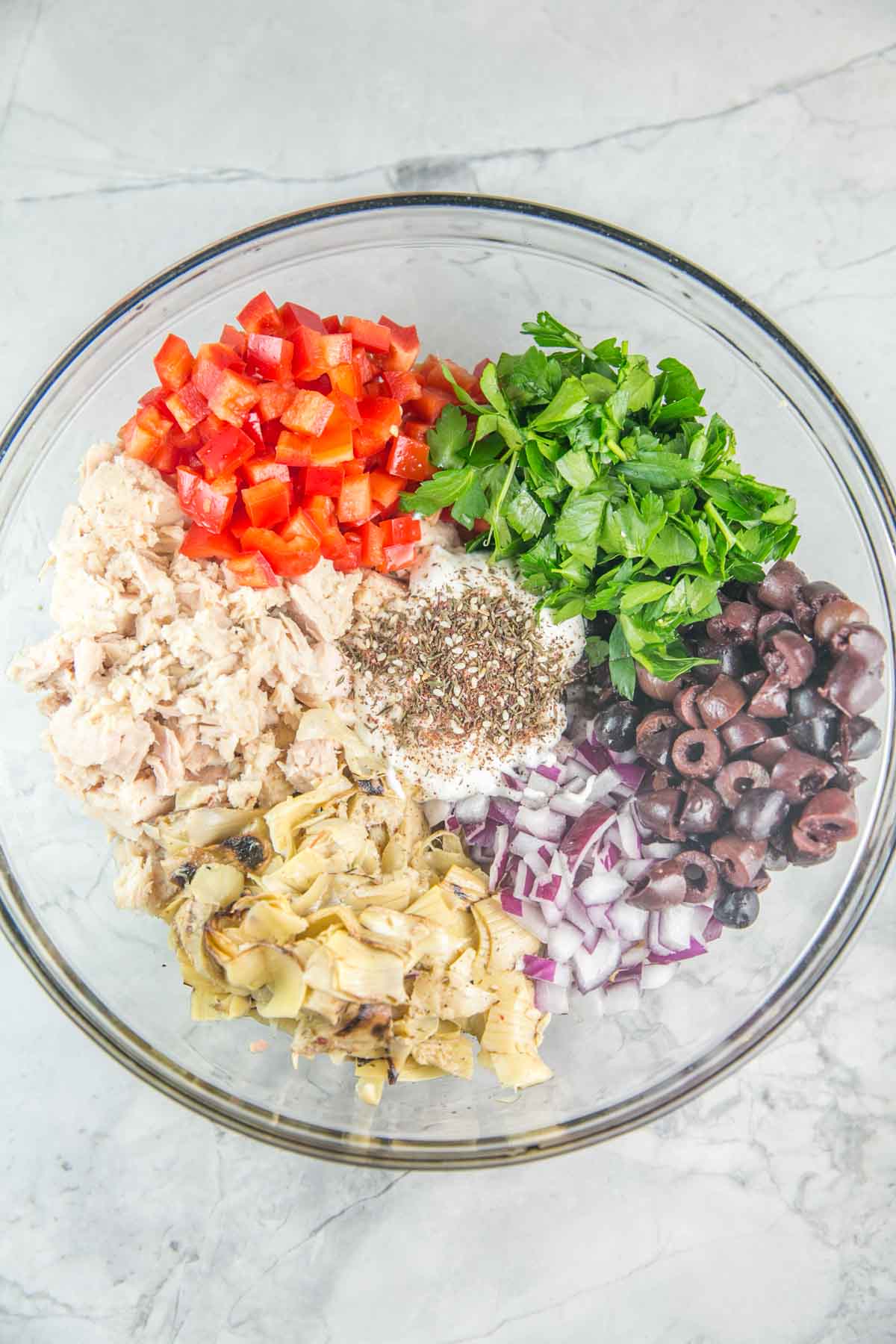 How to Make Mediterranean Tuna Salad
If you've ever made tuna salad, you know how easy it is. Basically: combine ingredients together in a bowl. Stir together with a fork. Let everything hang out for a little bit for the flavors to come together. Eat. That's it.
The hardest part of making tuna salad is chopping the veggies. For this Mediterranean tuna salad, we're including artichoke hearts, red bell peppers, Greek olives, red onion, and flat leaf parsley.
For the dressing part of the tuna salad, all we need is some fresh garlic, Italian herb seasoning, mayonnaise (see below, mayo haters), lemon juice, and salt and pepper. If you're looking for a fun and unique twist, substitute the Italian herb seasoning for za'atar – my favorite spice blend!
My "kitchen chemistry" is often designed to help make you a better baker or cook, but sometimes it's just a fun kitchen fact – like today. Have you ever been curious why mayonnaise – made out of egg yolks – can sit in a jar in your pantry for seemingly years and years? Let's find out why, with my favorite subject… kitchen chemistry!
Kitchen Chemistry

What makes mayo shelf stable? Commerically made mayonnaise is generally made from pastuerized egg yolks, oil, lemon juice, and vinegar. The low pH levels prohibit bacterial growth, meaning mayo can sit on the shelf for extended periods of time.
In fact, have you heard that mayo-based salads spoil fastest on hot days and should be avoided at picnics?
A study published in the Journal of Food Protection found that the more mayo that was in chicken and ham salad, the less salmonella and staphylococcus bacteria were able to grow.
As the temperature increased, bacterial growth increased… but the samples with mayo always had less bacterial growth than the samples without mayo!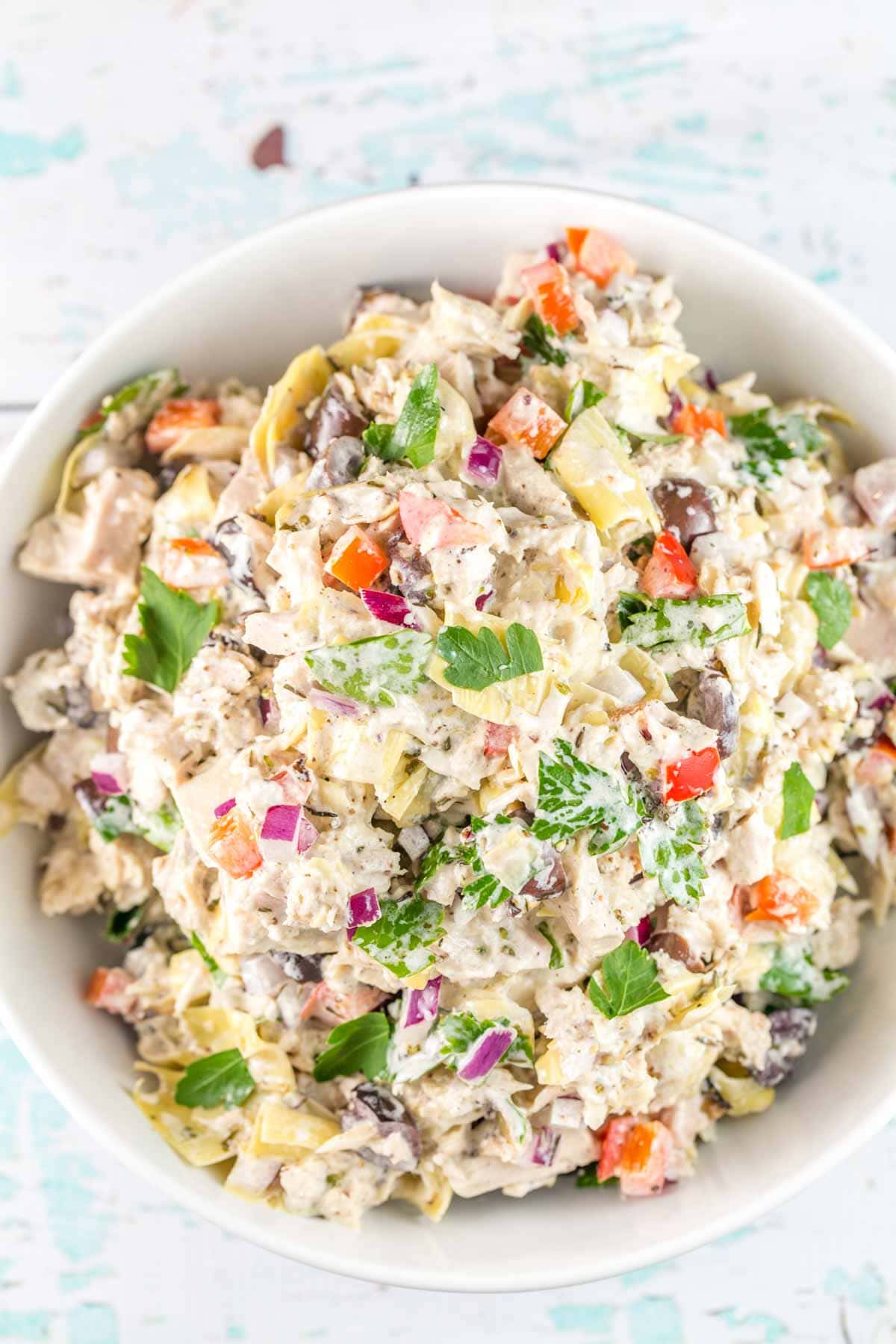 Substitutions for Mayonnaise in Tuna Salad
So even with my fun kitchen chemistry facts about how mayo might actually protect you from salmonella, you're still not a fan? Do'nt worry, you don't have to use it in this Mediterranean tuna salad!
The easy obvious swaps are either plain regular yogurt or plain Greek yogurt, as a one-for-one volume swap.
If you want to keep this dairy free, my favorite flavorful swap is to just use some of the marinating oil from the jar of artichokes! It's so much tastier than just using olive oil or canola oil, and will keep the tuna salad from feeling too dry. I'd start with half the amount of mayo (so start with 1/4 cup) and add more to taste based on personal preference.
Serving Ideas for Tuna Salad
We like to serve ours with lots of veggies! I'll always slice up some colorful bell peppers and some cucumbers. The kids like to eat theirs on top of cucumber rounds, and we'll always put out some crackers.
The tuna salad is also excellent with pita chips or tortilla chips, or on pitas or flat bread.
For extra protein, stir in some chickpeas. For a perfect low-carb lunch, serve the tuna salad in half an avocado (my personal favorite way to eat tuna salad!).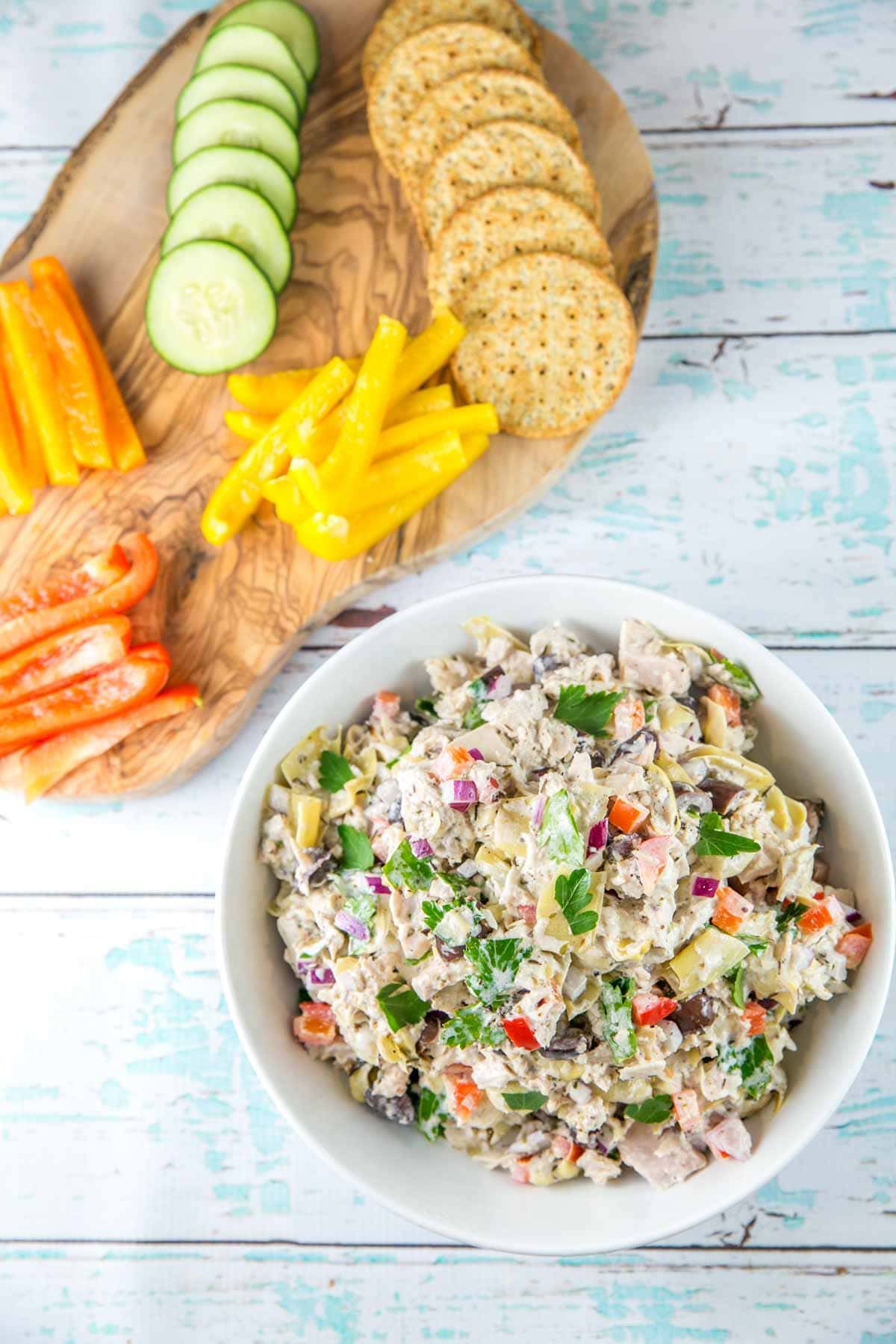 Storing Tuna Salad
My favorite part about this tuna salad is that it's perfect to make ahead. I think it tastes even better the next day after everything sits together overnight in the refrigerator. (And it stores just fine for a few extra days after that.)
Obviously, everything should be stored in the refrigerator in a large covered bowl or food storage container. The dressing will start to separate, so be sure to give it a good stir or two before serving.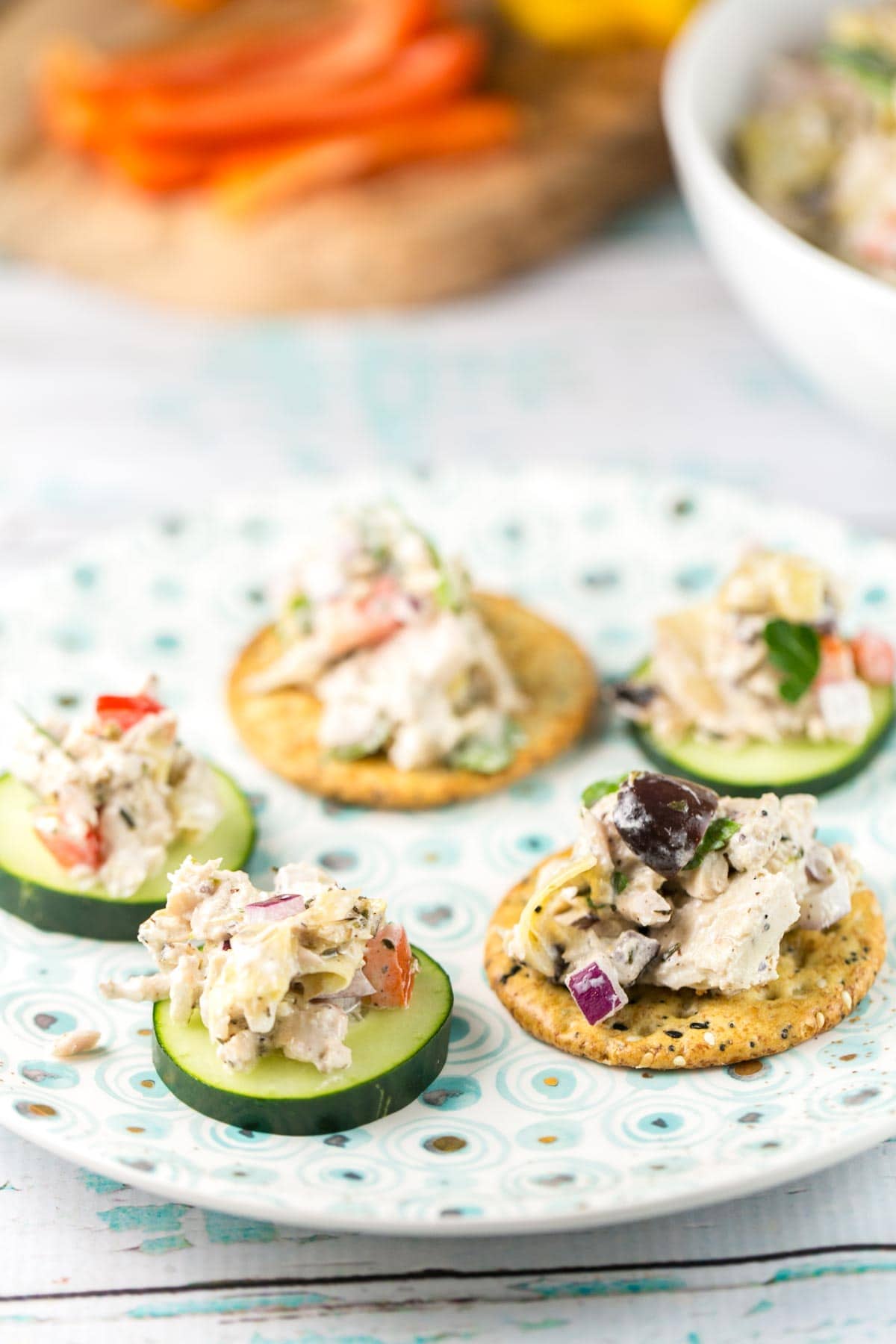 Tips and Tricks for the Best Mediterranean Tuna Salad
Use "chunk light" tuna packed in water – chunk light tuna has lower mercury content than white albacore and tuna packed in water has one-third the fat compared to tuna packed in oil.
Save a little bit of the marinade from the artichokes to toss with the tuna salad if it's a little too dry (or use instead of mayo for a mayo-free option!).
Make the tuna salad a day or two ahead of time for extra flavor.
Try substituting za'atar for the dried Italian herbs for a slightly different – and delicious – twist!
More Easy Dinner-Worthy Salad Recipes
Mediterranean Tuna Salad
Mixed with marinated artichokes, bell peppers, Greek olives, parsley, and lemon juice, this Mediterranean tuna salad is anything but boring!
Ingredients
3 (5-ounce) cans light chunk tuna, packed in water
14 ounce can marinated or grilled artichoke hearts, drained, two tablespoons of marinade reserved
1/2 red bell pepper, diced
3/4 cup sliced Greek olives
1/2 red onion, chopped
1/4 cup flat leaf parsley, chopped
1 tablespoon dried Italian herb seasoning
2 cloves garlic, diced or pressed
1/2 cup mayonnaise
3 tablespoons lemon juice
salt and pepper, to taste
Instructions
Drain the tuna well and add to a large mixing bowl. Use a fork to flake the tuna.
Quarter the artichoke hearts and add to the bowl. Add the bell pepper, olives, red onion, and parsley.
In the center of the bowl, add the rest of the ingredients (dried Italian herb seasoning, garlic, mayonnaise, lemon juice, and salt and pepper). Use a fork to stir until well combined. If tuna salad is too dry, add reserved marinade from artichokes.
Notes
Plain regular or Greek yogurt can be substituted for mayonnaise. To keep the tuna salad dairy free, use 1/4 cup of the oil from the marinated artichoke hearts to start, mix, and add an additional 2 tablespoons at a time until desired consistency is achieved.
Ensure all ingredients are gluten-free if necessary.
Cover and refrigerate all leftovers. Tuna salad is best made 12-24 hours ahead of time.
Recommended Products
As an Amazon Associate and member of other affiliate programs, I earn from qualifying purchases.
Nutrition Information:
Yield:

6
Amount Per Serving:
Calories:

319
Total Fat:

23.8g
Carbohydrates:

12.4g
Protein:

16.5g