October 13, 2016
Nutella Pumpkin Bread
Perfectly spiced pumpkin bread with rich swirls of nutella topping the bread.  Rich and decadent, this nutella pumpkin bread is a perfect celebration of fall.
Guys.  Guys.  I can barely contain my excitement for today's post.  It's time for October's Quick Bread of the Month, and I have something really new and exciting.
It's definitely unique and not at all overdone and expected this time of year.  Are you ready?  It's… nutella pumpkin bread!
Ha, ha.  I know, I know.  Pumpkin bread in October is basically as boring as it gets.  I'm not a fan of the #basic trend, but if there was ever a reason to use the basic hashtag, pumpkin bread in October is probably it.
At least I'm not writing this post while wearing tall boots, a plaid shirt, and a puffy vest?
(I promise, I'm not.  At least not right now. I'm currently on vacation at the shore, sitting in the living room of our rented house with the windows open, listening to the waves crashing on the beach, and wearing flannel penguin-print pajamas.  Life is good.)
I wasn't going to share this nutella pumpkin bread as part of my 2016 Quick Bread of the Month series.  I had a different quick bread in mind for this month, mostly because pumpkin and October is just so dang overdone.
The world is missing lots of things, but another pumpkin bread recipe isn't one of them.  But then I made this bread to bring down to the shore for our College Friends Beach Week, and it was just so good.  I tried, but I couldn't keep it to myself.
Last year on our annual shore trip, I shared my chocolate chip pumpkin bread. It just seemed fitting to come back to the shore again (we moved a few miles down the road from Avalon to Stone Harbor this year) and share another pumpkin bread recipe.
The week started out rainy and dreary, but the sun has come out in full force and we spent all afternoon today at the beach.  Perfect weather for some nutella pumpkin bread, right? 😉
Despite trading in our fall attire for shorts and sunglasses, two loaves of this nutella pumpkin bread disappeared within our first three days here.  The recipe is based off my chocolate chip pumpkin bread, but it's a little richer, denser, and more splurge-worthy.
Lots of pumpkin, flavored with cinnamon and nutmeg.  Instead of chocolate chips spread throughout the bread, there are big spoonfuls of pure nutella swirled on top.
The end result is  a little more grown up and sophisticated.  Don't get me wrong; the original bread is delicious.  But the nutella pumpkin bread is a quick bread worthy of a special occasion: beautiful swirls of nutella, delicious, rich pumpkin flavor.
(Sophisticated people not necessary to enjoy.  Our beach week thus far included lots of jello shots, beer pong, and sneaking into someone's room after he was asleep, wearing a horse mask, playing Enigma.  Why yes, we are all mid-30s professionals, why do you ask?)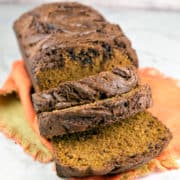 Yield:
1 loaf (12 slices)
Nutella Pumpkin Bread
Perfectly spiced pumpkin bread with rich swirls of nutella topping the bread.
Ingredients:
3/4 cup sugar
1 cup pumpkin puree
1/2 cup canola oil
2 eggs
2 teaspoons vanilla
1 1/2 cups flour
1 teaspoon baking soda
1 teaspoon salt
2 teaspoon cinnamon
1 teaspoon nutmeg
1/2 cup Nutella
Directions:
Preheat oven to 350 °F.  Grease an 8×4-inch loaf pan.
In a large bowl, whisk together the sugar, pumpkin, oil, eggs, and vanilla.
Gently stir in the flour, baking soda, salt, cinnamon, and nutmeg, mixing until ingredients are just combined.
Place the Nutella in a small, microwave-safe bowl and heat in the microwave for 30 seconds, until smooth and easy to pour.
Spoon the pumpkin bread batter into the loaf pan.  Drizzle the Nutella on top, then swirl into the batter with a knife.
Bake for 1 hour, or until a tester comes out clean.  Cool in the pan for 10 minutes, then remove and cool complete on a wire rack.  Pumpkin bread is best if eaten within 3 days of baking; otherwise, freeze a loaf by wrapping it in aluminum foil and then sealing in a ziploc freezer bag.
A Bunsen Burner Bakery Original Protocol