November 30, 2016
No Bake M&M'S® Pretzel Peanut Butter Pie
A crispy pretzel crust, whipped peanut butter pie filling, layer of chocolate ganache, and crunchy M&M'S® combine into the perfect (almost) No Bake M&M'S® Pretzel Peanut Butter Pie.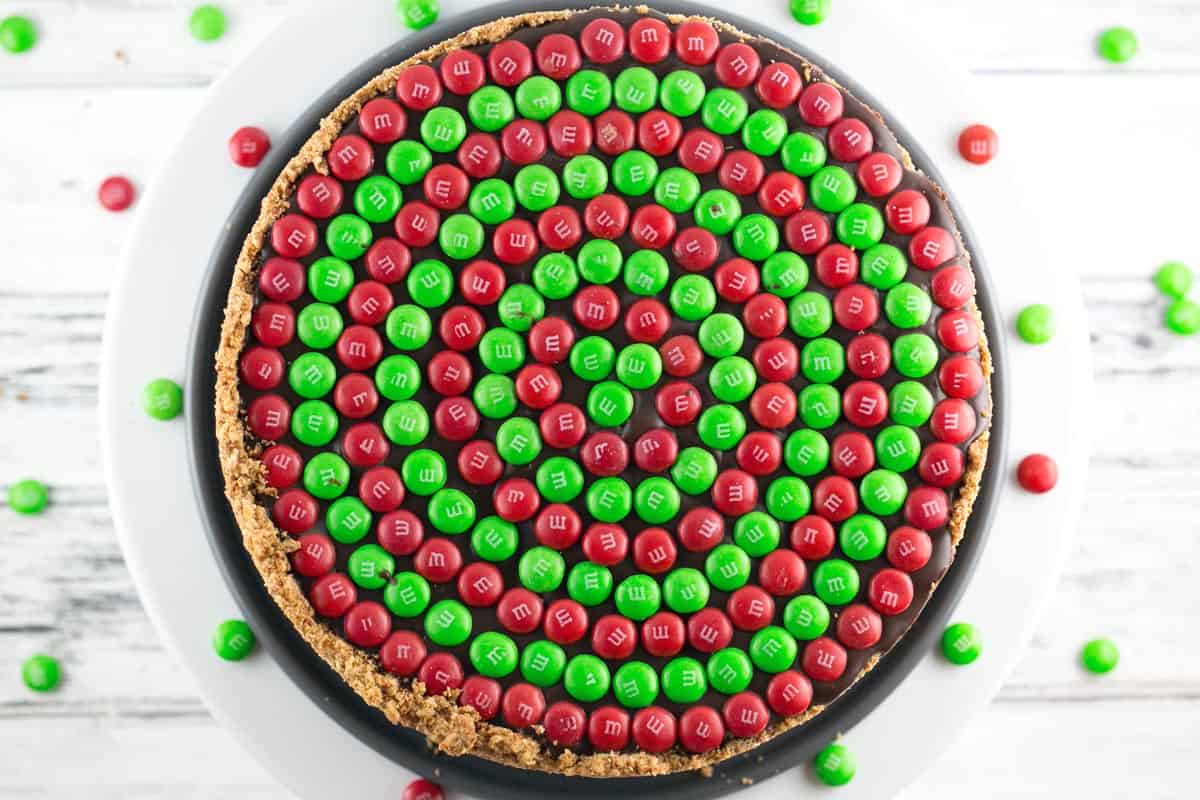 This post is sponsored by MARS Incorporated.
As you can probably imagine, I bake a lot. All the recipes I share on here are tweaked and tested until they're juuuuust right. This means that I often wind up making the same thing many times. In turn, this means that I share my treats with a lot of people.
I bring desserts into work and share with my coworkers in the lab. I drop off slices of pie and cake to our neighbors. And of course, every time someone invites us over for dinner, I come bearing one of the many desserts that wind up on here.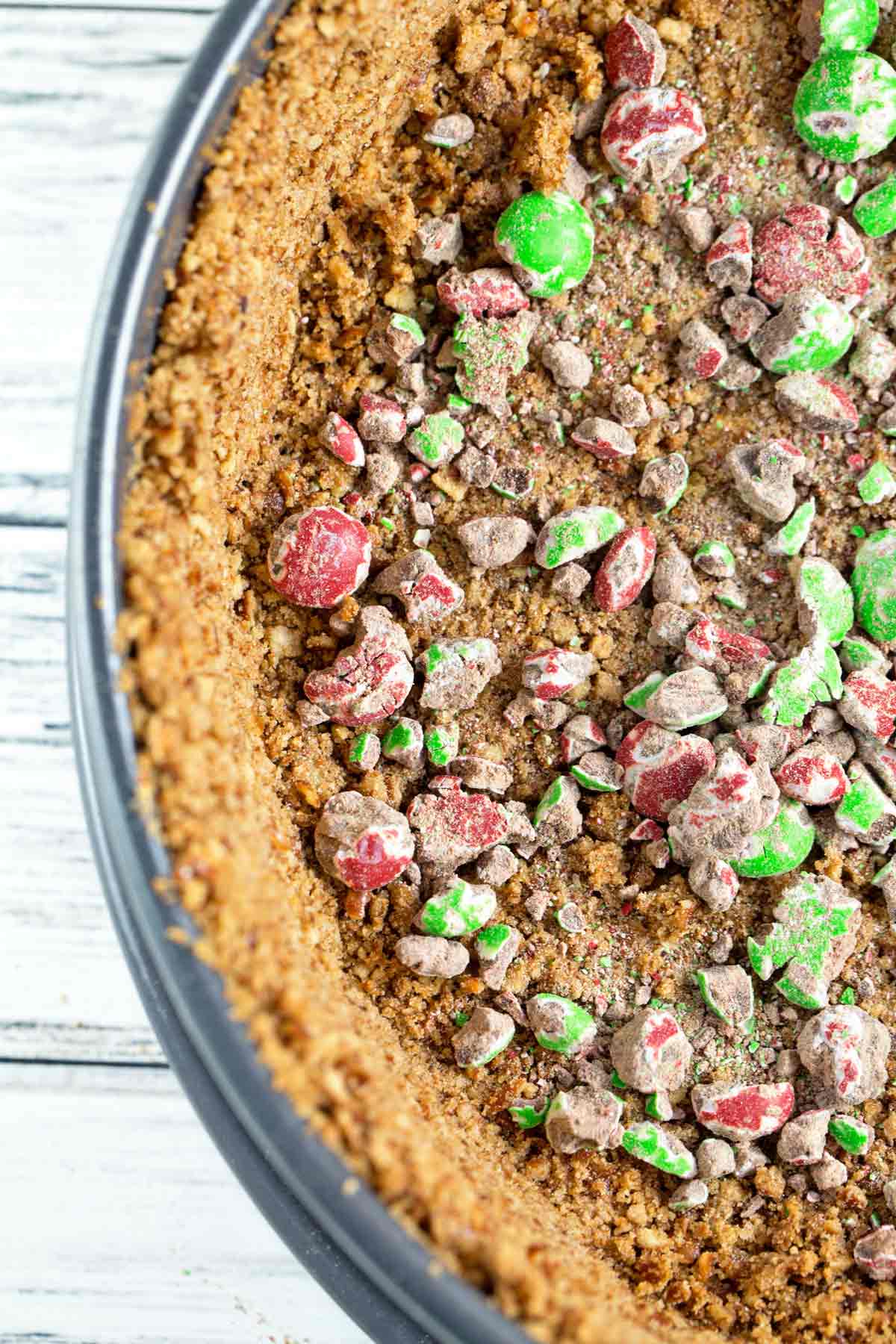 I love bringing sweet treats to friends, and even more so when we have a funny story to tell. We recently had dinner with a childhood friend of my husband's and his lovely wife, at their new home.
I provided a few dessert options that I was planning on baking to share on here, and they chose this M&M'S® pretzel peanut butter pie.
And thus, I wound up bringing a Christmas-themed peanut butter pie, with one slice pre-cut and a forkful removed (because… pictures) to fellow Jewish friends. And we all had a good laugh.
This is how you know if you're in my inner circle of friends: I'm willing to show up to your house with a dessert with a piece missing, because I had to photograph it. #foodbloggerproblems
What is a No Bake M&M'S® Pretzel Peanut Butter Pie?
First off, I realize this title is a mouthful. But there's a lot going on here! Layers. So many layers! We have:
a crunchy pretzel crust (so good)
crushed M&M'S®
a deep-dish layer of creamy peanut butter mouse-like filling
more chopped M&M'S®
chocolate ganache
even more M&M'S®
Phew! That's a lot of layers (and a lot of M&M'S®)! And every single one is delicious.
My favorite thing about this pretzel peanut butter pie, besides how easy it is, are all the different textures! I'm usually not a big fan of no bake peanut butter pies, because they're just soft and smooth. Soft crust, soft filling, maybe some soft whipped cream on top.
But this version of a peanut butter pie has so many textures! There's a crunchy, salty crust. There's the sweet, smooth, whipped peanut butter filling, sandwiched between two layers of chopped M&M'S® (more crunch!). Then there's the chocolate ganache layer, with that slightly chewy, dense and heavy texture. And finally – whole M&M'S®.
Each bite is is smooth, crunchy, and chewy – I love it!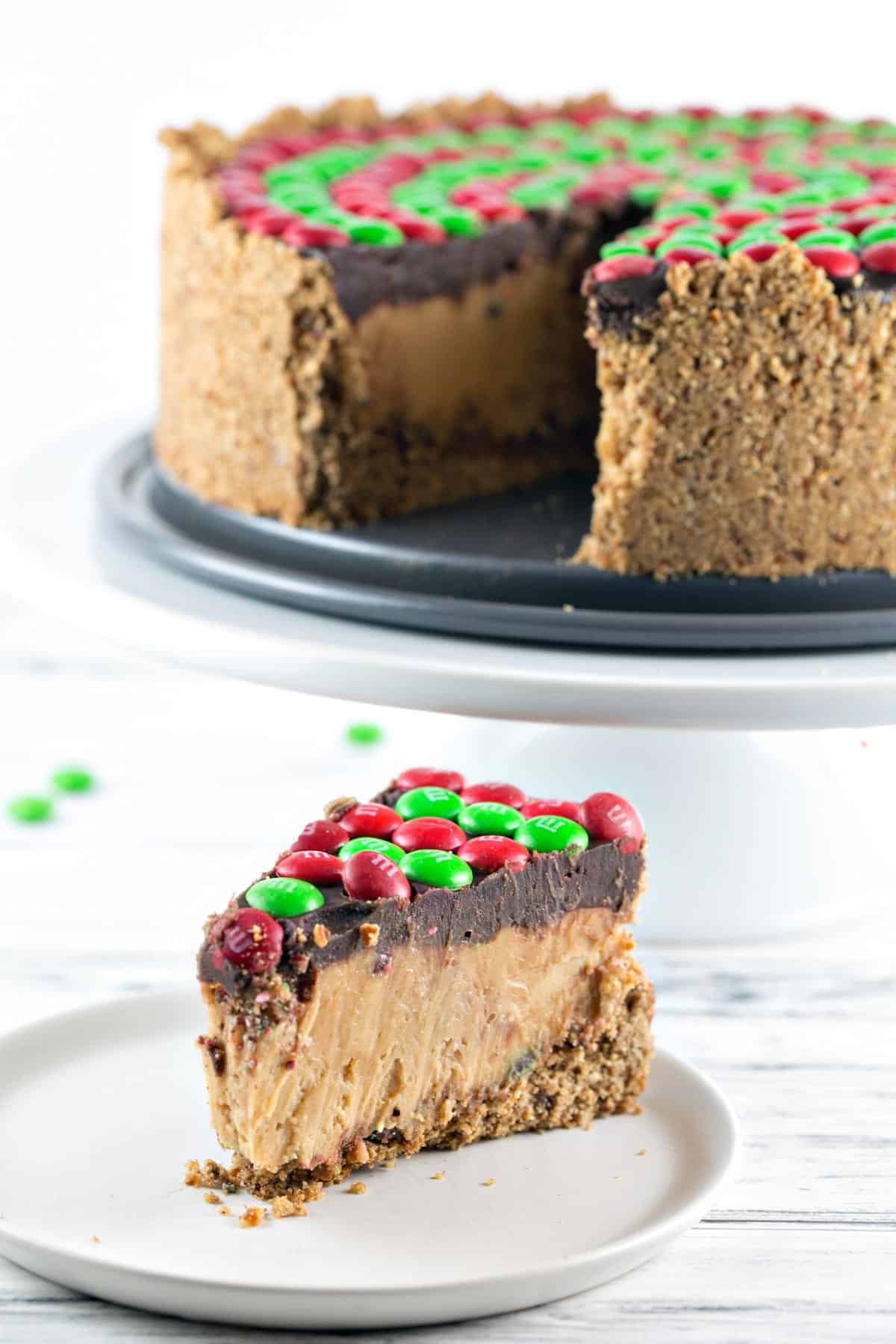 How to Make Pretzel Peanut Butter Pie
Okay, first up, let's address the elephant in the room. I call this a "no bake" M&M'S® pretzel peanut butter pie, buuuut… you do have to turn on your oven for a few minutes. I know, I know.
The pretzel crust requires a quick pop into the oven to crisp up and hold together. Believe me, it's worth it – the salty, crunch pretzels pair perfectly with the sweet peanut butter filling, chocolate ganache, and M&M'S®.
But if it's really too much effort, buy a pre-made graham cracker or chocolate cookie crust. It won't be the same, but it will still be delicious!
I went ahead and sprinkled some crushed M&M'S® on top of the pretzel crust because… why not? Who doesn't like a little extra bite of chocolate in their pie?
Then, we have a thick layer of peanut butter deliciousness — peanut butter, cream cheese, powdered sugar, and heavy cream, all whipped together until light and fluffy. Top that layer with additional chopped M&M'S®, followed by silky smooth (and oh-so-decadent) chocolate ganache, and then the best part – cover the top with M&M'S®!
I went for concentric circles of holiday colored M&M'S® (so perfect for all the upcoming Christmas parties!), but the world (errr… top of the pie?) is your oyster. I'm definitely going to be making this peanut butter pie again utilizing all the colors in a regular bag of M&M'S® – stripes? circles? chevron? The possibilities are endless!
More No Bake Dessert Recipes:
No Bake Peanut Butter Bars
Chocolate Oreo Peanut Butter Torte
Tim Tam No Bake Cheesecake
Chocolate Peanut Butter Banana Pretzel Pie
Peanut Butter Cup Cheesecake Dip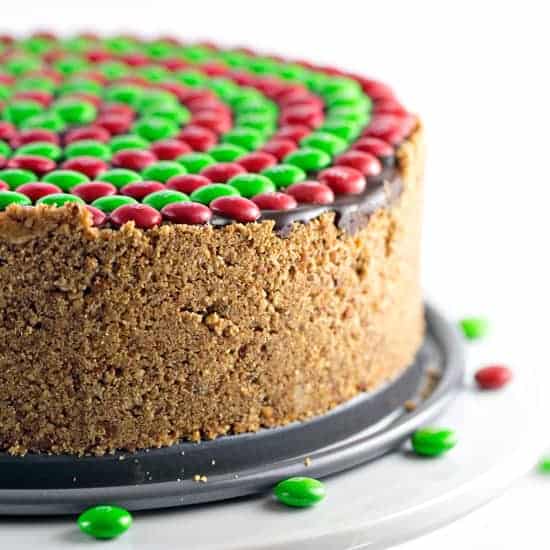 No Bake M&M'S® Pretzel Peanut Butter Pie
A crispy pretzel crust, whipped peanut butter pie filling, layer of chocolate ganache, and crunchy M&M'S® combine into the perfect peanut butter pie.
Ingredients
FOR THE CRUST:
2 cups finely crushed pretzels
1/4 cup packed brown sugar
3/4 cup melted butter
FOR THE PEANUT BUTTER PIE FILLING:
1 3/4 cups creamy peanut butter
8 ounces (1 package) cream cheese, room temperature
1 cup confectioners sugar
1 cup heavy cream
FOR THE GANACHE:
1 cup high quality semi-sweet or dark chocolate, chopped
2 tablespoons creamy peanut butter
1/2 cup heavy cream
FOR DECORATING:
1 (11.4 ounce) bag M&M'S® Holiday Milk Chocolate Candies, divided
Instructions
Start by preparing the peanut butter crust. Combine the pretzels, brown sugar, and butter in a mixing bowl. Press the mixture firmly along the bottom and sides of a lightly greased 9″ springform pan. Bake at 350 °F for 10 minutes, or until lightly browned. Remove from the oven and cool completely before filling.
To make the pie filling, start by whisking the heavy cream with a mixer. Beat on medium-high speed until stiff peaks form, 5 to 8 minutes. Scrape the whipped cream into a bowl. Add the peanut butter, cream cheese, and confectioners sugar back into the mixing bowl. Beat together until fully combined. Remove the bowl from the mixer and fold in the whipped cream by hand until the pie filling is fluffy and light, and no streaks of whipped cream remain.
To make the chocolate ganache, add the chopped chocolate, peanut butter, and heavy cream to a small, microwave safe bowl. Heat for 1 minute at 50% power, then remove from the microwave and stir. Repeat until the chocolate is melted and stir until the ganache is smooth. Move the ganache into the refrigerator for 20 minutes, or until cooler and thick.
Remove 1 cup of the M&M'S® from the bag and place them in a quart-sized zip top bag. Pound the M&M'S® with a rolling pin or mallet, until crushed into smaller pieces.
To assemble the M&M'S® peanut pretzel pie, start by sprinkling half of the crushed M&M'S® along the bottom of the pretzel crust. Spread the peanut butter pie filling across the top of the crust, using a spoon or knife to smooth down the top. Sprinkle the remaining crushed M&M'S® on top of the peanut butter layer. Using a rubber spatula, spread the ganache on top of this, making sure to fully spread to the crust. Decorate the top of the pie with the remaining whole M&M'S®.
Refrigerate the entire pie 4 hours (preferably overnight) to set. Serve cold.
Notes
To make pie ahead of time and freeze, wrap the pie tightly with aluminum foil, followed by a layer of plastic wrap. Store in the freezer for up to 3 months. Defrost for 12 hours in the refrigerator before serving.
A Bunsen Burner Bakery Original Protocol
Recommended Products
As an Amazon Associate and member of other affiliate programs, I earn from qualifying purchases.