December 27, 2017
Best Bundt Cakes (+ Essential Bundt Baking Tips)
Bundt cakes are the best all-occasion cake — fancier than a sheet cake, but more relaxed than a layer cake. 10 tips for the best bundt you've ever made, plus 30+ recipes for the best bundt cakes out there!
I like big bundts… and I cannot lie.
Okay, come on.  An entire year of bundt cakes and I waited until the very, very end to make that joke.  You had to know it was coming eventually… right?
But it's true.  I totally love bundt cakes, and the bigger the better.  I know little mini bundt cakes have plenty of fans, but I love the big ones.  There's something so majestic about a giant bundt cake on a pretty cake plate.
And so, after a year of baking a baker's dozen of bundts, I thought I'd compile some of my best tips, so you can make your Best Bundt Ever.
Tips to Bake the Perfect Bundt Cake
1) Use a non-stick bundt pan in good shape.  Lots of scratches = lots of little areas to stick.  Most of my bundt pants are Nordicware (affiliate link, but not sponsored), and they all release beautifully.
2) Use the right size bundt pan!  Some recipes provide you with an actual size (i.e., prepare a 12 cup bundt pan).  Many do not.  You want the batter to fill the pan roughly two-thirds to three-fourths of the way up the sides of the pan.  If you find that your batter goes higher than this, stop and save the rest of the batter for another use.  If the batter doesn't fill the pan this high, the shape will be disappointing.
3) Use non-stick spray or melted shortening to grease your pans.  Butter contains milk solids, which can increase the stickiness of the cake.  If you've been using melted butter to grease your pans and find that they stick, try a coating of non-stick vegetable spray instead.  I don't flour my bundt cakes because the non-stick pans release well, but you can also coat with a thin layer of flour if your pans are prone to sticking.
4) Grease the pan just before adding batter.  Most recipes start with "Preheat your oven to 350. Grease your pan…" I'll admit it – some of my earlier bundt recipes do this, too.  But after a year of bundt baking, I've realized that greasing your pan ahead of time means the nonstick spray just pools in the bottom of the pan.  Wait until right before you add the batter so the spray stays on the sides of the pan, right where you need it.
5) Spoon the batter into the pan, ensuring that all little crevices are full.  Once all the batter is in, tap the pan firmly on the counter several times.  Air bubbles in the bottom of the pan bake into little divots, ruining the intricate designs.
6) Use a spatula to spread the batter UP the sides of the pan, a little higher than the center.  Bundt cakes will rise and starting the batter higher up on the sides allows the cake both to bake more evenly and prevents the center from doming.
7) If the center does dome (i.e., the cake will not have a flat bottom once flipped), use a clean dishcloth and gently press down on the domed center as soon as taking the cake out of the oven.
8) Let the cake rest at room temperature for 10-20 minutes after removing from the hot oven.  You need the cake to cool enough to firm up before removing.  But waiting too long to remove the cake can also contribute to the cake breaking.  I've found 10-20 minutes to be the sweet spot, where the cake is most likely to release cleanly.  Turn the cake upside-down onto a cooling pan and let it sit for 10 minutes – the cake will start to pull away from the sides of the pan and release naturally.
9) If the sides of the cake are sticking a little, run a knife or flexible spatula down the sides of the still-warm cake to carefully release the sides.
10) If you absolutely cannot get the cake out of the pan, return your cake to a 300 °F oven for 10 minutes.  This is usually just long enough to help release any areas still sticking to the side of the pan.
Now that you're armed with tips for your best bundt baking, you need some recipes, right?!  Here's what I'm calling the Ultimate Bundt Collection: the 32 Best Bundts I've found.  Let's go!
Chocolate Bundt Cakes
Cookies & Cream Oreo Bundt Cake via Bunsen Burner Bakery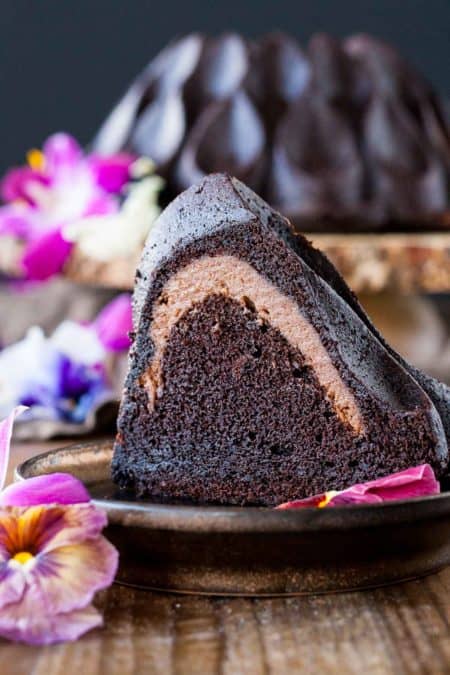 Chocolate Cheesecake Stuffed Bundt Cake via Liv for Cake
Chocolate Peanut Butter Cup Bundt Cake via Bunsen Burner Bakery
Double Chocolate Bundt Cake via Domestic Gothess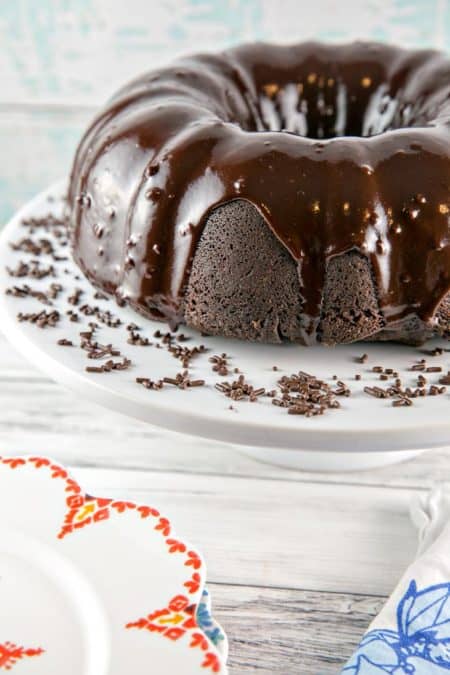 Chocolate Fudge Bundt Cake via Bunsen Burner Bakery
Chocolate Buttermilk Bundt Cake via Kylee Cooks
Peppermint Mocha Bundt Cake via Bunsen Burner Bakery
Fruity Bundt Cakes
Lemon Blueberry Bundt Cake via Bunsen Burner Bakery
Cherry Almond Ricotta Bundt Cake via Sweet and Savory Meals
Hummingbird Bundt Cake via The View from Great Island
Lemon Raspberry Bundt Cake via Marsha's Baking Addiction
Meyer Lemon Olive Oil Cake via Baking Sense
Floral Bundt Cakes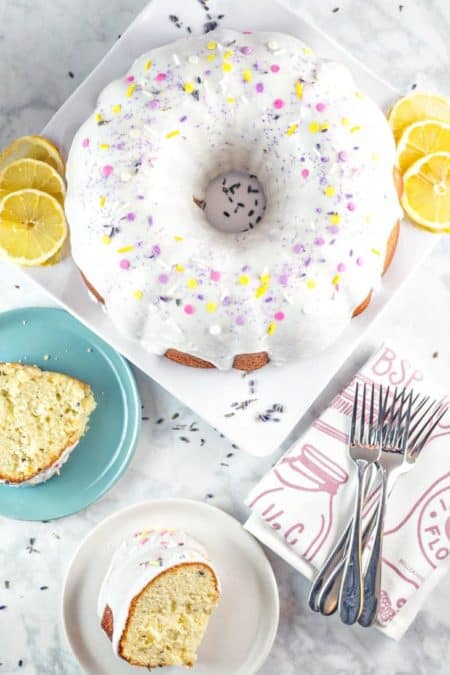 Lemon Lavender Bundt Cake via Bunsen Burner Bakery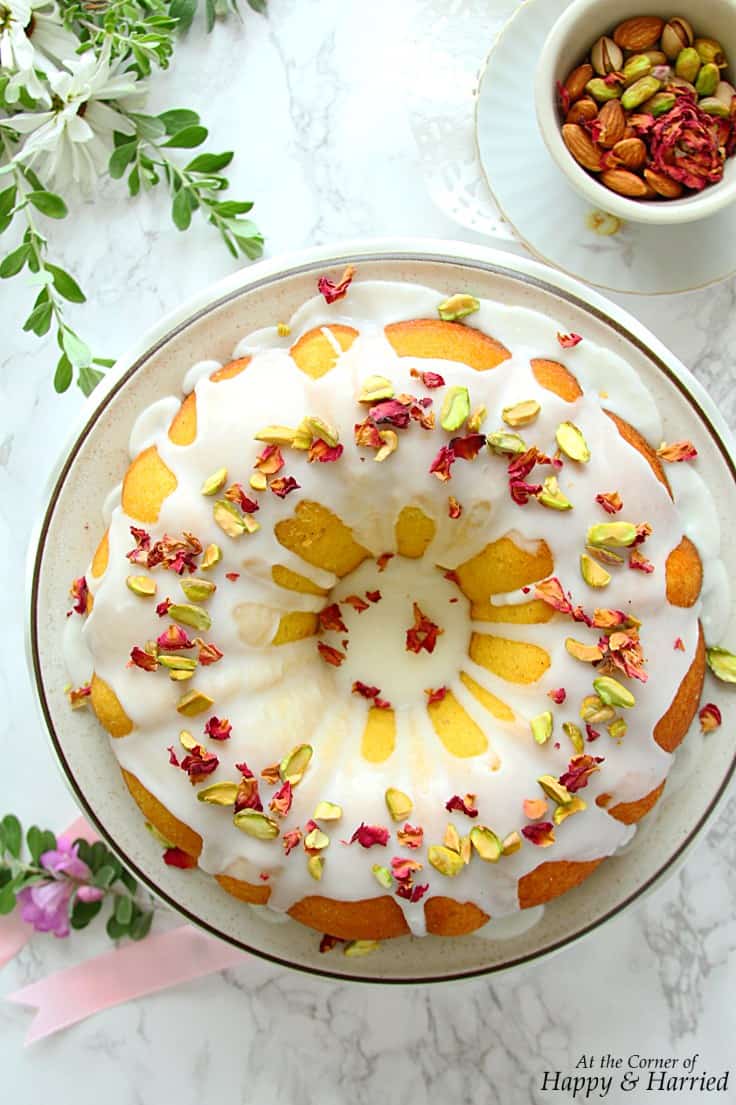 Persian Love Cake via Happy & Harried
Boozy Bundt Cakes
Irish Cream Bundt Cake via Bunsen Burner Bakery
Orange Bundt Cake with Salted Whisky Caramel via Recipes from a Pantry
Spiked Eggnog Bundt Cake via Cooking with Curls
Chocolate and Red Wine Cake with Pears via Cinnamon & Coriander
Apricot Brandy Bundt Cake via Running to the Kitchen
Rum Cake via Texan Erin
Marble Bundt Cakes
Patriotic Spiral Bundt Cake via Bunsen Burner Bakery
Strawberry Key Lime Cheesecake Bundt Cake via The Crumby Kitchen
Marble Bundt Cake via Baking a Moment
Fun and Festive Bundt Cakes
Funfetti Bundt Cake via Bunsen Burner Bakery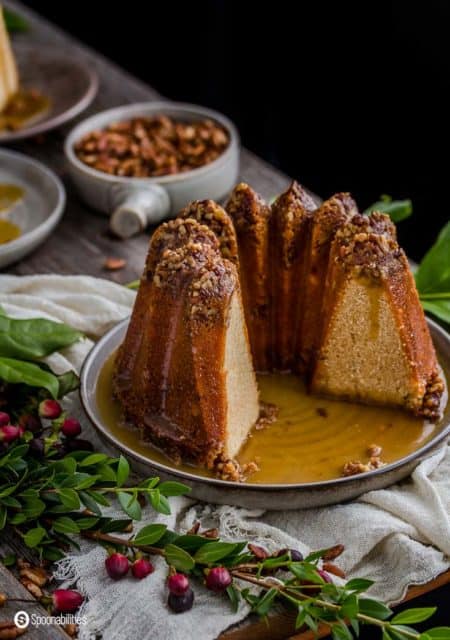 Pecan Pie Bundt Cake via Spoonabilities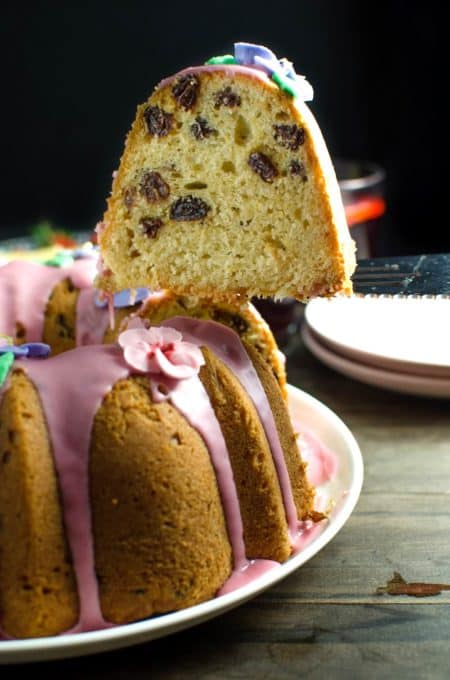 Breudher Cake with Blood Orange Glaze via The Flavor Bender
S'mores Bundt Cake via Bunsen Burner Bakery
Gingerbread Bundt Cake with Vanilla Glaze via Living Sweet Moments
Cranberry Walnut Bundt Cake via Supergolden Bakes
Red Velvet Bundt Cake via Bunsen Burner Bakery
Pumpkin Ricotta Bundt Cake via The Merchant Baker
Whew! That's a lot of really delicious looking bundt cakes!  Which one are you going to try first?!