August 14, 2019
Peach Pie Bars
If you're only going to make one fresh peach dessert this summer, make it these easy peach pie bars with an oatmeal cinnamon crumble topping. Easy to make and full of delicious fresh peaches, these are the perfect pie bars to share at picnics and parties.
We're in the swing of peach season here in the mid-Atlantic, so of course, I can't resist sharing a peach dessert. If you're going to make one peach-based dessert this year, make these peach pie bars.
How delicious are these peach pie bars? So delicious that even my husband, who generally could not care any less about fruit desserts, commented on how good they were.
The key to making these really good? Use good quality, ripe peaches. You know how an apple pie is still good even with kind of mediocre apples? Under-ripened peaches don't hide in desserts. Wait until they're nice and ripe – maybe even just a little overripe.
Trust me – these peach bars are worth the wait.
What are Pie Bars
I love pies, but I'm going to be honest: I love pie bars even more.
It's all the best parts of a pie: a delicious crust, a sweet fruit filling, some sort of crumb or crumble topping — but in one-handed, portable, bar form. Pie bars also eliminate the worst, most stressful part of baking a pie: trying to cut it!
I shared a recipe for blackberry pie bars earlier this summer, made with a custard-like filling including sour cream. These peach pie bars, on the other hand, are just fruit based. Both kinds are delicious, it just depends what kind of mood you're in!
How to Tell if a Peach is Ripe
Like I mentioned above, the first step to making delicious peach pie bars is using ripe peaches.
Unsure how to tell if a peach is ripe? Don't worry; I have you covered!
A ripe peach should be very soft — not just a little soft. Give the peach a gentle squeeze. Does it have just a little give? If so, set it down and walk away for another day or two.
The easiest visual way to tell if a peach is ripe is to look at the skin around the stem. After picking off the tree, the water inside the peach starts to evaporate. As more water evaporates, the skin starts to wrinkle, starting around the stem.
Less water inside the peach means more concentrated delicious peach flavor. Once the skin starts to wrinkle, you have yourself a perfect peach.
What if you're dying to make these peach pie bars tomorrow, but the peaches aren't ripe yet? Let's turn to my favorite subject, kitchen chemistry, for a great tip on how to speed up the ripening process.
Kitchen Chemistry

Peaches, like many other fruits, give off ethylene gas, a hydrocarbon gas naturally emitted during the ripening process. As peaches release ethylene, the starch in the fruit converts to a sugar and the texture of the peach becomes softer. More ethylene gas speeds up the ripening process, so storing peaches in a paper bag to trap the emitted ethylene will help peaches ripen faster.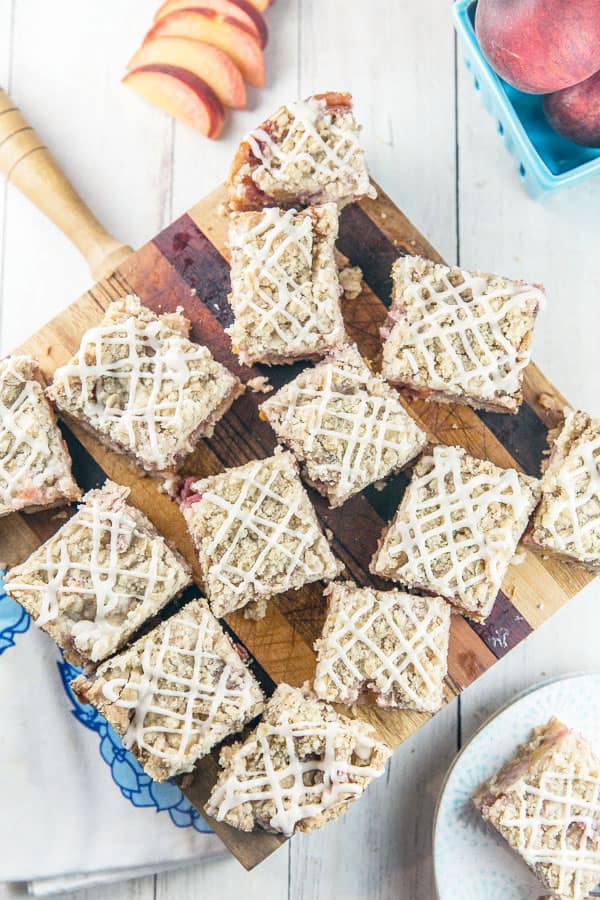 How to Make Peach Pie Bars with Fresh Peaches
These peach pie bars come together quickly and easily, making them perfect for any sort of summer gathering. The crust can be made by hand or with a mixer, and can even be made a day or two head of time and stored in the refrigerator until ready to bake.
The crust contains flour, oatmeal (for a delicious crunch!), sugar, cinnamon, salt, and butter. We'll use cold butter here and beat or cut it into the batter for a shortbread-style crust. (In other words, no waiting for your butter to come to room temperature first!)
A mixer is easy to use, but you can also whisk the other ingredients together by hand and cut the cold cubes of butter in with a pastry blender or two knives.
The peach filling is even easier than the crust! We're not even going to cook it first — everything gets baked with the raw peaches. I don't even bother peeling them; the skin softens so much while the peach bakes, you can't even tell it's there.
The topping for the bars is exactly the same as the crust; just reserve some and sprinkle it on top. I like to finish them off with a little powdered sugar glaze, but this step is optional — I can't blame anyone if they want to dig in and skip waiting for the glaze to harden!
Tips and Tricks for the Best Peach Pie Bars
Make sure your peaches are ripe — for the best peach flavor, we want our peaches to be very ripe!
Look for the peach filling to bubble before removing from the oven. The filling must be hot enough to boil for the flour to thicken; listen for a sizzling sound and look for the filling to bubble up around the edges of a pan.
After baking, allow the bars to cool before slicing. This ensures the filling is properly set.
Peach pie bars are best consumed they day they are baked. Leftovers can be stored at room temperature or refrigerated for 2-3 days or frozen for up to 3 months.
More Pie Bar Recipes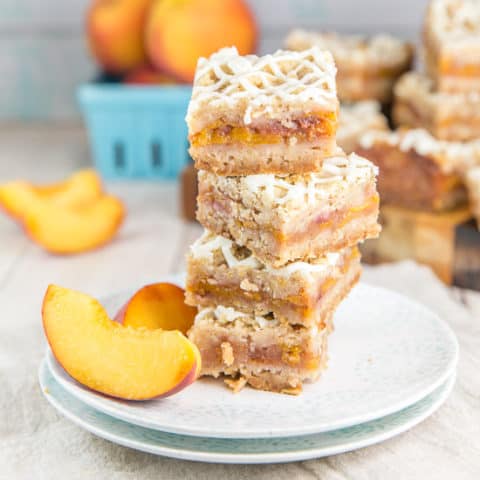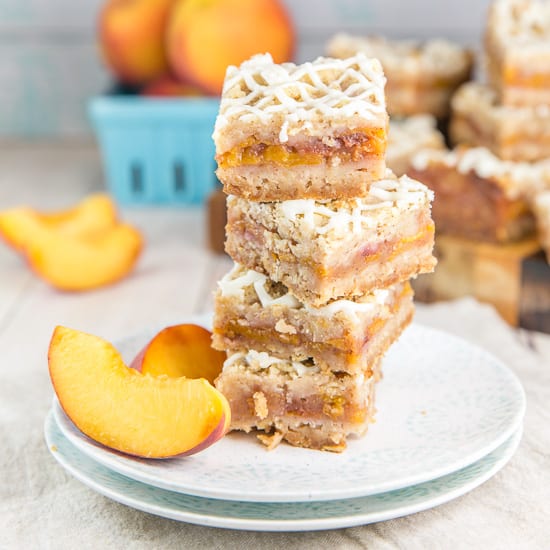 Peach Pie Bars
Total Time:
1 hour
15 minutes
If you're only going to make one fresh peach dessert this summer, make it these easy peach pie bars with an oatmeal cinnamon crumble topping. 
Ingredients
for the crust:
2 cups all-purpose flour
1 cup rolled oats
1 cup sugar
1 teaspoon cinnamon
1/4 teaspoon salt
1 cup cold butter, cut into 1/2-inch cubes
For the filling:
5 cups chopped peaches (about 6 peaches)
2 tablespoons lemon juice
1/2 cup all-purpose flour
1 cup sugar
1/4 teaspoon salt
1 teaspoon ground cinnamon
1/2 teaspoon ginger
For the Glaze:
1 cup confectioners sugar
2 tablespoons heavy cream
Instructions
Preheat the oven to 350 °F. Grease a 9x9-inch square baking dish.
To make the crust, combine the flour, rolled oats, sugar, cinnamon, and salt in the bowl of an electric mixer fitted with a paddle attachment. Mix together, then add in the cubes of cold butter. Beat on medium speed until the mixture is crumbly and the consistency of coarse sand. (Alternatively: cut butter into ingredients by hand in a large mixing bowl.)
Set aside 1 1/2 cups of the crust mixture. Press the rest into the bottom of the prepared pan, creating an even layer. Bake the crust for 15 minutes, until golden.
To make the filling, place the diced peaches in a large bowl. Add in the lemon juice, flour, sugar, salt, cinnamon, and ginger and stir to mix. Spread the peach mixture evenly over the baked crust. Crumble the remaining crust dough over the peaches, covering as much of the surface as possible.
Bake the pie bars for 45 minutes, or until the top is slightly browned and the filling is visibly bubbling. Cool completely in the pan.
Whisk together the confectioners sugar and heavy cream to make the glaze. For a thinner glaze, add more cream; for a thicker glaze, add more sugar. Drizzle over the top and allow the glaze to solidify before cutting into squares.
Notes
Use fully ripe peaches for the best flavor.
After baking, allow the bars to cool completely before slicing.
Leftover peach pie bars are best consumed the day they are baked. Leftovers can be stored at room temperature or refrigerated for 2-3 days, or frozen for 3 months. Individual bars should be wrapped in aluminum foil and stored in an airtight freezer bag. Thaw to room temperature.
A Bunsen Burner Bakery Original Protocol
Recommended Products
As an Amazon Associate and member of other affiliate programs, I earn from qualifying purchases.
Nutrition Information:
Yield:

20
Serving Size:

1 bar
Amount Per Serving:
Calories:

289
Total Fat:

10.5g
Carbohydrates:

46.7g
Protein:

3.5g