December 18, 2020
Cranberry Brownies
Fudgy, dark chocolate brownies filled with fresh (or frozen!) cranberries and white chocolate chips, these Cranberry Brownies are the perfect easy, mix by hand, holiday treat!
It's time to wrap up our 2020 "Brownie of the Year" series, and we're going out with a holiday-appropriate take.
Cranberries are a favorite from Thanksgiving through Christmas, but because they freeze well, these can really be anytime brownies. (Valentine's Day, perhaps?)
Because cranberries are large and heavy (compared to say, chopped chocolate), this recipe calls for just a touch more flour than some of my other brownie recipes.
We need a little extra structure to prevent the cranberries and white chocolate chips from sinking to the bottom of the pan!
But rest assured — using high-fat cocoa powder and enough butter prevents these brownies from veering toward cakey – they're still perfectly fudgy and delicious. I mean, just look at that fudgy interior! ↓↓↓
Adding Frozen Cranberries to Baked Goods
Cranberries freeze really well. (So well, in fact, the brand often tells you to buy two – one for now, and one to freeze for later!)
Sometimes frozen fruit should be thawed before use, to remove any excess moisture that may have accumulated in the form of ice crystals.
In the case of cranberries, however, there's no need. Just toss the frozen cranberries right into the batter and fold them in.
The brownies may require an extra 1-2 minutes of baking time, but otherwise, the recipe is exactly the same whether you use fresh or frozen cranberries!
Natural Unsweetened Chocolate vs. Dutch Processed
The kind of cocoa powder you use in baked goods — natural unsweetened or Dutch processed (also called alkalinized cocoa)– can have a huge impact on the outcome.
If there are chemical leaveners in the recipe (baking powder or baking soda), always use the type of cocoa powder specified in the recipe. Dutch processed cocoa powder is pH neutral, while natural unsweetened cocoa powder is acidic.
Batter with a neutral pH generally requires baking powder, while an acidic batter calls for baking soda (sometimes with additional baking powder added, too).
But in this brownie recipe, we don't use baking soda OR baking powder, so what's the difference? It's time for my favorite subject… kitchen chemistry!
Kitchen Chemistry

Dutch processed cocoa powder results in a fudgier texture with a richer, more chocolately flavor. Most Dutch processed cocoa powder comes from better quality cocoa beans and the cocoa powder retain significantly more fat, contributing to a better overall baked good.
No Dutch processed cocoa powder? Don't sweat it – use natural unsweetened in this recipe. But if you want to add a little splurge and elevate your brownies to the next level, I highly recommend adding some Dutch processed cocoa powder to your kitchen stash.
My personal favorite brands are Droste cocoa powder and Cacao Barry cocoa powder (affiliate links).
Recommended Tools to Make Cranberry Brownies
Frequently Asked Questions about Cranberry Brownies
Can cranberry brownies be frozen?
Freeze either an entire pan or cut brownies into individual brownies, wrap them in aluminum foil, and store them in a freezer bag for up to 6 months. If the brownies are being frozen to serve later, thaw brownies completely before adding white chocolate drizzle.
How do I tell when the brownies are done?
These brownies are fudgy, so the top doesn't quite spring back when touched and the sides don't pull away from the pan. A toothpick inserted into the center will come out with a few moist crumbs. The brownies will continue to firm up as they cool.
How do you store cranberry brownies?
These brownies can be stored at room temperature or refrigerated for up to 5 days. Storing them in the refrigerator makes them taste extra fudgy: highly recommended!
Can the recipe be doubled and baked in a 9×13-inch pan?
Absolutely. Doubling the recipe will result in a thicker brownie, so add 10 minutes to the baking time. To keep the brownies the same thickness as pictured, multiply all ingredients by 1.75 and bake for the same time as listed in the recipe.
More Cranberry Recipes: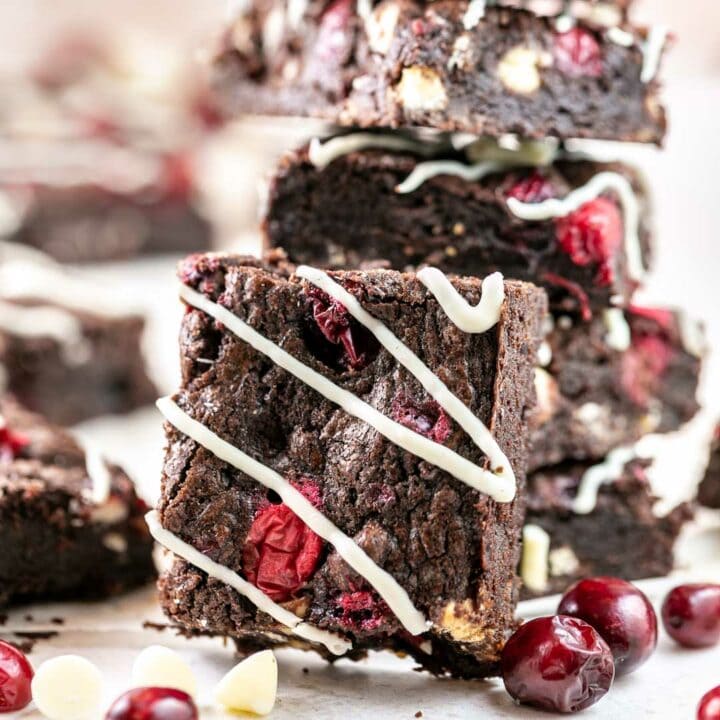 Cranberry Brownies
Fudgy, dark chocolate brownies filled with fresh (or frozen!) cranberries and white chocolate chips, these Cranberry Brownies are the perfect easy, mix by hand, holiday treat!
Ingredients
1 1/2 (297 grams) cups granulated sugar
3/4 cup (170 grams) butter, melted
3/4 cup (63 grams) Dutch processed cocoa powder
2 large eggs, room temperature
1 1/2 teaspoons vanilla extract
1 1/8 cup (135 grams) all purpose flour
3/4 teaspoon salt
1 cup (170 grams) white chocolate chips
1 cup (100 grams) cranberries, fresh or frozen
additional white chocolate chips for drizzle, if desired
Instructions
Preheat oven to 350 °F. Line an 8x8-inch metal baking dish with parchment paper and grease.
Make the batter. Melt the butter in a large, microwaveable bowl (60 to 90 seconds on high power). Stir in the cocoa powder and sugar, mixing until fully dissolved and no lumps of cocoa powder remain. Add the eggs one at a time, followed by the vanilla extract. Gently fold in the flour and salt until no streaks of flour remain. Fold in the white chocolate chips and cranberries, reserving some to press in the top of the batter.
Bake the brownies. Transfer the batter to the prepared pan, top with the remaining cranberries, and bake for 30-35 minutes, or until the center is just set and a tester comes out with a moist crumb. Cool completely before cutting.
Drizzle with white chocolate. If desired, melt an additional 1/4 to 1/2 cup of white chocolate chips in the microwave, melting in 30-second increments on 50% power and stirring well in between. If the chocolate is too thick to drizzle, add 1/2 teaspoon of vegetable, canola, or coconut oil and stir to mix. Drizzle the chocolate over the cut brownies before serving.
Notes
Fresh or frozen cranberries can be used for the recipe. If using frozen cranberries, do not thaw before folding into the batter.
Brownies are done when a tester inserted into the center comes out with a moist crumb. The brownies will continue to bake slightly after being removed from the oven.
Cut the brownies before drizzling with white chocolate - otherwise, the chocolate will break and crumble while cutting.
Brownies can be stored at room temperature or in the refrigerator, but will take on a fudgier, more chocolatey texture in the refrigerator.
Brownies can be stored at room temperature or in the refrigerator for up to 5 days, or frozen for up to 3 months.
Recommended Products
As an Amazon Associate and member of other affiliate programs, I earn from qualifying purchases.
Nutrition Information:
Yield:

16
Serving Size:

1 brownie
Amount Per Serving:
Calories:

265
Total Fat:

13.1g
Carbohydrates:

34.5g
Protein:

3.2g