February 8, 2017
Red Velvet Cream Cheese Swirl Bundt Cake
With a characteristic tang and a heaping pile of cream cheese frosting, this one bowl red velvet bundt cake with a cream cheese swirl is easy, delicious, and a true crowd pleaser!
You guys knew this was coming, right? A bundt cake of the month series, so what else would we choose for February other than… red velvet!
Red velvet is such a confusing cake flavor, because… what is it, exactly? There's a little chocolate, but it doesn't have a distinct chocolate flavor. There's a little hint of sourness and tang. The texture is a little different too – it's so light and fluffy compared to other cakes.
And of course, the most obvious part: it's red!
Why is Red Velvet Cake Red?
Let's talk a little bit about the history of red velvet cakes. It involves my favorite topic: science! Have you ever wondered why red velvet cakes are red? I mean, a bottle of food coloring does nothing to add to the flavor, so why do we use it?
Time for a little science and history lesson!
Kitchen Chemistry

Back in the day, cocoa powder contained a compound called anthocyanin. Anthocyanins are flavonoids that change color based on pH. Red velvet cake gets its unique tang and texture from some acidic additions: buttermilk and vinegar. When the anthocyanins react with the acid, the color changes from brown to deep red. Science! So why do we now add red food coloring? Most cocoa powder today is processed with an alkalizing agent to neutralize the pH. This makes cocoa powder taste more chocolatey, but it also makes it darker brown and prevents the color change.
Pretty interesting, right? (Okay, maybe I'm the only one who loves kitchen chemistry.)
How To Make Red Velvet Bundt Cake
To get the characteristic red velvet flavor and texture, we need to use buttermilk and distilled white vinegar for the acidic component. Don't worry, you don't taste the vinegar at all!
We need some baking soda to help give the cake a little extra rise. You guys all remember the vinegar and baking soda volcano experiment from elementary school, right?
And now, we add some red food coloring to replicate the traditional color change from the anthocyanins.
Here's the great debate on red velvet: should it be BRIGHT red or brownish-red? A lot of cakes now are super red. Like, red red.
You can achieve this by adding a lot of food coloring. A lot of recipes call for a full one ounce bottle. I… I just can't get behind adding that much food coloring when there's no real reason.
This red velvet bundt cake uses 3/4 of a tablespoon, which gives it a reddish color, but not super bright red. I prefer to think of it as a more authentic color, versus the modernized super red version.
(Another fun history fact: the super bright version started during the Great Depression, when it was an inexpensive way to make a cake look extra fancy.)
Of course, since this is a bundt cake, the texture will be a little more dense than a layer cake. Even with all the baking soda and vinegar and buttermilk, the increased depth of a bundt cake adds to the density.
But this thickness means that bundt cakes are ideal for adding a little layer of something in the middle – like a cream cheese swirl!
Red Velvet Bundt Cake with Cream Cheese Filling
For reasons I don't quite know, red velvet cake always has cream cheese frosting. Not only do we top this red velvet bundt cake with cream cheese frosting, we're also going to add a swirl right in the middle!
Just drop dollops of the cream cheese mixture on half the cake batter, use a knife to spread it around, and top with the rest of the batter.
As the cake bakes, the batter will bake around the frosting, leaving a perfect cream cheese swirl running right through the middle!
So, how do you like your red velvet? RED red, or reddish-brown? Are you a red velvet purest who only likes it in the form of a light, fluffy layer cake, or are you down with all the red velvet cookies/brownies/pancakes/doughnuts/everything else this time of year?
Tips for Baking the Best Bundt Cake
Worried that your bundt cake will fall apart when you try to take it out of the pan? Or even worse, not come out at all? Do you sometimes have issues with doming, where the batter puffs up too far in the middle of the pan instead of having a flat, level bottom?
Fret not, and click here for all my essential bundt baking tips. You'll be a bundt cake master in no time at all.
And there's no better way to start than with this red velvet bundt cake. It's easy (did I mention that you mix everything in one bowl?!) and it's a huge crowd pleaser (my coworkers ate the entire cake in 2 hours!). This bundt cake should definitely be on your baking list for Valentine's Day… or any other day of the year!
More Bundt Cake Recipes: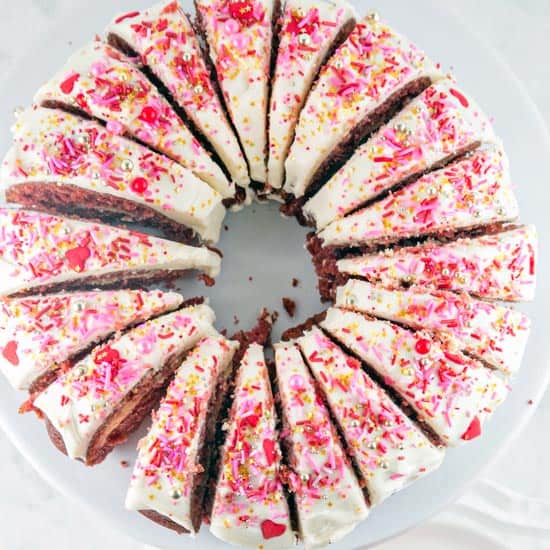 Red Velvet Cream Cheese Swirl Bundt Cake
Total Time:
1 hour
15 minutes
With a characteristic tang and a heaping pile of cream cheese frosting, this red velvet bundt cake with a cream cheese swirl is an easy crowd pleaser!
Ingredients
FOR THE CREAM CHEESE SWIRL:
8 ounces cream cheese, softened
1/3 cup sugar
1 egg
1 tablespoon sour cream
1 tablespoon heavy cream
1 teaspoon vanilla extract
FOR THE RED VELVET CAKE:
1 1/4 cup vegetable oil
1 1/4 cup sugar
2 eggs
1 cup buttermilk
1 tablespoon vinegar
1 tablespoon vanilla extract
3/4 tablespoon red food coloring
2 1/2 cups flour
1 teaspoon baking soda
3/4 teaspoon salt
2 tablespoon cocoa powder
FOR THE CREAM CHEESE FROSTING:
8 ounces cream cheese, softened
1/4 cup butter, softened
2 1/2 cups confectioners sugar
4 tablespoons heavy cream
Instructions
Preheat oven to 350 °F. Grease a 12-cup metal bundt pan.
Start by making the cream cheese swirl. In the bowl of an electric mixer, combine the cream cheese and sugar and beat with the paddle attachment until combined. Add in the egg, sour cream, heavy cream, and vanilla extract and continue to beat until mixture is soft and pourable. Scrape out the cream cheese swirl mixture into a small bowl and set aside.
Wipe out the inside of the mixing bowl with a towel. Pour in the vegetable oil, sugar, eggs, buttermilk, vinegar, vanilla, and red food coloring. Beat for 2-3 minutes, until well combined and all the sugar has dissolved. Add in the dry ingredients and beat for an additional 1-2 minutes, until no flour streaks remain.
Pour half the red velvet batter into the prepared bundt pan. Drop spoonfuls of the cream cheese swirl mixture on top of the batter and spread into an even layer with a knife. Pour the rest of the cake batter on top of the cream cheese swirl.
Bake for 55 minutes, or until a tester inserted into the cake comes out clean. Cool the cake in the bundt pan for 15 minutes, then invert onto a wire rack to finish cooling.
While the cake cools, make the cream cheese frosting. Using the electric mixer on medium speed, beat together the cream cheese and butter until light and fluff, 3 to 4 minutes. Slowly add in the confectioners sugar, followed by the heavy cream. Continue to beat an additional minute or two.
Once the cake has cooled completely, use a spatula to spread the frosting along the top and sides of the bundt cake. Top liberally with sprinkles.
Transfer the cake to a refrigerator for 30 minutes to allow the frosting to set. The cake can be stored in an airtight container in the refrigerator for up to 3 days.
Notes
Baked cake can be stored in the freezer for up to 3 months. Wrap tightly with plastic wrap, followed by a layer of aluminum foil. Thaw the cake overnight in the refrigerator, then transfer it to the counter and allow it to come to room temperature, 1 to 2 hours, before frosting as directed above.
A Bunsen Burner Bakery Original Protocol
Recommended Products
As an Amazon Associate and member of other affiliate programs, I earn from qualifying purchases.
Nutrition Information:
Yield:

18
Serving Size:

1 slice
Amount Per Serving:
Calories:

473
Total Fat:

29g
Carbohydrates:

49g
Protein:

5g