December 30, 2020
Cranberry Maple Pork Chops
Perfectly seared Cranberry Maple Pork Chops with the most important tip to keep your pork chops juicy! Gluten free and made in one pan in under 30 minutes.
Yes, we've done a lot of cranberry recipes in a row: cranberry orange bundt cake, cranberry brownies, and now cranberry maple pork chops.
Like many of you, we purchased cranberries for a Thanksgiving dinner that didn't happen (because… 2020), and we've been working our way through an enormous bag of fresh cranberries.
But really, I'm not sad about it, because these cranberry maple pork chops are so good, I'll happily make them a few more times to get to the end of our giant bag!
Perfectly cooked. Not at all chewy. Gluten free, made in one pan, in under 30 minutes. Need I say more?
The Secret to Perfect Pork Chops
I've waxed poetic about brining pork chops before, and I'm going to do it again. Brine! Your! Pork! Chops!
Seriously, it is a game changer. Think pork chops are too tough and chewy? Think again, friends.
Why is brining such a game changer when it comes to pork? It's time for my favorite subject… kitchen chemistry!
Kitchen Chemistry

Because brining solution is saltier than the cells inside the pork chop, salt ions diffuse into the cells.  This results in the inside of the cells having a higher salt concentration than outside the cells.  Thanks to osmosis, solvent (the water from the brine) moves from an area of low concentration to an area of high concentration.  As the salt moves into the cells, the concentration of solutes is higher inside the cell than outside, so the cell starts to absorb water from the brine and pull it into the cell.
Since more water is pulled into the cells, pork chops stay perfectly moist and don't dry out while cooking!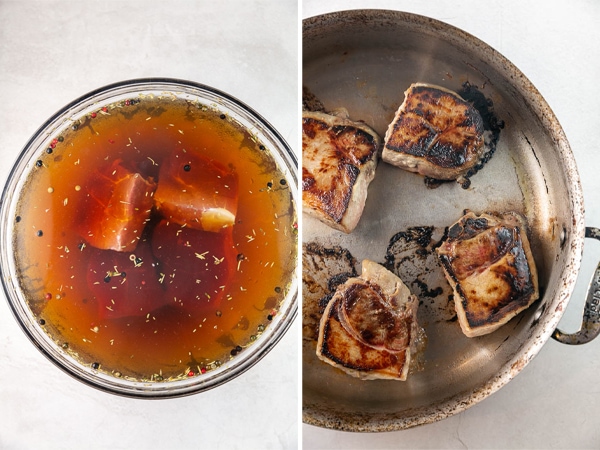 Making a Brine Solution
Making the brine is easy: make a salty solution, add any desired aromatics, and refrigerate with the pork chops.
My recipe below includes the appropriate ratio of salt and water, plus a little molasses or brown sugar for sweetness. Rosemary is my favorite herb to add for these, but substitute as you desire.
Brine your pork chops for at least a few hours; ideally overnight. You can even brine from frozen. Add your frozen pork chops to the brine and refrigerate overnight; the pork chops will brine as they thaw.
Make sure to pat the pork dry before searing for a nice crust.
Cranberry Maple Glaze for Pork Chops
The cranberry maple glaze can be made using either fresh or frozen cranberries. (Or buy lots of fresh cranberries now when they're easy to find and freeze them yourself for later!)
Cook the cranberries in a little chicken broth, maple syrup, and mustard until they're soft and start to burst open. Once soft, coat the pork chops in the glaze and serve with cranberries piled on top.
Frequently Asked Questions about Cranberry Maple Pork Chops
What are the best pork chops to use for this recipe?
Look for pork chops that are at least 1.5 inches thick, boneless or bone-in. Thicker pork chops will have a better texture when cooked.
Can other cuts of pork be used for this recipe?
Yes! We regularly use pork coppa steaks or sliced pork tenderloin instead of pork chops.
Is brining pork chops necessary?
You don't HAVE to brine pork chops… but if I forget to brine my pork chops, I save them for dinner another night. (In other words, I don't think it's worth cooking pork chops without brining them!)
Can frozen cranberries be used for this recipe?
Either fresh or frozen cranberries are fine. Frozen cranberries do not need to be thawed first; add a few minutes to the cooking time for the sauce.
How can I tell when pork chops are done cooking?
When pork chops are done, the inside should be just a little pink and any juices will be clear. The best, most foolproof way to ensure your pork is done is to remove it from the pan when an instant-read thermometer inserted in the center registers at 145 °F.
More Pork Recipes: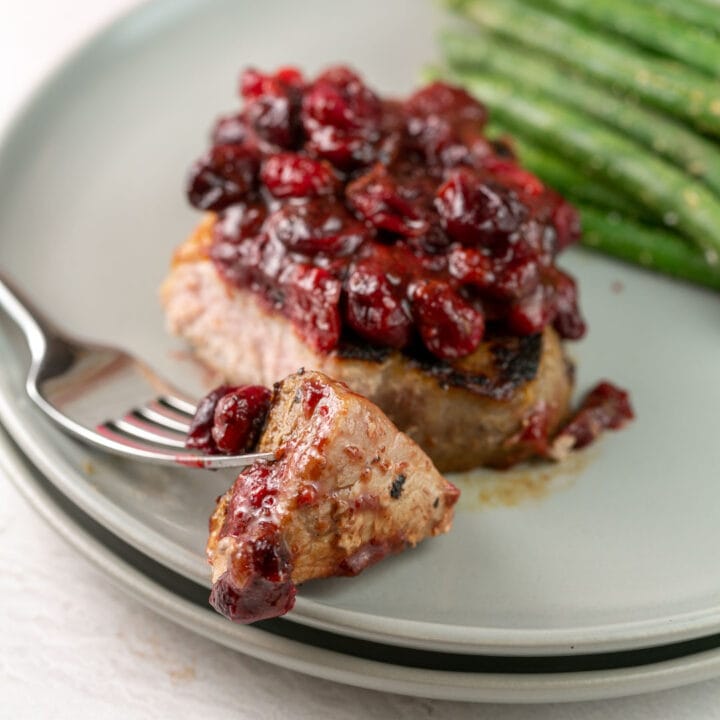 Cranberry Maple Pork Chops
Total Time:
8 hours
30 minutes
Perfectly seared Cranberry Maple Pork Chops with the most important tip to keep your pork chops juicy! Gluten free and made in one pan in under 30 minutes.
Ingredients
4 pork chops, 1.5 – 2 inches thick
8 cups cold water
1/2 cup kosher salt
1/2 cup molasses or brown sugar
1 tablespoon whole peppercorns
2 sprigs fresh rosemary
1 tablespoon olive oil
2 cups fresh or frozen cranberries
3/4 cup chicken broth
1/4 cup maple syrup
1 tablespoon apple cider vinegar
1 tablespoon brown mustard
Instructions
Add the salt, molasses (or brown sugar), and water to a large bowl, stirring until thoroughly mixed. Add in the rosemary sprigs and peppercorns, followed by the pork chops. Add more water if necessary to ensure the pork chops are submerged. Cover tightly and refrigerate several hours or overnight (recommended). Remove pork chops from the brine and pat dry.
Heat the oil in a heavy skillet over medium heat. Add the pork chops and sear until pork is browned, 4 to 5 minutes. Flip the pork chops and continue to cook until the center reaches 140 °F, about 10 minutes. Transfer the pork chops to a plate or cutting board and tent loosely with foil.
Add the cranberries, chicken broth, maple syrup, apple cider vinegar, and mustard to the skillet. Turn the heat up to medium-high and cook, whisking to combine and to deglaze the pan, until the cranberries are soft and the sauce has thickened, about 10 minutes.
Return the pork chops and any juice to the skillet. Turn several times in the sauce to coat; then serve topped with cranberries.
Notes
Boneless or bone-in pork chops can be used; just look for cuts that are 1.5 to 2-inches thick.
Fresh or frozen cranberries work -- if using frozen, cook from frozen without thawing first.
Pork chops are best consumed immediately after cooking, but leftovers can be reheated in an oven safe dish covered with foil at 350 °F for 10 minutes.
Recommended Products
As an Amazon Associate and member of other affiliate programs, I earn from qualifying purchases.
Nutrition Information:
Yield:

4
Serving Size:

1 pork chop with sauce
Amount Per Serving:
Calories:

397
Total Fat:

16.5g
Carbohydrates:

19.7g
Protein:

40.5g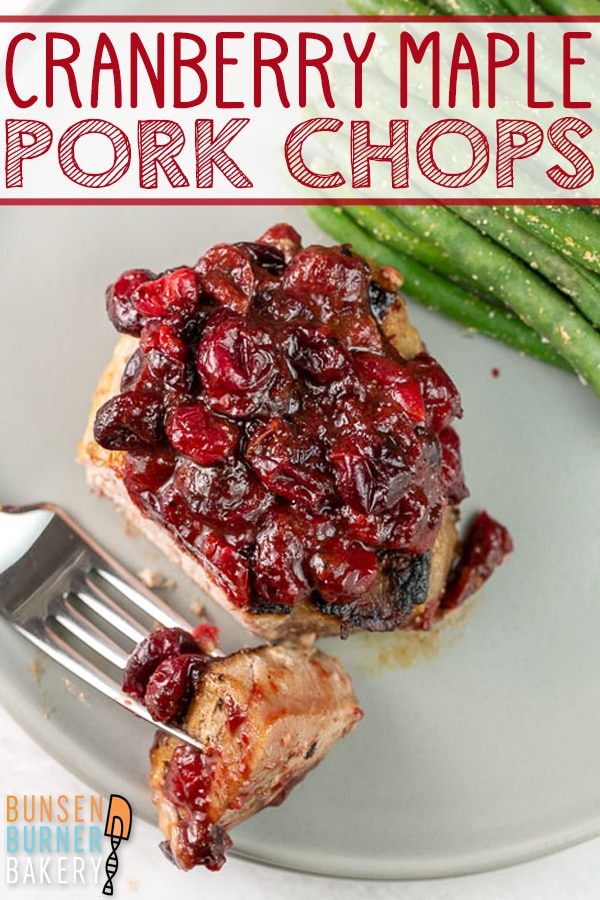 This Cranberry Maple Pork Chop recipe was originally published on 11/11/2016 and republished with new photos and helpful tips on 12/30/2020.