December 11, 2020
Cranberry Orange Bundt Cake
A buttery pound cake filled with cranberries and orange zest, with a cranberry vanilla glaze — this easy Cranberry Orange Bundt Cake is the perfect winter cake!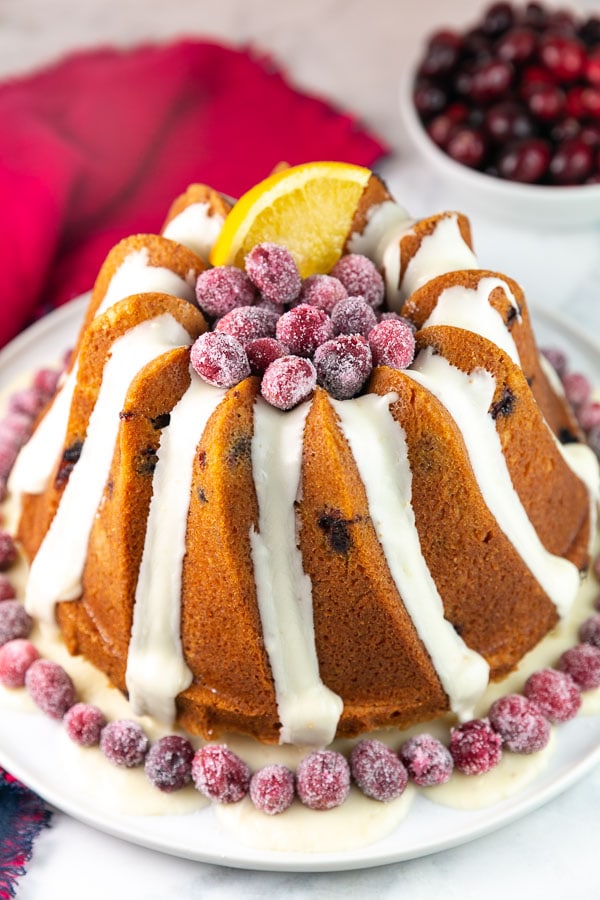 Cranberry + orange is one of my favorite flavor combinations for winter. Cranberries have a relatively short season, so it's always an extra treat to bake with them, and orange brings such a bright flavor.
These cranberry orange streusel muffins and cranberry orange babka recipes are always really popular this time of year, so it's clear you guys like the flavor combination, too!
So this year, we're turning the flavor into a delicious bundt cake, perfect for winter desserts.
And since you might not be seeing anyone for the holidays this year (hello, 2020), the good news is that this freezes perfectly.
A beautiful cake you can enjoy slices of all winter long?
Count me in!
Pound Cake vs Bundt Cake
Technically, this is a cranberry orange pound cake, rather than a bundt cake. But I love to bake it in a fancy bundt pan, because it's so pretty and the hole is perfect to fill with sugared cranberries!
What's the difference between a pound cake and a regular bundt cake? It's time for my favorite subject… kitchen chemistry!
Kitchen Chemistry
A traditional pound cake does not contain any chemical leaveners (baking powder or baking soda). Instead, it relies on beating air into the butter and eggs to achieve lift.
Some modern pound cake recipes do contain baking powder, but a properly made pound cake does not need any!
While pound cakes are naturally a little denser – which is perfect to hold the cranberries in place — sufficiently creaming together the butter and sugar, and beating well after adding each egg, provide the light texture and fine crumb.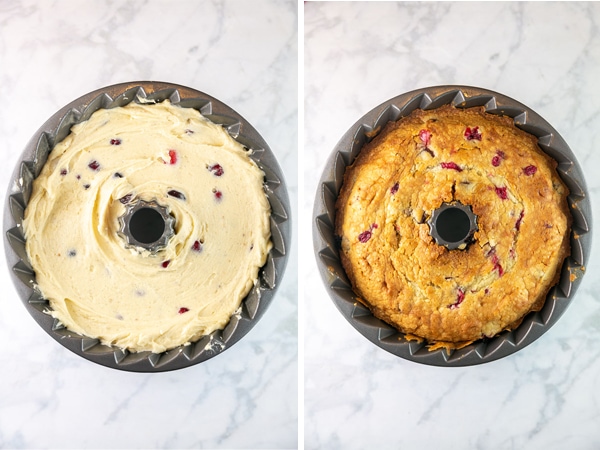 Orange Vanilla Glaze
I love to top this with an orange vanilla glaze for a little extra orange flavor.
I like the glaze to be thick, though — really opaque and heavy enough that it won't drip all the way down the sides.
To achieve this, I add extra confectioners sugar to make an extra thick glaze.
This dilutes the orange flavor a little though; to overcome this, you can add extra orange zest, or keep the glaze thinner with more orange juice for a more traditional light glaze.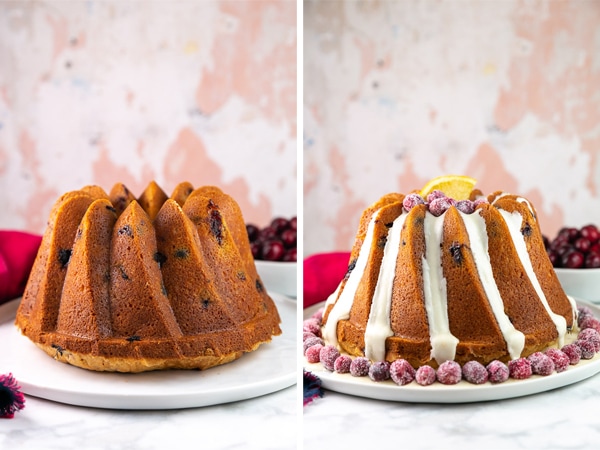 Sugared Cranberries as Garnish
While this cake is delicious plain (if you skip the glaze, I recommend a dusting of powdered sugar!), I love how it looks with sugared cranberries.
Sugared cranberries are really easy to make – I have a tutorial on my Two Ingredient Sugared Cranberries recipe.
If you make them before the cake, you can even use the leftover sugar from rolling the cranberries as the sugar in the cake, for an extra little punch of cranberry flavor!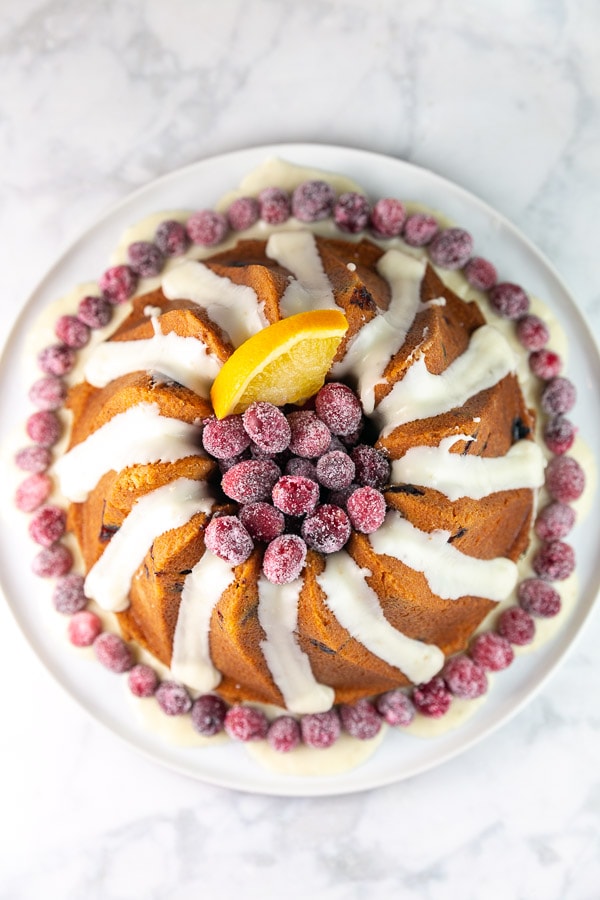 Common Questions about Cranberry Orange Bundt Cake
How do I get the best texture for this pound cake?
The most important steps for this are to use room temperature ingredients and to beat the batter for the specified time in the recipe. This can be made using either a stand or a hand mixer, but creaming the butter and sugar and after the addition of each eggs for the specified time is essential for the texture.
How do I prevent the cake from sticking in the pan? How do I tell when the bundt cake is done? How do I prevent the bundt cake from doming?
The answer to all of these questions — and more — can be found in my post about how to bake the perfect bundt cake!
What size bundt pan should I use?
I bake this cake in a 10-cup bundt pan, which is the size of most of the "fancy" bundt pans on the market. This particular pan is the Nordic Ware Kugelhopf bundt cake pan (affiliate link). Classic shaped bundt pans can be 12 cups; while this size will work, the cake will be on the shorter side.
Can I make this cake ahead of time?
Absolutely! The baked cake can be made a day in advance and stored at room temperature, or the entire cake can be baked and frozen for up to 3 months. Thaw at room temperature, then glaze and decorate before serving.
More Perfect Winter Bundt Cakes: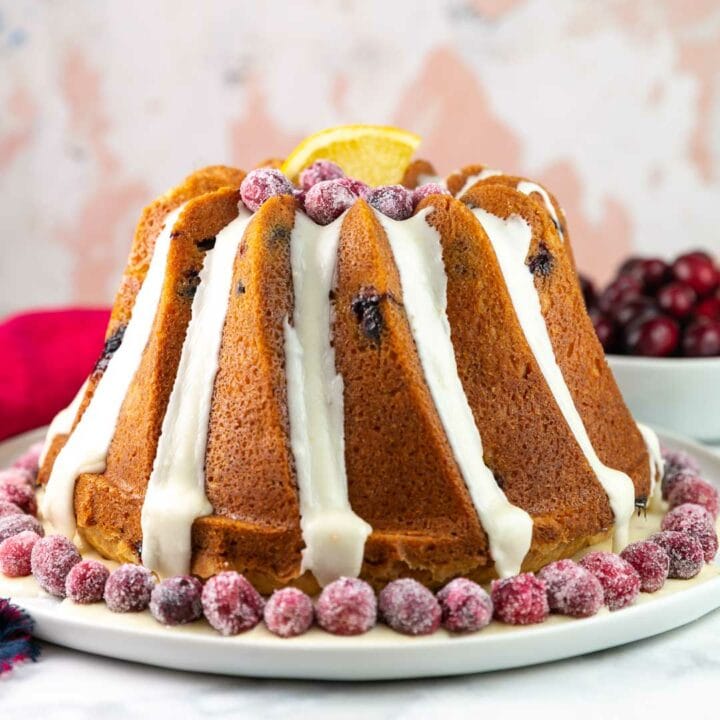 Cranberry Orange Bundt Cake
Total Time:
1 hour
30 minutes
A buttery pound cake filled with cranberries and orange zest, with a cranberry vanilla glaze — this easy Cranberry Orange Bundt Cake is the perfect winter cake!
Ingredients
For the Cake:
1 1/4 cups (282.5 grams) unsalted butter, room temperature
2 cups (396 grams) granulated sugar
2 tablespoons orange zest
4 large eggs, room temperature
2 1/3 cups (280 grams) all-purpose flour
1/2 teaspoon salt
1/2 cup (113.5 grams) whole milk, room temperature
2 teaspoons vanilla bean paste (or vanilla extract)
2 cups (198 grams) fresh or frozen cranberries
For the Orange Glaze:
3 cups (340.5 grams) confectioners sugar
1/3 cup (80 grams) orange juice
1 teaspoon orange zest
1 tablespoon vanilla extract
Instructions
Preheat the oven to 350 °F. Grease and flour a 10 cup metal bundt pan.
Make the cake batter. Using an electric mixer, beat together the butter, sugar, and orange zest on medium speed until pale in color and fluffy, 4 to 5 minutes. Lower the speed to the lowest setting, then add each egg, one at a time, mixing for 1 full minute before adding the next.
Add in half the flour and the 1/2 teaspoon of salt, beating until combined, followed by the milk, and finally the rest of the flour. Mix in the vanilla bean paste. Fold in the cranberries.
Bake the cake. Spoon the batter into the prepared pan. Smooth the top of the batter with a spatula. Bake for 55 to 65 minutes, or until a tester inserted into the center comes out with just a moist crumb and the top of the cake springs back when pressed lightly. Cool the cake in the pan on a wire rack for 15 minutes before turning out to cool completely.
Make the glaze. While the cake cools, make the glaze. Whisk together the confectioners sugar, orange juice, orange zest, and vanilla extract. Add additional confectioners sugar for a thick frosting-like glaze, or additional orange juice for a thinner, drippier glaze.
Decorate the cake. Once the cake is cool, pour the glaze over the top and decorate with sugared cranberries.
Notes
Either fresh or frozen cranberries can be use for this recipe. If using frozen cranberries, do not thaw before folding into the batter.
Use room temperature ingredients for the best texture.

This cake can be stored at room temperature for 3 days or frozen for up to 3 months.
A Bunsen Burner Bakery Original Protocol
Recommended Products
As an Amazon Associate and member of other affiliate programs, I earn from qualifying purchases.
Nutrition Information:
Yield:

12
Serving Size:

1 slice
Amount Per Serving:
Calories:

549
Total Fat:

21.2g
Carbohydrates:

85.4g
Protein:

5.2g