December 28, 2018
Cranberry Curd Pie
A sweet-tart silky smooth cranberry curd in a gingersnap nut crust, this Cranberry Curd Pie is perfect for holiday entertaining! Made from fresh or frozen cranberries, come learn all the tips you need for perfect homemade fruit curds.
Well, here we are! We made it to the end of my Pie of the Month series for 2018. I wasn't quite sure if it was going to happen (you know, new house, upacking, etc etc), but… we did it!
And we're ending with a doozy, with what has easy skyrocketed to my second favorite pie I've ever made: a cranberry curd pie with a gingersnap hazelnut crust. (For those wondering: this lemon pie remains my most favorite.)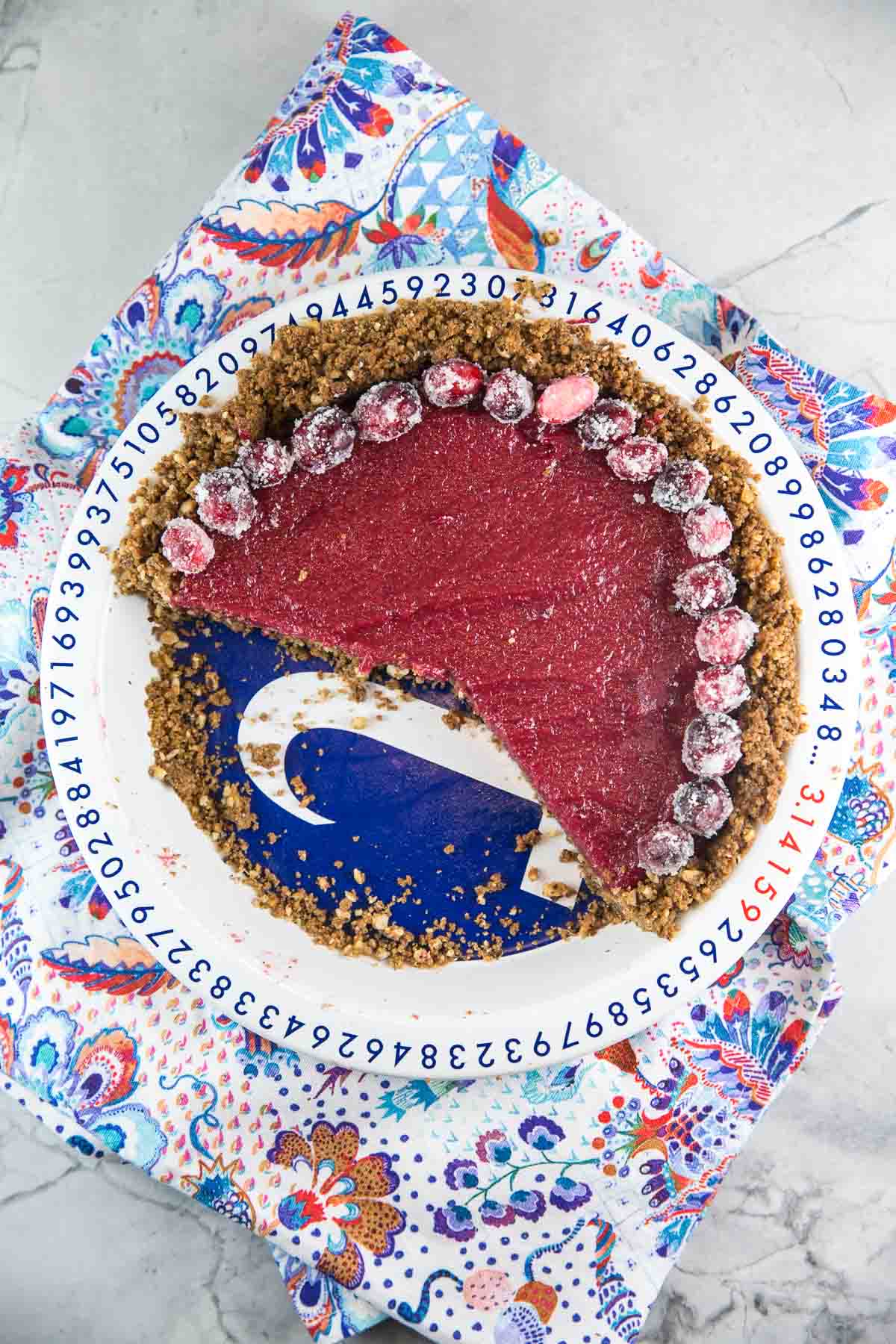 Oh yes. This is so good. So good. I am pleased as punch that I have two pounds of frozen cranberries in my freezer right now because believe me, there will be more of this cranberry curd pie in my life before next fall rolls around!
So let's get into the details: what is this cranberry curd pie, why is it so delicious, and how do you make one for yourself?
What is Fruit Curd?
We can't make a cranberry curd pie without the cranberry curd, so we'll start here. What exactly is a fruit curd, anyway? Is it different from a jam or jelly? Can you turn any fruit into a curd? Let's go!
Unlike a jam or jelly, fruit curd contains eggs and butter — so it's more like a custard. But unlike a custard, it has a high percentage of fruit juice and/or zest, and a creamier texture thanks to the addition of butter.
Curd is traditionally made from citrus fruits. Lemon is, of course, the most popular. But lime, grapefruit, and orange also have a horse in the game. You can, however, make curd from any fruit that releases juices upon cooking — like my popular blueberry cardamom curd recipe!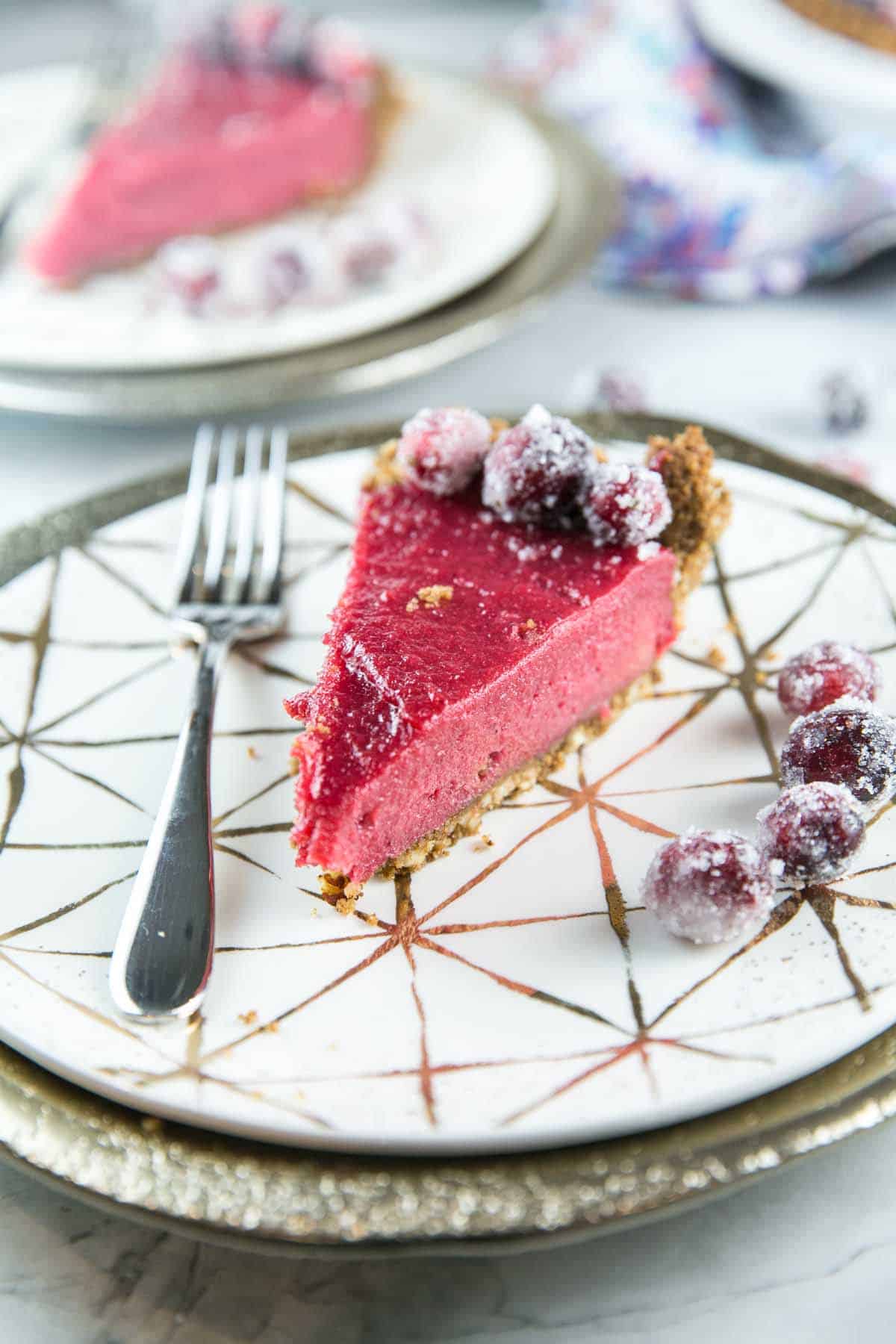 How to Make Perfect Fruit Curds
Like any other fruit curd, this homemade cranberry curd contains a few simple ingredients: sugar, eggs, cranberries, and butter. But while the ingredient list is simple, there are a few important tricks for silky smooth curd.
How do you get a curd that is silky smooth every time? Well, one important trick is to strain your curd. For this particular curd, we're going to do a lot of straining, because we're keeping the cranberry skins in. The fruit will pop open and burst, but we're leaving the outside bits behind for the curd making and will strain them out later. Press the finished mixture through a fine-mesh sieve to leave any lumps behind.
But how do we minimize any lumps from the eggs, while also maintaining that perfect curd texture? The answer is, as always, perfectly explained using some kitchen chemistry.
Kitchen Chemistry

Fruit curds should be cooked to 170-175 °F. In the presence of sugar, eggs begin to thicken at 160 °F, a process known as coagulation, and will scramble at 180 °F. We need to keep the curd in this optimum temperature to achieve the perfect texture. Cook your curd too low and the egg protein strains won't denature, or unfold, which is necessary for coagulation. Cook your curd too high and the eggs will scramble. But if you cook your curd juuuust right, the protein strands unfold, latch on to nearby sugar molecules, and form a semi-solid state that wiggles and jiggles and remains perfectly lump free.
No thermometer? No problem! Use a whisk to continue to mix the curd. When the whisk leaves trails in the cooking curd, you're at the right thickness. Remove from heat to stop the cooking process, and whatever you do, don't let the curd boil!
How to Make a Cranberry Curd Pie
Okay! Now that we're well versed in fruit curds, let's make this pie.
First off, every pie needs a crust, right? Right. For this cranberry curd pie, we're going to make a gingersnap-based crust. Gingersnaps are one of my favorite holiday cookies and the zing from the ginger pairs perfectly with the sweet-tart curd filling. Don't like gingersnaps? Use graham cracker crumbs instead.
We'll also add in some nuts for a little extra flavor and crunch. I used ground hazelnuts, but you can substitute in any nut you like — pecans or walnuts would be A++ too.
The crust is easy: combine ingredients in a food processor (or smash well with a mallet in a plastic bag), combine with some sugar and melted butter, and bake. This is the only baking we'll do during the process.
While the crust cools, make the cranberry curd. Stir together whole cranberries (fresh or frozen) with some sugar and lime. Once the berries are soft and start to burst open, whisk in the egg and egg yolks, whisking continuously until the mixture reaches 170 °F. Remove from heat and stir in the butter until melted.
Then comes the hardest part: straining! Set a fine mesh sieve over a bowl and pour in the curd mixture. Using a spatula, push the mixture against the mesh, then scrape down. Repeat until all the soft curd has squeezed through, leaving behind the cranberry skins. This process takes 10-15 minutes, but I find it strangely relaxing.
The curd will have cooled down a bit during this process. Once you're done, pour it into the pie crust, level with a knife, and pop the whole pie into the refrigerator to chill.
Top with a few sugared cranberries for a little decoration and dig on it!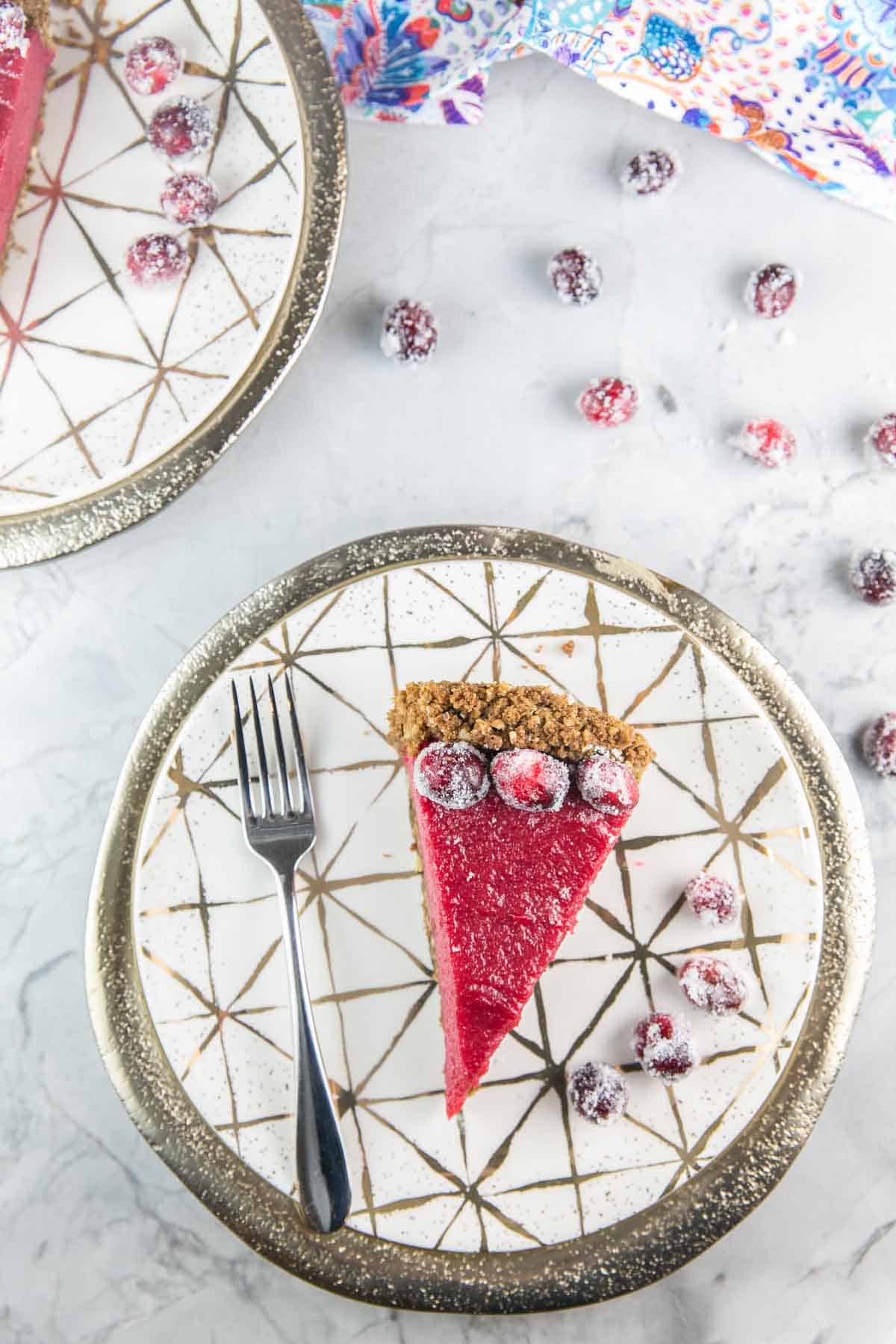 More Fruit Pie Recipes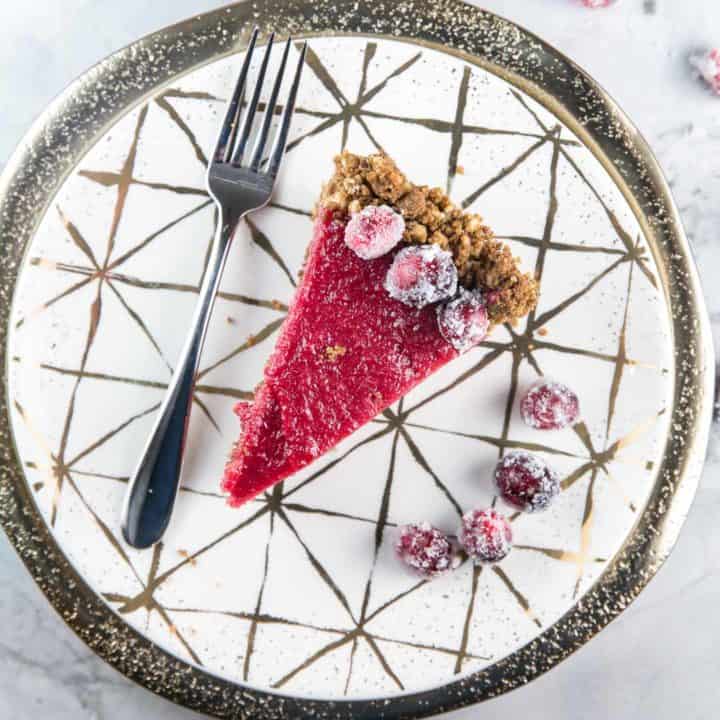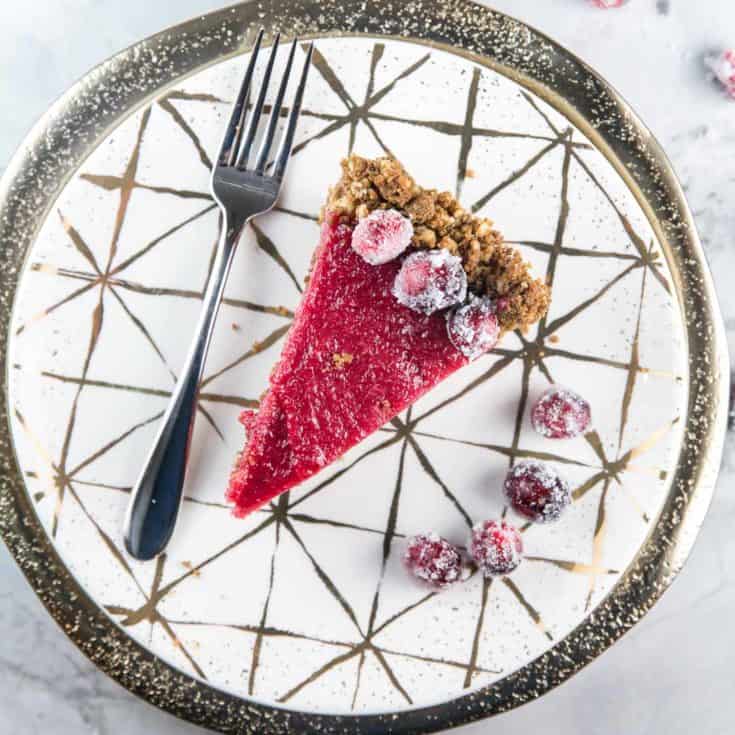 Cranberry Curd Pie
Total Time:
4 hours
42 minutes
A sweet-tart silky smooth cranberry curd in a gingersnap nut crust, this Cranberry Curd Pie is perfect for holiday entertaining!
Ingredients
For the crust:
4.5 ounces chopped hazelnuts (or walnuts or pecans)
3 tablespoons brown sugar
4 tablespoons butter, melted
For the cranberry curd
18 ounces cranberries, fresh or frozen
1 1/2 cups sugar
juice and zest of 2 limes
3 eggs, room temperature
3 egg yolks, room temperature
1 1/2 sticks (3/4 cup) butter, room temperature, cut into small pieces
For garnish:
Instructions
Preheat the oven to 350 °F. To make the crust, finely chop the gingersnap cookies in a food processor. Add in the chopped hazelnuts and brown sugar and pulse until no large pieces of nuts remain. Stir in the melted butter. Press the mixture firmly in the bottom and up the sides of a 9-inch pie dish. Bake for 12 minutes, or until crust is golden brown. Remove from oven to cool.
To make the cranberry curd, combine the cranberries, sugar, lime juice, and lime zest in a medium-sized heavy bottom sauce pan over medium heat. Bring to a simmer and cook for 10 minutes, until the cranberries soften and pop open to release their juices.
Remove the cranberry mixture from the heat and whisk in the eggs and egg yolks, one at a time, mixing well to ensure eggs do not cook too quickly. Bring the mixture to a simmer over medium heat, stirring well, until the mixture reaches 170 °F, or the mixture bubbles and thickens. Remove from the heat and stir in the butter, continuing to stir until butter is melted.
Press the mixture through a fine mesh sieve, scraping and pushing, until all the curd has run through the strainer and only the cranberry skins remain behind. Cool slightly, then pour into the prepared crust. Smooth the top with a knife and refrigerate until set, at least 2 hours but preferably overnight. Decorate with sugared cranberries before serving.
Notes
Cranberry Curd Pie can be made ahead of time. The crust can be prepared up to 3 days in advance; store at room temperature. Once assembled with curd, the pie will keep for up to 5 days in the refrigerator.
A Bunsen Burner Bakery Original Protocol
Recommended Products
As an Amazon Associate and member of other affiliate programs, I earn from qualifying purchases.
Nutrition Information:
Yield:

12
Serving Size:

1 slice
Amount Per Serving:
Calories:

431
Total Fat:

26g
Carbohydrates:

49g
Protein:

5g