December 17, 2016
Cranberry Cider Champagne Punch
Entertaining for the holidays?  Make this crowd-pleasing cranberry cider champagne punch, preferably with an extra splash of bourbon.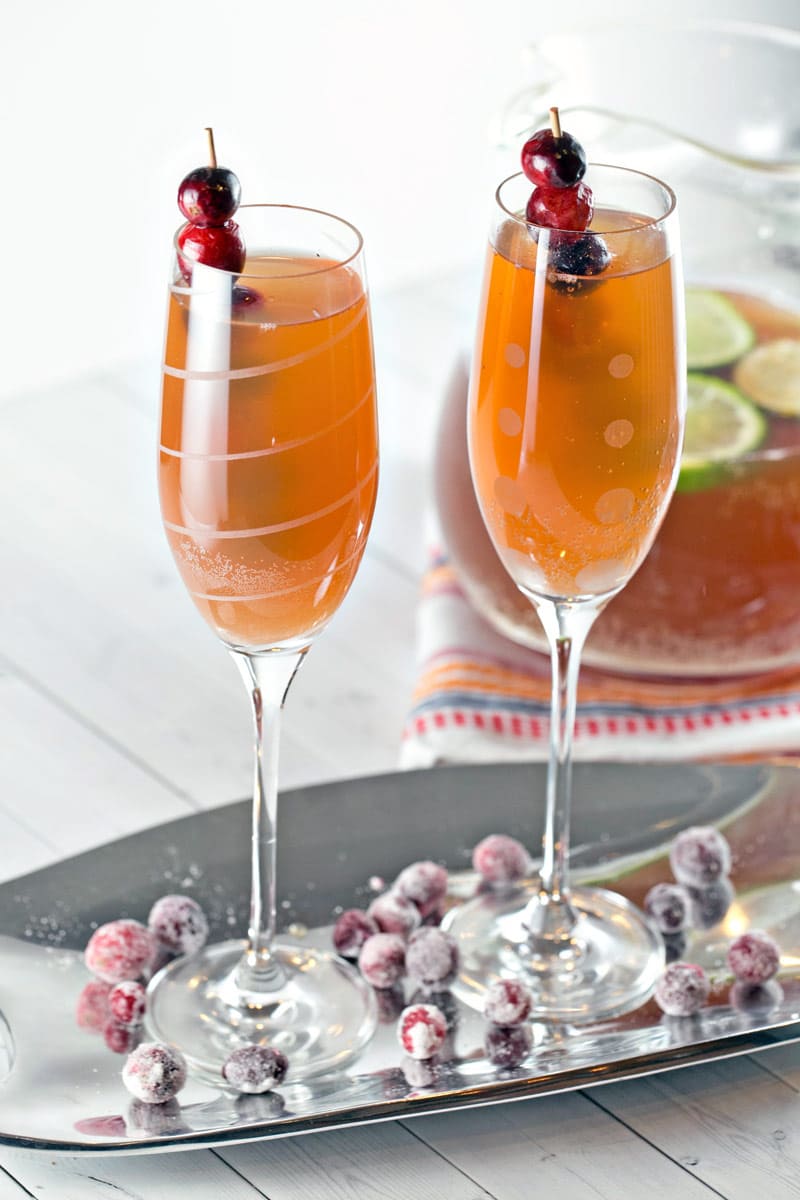 You know that old adage about burning the candle at both ends?  That is my life right now.  I am burning at both ends and boy is it exhausting!
Working full time in the lab, working nearly full time on this food blog (I'm in the middle of a bunch of behind-the-scenes changes that are taking up so much time), trying to get our holiday cards out the door in a timely fashion (every year, I hand make 100 holiday cards — Hanukkah starts next weekend and I have ONE finished so far).
And then, to cap it off – my toddler is sick.  Not like, sniffles sick.  Like, 104 fever for 3 days, so much congestion he can't sleep laying down sick.  So instead of working on my holiday cards like I planned, I've been spending every night sitting in a chair in his room, holding him upright all night so he can sleep.  And now I'm sick, too.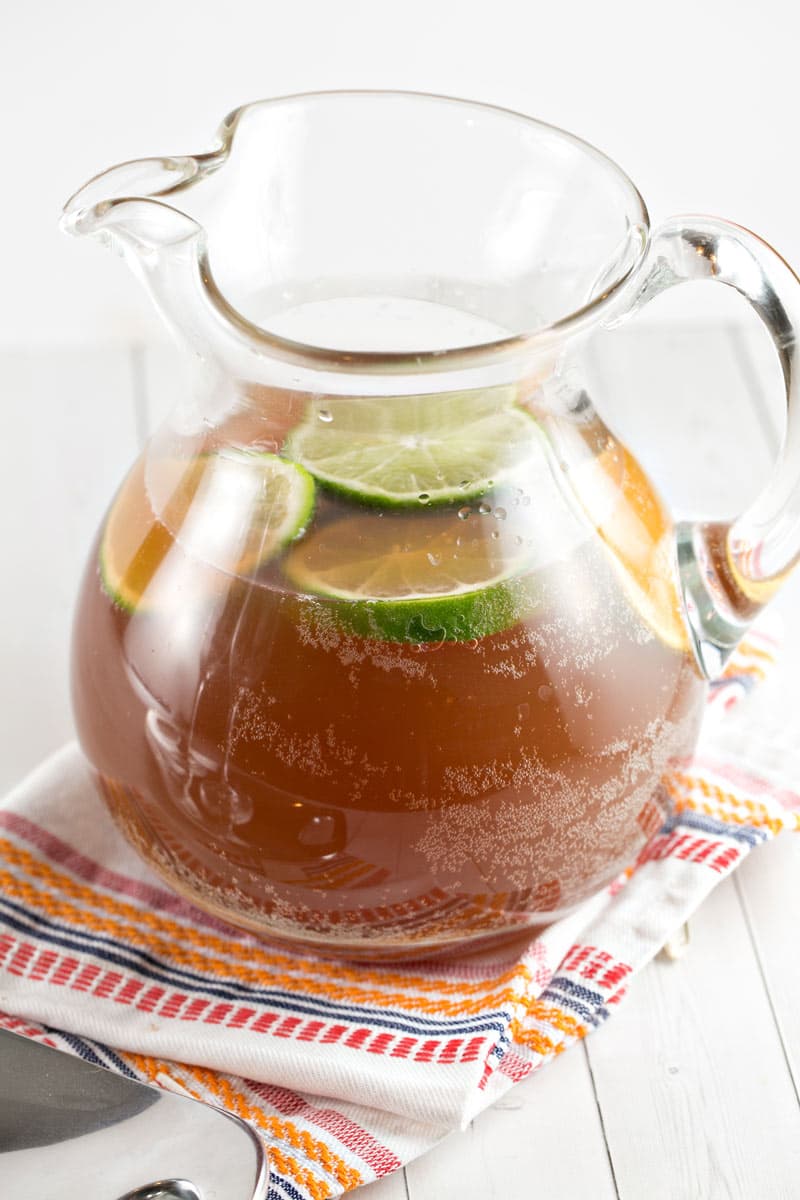 I really need a nap.  Or a drink.
Unfortunately, between my to do list and his sick clinginess, there's no nap in my future.  But a drink?  I can make that happen!  I'll take a big glass of this cranberry cider champagne punch, please.  With an extra shot of bourbon on top.  Or two.
(Bourbon is good for a cold, right?  Definitely.  Maybe make it three.)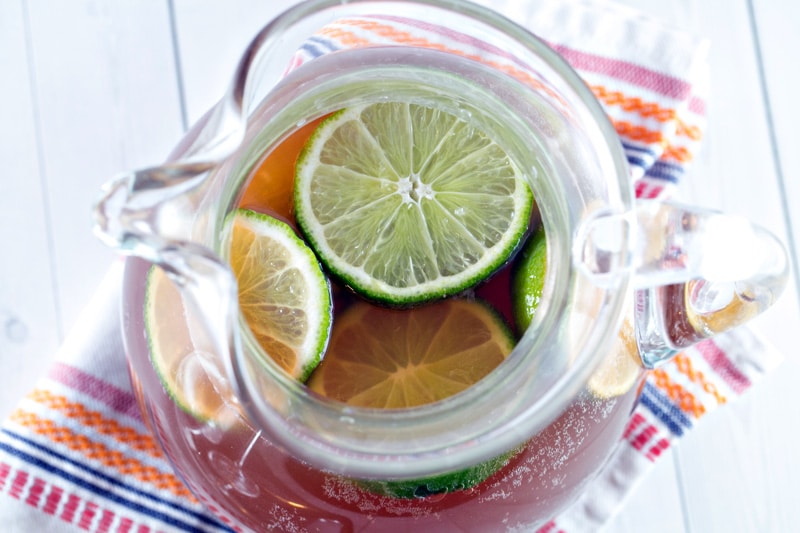 If I've learned one thing over many years of hosting parties, it's that most people are not very good at making their own mixed drinks.  No matter how well we stock our bar, mixers, and garnishes, most people aimlessly wander around the bar and ultimately decide on a beer or some rum and coke.
I get it; I always prefer craft cocktails when I'm out because it's a skill I don't have.
The first few years of our party, I used to also play bartender, in addition to host.  I'd print up suggested drink ideas and make them to order for all our friends.
It was really fun – but it also meant that I didn't get to enjoy quality time with friends.  I've since wizened up and started making large-batch punches.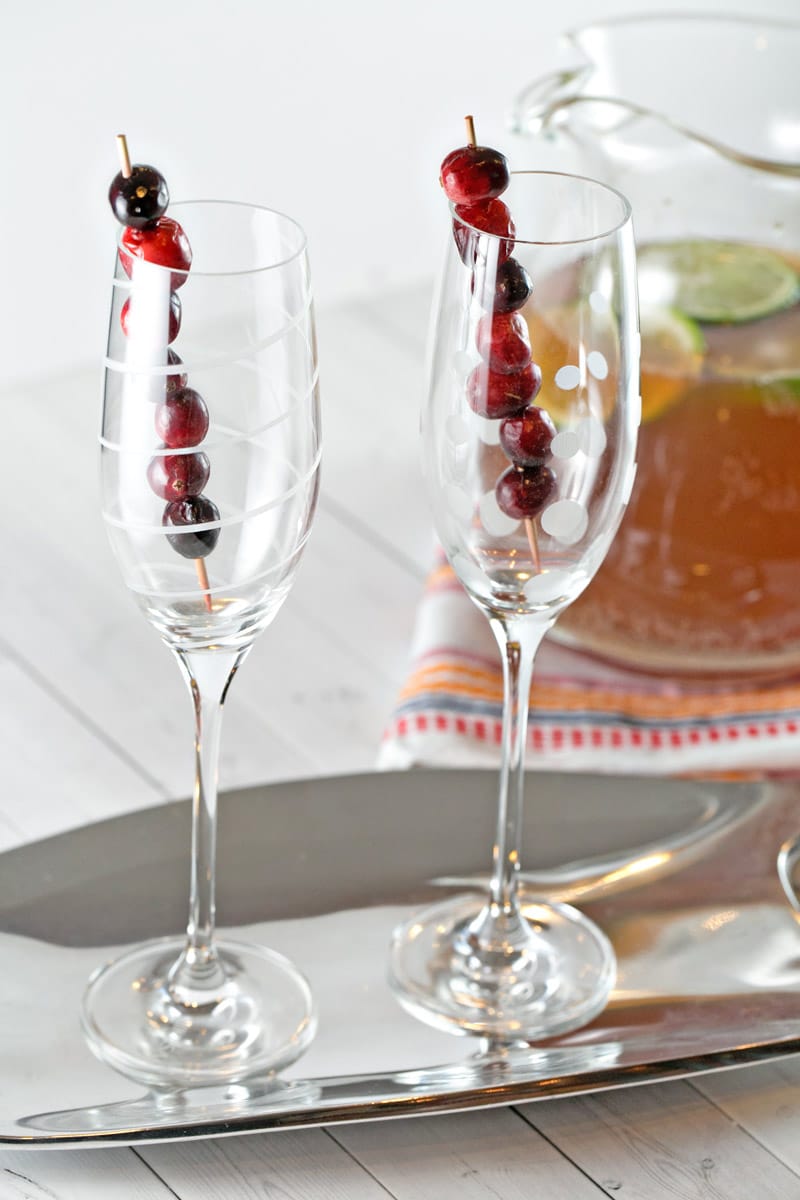 Every year, the punch is a little different – and every year, it's a huge hit.  I fill up our 3.5 gallon drink dispenser and most years, I have to refill it mid-party.
People don't want to think about what to drink, they just want a glass of something delicious. Like this cranberry cider champagne punch.
Apple cider.  Cranberry juice.  Champagne and seltzer for some pop and fizz.  Some sliced limes for a little citrusy punch.  And then top it off with your liquor of choice – vodka is usually a big crowd pleaser, but bourbon is my absolute favorite.
Garnish with some fresh cranberries (or sugared cranberries!) for a perfectly festive holiday beverage.  It's so easy to make a big batch (literally takes under 5 minutes) and it's sure to be a big hit.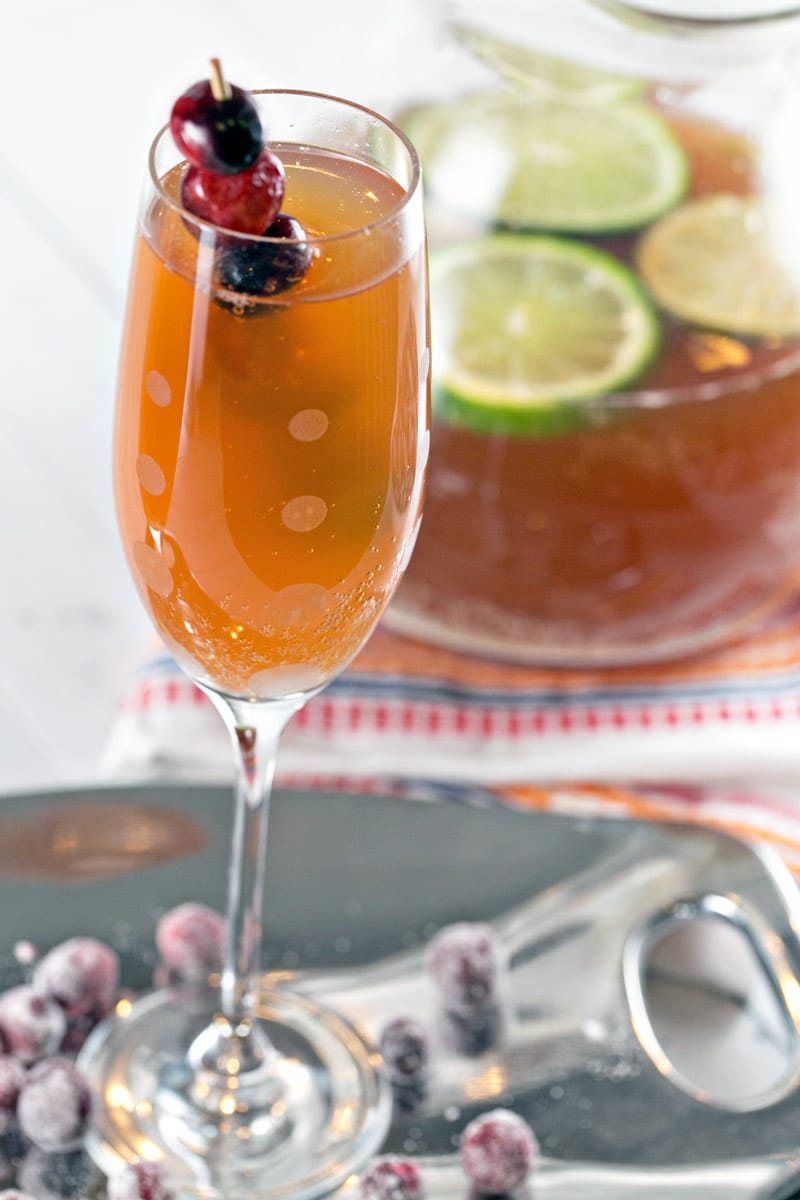 (In case you were wondering if we own enough champagne flutes to serve to all our party guests, we do not.  Red solo cups all around over here.  We're nothing but classy while we drink our cranberry cider champagne punch!)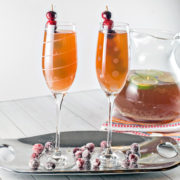 Yield:
Approx. 3 gallons (48 8-ounce servings)
Cranberry Cider Champagne Punch
Entertaining a crowd for the holidays?  Make this crowd-pleasing cranberry cider champagne punch, preferably with an extra splash of bourbon.
Ingredients:
1 gallon (128 fl. ounces) apple cider
2 liters (~68 fl. ounces) cranberry juice
2 liters (~68 fl. ounces) seltzer
2 bottles (~50 fl. ounces) champagne or sparkling wine
4 cups (32 ounces) bourbon or vodka
3 limes, sliced into rounds
fresh cranberries or sugared cranberries, for garnish
Directions:
Combine apple cider, cranberry juice, seltzer, champagne, and bourbon (or vodka) in a large drink dispenser and stir.  Add in sliced limes and top to fill container with ice.  Garnish each drink with fresh cranberries.
FOR SMALLER SCALE PUNCH (12 8-ounce servings, typically serves 6 people):
quarter each ingredient (1/4 gallon cider, 1/2 liter cranberry juice and seltzer, 1/2 bottle champagne, 1 cup bourbon).
A Bunsen Burner Bakery Original Protocol