August 22, 2019
Blueberry Basil Lemonade (Bourbon Optional)
Celebrate the best parts of summer with sparkling fresh squeezed Blueberry Basil Lemonade – a generous splash of bourbon optional. It's the perfect make ahead party drink for summer!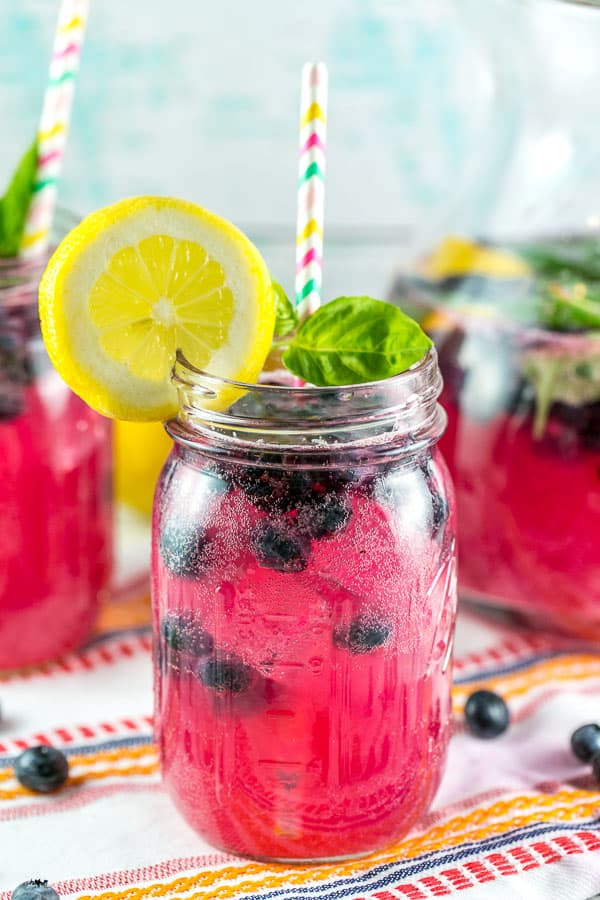 It's just not summer without a big pitcher (or three) of this blueberry basil lemonade.
Bonus points if we turn it into boozy blueberry basil lemonade.
Preferably blueberry basil bourbon lemonade.
Out of all the recipes on Bunsen Burner Bakery, this is one of my absolute favorites – and one of the recipes people tell me they make again, and again.
After five years, it was time for a facelift — some new photos and text, but the same old recipe, because you just can't improve on a true classic!
This is the perfect recipe for entertaining.  Big parties, small parties.  BBQs, picnics, small dinner parties.  It's gluten-free, made with easy-to-find ingredients, and you can make the entire thing the day before.
No wonder it's such a hit!
Homemade Lemonade Ingredients
Homemade lemonade kind of seems to be a thing of the past. So many people I know who cook and bake entirely from scratch never think to make homemade lemonade. Most "lemonade" I encounter seems to be either from a powdered mix or a carbonated soda. It's easy to forget just how delicious real, fresh lemonade actually is.
Maybe it's squeezing all the lemons that seems like too much work? Maybe we're just so focused on cooking all the other food that we forget about beverages? Perhaps it's just easier to find a corkscrew and open a bottle of wine and call it a night?
No more, friends. With this easy recipe, you can make a delicious beverage to serve to just your family, scale up for a crowd, add alcohol or not, and make it ahead of time so you're not worried about it the day of.
And for fresh lemonade, all you need is sugar, water, and lemons. That's it.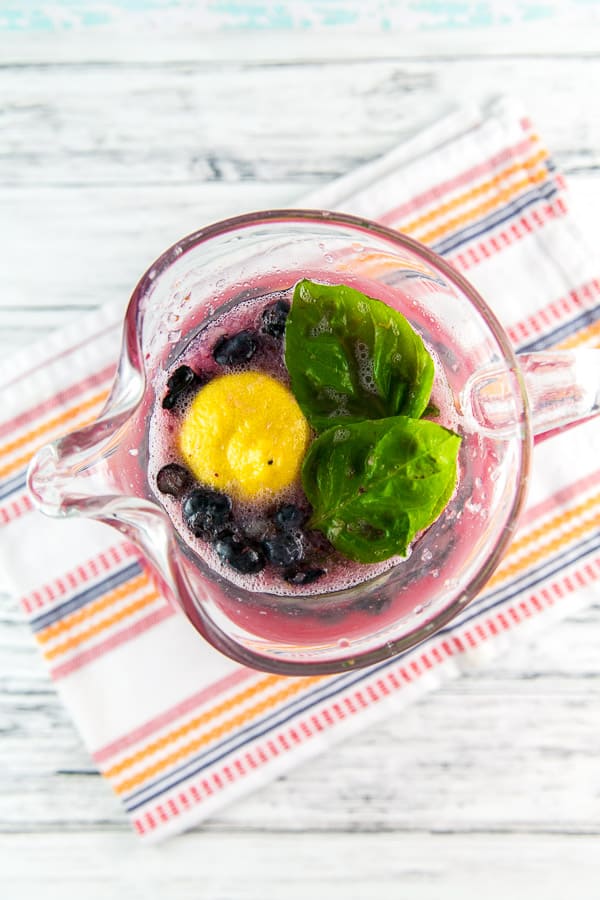 How to Make Blueberry Basil Lemonade
Of course, we're not making plain fresh lemonade.  We're making blueberry basil lemonade.  So to our sugar, water, and lemons, we'll add blueberries and basil, and seltzer because I like to make this a sparkling lemonade.  (Obviously, if you're not into bubbly beverages, you can omit the seltzer and replace it with flat water.)
We'll start by making homemade simple syrup. Simple syrup is just a liquid sugar solution. We want to use a liquid solution because the sugar is already dissolved — if we added sugar crystals to cold lemon juice and water, the resulting drink would be crunchy and granular.
To make simple syrup, just boil together equal parts of sugar and water, then set aside to cool.
Next, we need to juice our lemons.  A handheld juicer makes this task much easier!  There are lots of times in life when a refrigerated bottle of lemon juice comes in handy; this is not one of those times.  You really, really, really want to use freshly squeezed lemon juice for homemade lemonade!
After this, add the blueberries and basil, using a long wooden spoon to muddle the blueberries and basil up against the side of the pitcher. When I first started making this blueberry basil lemonade, I'd make and serve it immediately. The blueberry and basil flavors were a little muted (but still delicious!).
When I started making large quantities for parties, we had leftovers sometimes.  I realized that the next day, the blueberry and basil flavors really came through, and the flavor was amazing — plus the resulting blueberry basil lemonade takes on this gorgeous shade of purplish-pink, thanks to the blueberries.
Now I always make it 24 hours ahead of time. Does it get any better than a drink you can make the night before a party? I think not!
Immediately before serving, pour in the seltzer, stir everything up, and add some ice. Then serve!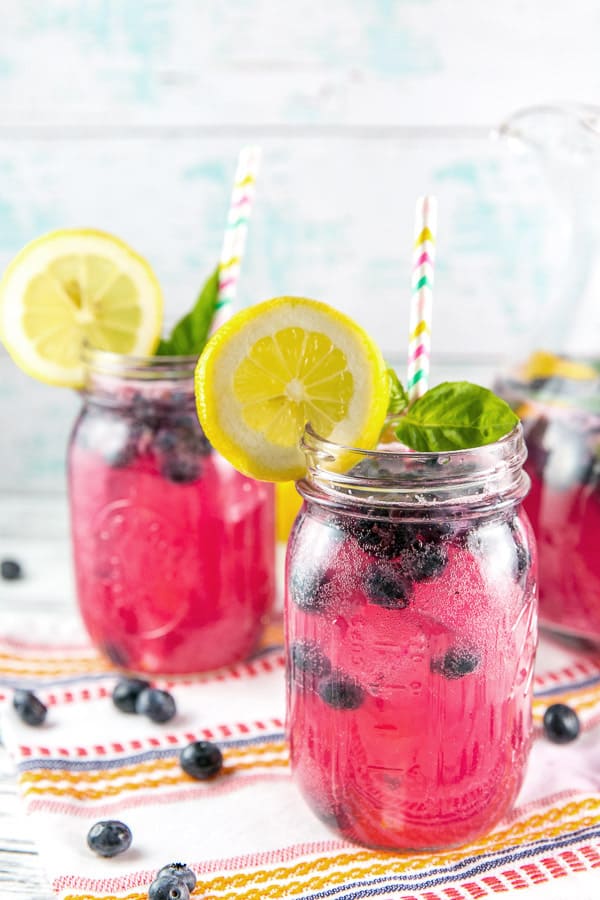 How to Get The Most Juice from A Lemon
Since I always juice my lemons by hand (no fancy juicing machines around here), I want to make sure I can squeeze out as much juice as possible.
Want to know a fun trick to maximize the amount of juice you can squeeeeeze out?
It's time for my favorite subject… kitchen chemistry!
Kitchen Chemistry

To maximize the amount of juice you can squeeze from citrus, store them in the freezer. When the juice inside the citrus freezes, it will expand and break open the cell walls, making the lemon easier to squeeze. When it's time to use the fruit, microwave for 30 seconds or until fully defrosted and soft, then squeeze to remove the juice.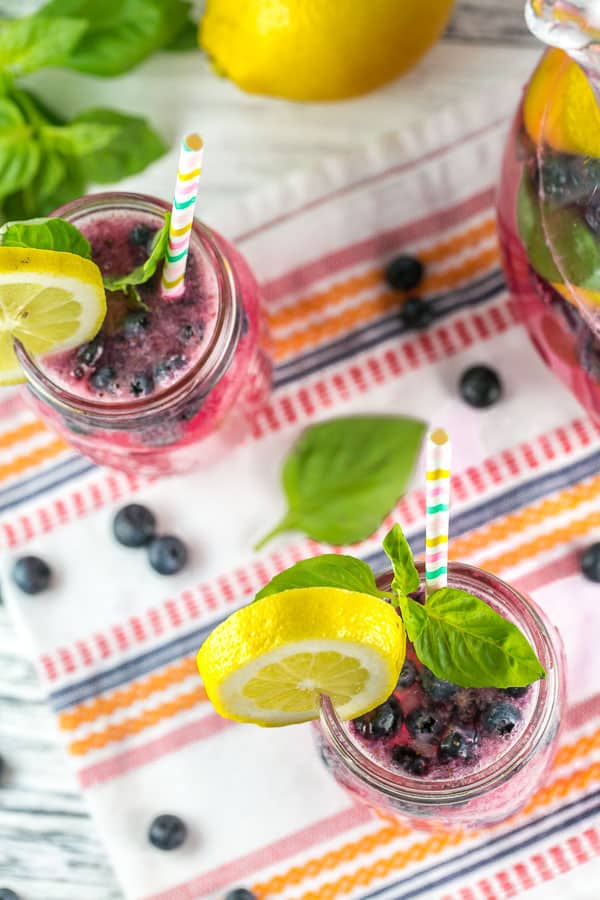 Boozy Blueberry Basil Lemonade Cocktails
While this lemonade is tasty on its own (and perfect as is for the under-21 crowd, baby showers, work events, and anyone who does not partake in alcohol), dare I suggest that you serve it with a generous splash of alcohol?
We've found that it's delicious with vodka, gin, rum, or my personal favorite: bourbon!
Rather than pre-mix the alcohol, I actually prefer to set this up as a boozy lemonade bar: several pitchers of blueberry basil lemonade, along with a few different types of alcohol, ice, and some fun paper straws. That way everyone can pick their alcohol of choice and how generous of a pour they'd like.
As for me, bourbon, and a moderate pour, thank-you-very-much. Not too big, because I know I'll be back for a second glass. Likely a third.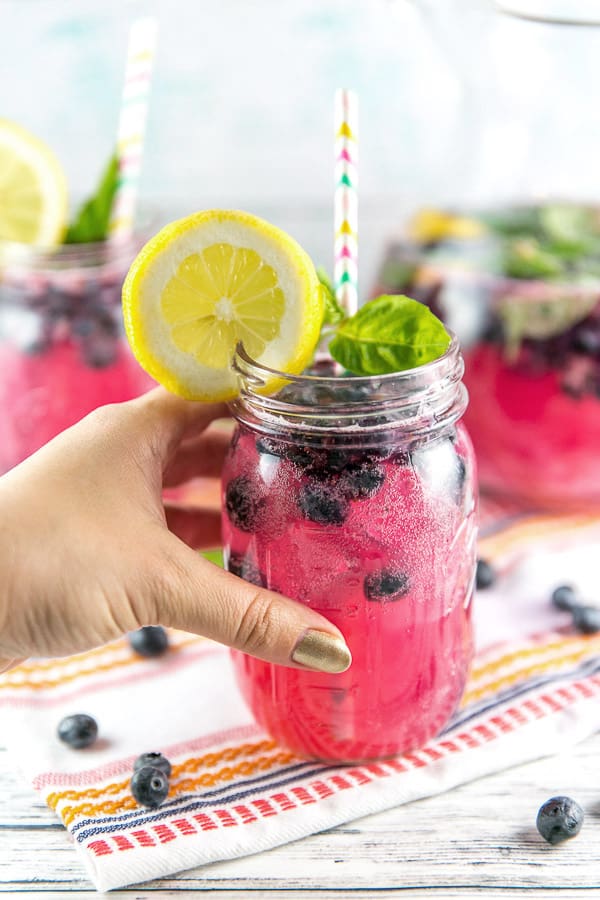 Tips and Tricks for Blueberry Basil Lemonade
Use freshly squeezed lemons! Bottled refrigerated lemon juice doesn't have the same flavor as freshly squeezed lemons – this is one of the times it's worth squeezing your own.
Freeze the lemons before juicing to maximize the amount of juice. Microwave for 30 seconds to quickly defrost prior to use.
For more blueberry basil flavor, make the lemonade the night before and refrigerate overnight.
Make sure your pitcher is big enough before you start pouring things in — you may need to split the recipe into two pitchers.
Serve with a splash of alcohol, like bourbon, vodka, or gin, if desired!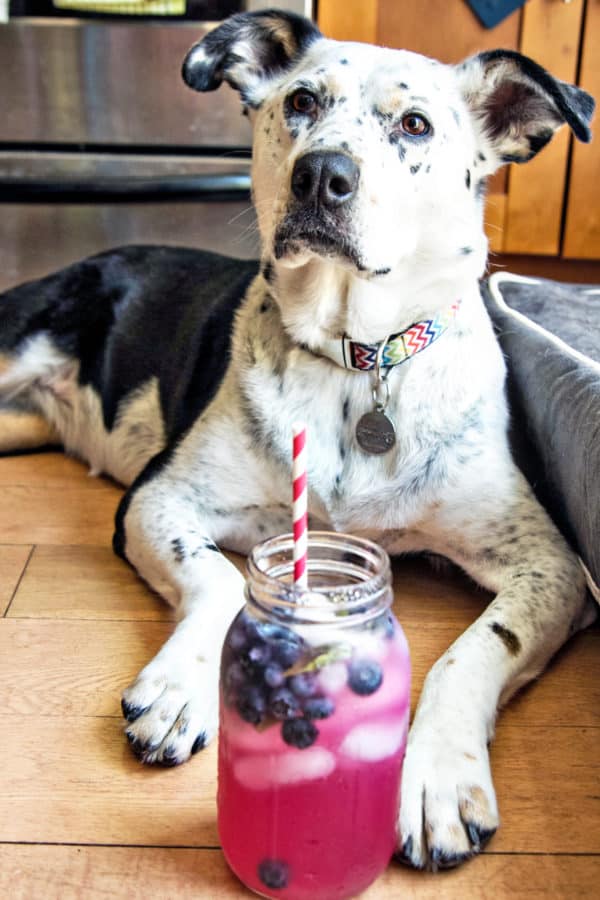 I couldn't resist sharing this last photo, taken many years ago. Much of the photography happened on the floor of the kitchen in the old house, as it was the only spot that received any sort of natural light.
I eventually switched to taking all my photographs with artificial lighting – which I still do today – mostly because my dog tried to eat everything right off the floor. Or settle down, tuck her paws around the glass, and request that extra shot of bourbon to kick off the weekend.
More Lemon Recipes: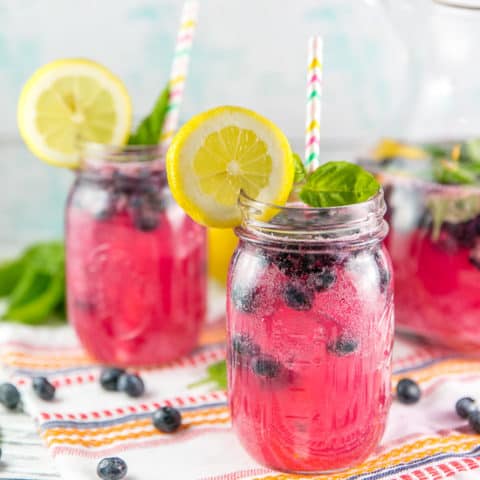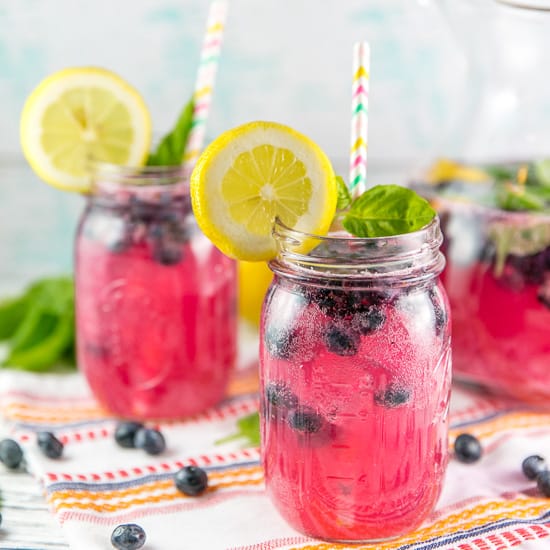 Blueberry Basil Lemonade
Celebrate summer with fresh squeezed blueberry basil lemonade – a generous splash of bourbon optional.
Ingredients
1 cup sugar
5 cups water, divided
8 lemons (enough for 1 cup of freshly-squeezed lemon juice)
1 liter seltzer
2 cups blueberries
2 cups basil leaves, loosely packed
optional: bourbon, vodka, gin, or rum
Instructions
Begin by making a simple syrup, combining the sugar and 1 cup of the water in a small saucepan. Bring to a gentle simmer over low heat, just until the sugar is completely dissolved. Remove from the heat to cool.
Cut each lemon in half and squeeze over a measuring cup, until you have 1 cup of lemon juice.
Add the simple syrup and lemon juice to a large pitcher, followed by the remaining 4 cups of water. Stir and adjust to taste, adding a few tablespoons of sugar or the juice of half a lemon if it is either too sweet or too tart.
Add in the 2 cups of blueberries and the basil leaves and stir. Use the back of a long wooden spoon to squeeze the blueberries against the side of the pitcher, breaking up some of the whole blueberries.
Immediately before serving, add the liter of seltzer to the pitcher.
Serve in a highball glass filled with ice and the liquor of your choosing.
Notes
After adding blueberries and basil, lemonade can sit refrigerated for up to 24 hours for flavors to intensify. Add seltzer immediately before serving.
Recommended Products
As an Amazon Associate and member of other affiliate programs, I earn from qualifying purchases.
Nutrition Information:
Yield:

8
Serving Size:

1.5 cups (12 ounces)
Amount Per Serving:
Calories:

126
Total Fat:

0.23g
Carbohydrates:

32.6g
Protein:

0.57g
Nutrition information does not include alcohol.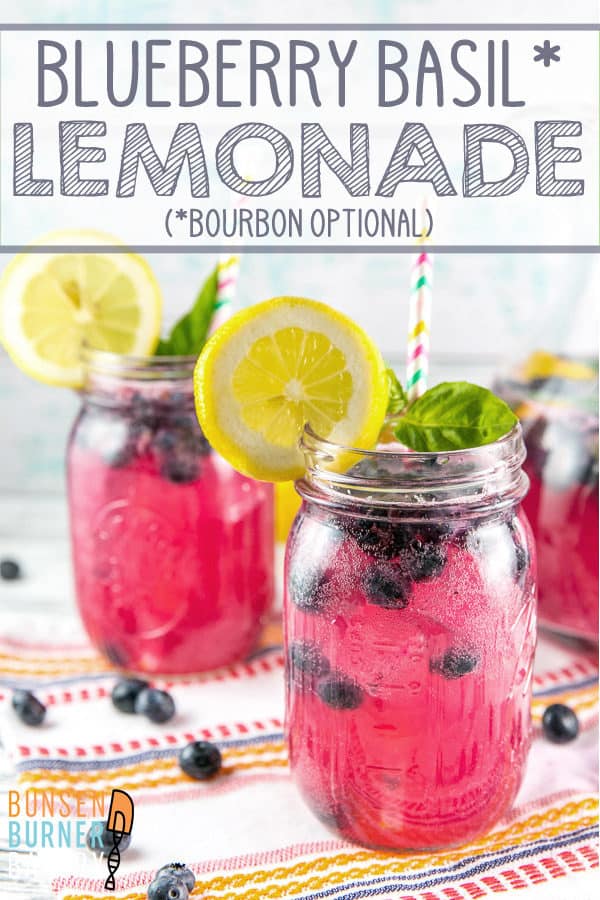 This recipe was originally published in June 2014 and updated in August 2019.