July 17, 2017
Rosemary Lavender Lemonade
Spruce up some fresh squeezed lemonade for your next gathering with this Rosemary Lavender Lemonade.  Perfect for sipping, with or without a splash of vodka!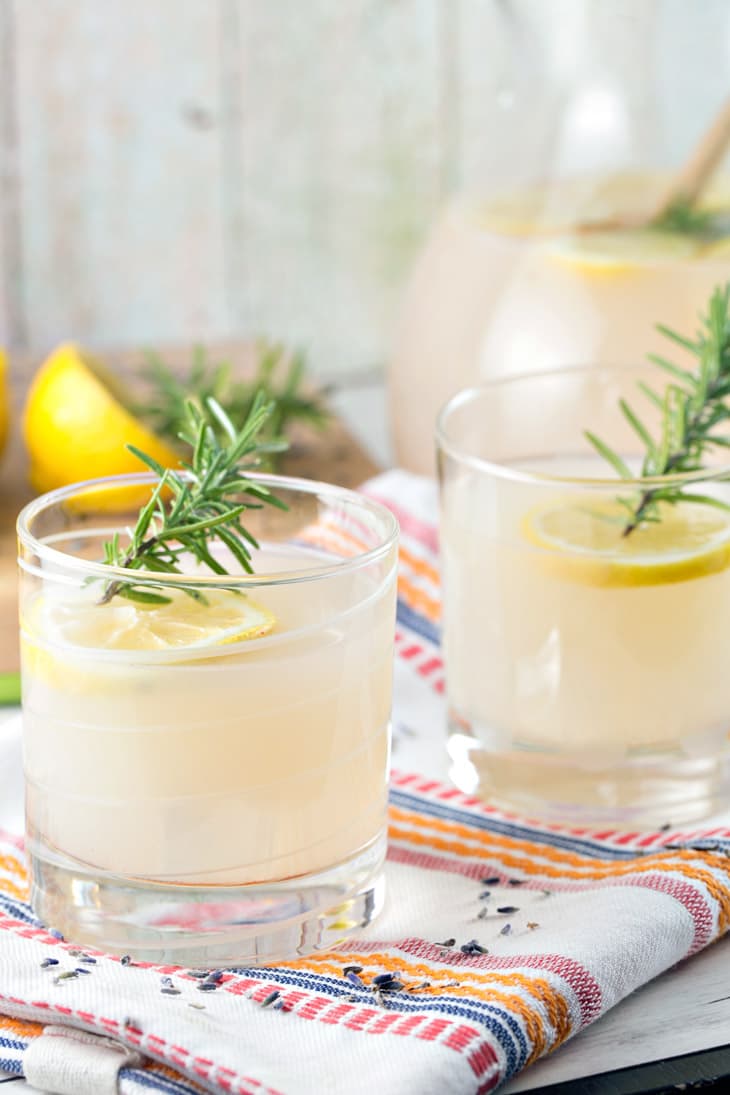 Things I can't get enough of during the summer: grilled okra, fresh corn, Rainier cherries, popsicles, homemade lemonade.
I'm generally not a beverage person. We don't drink soda or juice. I'll occasionally have a mug of tea in the winter if I'm sick. I haven't poured myself a glass of milk in years. My husband and I joke that we only drink two things: water and alcohol, but it's a joke that is pretty much true.
Except when it comes to outdoor picnics and parties and fresh squeezed lemonade.  I just can't say no.  That sweet-tart lemony combination is everything that is right with the world on a sweaty, hot summer day.  As soon as the temperature starts to rise, all I want is citrus.
I've shared a blueberry basil lemonade recipe before that is my favorite summer dinner party beverage (and even more so with a generous splash of bourbon!). But for a recent neighborhood picnic, I wanted to try something a little different. The lavender-lemon pairing has been on my mind ever since I made this lemon lavender bundt cake, so I jumped at the chance to turn it into lavender lemonade.
And well, you know me. Lavender lemon isn't enough on its own — we have to spruce it up a little more with some herbs.
I debated between rosemary and thyme, both abundant in my little urban patio garden. I eventually settled on rosemary, since it's one of my must-include herbs for lemon chicken. Sure enough, rosemary + lavender + lemon is an A+ combination.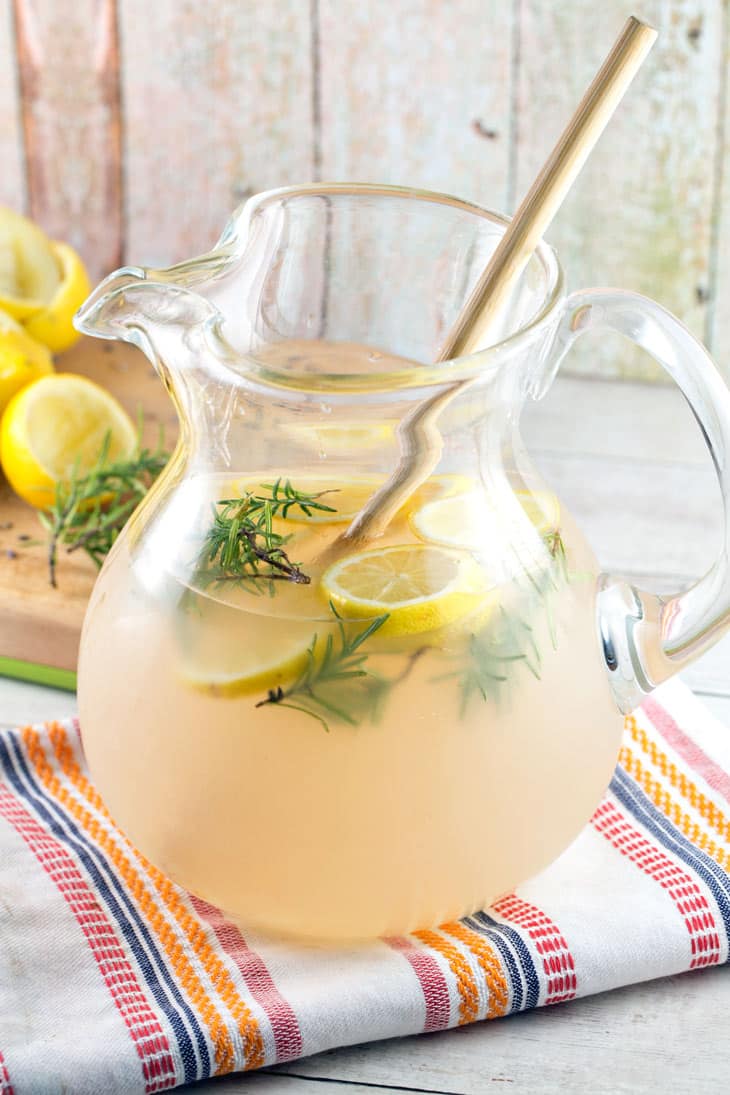 Ingredients and Substitutions
To make rosemary lavender lemonade, we'll need to gather the following:
Sugar
Water
Lemons: Use fresh lemons and squeeze them; store-bought lemon juice just doesn't have enough flavor for homemade lemonade!
Rosemary: Fresh sprigs infuse the flavor and look beautiful as a garnish for your drink. Sage or thyme would also be great substitutes for rosemary.
Lavender: Look for dried culinary lavender.
Best Homemade Lemonade
First up, we need to make a simple syrup. Combine 1 cup of water and the sugar in a saucepan over medium heat, bring to a simmer, and heat until all the sugar is dissolved. Why do we need to start with this step? It's time for my favorite subject… kitchen chemistry!
Kitchen Chemistry

By definition, simple syrup is a 1:1 ratio of sugar to water. At room temperature, this is below the saturation point of water, meaning simple syrup can be made by letting water and sugar sit at room temperature for an extended period of time until fully dissolved. To speed up this process, we can apply gentle heat which causes the sugar to dissolve more readily. Once fully dissolved, the sugar will stay in solution, thereby eliminating undissolved sugar in the lemonade.
Once the sugar has fully dissolved, add the rosemary sprigs and driver lavender, remove from the heat, and let the mixture seep to infuse the flavors of the herbs.
Strain the simple syrup mixture to remove the rosemary and lavender and combine with freshly-squeezed lemon juice and additional water – and a generous splash of vodka, if desired!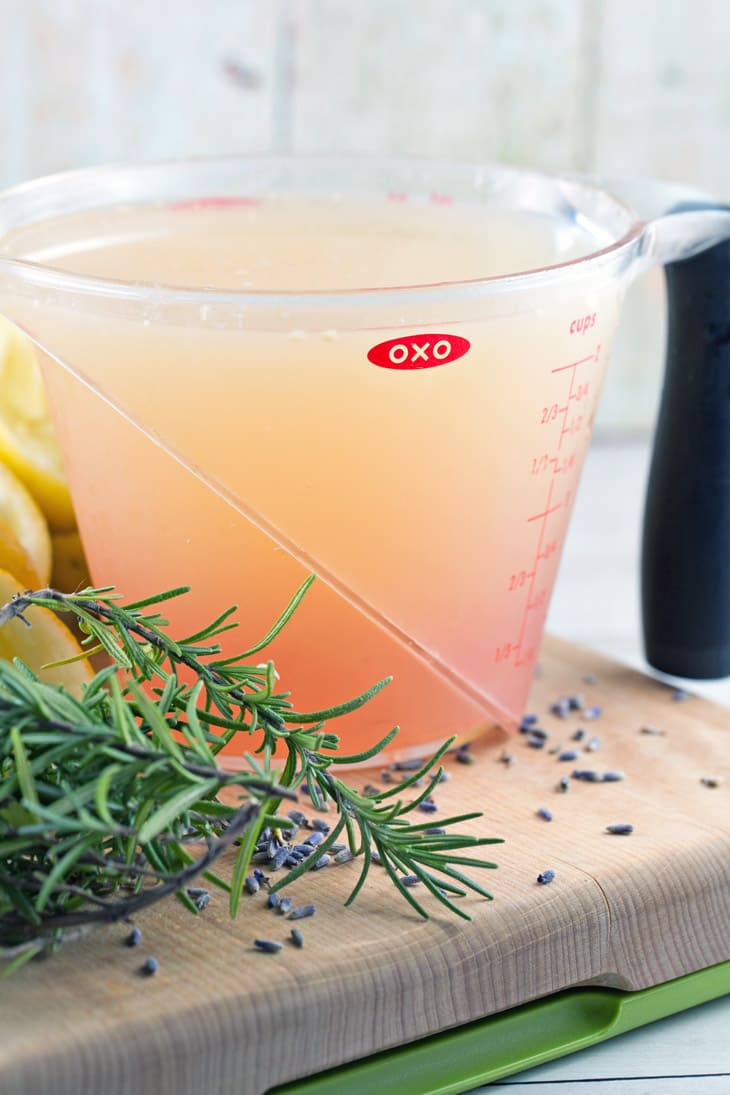 Skip the Food Coloring
If you've ever searched for lavender lemonade recipes on the internet, you've probably found dozens of pictures of perfectly pale purple (dare we say… lavender) colored beverages.  Seeping lavender leaves does not result in this beautiful purple hue (though it does make a very pretty pinkish color — see above!).  
These recipes claim the secret is adding a few drops of purple food coloring.
Friends, let me tell you: this does not work.  At least not with freshly squeezed lemonade and a lavender-infused simple syrup.  The slight pinkish hue of the simple syrup + yellow fresh squeezed lemon juice + purple food coloring… well… the photo below speaks for itself. ↓↓↓
Electric blue lemonade, anyone? No thanks. But if you're looking to make homemade Kool-Aid, I now know the secret!
(I actually did an Instagram story about this and multiple people responded saying the same thing happened to them, so clearly, it's not just me. And then someone said that they asked a restaurant, and the response was that it only works with concentrated lemon juice, so something about dehydrating and reconstituting must result in less yellow lemon juice.  Who knows.)
Either way, my advice is to skip the food coloring, embrace the natural lemonade color, and add a sprig or two of fresh lavender if you need to emphasize that it is lavender lemonade.  Sit back, enjoy the warm summer rays, and stay cool with a sip of ice-cold rosemary lavender lemonade.
Or take it up a notch from the perfect family beverage to an adults-only celebration with a splash of vodka.  Preferably a big one, please and thank you.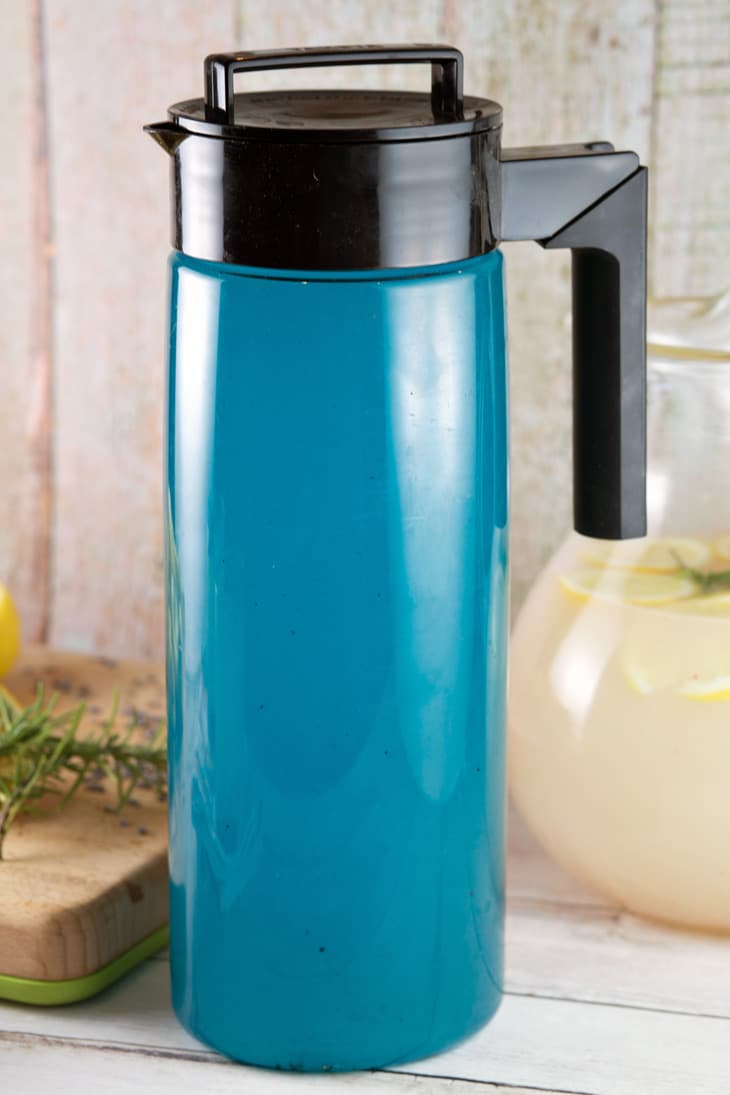 Recommended Tools to Make Homemade Lemonade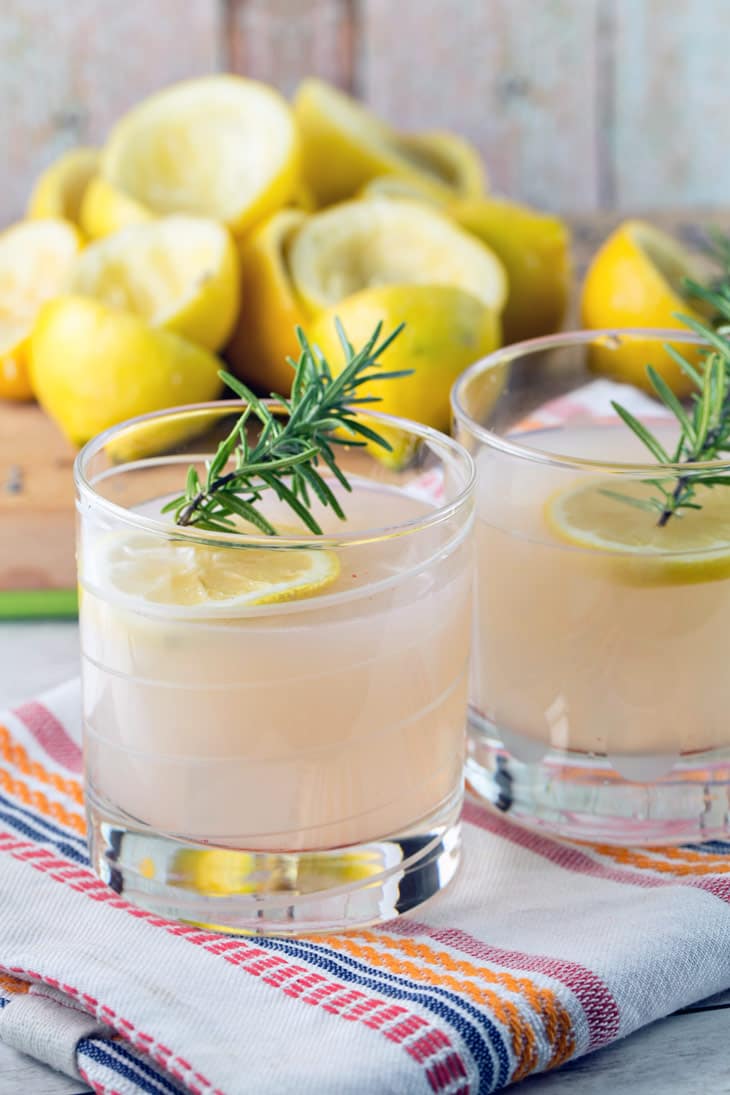 Tips and Tricks for the Best Rosemary Lavender Lemonade
For extra lemon flavor, zest 2 or 3 of the lemons before juicing and add the zest to the sugar and water before heating.
For a fun twist, add sparkling water just before serving. Or if you like things extra sweet, try a little ginger ale.
The lemonade is perfect to make ahead – the herbal simple syrup can be made a day or two in advance and refrigerated with the rosemary and lavender to infuse even more flavor into the mixture.
Use freshly squeezed lemons! Bottled refrigerated lemon juice doesn't have the same flavor as freshly squeezed lemons – this is one of the times it's worth squeezing your own.
Make sure your pitcher is big enough before you start pouring things in — you may need to split the recipe into two pitchers.
Serve with a splash of alcohol, like vodka or gin, if desired! 
More Summery Lemon Recipes
Rosemary Lavender Lemonade
Yield:
8 (1-cup) servings
Spruce up some fresh squeezed lemonade for your next gathering with this rosemary lavender lemonade.  Perfect for sipping, with or without a splash of vodka! 
Ingredients
1 cup sugar
5 cups water, divided
10 lemons (enough for 1 1/2 cup of freshly-squeezed lemon juice)
2 3-inch sprigs of rosemary
4 tablespoons dried lavender
optional: large splash of vodka
Instructions
Begin by making a simple syrup, combining the sugar and 1 cup of the water in a small saucepan. Bring to a gentle simmer over low heat, until the sugar is completely dissolved. Add the rosemary sprigs and dried lavender. Remove from the heat, cover, and allow the simple syrup to seep for 30 minutes.
Roll the lemons back and forth over the counter, or microwave briefly, 10-15 seconds, to help release the juice. Cut each lemon in half and squeeze over a measuring cup, until you have 1 1/4 cups of lemon juice.
Strain the rosemary and lavender from the simple syrup. Add the simple syrup and lemon juice to a large pitcher, followed by the remaining 4 cups of water. Stir and adjust to taste, adding a few tablespoons of sugar or the juice of half a lemon if it is either too sweet or too tart.
Serve over ice (with an optional splash of vodka) and enjoy!
Recommended Products
As an Amazon Associate and member of other affiliate programs, I earn from qualifying purchases.