September 9, 2022
Homemade Fig Bars
These Homemade Fig Bars feature a jammy fig filling sandwiched between a crunchy, chewy oatmeal crust. Skip the store-bought and make your own delicious fig bars at home!
One of my favorite things about living in South Philly is the abundance of fig trees. Rumor has it that many of these fig trees were smuggled into the country in the suitcases of Italian immigrants, bringing a piece of their homeland with them.
These trees are huge and produce hundreds and hundreds of figs each season! While our fig tree is still juvenile (it produced a whopping four figs last year), we are lucky to have friends with huge fig trees in their city backyards. When the figs start to ripen, I head over with my giant bucket and they send me home with pounds and pounds of figs.
Anyone who is lucky enough to get fresh figs knows how quickly they spoil. When you're faced with hundreds of figs ripening at once, you cannot possibly eat them all fast enough. (Trust me, I've tried – I LOVE fresh figs!)
So these homemade fig bars are my favorite way to make sure none of the fresh figs go to waste. The fig jam can be frozen, meaning you can make these all year long.
While most people think of a Fig Newton when they think of fig cookies or, these are a little different. Instead, these are crispy and crunchy on the outside, with a fresh fig jam center. I prefer these fig bars because they have a crunchier texture and fuller flavor!
I love making bar recipes for dessert because they are super easy to make and I can share them easily with friends and family. Plus, I can freeze them and get them out for an event or have a tasty treat on hand for my kids!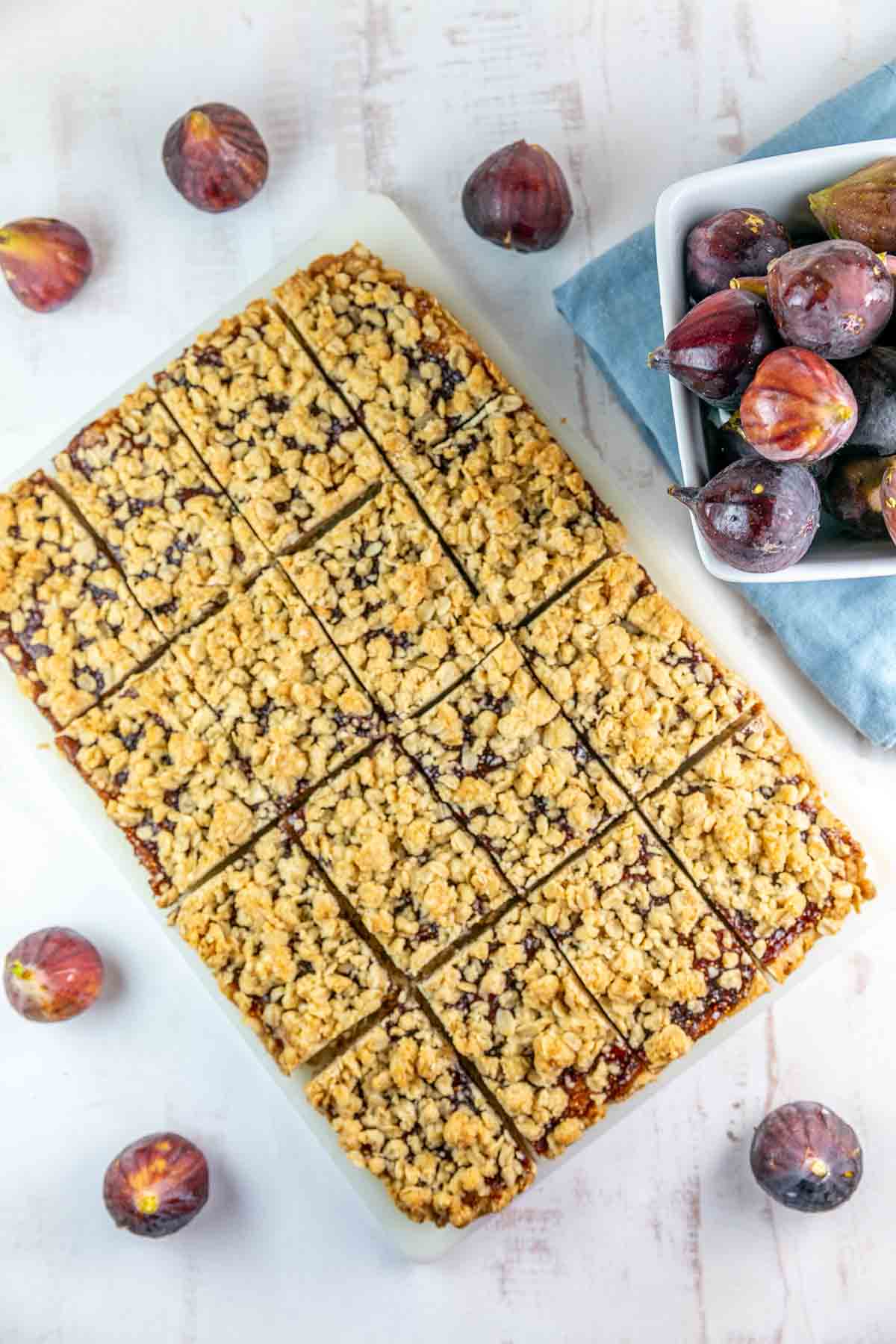 Fresh Fig Filling
Most homemade fig bar recipes use dried figs. This one, however, uses FRESH figs, which have a truly amazing flavor. If you don't live near an abundance of fig trees, look for fresh figs in farmers' markets and grocery stores between late July and mid-October.
Fresh figs only have about a 7-day shelf life after they've been picked before they begin to spoil. Store figs at room temperature for a day or two, or refrigerate to extend the life a few extra days. Wherever you store them, keep them away from other fruits! Curious why? It's time for my favorite subject… kitchen chemistry!
Kitchen Chemistry

Fresh figs produce large amounts of ethylene gas. When other fruits and vegetables are exposed to ethylene, it speeds up the ripening process and can cause other produce to spoil quickly!
If you bought your fresh figs and they are about to go bad, make your fig jam ahead of time and freeze it until you are ready to bake these fig bars! That way, the jam is all ready to go for your homemade fig bars and you don't waste any figs. The process for making this fresh fig filling is just cooking them down in a pot, similar to a normal fruit jam. It will be chunky, so you'll want to blend the jam at the end to make a smooth fig jam.
While this fig jam is totally worth it, It is completely understandable if you don't want to make a homemade jam. You can substitute a jarred fig jam instead of making the filling homemade if you would like!
Oatmeal Crust
The oatmeal crust is a chewy, simple crust that we use as a vehicle to get that yummy fig jam into our bellies. It adds texture and balances out the fruitiness of the fig filling.
This crust is made in just one bowl and mixed by hand. No need for any machines or fancy methods! The crust on the bottom and the top of the figgy filling are exactly the same.
While I do add flour to the crust mixture, you can opt for gluten-free flour if needed! This recipe calls for old-fashioned oats, so don't use quick or instant oats. When you mix all of the ingredients together, it will be thick and sticky which is just what we want.
You will place a layer of the oatmeal crust on the bottom of the pan, layer the fig jam on top, then sprinkle some more oatmeal crust on top so it gets nice and crispy in the oven. These bars couldn't be any easier!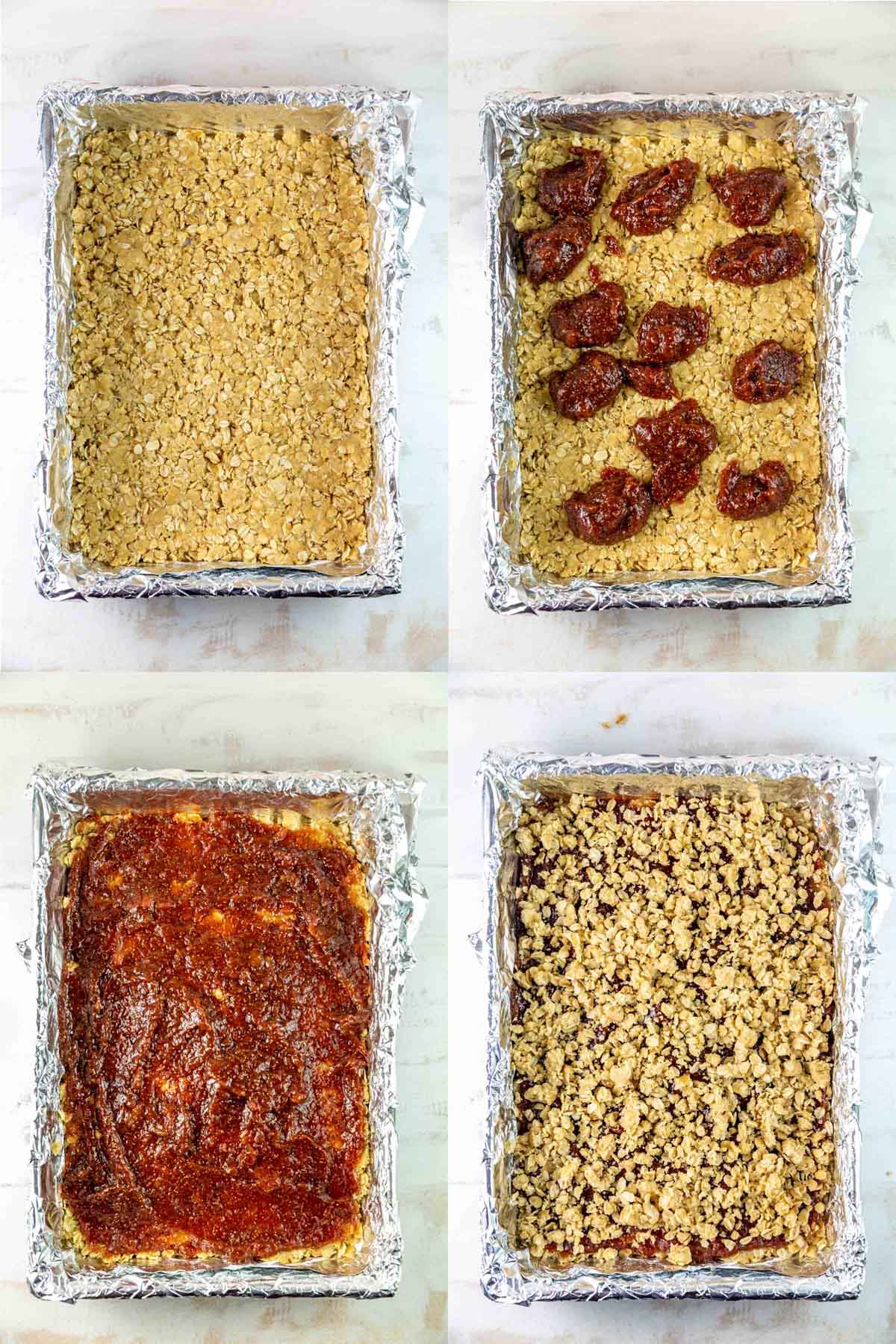 Frequently Asked Questions About Homemade Fig Bars
Where can I find fresh figs?
Fresh figs are usually in season from August to October and should be easily found in the produce section during these months. If you can't find fresh figs at a normal grocery store, try a natural grocery store which usually has a wider selection of produce.
What type of oats should I use?
It is essential to use old-fashioned rolled oats in this recipe. Steer clear from quick oats or steel-cut oats for your oatmeal crust!
How should I store my fig bars?
These homemade fig bars can be stored in an airtight container at room temperature for 3 days, in the fridge for 5 days, or you can freeze your fig bars for up to 3 months! When you are ready to eat them, let them thaw in the fridge and pop them in the oven to warm them up.
Can I use store-bought fig jam?
Yes, if you can't find fresh figs, store-bought fig jam is a great substitution! I like Bonne Maman Fig Preserves, but I'm sure other brands are delicious, too.
Can these fig bars be made gluten-free?
Substitute an all-purpose gluten-free baking mix for the flour and these will be easily made gluten-free!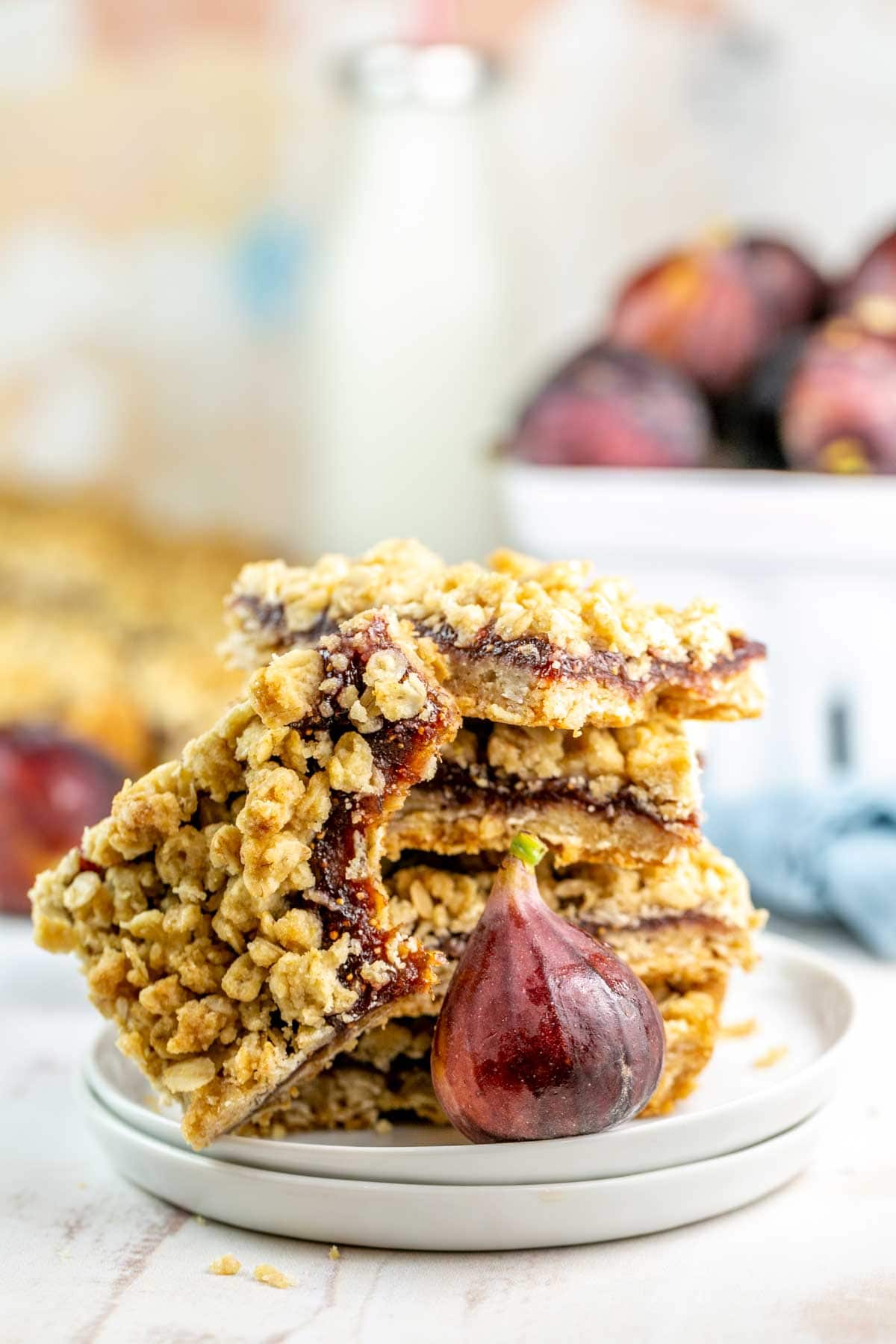 More Dessert Bars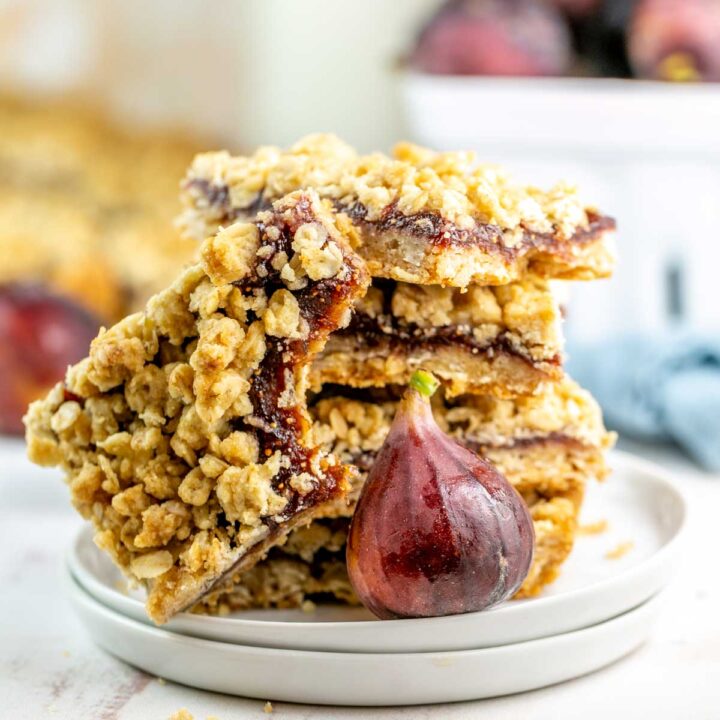 Homemade Fig Bars
Total Time:
1 hour
30 minutes
These Homemade Fig Bars feature a jammy fig filling sandwiched between a crunchy, chewy oatmeal crust. Skip the store bought!
Ingredients
For the Fig Filling:
24 (approximately 720 grams) small to medium fresh figs, quartered
1/3 cup (71 grams) brown sugar, packed
1 tablespoon lemon zest
1/4 teaspoon kosher salt
1 teaspoon vanilla extract
For the Oatmeal Crust:
1 cup (226 grams) butter, melted
2 cups (240 grams) all-purpose flour
2 cups (178 grams) old fashioned rolled oats
1 cup (213 grams) cup brown sugar
1/2 teaspoon salt
3/4 teaspoon baking powder
2 teaspoons vanilla extract
Instructions
Make the fresh fig filling. Combine figs, brown sugar, lemon zest, salt, and vanilla extract in a medium heavy-bottom saucepan. Heat over medium heat until the figs release their juices and the juices come to a slow boil. Turn down the heat and simmer for 45 minutes, occasionally stirring and breaking up larger pieces with the back of a wooden spoon. Remove the filling from the heat and cool. For a smoother texture, puree with an immersion blender, blender, or food processor.
Make the crust. Preheat the oven to 350 °F. Line a 9x13-inch pan with aluminum foil, extending over the sides of the pan, then spray with cooking spray. In a large, microwave-safe bowl, melt the butter. Add in the flour, rolled oats, brown sugar, salt, baking powder, and vanilla extract. Stir to combine; no streaks of flour should remain. The mixture will be quite thick and it may be easiest to mix with your hands.
Assemble the fig bars. Set aside 1 1/2 cups of the oat mixture. Press the rest into the bottom of the prepared pan, using the bottom of a glass to push the dough into a solid, flat layer. Spoon the jam over the bottom crust and spread evenly with a knife. Crumble the remaining dough over the top of the layer of jam.
Bake the fig bars. Bake for 30-35 minutes, until the jam is bubbling and the top crumble is golden brown. Remove from the oven and cool completely. To serve, lift the entire layer of jam bars from the pan using the aluminum foil as a handle. Slice into bars and serve.
Notes
Make sure to use old-fashioned (also known as rolled oats) and not instant or quick oats for the crust.
Store-bought fig jam can be substituted for homemade fig jam.
Homemade fig bars can be stored at room temperature for 3 days, refrigerated for up to 5 days, or frozen for up to 3 months.
Recommended Products
As an Amazon Associate and member of other affiliate programs, I earn from qualifying purchases.