April 18, 2017
Ham and Asparagus Crepe Rolls
Thank You for supporting the brands that support me and allow me to continue to grow my blog.  This shop has been compensated by Collective Bias, Inc. and its advertiser.  All opinions are mine alone.  #BeyondTheSandwich #CollectiveBias
These easy, gluten free, ham and asparagus crepe rolls are perfect for a spring brunch!  The best part? Make them ahead of time and reheat to serve!
Is it just me, or is spring the ultimate brunch season? The weather is finally warming up. It's the perfect excuse to invite over some friends, open the windows, and enjoy delicious food and some drinks. But what should you serve?
There are millions of dips and bite-sized party recipes out there for evening entertaining. Brunch entertaining is a bit harder, however – eggs? Pancakes? Waffles? All these require a lot of prep work while your guests are waiting.
Last month, we took a great little family vacation to Paris and London. We had an amazing trip, and certainly one of the big highlights was eating in Paris.
Pretty much everything we ate, all I could think about was how I could recreate it at home. The most deliciously flakey, not at all dry croissants. An amazing smoked salmon gratin. Apricot duck tagine. And, of course, crepes.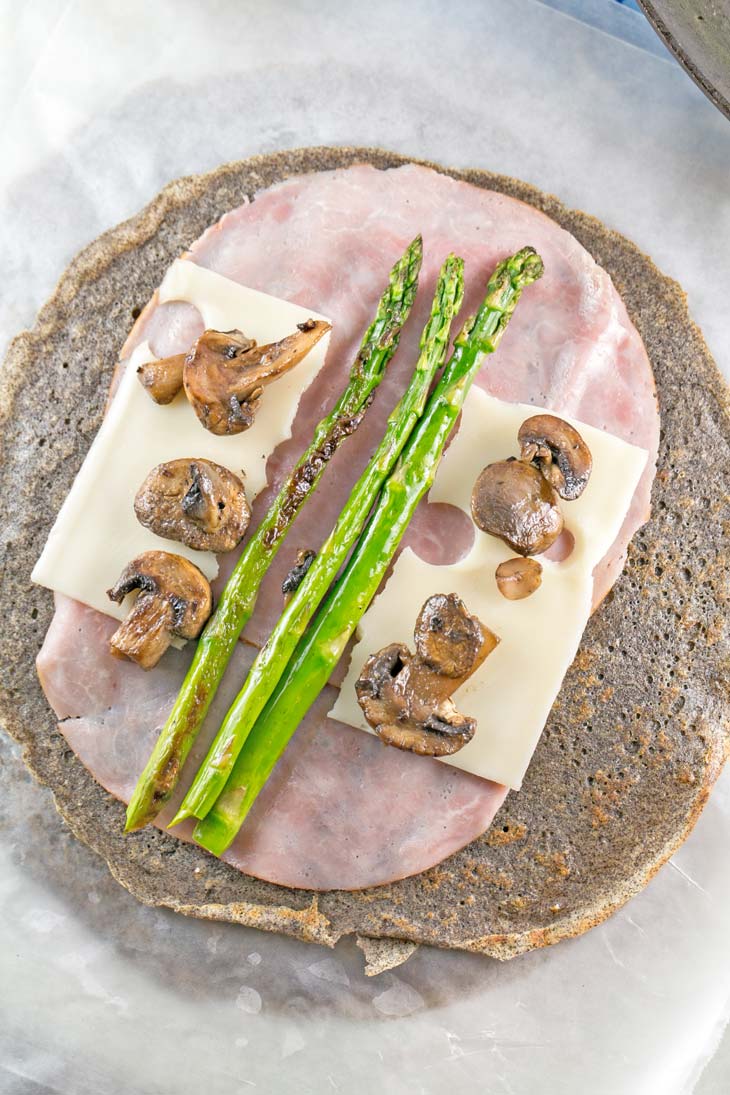 Crepeies I've been to here in the northeast tend to make all crepes, both sweet and savory, with a flour-based batter.
But in France, savory crepes are called galettes, and use buckwheat flour, making them naturally gluten free. I love the earthy, nutty taste of buckwheat and couldn't wait to try it at home!
We loved the quintessential complète we had at a creperie in Montmartre – a galette with a slice of ham, gruyere cheese, and a fried egg in the center. As much as I loved the runny soft yolk, it really means they have to be made to order – not exactly ideal for serving a crowd.
Instead, we'll use the traditional buckwheat galette batter, but pair with a make-ahead friendly filling: a slice of Castle Wood Reserve® ham, swiss cheese, and some sautéed asparagus and mushrooms. Nothing says spring like the start of fresh asparagus at the farmer's market!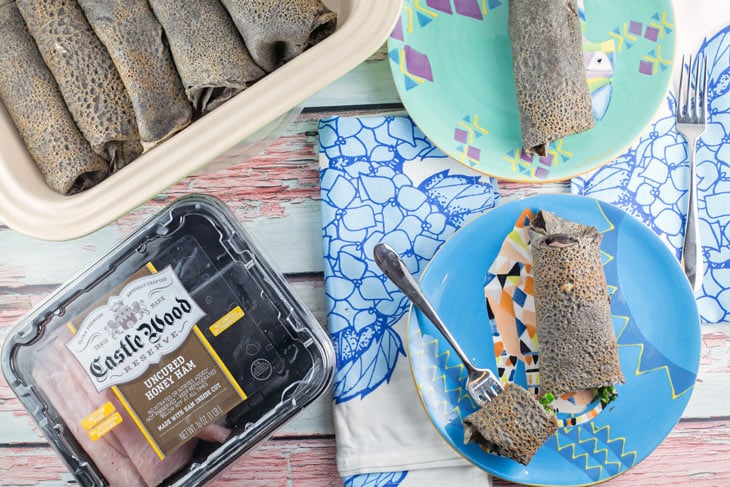 Of course, with something this simple, you want to focus on quality ingredients. I like Castle Wood Reserve® sliced ham, found next to the deli counter at Walmart. Castle Wood Reserve® offers two flavors of ham (honey and smoked), two flavors of turkey, chicken, and roast beef, any of which would work well in these rolled crepes!
I picked up the Uncured Honey Ham variety and liked the slight touch of sweetness, but I bet the smoked flavor is amazing, too!
Intimidated at the thought of making crepes? Don't be! If you've never tried it before, it's much easier than it seems.
Two important tips: keep your pan well buttered, and use a rubber spatula to gently lift up a corner when you try to flip the crepe. Make sure the bottom is fully cooked before turning and the crepe should flip nice and easy, without breaking.
The best part of these crepe rolls? Make them ahead of time, then warm in the oven before serving. No one wants to flip crepes while guests wait, so do all the prep work ahead of time and serve as your guests arrive.
It's the perfect combination of light and delicious, and the crepe rolls can be consumed with one hand if it's a standing-and-chatting kind of a party.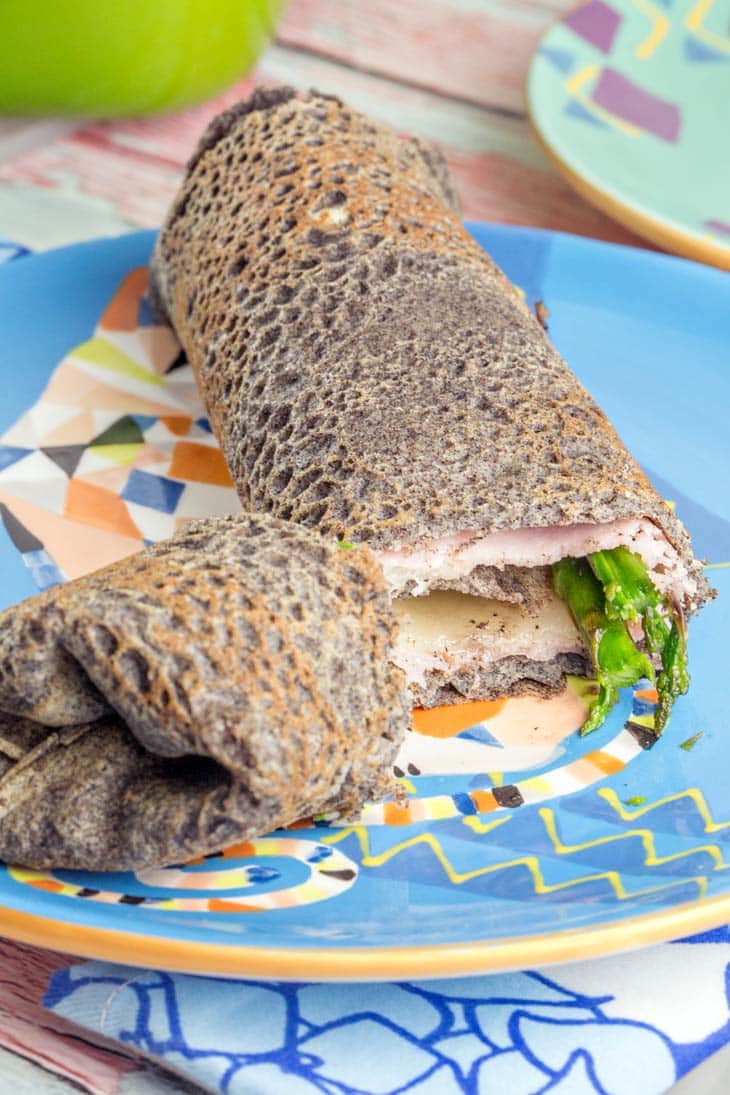 Without the runny egg yolk, the crepe rolls need a little something saucy, so I served them with a trio of mustards (dijon mustard, honey mustard, and spicy brown mustard).
Set out your plate of crepe rolls, little bowls filled with mustard and some spoons, and you have the perfect spring brunch!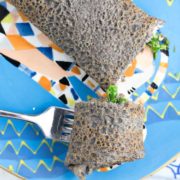 Ham and Asparagus Crepe Rolls
These easy, gluten free, ham and asparagus crepe rolls are perfect for a spring brunch!  The best part? Make them ahead of time and reheat to serve!
Ingredients:
1 1/4 cups buckwheat flour
3 eggs
4 tablespoons melted butter, plus additional butter for pan
1 cup milk
3/4 cup water
1/2 teaspoon salt
1 tablespoon olive oil
30 spears of asparagus
8 ounces sliced mushrooms
2 garlic cloves, minced
salt and pepper, to taste
20 slices Castle Wood Reserve® Uncured Honey Ham
10 slices swiss cheese
mustard, for dipping
Directions:
In a large mixing bowl, combine the buckwheat flour, eggs, melted butter, milk, water, and salt.  Whisk well for several minutes, until no lumps remain.  Set the crepe batter aside.
Heat the olive oil in a saute pan over medium heat.  Add the asparagus spears and cook several minutes, until softened.  Remove from the pan and add the mushrooms and garlic.  Add salt and pepper to taste.  Cook for several minutes, until mushrooms release their juices. Remove from the heat.
Melt a small dollop of butter in an 8″ nonstick frying pan set over medium heat.  Add 1/4 cup of crepe batter to the pan, swirling to evenly coat the bottom of the pan with batter.  Cook 30-45 seconds, until the bottom of the crepe is fully set, then use a spatula to gently turn the crepe over.  Cook on the bottom side for an additional 30 to 45 seconds, then turn out onto a sheet of wax or parchment paper.  Repeat this step until all crepes are made, stacking between sheets of paper.
Layer each crepe with two slices of Castle Wood Reserve® ham, a slice of swiss cheese, three asparagus spears, and a few mushroom slices.  Trim edges of asparagus if necessary.  Fold the top and bottom of the crepe inward, then roll the sides of the crepe around the filling.  Transfer to a 9×13-inch baking dish. Refrigerate until ready to serve.
Before serving, bake the crepes at 400 °F for 12-15 minutes, until heated through and cheese begins to melt.  Serve alongside mustard for dipping.
A Bunsen Burner Bakery Original Protoocl