April 18, 2020
Tahini Shakes
Rich and creamy with a slightly nutty flavor, these vegan date Tahini Shakes are made with no refined sugar or artificial sweeteners. Delicious and creamy — it's like a grown-up version of a milkshake, made from good-for-you ingredients!
This post may include affiliate links. As an Amazon Associate I earn a fee from qualifying purchases.
Would it even be Quarantahini Week if I didn't share a recipe for one of my most beloved tahini desserts of all time?
Of course, I'm talking about tahini shakes. Specifically the ones from Goldie, which are an amazingly silky smooth vegan "milk"shake tehina dream come true.
But, with Goldie closed for the foreseeable future, there's only one option: try to make our own!
I'll be upfront for any of my fellow Philadelphians who are equally obsessed with the Goldie tehina shakes: this is no copycat recipe. Goldie uses an actual milkshake machine to freeze soy-based milk and tahini and process it into a true milkshake.
Michael Solomonov wrote more about this in an article for The Splendid Table and shares a made-at-home version. This is, however, a little more effort than I'd like, freezing ingredients the night before. It also includes a lot of sugar (as one might expect from a milkshake) – an equal amount of sugar to the tahini.
So let's think of this not as a replacement for a Goldie shake, but a Goldie-inspired healthier tahini… smoothie, perhaps? It's easy to make, has a delicious nutty tahini flavor, but derives the sweetness only from dates. (So it's definitely not as sweet as the OG tahini shake.)
Topped with some whipped cream or coconut whip and a drizzle of chocolate halva spread? Count me in. Easy, better for you, and available whenever I want it. Now that's a winning recipe.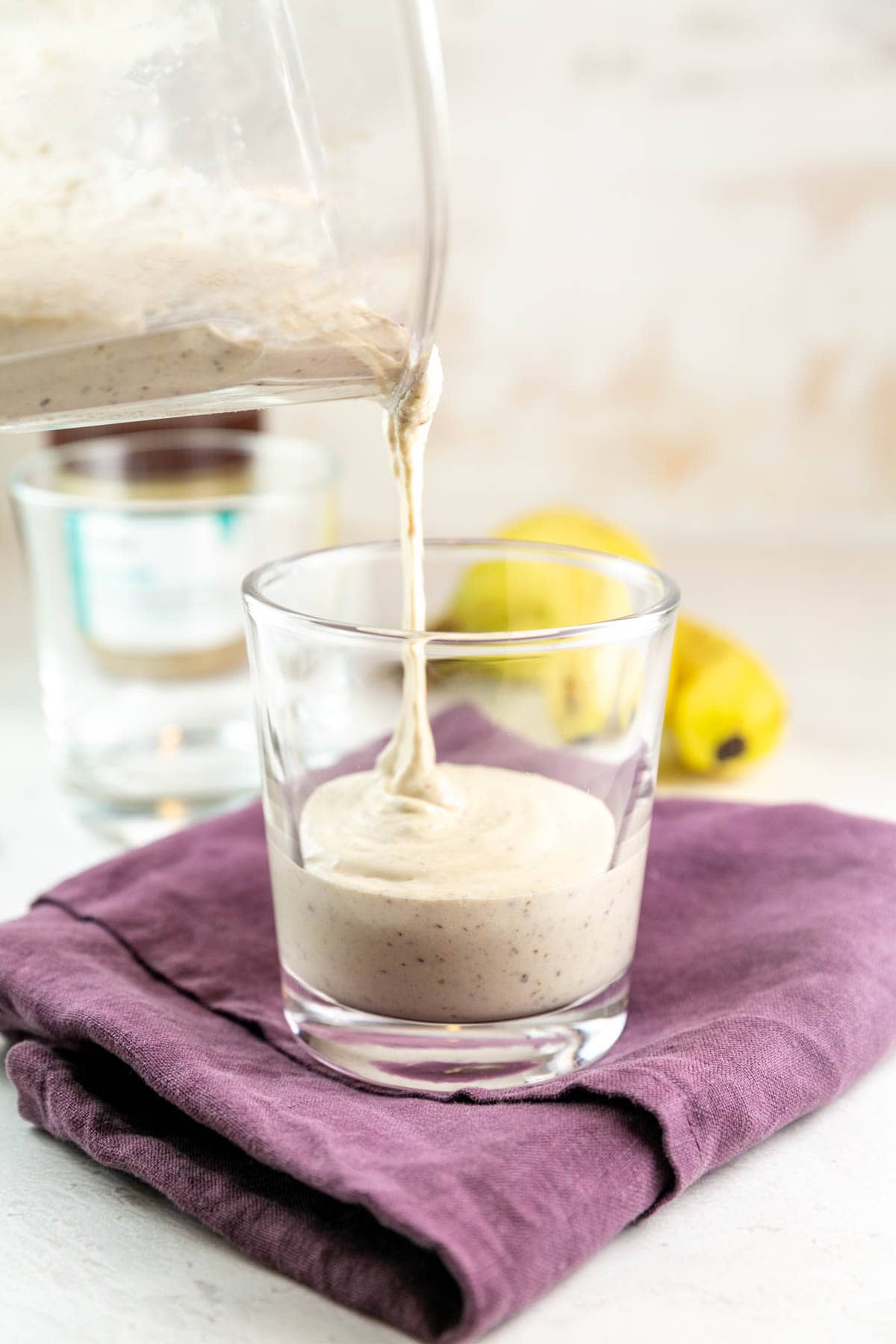 Ingredients and Substitutions
The milkshake machines at Goldie turn the tahini and sugar and milk mixture into a thick, creamy shake. Without a milkshake machine, and without having to freeze a tahini mixture a day ahead of time, we're turning to the hero of smoothies everywhere: frozen bananas.
No, there are no bananas in the Goldie tahini shakes. But I promise, this still tastes like tahini, and not a banana shake. And In lieu of the half cup of sugar in the Goldie recipe, we're using dates for natural sweetness.
We'll need the following five ingredients to make a tahini shake:
Almond Milk: Non-dairy milk is the liquid component of the tahini shake. Substitute in any other plant-based milk, like soy milk or oatmilk, or use regular milk (whole or low-fat) if you are not looking to keep this vegan.
Frozen Bananas: Freeze two bananas that are already ripe and store them in the freezer for at least overnight. The bananas can be frozen whole or sliced.
Tahini: Use a good quality, thick, not chalky tahini – and be sure to stir it well to mix any separated oils back in!
Dates: While there are hundreds of varieties of dates, I always use dried, pitted Medjool dates – they add the perfect amount of sweetness.
Vanilla Extract: A little vanilla extract adds an additional layer of flavor to our tahini shakes.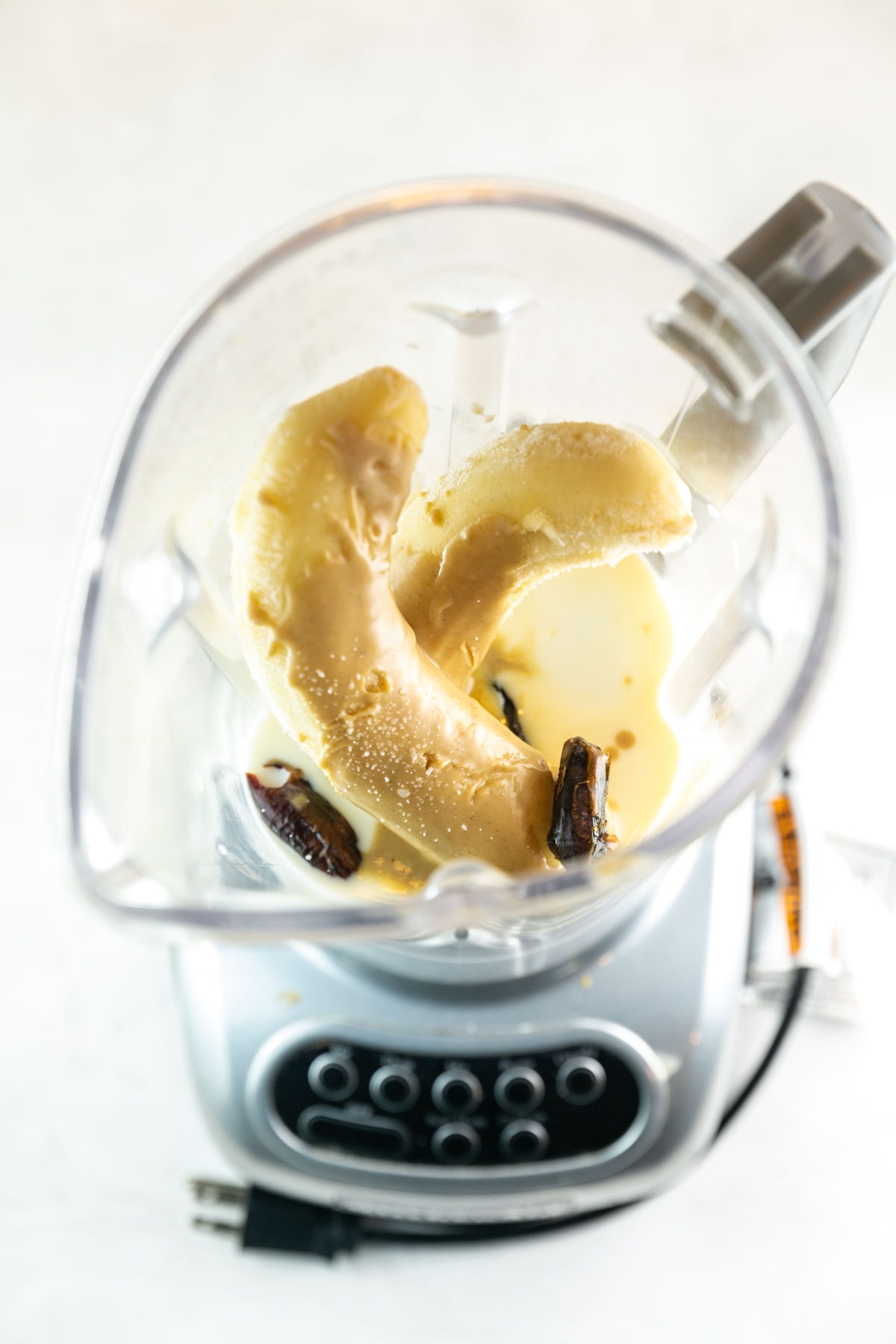 Thick and Creamy Vegan Shakes
Making the tahini shake is as simple as tossing everything in the blender and turning it on.
The shake will look pretty thick at first – and that's normal. This is because tahini is a non-newtonian substance. What the heck does this mean? It's time for our favorite subject… kitchen chemistry!
Kitchen Chemistry

A non-Newtonian fluid does not follow Newton's law of viscosity, which states that a liquid has consistent viscosity independent of the amount of stress placed on it. In non-Newtonian fluids, the viscosity changes as more force is applied. In the case of tahini, the faster we beat it, the stiffer it becomes.
Obviously, a blender beats things pretty fast, so the tahini will get very thick and stiff.
As the blender stops, the tahini will slowly thin back out. So don't add extra milk thinking your shake is going to be too thick!
Recommended Tools to Make Tahini Shakes
Tips and Tricks for the Best Tahini Shake
This recipe is written for two small shakes. If you want a diner-style (or Goldie-style!) large shake, make the full batch but serve in one glass.
Use good quality tahini. Soom Foods makes my all-time favorite tahini!
If the tahini shake is not as sweet as you would like, add 1-2 tablespoons of sugar to the mixture in the blender.
For a chocolate tahini shake, replace the tahini with chocolate tahini halva spread.
Freezing leftovers will result in a pretty hard, solid shake (but storing them in the refrigerator leaves a thin, juice-like consistency). Leave any frozen solid leftovers at room temperature for 10-20 minutes to thaw slightly, then eat with a spoon.
While delicious on its own, optional toppings add extra flavor or crunch. Suggestions include whipped cream or coconut whip, drizzled chocolate or chocolate halva spread, crushed graham crackers, or toasted and candied sesame seeds.
More Tahini Recipes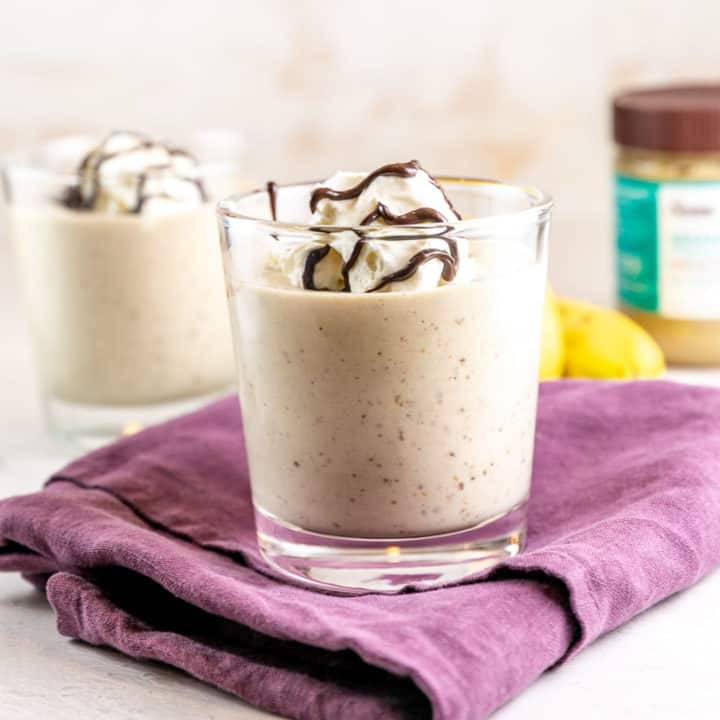 Tahini Shakes
Rich and creamy with a slightly nutty flavor, these vegan date tahini shakes are made with no refined sugar or artificial sweeteners.
Ingredients
1 cup almond milk (or any milk of choice)
2 large ripe bananas, frozen
6 tablespoons tahini
6 Medjool dates, pitted
1/8 teaspoon vanilla extract
pinch of salt
optional garnish: chocolate tahini halva spread, whipped cream, coconut whip, candied sesame seeds, graham cracker crumbs
Instructions
Combine milk, bananas, tahini, dates, vanilla extract, and salt in a blender or food processor. Blend until smooth and creamy.
Pour into glasses. If desired, top with a dollop of chocolate tahini halva spread and whipped cream, along with a sprinkle of graham cracker crumbs or candied sesame seeds.
Recommended Products
As an Amazon Associate and member of other affiliate programs, I earn from qualifying purchases.