April 24, 2017
Tres Leches Cake
A simple vanilla sponge cake soaked in a sweet three-milk glaze and covered with fresh whipped cream, Tres Leches Cake is a delicious, custardy end to a spicy Mexican feast!
You might not guess this, given that I'm a mostly-dessert food blogger and I'm running a year-long series on bundt cakes. Buuuut… I don't really like cake.
Much of this stems from the fact that I don't really like frosting. And of course frosting and cake go hand-in-hand most of the time.
I've shared my personal cake hierarchy before: ice cream cake > cookie cake > regular cake.
(My husband would probably put cheesecake in the top spot, but I'm hard pressed to think of any dessert I loathe more than cheesecake, so it doesn't even get ranked for me!)
There is one regular cake, however, that jumps ahead of cookie cakes and even ice cream cakes: tres leches cake. In case you're not familiar, tres leches cake is a spongey vanilla cake with — you guessed it — three kinds of milk poured over the top.
The milk soaks into the cake and creates this creamy, dreamy, custardy texture. And then the whole thing is topped with whipped cream and YES, PLEASE.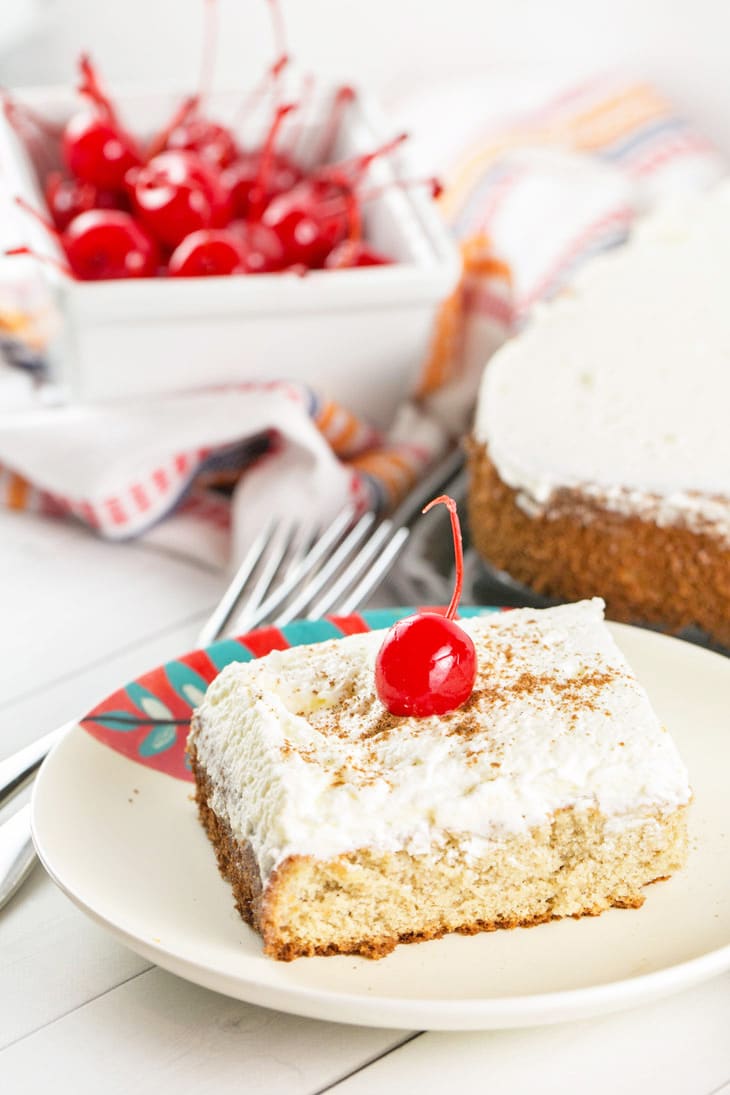 Let's pause for a second to talk about the history of Tres Leches Cake. No one actually knows the origins of the cake, though the two main lines of thought seem to be Mexico or Nicaragua. Recipes for milk-soaked cakes date as early as the 19th century in Mexico, though whether this originated there is up for debate.
Either way, Tres Leches Cake has a long history in Mexico, making it the perfect dessert for your upcoming Cinco de Mayo celebrations! (Or, you know, any time you make Mexican food. Which in my house, is quite often!)
One of the characteristics of Tres Leches Cake is the light texture with lots of air bubbles. This allows the cake to soak in two cups of milk mixture without getting super soggy.
It's definitely dense and soft after a day or two, but the cake does an impressively good job of somehow staying fresh and fluffy. The texture – a light cake with the dense custard – is my favorite part about Tres Leches Cake!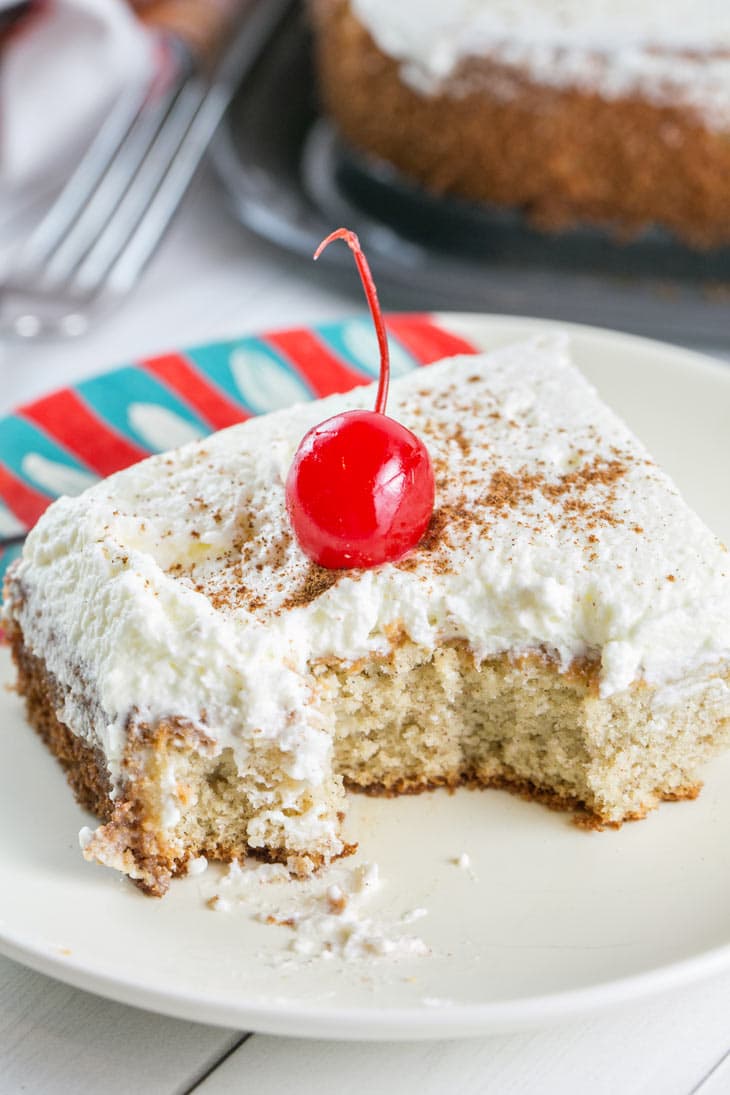 I add a little cinnamon to my Tres Leches Cake – both in the batter and sprinkled on top. Cinnamon is one of my favorite dessert flavors and it pairs so nicely with the creamy custardy filling. I also can't resist adding a cherry on top, because it's so bright and cheery!
Tres Leches Cake
A simple vanilla sponge cake soaked in a sweet three-milk glaze and covered with fresh whipped cream.
Ingredients:
1 cup all purpose flour
1 1/2 teaspoons baking powder
1/4 teaspoon salt
1 teaspoon cinnamon, plus more for decorating
5 eggs, separated
1 cup sugar
1/3 cup whole milk
1 tablespoon vanilla extract
1 12-ounce can evaporated milk
1 14-ounce can sweetened condensed milk
2 1/4 cups heavy cream, divided
1/4 cup confectioners sugar
Directions:
Preheat the oven to 350 °C.  Butter and flour a 9×13 inch pan or line with parchment paper.
Combine the flour, baking powder, salt, and cinnamon in a large bowl.
Beating the egg whites using an electric mixer.  Start on medium speed, beating until soft peaks form.  Turn the speed up to high and continue to whip until egg whites are stiff but not yet dry.  Spoon the egg whites into a separate bowl.
Add the egg yolks and sugar to the mixing bowl and beat on medium-high speed until the yolks are pale yellow and doubled in size, 3 to 4 minutes.  Stir in the milk and vanilla.  Add in the flour mixture, half a cup at a time, beating until just combined.
Gently fold the egg whites into the batter.  Pour the mixture into the prepared pan.
Bake for 30 to 35 minutes, until a toothpick inserted into the center comes out with a moist crumb and the surface of the cake feels springy when touched.  Allow cake to cool in the pan.
While cake cools, combine the condensed milk, evaporated milk, and 1/4 cup of the heavy cream in large measuring cup or bowl.  Prick the surface of the cooled cake many times with a fork.  Slowly drizzle half the milk mixture over the cake, ensuring the driest edges are also thoroughly soaked.  Continue to slowly pour the rest of the milk mixture over the cake until no more liquid is absorbed.  Let the cake sit for 30 minutes to fully absorb the milk.
To make the whipped cream, whip together 2 cups of heavy cream with 1/4 cup confectioners sugar until thick.  Spread the whipped cream over the surface of the cake.
Sprinkle additional cinnamon over the cake and top slices with maraschino cherries.
After frosting with whipped cream, cake should be stored in the refrigerator.  Cake will last 4-5 days under refrigeration, but is best consumed within the first 48 hours.