January 26, 2017
Cheesy Bacon Corn Dip
Perfect for game day or a party, this gluten free cheesy bacon corn dip is a make-ahead crowd favorite! Full of fresh produce, it's a lighter take on classic heavy, cheesy dips.
I'm sharing this Cheesy Bacon Corn Dip just in time for the Super Bowl. But this is one of those dips that shouldn't be set aside for once a year football parties.
Despite the title — you know, the cheesy and bacony part — it's not one of those heavy, gluttonous, winter comfort food kind of dips.
It's full of corn, red bell pepper, and jalapeno peppers. And yes, as the title suggests, there's bacon and cheese as well.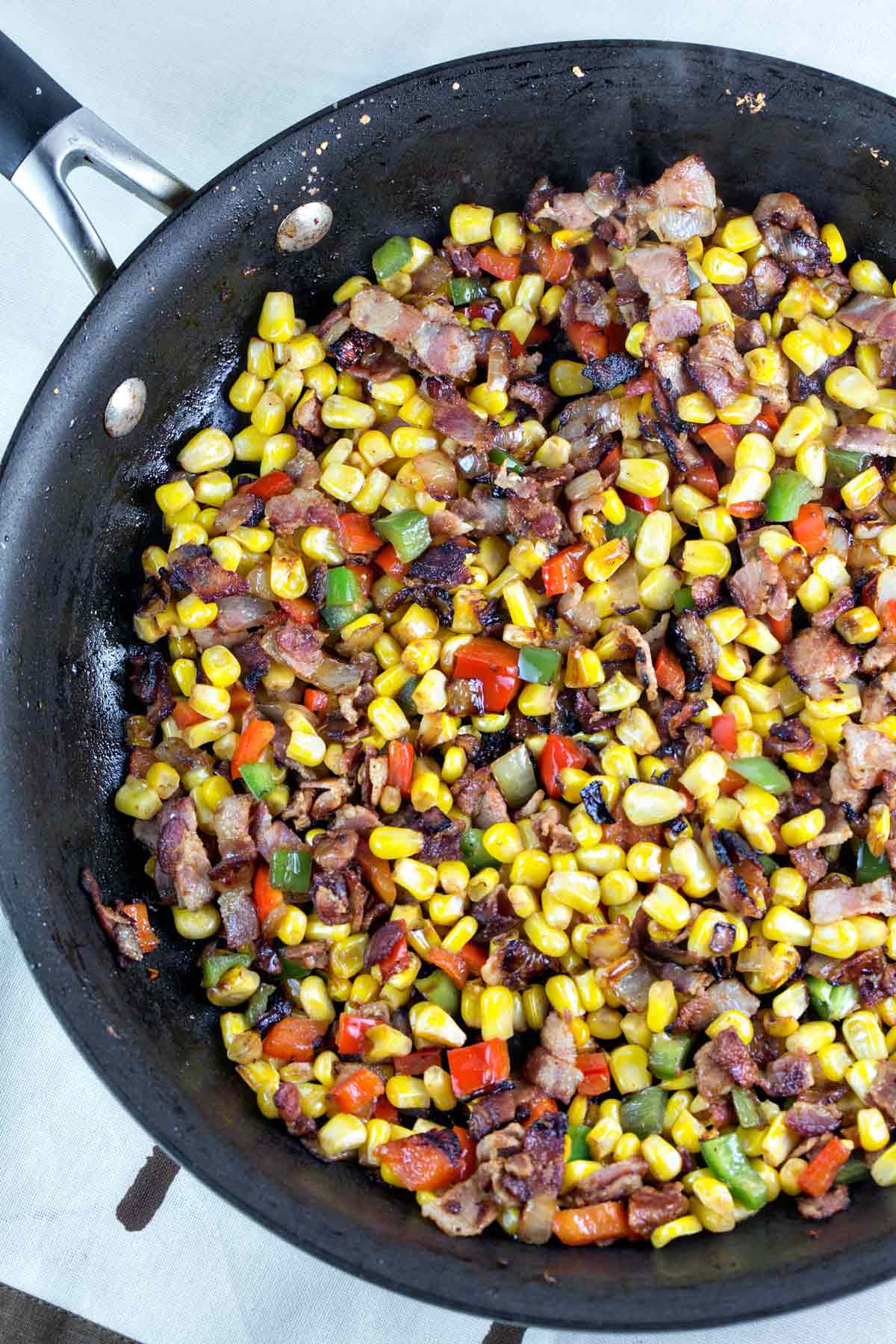 But the produce to cheese ratio skews in favor of produce, and I can only imagine that this would taste even better in the summer made with fresh summer corn and peppers from the farmer's market.
This would be perfect for a 4th of July party. Or any summer potluck, really.
And why stop at summer? This is also the perfect "wait around for the turkey to finish cooking" Thanksgiving dip.
How to Make Cheesy Bacon Corn Dip
Let's start with the lineup: bacon, onion, garlic, corn, red bell pepper, jalapeno, cream cheese, Monterey Jack cheese, and green onions.
All simple, easy to find ingredients. In fact, you may even have everything ready to go!
Don't like Monterey Jack? Substitute in whatever you do like. Cheddar. Mozzarella. A pre-shredded Mexican blend. It's all going to be delicious.
All we're going to do is sauté the vegetables until soft. Stir in the cream cheese and shredded cheese until melted.
Then transfer this mixture into a baking dish and bake until hot and bubbly.
Easy-freaking-peasy.
Make Ahead Cheesy Bacon Corn Dip
You know what's even better about this dip? You can make it ahead of time! No need to add it to your long to-do list the day of the party.
Sautee all the vegetables, stir in the rest of the ingredients, and pour it all into your dish.
Refrigerate up to 3 days, and and before your guests arrive, pop it into the oven for 20 minutes. Bubbling hot, cheesy bacon corn dip, all prepped ahead of time.
What to Serve with Cheesy Bacon Corn Dip
Let's be honest: tortilla chips are the gold standard here. Crunchy, salty, and perfect for scooping. Also good scooped onto crackers or dipped into with a pretzel.
Buuuut you want something low carb or a little healthier? We can do that. This dip is A++ on a piece of celery. (In fact, that's how I enjoyed all the leftovers.) . Or on a carrot. Or roll it up in a lettuce leaf like a wrap.
Because truthfully, the vehicle to get this dip into your mouth isn't that important — just as long as the dip gets there. Heck, eat it with a spoon. I fully support that.
This cheesy bacon corn dip is colorful, it's delicious, and it's not quite as bad for you as your typical party dip. We'll go ahead and call this one a big winner!
More Delicious Party Dips: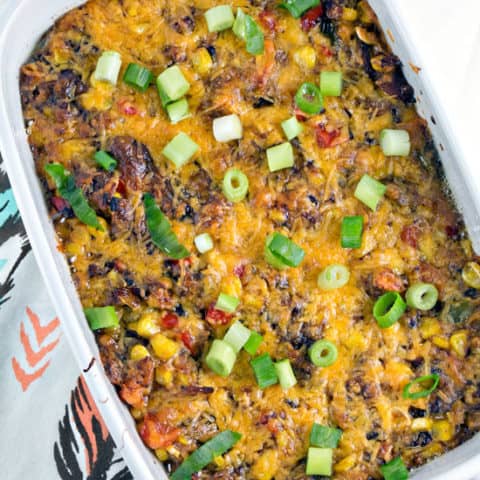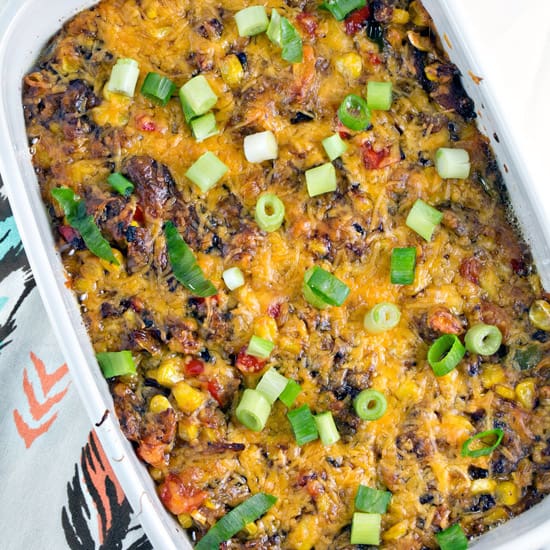 Cheesy Bacon Corn Dip
Perfect for game day or a party, this gluten free cheesy bacon corn dip is a make-ahead crowd favorite!
Ingredients
8 pieces of bacon, chopped
1 small onion, diced
2 cloves garlic, minced
3 1/2 corn kernels (approximately 4 ears of fresh corn or 16 ounces frozen corn, thawed)
1 small red bell pepper, diced
1 jalapeno, seeded and minced
1/2 teaspoon salt
4 ounces cream cheese
3/4 cup shredded Monterey Jack cheese, divided
2 green onions, sliced
Instructions
Preheat the oven to 400 °F.
Heat a large skillet over medium-high heat. Add the chopped bacon and cook until brown, about 8 minutes. Drain the excess fat from the skillet.
Add the onion and garlic to the skillet, cooking an additional 3-4 minutes, until translucent. Add in the corn, bell pepper, and jalapeno. Continue to cook until vegetables are soft, an additional 5 minutes. Stir in the salt. Add the cream cheese and 1/2 cup of the shredded Monterey Jack cheese, stirring until cream cheese is melted.
Transfer the mixture into a 1 quart sized baking dish. Sprinkle the remaining cheese over the top. Bake until bubbly and golden brown, about 20 minutes. Serve with tortilla chips, crackers, or celery.
Notes
A Bunsen Burner Bakery Original Protocol
Recommended Products
As an Amazon Associate and member of other affiliate programs, I earn from qualifying purchases.
Nutrition Information:
Yield:

12
Serving Size:

1
Amount Per Serving:
Calories:

193
Total Fat:

9g
Carbohydrates:

23g
Protein:

8g