January 16, 2020
Baked Ham and Cheese Sliders
Baked Ham and Cheese Sliders are the perfect party food!  Just 5 minutes of prep time and 20 minutes of baking are required for these easy make-ahead sandwiches – the ultimate crowd-pleaser.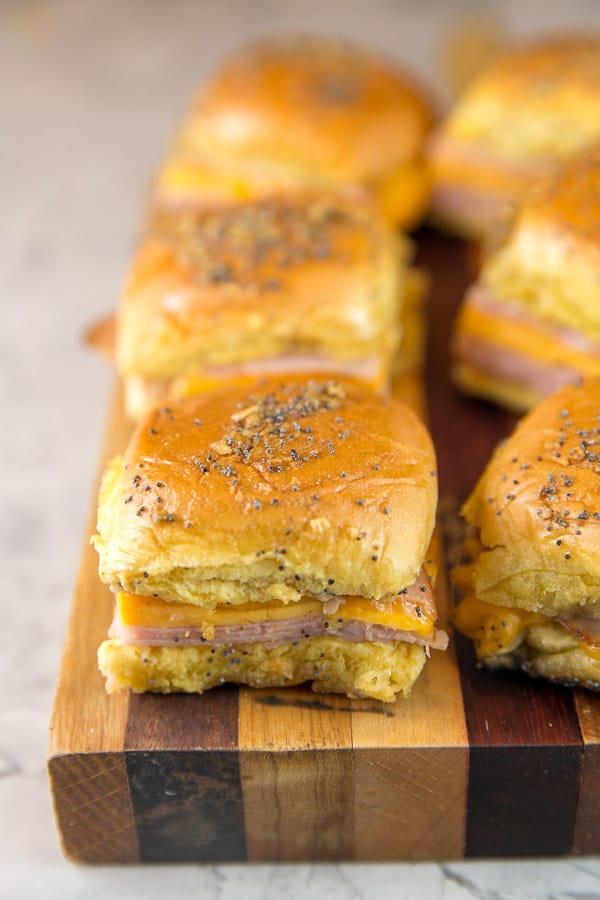 This post may include affiliate links. As an Amazon Associate I earn a fee from qualifying purchases.
The middle of January can only mean one thing — it's time to take a break from decadent desserts, and start talking about your football playoff party food!
As a Steelers fan married to an Eagles fan living in Philadelphia, my actual interest in the rest of the remaining teams is about zero.
But that's okay, because we all know the best part of any football gathering is always the food, and I am HERE FOR IT.
Last year, one of my new football party recipes was these Baked Roast Beef Sliders, which wound up being my most popular new post in 2019.
This year, we're sticking with a similar theme, but an even more popular flavor combination: ham and cheese.
For the past few years, I've served 4 or 5 different kinds of sliders for our New Year's Eve party, and these baked ham and cheese sliders are always the most popular.
It's about time I share this on here if for no other reason than so my own friends will stop texting me for the recipe. 😉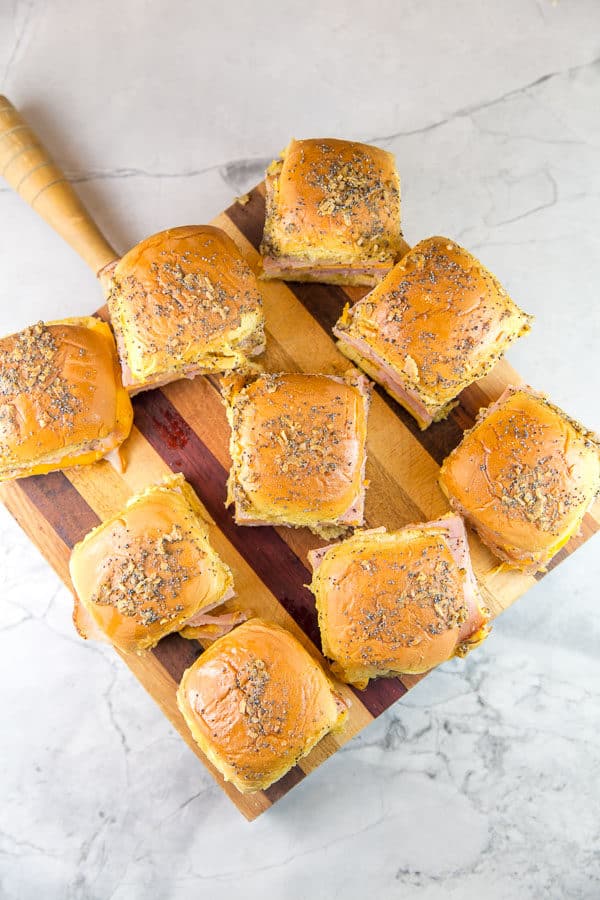 Perfect Easy Party Food
Slider-style sandwiches (meaning baked sandwiches on slider rolls, rather than mini-hamburgers) are my absolute hands-down most favorite food to serve at parties.
You can make them ahead of time – but you don't even have to, because they take 5 minutes to assemble.
The flavor combinations are endless, so there's always something to please someone.
They bake quickly, so you can rotate them in and out of the oven all night long.
Leftovers keep well, so if you have some leftovers (but you probably won't), you can pack them for lunch or eat them for dinner later in the week.
Hawaiian Rolls makes the Best Sliders
I always like to use King's Hawaiian rolls for sliders. I've made them with store-brand and bakery-bought slider-sized rolls before and they work fine. The King's Hawaiian rolls are always just plain better in the end, though.
The rolls stay soft and fluffy on the inside, but the outside gets perfectly toasted and just a little crispy. They're also just the right size and shape to fit into a 2 quart 7×11-inch baking dish.
Don't have a 2-quart casserole dish? You can also bake these in a 9×13-inch dish – you'll just have extra room on either end.  Or bake in a 9×9-inch square dish, but you'll have to cut off one row of rolls and do a little re-assembly, with one or two rolls left over to eat plain.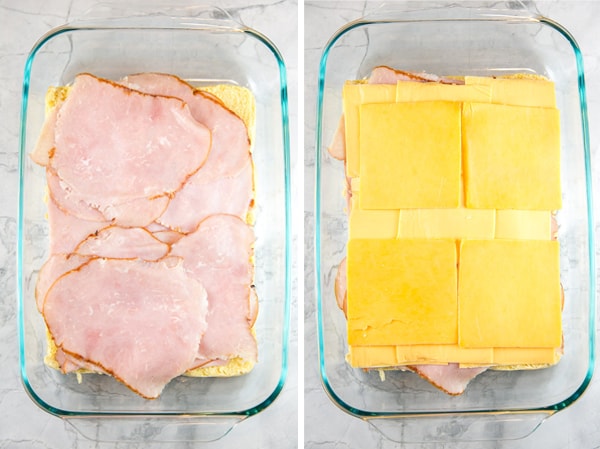 Extra Flavorful Butter Sauce
We've talked about the best bread. I assume you can figure out what goes in the middle of ham and cheese sliders (ham and cheese… obviously).
Now let's talk about what elevates these above and beyond your typical ham and cheese sandwich.
Once the sandwiches are assembled, whisk together some melted butter, spicy brown mustard, Worcestershire sauce, dried minced onion, garlic powder, poppy seeds, and a little pinch of salt.  Spread this seasoned butter mixture on top of the rolls (I like to use a silicone pastry brush to do this) and bake!
Don't skip the Worcestershire sauce – if you don't have it in your pantry, it's well worth purchasing before you make these. Even though we're not adding a lot of it, Worcestershire sauce packs a huge punch here because it dials into the often-forgotten fifth taste: umami.
What is this and why is it so important? It's time for my favorite subject… kitchen chemistry!
Kitchen Chemistry

Umami is one of the five basic tastes and is often described as a "savory" sensation. Umami is primarily attributed to the presence of glutamate, an amino acid, naturally found in foods. Worcestershire sauce contains a significant amount of glutamate, thus enhancing the savory flavor in the sliders, making them taste even more satisfying.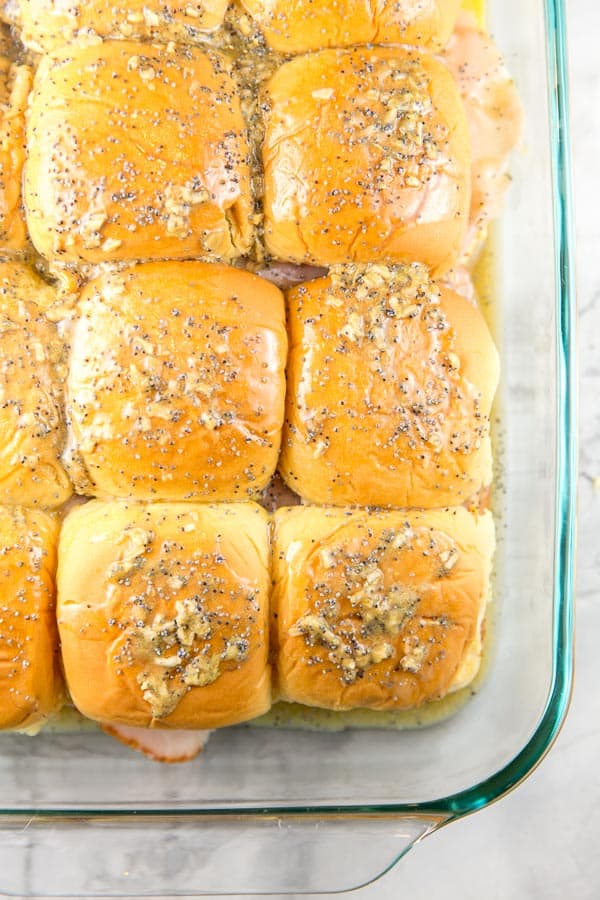 Ham and Cheese Slider Variations
I always make mine with thinly sliced deli ham and cheddar cheese because it's my personal favorite combination. Not feeling it? These are perfect for substituting what you do like!
Trade in the cheddar cheese for Swiss, mozzarella, pepper jack, or provolone cheese.
Instead of spicy brown mustard, spread some honey mustard, mayo, or even miracle whip (I'll look the other way…) on the inside layer of your bread.
Like things spicy? Add some (well-drained) pickled jalapenos or spicy Italian soppressata.  Or just regular plain pickles!
Don't like ham at all? These are delicious with sliced deli turkey, too!
Tips and Tricks for The Best Baked Ham and Cheese Sliders
Party prepping ahead of time? Assemble the ham and cheese sliders up to 24 hours in advance, then bake immediately before serving.
Use thinly sliced deli ham for the sandwiches, not thick cut.
Bake the sliders first covered with aluminum foil (to melt the cheese), then finish uncovered (to crisp and toast the top layer of the rolls).
Store leftovers in an airtight container in the refrigerator for up to 5 days. Reheat in a 350 oven for 15 to 20 minutes until warmed through.
More Easy Entertaining Recipes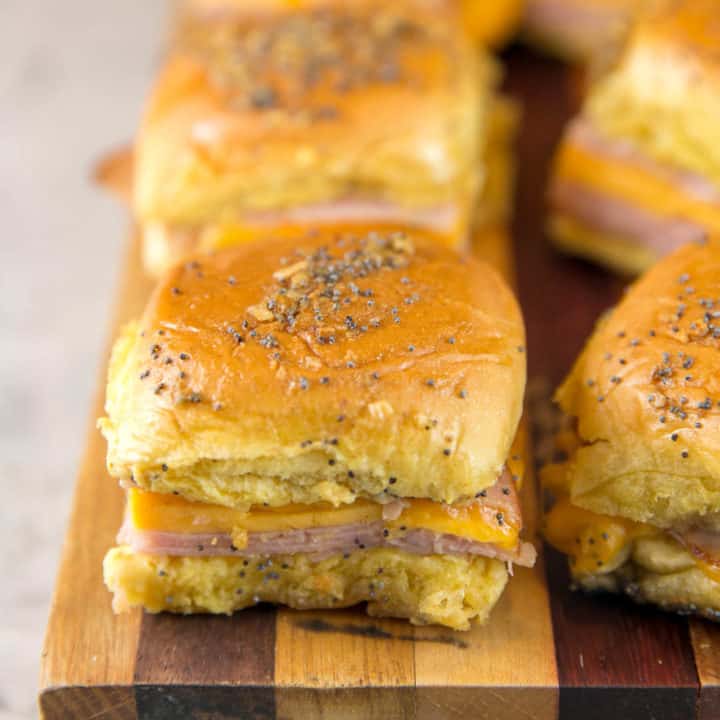 Baked Ham and Cheese Sliders
Baked ham and cheese sliders are the perfect party food!  Just 5 minutes of prep time and 20 minutes of baking required for these easy make ahead sandwiches – the ultimate crowd pleaser. 
Ingredients
1 12-count package Hawaiian-style dinner rolls, sliced in half horizontally
3/4 pound thinly sliced deli ham
3/4 pound sliced cheddar cheese
3 tablespoons spicy brown mustard, divided
1/2 cup unsalted butter, melted
1 tablespoon poppy seeds
2 teaspoons dried minced onions
1/4 teaspoon garlic powder
2 teaspoons Worcestershire sauce
1/4 teaspoon salt
Instructions
Preheat oven to 350 °F. Spray a 7x11-inch 2 quart baking dish or 9x9-inch baking dish with cooking spray.
Place the bottom half of the horizontally sliced Hawaiian-style rolls in the prepared pan. Evenly spread the sliced ham across the bread, followed by the cheese. Spread two tablespoons of the mustard on the bottom of the top layer of rolls and place on top of the formed sandwiches.
Place the butter in a smaill, microwave save mixing bowl and heat until melted, about 1 minute. Whisk in the remaining 1 tablespoon of mustard, poppy seeds, minced onion, garlic powder, Worcestershire sauce, and salt. Pour the butter mixture over the rolls and use a pastry brush or the back of a spoon to spread the mixture across the top of the rolls.
Cover the baking dish with aluminum foil and bake for 15 minutes. Uncover and bake an additional 5 minutes, or until the tops are as toasted as desired. Use a serrated knife to slice through the layers into individual sandwiches and serve while still hot.
Notes
For flavor variations, try spreading Dijon mustard, honey mustard, or mayonnaise on the bread instead of spicy brown mustard. Add pickled jalapenos or pickles to the sliders, or replace ham with turkey.
Baked ham and cheese sliders can be assembled up to 24 hours in advance, then baked immediately before serving.
Store leftovers in an airtight container in the refrigerator for up to 5 days. Reheat in a 350 oven for 15 to 20 minutes until warmed through
Recommended Products
As an Amazon Associate and member of other affiliate programs, I earn from qualifying purchases.
Nutrition Information:
Yield:

12
Serving Size:

1 slider
Amount Per Serving:
Calories:

312
Total Fat:

21.8g
Carbohydrates:

15.1g
Protein:

14.3g