May 4, 2017
Creamy Smoked Salmon Pasta
Creamy pasta paired with smoked salmon makes the perfect special occasion brunch dish.  Rich and decadent, creamy smoked salmon pasta is a personal favorite!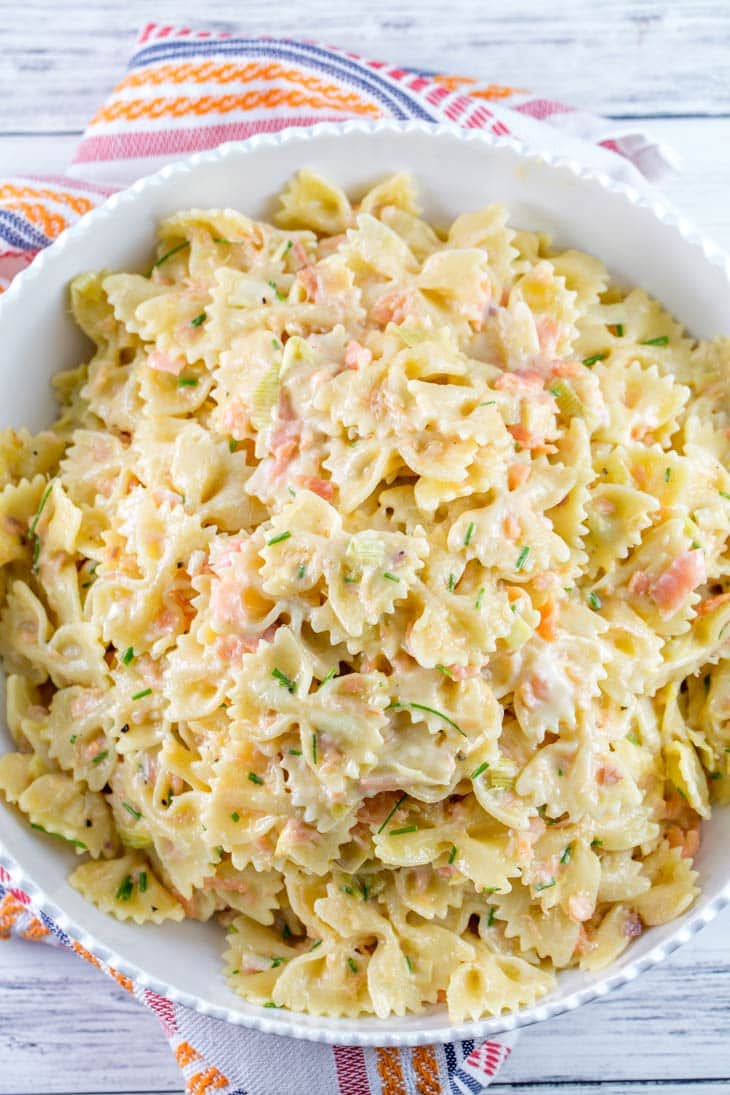 If someone asks you to name your top five favorite dishes, would you have an answer?  I would have to think long and hard about my full list but this Creamy Smoked Salmon Pasta would most definitely be on the list.
It's rich and creamy (oh so decadent!) and perfectly salty – it hits all my favorite textures and flavors.
I first shared this post back in 2014, but with Mother's Day coming up, this deserved some fresh new photos and a little attention back on the front page.
This is not your everyday pasta dish.  It's loaded with heavy cream and egg yolks, which is why it's so incredibly rich.  This is special occasion pasta.  This is celebration brunch pasta.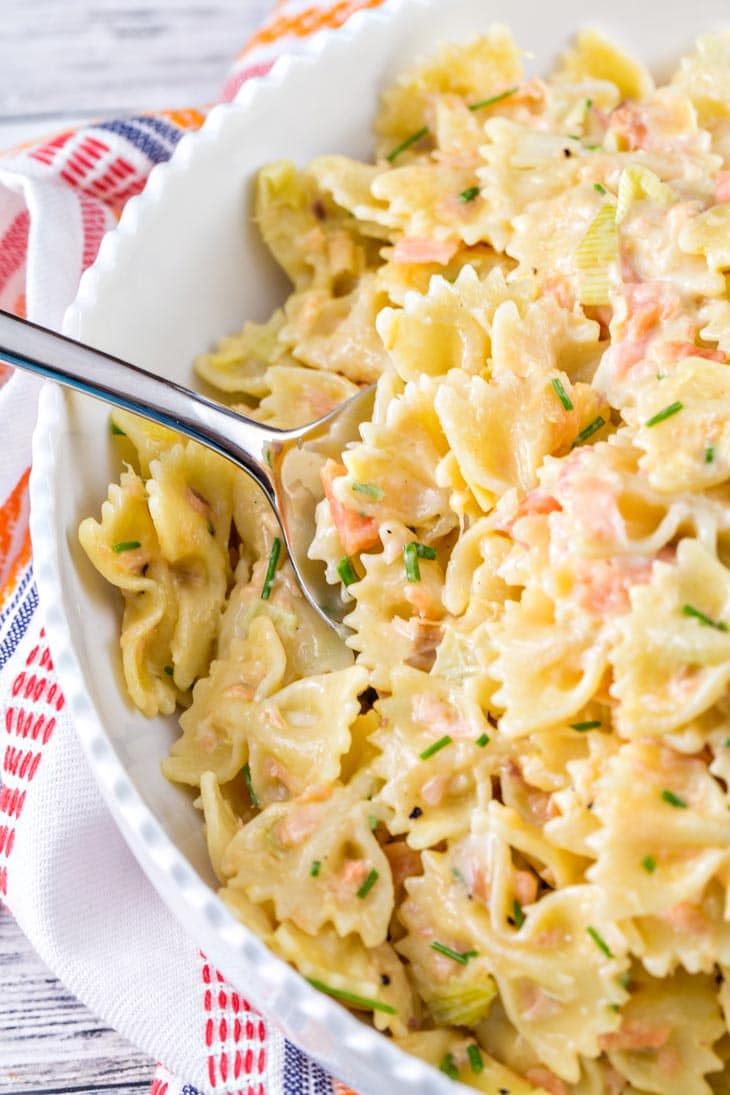 While it's perfectly acceptable for dinner, I always think of this as a brunch dish.  Maybe it's the smoked salmon, which screams "bagel brunch!"  Plus, it pairs so nicely with fluffy omelets, delicious scones, and a big fruit salad.  Instant easy brunch!
This smoked salmon pasta has become a bit of a Mother's Day tradition around here.  We usually hold a brunch for our mothers at our house, and this is always on the menu.  It even made an appearance the Mother's Day four weeks after my son was born (and joyfully so – smoked salmon was back on the menu after 9 long months without it!).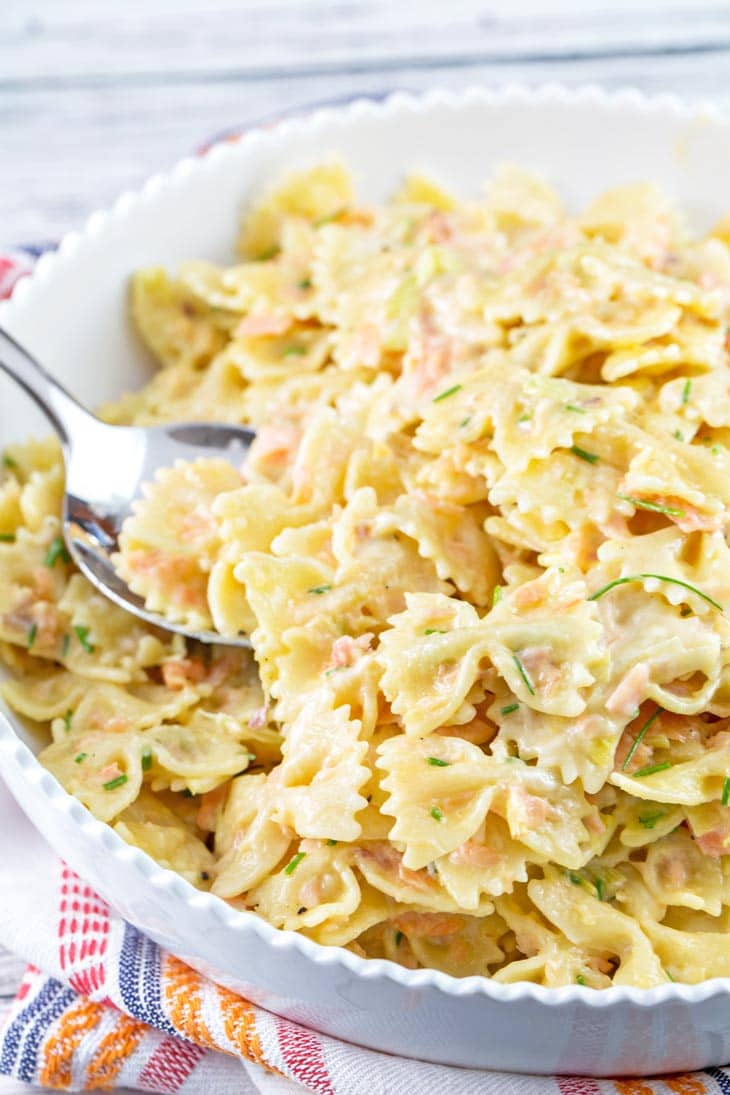 This year, we used it to celebrate another exciting occasion: our little boy's second birthday last month!
He loves smoked salmon and talks abut pasta constantly, so it seemed like the perfect option!  As much as he loves to talk about pasta, though… he really doesn't like to eat it that much.  He mostly picked out the smoked salmon, but that's okay – more for me!
The longest part about this recipe is boiling the pasta.  (In other words, it's super easy and quick to throw together.) . It's much better served warm, since the creamy sauce thickens significantly when cold, so I like to toss it together just before serving.
Whether you serve it for brunch, lunch, dinner, or any time in between, it's a guaranteed hit!
Need other great brunch ideas?  Don't miss these recipes!
Creamy Smoked Salmon Pasta
Creamy pasta paired with smoked salmon makes the perfect special occasion brunch dish.
Ingredients:
1 pound farfalle pasta
2 tablespoons unsalted butter
1 leek, diced
1/4 cup vodka
2 cups heavy cream
8 ounces smoked salmon, cut into thin strips
3 egg yolks, gently beaten
2 tablespoons fresh chives, chopped
Directions:
Cook the farfalle in a large pot of boiling salted water, until al dente.
Melt the butter in a deep skillet.  Add the leek and cook until soft, about 3 minutes.  Add the vodka and cook until evaporated.  Add the heavy cream and simmer over moderately high heat, stirring often, until reduced by half, 5-6 minutes.
Remove from the heat and stir in the smoked salmon and season with salt and pepper.
Drain the farfalle.  Add to the skillet and stir well.  Add the egg yolks and stir over low heat until warmed through and the sauce is creamy, about 30 seconds.  Scatter chives on top of the pasta.