February 25, 2022
French Onion Pork Chops (Stovetop or Sous Vide)
If you love French onion soup, you're going to love these French Onion Pork Chops, smothered with caramelized onions and gooey cheese. Plus all the tips and tricks you need for always juicy, never dry, perfect pork chops – ready in under 40 minutes!
Whenever I ask what kind of recipes people want on Instagram, I always get a request for more easy weeknight dinners. And the most common request, by far, is for recipes for pork chops that aren't dry/chewy/overcooked.
Plump, juicy pork chops? We can do this! I am here with all the tips and tricks you need for the best pork chops – never dry or chewy or bland.
I'll share all my best tips below, along with this super flavorful, delicious recipe for French onion pork chops.
It's one of my favorite weeknight options! You'll need to prepare ahead a little bit by brining the night before, but the actual cooking and preparing comes together in under 40 minutes.
Juicy pork chops? Made in one pan? In under 40 minutes?
This, friends, is the weeknight pork recipe you need! (And did I mention it's also low carb AND easily adaptable to be gluten-free?!)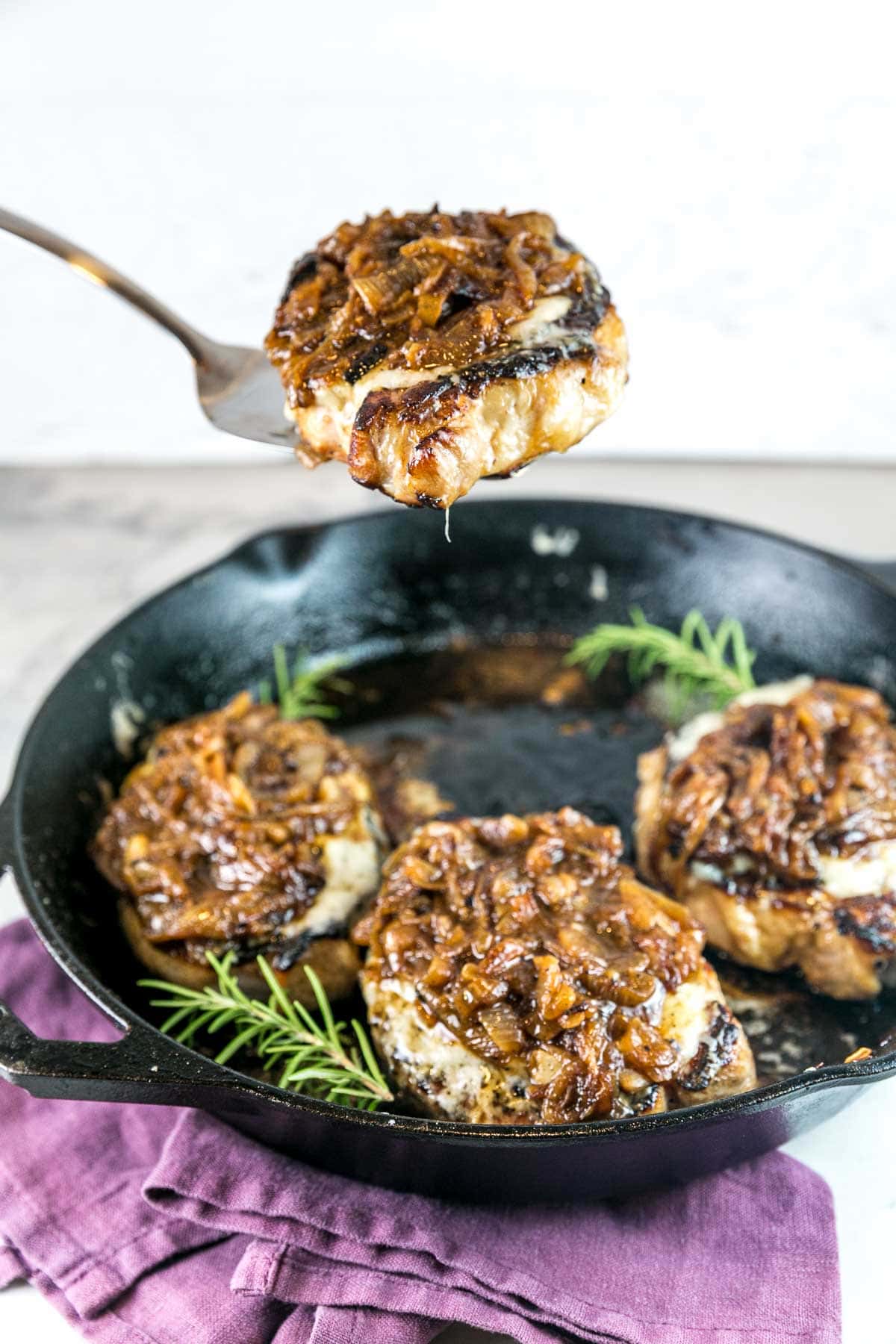 Wet Brine for Juicy Pork Chops
Whether you're making these French onion pork chops, or any other pork chop recipe, I have two mega-important tips for juicy, never dry, pork chops.
Use thick-cut pork chops. You'll want a pork chop that is at least 1 inch thick. I often use bone-in pork chops for extra flavor, but boneless pork chops work just as well…. as long as they're thick!
Brine! Your! Pork! Chops! I'll say it louder for the people in the back… BRINE! YOUR! PORK! CHOPS!
I've tried both wet drying and dry brining and it's no contest – wet brining is the clear winner.
Don't trust me? Take it from Food52, who recently did a pork chop comparison, and states "… wet brine, which involved soaking the chops overnight in seasoned saltwater, produced the juiciest chop, by a landslide."
Why is wet brining such a total game changer when it comes to cooking pork? It can all be answered, of course, with my favorite subject… kitchen chemistry!
Kitchen Chemistry

Because the brining solution is saltier than the cells inside the pork chop, salt ions diffuse into the cells. This results in the inside of the cells having a higher salt concentration than outside the cells. Thanks to osmosis, solvent (the water from the brine) moves from an area of low concentration to an area of high concentration. As the salt moves into the cells, the concentration of solutes is higher inside the cell than outside, so the cell starts to absorb water from the brine and pull it into the cell. More water inside the pork chops = not dry.
All you really need to know is that the answer to perfectly plump pork chops every time is brining!
After brining, pat dry (really dry! this is the key to a nice crust!) and sear for about 5 minutes on each side, until an internal temperature of 140 °F, then set aside. I love using a cast iron pan for this, but any heavy-bottomed skillet or pan will do.
(Or sous vide, which is my second favorite method – keep reading for my best pork sous vide tips!)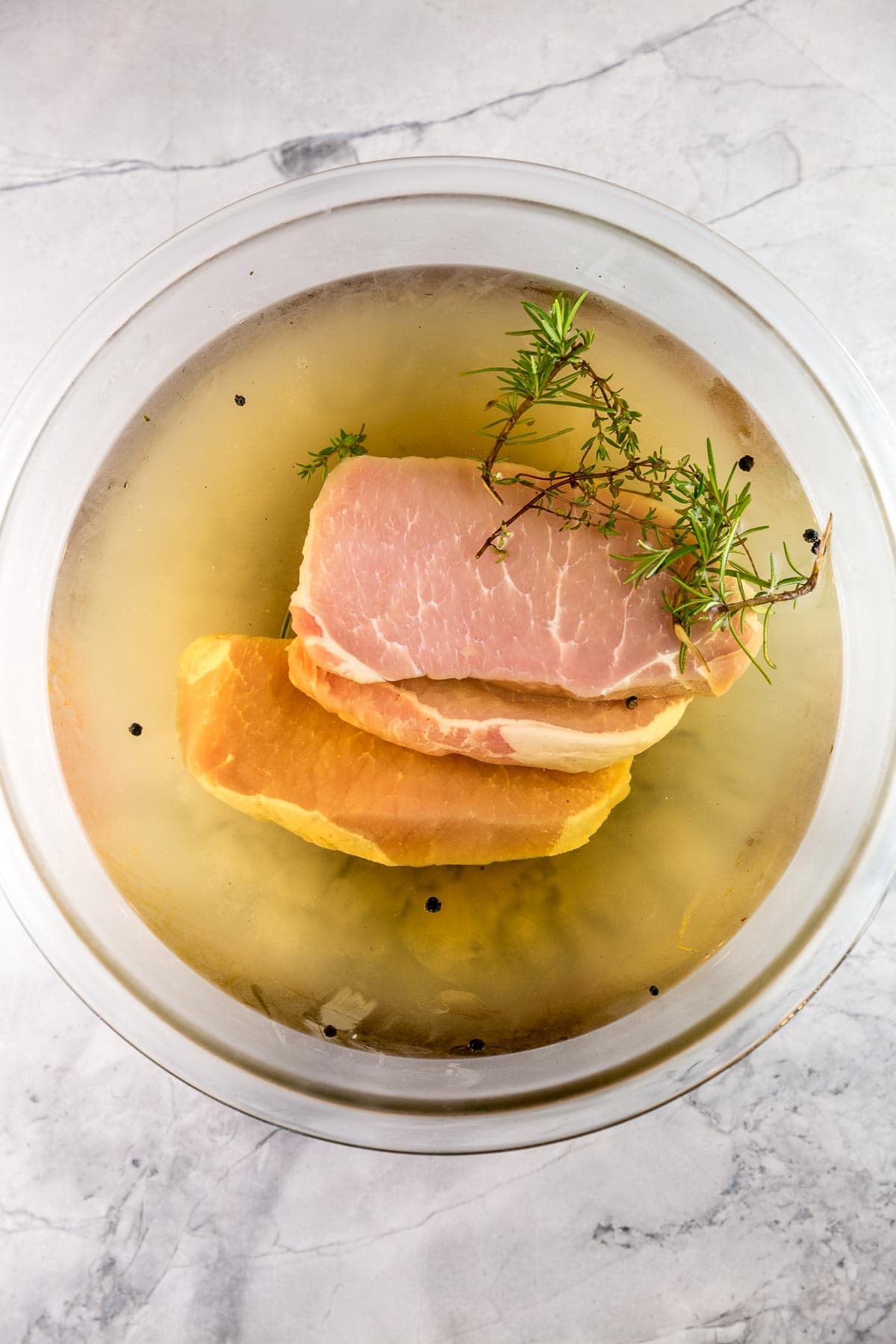 Best Sous Vide Pork Chop Recipe
We talked above about brining. Want to skip the brine but still get perfectly cooked juicy pork chops? Use an immersion circulator to sous vide the pork chops!
By cooking long and low, the pork reaches a safe pasteurization level at a lower temperature (holding a lower temperature for longer is as effective as reaching a high temperature momentarily). Because sous vide ensures the internal temperature never goes above the water temperature you guarantee your pork won't be overcooked, turning dry and chewy.
If you'd like to sous vide this recipe instead, you'll need an immersion circulator (Anova Culinary makes my favorite), a bag to sous vide in (I always use reusable Stasher bags), and a large container (I use my pasta pot) (links are affiliate).
Salt and pepper your pork chops and place them inside the bag. Fill the pot with water and slowly lower the bag into the water to displace any air before sealing.
Set the water temperature to 140 °F and cook for 2 hours. (Extend cook time to 3 hours if starting with frozen pork chops.)
Remove from the bag, pat dry, sear for 30 seconds a side in a hot skillet, and proceed with directions for caramelizing onions.
Smothered in Caramelized Onions and Cheese
If you love French onion soup, you know exactly where we're headed with these smothered pork chops!
First, we have to sear our pork chops. They've been brined and are nice and juicy. we'll caramelize the onions until golden brown, about 15 minutes. Then, just like French onion soup, we'll add some beef broth to make an almost gravy-like consistency.
(Tip: if you don't make your own beef broth or don't want to buy a whole container, Better than Bouillon Roasted Beef Base is perfect here – link is affiliate.)
Season to taste with salt, pepper, and some additional thyme and bring to a boil with some flour to thicken, then remove from the pan.
Add the pork chops back in to the skillet and cover with freshly grated grueye cheese. To melt the cheese, cover the pan with a lid and heat over medium until melted (or, if you prefer a little more color on your cheese, place the skillet under the broiler for a few minutes until the cheese is melted and bubbly).
Top with a big pile of the beefy caramelized onions and enjoy your perfectly cooked, juicy pork chop!
Best Sides for Pork Chops
Half the challenge with meal planning is figuring out what to serve on the side, right?!
You can never go wrong with a big green salad or some steamed green beans and roasted sweet potatoes, but here are some of my other favorite sides that pair well with these smothered French onion pork chops.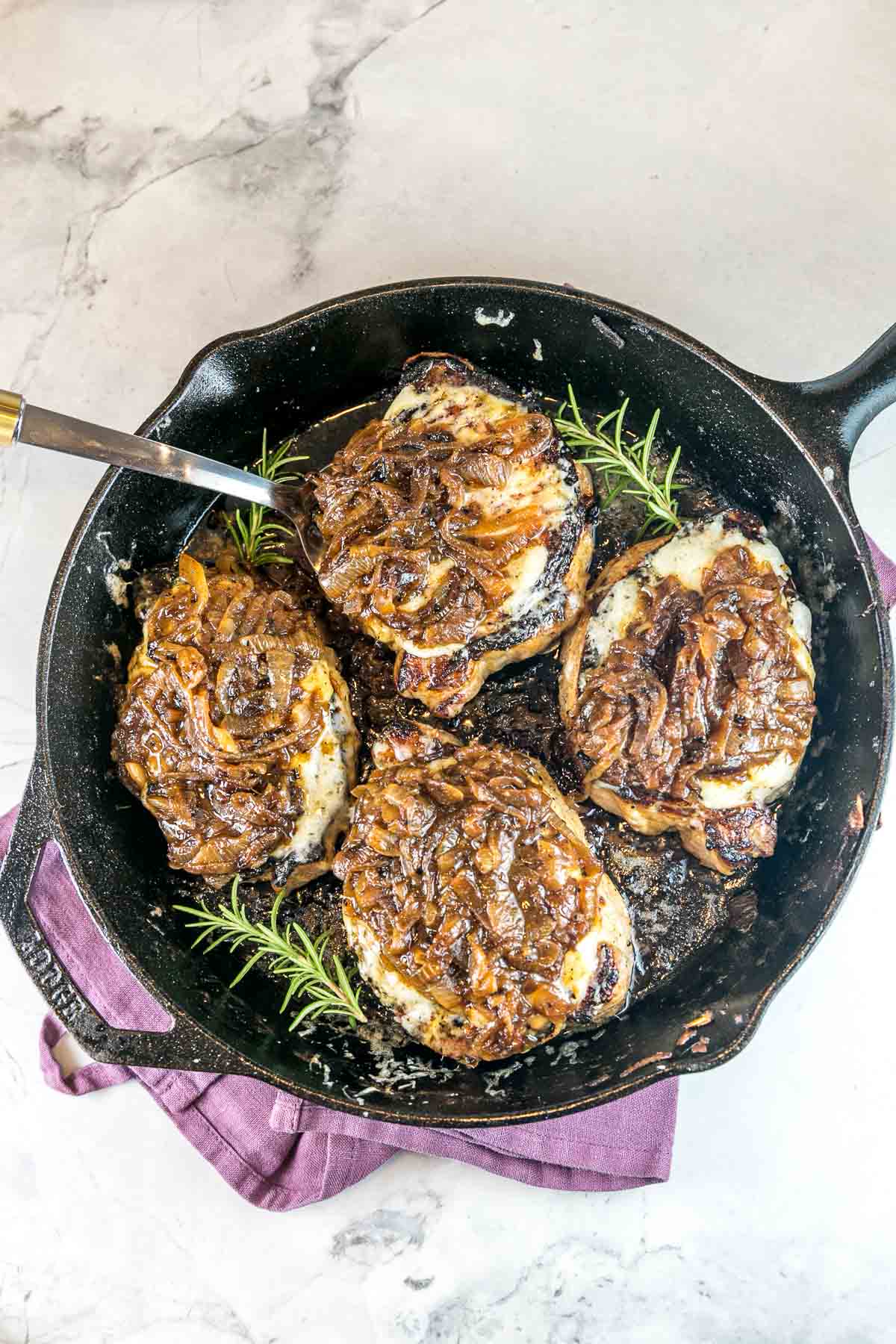 Tips and Tricks for the Best French Onion Pork Chops
Use high-quality, thick pork chops. Look for pork chops that are at least 1 to 1 1/2 inches thick.
Brine, brine, brine! Skipping this step is likely to result in drier, chewier pork chops. (Or use an immersion circulator to sous vide.)
Forgot to thaw your pork chops? No problem! Put the frozen pork chops directly in the brine and keep them in the brining solution until fully thawed.
Use an instant-read thermometer to ensure the pork is not overcooked. Remove from the skillet as soon as the center of the pork chop reaches 140 °F.
Cook the onions over medium-low heat. Resist the temptation to turn the temperature up to high to speed up the process – you'll wind up with burnt onions!
Speaking of onions, use 2 large onions. It looks like too many in the beginning, but they cook down quite a bit.
If you can't find or don't like gruyere cheese, substitute with Swiss, gouda, or provolone cheese.
More Pork Recipes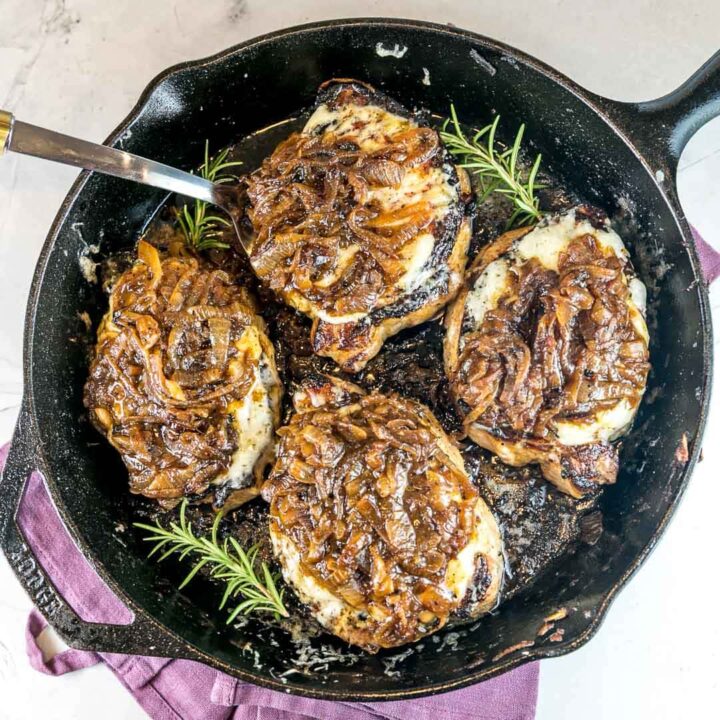 French Onion Pork Chops
Total Time:
8 hours
40 minutes
If you love French onion soup, you're going to love these French Onion Pork Chops, smothered with caramelized onions and gooey cheese.
Ingredients
For the Brine:
1/3 cup kosher salt
1/3 cup brown sugar
1 tablespoon whole peppercorns
2 sprigs fresh rosemary
2 sprigs fresh thyme
4 cups water
For the Pork Chops!
2 tablespoons vegetable oil
4 (1 to 1 1/2-inch thick) pork chops, bone in or boneless
4 tablespoons unsalted butter
2 large onions, thinly sliced into half moons
1/2 tablespoon salt (plus more to taste)
2 garlic cloves, minced
2 tablespoons chopped fresh thyme (or 1/2 teaspoon dried)
2 tablespoons flour (or cornstarch, for gluten free)
1/2 cup beef broth
1 cup shredded gruyere cheese
Instructions
Make the Brine. In a large pot, combine salt, brown sugar, peppercorns, rosemary, thyme, and water. Heat just until warm enough for sugar and salt to dissolve. Remove from heat and cool completely. Place the pork chops in the brine, cover, and refrigerate for at least 2 hours or up to 12 hours.
Sear the pork chops. Heat a large cast-iron or other heavy bottom skillet over high heat. Add the oil and heat until smoking, then turn down the temperature to medium high. Remove the pork chops from the brine and pat dry (continue to pat dry until all external moisture is removed). Cook for 5 minutes, flip, and cook an additional 5 minutes on the other side until the temperature reaches 140 °F when tested with an instant-read thermometer. Remove pork chops from the skillet
Caramelize the onions. Add the onions to the cast iron skillet and turn the head down to medium-low. Stir in the butter, salt, and garlic cloves. Cook for 15 minutes, stirring frequently, until light golden brown in color. Add the thyme and sprinkle with the flour (or cornstarch) to cover the onions; then stir to combine. Add the beef broth, season to taste with additional salt and pepper as desired, and bring to a.simmer for 3 minutes. Scrape the onions and gravy out of the pan and set aside.
Smother the pork chops. Add the pork chops back into the skillet and cover with the shredded cheese. Cover the skillet with a lid and heat over medium-low heat for 4 to 5 minutes until pork chops are warmed through and cheese is melted. (Alternatively, broil under high for 2-3 minutes). Cover each pork chop with the caramelized onions and serve.
Notes
Pork chops can be cooked via sous vide in lieu of brining. Sprinkle with salt and pepper and place inside a heat-safe bag. Cook using an immersion circulator with water temperature set to 140 °F for 2 hours. Extend cook time to 3 hours if starting with frozen pork chops. Remove from the bag, pat dry, and sear on each side for 30 seconds in a hot skillet. Proceed with directions for caramelizing onions.
Recommended Products
As an Amazon Associate and member of other affiliate programs, I earn from qualifying purchases.