January 30, 2017
Macaroni and Cheese Soufflé
The perfect combination of classic comfort food and an elegant and impressive dish, this macaroni and cheese soufflé is rich, creamy, and light-as-air.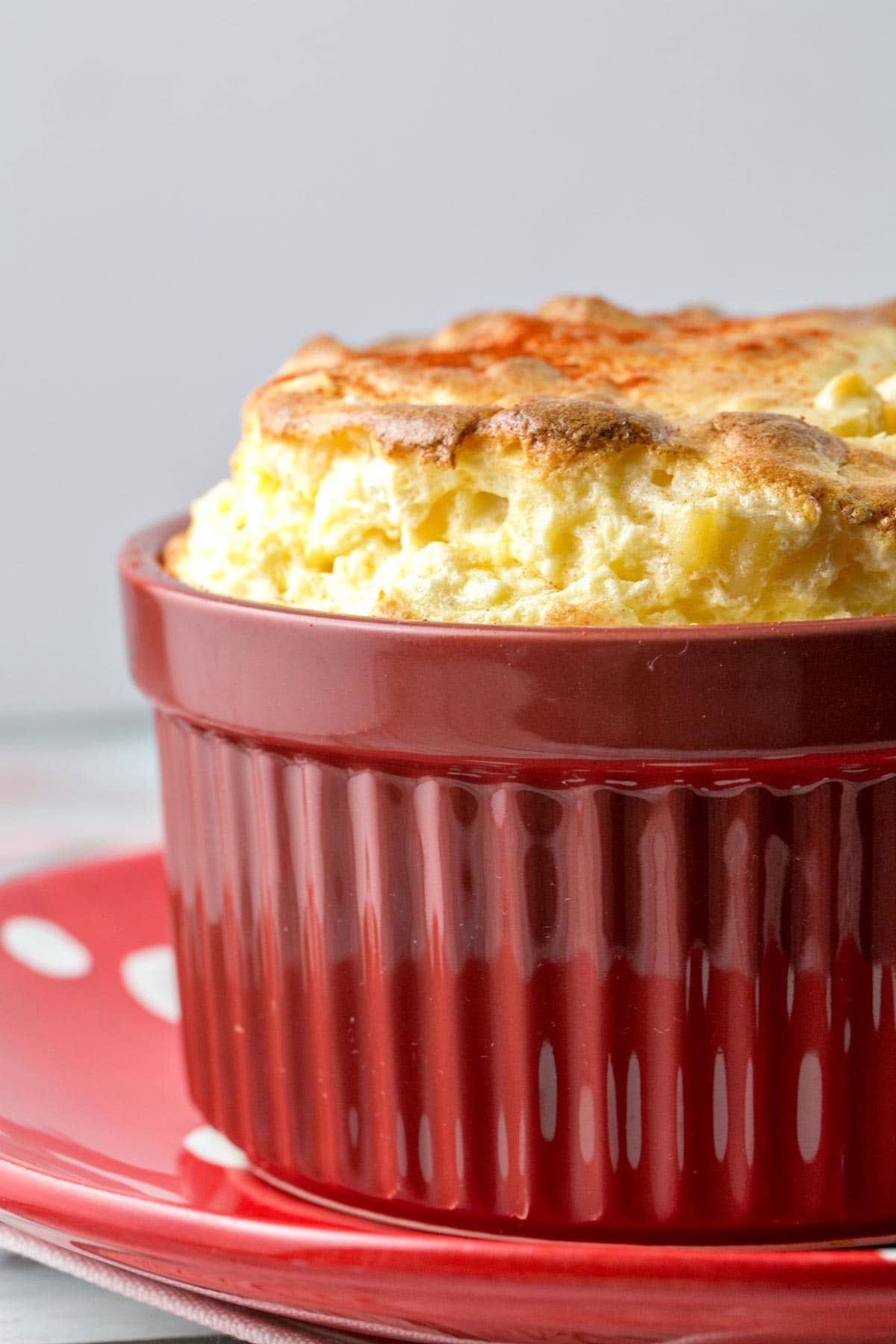 This year, I included a macaroni and cheese bar for our New Year's Eve party. It was a fantastically easy way to feed a crowd, and with a variety of toppings, everyone found something to enjoy.
I used an easy slow cooker mac and cheese recipe to free up the oven and stovetop. (It was fine, but not earth shattering – I'll be working on that recipe for a while before I share it!)
When I started thinking about macaroni and cheese, the idea of 12 different takes on mac and cheese popped into my head, for my Year of [Something Delicious] series. Obviously, I chose to go a different route this year (hello, cinnamon clementine bundt cake), but I couldn't stop thinking about one of my ideas: macaroni and cheese soufflé.
Did such a thing exist? Would it even work? You guys know how much I love interesting food textures, so in my mind, it was amazing.
Rich, creamy macaroni and cheese, with a towering light-as-air dome of cheese soufflé on top. I needed some, and I needed it ASAP.
I started by searching for similar recipes, but most of what's out there is really more like a custard. Egg yolk heavy, sour cream, no whipped egg whites – while I'm sure these are all delicious, it's not what I had in mind, at all.
To the kitchen to experiment!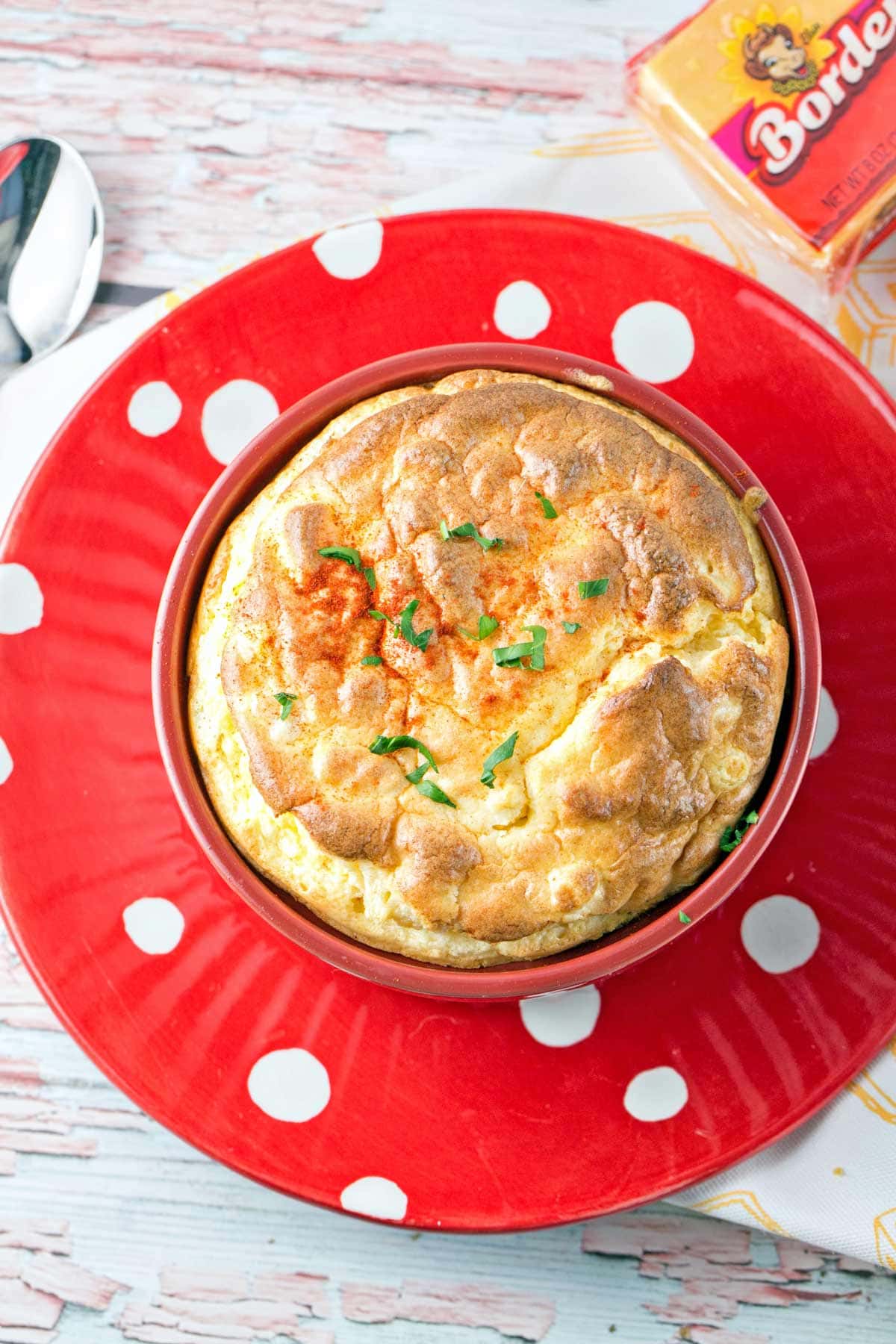 What is a Soufflé
Soufflé ingredients are actually really simple: butter, flour, egg, and sometimes cheese (and in this case, macaroni).
There are two parts to a soufflé: the base, generally made out of egg yolks, and the beaten egg whites, which provide the lift. These two components are combined together to form a light and fluffy soufflé. But how does this work? It's time for my favorite subject… kitchen chemistry!
Kitchen Chemistry

A soufflé forms thanks to the evaporation of water into steam. The outside of the soufflé cooks first, as it is in direct contact with the hot sides of the ramekin. As the egg mixture continues to heat, it releases steam which moves in an upward direction. As the steam continues to rise, the top of the soufflé bakes and solidifies, trapping the steam instead. The more resistance the top of the soufflé has against the steam, the taller the soufflé will rise.
To achieve this barrier, we need to make sure our egg whites are stiff enough to trap in the steam. Of course, this is the tricky part: if the egg whites are too stiff, the soufflé will collapse in on itself.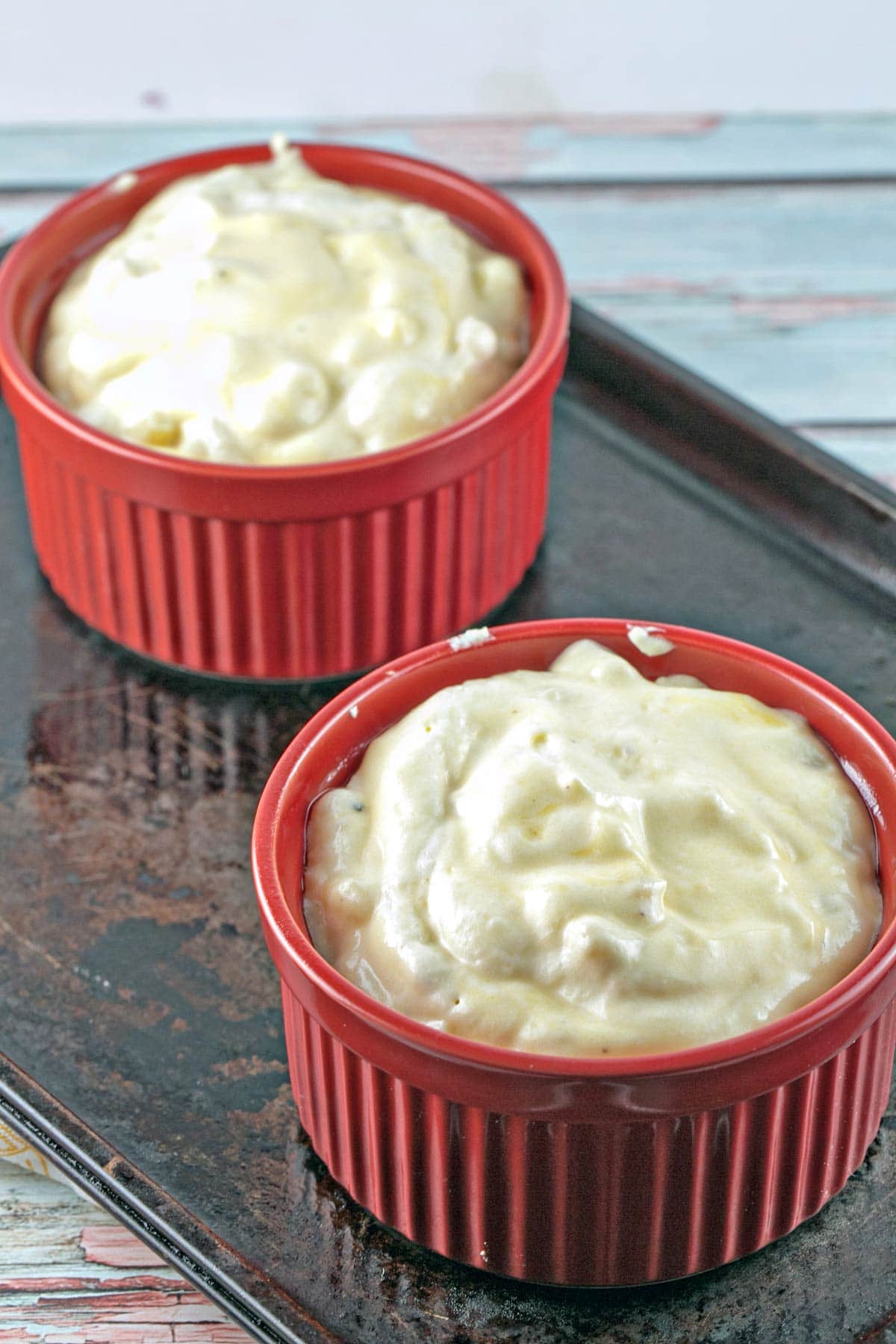 The Creamiest Macaroni and Cheese
This starts like any basic cheese soufflé: with béchamel sauce. Whisk together some butter and flour until smooth and then pour in some milk. Let it get nice and thick, then remove it from the heat, cool slightly, and whisk in the egg yolks.
(I also added some mustard powder here, because I think all macaroni and cheese tastes better with a little mustard.)
Next, shred your cheese and whisk it in until you have a velvety smooth, super cheesy sauce. Stir in the macaroni and take a bite.
I mean, seriously. Just look at that unbelievable cheesiness. ↓↓↓
Now look, if you want to stop here, and eat this as amazing stovetop mac and cheese, I don't blame you one bit.
I almost didn't get to the soufflé part because one bite turned into two and two turned into four, and it was really hard to force myself to put that spoon down.
But I promise, if you save some of the macaroni and cheese, it's well worth it!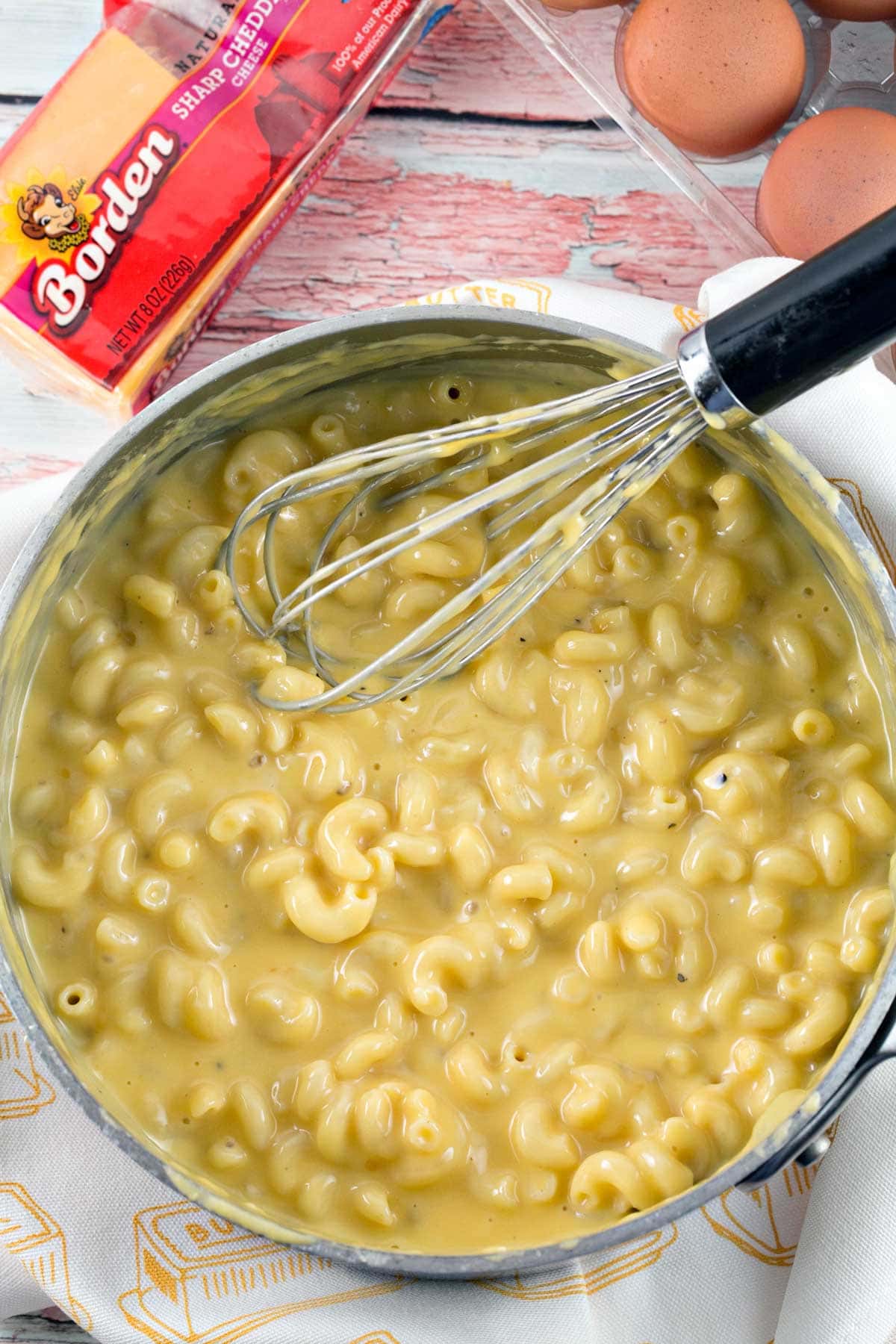 Whipped Eggs for the Perfect Soufflé
To get the classic soufflé rise, you need to whip your egg whites until juuuuust stiff peaks form. Crank that mixer up, or get ready for a serious arm workout! We're looking to catch them just between the soft and stiff peak stage. A good point is just when the eggs start to lose their shine and turn dull.
Once the whites are huge and fluffy, gently (gently! really gently!) fold them into the macaroni and cheese. This is the hardest part of the whole process – it feels like it takes forever.
Don't stir, fold. Slowly, gently. You want to lighten up the entire mixture without breaking down those egg whites.
Once the egg whites are fully incorporated, pour the mixture into some buttered ramekin or soufflé dishes. Because there are a lot of solid ingredients, I knew these wouldn't rise as much as a typical cheese soufflé, so I filled my dishes almost to the top.
Set them on a baking sheet and pop them into the oven for 25 minutes, or until the top is toasty brown and the soufflé rises.
And the end result? Even more amazing than I hoped. This is the macaroni and cheese of my dreams. A thick, rich béchamel sauce. Creamy, gooey melted cheese, mixed with just the right amount of pasta. A fluffy cloud of eggy cheese rising above the macaroni. You guys. You guys.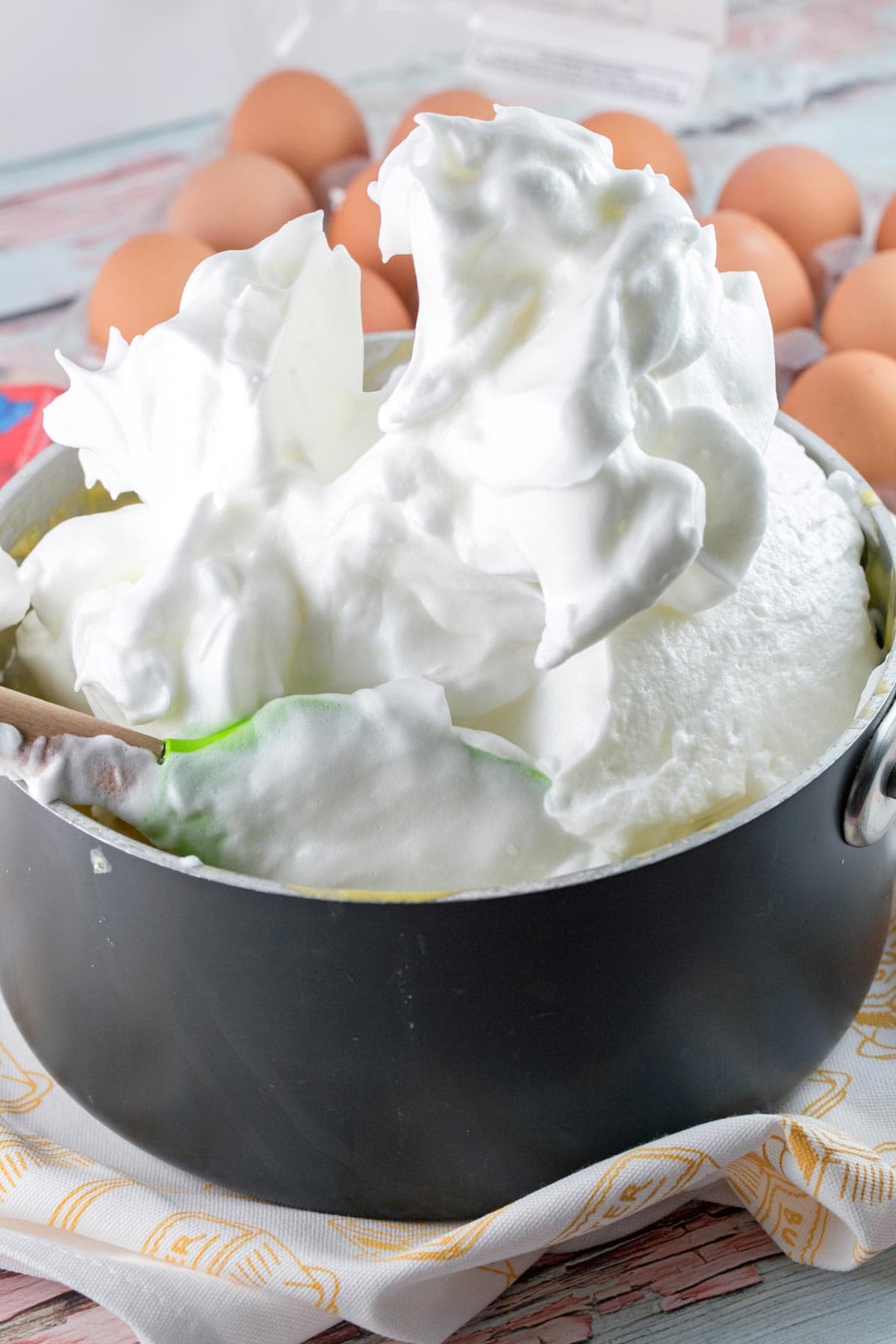 Recommended Tools for Macaroni and Cheese Souffle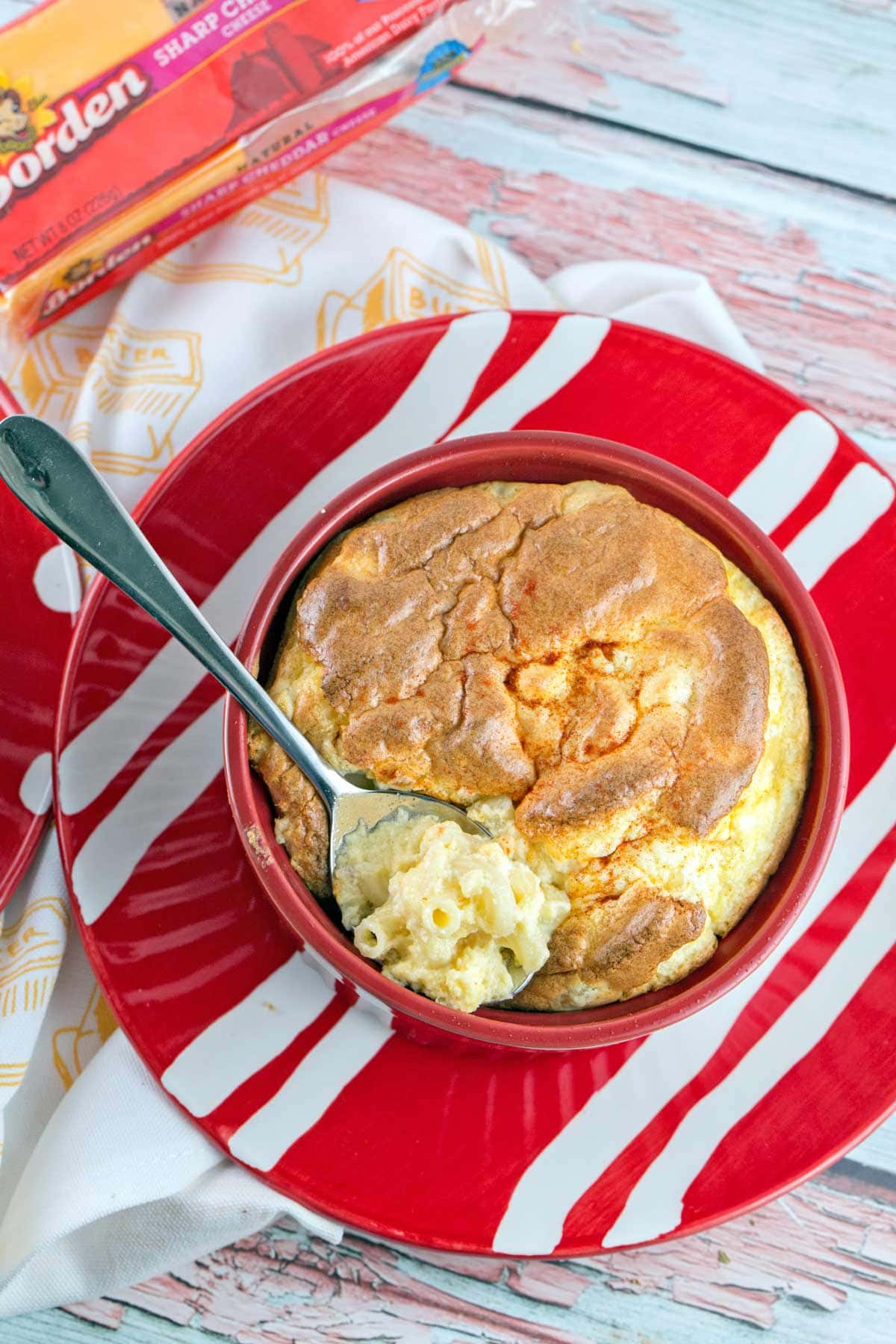 Tips and Tricks for Macaroni and Cheese Soufflé
Use freshly grated cheese from a large block of cheese. Pre-shredded cheese is easy but contains anti-clumping agents that prevent the cheese from melting smoothly.
Whip the egg whites just until barely stiff peaks form and the egg whites lose their shine. Over-mixing the eggs is just as bad as under-mixing, so watch your egg whites carefully!
Gently fold in the egg whites. Go slowly, adding a little more egg white at a time. Don't undo all the effort that went into whipping the egg whites by deflating them!
If you're making these ahead of time, you can prepare everything, add to the ramekins, and bake later. Store in the refrigerator for up to 12 hours before baking.
Once baked, serve the macaroni and cheese soufflé immediately. Like all soufflés, it will fall as it cools, so you want this to go straight from the oven onto the table.
More Cheesy Recipes:
Macaroni and Cheese Soufflé
The perfect combination of classic comfort food and an elegant and impressive dish, this macaroni and cheese soufflé is rich, creamy, and light-as-air.
Ingredients
7 ounces dried elbow macaroni
3 tablespoons unsalted butter
3 tablespoons all purpose flour
1 1/4 cups milk (2% or whole)
1 teaspoon salt
1/2 teaspoon freshly ground pepper
1/2 teaspoon mustard powder
3 egg yolks
6 ounces Borden® Cheese Sharp Cheddar Chunk or Borden® Cheese Extra Sharp Cheddar Chunk, shredded
4 egg whites
1/4 teaspoon cream of tartar
Instructions
Preheat the oven to 375 °F. Butter four 6-ounce of two 12-ounce ramekins or souffle dishes. Set aside.
Cook the pasta as specified on the package directions until al dente. Drain well and set aside.
In a medium heavy bottom saucepan, melt the butter over medium-high heat. Add in the flour and whisk for 1 minute, until the flour and butter are well mixed and smooth.
Slowly pour in the milk, stirring continuously. Add in the salt, pepper, and mustard powder. Continue to cook, whisking slowly, until the mixture has thickened, about 5 minutes. Remove the saucepan from heat.
Allow the mixture to cool for 5 minutes, then whisk in the egg yolks, one at a time. Stir in the cheese until completely melted and smooth. Return the pan to low heat if the cheese does not fully melt.
Stir in the macaroni, coating evenly with the cheese sauce.
Pour the egg whites into the bowl of an electric mixer. Whip the egg whites and cream of tartar on high speed until the eggs have tripled in size and lost their sheen, just starting to form stiff peaks. Transfer the egg whites to the macaroni and cheese mixture, very gently folding in the egg whites with a rubber spatula until no white streaks remain.
Fill the ramekins almost to the top with the macaroni and cheese mixture. Place the ramekins on a baking sheet and bake for 25-30 minutes, until the tops are golden and puffed. Serve immediately.
Recommended Products
As an Amazon Associate and member of other affiliate programs, I earn from qualifying purchases.
Nutrition Information:
Yield:

4
Amount Per Serving:
Calories:

542
Total Fat:

27.5g
Carbohydrates:

46.9g
Protein:

25.7g