August 10, 2022
S'mores Cheesecake
It's time to elevate your cheesecake game with this S'mores Cheesecake! With a graham cracker crust, marshmallow cheesecake, milk chocolate ganache, and toasted marshmallows, it perfectly combines all the flavors of the classic childhood treat.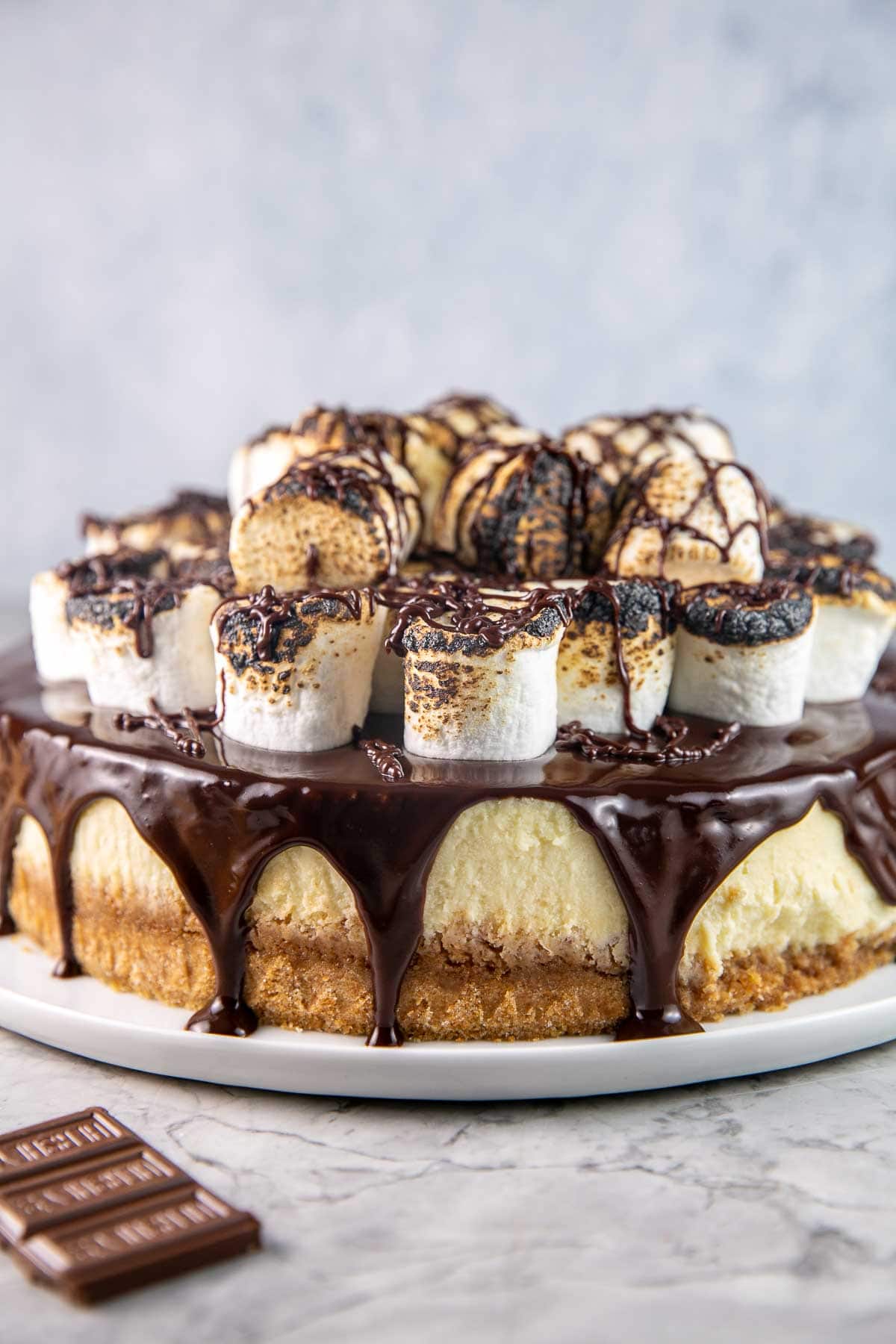 Happy National S'mores Day!
I don't know who makes up all these food holidays, but National S'mores Day is one I am always happy to celebrate. I love s'mores. They bring back so many nostalgic childhood memories of camp!
Every year, I choose a "theme" a do a year-long series of posts revolving around that theme. And if I can, I make August's post a s'mores version. So of course, you know what that means… we obviously had to make a S'mores Cheesecake!
So pick up a bag of marshmallows and your kitchen torch, and let's start toasting some marshmallows!
(Love s'mores, but not cheesecake? I've got you – check out this list of the best s'mores desserts!)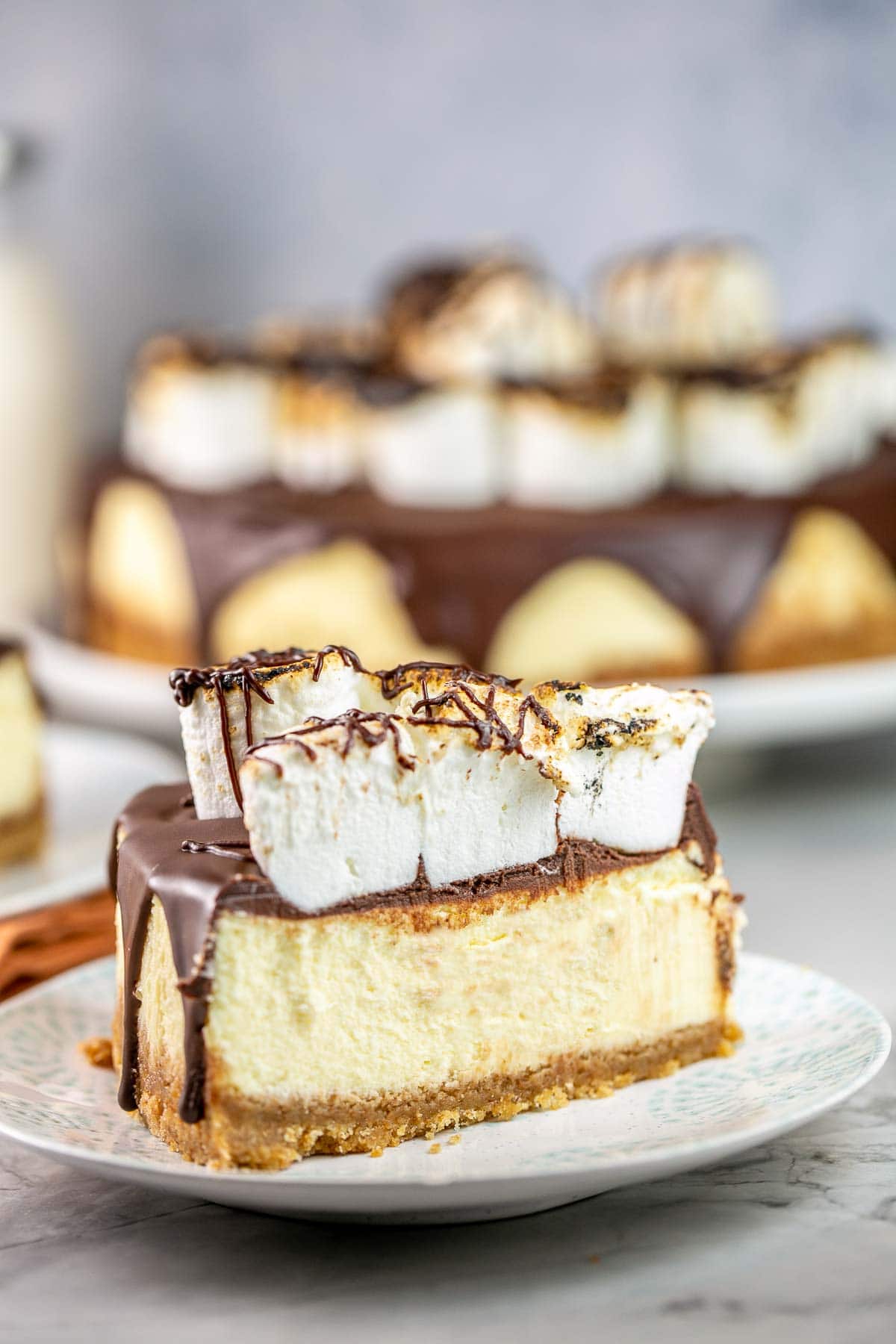 S'mores Cheesecake Components
Graham Cracker Crust: Obviously the only option for a s'mores cheesecake is a classic graham cracker crust! For extra tips and tricks, check out my Perfect Graham Cracker Crust post!
Marshmallow Cheesecake: My favorite cheesecake recipe – guaranteed for a delicious, creamy cheesecake every time… with the addition of miniature marshmallows and chocolate chips baked right in!
Milk Chocolate Ganache: You can, of course, use any type of chocolate for the ganache, but to stick with the class s'mores flavor, I like to use milk chocolate. Substitute in semi-sweet chocolate or even dark chocolate if you'd prefer.
Toasted Marshmallows: Top the cake with marshmallows (full size or miniature – but I like the look of full size more), which will be toasted (or burnt – your choice!) just like a real s'more.
And of course, don't forget some extra ganache to drizzle on top!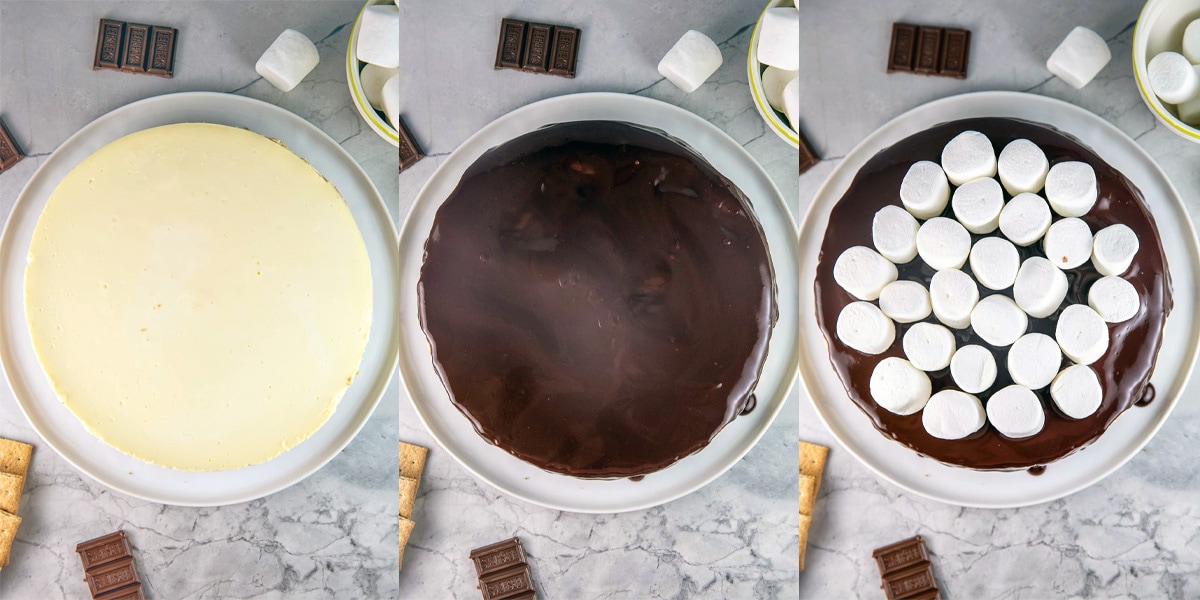 Marshmallow Cheesecake
This marshmallow cheesecake uses the same basic recipe as my other cheesecakes – but this time, we're folding miniature (or cut-up full-size) marshmallows into the batter!
If you want to incorporate more chocolate flavor into your cheesecake, I also recommend folding in 1/2 cup of miniature chocolate chips. It's optional, but I like the texture of the chocolate chips in there!
If you'd like to bump up the toasted marshmallow flavor, you can broil your marshmallows to a golden brown and then fold them into the cheesecake. Ooey, gooey, and delicious!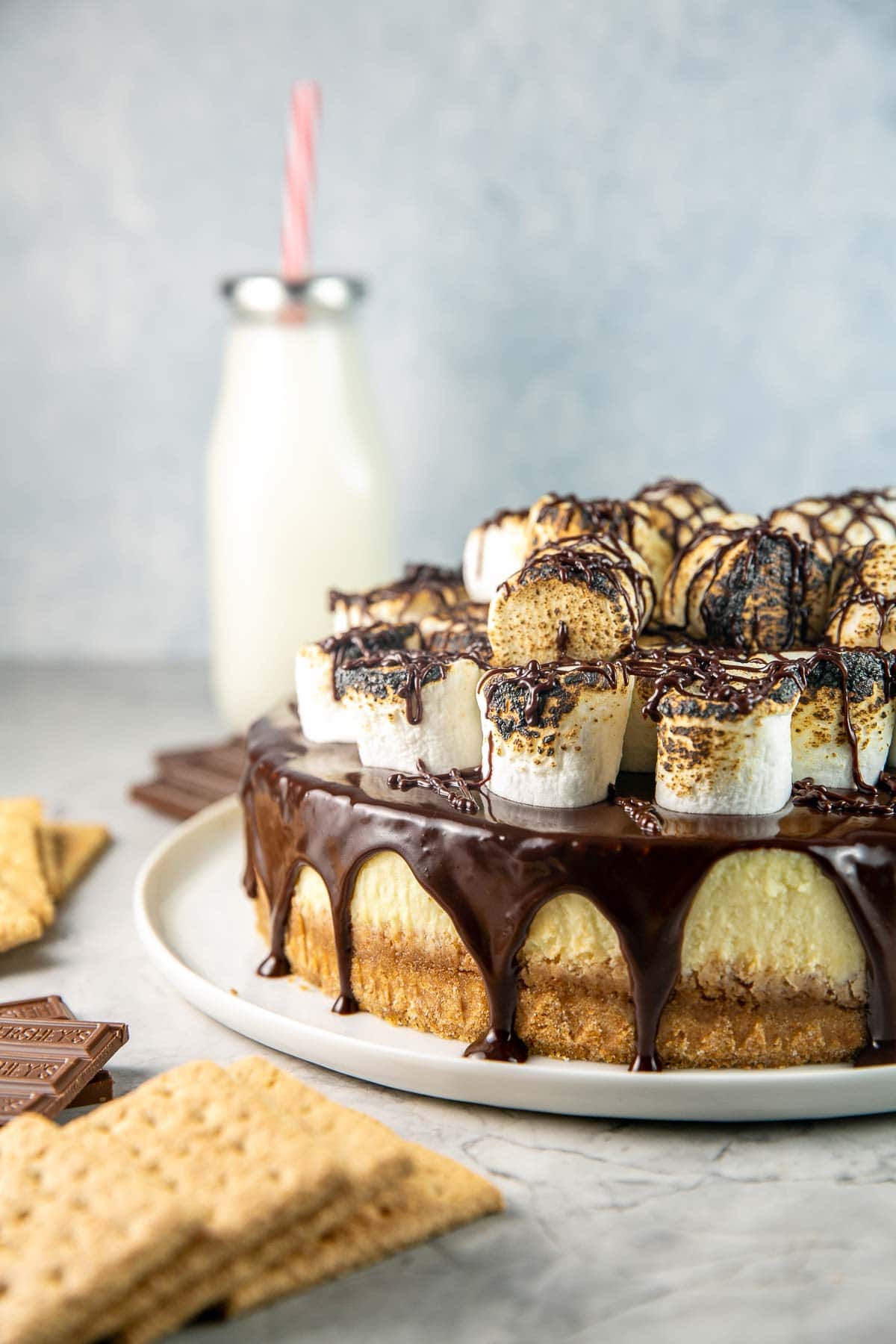 Toasted Marshmallow Topping
Once the cheesecake cools, we're going to cover the cake in milk chocolate ganache. While the ganache is still warm and soft, cover the top of the cake with marshmallows.
Leave some space between the marshmallows – and a 2-inch border around the edge of the cheesecake. Marshmallows expand when they're heated and adding marshmallows all the way to the edge will result in gooey marshmallows expanding over the sides of the cheesecake. (I mean, this sounds DELICIOUS, but probably also messy and not as pretty!)
Why do marshmallows puff up and grow in size? It's time for my favorite subject… kitchen chemistry!
Kitchen Chemistry

To make marshmallows, gelatin is beaten with hot sugar syrup, which creates lots of tiny air bubbles. These are bubbles are trapped within the marshmallows as the liquid cools into the soft solid state. (Air makes up more than half the volume of a marshmallow!) As a marshmallow is heated, the air trapped inside expands, causing the structure of the marshmallow to also expand outward and puff up.
There are a few different ways to get these marshmallows on top a perfect toasty brown (or charred black, depending on your preference!)
Broil in the oven.  Put the cheesecake 5-6″ underneath the broiler in your oven and broil until the marshmallows are brown. Watch closely – broilers tend to go from 0 to 100 quickly. One second your marshmallows are all white, and 10 seconds later they're black!
Kitchen torch/soldering torch.  Kitchen torches, also called creme brûlée torches, have a very moderate flame and will allow you to get a nice golden color. If you have a "go big or go home" motto like yours truly, you can use a soldering torch, but just be warned that this is a lot more power than you need and tends to over-toast the marshmallows.
Long-Reach Butane Lighter.  You know, the long stick-like lighters people use to light birthday candles?   Just be prepared for this to take a long time because the flame is so small.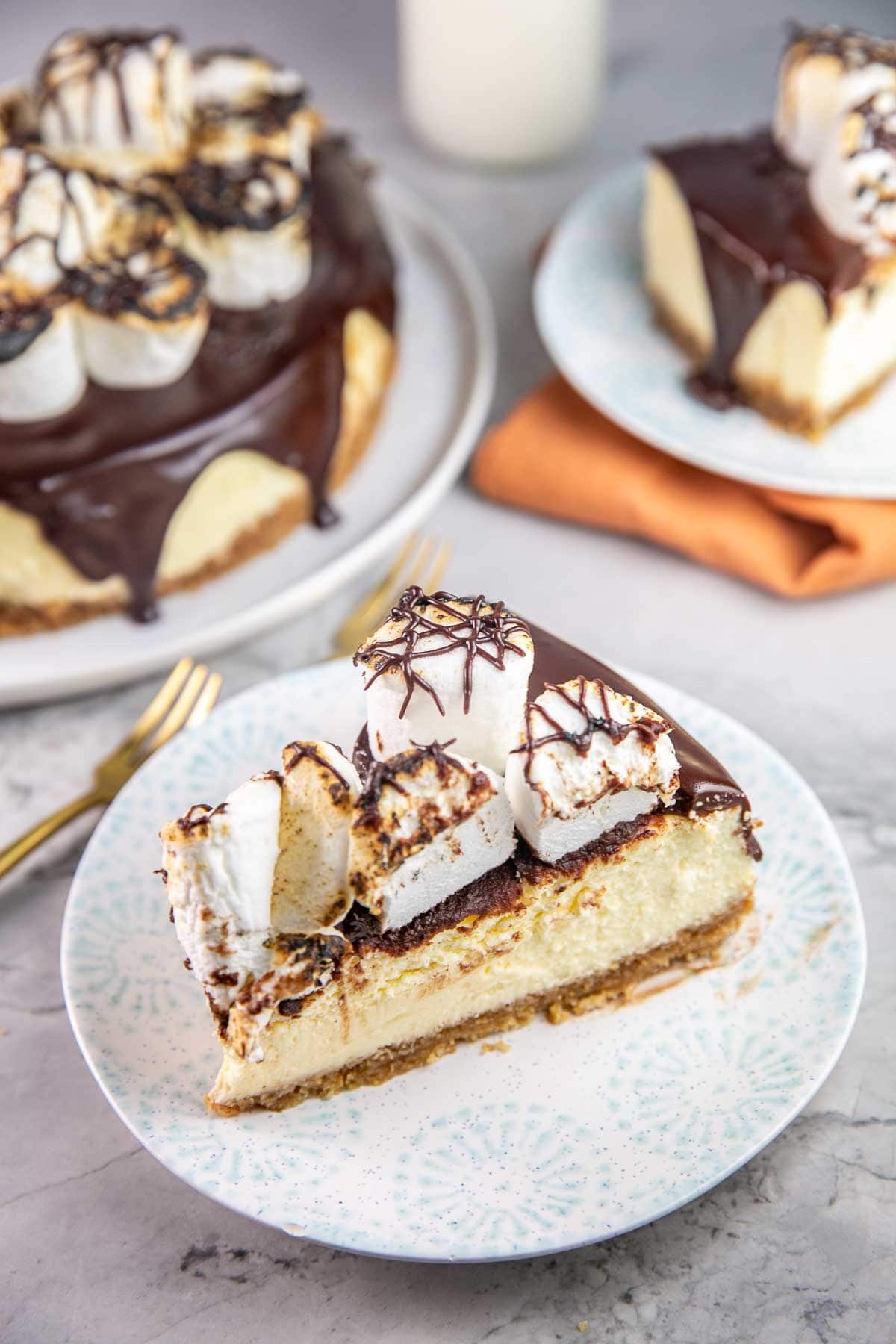 S'mores Cheesecake Variations
Do you love chocolate? Like, really really love chocolate? Use this chocolate cheesecake recipe for the base of your cheesecake! Graham cracker crust, chocolate cheesecake (add in the marshmallows!), chocolate ganache, and toasted marshmallows.
Have you ever had a s'more with peanut butter? Or use a peanut butter cup instead of a square of chocolate? They're… really good. Mimic the peanut butter s'more flavor using this peanut butter cheesecake in lieu of the standard cheesecake.
As I already mentioned, you can add miniature chocolate chips to the cheesecake batter, or even peanut butter chips (or chopped peanut butter cups!).
You could also decorate the top of the cake with marshmallow fluff instead of whole marshmallows.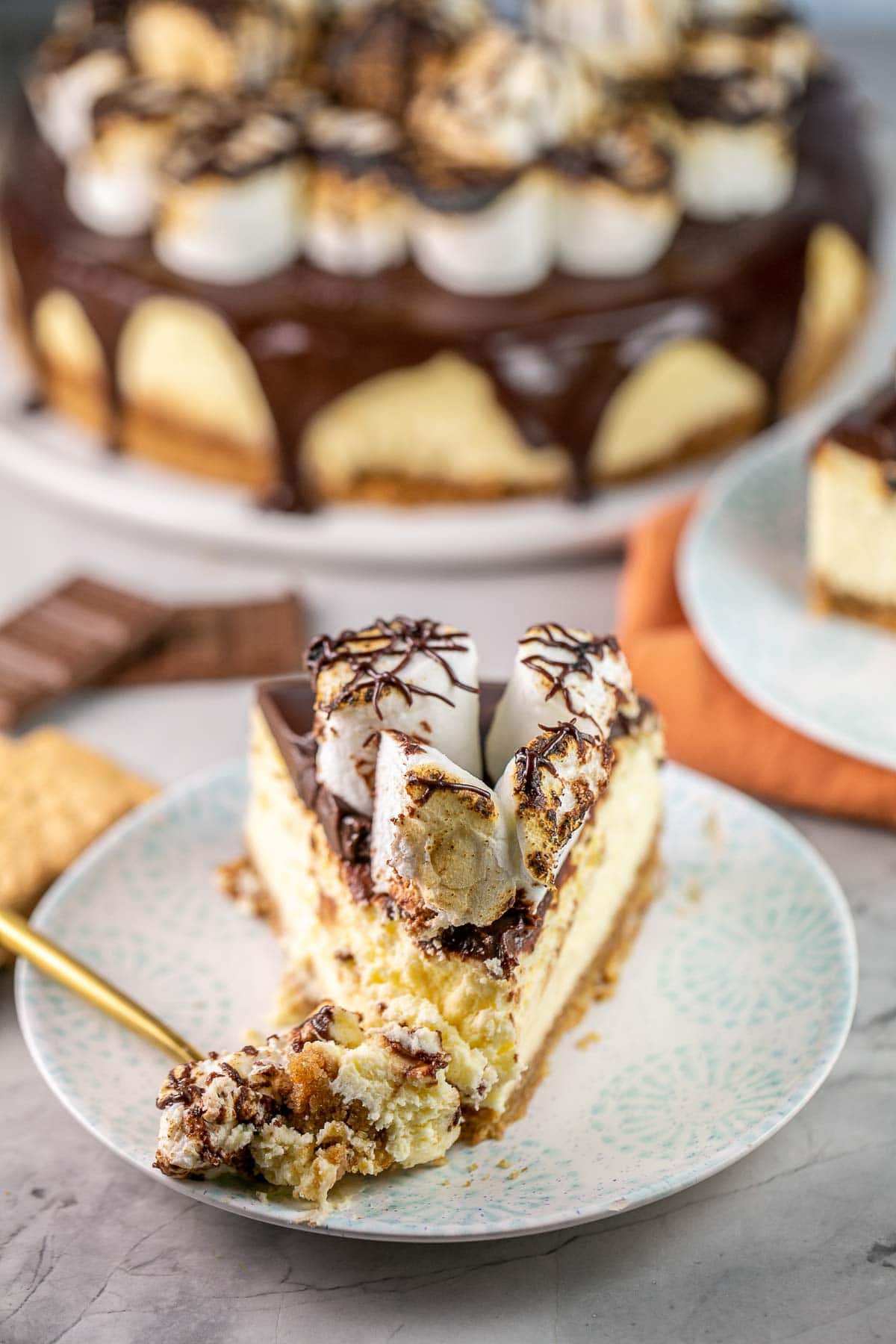 Tips and Tricks for the Best S'mores Cheesecake
To prevent the cheesecake from cracking, use room-temperature ingredients and be sure not to overmix the batter!
Cheesecakes do not have to be baked in a water bath, but it does help achieve a creamier texture! To avoid leaking issues with the springform pan, I recommend placing the springform pan inside a 10-inch cake pan and placing this pan in the water bath.
Add the marshmallows on top while the ganache is still warm. This will help them set into the ganache and keep them on the cheesecake, even while slicing.
For a perfect slice of cheesecake, wipe the knife off with a damp towel in between each slice.
For even gooey-er marshmallows, warm slices in the microwave for 20 seconds before serving.
More S'mores Desserts:
2022 Cheesecake of the Month Series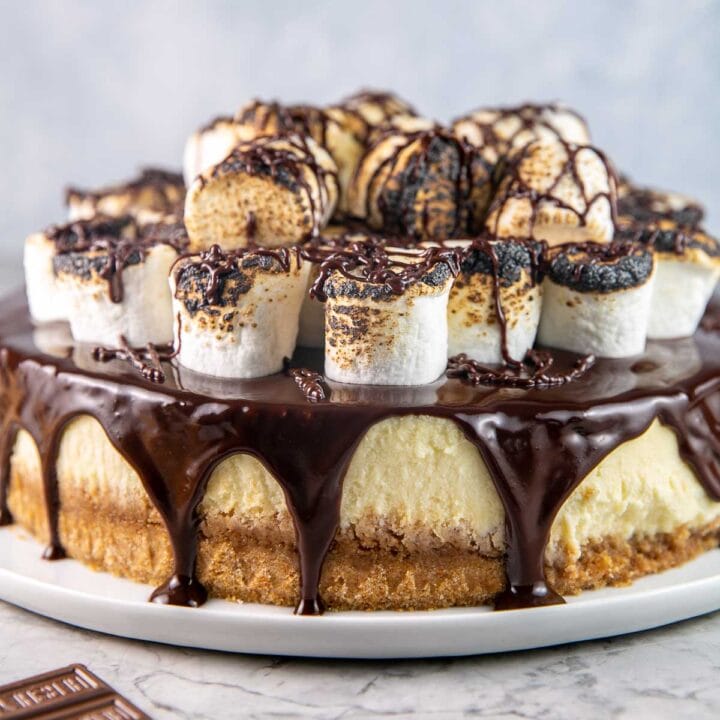 S'mores Cheesecake
Cook Time:
1 hour
10 minutes
Total Time:
7 hours
40 minutes
With a graham cracker crust, marshmallow cheesecake, milk chocolate ganache, and toasted marshmallows, S'mores Cheesecake perfectly combines all the flavors of the classic childhood treat.
Ingredients
For the Crust:
1 1/2 cups (213 grams) graham cracker crumbs (approximately 14 full size sheets, finely crushed)
1/3 cup (66 grams) granulated sugar
6 tablespoons (85 grams) unsalted butter, melted
For the Marshmallow Cheesecake:
32 ounces (908 grams) cream cheese, room temperature
1 cup (198 grams) granulated sugar
2/3 cup (151 grams) sour cream, room temperature
2 teaspoons vanilla extract
1/4 teaspoon salt
4 large eggs, room temperature
1 cup (43 grams) miniature marshmallows
1/2 cup (90 grams) miniature chocolate chips
For the Ganache:
1 cup (170 grams) chocolate chips or chopped milk chocolate
3/4 cup (170 grams) heavy cream
additional jumbo marshmallows, for toasting
Instructions
Make the crust. Preheat the oven to 350 °F. Add graham crackers to a food processor and chop or crush into fine crumbs by hand. Pour in melted butter and mix using the food processor. Press the crumbs along the bottom and extend up the sides of a 9-inch springform pan, compacting the crumbs as much as possible. Bake for 10 minutes, then remove from oven. Reduce oven temperature to 325 °F.
Make the cheesecake. Using an electric mixer with the whisk attachment, beat together the cream cheese and sugar until creamy and well combined, 2 to 3 minutes. Mix in the sour cream, vanilla extract, and salt, stirring until well combined. Crack the four eggs into a small bowl and mix with a fork to break up the yolks. Slowly pour roughly a quarter of the eggs into the cream cheese mixture, mix to combine, and repeat until all egg has been added. Do not over-mix the cheesecake - this makes it more likely to crack. Using a rubber spatula, fold in the miniature marshmallows and chocolate chips, scraping down the sides and along the bottom of the bowl.
Prepare the springform pan. Wrap the springform pan in 3 layers of aluminum foil, or create a pan-in-pan water bath by placing the 9-inch springform pan inside a 10-inch cake pan (both pans together will be placed inside the water bath). Pour the cheesecake batter into the graham cracker cookie crust.
Bake the cheesecake. Place the springform pan inside a larger pan and add hot water until the water level comes approximately halfway up the sides of the springform pan (or the outer cake pan). Bake at 325 °F for 70 minutes, or until the edges have set but a 3 to 4-inch diameter circle in the center of the cheesecake still jiggles. Turn off the oven and open the door slightly; cool in the warm oven for 30 minutes. After 30 minutes, remove the cheesecake from the oven and let it sit at room temperature for 1 hour before placing it in the refrigerator to chill for at least 4 hours, preferably overnight.
Make the ganache. Once the cheesecake has cooled for at least 4 hours, top with the ganache. Combine the chopped chocolate and heavy cream in a microwave-safe bowl. Microwave for one minute on 50% power and stir well; repeat this process until the mixture is smooth and no lumps of chocolate remain. Set aside to cool for 5 minutes, then pour onto the unmolded cheesecake and spread to the sides using an offset spatula. Reserve a small amount of the ganache for drizzling on top of the marshmallows.
Toast the marshmallows. While the ganache is still warm and soft, gently press full-sized marshmallows along the top of the cheesecake, leaving an inch or two border around the edge of the cheesecake. Using a kitchen torch or oven broiler, toast the marshmallows until golden brown and puffy. Drizzle the reserved chocolate ganache over the top of the marshmallows. Refrigerate for an additional 30 minutes to set the ganache before slicing.
Notes
Use room temperature ingredients to ensure proper mixing with no lumps.
Mix the batter thoroughly, but do not overmix or mix at high speed which incorporates additional air into the batter.
Scrape the sides and bottom of the bowl frequently while mixing the batter.
Bake until the center of the cheesecake still jiggles or reaches a temperature of 145 °F on an instant-read thermometer.
For even gooey-er marshmallows, warm slices in the microwave for 20 seconds before serving.
Cheesecake can be refrigerated for up to 5 days or frozen for up to 3 months.
Recommended Products
As an Amazon Associate and member of other affiliate programs, I earn from qualifying purchases.