September 13, 2016
Banana Bread Muffins
One bowl, mix by hand, muffins reminiscent of your favorite banana bread. A little dense, nice and simple, and full of chocolate chips. These banana bread muffins are perfection.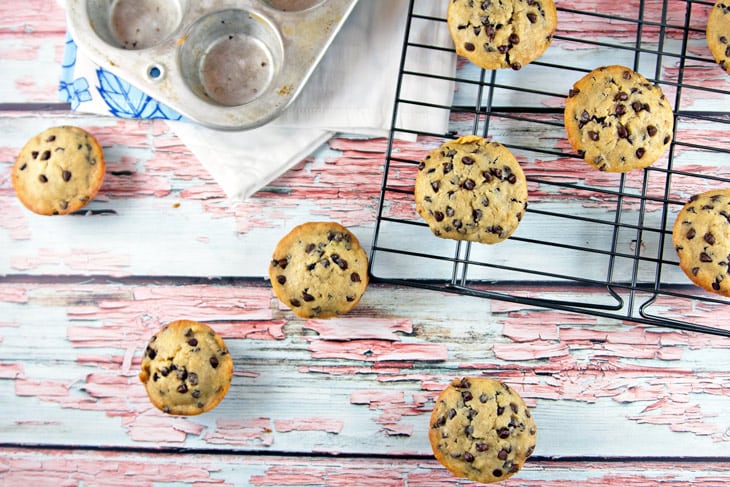 I love muffins — they're probably my favorite thing to bake. Along with bundt cakes. And… just about everything else. (Obviously).
I love that they're quick but easily adaptable (and forgiving). Muffins are already portioned and easily transportable, making them perfect to share.
And the varieties – you can make a muffin out of just about anything! Muffins are good for breakfast, as a mid-afternoon snack, or an after-dinner dessert.
They're like cupcakes, but without the frosting (which the ultimate win-win for me, since I don't really like frosting). What's not to love?!
I've shared several muffin recipes on Bunsen Burner Bakery before: chocolate chocolate chip muffins, chocolate zucchini bread (in muffin form), bakery-style blueberry muffins, and a denser, less-sweet "poundcake" blueberry muffin.
Now it's time to expand this list with arguably the most popular of muffin ingredients: bananas. Even if you don't want banana flavor, adding in one banana is a great way to bump up moisture and decrease added sugar.
I make whole wheat miniature blueberry muffins for my little guy, which derive all their sweetness from ripe bananas (recipe coming soon!). Everyone seems to have too many ripe bananas, so banana breads and muffins are extremely popular for at-home baking.
I only like to eat under-ripe bananas, so as soon as bananas start to ripen, I save them for baking. Once the banana is mostly brown, I peel it and store it in the freezer. Ready to bake? Defrost a frozen banana or two in the microwave or a bowl of warm water.
While you can use unfrozen ripe bananas, I find that freezing and defrosting the bananas results in an even moister muffin or bread, so I highly recommend it.
You can make sugar-coated, streusel-topped, jumbo banana muffins – and they will be delicious. But sometimes, you want something a little smaller, a little less of a caloric indulgence – a little more breakfast appropriate.
These banana bread muffins are just what you need. (Yes, sometimes muffins are a need!) A little dense, like banana bread. No topping – just a simple, easy banana muffin… jam packed with chocolate chips, of course.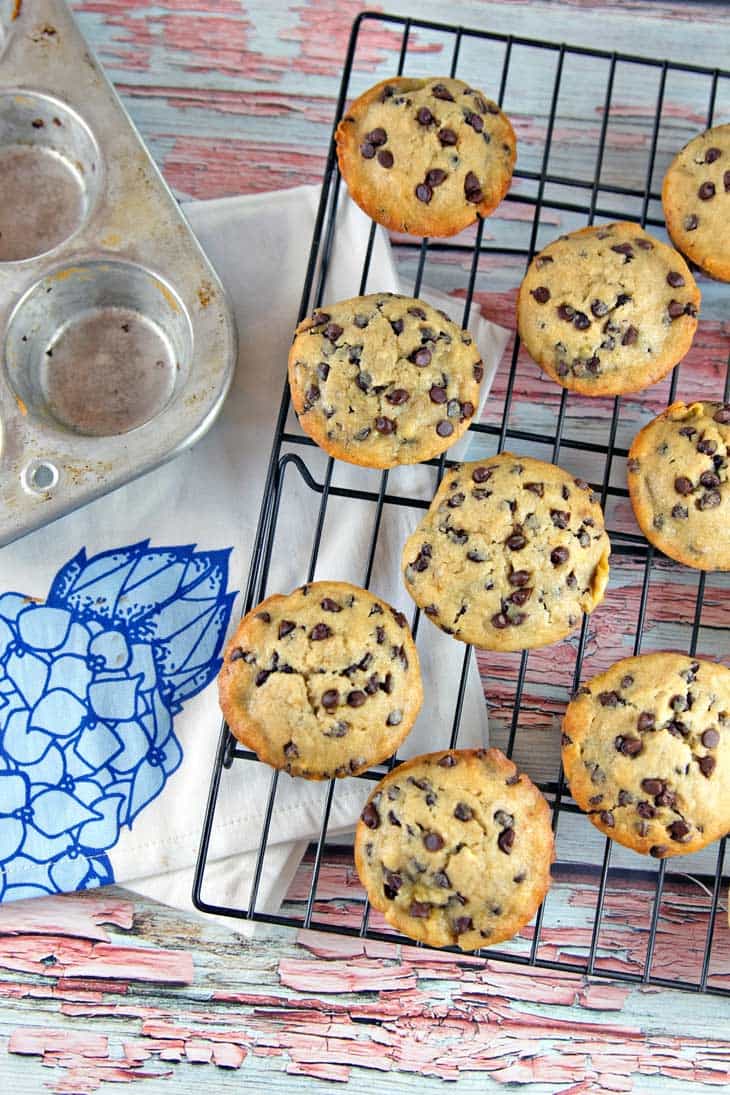 These banana bread muffins are perfect for sharing. New neighbor moved in? Drop off some muffins. Friend had a baby? Banana bread muffins are a perfect one-handed breakfast. (They also mail wonderfully – I just shipped some off to a friend with a new baby). Overnight guest? Leave a few muffins out for the morning.
These freeze well, so make a batch ahead of time and you're always prepared. Mix by hand in one bowl for a quick, simple breakfast muffin. Perfection.
Banana Bread Muffins
One bowl, mix by hand, muffins reminiscent of your favorite chocolate chip banana bread.
Ingredients:
1 1/2 cups all purpose flour
1/3 cup granulated sugar
1/3 cup brown sugar
1 1/2 teaspoons baking powder
1/4 teaspoon salt
2 large bananas, frozen and defrosted, mashed
1 large egg
1 tablespoon vanilla
1/2 cup butter, melted
1/4 cup milk
1 cup miniature chocolate chips
Directions:
Preheat oven to 350F.  Line muffin tins with 18 muffin liners.
Using a mixer or by hand, combine mashed bananas, egg, vanilla, melted butter, and milk in a large bowl.
Stir in flour, sugars, baking powder, and salt until just combined – do not overmix.  Stir in chocolate chips.
Divide batter among 18 muffin cups, filling each about 3/4 full.  Bake 25-30 minutes, until tops are pale gold and a tester inserted into the center comes out clean.
Transfer to cooling racks immediately.