February 17, 2016
Chocolate Chip Banana Bread
How do you improve on classic banana bread? By making Chocolate Chip Banana Bread, of course – and with a sprinkle of hazelnuts for a little crunch, too!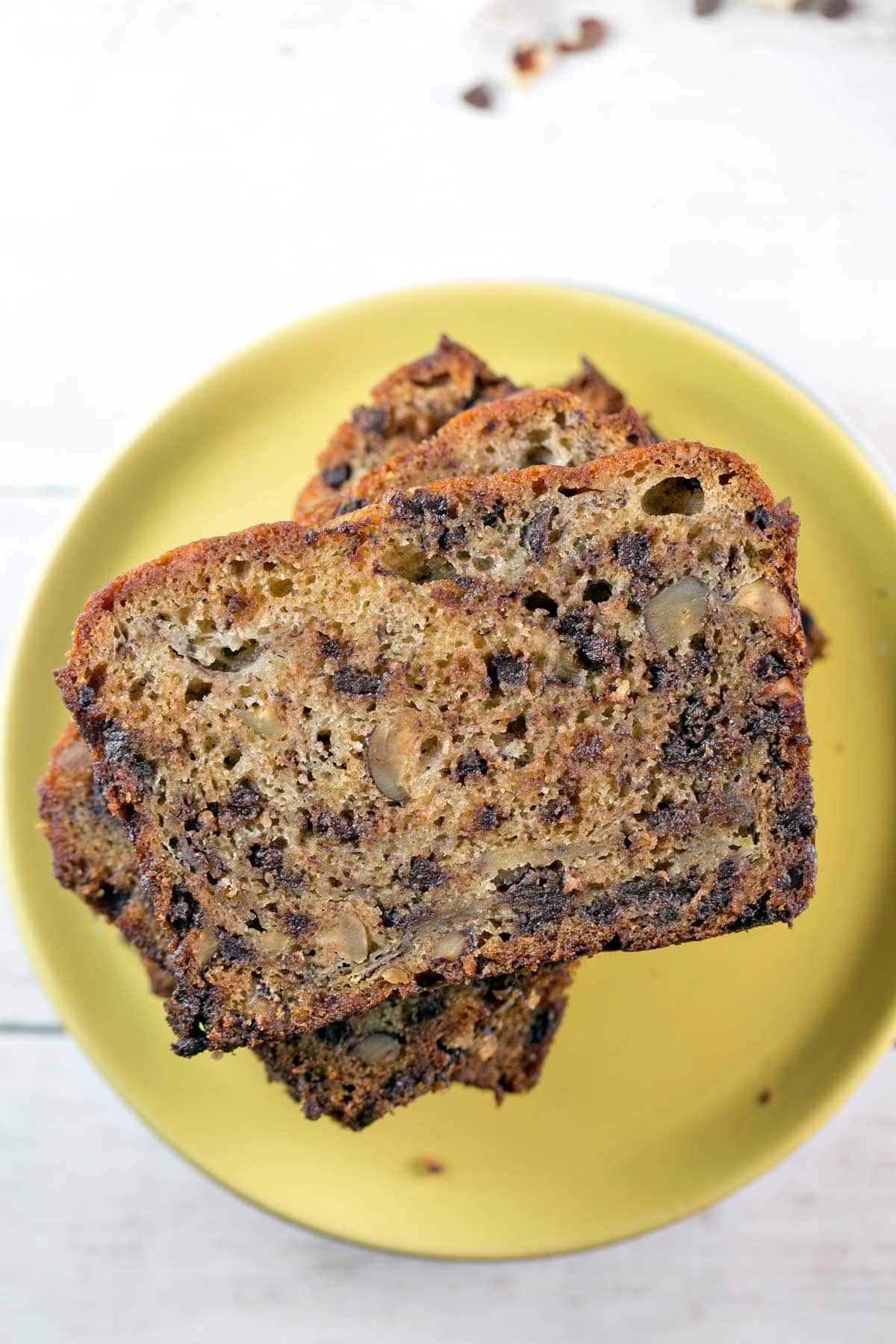 It's time for the February installment of my Quick Bread of the Month! Last month, I shared a Cranberry Cider Quick Bread, combing my favorite fall/winter flavors. This month, it's something a little less seasonal — chocolate chip banana bread.
I'm going to take a guess here and say that banana bread is the most popular quick bread. Even people who don't seem to bake have made a banana bread or two.
I have my suspicions that this is less because banana bread is so wildly popular (which isn't to say that it isn't enjoyed — just that I don't think it's SO much better than other delicious quick breads) and more because we all wind up with those over-ripened bananas and need something to do with them.
I'm sure I'm not the only person out there who buys more bananas than necessary and winds up with some pretty brown bananas now and then.
So what do we do when our bananas turn brown and spotty? We turn those over-ripe bananas into this crowd-pleasing chocolate chip banana bread, that's what!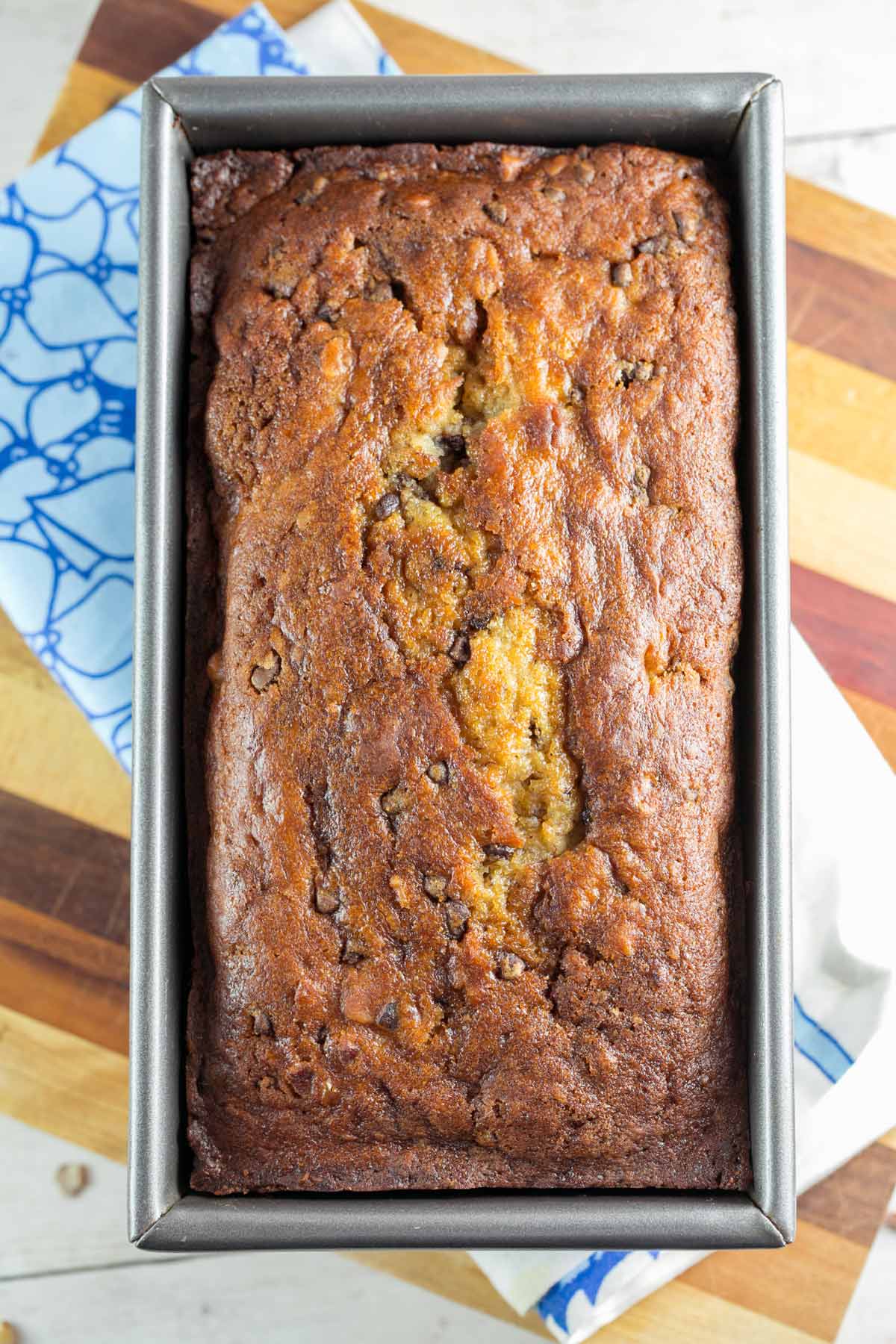 Why Do Bananas Turn Brown?
Speaking of those over-ripe bananas that are sitting on our counters… have you ever wondered why bananas turn brown so quickly? It's like we wait forever for them to go from green to yellow, and then the next day they're all brown and spotty!
It's time for my favorite subject… kitchen chemistry!
Kitchen Chemistry

Bananas, like most fruits, ripen by interacting with ethylene gas in the air. This contact with ethylene causes the acids in the fruit to break down. This process of breaking down the acids produces even more ethylene gas. Most fruits, however, only produce a small amount of ethylene as they ripe. Bananas, on the other hand, produce a lot, and thus ripen much faster than other fruits. Bananas quickly progress from green to yellow to brown due to enzymatic browning after contact with ethylene gas.
Hopefully, like me, you also save your over-ripe bananas in the freezer rather than toss them, since they are perfect for baking.
You can absolutely bake with fresh ripe bananas, but freezing lets you save your baking for another day if you can't get to it immediately.
Frozen and thawed bananas are actually also a little sweeter too, once the cell wall breaks down and releases all the amylase after a freeze-thaw cycle.
Baking with Ripe Bananas
Why are super duper ripe bananas so great for baking?  Can you just substitute a not-so-ripe banana instead?  The answer is no — but maybe not for the reason you're thinking.
At first glance, the texture of the banana seems like the biggest difference. It's a lot harder to mash up a green banana than it is to mash a brown banana, right?
But the real issue with baking is the pH of the banana.
A slightly green to normal banana has a pH of around 4.6. The pH of an overripe banana, however, has a pH of 6.5 or higher.
The pH of the batter has a big effect on leavening and whether to use baking soda or baking powder – and using under-ripe bananas can unintentionally lower the pH of your batter!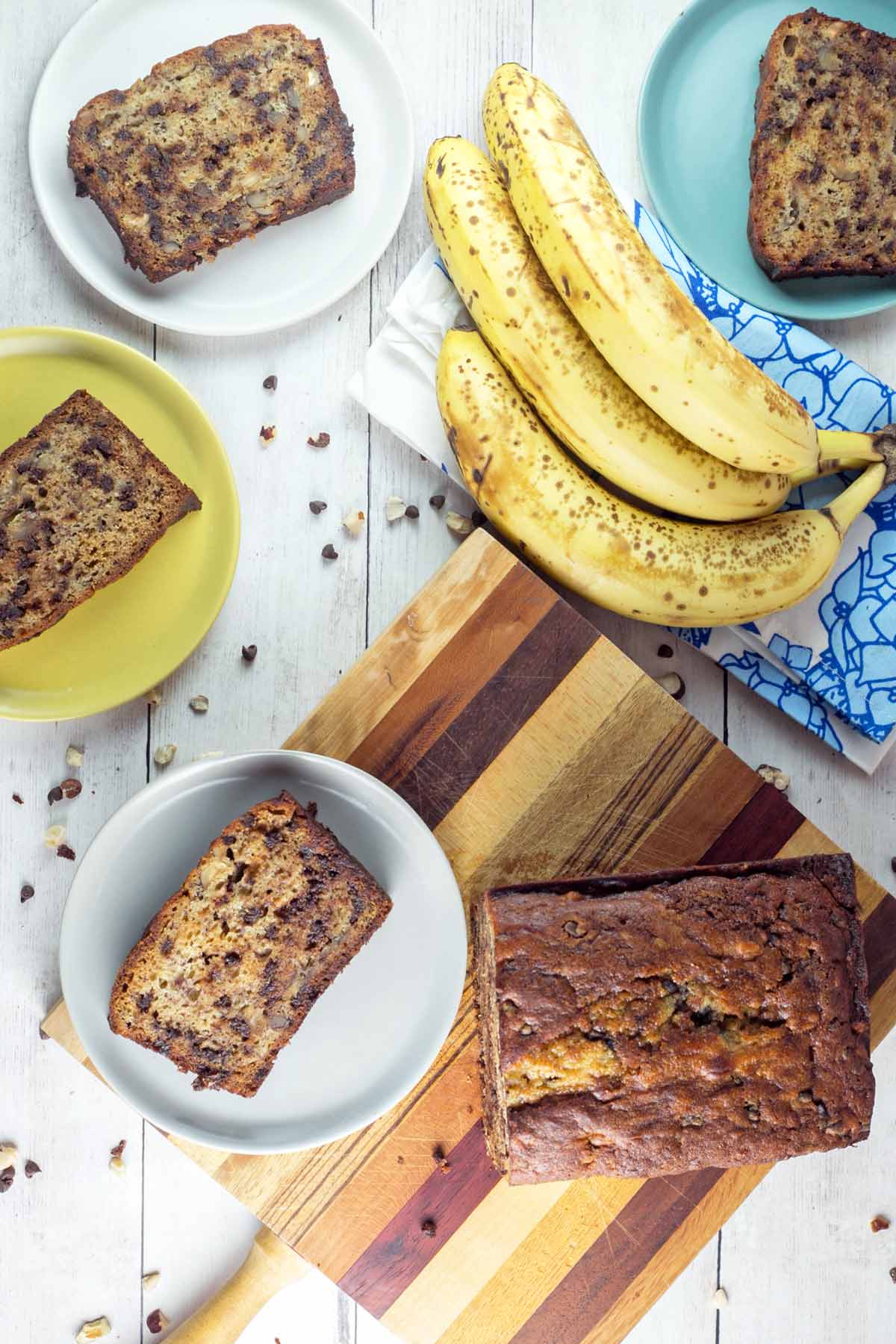 Easiest Chocolate Chip Banana Bread Recipe
When my freezer bag-o-bananas is getting full, chocolate chip banana bread is usually pretty high on my list of things to make. It's easy, it's always a crowd-pleaser, and it makes my kitchen smell delicious.
There are thousands of recipes out there, from Plain Jane banana bread with no add-ins all the way to crazy concoctions like cinnamon streusel topped cream cheese stuffed Nutella swirl peanut butter chip banana bread.
Sometimes all these extra ingredients are hiding a bland base recipe. Not here, though — while you can build on this and add your favorite extras, this recipe itself is delicious, moist, and exactly what banana bread should be!
I use a pretty simple recipe — bananas (of course!), some Greek yogurt for extra moisture, chocolate chips (preferably miniature, so the chocolate is more evenly dispersed and you get a little in each bite), and hazelnuts. That's right — hazelnuts.
I know nuts in bread are controversial, and you can leave them out if you're not a fan. But I do suggest trying it! The hazelnuts are a delicious, and unexpected, alternative to the more common walnuts in banana bread.
Prefer pecans or walnuts to hazelnuts? Go for it. Want to add in some peanut butter chips? Sounds great! Feel like topping it with some cinnamon streusel? You be you, friend. This recipe is made for adaptation.
Tips and Tricks for the Best Chocolate Chip Banana Bread
Use very ripe bananas! Under-ripe bananas are not only less sweet and harder to mash, but will also lower the pH of your batter.
Use brown sugar instead of granulated sugar. Most banana bread recipes call for granulated sugar, but using brown sugar instead adds an extra layer of flavor and keeps the banana bread super moist.
Don't have enough ripe bananas? Substitute in applesauce for a banana! Use 1/2 cup of applesauce for each banana you are replacing. The end result won't have quite as much banana flavor, but it will still be delicious!
Don't overmix the batter. Overmixing adds more air pockets into the batter, which results in a tougher and denser end product.
Banana bread can be stored at room temperature for 3 days, in the refrigerator for a week, or frozen for 3 months. To freeze the bread, either as slices of a whole loaf, wrap it in plastic wrap followed by a layer of aluminum foil, and store it in a freezer bag. Thaw unwrapped at room temperature before serving.
Have extra banana bread? Use it to make this outrageous banana bread French toast!
More Banana Dessert Recipes:
2016 Quick Bread of the Month Recipes
Chocolate Chip Banana Bread
Cook Time:
1 hour
10 minutes
Total Time:
1 hour
20 minutes
How do you improve on classic banana bread? By making chocolate chip banana bread, of course – and with a sprinkle of hazelnuts for a little crunch, too!
Ingredients
1/2 cup (113 grams) butter, room temperature
1 cup (213 grams) brown sugar, packed
2 large eggs, room temperature
1 1/2 cup (180 grams) all-purpose flour
1 teaspoon baking soda
1 teaspoon salt
3 medium bananas, mashed (about 1 cup/227 grams)
1/2 cup (142 grams) plain Greek yogurt
2 teaspoons vanilla extract
3/4 cup (130 grams) miniature chocolate chips
1/2 cup (56 grams) chopped hazelnuts
Instructions
Preheat oven to 350 °F. Spray a 9×5-inch loaf pan with cooking spray and set aside.
Using an electric mixer with the paddle attachment, cream the butter and sugar together on medium-low speed until pale and fluffy, about 3 minutes. Reduce the speed to low and beat in the eggs, one at a time, until fully incorporated.
Add the flour, baking soda, and salt, and add to the butter mixture, mixing until just combined. Add in the bananas, yogurt, and vanilla extract and mix until no lumps remain. Stir in the chocolate chips and nuts by hand.
Pour batter into the prepared pan and bake until a tester inserted int the middle of the cake comes out clean, about 1 hour and 10 minutes. If the bread is browning too quickly, tent with aluminum foil around 40 minutes of baking time. Let the bread rest in the pan for 10 minutes, then turn out onto a rack to cool before slicing.
Notes
Use very ripe bananas for the banana bread. Bananas are even more flavorful if frozen and thawed before used for baking.
Not enough bananas? Substitute in 1/2 cup of applesauce for a banana.
Be careful not to overmix the batter -- this will result in tough, extra dense banana bread.

Banana bread will keep in an airtight container for 3 days at room temperature, a week in the refrigerator, or can be wrapped in plastic wrap and a layer of aluminum foil placed inside a freezer bag and frozen for up to 3 months.
Recommended Products
As an Amazon Associate and member of other affiliate programs, I earn from qualifying purchases.