February 26, 2021
Banana Nutella Cake
An easy banana and chocolate chip sheet cake, covered with rich, decadent, melted Nutella icing. You'd never guess this delicious Banana Nutella Cake is so easy to make!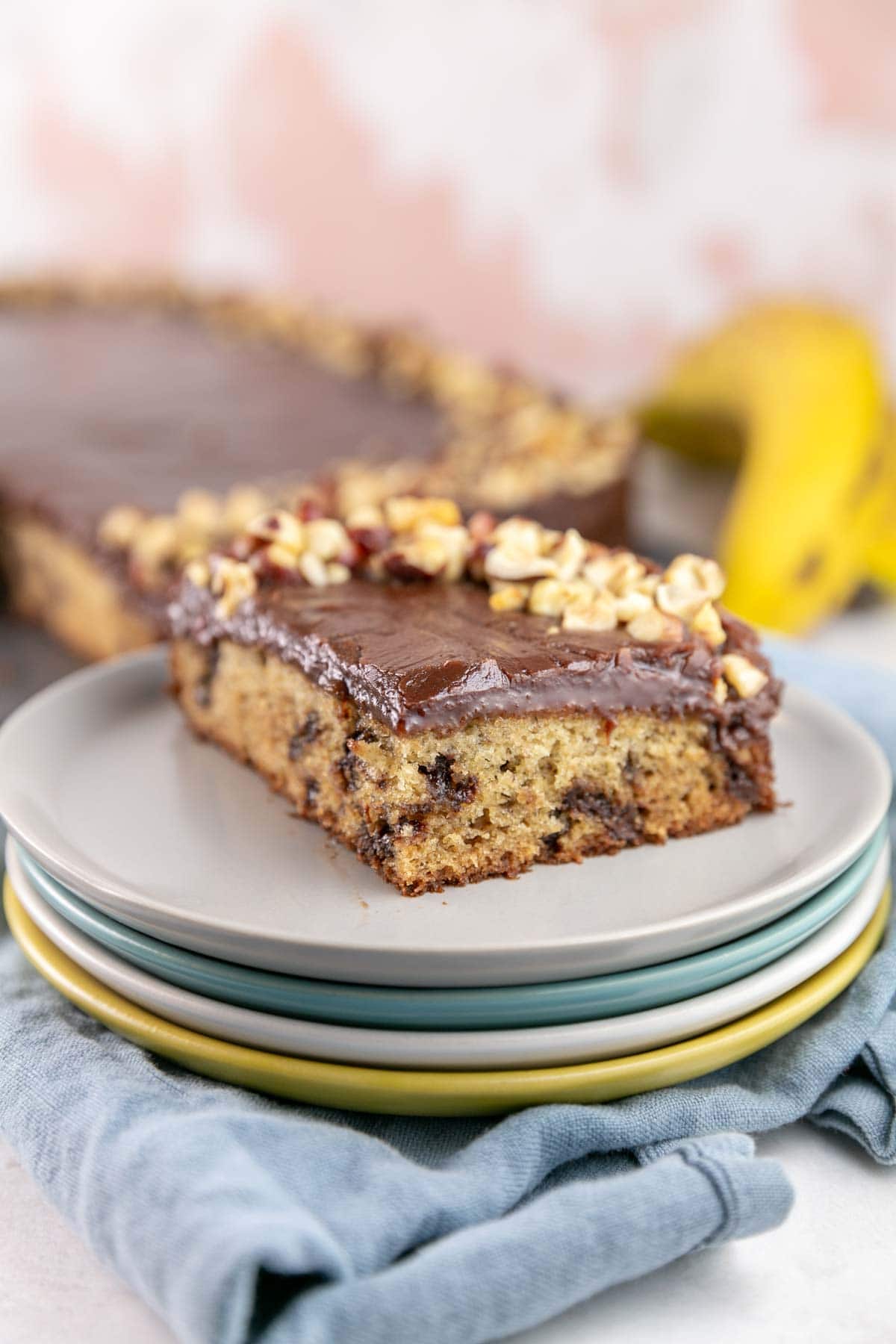 This year is all about the layer cake on Bunsen Burner Bakery, but that doesn't mean we can't throw sheet cakes a little love, too!
Whether you call them sheet cakes or snack cakes, they're just so easy, which makes them the perfect choice when you don't want a big fuss.
Mix together some ingredients, pour them into a pan, and bake. No fancy layers, no smoothing frosting – it's a piece of cake. Literally and figuratively.
Plus, sheet cakes are so easy to transport! No worrying about layers sliding everywhere or making sure your cake carrier is wide enough to fit your cake board. (Spoiler alert: mine is not, and I never, ever remember this until I try to put the lid on my cake carrier.)
You can easily make this banana cake, cover your sheet pan with foil, and bring it wherever you're headed!
This cake also doesn't use typical American-style buttercream – it uses a crazy easy melted Nutella glaze. That's right – melted Nutella.
And since it's full of bananas, and bananas are a fruit… we could probably call this a breakfast cake. Right? Right.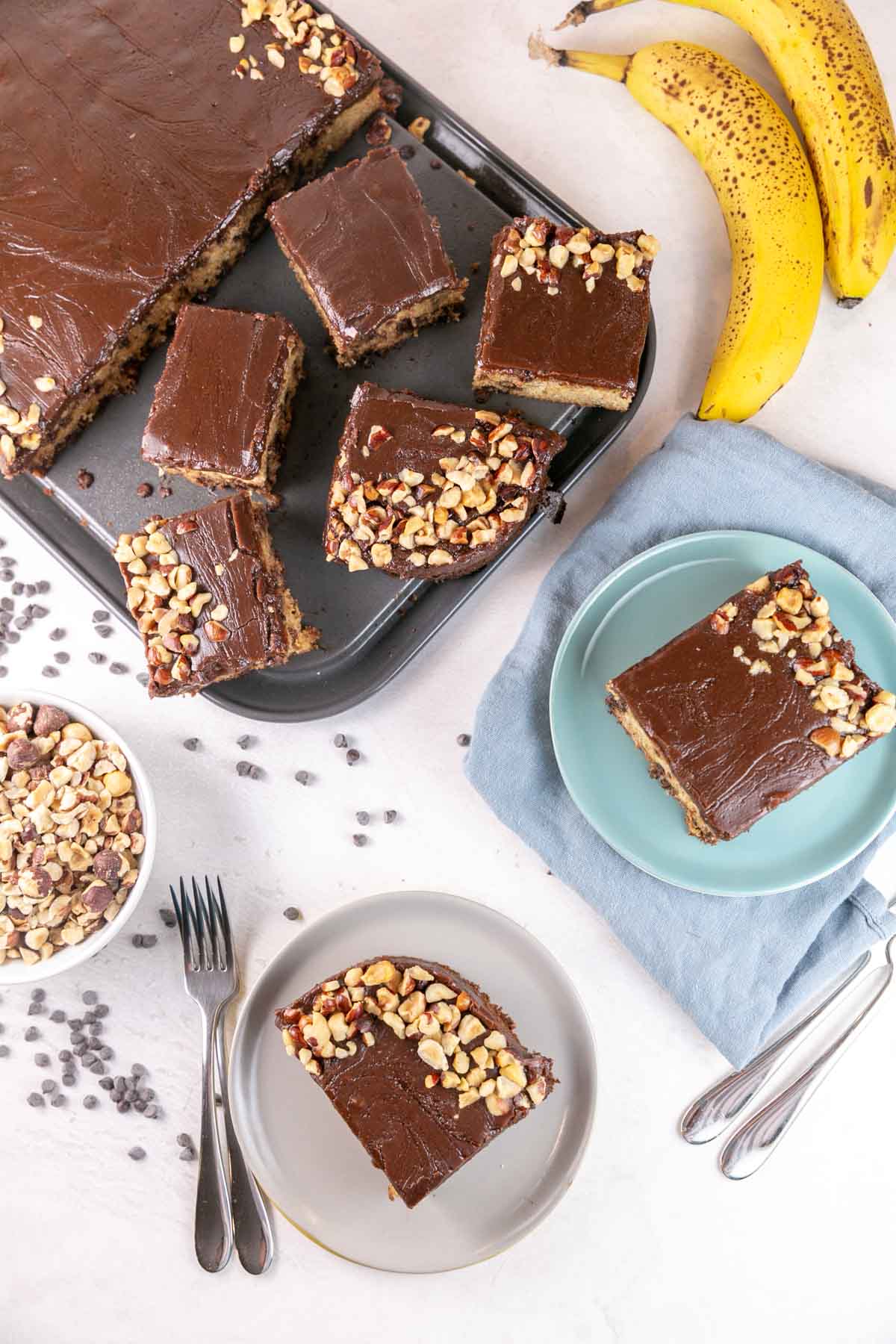 Baking with Bananas
Bananas are one of my favorite ingredients to bake with — they keep everything so moist and tender!
But while bananas are common in breads, they're not a super expected cake flavor – which makes this banana nutella cake stand out a little.
The ripened bananas add extra moisture and just the right about of banana flavor. Buttermilk provides the perfect slight tang, and a handful of miniature chocolate chips adds just a little crunch and a bite of chocolate.
You'll want to use bananas that are just slightly on the side of over-ripened. Not all yellow bananas, but also not bananas that are so ripened they're brown and mushy. Why is this important? It's time for my favorite subject… kitchen chemistry!
Kitchen Chemistry

The ripeness of a banana changes the pH of the batter, which is essential in terms of leavening and whether to use baking soda or baking powder. A slightly-green banana has a pH around 4.6, while an overripe banana has a pH of over 6.5.
Because this recipe uses both buttermilk (acidic) and bananas that are ripe but not super over-ripe (slightly acidic), we'll use baking soda in addition to baking powder in this recipe.
Melted Nutella Glaze
But what really makes this banana cake shine is the frosting! Skip the overly sweet American-style buttercream frosting and try this melted butter Nutella glaze.
It's even easier than buttercream: instead of whipping the butter, we'll melt it!
Pour the warm, gooey Nutella icing all over the surface of the hot banana cake. Since the cake is still warm, the frosting should spread pretty well on its own, but help nudge it along a little all the way to the edges.
I'm not sure what kind of magic happens when you pour the warm frosting on a hot cake, but the end result is slightly crackly, soft, melt-in-your-mouth icing that ensures this banana nutella cake is anything but boring!
Common Questions about Banana Nutella Cake
Will frozen bananas work for this cake?
Yes! I almost always bake with ripened bananas that I then freeze (out of the peel). If your banana releases a lot of extra liquid, drain out the excess before adding the thawed banana to the cake — but a banana that isn't too overly ripe shouldn't release much extra liquid.
Can the icing be made with peanut butter instead of Nutella?
Yes! For a peanut butter banana snack cake, do a direct 1:1 substitution of peanut butter for the Nutella in the icing.
What is the best pan to use for this sheet cake?
Any 9×13-inch pan will work, but I love to use a rectangular springform pan, like this one. Taking the sides off the cake pan makes cutting and serving the cake so easy.
Does this banana Nutella cake need to be stored in the refrigerator?
The cake can be stored at room temperature for up to 4 days. For longer storage, it can be refrigerated for up to a week, or frozen for 3 months.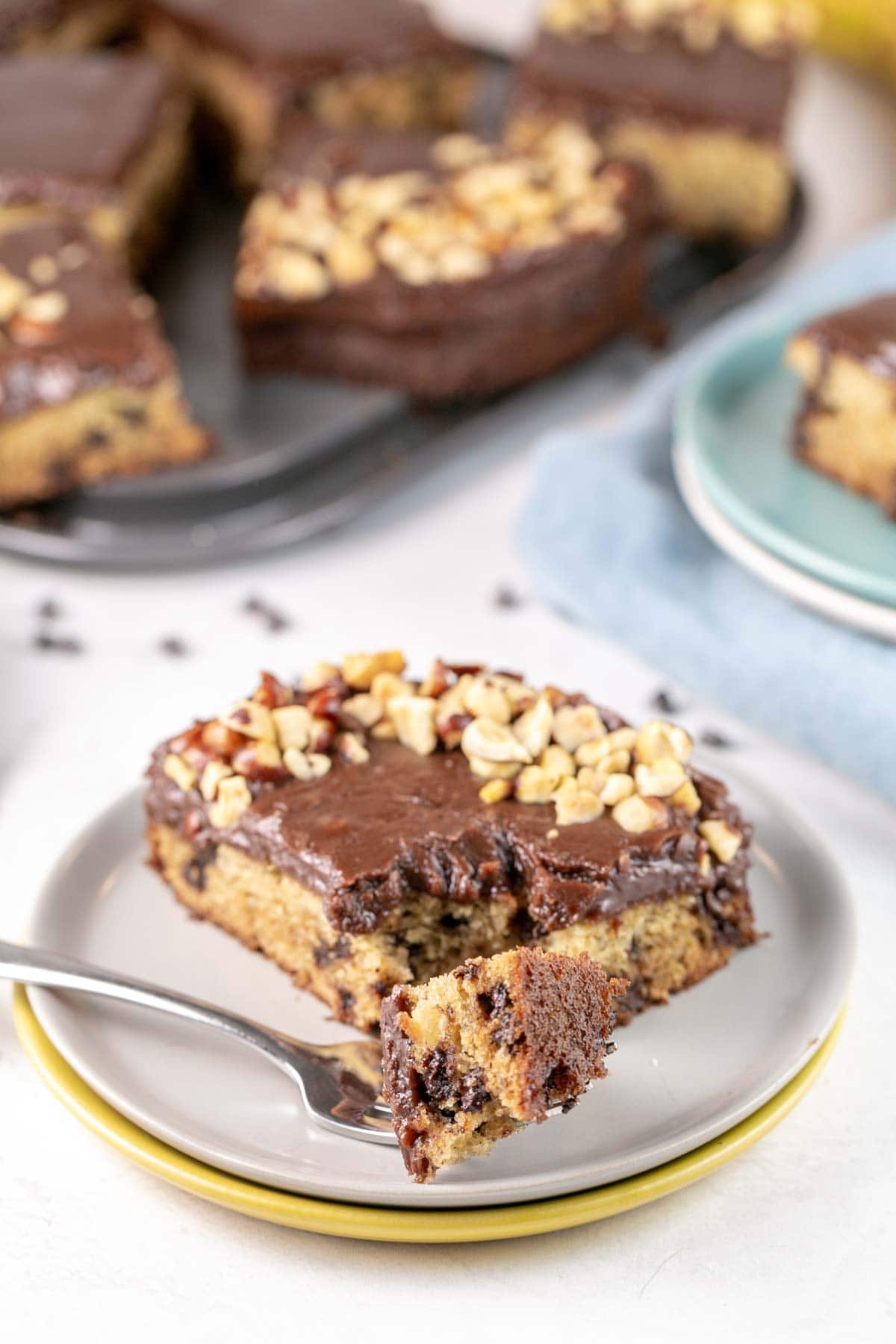 More Nutella Desserts: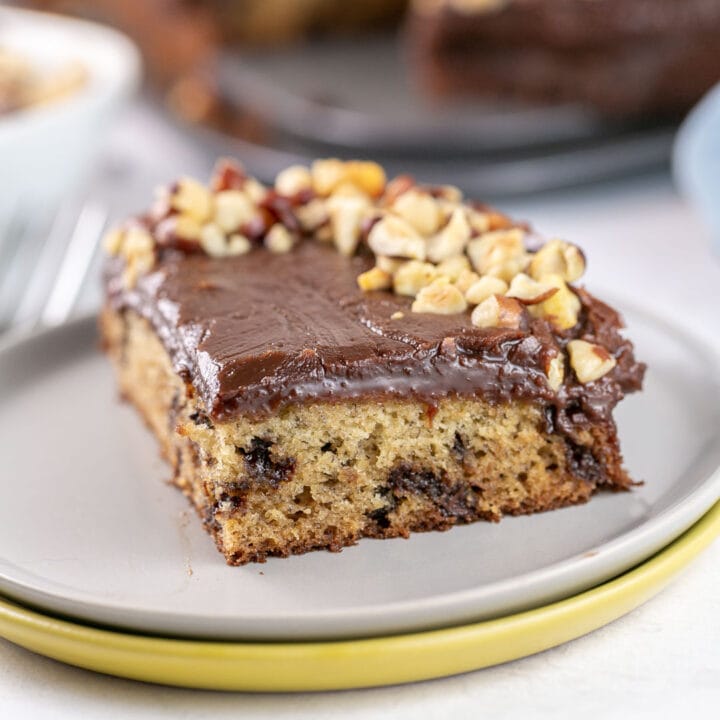 Banana Nutella Cake
An easy banana and chocolate chip sheet cake, covered with rich, decadent, melted nutella icing.  You'll never guess something so delicious is so easy!
Ingredients
For the Cake:
10 tablespoons (141 grams) butter, room temperature
1 cup (198 grams) granulated sugar
2 large eggs, room temperature
3 large, ripe bananas, slightly mashed (approximately 1 1/2 cups mashed)
2 teaspoons vanilla extract
2 1/2 cups (300 grams) flour
1 teaspoon baking soda
1 1/2 teaspoons baking powder
1 teaspoon salt
1/2 cup (113.5 grams) buttermilk
1 cup (177 grams) miniature chocolate chips
For the Icing:
4 tablespoons (56.5 grams) butter
1/4 cup (57 grams) milk
1 teaspoon vanilla extract
1 cup (320 grams) Nutella
1/2 teaspoon salt
1 1/4 cups (142 grams) confectioners sugar
1 cup (113 grams) chopped hazelnuts
Instructions
Preheat oven to 350 °F. Lightly grease a 9×13-inch cake pan.
Cream together the butter and sugar on medium-low speed of an electric mixer until light and fluffy, about 3 minutes. Add in the eggs, one at a time, beating until incorporated. Add in the vanilla and mashed bananas and mix until combined. The mixture may look curdled at this point; it will come together after adding the dry ingredients.
In a medium mixing bowl, whisk together flour, baking soda, baking powder, and salt. Add half the flour mixture to the wet ingredients and beat until just combined. Add the buttermilk, followed by the rest of the flour mixture. Mix just until ingredients come together. Stir in the chocolate chips.
Pour batter into prepared pan and bake for 30 minutes or until a tester comes out clean.
With 5 minutes of baking time left, make the icing. Add the butter, milk, and vanilla extract to a medium heavy-bottom saucepan and heat over medium-high heat until boiling. Turn the heat down to low and stir in the nutella and salt, stirring until the nutella is fully melted and the mixture is smooth. Whisk in the confectioners sugar, ensuring no lumps remain.
Immediately pour the hot icing over the cake, after the cake is removed from the oven. Spread the frosting to the edges of the cake. Sprinkle with chopped hazelnuts.
Allow the cake to cool for 45-60 minutes before serving.
Notes
Cake will keep for up to 4 days covered at room temperature.  Baked and frosted cake can be frozen for up to 3 months; thaw in the refrigerator and serve at room temperature.
A Bunsen Burner Bakery Original Protocol
Recommended Products
As an Amazon Associate and member of other affiliate programs, I earn from qualifying purchases.
Nutrition Information:
Yield:

16
Serving Size:

1 slice
Amount Per Serving:
Calories:

496
Total Fat:

25g
Carbohydrates:

63g
Protein:

6.2g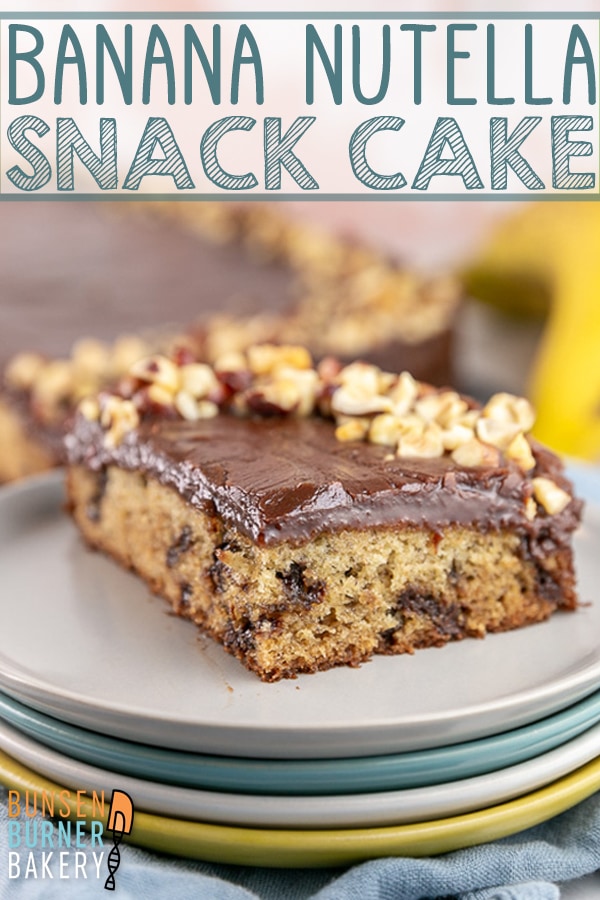 This Banana Nutella Cake recipe was originally published on 05/20/2014 and republished with new photos and helpful tips on 02/26/2021.