October 31, 2018
Caramel Pear Pie with Oatmeal Cookie Crumble
Step out of your fall baking rut with this caramel pear pie with oatmeal cookie crumble. Ripe pears (and learn how to pick the best one!) and a drizzle of homemade caramel sauce all topped with a crunchy oatmeal topping reminiscent of a crumbled cookie. Move over, apple pie: there's a new fall favorite in town.
We are once again coming in right under the wire for my Pie of the Month series. But good thing are worth the wait, and let me tell you, this caramel pear pie with oatmeal cookie crumble is worth the wait.
Let me repeat this, because it's just so dang good. A pear pie. Drizzled with salted caramel sauce. Covered in an oatmeal cookie crumble. Yes, yes, and YES.
I feel like pears are a kind of underrepresented fruit. They're plentiful in the fall, and yet all we seem to hear about are apples and pumpkin. Why no love for the pear? It's time we change this and a caramel pear pie is the perfect place to start.
Pears behave fairly similar to apples in a pie, although they hold their shape and texture a little better. Apple pies are often completely soft and mushy; pear pies still have a little (delicious) bite to them. Flavor wise, they're not to dissimilar, which is why caramel and cinnamon, flavors often associated with apples, translate so well into this pear pie.
But first, let's talk a little about pears, and maybe why they're not a super popular fruit choice.
How do Pears Ripen?
Pears are pretty unique — they're one of the only fruits that are picked early and ripen off the tree. Unlike most fruits, a pear ripens from the inside-out, so by the time the outside of the pear is ripe and soft, the inside will rot in just a few days.
While you might be able to get away with this with your own personal backyard pear tree, you can see why this isn't conducive to modern agriculture. Instead, pears are picked when they reach their maximum size, but we have to wait for them to ripen at home.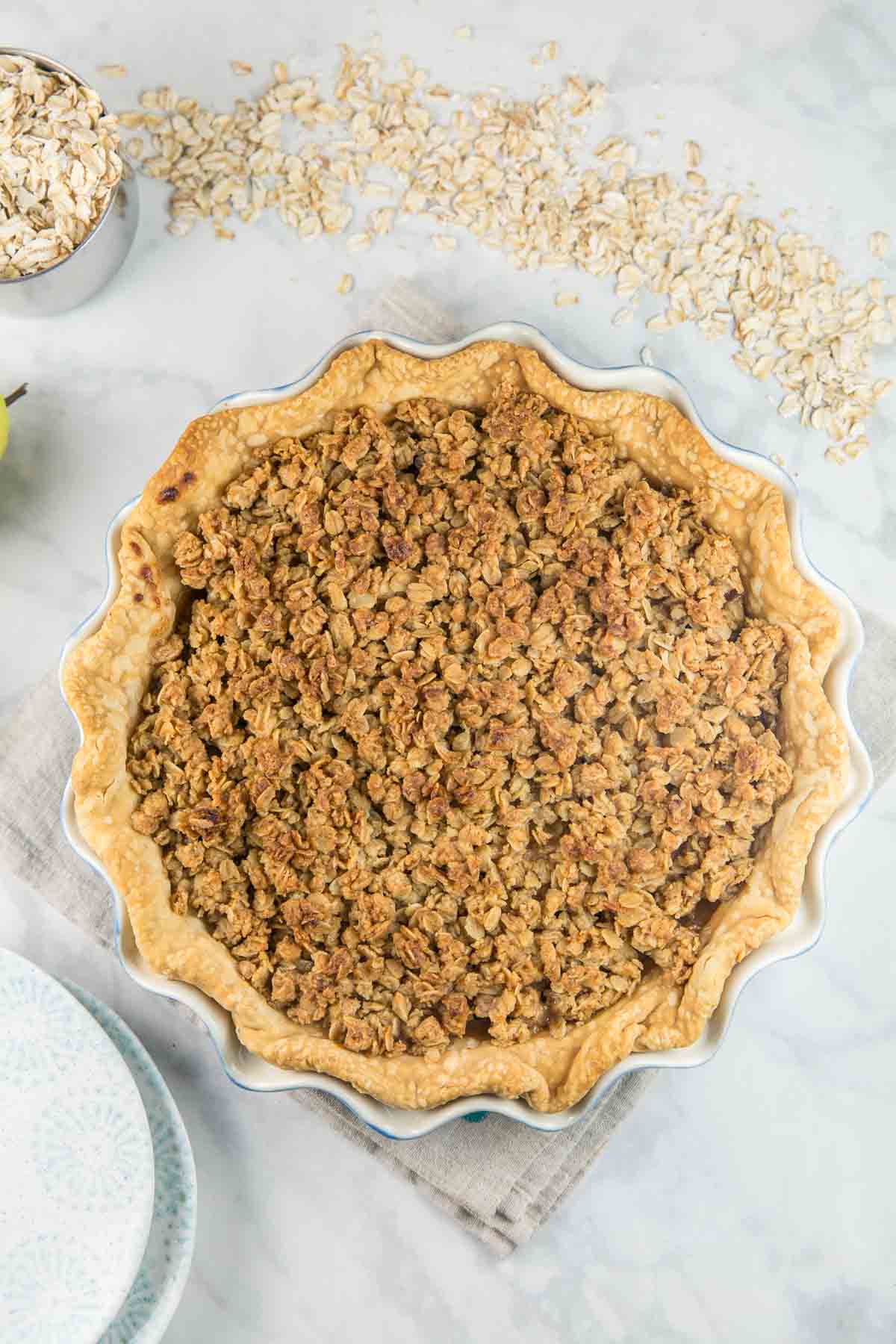 So how do we ripen our pears? It's time for my favorite subject… some kitchen chemistry!
Kitchen Chemistry

Like many other fruits, pears give off ethylene, a hydrocarbon gas that is naturally emitted during the ripening process. It's actually a plant hormone, which helps to regulate the growth and development of the plant (and fruit). As pears release ethylene, the starch in the fruit converts to sugar and the texture changes from hard to softer, resulting in what we think of as 'ripened' fruit.
Want to encourage your pairs to ripen faster? Store them in a paper bag on the countertop. The paper bag will trap the ethylene gas, speeding up the ripening process.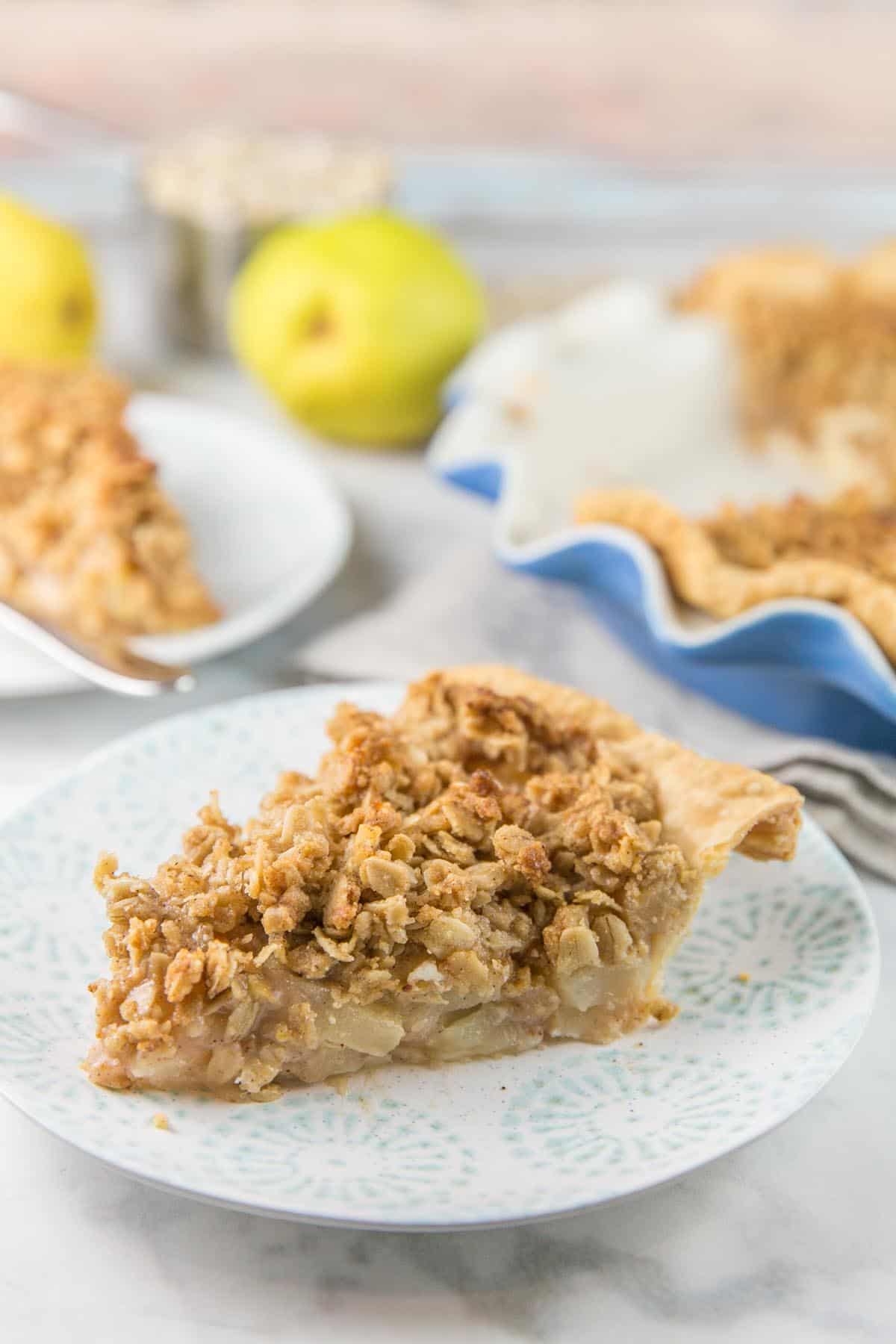 How to Tell if a Pear is Ripe
We already discussed that pears ripen from the inside out, so if the outside is soft, the inside is super mushy. So how do you tell when your pear is perfect to eat?
Press gently near the stem, where the pear is smallest. If it has a little give, it's ripe! Don't squeeze the bulky bottom of the pear and expect any softness.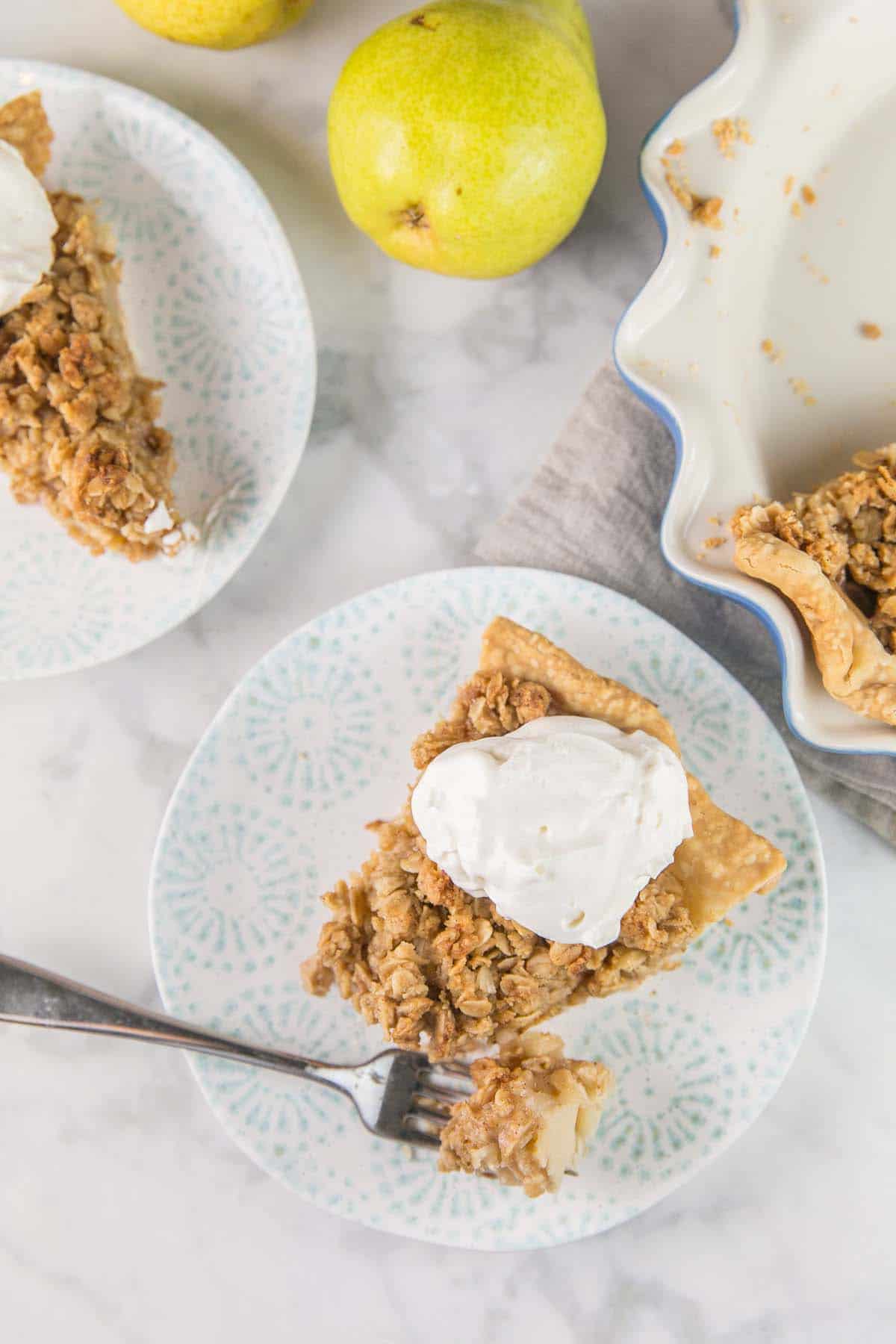 How to Make Caramel Pear Pie with Oatmeal Cookie Crumble
Don't let the long name of this pear scare you off — it's actually pretty simple and quick to make, especially since there's no top crust or lattice involved! There are three main components to this pear pie:
Spiced Pears: To make the pears, peel and slice your pears into half-inch thick slices. Toss with some flour, sugar, cinnamon, and lemon juice.
Homemade Salted Caramel: For this layer, we're just going to whisk together a really quick, really easy homemade caramel sauce, and then pour it directly onto the pie. The whole thing takes about 10 minutes start to finish. Easy peasy.
Oatmeal Cookie Crumble: This is basically like oatmeal cookie dough, minus the flour and eggs. And it is so, so good. It's basically mixing together a few ingredients and sprinkling them on top of the pears.
That's it!
The oatmeal cookie crumble on top was so good, I may never do a double crust, lattice crust, or regular crumb topping again. Just saying.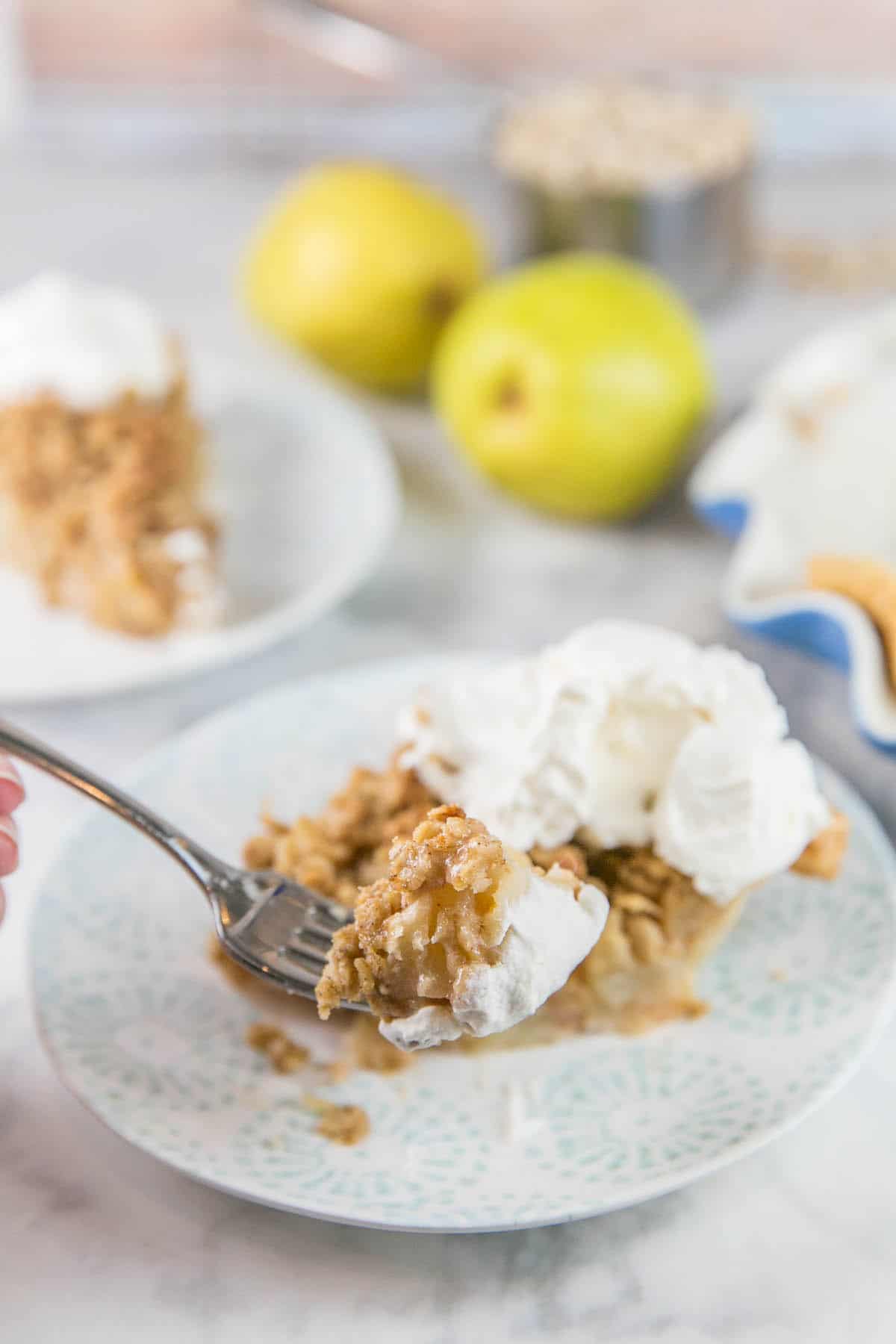 I like to serve this caramel pear pie with a big dollop of freshly whipped cream on top, but a scoop of vanilla (or cinnamon!) ice cream would be delicious. Or make a double batch of the caramel sauce and pour some extra on top.
Or, you know, just eat the whole thing straight out of the pie dish with a fork. I support this 100%.
More Fruit Pies: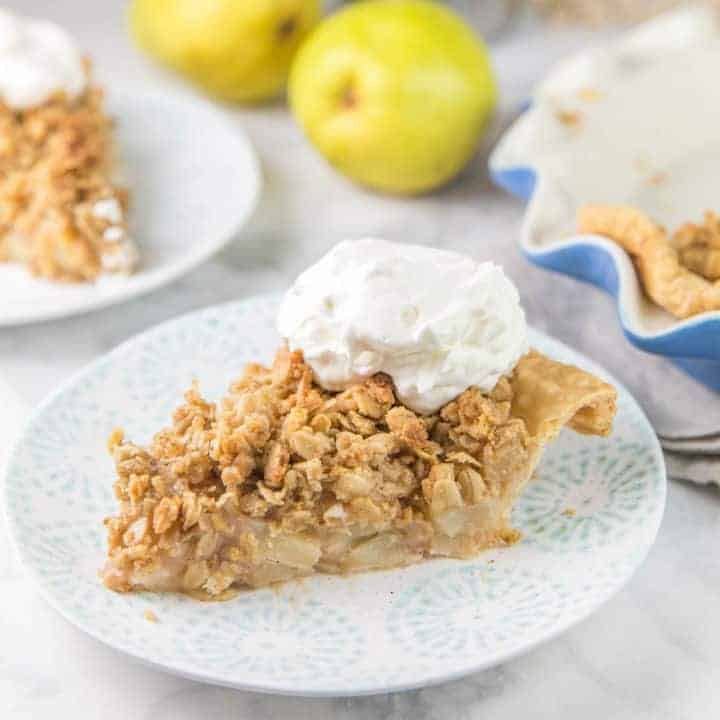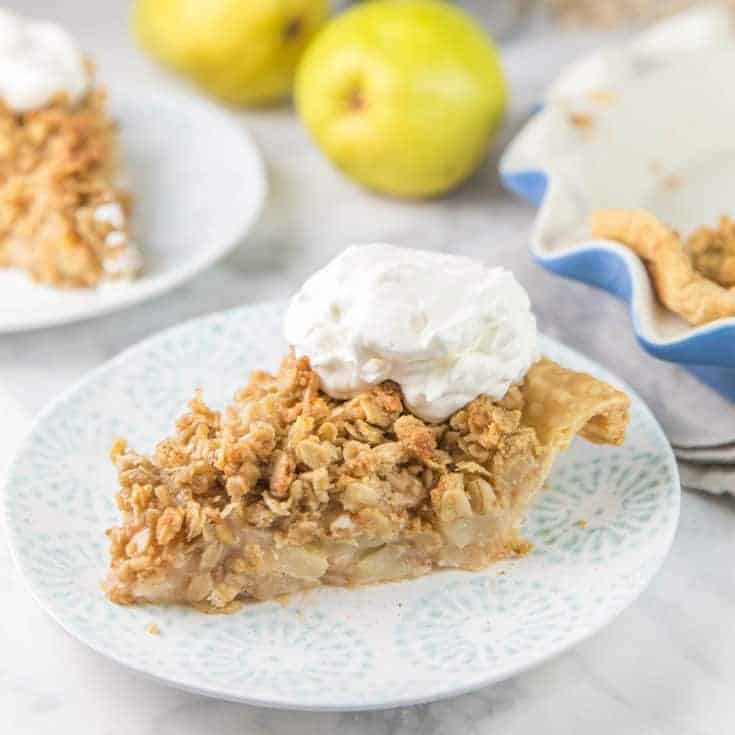 Caramel Pear Pie with Oatmeal Cookie Crumble
Total Time:
3 hours
50 minutes
Ripe pears and a drizzle of homemade caramel sauce all topped with a crunchy oatmeal topping reminiscent of a crumbled cookie.
Ingredients
For the crust:
12 tablespoons butter, frozen for at least 2 hours
3 cups all-purpose flour
1 teaspoon salt
1 tablespoon sugar
1/3 cup vegetable shortening, frozen for at least 2 hours
6 tablespoons very cold water
For the pie filling:
1/3 cup all-purpose flour
1/2 cup granulated sugar
1 teaspoon cinnamon
2 tablespoons lemon juice
5 firm pears, peeled and cut into 1/2-inch thick wedges
For the caramel sauce:
1/3 cup brown sugar, packed
3 tablespoons heavy cream
2 tablespoons butter
pinch of salt
For the oatmeal cookie crumble:
6 tablespoons butter, melted
1 1/2 cups old fashioned oats
1/2 cup brown sugar, packed
1/4 cup all-purpose flour
1/2 teaspoon cinnamon
1/4 teaspoon salt
Instructions
Preheat oven to 400 °F. Place a baking sheet in the oven to heat.
Prepare the pie crust. Place in a pie dish and flute edges. Refrigerate crust until filling is ready.
To make the pie filling: Whisk together the flour, sugar, and cinnamon in a large bowl. Add in the lemon juice and pear slices and toss to fully coat the pears. Set aside.
To make the caramel sauce: Heat a heavy-bottomed saucepan over medium heat. Add in the brown sugar, heavy cream, butter, and salt and whisk until butter is fully melted and sugar dissolves. Bring to a boil and boil for 1 to 2 minutes, until thickened. Remove from heat and set aside.
To make oatmeal cookie crumble: Melt butter in a large microwave-safe bowl. Pour in the oats, brown sugar, flour, cinnamon, and salt and mix together until clumpy. Set aside.
To assemble pie: Layer the pears along the bottom of the prepared pie crust. Pour the still-warm caramel sauce over the pie in long drizzles (if caramel sauce cools and starts to solidify, gently warm over low heat until pourable again). Using fingers, break the cookie crumble clumps up over the pie, scattering across the top until the surface is fully covered.
Place pie on the preheated baking sheet and bake at 400 °F for 20 minutes. After 20 minutes, turn the temperature down on the oven to 350 °F and bake an additional 30 to 40 minutes. When pie is done, filling will bubble up around the edges and make a thumping sound against the crumble. If crust starts to darken, cover with a pie shield after 30 minutes of total baking time.
Remove pie from oven and cool completely, preferably overnight, before serving.
Notes
Pie can be made ahead and frozen, either as a whole pie or individual slices. After baking and cooling, wrap the entire pie with plastic wrap, followed by two layers of foil and freeze for up to 3 months. Thaw overnight at room temperature. For an individual slice, freeze slice on a cookie sheet until fully frozen, then wrap in foil and store in an air-tight freezer bag.
A Bunsen Burner Bakery Original Protocol
Recommended Products
As an Amazon Associate and member of other affiliate programs, I earn from qualifying purchases.