April 24, 2019
Blueberry Blintzes
Thin flour crepes filled with creamy ricotta and a homemade blueberry sauce, these baked Blueberry Blintzes are an all-time brunch favorite! Everything can even be made ahead of time and refrigerated or frozen – meaning they're perfect for entertaining. Make a double batch for an extra special holiday breakfast!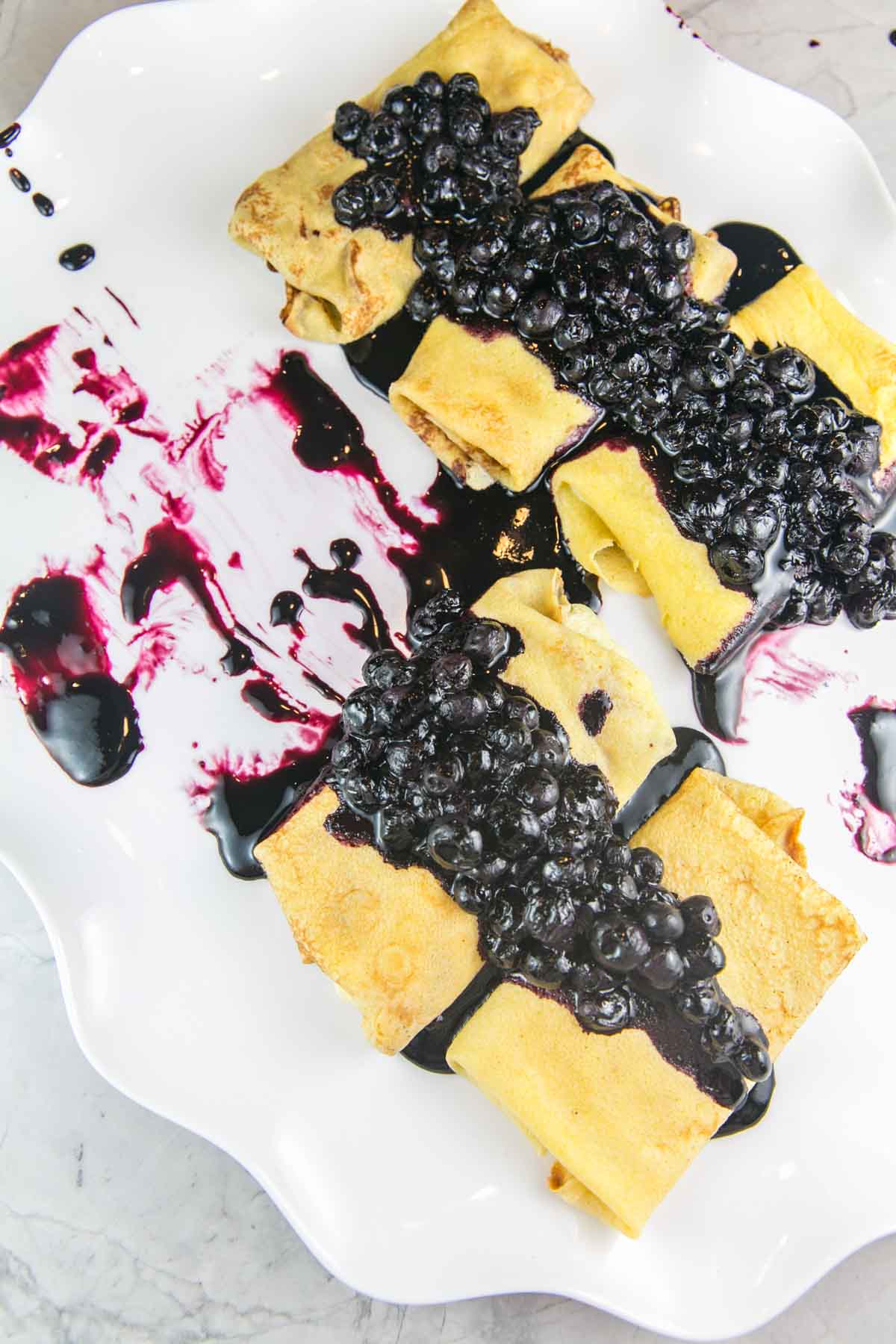 Blueberry blintzes have to be one of my all time favorite special occasion breakfasts. It's basically a combination of all the best breakfast-y things rolled into one dish.
Crepes? Check. Smooth, rich, sweet, cheesy filling? Check. Big pile of homemade fresh fruit sauce on top? Check.
So imagine my surprise when I discovered how many people out there have never even had a blintz. You guys are seriously missing out!
This all started when I made blintzes for brunch last month when my parents were in town. I shared a picture in my Instagram Stories, and the questions started rolling in.
"What's a blintz?" "I've never heard of blintzes." "I've seen blintzes before but never knew what was in them."
What the what?
So put up a very scientific poll asking if people had ever had a blintz, and 44% of respondents had not.
Friends, we are changing this immediately. Get out your blenders and sauté pans and mixers, because WE ARE MAKING BLINTZES.
And not just any blintzes. We are making the best baked blueberry blintzes with ricotta. I'm calling them the best because many other people have told me so.
I feel like every time I serve these, someone — my mother included — says "These are delicious! I haven't had a blintz this good since my Jewish great-grandmother made them!"
(So basically, I've learned two things: everyone's great-grandmother was a great blintz-maker, and blintzes nowadays are pretty bad. But not anymore, because you now have the best blueberry blintz recipe!)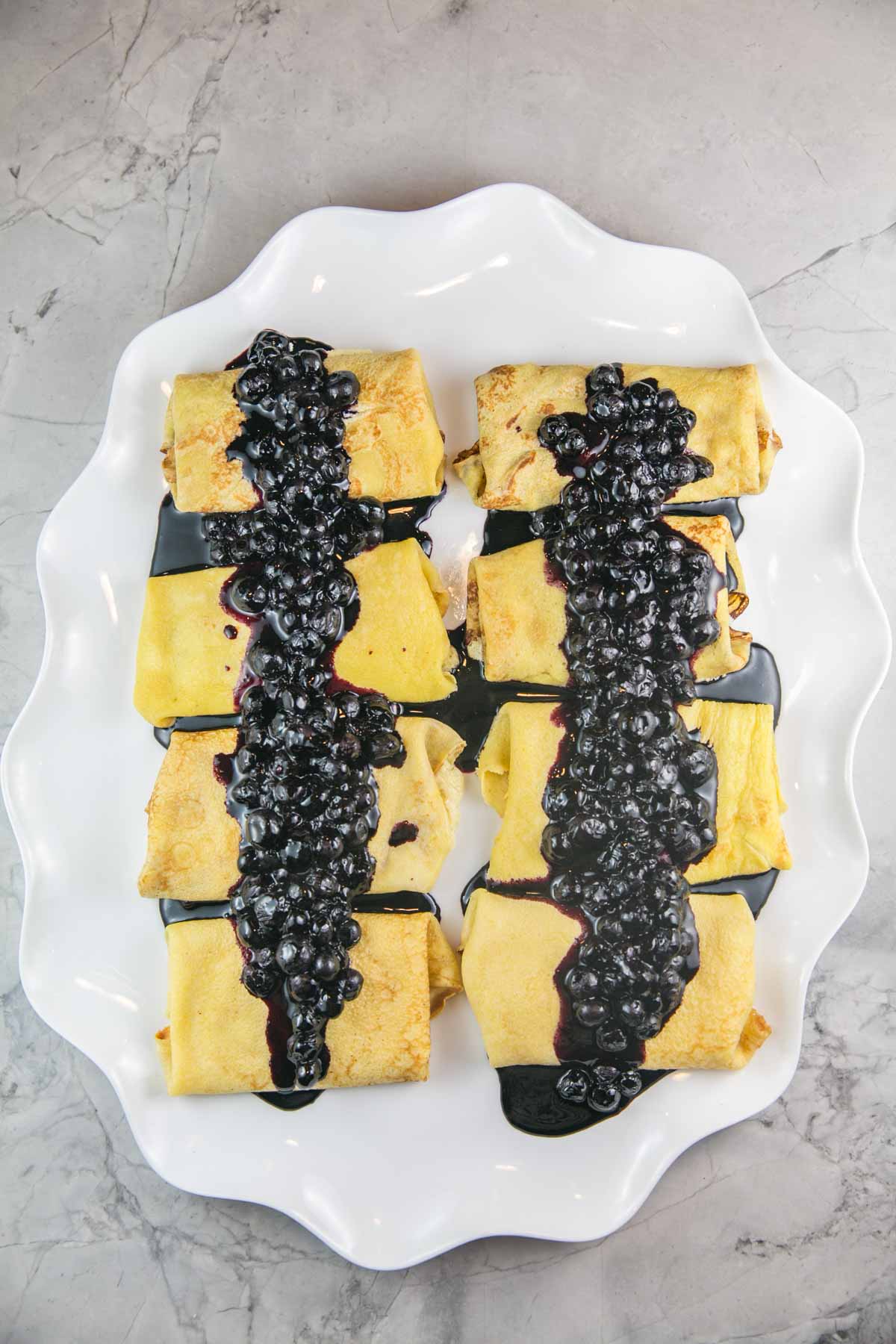 What are Blintzes?
Are you one of the people who has never heard of a blintz? Let's talk about the details.
A blintz is a thin cooked pancake that is filled with something, either sweet or savory. It's basically a crepe, but Central European instead of French.
Sweet blintzes are definitely more common and are usually filled with some sort of cheese and fruit (check and check for our ricotta-filled blueberry blintzes).
Here's one other fun fact that separates a blintz from a crepe: traditionally, the pancake for a blintz is only cooked on one side, rather than two, since the blintzes are then further baked. So you don't even have to flip them! It's like a crepe, BUT EVEN EASIER.
(You can also totally flip them – there's nothing wrong with doing it. But since these are further baked, you don't have to cook the other side, and who doesn't love a time-saving shortcut?!)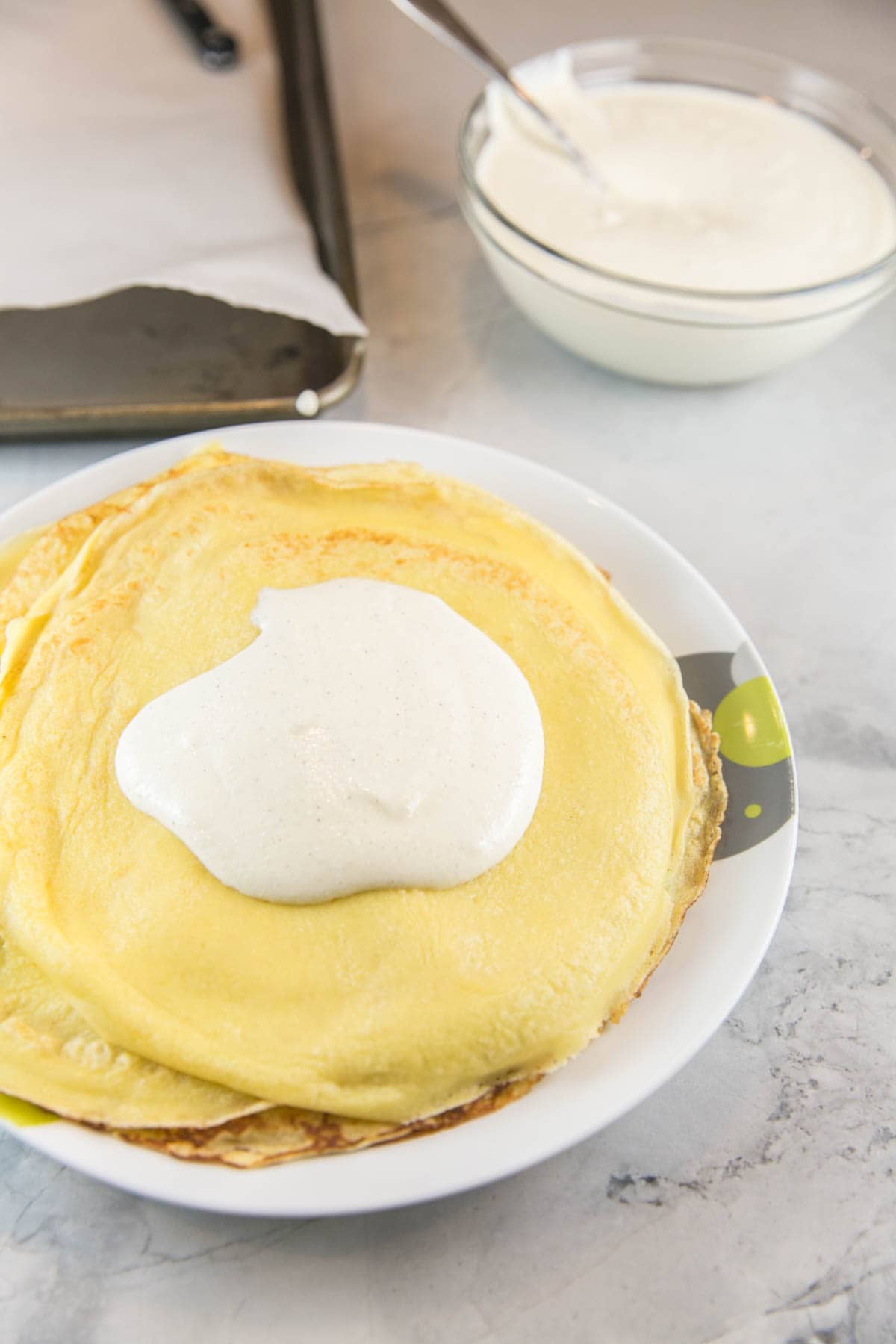 How to Make Blintzes
Making blintzes are really easy, albeit a little bit time-consuming.
There are three separate steps: making the batter, making the filling, and making the blueberry sauce. But none of the steps are hard, and you can even break it up and do it over a few days (more on make-ahead blintzes below!).
Making the batter is super easy: add all the ingredients (mainly eggs, flour, and milk, with a few extras like vanilla extract and baking powder) in a blender and blend until smooth and a little foamy.
Then side aside in the refrigerator for the bubbles to settle — at least 30 minutes, but I'll often do this the night before.
Pour a little of the batter into a hot pan, swirling to cover the bottom of the pan. Set the pan back on the stove and cook until the pancake is fully cooked through and slides out of the pan easily, 60-90 seconds. If the crepe sticks to the pan, let it cook for another 10 to 15 seconds.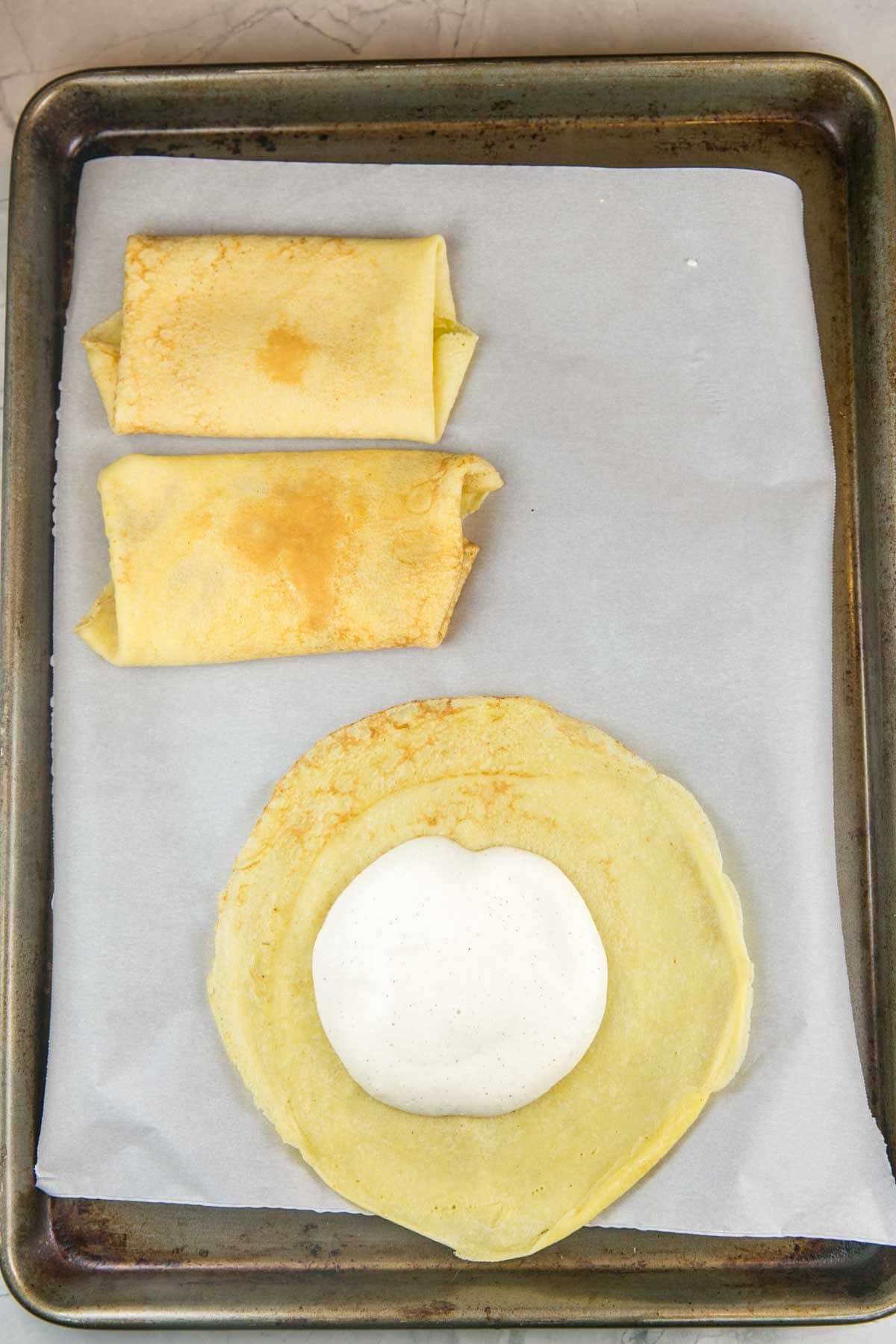 Cheese Blintz Fillings
There are lots of versions of blintz fillings, but I always use ricotta cheese — I think it's so much smoother and creamier than the more common cottage cheese or farmer's cheese.
And I not-so-secretly suspect the ricotta cheese filling (with just a little cream cheese for stability and tang!) is one of the reasons why people love these blueberry blintzes.
What is ricotta cheese? Did you know it's not even technically a cheese — it's a "dairy by-product!"
Kitchen Chemistry

Ricotta is a traditional Italian cheese made by coagulating leftover whey proteins from the production of hard cheeses. When milk is heated to kill unwanted bacteria, the casein proteins are denatured (unraveled) and milk is split into curds and whey. The curds are strained and used for cheese making, and the resulting liquid whey is used to make ricotta.
To fill the blintzes, place a crepe down on a flat surface. Spoon 2-3 tablespoons of the filling into the middle of the crepe, and spread it across the crepe.
Rather than rolling these (like a burrito), we're really just going to make little rectangular packages. Fold in two sides, then fold in the opposite sides, and place upside-down (so seam side down) on your baking sheet.
Blintzes are often pan-seared in butter, but we're going to bake them instead. Less oil, less mess, and way easier. Plus, they are so good, I promise you won't miss the extra butter.
All we're going to do is pop them in the oven until the filling is heated through.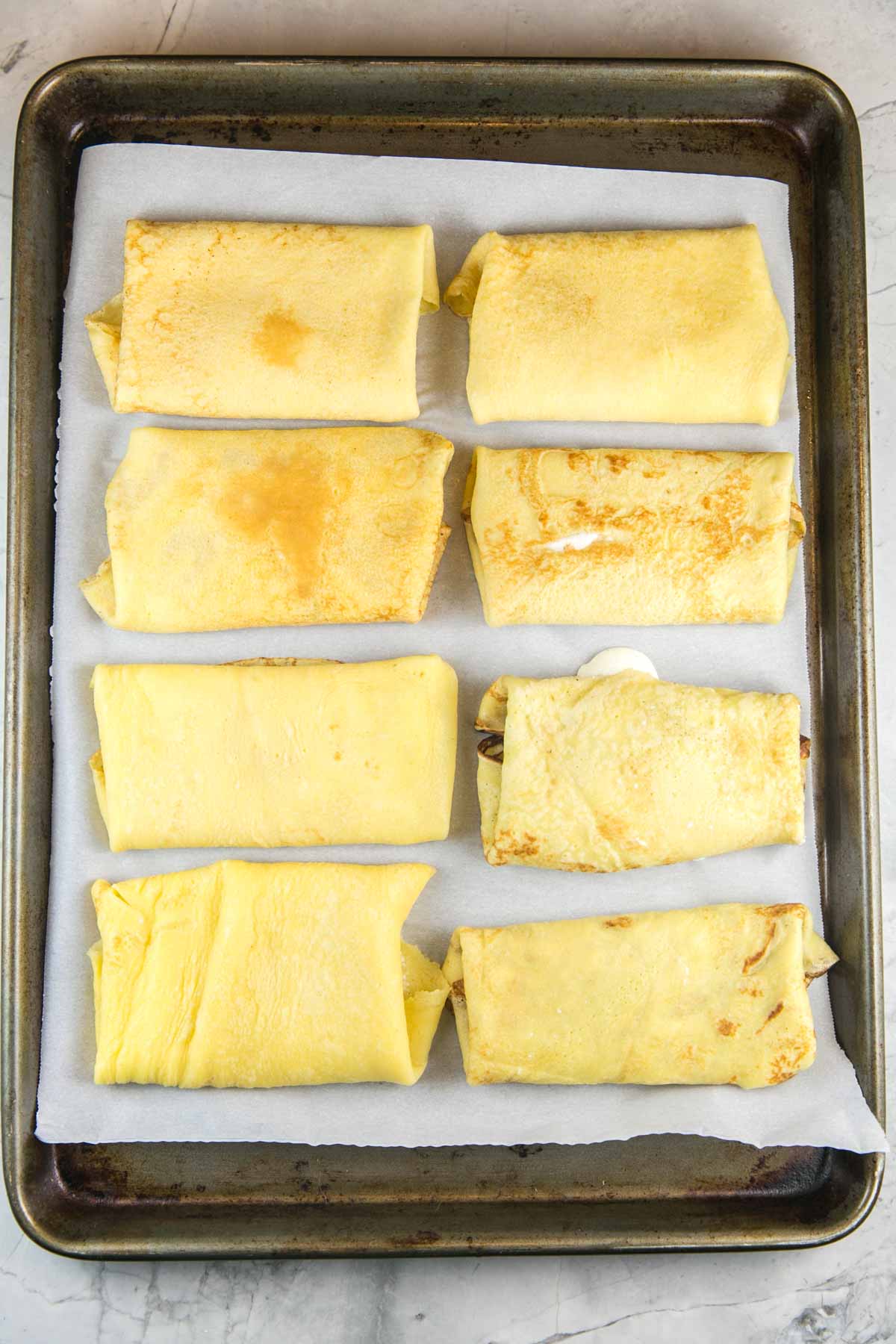 Sauce for Blueberry Blintzes
While the blintzes cook, make a quick stovetop blueberry sauce. Fresh or frozen blueberries work just fine, so this is a perfect year-round breakfast treat!
I love covering mine with blueberry sauce — but if blueberries aren't your thing, substitute away.
Strawberries, blackberries, raspberries — all delicious. In the fall, simmer some apples with brown sugar. In winter, perhaps cranberries? Or turn them into the ultimate dessert (or dessert-for-breakfast!) with a chocolate sauce.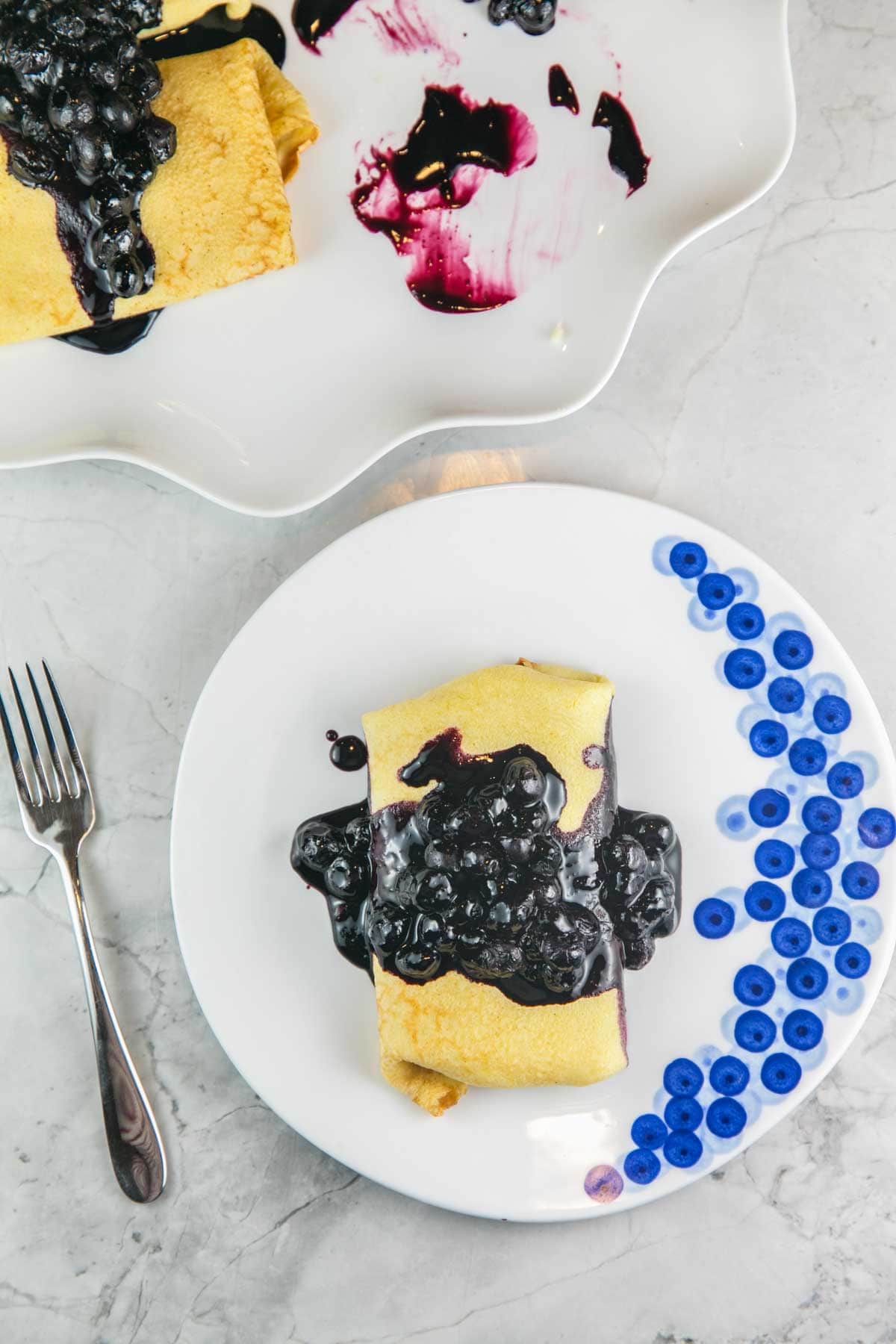 Frequently Asked Questions about Blintzes
Can blintzes be made ahead of time?
Yes! The crepe batter can be made the night before and cooked in the morning. The crepes can be cooked the day before and stored in the refrigerator between pieces of wax paper. The blintzes can be fully made and filled and left in the baking pan, but not baked until the morning. The blueberry sauce can also be made ahead, refrigerated, and quickly reheated on the stovetop while the blintzes bake.
Can blintzes be frozen?
Blintzes freeze beautifully!  Prepare as instructed below, allowing the blintzes to cool after baking.  Once cool, freeze in a single layer in a casserole dish.
How do I keep the blintzes from sticking to the pan?
Coat a 9-inch skillet with butter until an even layer of melted butter spreads across the whole pan. Once hot, pour no more than 1/4 cup of batter into the pan and cook, undisturbed, for 60 seconds, over medium-high heat. If the crepe does not immediately release from the pan and slide out, return the pan to the heat for an additional 15-20 seconds.
What can I use for a sauce other than blueberries?
Any fresh or frozen fruit can be substituted for blueberries to make an easy fruit sauce. Other ideas for toppings include whipped cream or chocolate sauce.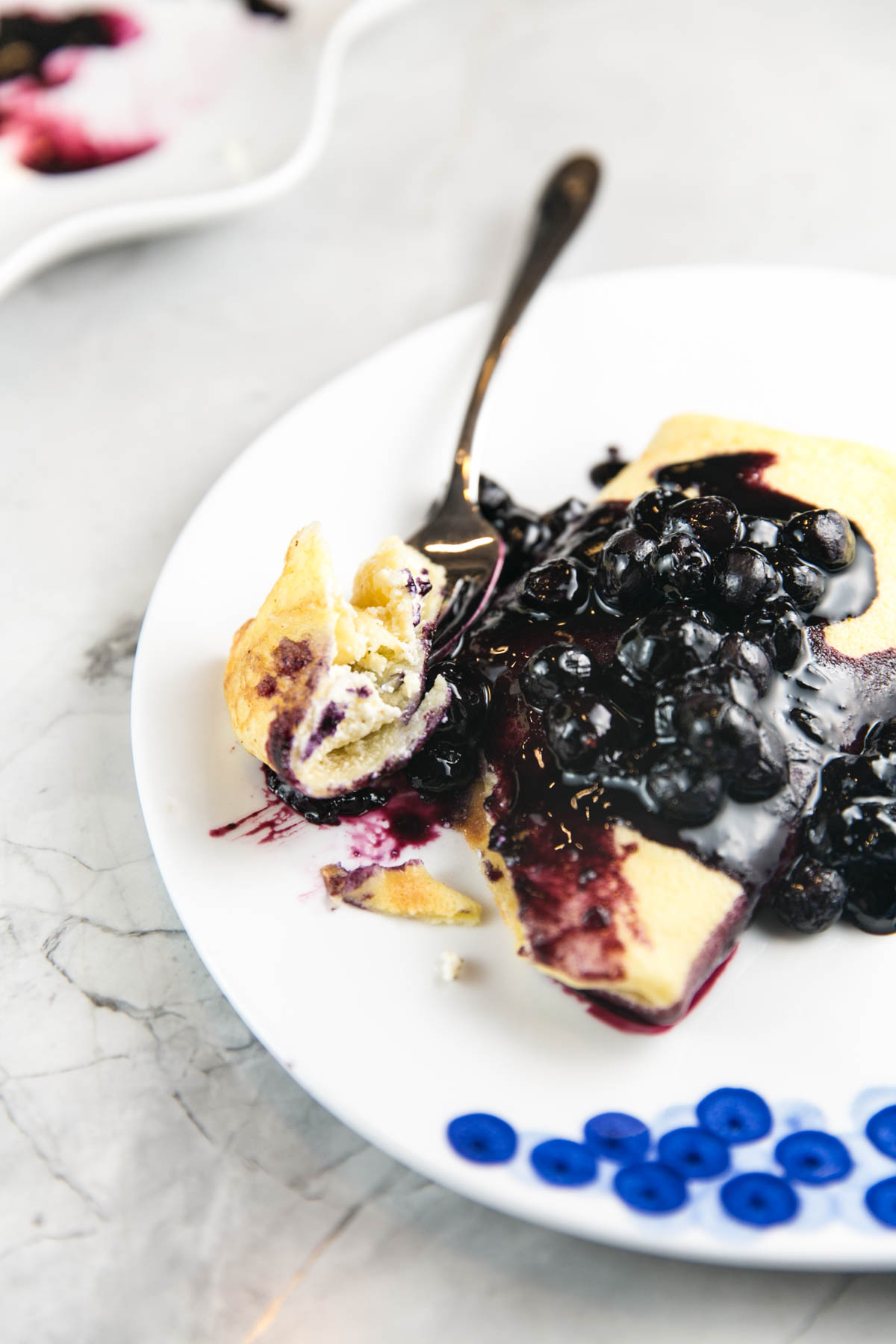 I'm usually not a sweet breakfast person.  Give me all the huevos rancheros but pancakes, waffles, and doughnuts don't usually excite me.  But these blueberry blintzes?  They are so, so good.  I'd eat them for breakfast, lunch, AND dinner.
So if you're one of the seemingly many people who haven't had a blintz before, do yourself a favor and make these as a special treat. They're so, so worth it. Even my 12-month-old agrees — just look at that happy blintz-covered face.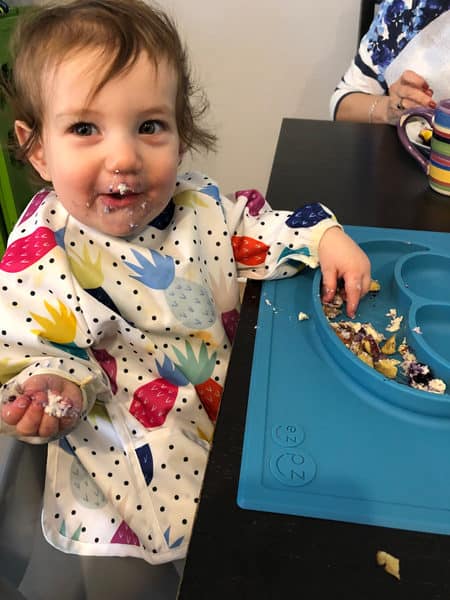 More Entertaining-Worthy Brunch Recipes:
Blueberry Blintzes
Thin flour pancakes filled with creamy ricotta and a homemade blueberry sauce, these baked blueberry blintzes are an all-time brunch favorite!
Ingredients
For the crepes:
4 large eggs
1 cup (120 grams) all-purpose flour
1 cup (227 grams) milk
1 tablespoon granulated sugar
1/2 teaspoon baking powder
1/2 teaspoon vanilla extract
1/4 teaspoon kosher salt
2 tablespoons (38 grams) unsalted butter, melted, plus more for the pan
For the filling:
15 ounces (425 grams) part-skim ricotta
4 ounces (113.5 grams) cream cheese, room temperature
1 large egg
2 tablespoons granulated sugar
1 tablespoon vanilla bean paste or vanilla extract
1 teaspoon cinnamon
For the sauce:
1 pound (453.5 grams) blueberries, fresh or frozen
1/4.cup (56.75 grams) water
2 tablespoons granulated sugar
1 tablespoon lemon juice
2 1/2 teaspoons cornstarch
Instructions
Combine the eggs, flour, milk, sugar, baking powder, vanilla, and salt in a blender or food processor to prepare the crepes (alternatively use an immersion bender or a hand mixer until well combined and no lumps remain). Blend 10-15 seconds until smooth and slightly foamy. Refrigerate for 30 minutes, or up to overnight. Whisk in the melted butter.
Lightly coat a 9-inch nonstick skillet with butter and set over medium-high heat. Once hot, pour 1/4-cup of batter into the skillet. Swirl the batter around the pan to evenly coat the bottom and sides. Rotate the batter around the pan until it has all set. Set the pan back on the heat and cook for 60-75 seconds, until the top is sticky but set and the bottom of the crepe starts to brown. Using a silicone spatula to slide the crepe out of the pan and onto a clean surface. If the crepe doesn't slide out of the pan easily, let it cook another 15-20 seconds. Continue with the remaining batter, making 8 crepes total. Separate the blintz crepes with layers of parchment or wax paper between each.
Preheat the oven to 350 °F. Combine the ricotta cheese, cream cheese, egg, sugar, vanilla bean paste, cinnamon, and salt in a mixer or the blender. Mix until well combined.
Spread 2-3 tablespoons of filling in the crepe and fold in two opposite ends, then the other sides to make a little package. Place on a parchment-lined baking sheet, seam-side down. Bake blintzes until the filling is hot, about 20 minutes.
While the blintzes are baking, prepare the sauce. Combine the blueberries, water, sugar, lemon juice, and cornstarch in a saucepan. Bring to a slow boil over medium heat, stirring occasionally. Reduce heat to a simmer and cook for another 5 to 10 minutes, until slightly thicker. Pour the sauce over the blintzes to serve.
Notes
Blueberry blintzes can be made ahead of time and refrigerated before baking or frozen after baking. See additional notes in post.
Recommended Products
As an Amazon Associate and member of other affiliate programs, I earn from qualifying purchases.
Nutrition Information:
Yield:

8
Serving Size:

1 blintz
Amount Per Serving:
Calories:

337
Total Fat:

15.8g
Carbohydrates:

34.4g
Protein:

13.9g