June 15, 2013
Blueberry Honey Bread
This easy-to-make Blueberry Honey Bread is bursting with fresh blueberry flavor and the natural sweetness of honey. Perfect for breakfast, a snack, or dessert – top with a glaze or scoop of ice cream for the ultimate treat!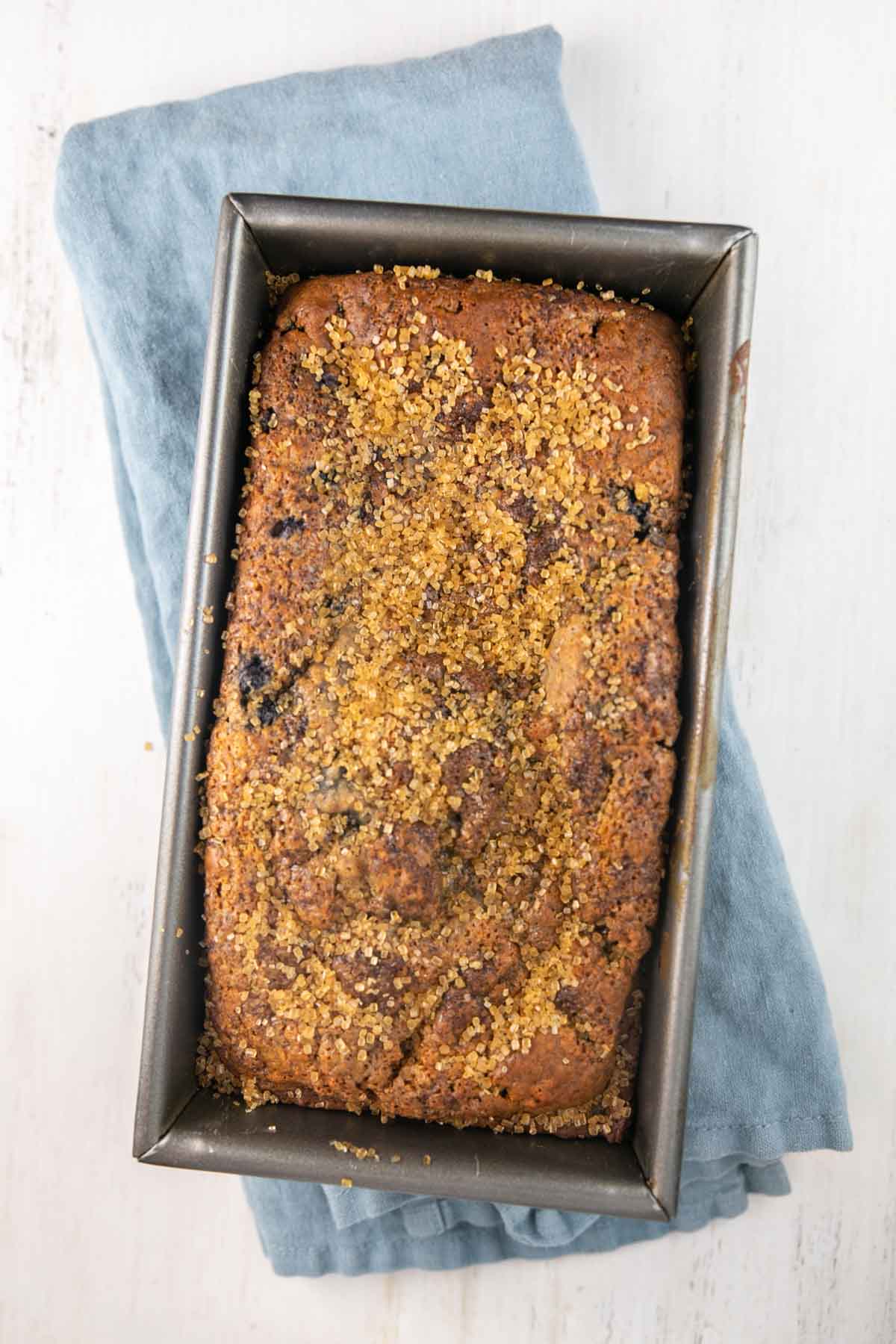 Blueberries are a crowd-favorite when it comes to baking muffins. Everyone likes a blueberry muffin! But now it's time to expand your blueberry breakfast baked good repertoire — we're taking blueberries straight into bread.
Quick breads are called "quick" because, just like a muffin, they don't require yeast or a long rise time. In comparison to muffins, the baking time is certainly longer, but — and this is a BIG plus, in my opinion! — you don't have to fill all the individual muffin cups.
Instead, for a quick bread, all the batter is poured into one well-greased loaf pan and the pan is popped in the oven. The longer baking time is totally hands-off. Go walk your dog, clean the house, or curl up with a good book. I'd much rather the longer time come when I'm doing other things!
There are loads of quick bread flavors out there, but this blueberry honey bread has the perfect combination of sweetness and tanginess in a super moist and delicious bread. And since we'll slice it into pieces at the end, you can share it just as easily as you can muffins.
And of course, let's not forget about the honey part of this bread! The only added sweetener comes from honey, adding a delicious flavor.
Let's get baking!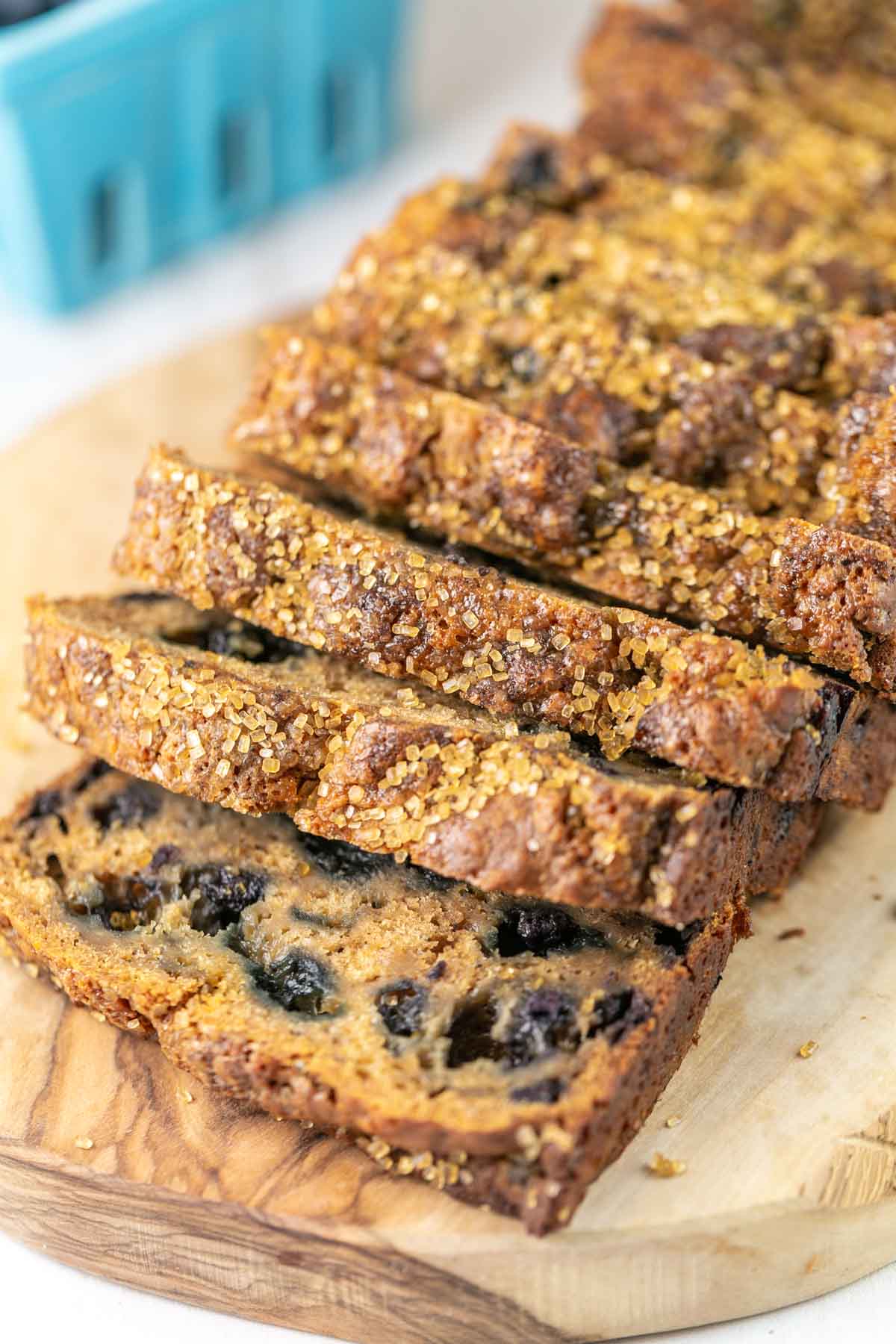 Ingredients and Substitutions
Flour: Use all-purpose flour, either weighed or fluffed and leveled to ensure an accurate measurement. For a gluten-free option, use a gluten-free 1:1 baking mix.
Baking Powder and Baking Soda: The quick part of a quick bread comes from the chemical leaveners, which provide the lift for the bread.
Salt: Use either table salt or Morton kosher salt – adjust accordingly if you bake with Diamond kosher salt instead.
Butter: Unsalted, room temperature (just barely soft), and cut into small pieces.
Egg: One large egg, room temperature. A flax egg can be substituted to keep this recipe egg-free.
Sour Cream: Full-fat sour cream creates the best texture and flavor, but low-fat sour cream can be used as well.
Honey: Honey provides all the sweetness in this bread – there's no granulated sugar! Use a good quality, fresh, and smoothly flowing honey.
Vanilla Extract: Because everything is better with a little vanilla!
Blueberries: Either fresh or frozen blueberries can be used. If using frozen blueberries, do not thaw first – just toss them in straight from frozen.
Turbinado Sugar: A spinkle of raw sugar (or coarse sanding sugar) on top of the bread before it bakes adds just a little sparkle, crunch, and extra sweetness. Totally optional – skip if desired!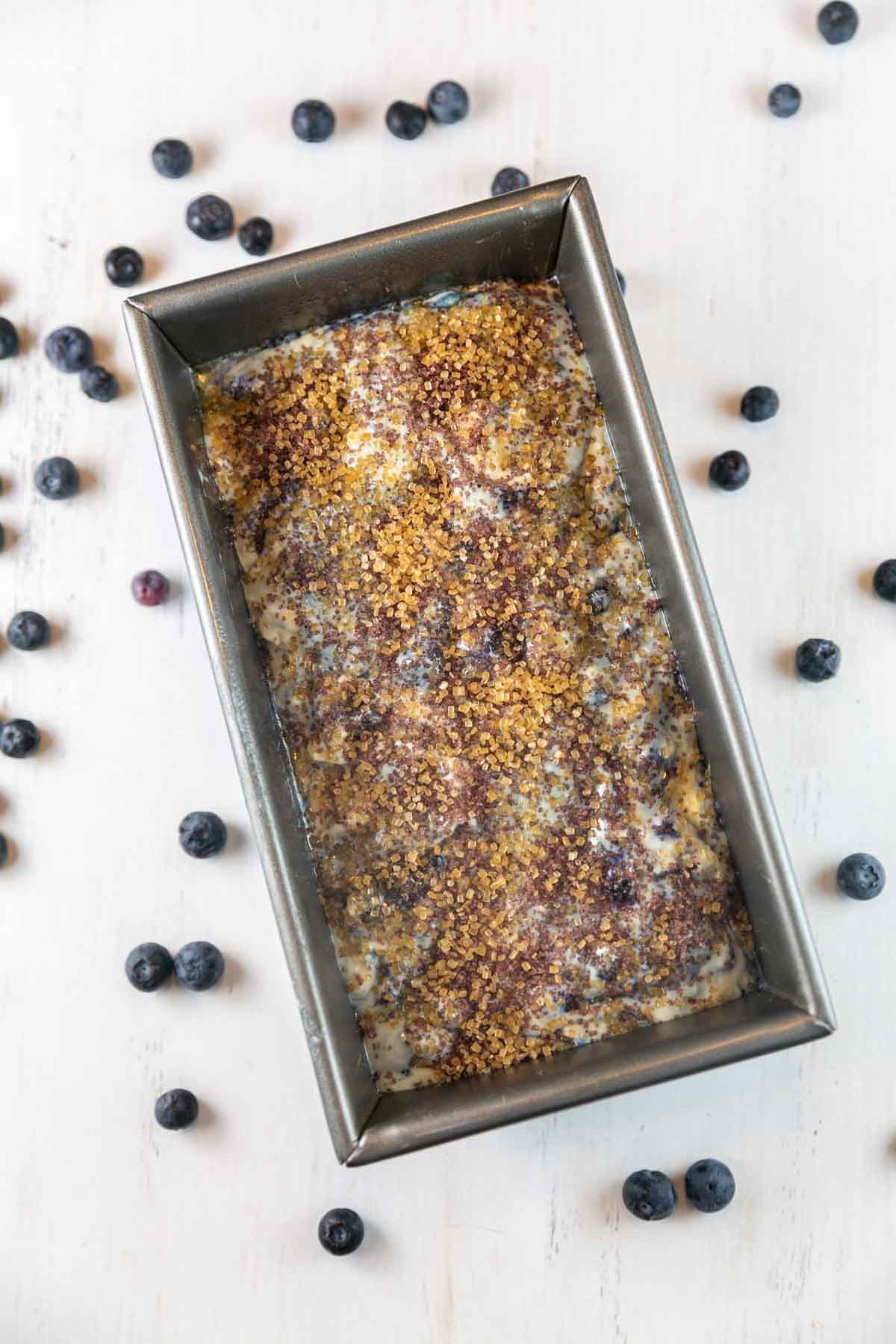 Baking with Honey
Honey is a great option for sweetening baked goods – but there are a few things we have to consider!
Different types of honey have different flavor profiles. Lighter honey will just add sweetness, while a darker honey will impart more flavor into this blueberry honey bread.
Honey adds extra liquid to the batter, so we have to make sure to compensate and not add more additional liquid. You'll notice this recipe doesn't call for any other pure liquids, like oil or milk.
Honey browns faster in the oven than granulated sugar due to the higher fructose content. Many of my quick bread recipes start at 400°F, but we're keeping this one at 350°F because of all the honey!
Use baking soda, instead of or in addition to baking powder.
Why do we need to do this last step? It's time for my favorite subject… kitchen chemistry!
Kitchen Chemistry

While you may not think of honey as an acid, it's actually quite acidic, with an average pH of 3.9. This low pH is low enough to inhibit bacterial growth, which is why honey can stay at room temperature for so long. However, the low pH also changes the proper conditions for the bread to rise. Acids cause the starch in the batter to break down and form a gel at a lower temperature, which makes the bread more likely to collapse as it cools. As a result, we have to add baking soda, an alkalizing agent, to offset this low pH, in addition to baking powder.
Serving and Topping Suggestions
I like to sprinkle a little coarse sugar on top right before baking – it adds just a little extra touch of sweetness and a slight crunch.
If you'd like something sweeter, I'd recommend a blueberry glaze, like the one in this lemon blueberry scone recipe, or a vanilla glaze, like this Neapolitan bundt cake.
In addition to just eating the blueberry honey bread plain (my favorite way!), other delicious options include toasting and spreading with butter, served with a scoop of vanilla ice cream on top, or dipped in egg and sauteed, like this banana bread French toast!
A delicious whole loaf of a quick bread like this is also the perfect gift for new neighbors or a friend. Wrap the bread in a tea towel or parchment paper, tie a ribbon or baker's twine around the middle, and deliver to anyone in need of a little extra cheer!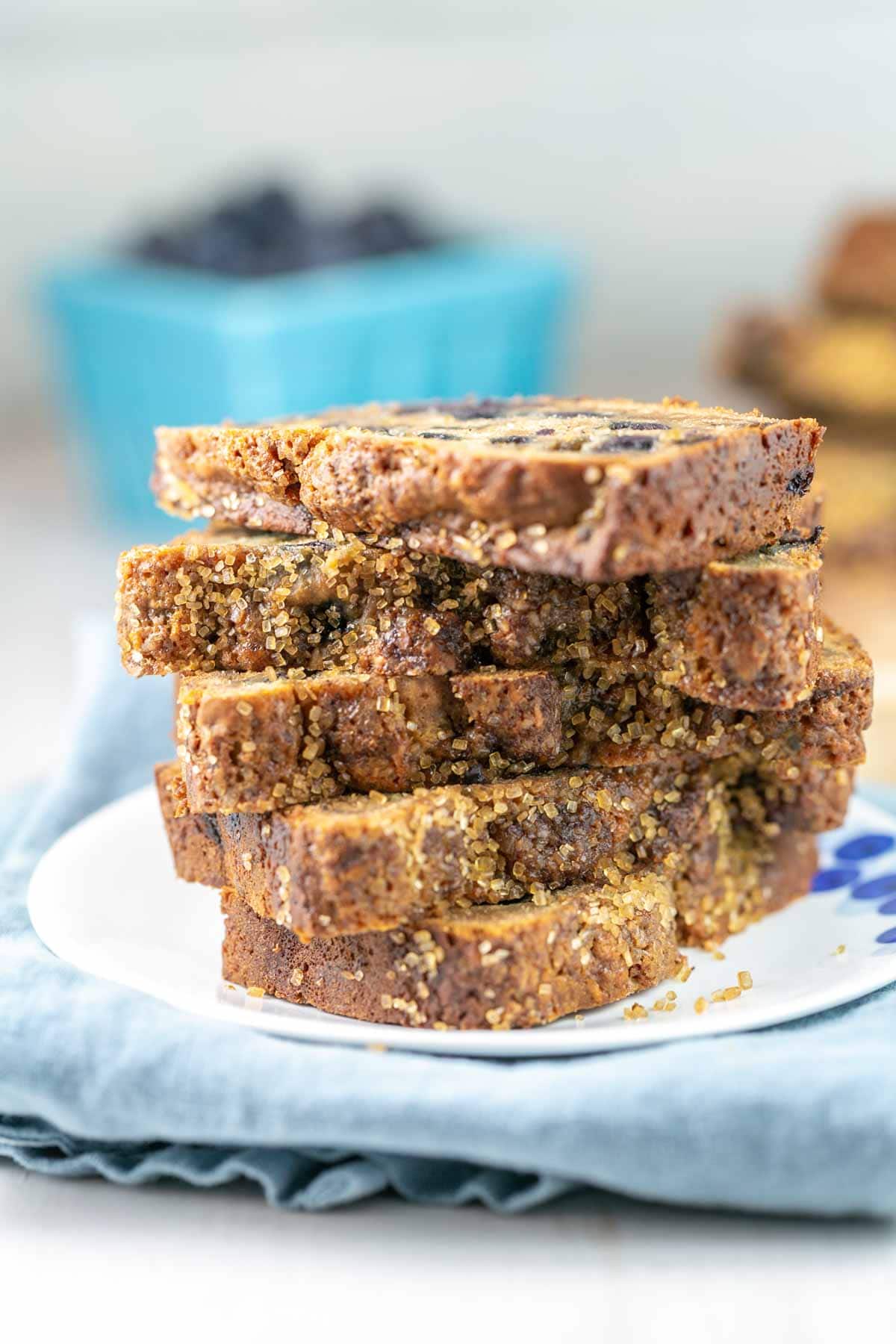 Recommended Tools to Make Blueberry Honey Bread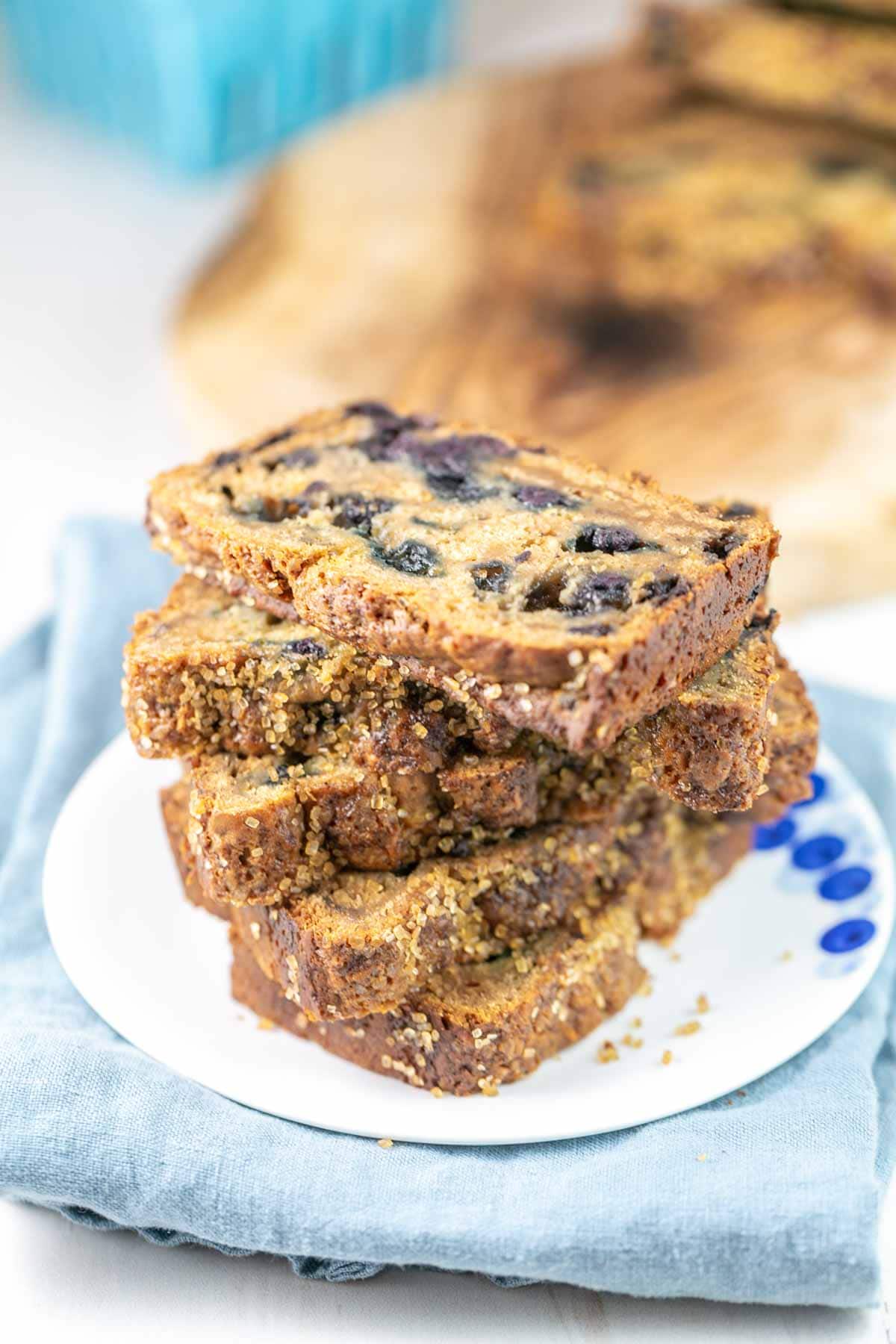 Tips and Tricks for the Best Blueberry Honey Bread
Ensure the butter and eggs are at room temperature. Room-temperature ingredients incorporate into the batter more easily.
Don't over-mix the batter! Mix on low speed until the ingredients are combined and no streaks of flour remain. Gently fold in the blueberries. Overmixing adds more air pockets into the batter, resulting in a tougher and denser end product.
Use either fresh or frozen blueberries. If using frozen blueberries, add them straight from frozen – do not thaw first.
If the top of the bread starts to brown too quickly, tent the loaf pan with foil for the remainder of the baking time.
Use the right size loaf pan. Loaf pans come in a huge range of sizes; this recipe is specifically tested with an 8.5 x 4.5-inch metal loaf pan.
More Quick Bread Recipes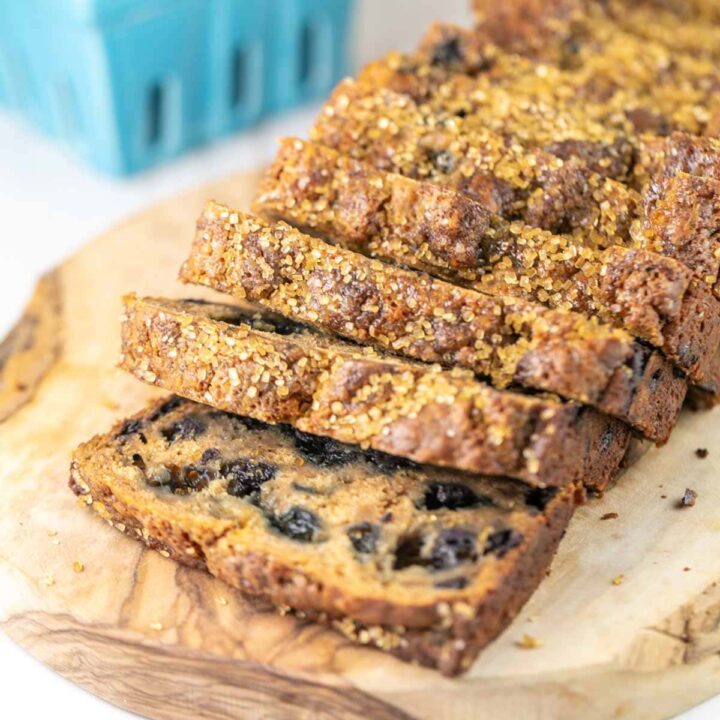 Blueberry Honey Bread
Cook Time:
1 hour
10 minutes
Total Time:
1 hour
20 minutes
This easy-to-make Blueberry Honey Bread is bursting with fresh blueberry flavor and the natural sweetness of honey. 
Ingredients
2 cups (240 grams) all-purpose flour
2 teaspoons baking powder
1 teaspoon baking soda
1 teaspoon salt
4 tablespoons (57 grams) unsalted butter, room temperature and cut into small pieces
1 large egg, room temperature
1 cup (227 grams) sour cream, room temperature
1/2 cup (168 grams) honey
1 teaspoon vanilla extract
1 1/2 cups (230 grams) blueberries, fresh or frozen
2 tablespoons turbinado sugar, optional
Instructions
Preheat the oven to 350°F. Coat an 8.5 x 4.5-inch loaf pan with nonstick spray.
In the bowl of a stand mixer or using a hand mixer, mix together the flour, baking powder, baking soda, and salt. Add in the pieces of room-temperature butter and beat until only small, sandy lumps remain.
In a medium-sized bowl, whisk together the egg and sour cream until well-blended. Add in the honey and vanilla extract.
Add the liquid mixture to the flour and butter, beating on medium speed for 30 seconds to 1 minute, until the ingredients are incorporated. Fold in the blueberries.
Spoon the batter into the prepared pan. If desired, top with turbinado or coarse sparkling sugar, if desired. Bake for 40 minutes, then tent the loaf pan with foil and bake for an additional 30 minutes, until a tester inserted into the loaf comes out with a moist crumb.
Cool in the pan for 10 minutes, then turn out to a wire rack to cool completely before slicing.
Notes
Either fresh or frozen blueberries can be used. If using frozen blueberries, add straight to the batter from frozen and do not thaw first.
The baking time is written for an 8.5 x 4.5-inch loaf pan. If the loaf pan you are using is a different size, adjust the baking time as necessary.
Instead of the turbinado sugar, the cooled bread can be covered with a blueberry or vanilla glaze (see post for more information).
Try toasting a slice of a day or two old blueberry honey bread and eating it warm with butter!
Blueberry honey bread is best within the first 24 hours of baking but can be stored at room temperature for up to 4 days. A loaf can also be wrapped in aluminum foil and stored in an air-tight bag in the freezer for up to 3 months.
Recommended Products
As an Amazon Associate and member of other affiliate programs, I earn from qualifying purchases.