May 11, 2018
Almond Blueberry Breakfast Cake
Almond blueberry breakfast cake is delicious any time of day! A light buttermilk blueberry cake with an almond streusel topping, perfect for breakfast or as a not-so-sweet dessert.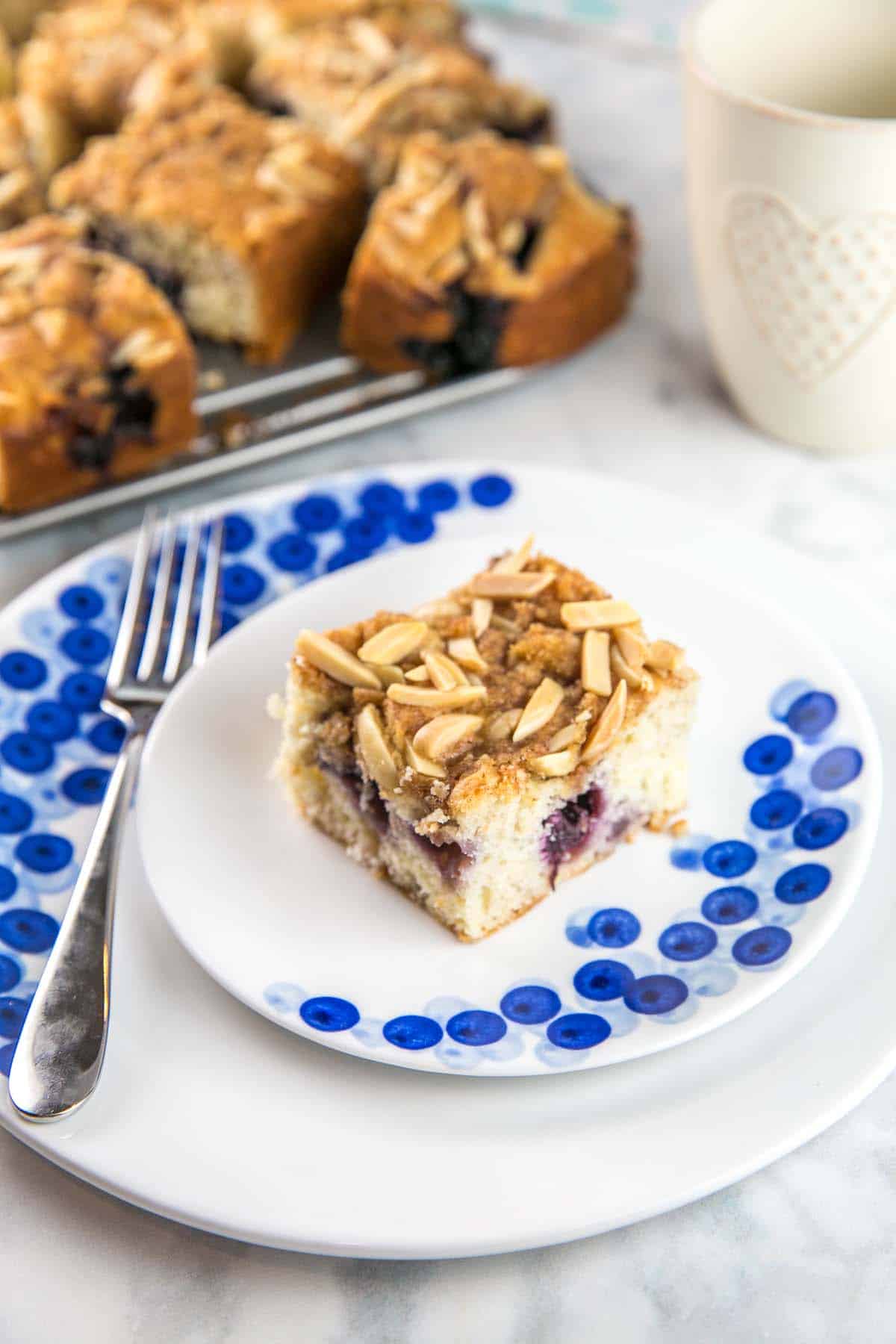 I debated what to call this for a little while.
A coffee cake? This could be a coffee cake because the defining characteristic is a streusel topping, which we have. But I don't even drink coffee.
And if you really want to get technical, a coffee cake is traditionally made with yeast.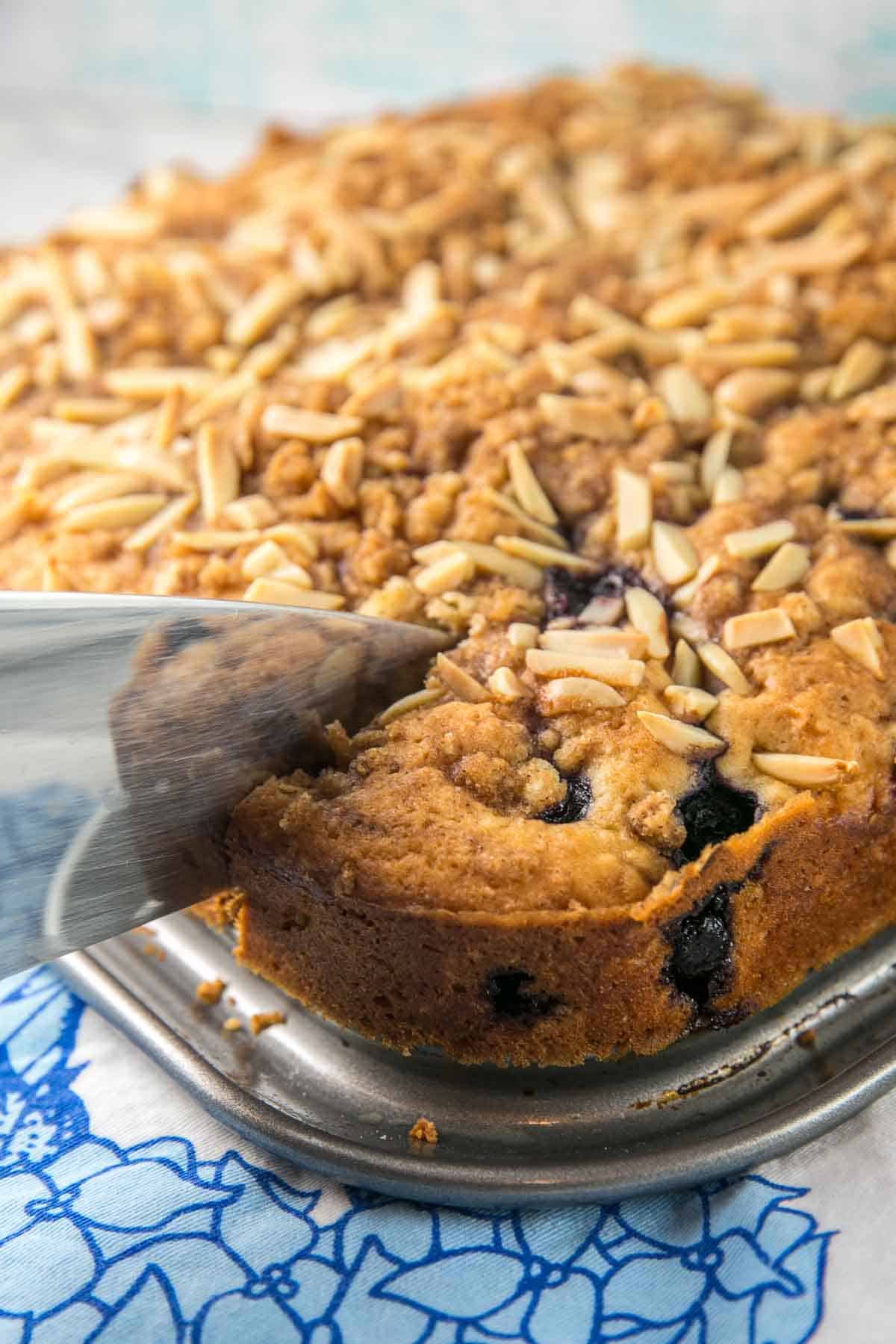 I see the term "snack cake" used a lot for cakes like these. I'm not sure if it's a regional thing, living in Philly, but snack cakes are 100% convenience store-style dessert pastries.
Think Twinkies, Devil Dogs, or here in Philly, it's Tastykake. I can't get on board with a not-as-sweet homemade cake being called a snack cake.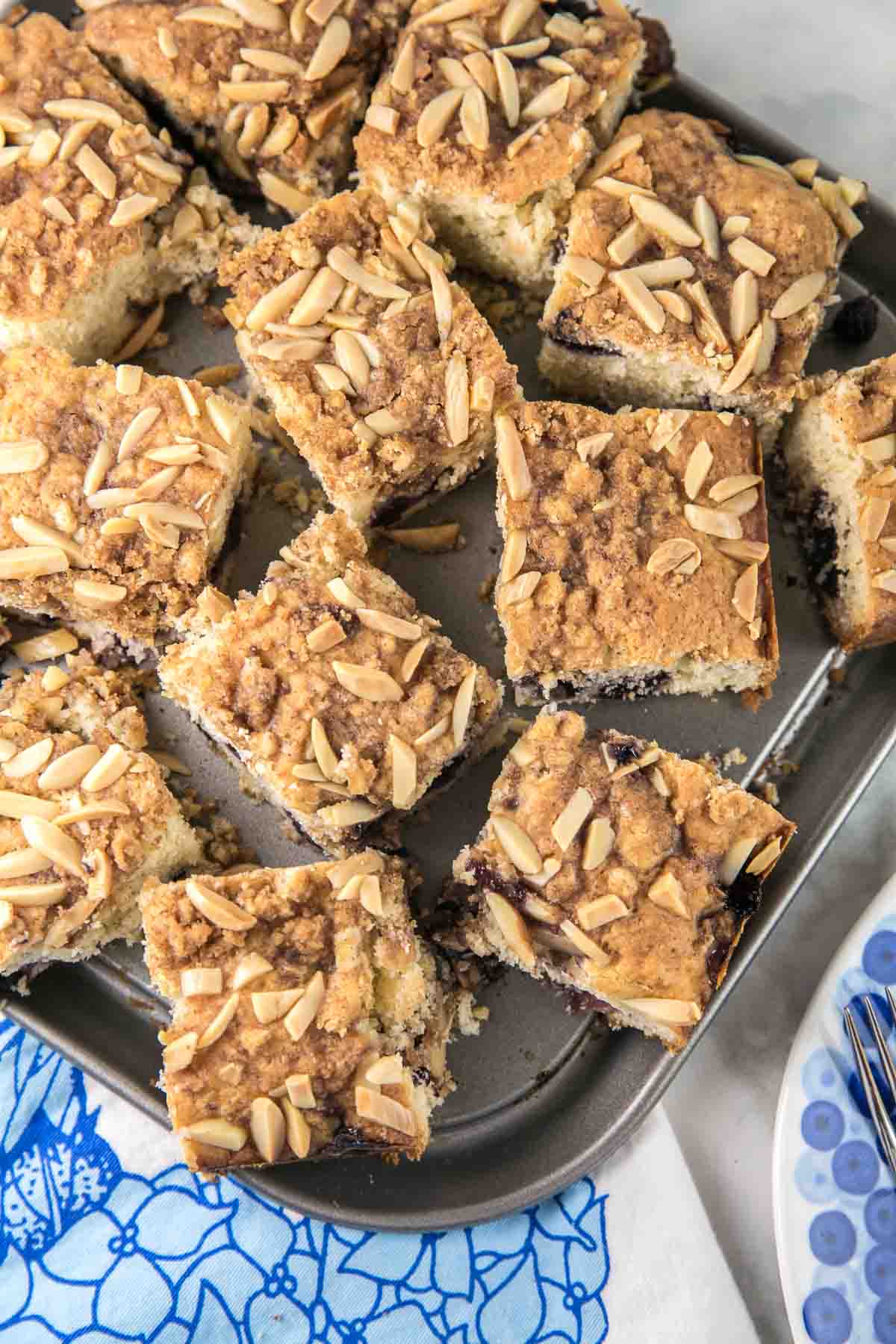 So instead, we're going to go with breakfast cake, because who doesn't like cake for breakfast? I know I sure do, especially when it's an almond blueberry breakfast cake!
What's so great about this almond blueberry breakfast cake: it's simple and quick. It's perfect for a morning brunch, a little something to leave out for overnight guests, or a not-as-sweet dessert alternative.
I made this one to serve after the baby naming ceremony for our daughter, and the leftovers were perfect for brunch with friends the next morning.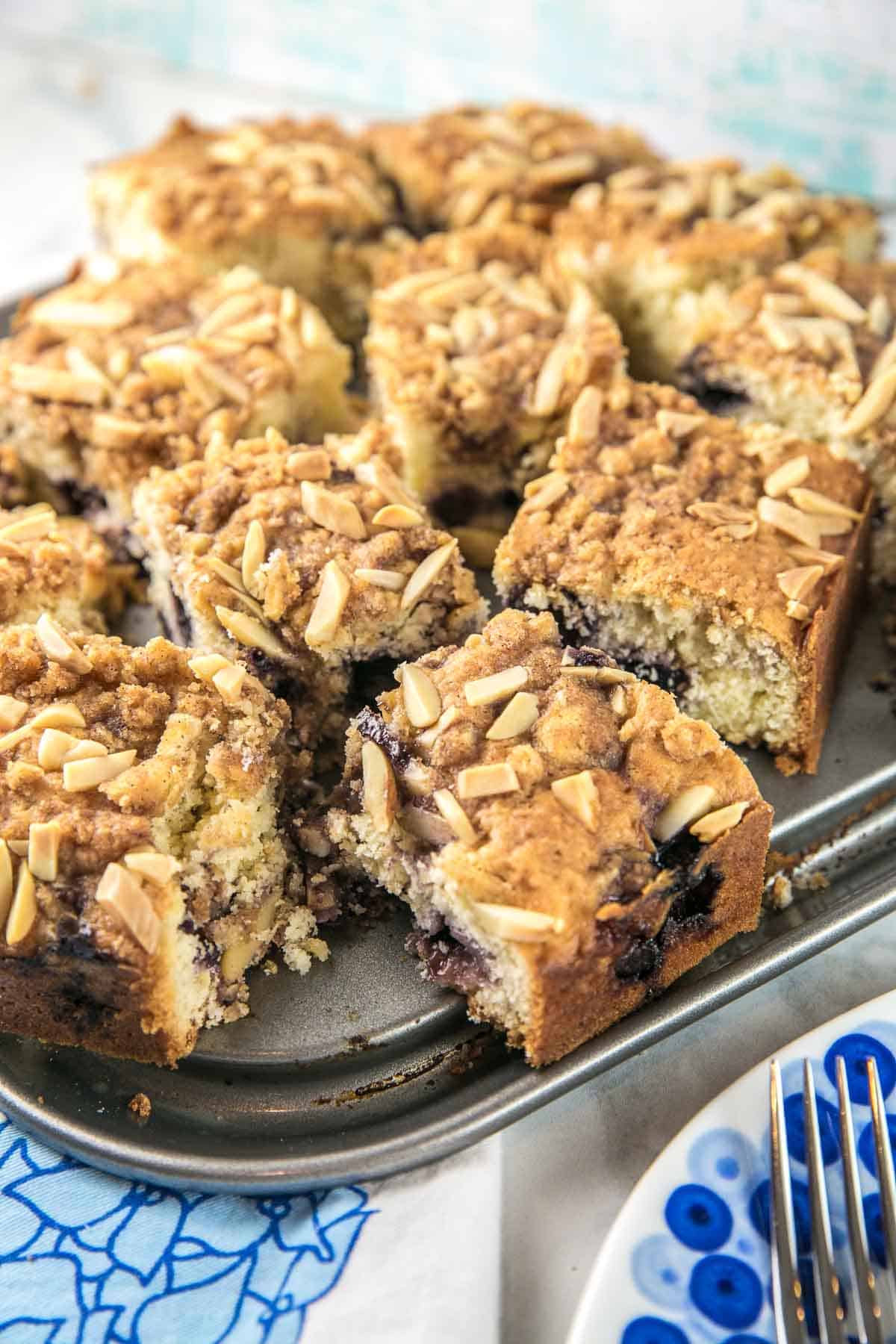 The batter for the cake is made in just one bowl using an electric mixer – the whole thing takes less than 5 minutes. You do need a second bowl for the streusel topping, but again, it mixes together with a fork in just a minute or two.
I like to top mine with slivered almonds; slivered almonds give a bigger crunch than sliced, and I love the texture difference compared to the soft, light cake.
I love simple breakfast cakes like this as a summer dessert, when it's too hot to want something rich and heavy. Plus, it's a great use for fresh summer fruit!
But if fresh blueberries aren't in the cards, this works just as well with frozen. The cake might just take on a purpleish hue as the frozen blueberries start to thaw!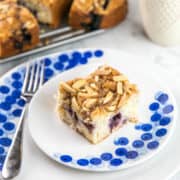 Almond Blueberry Breakfast Cake
A light buttermilk blueberry cake with an almond streusel topping, perfect for breakfast or as a not-so-sweet dessert.
Ingredients:
For the cake:
1/2 cup butter, room temperature
3/4 cup sugar
1 egg, room temperature
1 teaspoon vanilla extract
1 teaspoon almond extract
2 cups all-purpose flour
2 teaspoons baking powder
1 teaspoon salt
2 cups blueberries, patted dry
1/2 cup buttermilk
For the streusel topping:
1/2 cup all-purpose flour
1/2 cup packed brown sugar
1 teaspoon cinnamon
5 tablespoons butter, melted
1/2 cup slivered almonds
Directions:
Preheat the oven to 350 °F.  Grease a 9-inch square baking pan with butter or coat with non-stick spray.
Using an electric mixer, beat together the butter and sugar on medium speed until light and fluffy.  Add the egg, vanilla extract, and almond extract, continuing to beat until combined.  Reduce speed to low and add in half the flour, the baking powder, and salt, mixing just until no streaks of flour remain.  Mix in the buttermilk, followed by the remaining half of the flour, just until combined.  Fold in the blueberries by hand.
Pour the batter into the prepared baking tin, spreading into an even layer with a spatula.
To make the streusel topping, combine the flour, brown sugar, cinnamon, and melted butter in a small bowl, mixing with a fork until the mixture resembles coarse sand.  Sprinkle in an even layer over the batter, followed by the slivered almonds.
Bake for 40 to 50 minutes, until a tester inserted into the center of the cake comes out clean.  Cool in the pan for at least 30 minutes before slicing into 16 squares.
Cake can be made ahead and frozen.  Wrap cooled cake in plastic wrap, followed by a layer of aluminum foil and store in the freezer for up to 3 months.  Bring cake to room temperature overnight.
A Bunsen Burner Bakery Original Protocol