November 20, 2020
Brown Butter Pear Tart with Shortbread Crust
Perfectly ripe baked pears, a soft buttery shortbread crust, and a brown butter custard – add a scoop of ice cream to this Brown Butter Pear Tart for the perfect fall fruit dessert!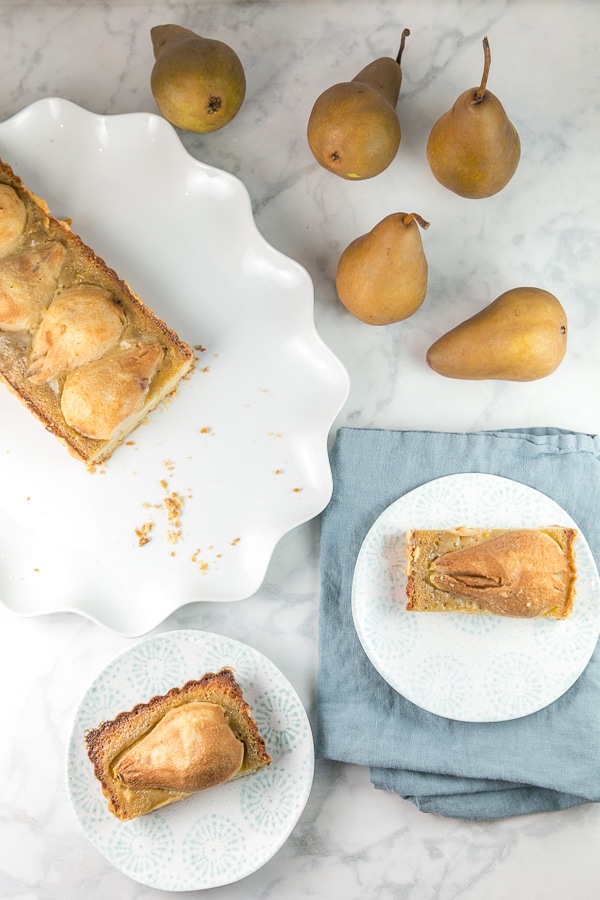 This post may include affiliate links. As an Amazon Associate I earn a fee from qualifying purchases.
Pears are seriously, seriously underrated for fruit desserts, in my opinion.
When fall comes around, it's all apples and pumpkins, but if you're not adding pears into your fall baking, you're really missing out!
This brown butter pear tart combines all the best fall flavors. Buttery soft shortbread crust? Check! Browned butter custard, spiced with a little cinnamon? Check! Perfectly sweet, in-season pears? Check!
The only thing that makes this pear tart even better? A big scoop of oatmeal cookie ice cream on top!
Easy Shortbread Crust
The base of this pear tart is a easy shortbread crust. All you need is butter, flour, and confectioners' sugar!
Combine the ingredients using a mixer (or food processor) and press into your pan.
I love making this in a rectangular tart pan – the pears fit so nicely in a row and the end result is so pretty! But if you prefer to use a round tart pan, this recipe will work in a 9-inch round tart pan.
Blind-bake the crust first. Poke some holes in the dough with a fork (so steam can escape), cover with a sheet of parchment paper or aluminum foil, and fill with pie weights or dried beans.
Use Firm, Ripe Pears
For this pear tart, we're going to half the pears and core them and bake the full halves.
I love the texture of a slightly firmer pear for this — but the key is using a pear variety that stays firm when ripe. Using an under-ripe pear will result in a bland flavor.
Instead, use a pear that stays firmer when ripe and holds its shape after baking — like Bosc or D'Anjou pears. Skip Bartlett pears, which turn very soft and fall apart during baking.
Brown Butter Custard
We have our crust. We have our firm but ripe pears. Next up, we're going to pour a brown butter custard around the pears.
Browning butter is a great way to bring even more flavor to a dish. Since this pear tart is pretty simple: a three-ingredient crust and fresh pears, the brown butter brings a lot of extra flavor.
How does browning butter work? It's time for my favorite subject… kitchen chemistry!
Kitchen Chemistry

Butter contains fat, milk solids, and water.  When we melt the butter, we separate out the fat and milk solids, and the water evaporates.  After the water evaporates, the milk solids will start to toast and brown.  As the butter continues to brown, more complex flavors develop as a result of the Maillard reaction, which is a chemical reaction between an amino acid and a reducing sugar in the presence of heat.
Slowly pour the custard into the prepared tart pan. It will look like there's too much, but it will fit — the custard will fill the hollowed–out core of the pears.
Bake until set and golden. Cool, slice into 6 perfectly portioned pieces, and again, don't forget the ice cream on top!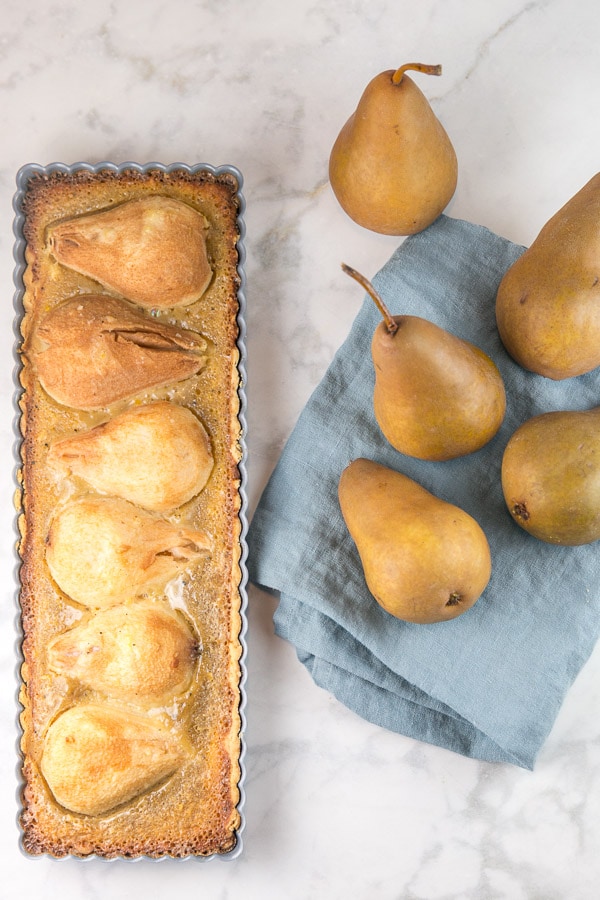 Common Questions about Brown Butter Pear Tart
What kind of pears are best for this tart?
Use firm, ripe pears that will hold their shape during baking, like Bosc or D'Anjou.
Should the pears be peeled first?
Yes, peeling the pears provides a better, smoother texture.
Can the pear tart be made ahead of time?
The shortbread crust can be prepared ahead of time, pressed into the tart dish, and stored in the refrigerator for up to 2 days before par-baking. The rest of the tart is best prepared the same day it will be served.
Can a round tart pan be used instead?
The rectangular tart pan I use is 14 x 4.5 x 1 inches, and has a total volume of 4 cups. A 9-inch round tart pan also has a volume of 4 cups. The recipe can be directly swapped, but the pears may need to be cut to fit in the round tart pan.
How should this pear tart be served?
Let the pear tart cool before slicing. Serve plain, dusted with confectioners' sugar, a dollop of whipped cream, or my favorite: a scoop of ice cream (preferably this oatmeal cookie ice cream!)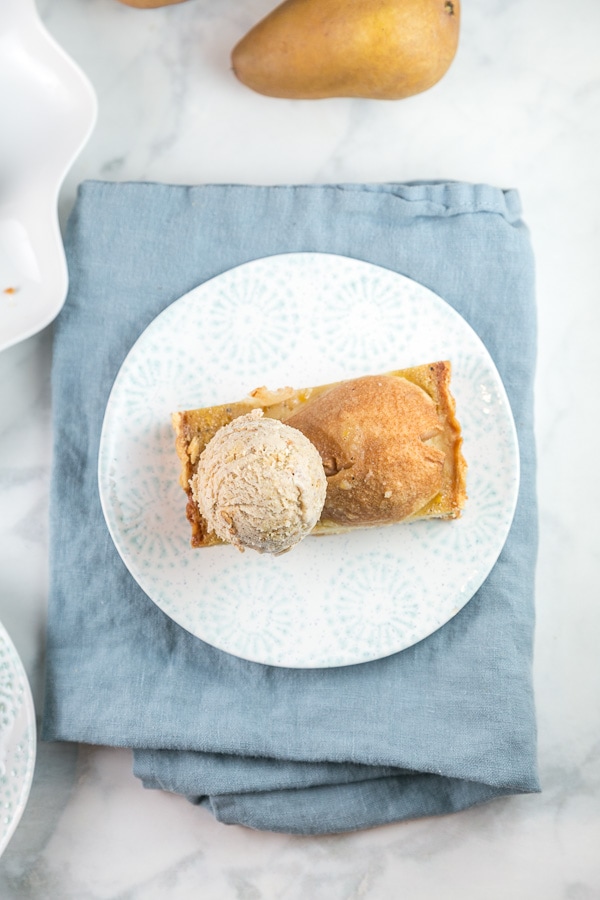 More Fall Dessert Recipes: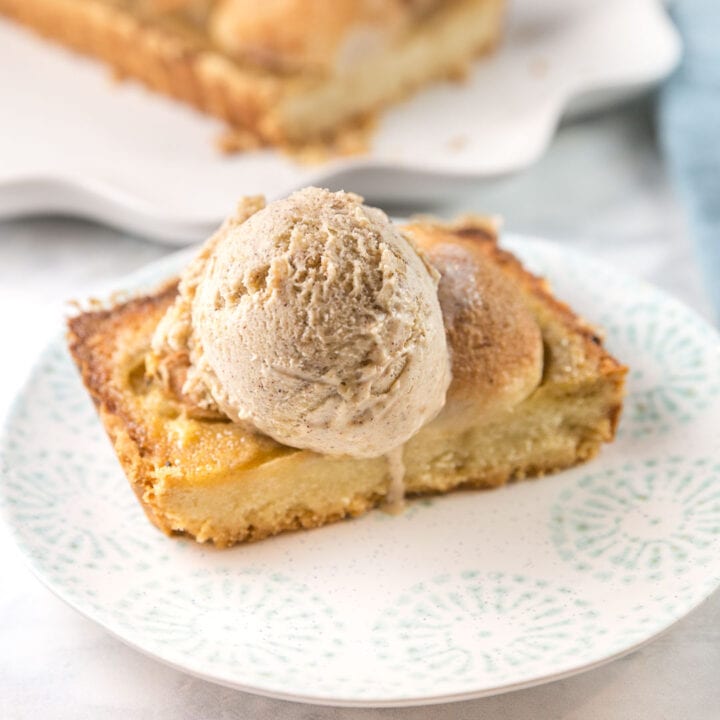 Brown Butter Pear Tart
Total Time:
1 hour
10 minutes
Perfectly ripe baked pears, a soft buttery shortbread crust, and a brown butter custard – add a scoop of ice cream for the perfect fall fruit dessert!
Ingredients
For the crust:
3/4 cup (170 grams) butter, room temperature
1 1/2 cups (180 grams) flour
1/2 cup (57 grams) confectioners' sugar
For the tart filling:
1/4 cup (50 grams) granulated sugar
1 large egg
1/8 cup (15 grams) flour
1 teaspoon vanilla extract
1/8 teaspoon cinnamon
1/8 teaspoon salt
1/4 cup (57 grams) butter
3 pears, peeled, halved, and cored
Instructions
Preheat oven to 350 °F.
Make the shortbread crust. Using a mixer on low speed, beat together the butter, flour, and powdered sugar until combined. Press crust mixture into the bottom of a 14x4.5x1-inch tart pan. Prick the dough several times with a fork. Line the crust with foil and pie weights and bake for 10 minutes, until slightly brown and puffy. Cool completely before filling.
Make the custard filling. To prepare the filling, whisk together the sugar and egg in a small bowl. Add in the flour, vanilla extract, cinnamon, and salt. Set aide.
Head the 1/4 cup butter in a small saucepan over medium heat until dark brown, approximately 5 minutes, stirring occasionally. Pour the butter into the egg mixture, whisking constantly until combined.
Arrange the pears, core-side down, on the cooled tart shell, alternating the direction of the pears. Pour the brown butter mixture around the pears. Pour slowly, allowing time for the custard mixture to fill the cored inside of the pears.
Bake the tart. Bake for 40 minutes, or until set and golden. Remove from the oven and cool on a wire rack before serving.
Notes
Firm, ripe pears that hold their shape while baking, like Bosc or D'anjou, are recommended for this recipe.
A round 9-inch tart pan can be used instead of rectangular, but the pears may need to be quartered to fit in the tart pan.
Top the pear tart with confectioners' sugar, whipped cream, or ice cream before serving.

Leftovers can be stored at room temperature overnight or refrigerated for up to 4 days.
A Bunsen Burner Bakery Original Protocol
Recommended Products
As an Amazon Associate and member of other affiliate programs, I earn from qualifying purchases.
Nutrition Information:
Yield:

6
Serving Size:

1 slice
Amount Per Serving:
Calories:

535
Total Fat:

31.9g
Carbohydrates:

57.3g
Protein:

5.2g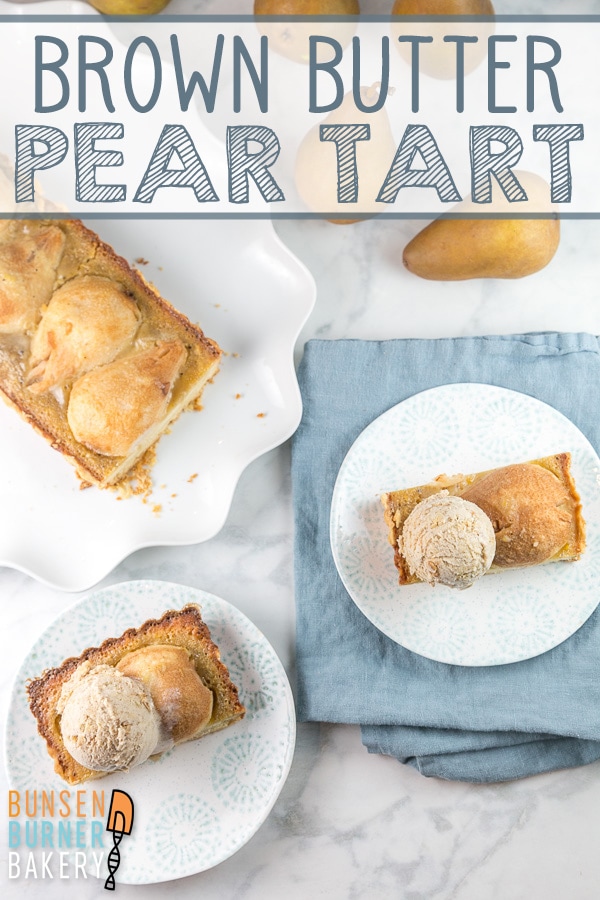 This Brown Butter Pear Tart recipe was originally published on 10/22/2015 and republished with new photos and helpful tips on 11/20/2020.