June 1, 2018
Giant Oatmeal Chocolate Chip Cookie
Whether you call it a cookie cake, cookie pizza, or a Giant Oatmeal Chocolate Chip Cookie, this super easy, crowd-pleasing dessert is a winner! Crispy and firm on the outside and soft and chewy in the center, it's the best of both cookie worlds.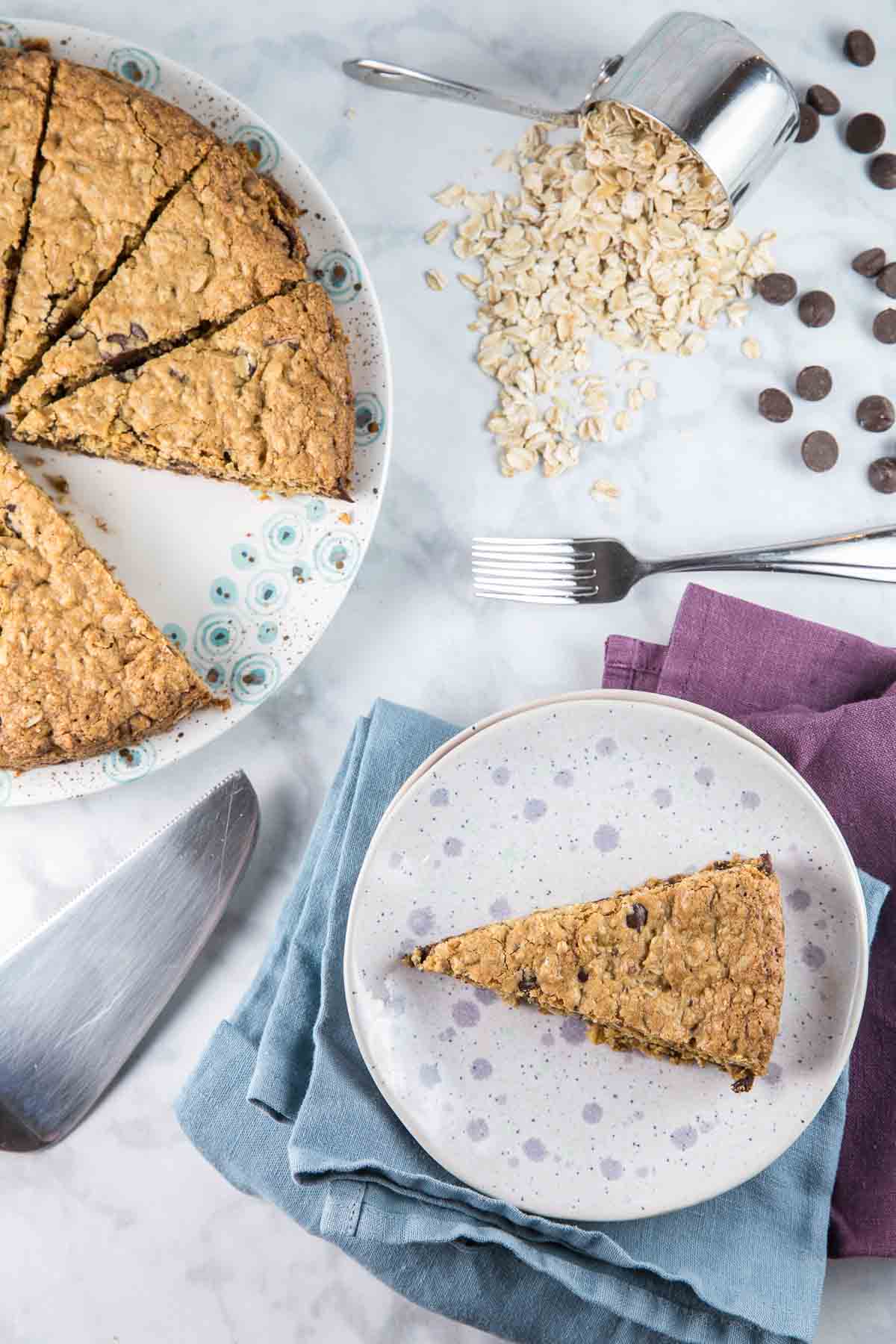 Please note that this recipe is for a giant oatmeal chocolate chip cookie. Not giant oatmeal chocolate chip cookies.
As in, this makes one ginormous oatmeal chocolate chip cookie, perfect to slice and share with a crowd.
Kind of like a cookie cake. Except it's not quite as thick as a cookie cake, and I didn't cover it with frosting. So we're going to go with calling it a giant cookie, instead of cookie cake.
Tomato, tomahto – whatever you want to call it, it's delicious.
One of the reasons I love giant cookies/cookie cakes so much is getting the best of both worlds when it comes to cookie texture.
Crispy? Soft? You can have both at the same time! The outside edge starts to get crispy and firm, while the middle of the cake is soft and chewy.
Also a bonus? It takes waaaay less time to make a giant cookie than lots of normal-sized cookies. And way less time is the name of the game with a newborn at home!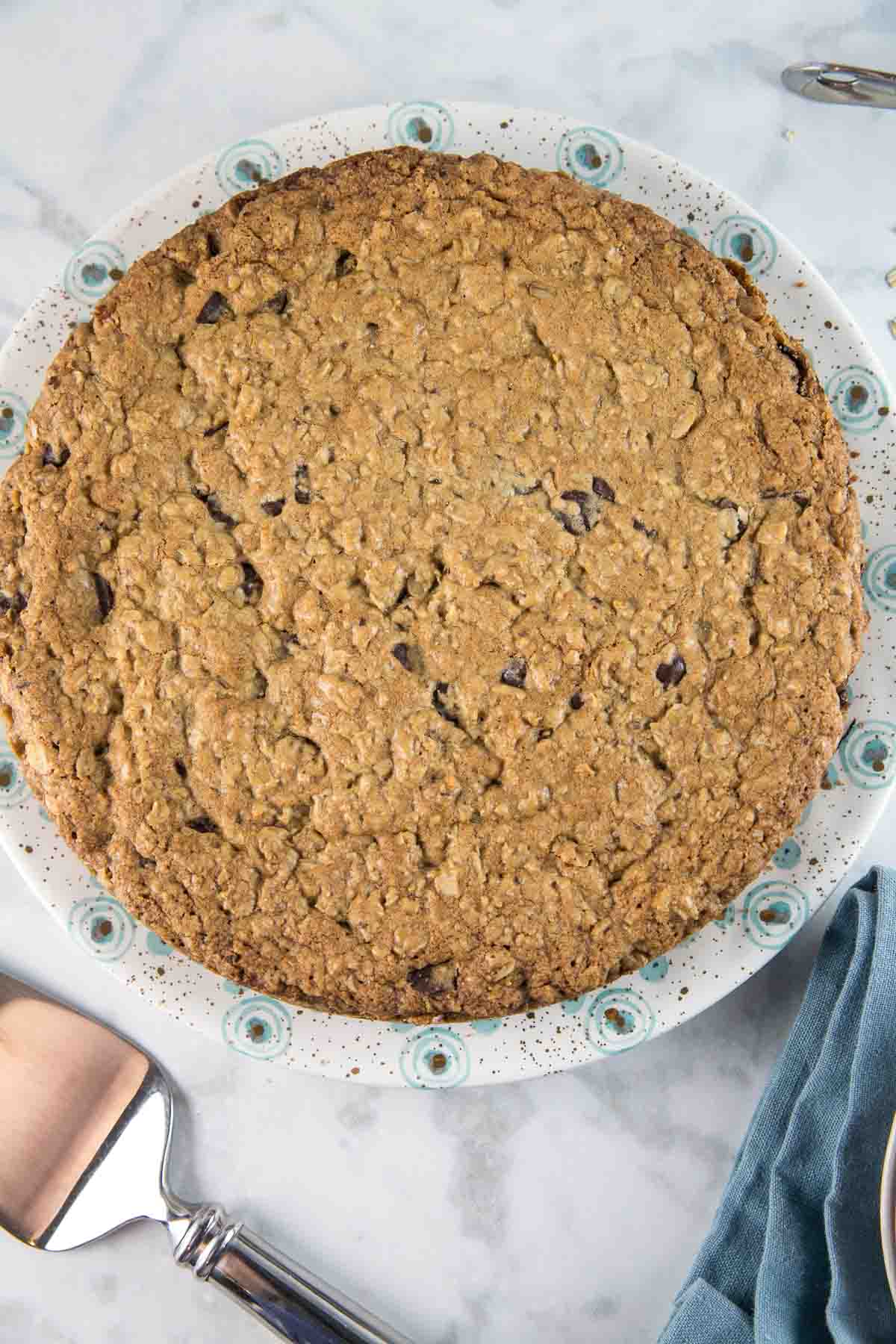 Ingredients and Substitutions
Let's start with the basic ingredients you'll need:
Butter: I always recommend using unsalted butter in baking to control the salt content. However, if you only have salted butter, adjust the added salt accordingly. You'll want to butter to be cool room temperature, approximately 65°F.
Sugar: For the perfect balance of sweetness, use a combination of white sugar and brown sugar. The brown sugar adds moisture and a subtle caramel flavor.
Egg: Eggs act as a binder and provide structure to your cookie. For eggless alternatives, try using flax eggs or applesauce.
Vanilla Extract: A touch of vanilla enhances the overall flavor of your cookie.
Flour: You'll want to use all-purpose flour, or use a 1:1 gluten-free baking mix to kee this giant oatmeal cookie cake gluten-free.
Baking Soda: This is your leavening agent. It helps the cookie rise and spread.
Salt: Just a pinch of salt can intensify the flavors and balance the sweetness.
Oats: Old-fashioned rolled oats give your cookie that irresistible chewiness and hearty texture.
Chocolate Chips: Use your favorite type – semisweet, dark, or milk chocolate. You can also mix in nuts, if you like.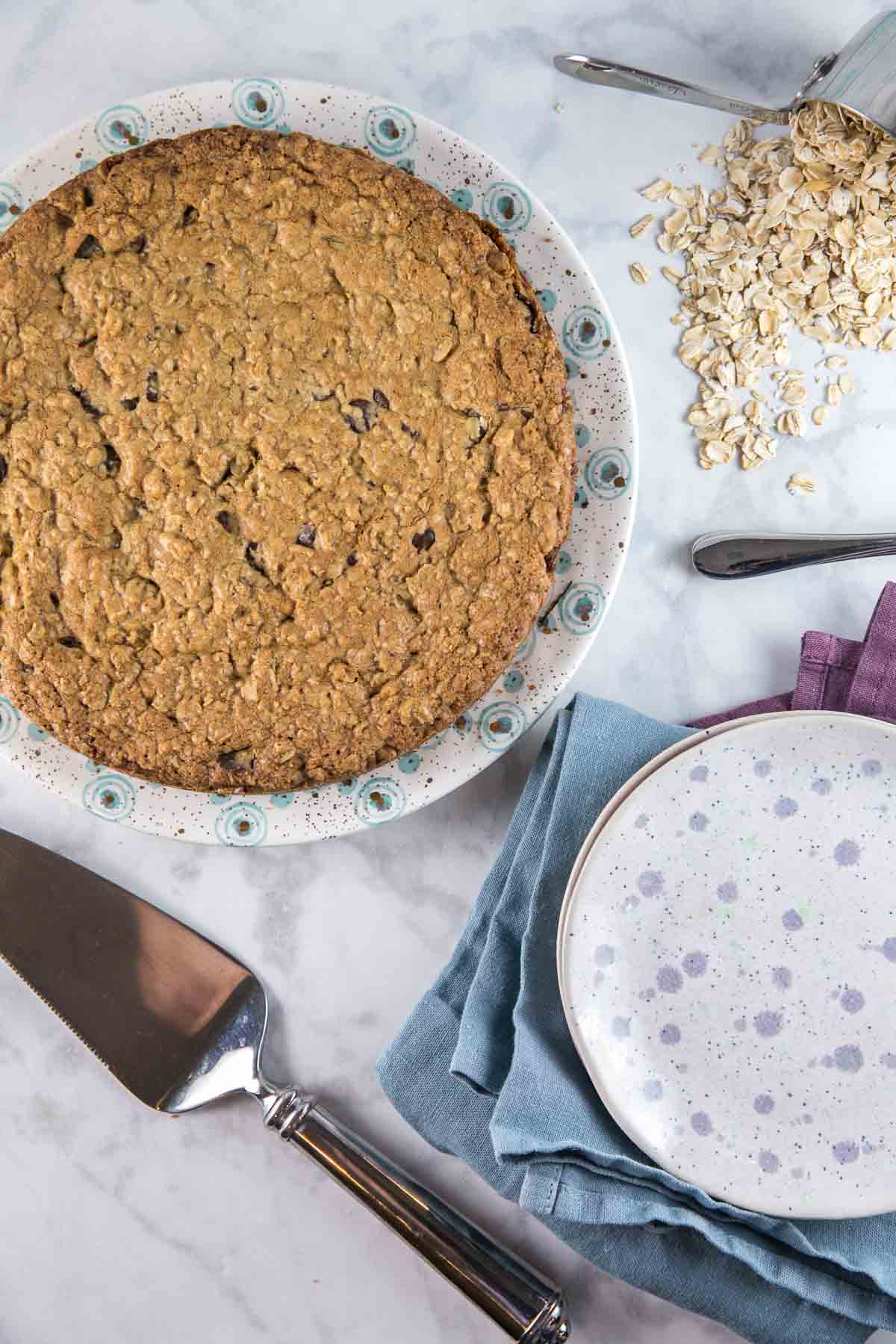 Baking a Giant Cookie
One of the reasons I love giant cookies and cookie cakes so much is because they come together so quickly. No need to chill the dough. No scooping and rolling and waiting for individual trays of cookies to bake. Make the dough, press it into the pan, and bake. That's it!
Crispy outside, soft and chewy inside, and half the time? Win-win!
There are several options for baking a giant cookie. You can bake it in a cast iron skillet or shape the dough and bake it on a pizza stone, but I always like to bake cookie cakes in a springform pan. It makes it so easy to remove the cookie and serve! You can also bake it in a round cake pan or even in a pie plate.
Making this giant cookie is easy, but just be sure to use old-fashioned rolled oats, rather than instant oats or steel cut oats. Why does it matter? It's time for my favorite subject… kitchen chemistry!
Kitchen Chemistry

Old-fashioned oats, also known as rolled oats, provide a chewy and hearty texture to baked goods. Old-fashioned oats maintain their structure in the batter, resulting in the expected visual texture of an oatmeal cookie. Quick-cooking or instant oats, which are more processed, break down in the batter and become mushy, while steel-cut oats are too thick and result in a dry and tough cookie.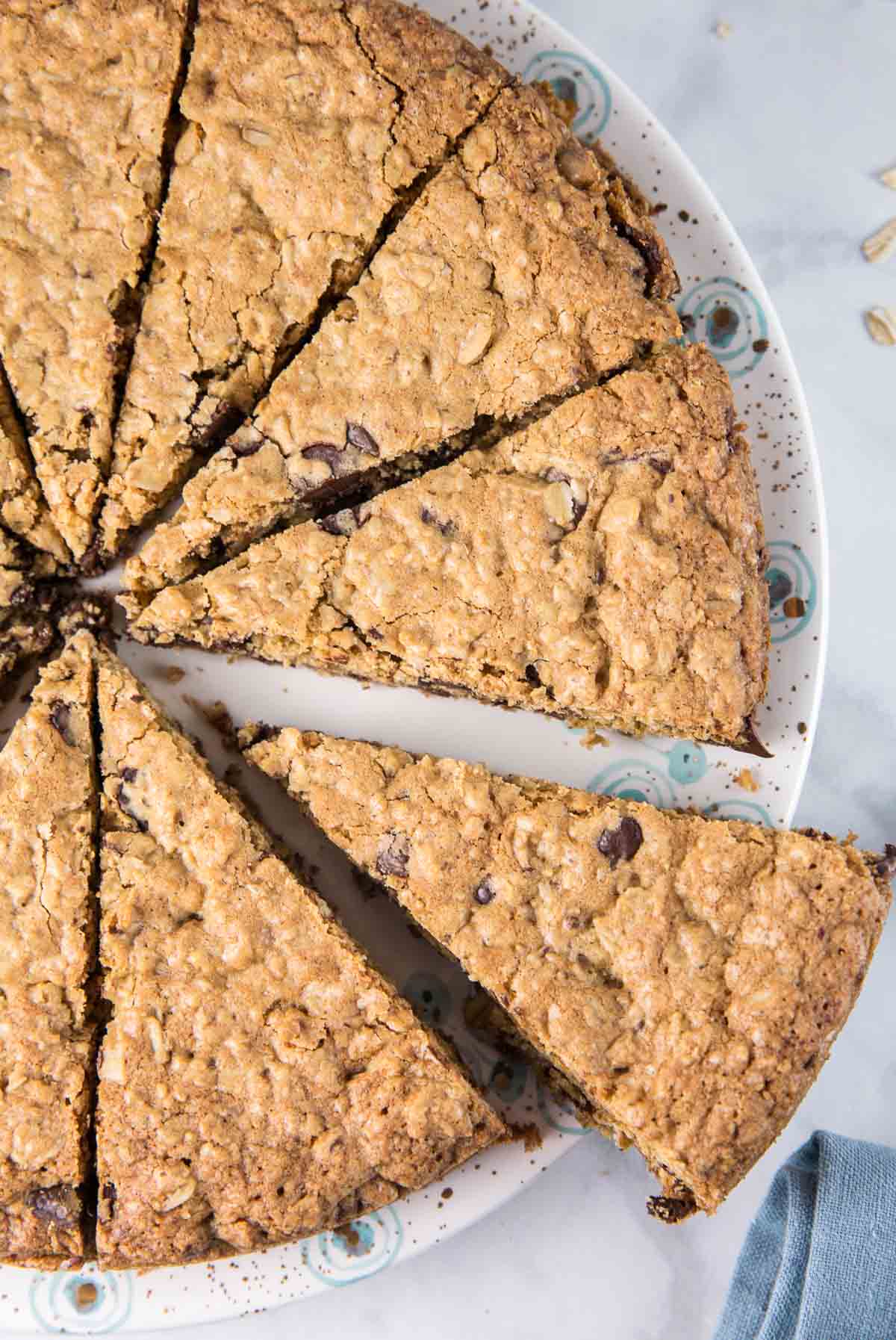 Recommended Tools to Make an Oatmeal Cookie Cake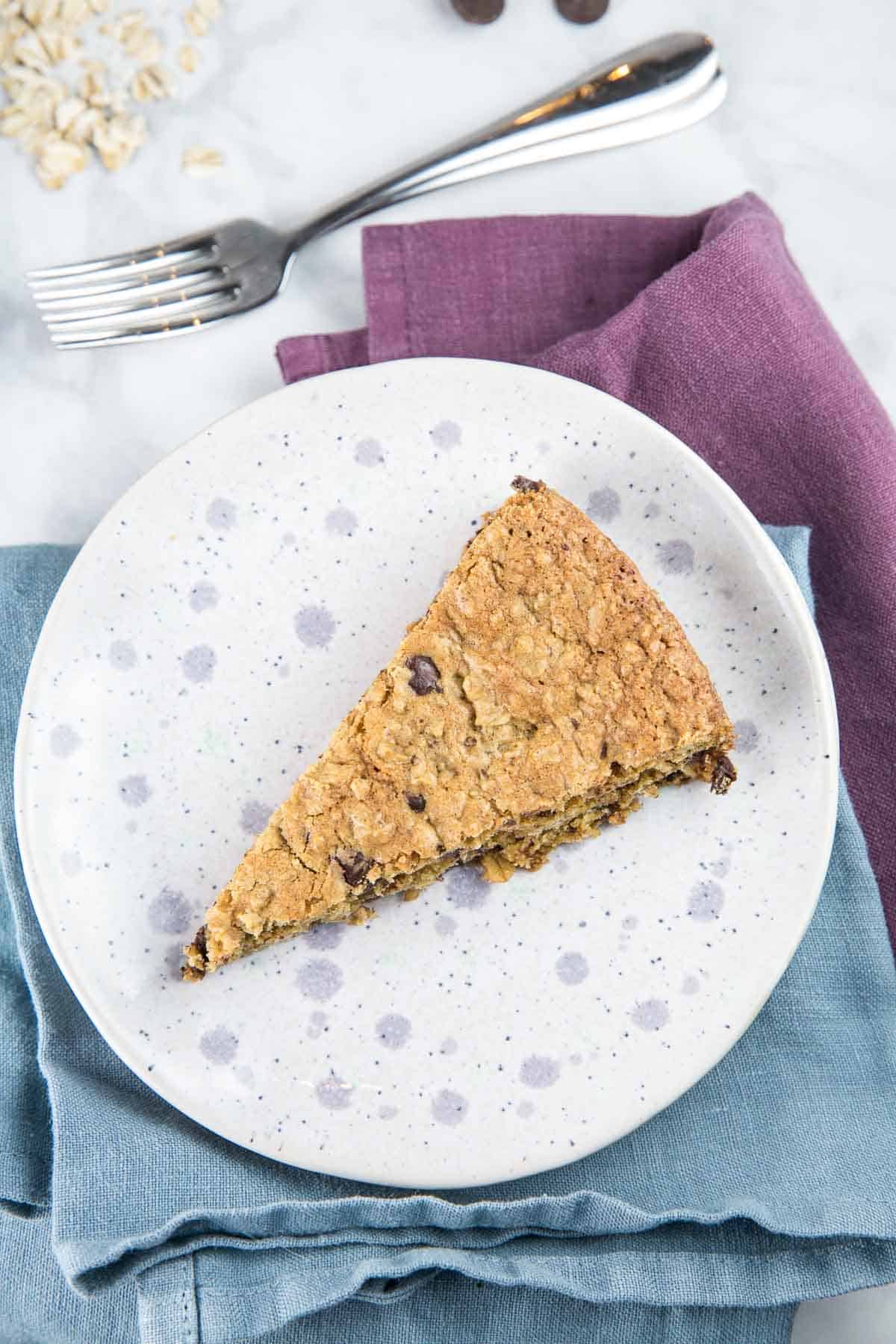 Tips and Tricks for the Best Giant Oatmeal Chocolate Chip Cookie
Flatten the dough into an even layer in the springform pan. This will ensure even baking and the best texture.
Line the baking pan with parchment paper for easy removal and minimal mess.
Keep a close eye on the cookie while it bakes. Look for golden brown edges and a center that is set but still slightly soft. Overbaking can result in a dry, crumbly cookie.
After baking, allow the giant cookie to cool on a wire rack at room temperature. Properly cooling the cookie helps prevent condensation from forming and making the cookie soggy.
Switch up the mix-ins for a completely new flavor! Trade the chocolate chips for chopped nuts, dried fruit, or even a drizzle of homemade salted caramel sauce.
To keep the cookie soft and fresh, store any leftovers in an airtight container at room temperature for up to 5 days or freeze for up to 3 months.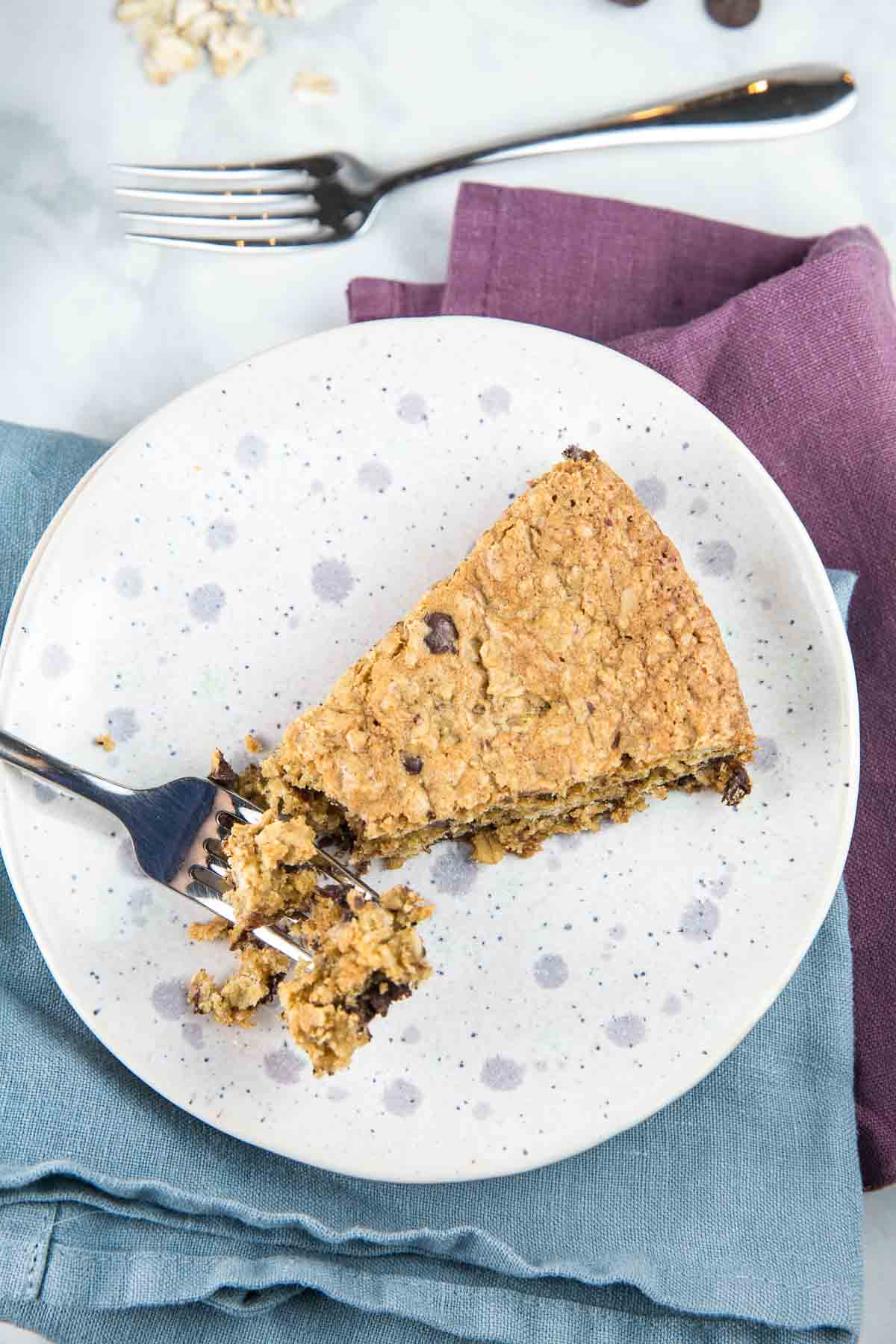 More Cookie Cake Recipes: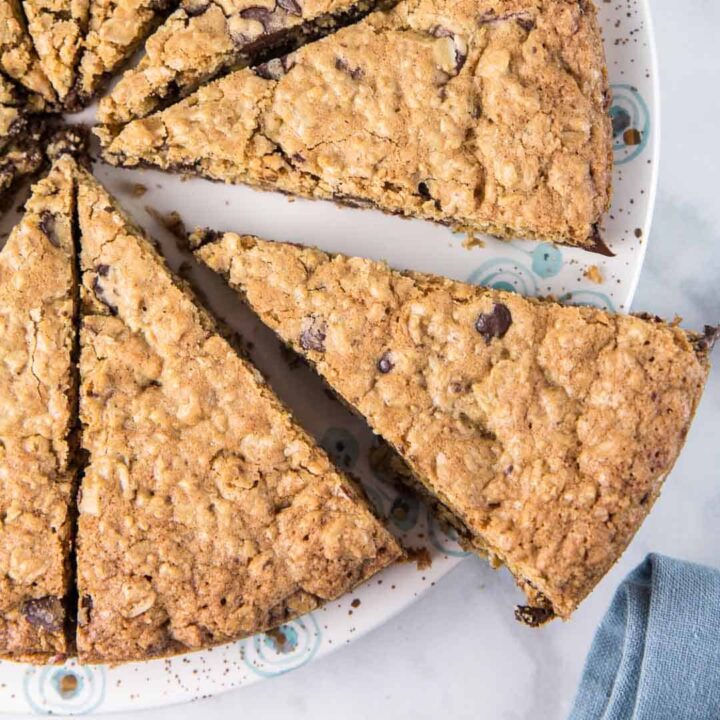 Giant Oatmeal Chocolate Chip Cookie
Whether you call it a cookie cake, cookie pizza, or a giant oatmeal chocolate chip cookie, this super easy, crowd-pleasing dessert is a winner! 
Ingredients
1/2 cup (113 grams) unsalted butter, cool room temperature
1/2 cup (99 grams) granulated sugar
1/2 cup (107 grams) brown sugar
1 large egg, room temperature
1 teaspoon vanilla extract
1 cup (120 grams) all-purpose flour
1/2 teaspoon baking soda
1/2 teaspoon salt
1 1/2 (134 grams) cups old fashioned oats
1 1/2 cup (255 grams) chocolate chips
Instructions
Preheat the oven to 350 °F. Spray a 9-inch springform pan, cake pan, or pie pan with nonstick spray or line the pan with parchment paper.
Using a mixer on medium-low speed, beat together the butter and sugars until light and fluffy, 2 to 3 minutes. Add in the egg and vanilla, continuing to beat until well blended. Slowly mix in the flour, baking soda, and salt, just until no streaks of flour remain. Add in the oatmeal and chocolate chips, mixing until evenly distributed. The resulting dough will be quite thick.
Scrape the dough into the prepared pan and flatten it into an even layer, using your fingers or a grease spatula.
Bake for 28-30 minutes, until the cookie is just set – firm around the edges, but still soft in the center. Cool completely in the pan before slicing.
Notes
This giant oatmeal chocolate chip cookie can be stored in an air tight container at room temperature for up to 5 days or frozen for up to 3 months.
Recommended Products
As an Amazon Associate and member of other affiliate programs, I earn from qualifying purchases.