June 10, 2014
Chocolate Chocolate Chip Muffins
Chocolate for breakfast? Why not! The lines between breakfast and dessert are completely blurred with rich and decadent chocolate chocolate chip muffins.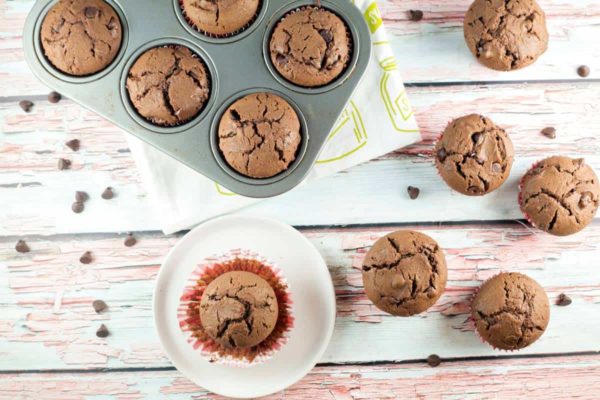 My mother likes to tell a story from her childhood, in which she once tried to take a brownie (or cookie, or some other dessert item) off the counter for breakfast.
Her mother slapped her hand away, lecturing her that you can't have brownies for breakfast – and then handed her a doughnut.
I always think about this story when I eat (or bake) a muffin.
The muffin and cupcake difference strikes me as equally irrational: where is the dividing line between something appropriate for breakfast, and something deemed strictly a dessert?
Is it simply the presence of frosting that takes escalates a muffin into the cupcake category? Is there a difference if it's a blueberry muffin or a chocolate chocolate chip muffin, even if there's the same amount of sugar?
If you ask me, anything which starts with "chocolate chocolate chip" is 100% dessert, even if it does have a much lower sugar content than most cupcakes, but the rest of society tends to disagree.
And so, I present to you: Chocolate Chocolate Chip Muffins, breakfast of champions.
A deep, dark, rich chocolate muffin with a tender crumb thanks to the buttermilk. Sprinkle in some chocolate chips, because if the decision is chocolate or even more chocolate, I'm pretty sure most of you would vote for the even more chocolate.
How to Bake Chocolate Chocolate Chip Muffins
The ingredient list here is pretty simple. We've got all our major muffin components: butter, flour, sugar, baking powder, eggs.
Because these are chocolate muffins, we have some chocolate, of course. And chocolate chips, since these are chocolate chocolate chip muffins.
For the liquid component, we're going to use buttermilk. Why buttermilk? It's time for my favorite subject… some kitchen chemistry!
Kitchen Chemistry

Buttermilk is like magic when it comes to baking! The acidity in buttermilk breaks down tough strands of gluten, making these muffins more moist and more tender than using regular milk. So can you swap out buttermilk for regular milk? Sure – you'll still get some tasty chocolate muffins in the end – but they won't be as soft and tender. Plus, that characteristic tang pairs so well with rich chocolate!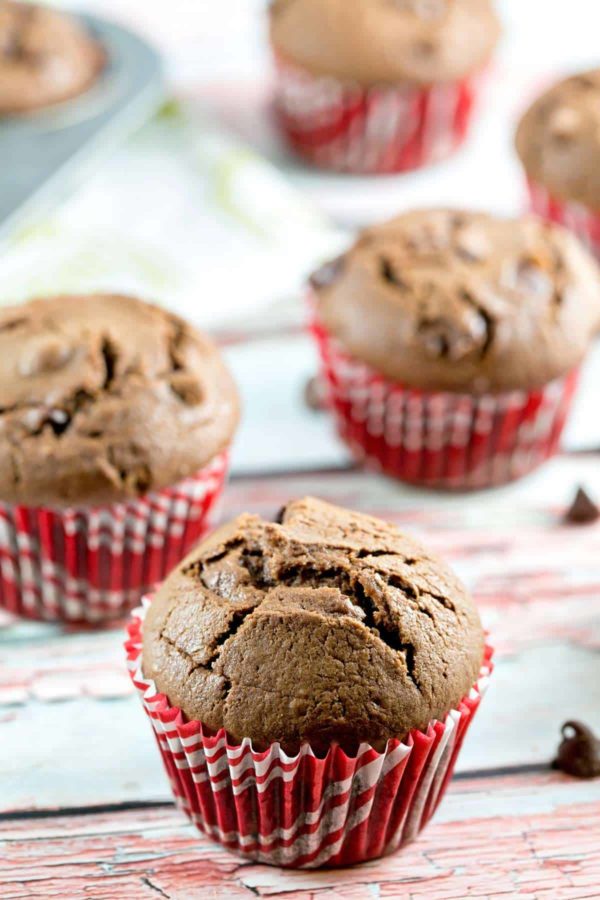 How to Store Chocolate Chocolate Chip Muffins
Don't need a dozen muffins all at once? (But really, I think if you try hard enough, you can figure out how to use them all up in a few days. You can do it!)
The muffins will last in an air tight container at room temperature for up to a week. Seal them in a bag or in some plastic storage containers and enjoy one each morning (evening?) for the next several days.
Still can't get through a dozen? These muffins freeze beautifully. Bake, cool, and store extra muffins in a zippered freezer bag for up to 3 months. Thaw overnight at room temperature, or defrost in the microwave to enjoy.
Breakfast? Dessert? Mid-afternoon snack? Yes, yes, and yes.
More Chocolate-for-Breakfast Recipes:
Chocolate Chocolate Chip Muffins
Chocolate for breakfast? Why not! The lines between breakfast and dessert are completely blurred with rich and decadent chocolate chocolate chip muffins.
Ingredients
5 ounces dark chocolate, chopped
1/2 cup butter
2 cups all-purpose flour
1/2 cup brown sugar
2 teaspoons baking powder
3/4 teaspoon salt
2 eggs
2/3 cup buttermilk
1 tablespoon vanilla extract
1 cup semisweet chocolate chips
Instructions
Preheat oven to 350F. Line a 12-cup muffin tin with paper lines.
Melt together the butter and chopped dark chocolate in a microwave-safe bowl. Heat in 30-second intervals, stirring between each. Once smooth, set aside to cool.
In a large bowl, whisk together the flour, sugar, baking powder, and salt. Add the eggs, buttermilk, and vanilla to the dry ingredients. Whisk ingredients together until almost smooth. Stir in the melt chocolate and butter until evenly incorporated, followed by the chocolate chips.
Bake for 18-20 minutes, or until a tester comes out clean.
Cool muffins on a wire rack before serving or storing in an airtight container.
Recommended Products
As an Amazon Associate and member of other affiliate programs, I earn from qualifying purchases.
Nutrition Information:
Yield:

12
Serving Size:

1 muffin
Amount Per Serving:
Calories:

328
Total Fat:

17g
Carbohydrates:

41g
Protein:

5g