July 23, 2015
Sweet & Spicy Chicken Skewers
Chicken and peppers marinated with honey, lime, and sriracha and grilled to perfection. Sweet and spicy chicken skewers for dinner in just 20 minutes!
It's summer, which means several evenings a week you'll find me standing in front of our grill. I've been on a big kebob/skewer kick recently, because they're just so easy.
Protein, veggies, and some kind of sauce, all strung and grilled together. No flipping each individual piece of pepper or multiple chicken parts.
These chicken skewers bring together the perfect amount of sweetness (honey), spicy (sriracha), and sour (lime) as a marinade for chicken thighs.
You could use chicken breasts as well, but dark meat is much more flavorful and doesn't dry out when grilled.
Add in some colorful bell peppers for a little extra crunch, sprinkle with some scallions, and a perfect quick, easy, summer dinner is ready.
Make Ahead Chicken Skewers
One of the best parts about these sweet and spicy chicken skewers is that you can do much of the work ahead of time. Toss together a marinade the night before and chop the vegetables.
Then all you have to do when you get home from work is fire up the grill, thread the chicken skewers, and by the time that's done, the grill is hot enough to start. 10 – 15 minutes of cooking time and you're done.
Sweet and spicy chicken skewers are served! It really doesn't get any easier, and especially now that I'm juggling working and parenthood, I'm looking for things that minimize my time in the kitchen and maximize time spent with my baby boy.
No Grill? No Problem!
While these skewers are best on the grill, it's just as easy to make them in the oven. After all, not everyone has a grill… or it's not always grilling weather. Want to make them in the dead of winter? Now you can!
I like to broil chicken skewers as an alternative to grilling. To broil, thread the skewers and place the skewers on a wire baking rack (like a cookie cooling rack) on top of a foil-lined baking sheet.
Turn the oven broiler to high with a rack positioned ~6 inches below the broiler. Broil for 10-12 minutes, flipping halfway through cooking, until the thickest part of the chicken registers 160 °F.
Tips and Tricks for the Best Sweet & Spicy Chicken Skewers
Cut chicken into similar-size pieces to ensure even cooking.
Marinade chicken for at least 4 hours, or up to overnight, for the best flavor.
Bring chicken back to room temperature before grilling.
Instead of grilling, skewers can be broiled in the oven.
Serving Suggestions with Sweet and Spicy Chicken Skewers: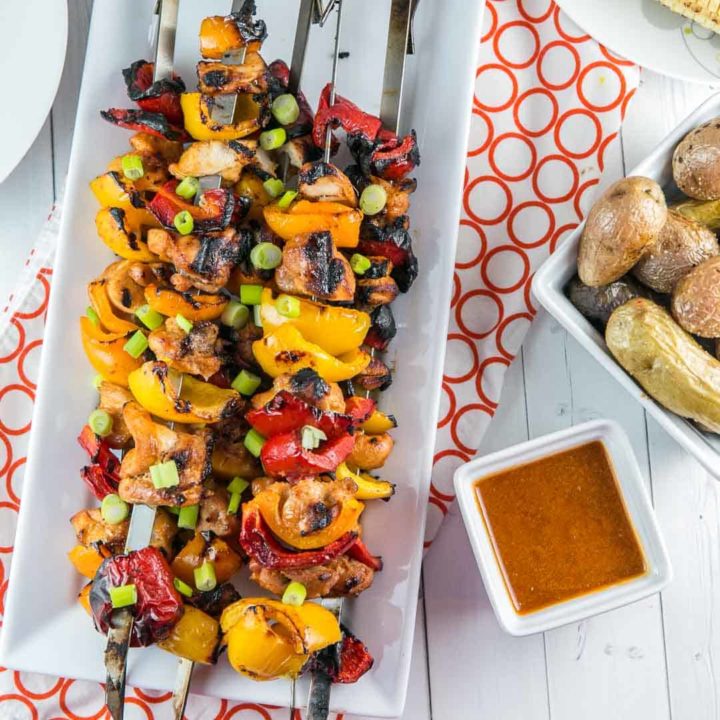 Sweet & Spicy Chicken Skewers
Total Time:
4 hours
20 minutes
Chicken and peppers marinated with honey, lime, and sriracha and grilled to perfection.  Sweet and spicy chicken skewers for dinner in just 20 minutes!
Ingredients
3 tablespoons soy sauce
1/4 cup honey
1 tablespoon vegetable oil
zest and juice of 1 large lime
4 garlic cloves
1 1/2-inch piece of ginger, peeled
3 tablespoons Sriracha
1 teaspoon salt
2 1/2 pounds boneless, skinless chicken thighs, trimmed and cut into 2-inch chunks
3 bell peppers, assorted colors, cut into 2-inch pieces
1 scallion, chopped
Instructions
In a food processor or blender, combine the soy sauce, honey, oil, lime zest, lime juice, garlic, ginger, Sriracha, and salt. Process until completely smooth. Pour 1/2 cup of this marinade into a small bowl; cover and refrigerate until ready to serve.
Combine the chicken and remaining marinade in a bowl and cover tightly with saran wrap. Refrigerate overnight.
Preheat the grill to medium-high heat and grease the grill with an oiled paper towel.
Remove the chicken from the marinade and thread onto skewers, alternating with pieces of pepper. Brush some of the marinade remaining from overnight soak over the skewers, coating the peppers.
Grill the skewers, covered, until golden brown and cooked through, turning skewers occasionally, for 10 to 15 minutes of total grilling time. Transfer the skewers to a platter. Warm the reserved marinade pulled aside in a separate bowl in the microwave or on the stovetop and brush overtop of the skewers. Scatter the chopped scallions overtop and serve.
Notes
Skewers can be made in the oven using the broiler. Place the skewers on a baking sheet and broil under high heat for 10-12 minutes, flipping halfway through, until the center of the chicken reaches 165 °F.
Recommended Products
As an Amazon Associate and member of other affiliate programs, I earn from qualifying purchases.
Nutrition Information:
Yield:

6
Serving Size:

1 skewer
Amount Per Serving:
Calories:

322
Total Fat:

10.2g
Carbohydrates:

17.7g
Protein:

39.2g