August 7, 2018
S'mores Pie
Bring the campfire inside with this S'mores Pie! A crispy graham cracker crust, a thick layer of milk chocolate filling, and toasted marshmallows taste just like the childhood favorite.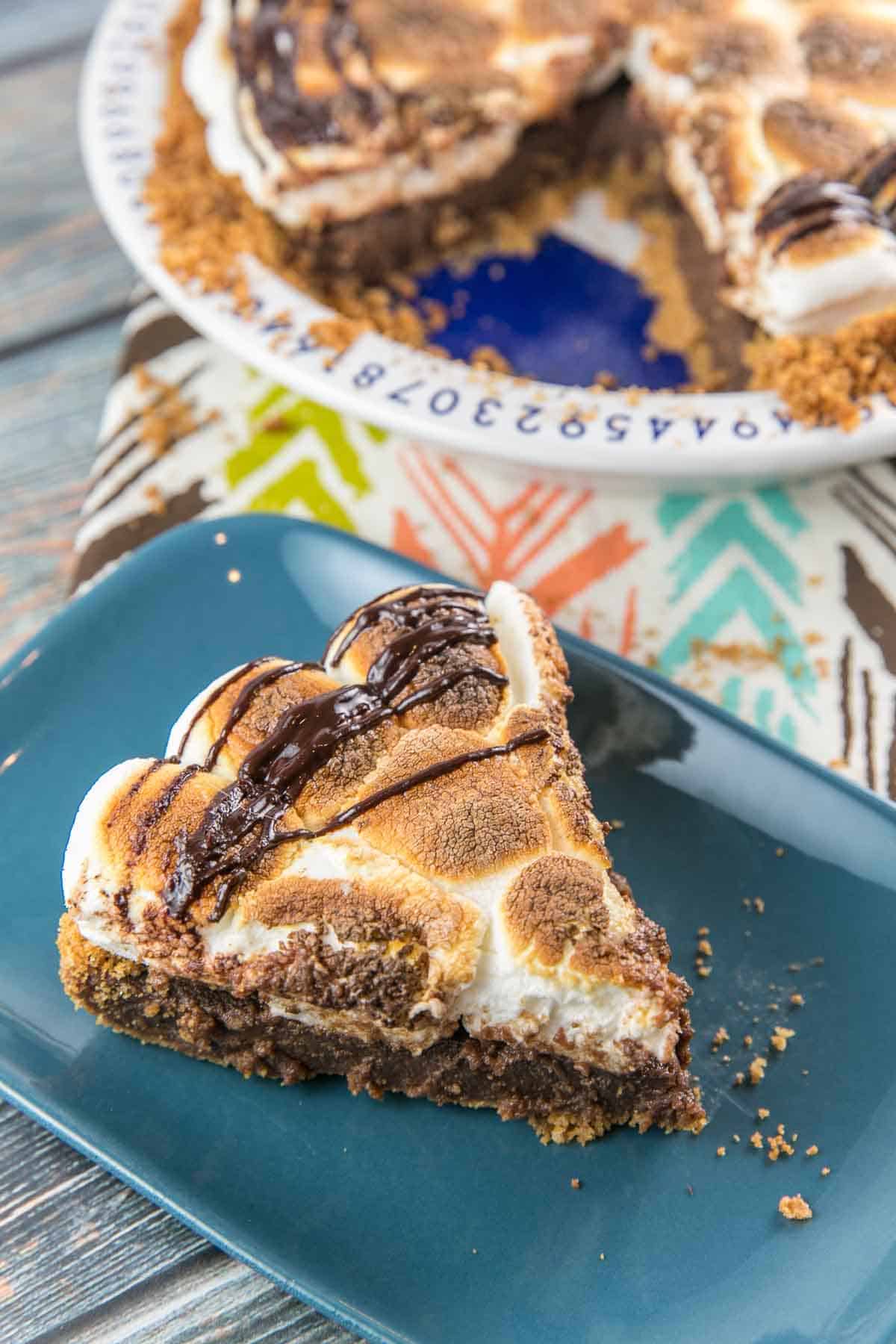 August 10th is National S'mores Day.  Last year, we celebrated with this s'mores bundt cake – which was almost an epic last minute fail in an attempt to get the post ready.  This year, I planned ahead.  Way ahead.
I planned out all my "pie of the month" pies for the year in January, and knew I wanted to make a s'mores pie for August.  And then I went ahead and made it for a little 4th of July celebration and saved it to share this month.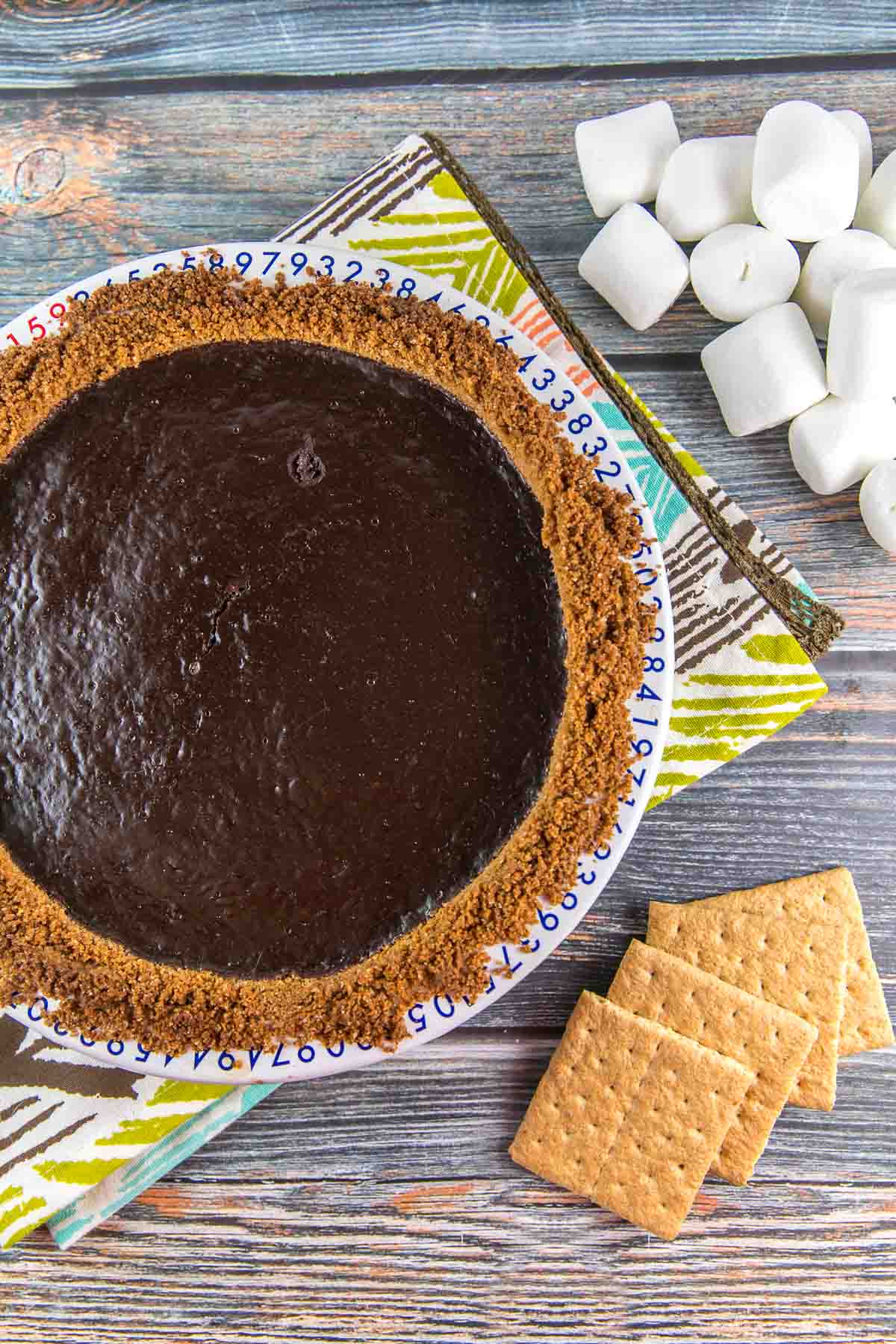 I'm hitting publish on this a few days early, because maybe you want to make this in time to celebrate.  It's the perfect quick and easy dessert!  It only calls for 8 ingredients, many of which you probably already have on hand: butter, eggs, sugar, vanilla extract, graham crackers, milk (or semisweet) chocolate, heavy cream, and marshmallows.
Start-to-finish, it takes 40 minutes to make.  So basically: you have plenty of time to gather ingredients and make this for National S'mores Day!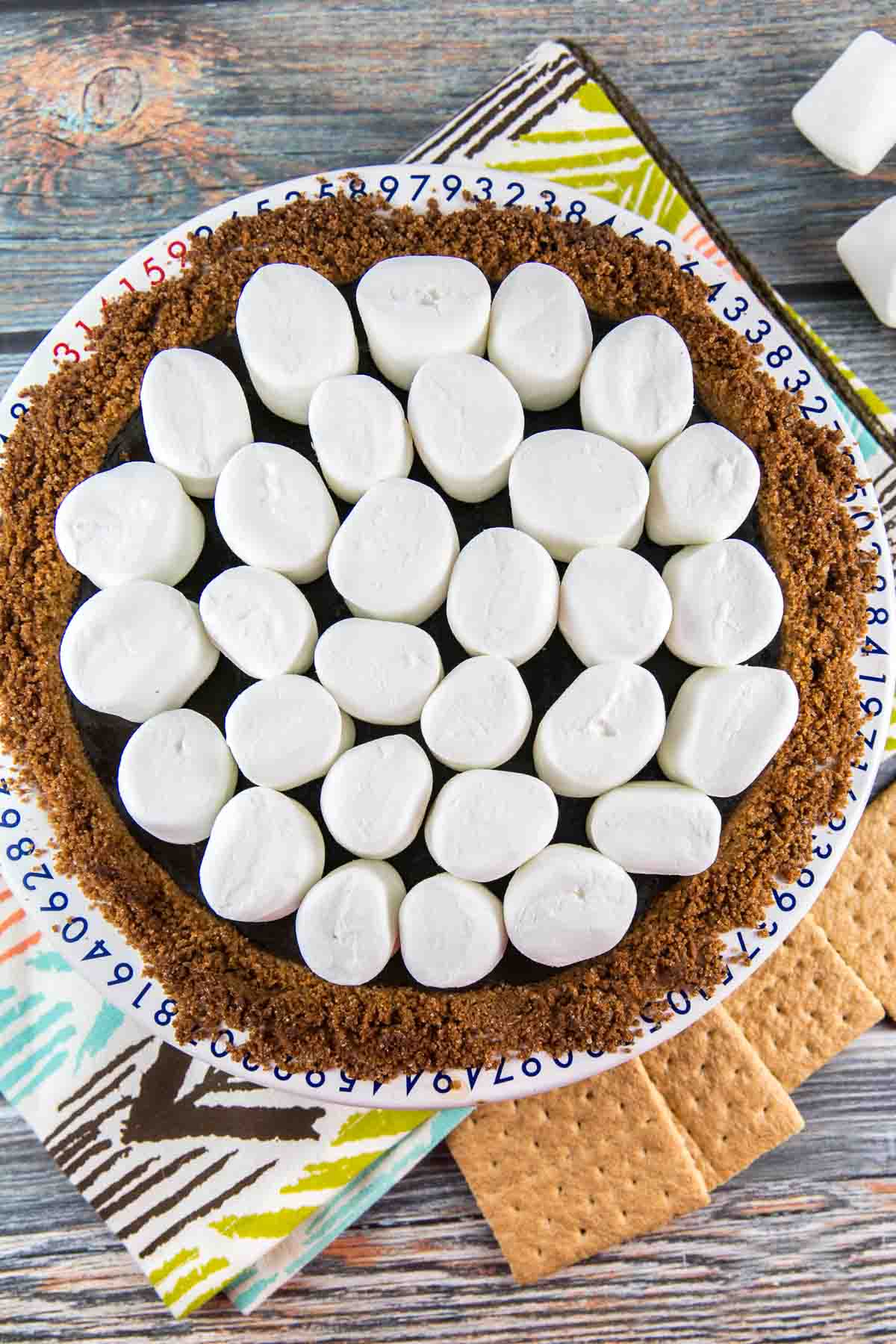 (Yes, food holidays are getting out of control.  Yes, it's silly and kind of stupid.  BUT S'MORES ARE THE BEST so just roll with it.)
I've waxed poetic on my love of s'mores last month with these gooey s'mores bars, so I don't need to rehash my childhood nostalgia again.  So instead, let's just jump on in to this s'mores pie.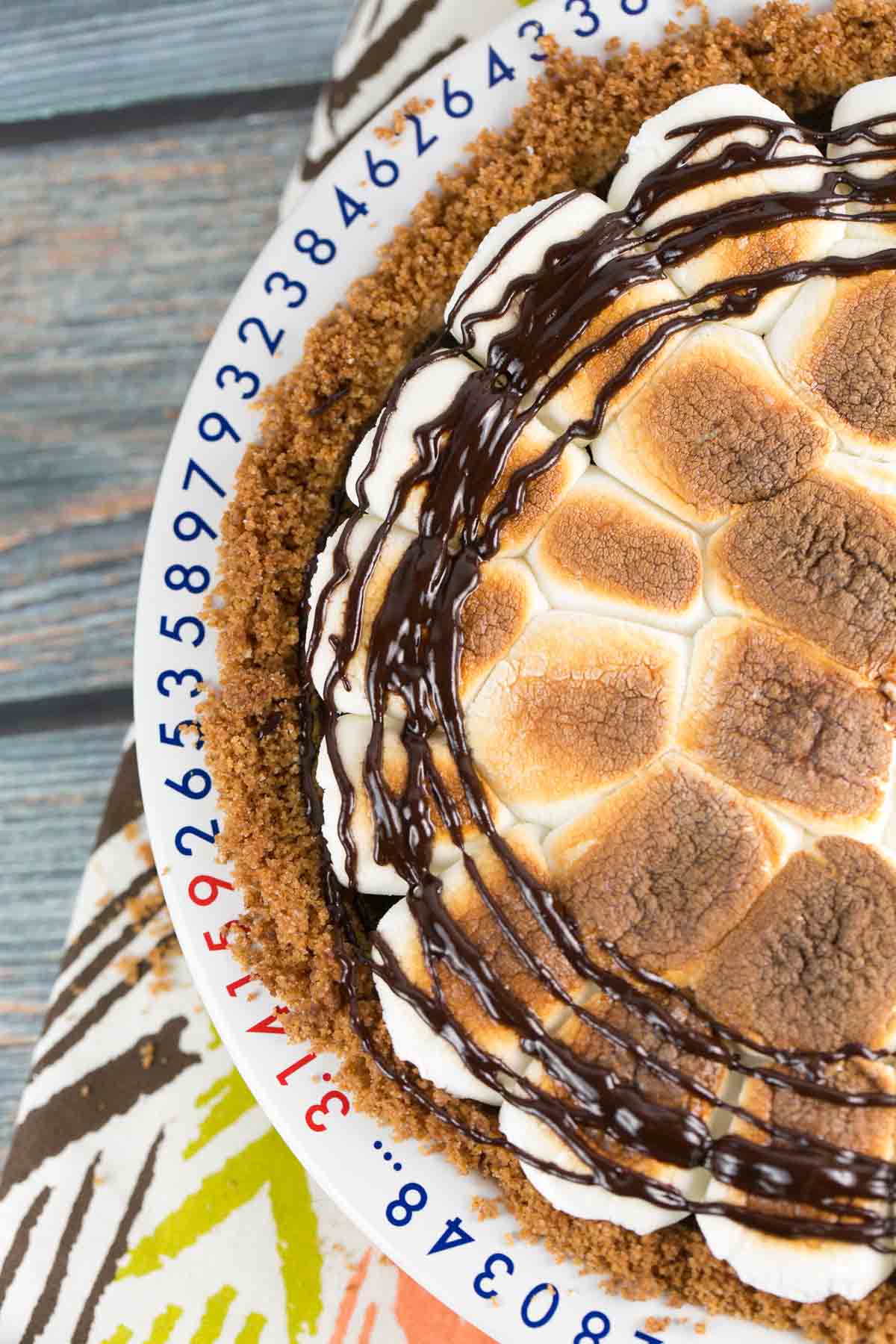 What Is S'mores Pie?
Just like a classic s'more, a s'mores pie has graham crackers, chocolate, and marshmallows.  We'll start with a super easy perfect graham cracker pie crust, fill it with a decadent milk chocolate filling, and top with toasted marshmallows.
I went authentic here and used Hershey's milk chocolate for the filling, because that's what I always had in my childhood s'mores.  But you can just as easily use chopped semi-sweet chocolate, or make a rich dark chocolate filling instead.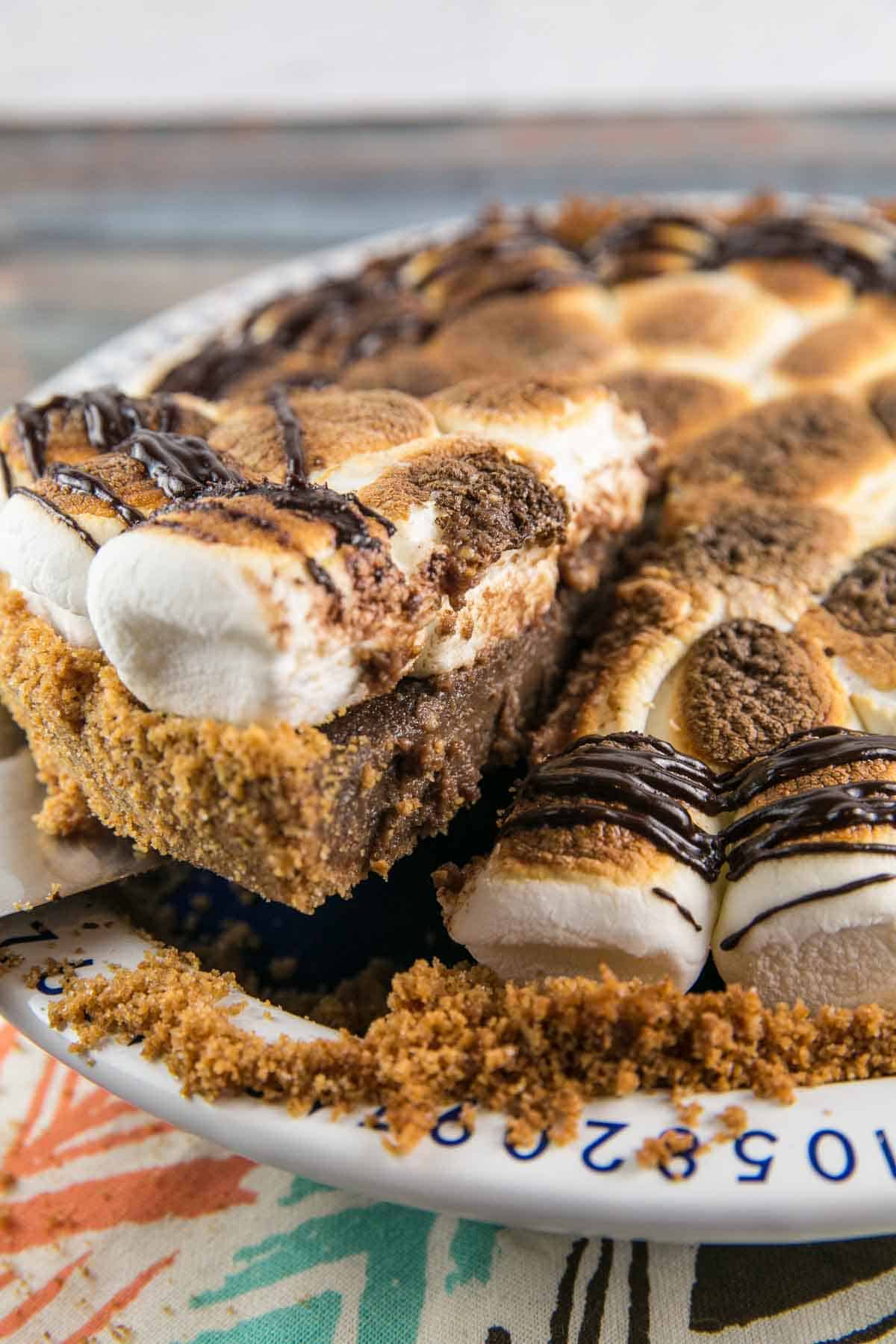 How to Toast Marshmallows for S'mores Pie?
The answer to this is: very carefully.  Just like marshmallows over a campfire go from golden brown to engulfed in flames in about 0.2 seconds, the same is true for this pie.
You can use a kitchen torch, but move quickly and keep the flame low.  If the open flame gets anywhere near the marshmallows, you'll wind up with a sticky, charred (yet totally delicious) mess.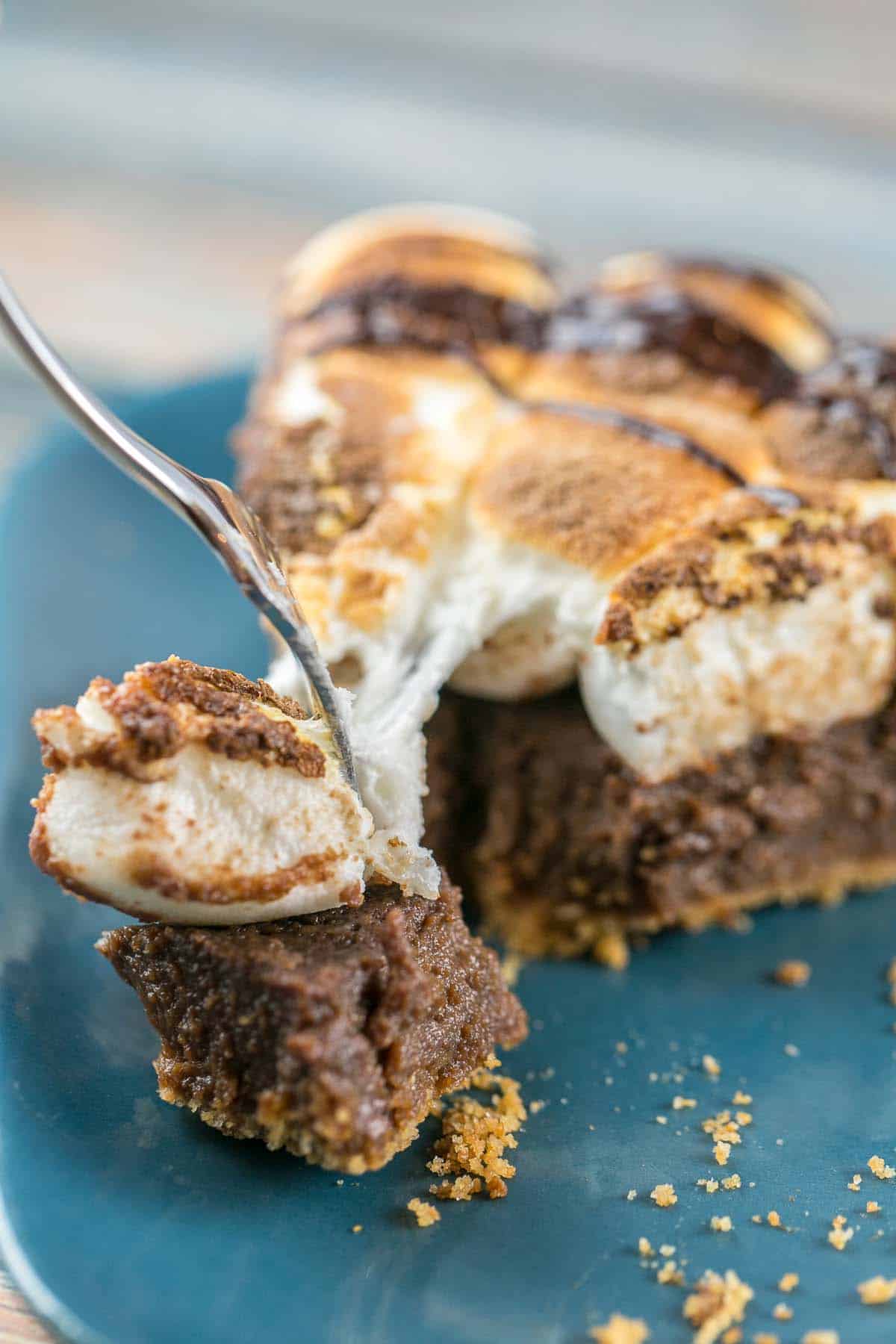 If toasted and golden are what you're after, more so than charred and blackened, I recommend using the broiler of your oven.  But — and let me emphasize the importance of this — do not set your pie under the broiler and walk away to wash dishes or answer the phone or get a glass of water.  Watch that pie and be prepared to pull it out, because there is a 0.2 second difference between toasted and blackened.
Once you pull the pie out from under the broiler, flatten down the marshmallows just a little using a spatula to help them spread and fill out any gaps.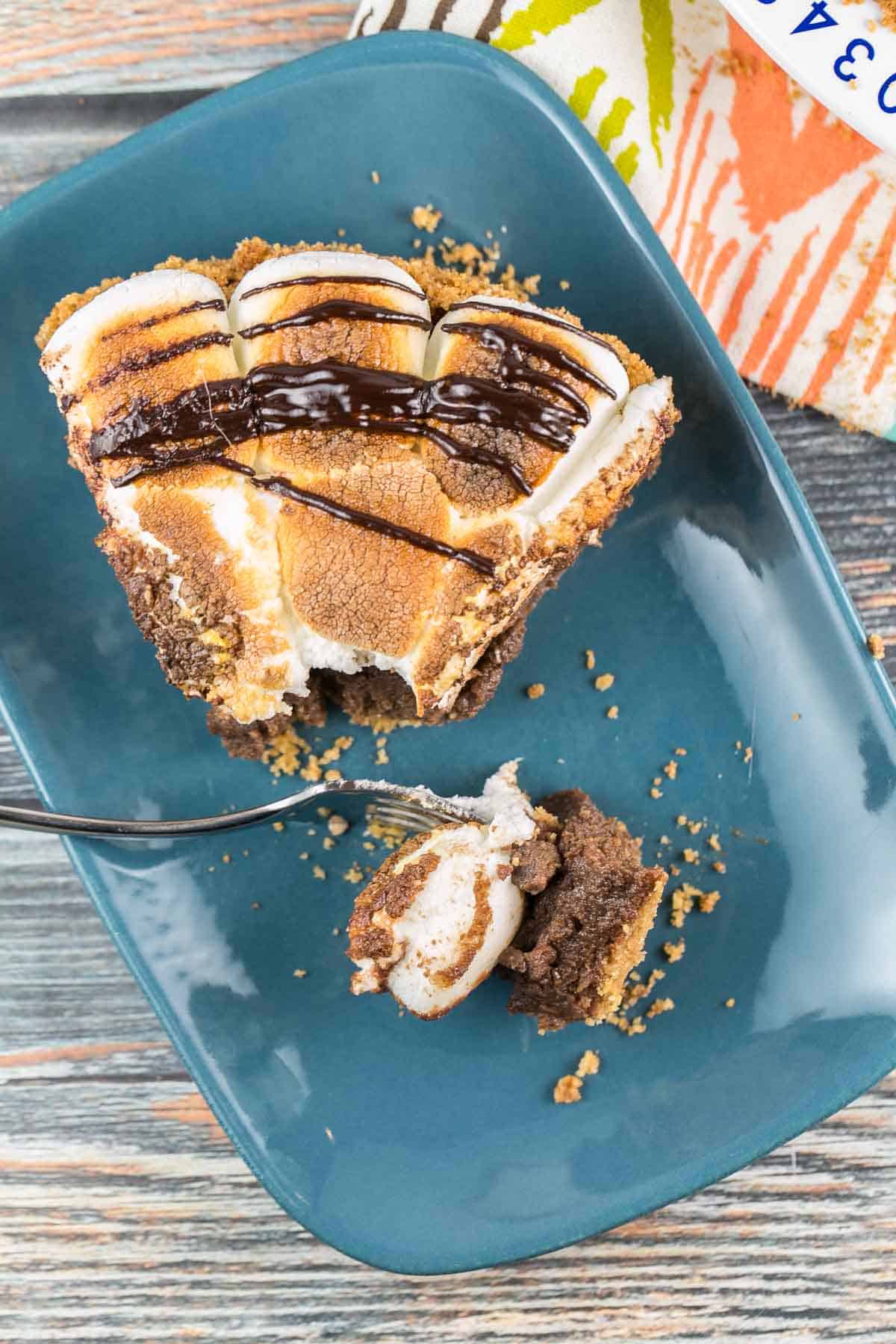 Let the marshmallows cool a little.  Cover with a little extra melted chocolate for decoration.  Then grab a knife, and dig on in.  An ooey, gooey, toasted marshmallow s'mores pie is waiting!
More S'mores Desserts: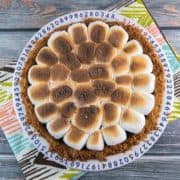 S'mores Pie
Bring the campfire inside with this S'mores Pie! A crispy graham cracker crust, a thick layer of milk chocolate filling, and toasted marshmallows taste just like the childhood favorite.
Ingredients:
1 1/2 cups graham cracker crumbs (approximately 12 full size sheets, finely crushed)
1/3 cup granulated sugar
6 tablespoons melted butter
8 ounces milk or semisweet chocolate, chopped, plus extra for drizzling
1 cup heavy cream
1 teaspoon vanilla extract
2 eggs
32 large marshmallows
Directions:
Prepare pie crust according to perfect graham cracker pie crust recipe.  Bake for 8 minutes, then set aside.
While the pie crust bakes, prepare the chocolate filling.  In a small saucepan, combine the chopped chocolate and heavy cream.  Place over medium heat and whisk until chocolate is melted and completely smooth.  Remove from heat and add in vanilla extract and two eggs, whisking continuously.
Pour the chocolate filling into the prepared crust and bake for 20 minutes, until soft but no longer jiggly in the center.
Top the pie with the marshmallows and broil until golden brown.  Top with drizzles of melted chocolate, if desired.  Cool before serving.