August 7, 2018
S'mores Pie
Bring the campfire inside with this S'mores Pie! A crispy graham cracker crust, a thick layer of milk chocolate filling, and toasted marshmallows taste just like the childhood favorite.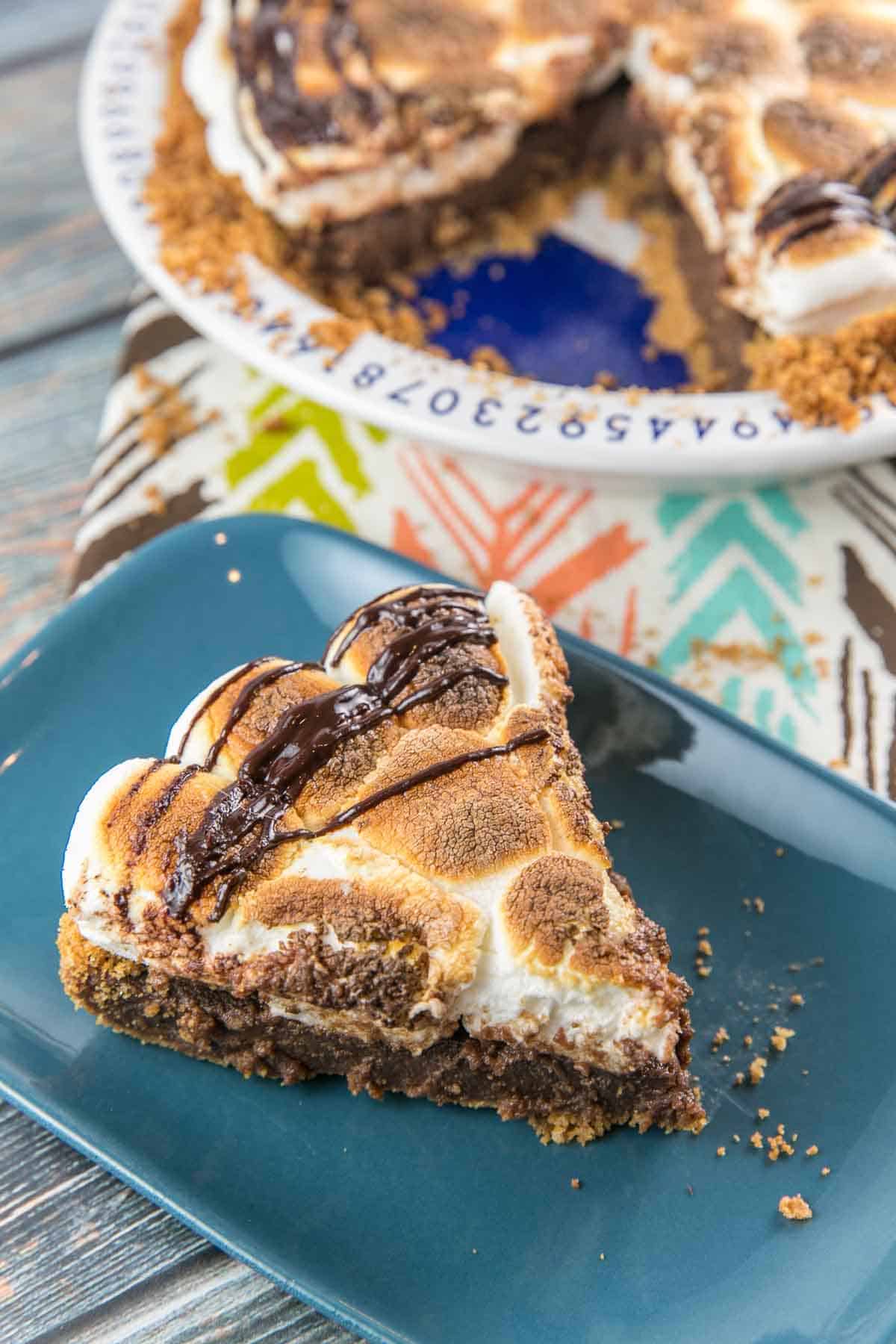 August 10th is National S'mores Day.
Last year, we celebrated with this s'mores bundt cake – which was almost an epic last-minute fail in an attempt to get the post ready. 
This year, I planned ahead. Way ahead.
I planned out all my "pie of the month" pies for the year in January and knew I wanted to make a s'mores pie for August. 
And then I went ahead and made it for a little 4th of July celebration and saved it to share this month.
I'm hitting publish on this a few days early because maybe you want to make this in time to celebrate.  It's the perfect quick and easy dessert! 
Start-to-finish, it takes 40 minutes to make. So basically: you have plenty of time to gather ingredients and make this for National S'mores Day!
(Yes, food holidays are getting out of control. Yes, it's silly and kind of stupid. BUT S'MORES ARE THE BEST so just roll with it.)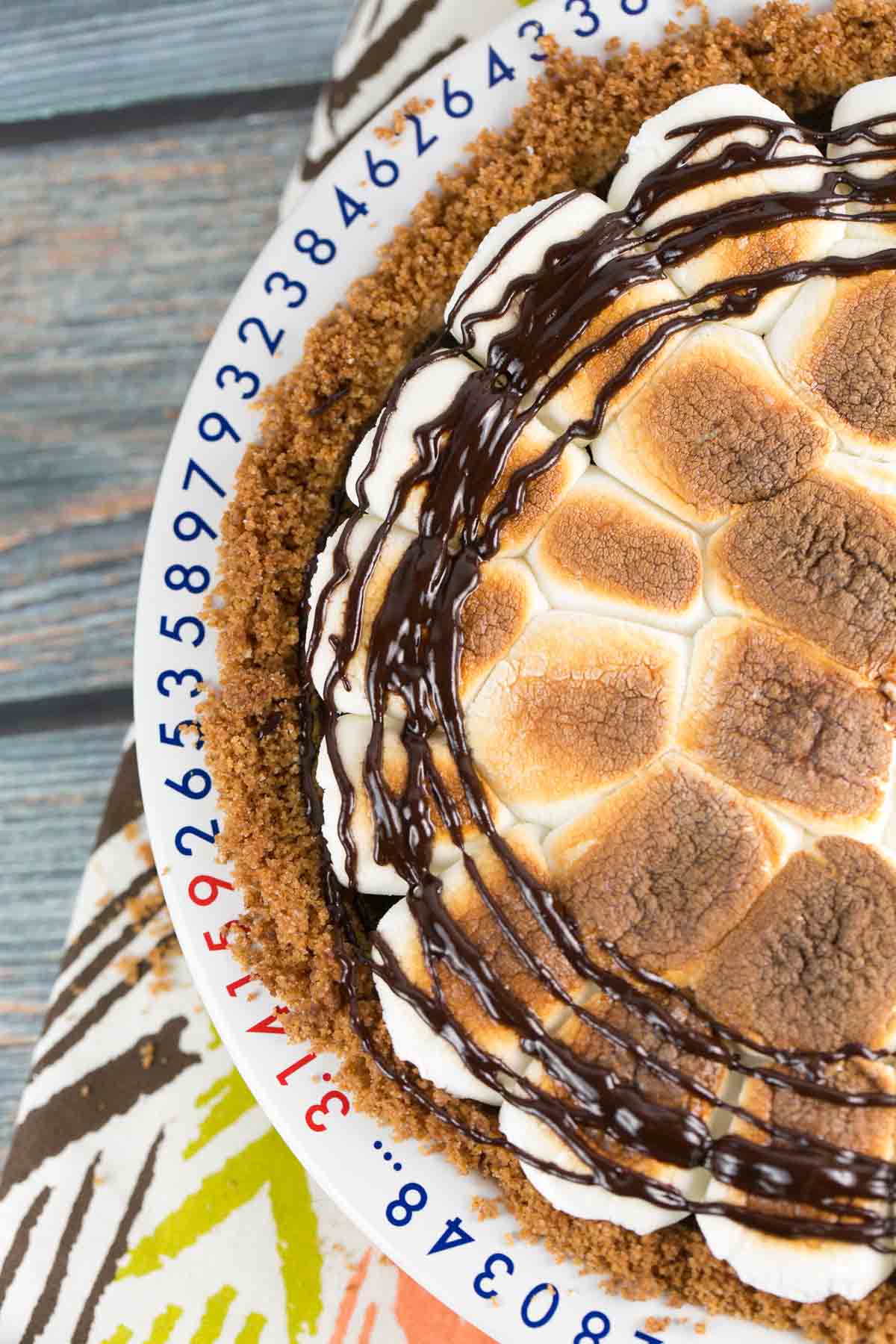 Ingredients and Substitutions
This s'mores pie only calls for 8 ingredients, many of which you probably already have on hand. To make this pie, you'll need:
Butter: Either salted or unsalted butter will work here, though I usually use unsalted. Since the butter will be melted, there is no need to pull it out ahead of time and bring to room temperature.
Eggs: Two large eggs, which do need to be at room temperature. Either set your eggs out on the counter for a few hours or place them in a bowl of warm water for 20 minutes.
Sugar: Granulated sugar, for the pie crust.
Vanilla Extract: A little vanilla extract helps the chocolate filling taste even more chocolatey.
Graham Crackers: For the graham cracker crust, of course!
Chocolate: I always use milk chocolate bars for this, because it's the classic s'mores flavor. If you prefer semi-sweet or dark chocolate, feel free to substitute – but I recommend using bars over chocolate chips, as it melts more smoothly.
Heavy Cream: Heavy cream is essential for the filling – don't swap with milk or half-and-half for this pie.
Marshmallows: Jumbo marshmallows puff up to make the best topping!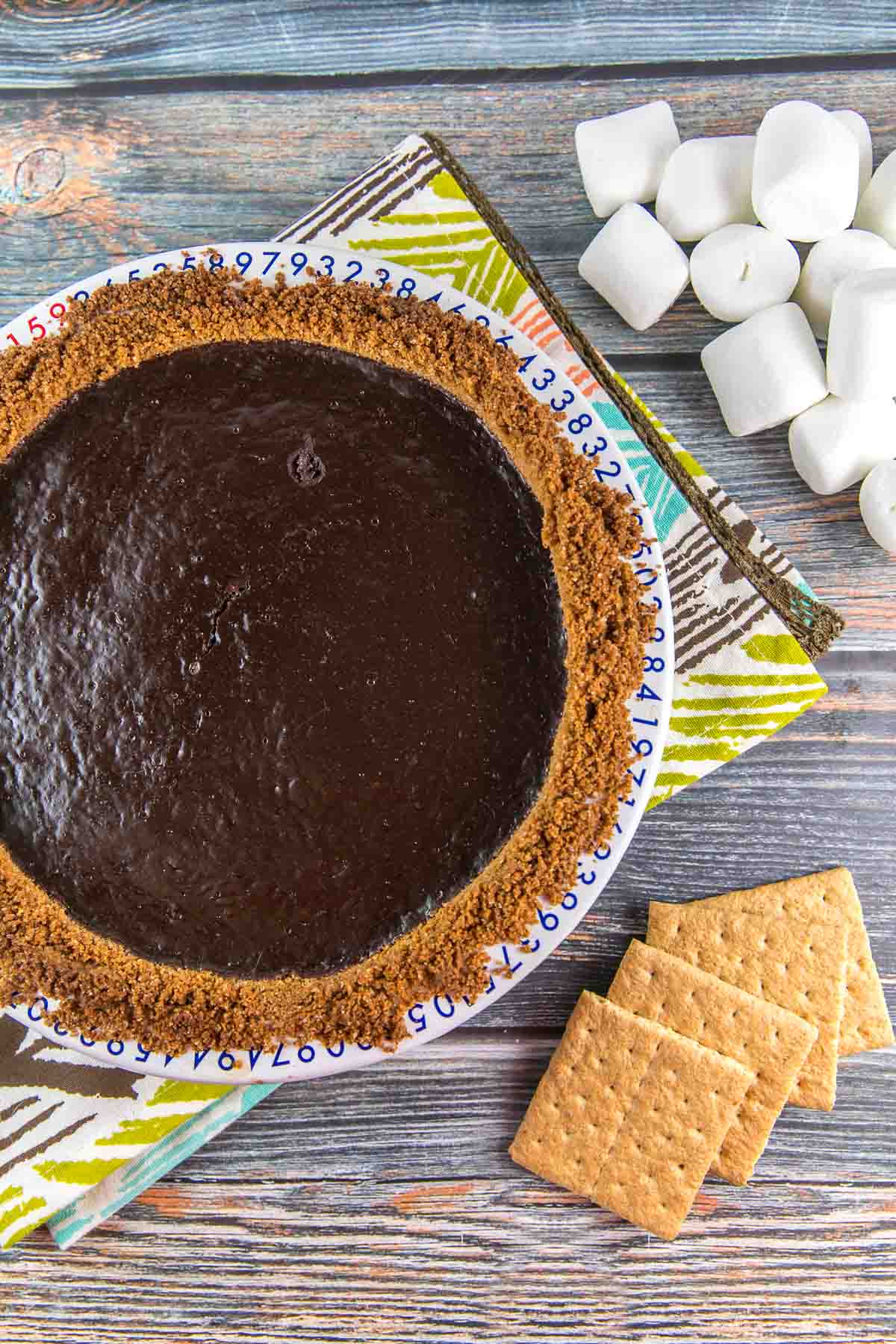 Turning S'mores Into Pie
Just like a classic s'more, a s'mores pie has graham crackers, chocolate, and marshmallows.
We'll start with a super easy perfect graham cracker pie crust, fill it with a decadent milk chocolate filling, and top it with toasted marshmallows.
The filling is soft and almost custard-like, but because it bakes, it will be fully set. We achieve this by starting with a classic chocolate ganache, made by combining melted chocolate and heavy cream.
The ganache is whisked with eggs, which will add structure and support while the pie bakes in the oven, ensuring we have a pie that can be cleanly sliced, instead of just soft, melted, delicious ganache.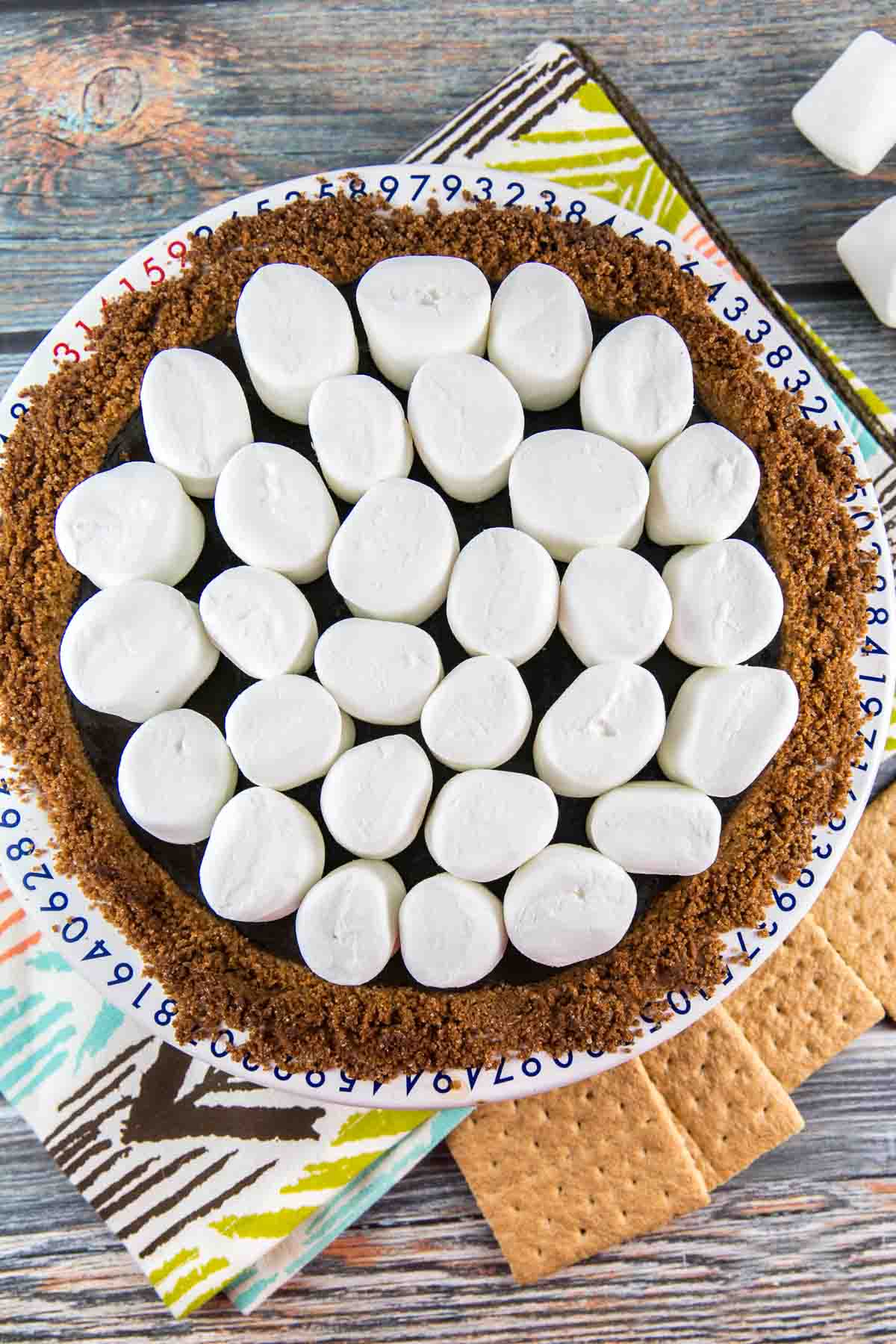 Toasting Marshmallows Indoors
How do you toast the marshmallows on top of this pie?
The answer to this is: very carefully. Just like marshmallows over a campfire go from golden brown to engulfed in flames in about 0.2 seconds, the same is true for this pie.
You can use a kitchen torch, but move quickly and keep the flame low. If the flame is too high, you may wind up with a sticky, charred (yet totally delicious) mess.
No kitchen torch? Use the broiler of your oven. Watch the pie carefully, because the marshmallows progress quickly from golden and toasted to charred and blackened!
I like to use jumbo-sized marshmallows for this because they'll puff up and expand even bigger when heated. Why is this? It's time for my favorite subject… kitchen chemistry!
Kitchen Chemistry

As marshmallows are mixed, gelatin is beaten with the hot sugar syrup, which creates lots of air bubbles.  Theses are bubbles are trapped as the liquid cools into the soft foam-like solid state — air makes up more than half of the volume of a marshmallow.  As the temperature of the marshmallow increases, the air expands, causing the marshmallow to expand and take up more space.
If there are still gaps between the marshmallows once they are toasted, gently press down on the marshmallows with a spatula to flatten them. This will help them expand width-wise instead of just height-wise.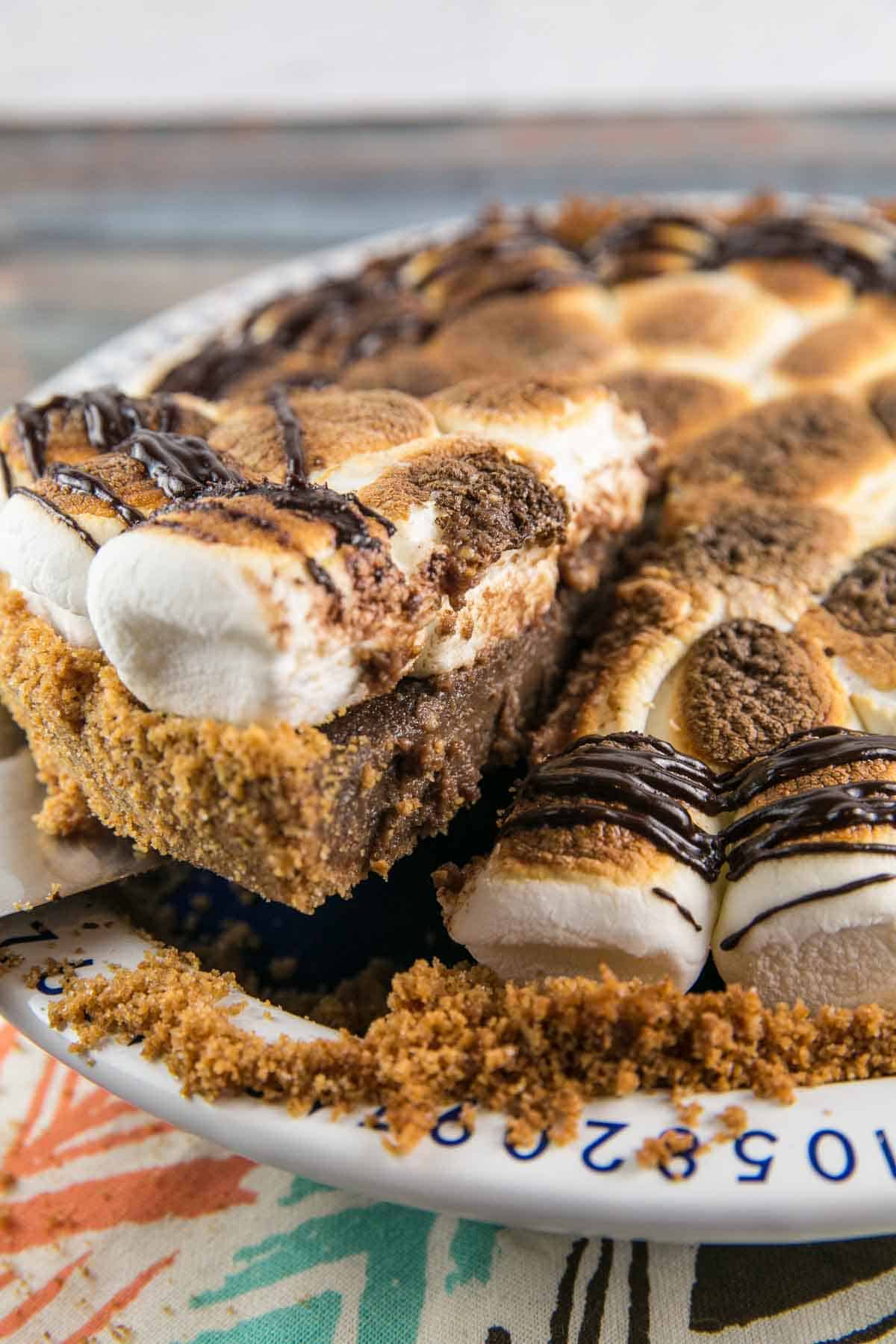 Recommended Tools to Make S'mores Pie
"Pi" Pie Plate: Every time I post a recipe with photos using my "Pi" Plate, someone asks where to find it!
Classic Pie Dish: For a classic non-themed pie plate, glass is a great option.
2 Quart Saucepan: A small saucepan is perfect to melt together the chocolate and heavy cream.
Food Processor: The easiest way to crush graham cracker sheets into crumbs.
Kitchen Torch: A culinary torch provides more control than a broiler for toasting marshmallows.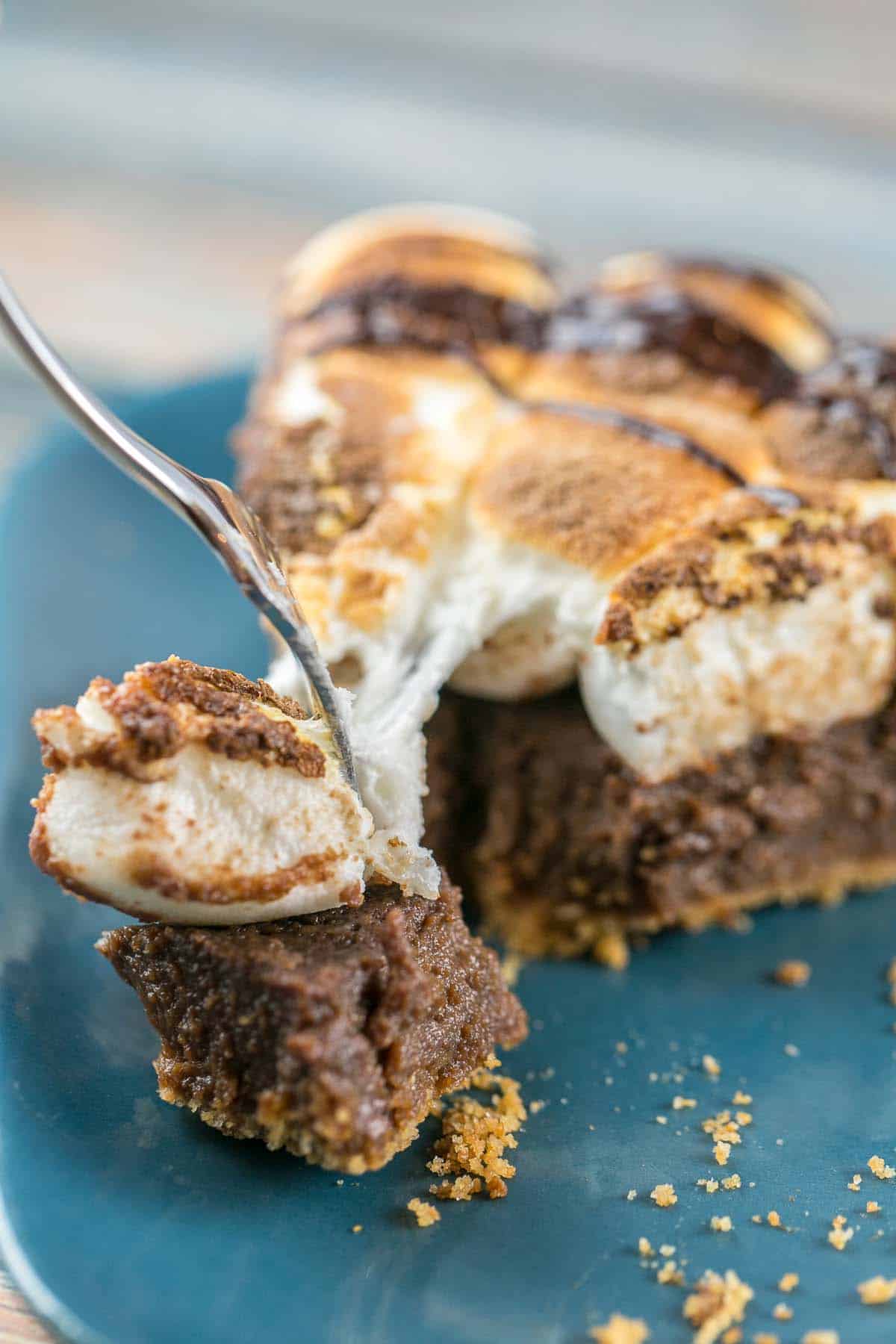 Common Questions about S'mores Pie
Can I use a store-bought graham cracker crust?
Yes, but store-bought graham cracker crusts may be more shallow than a regular pie plate and you may not be able to add all the chocolate filling.
What's the best way to toast the marshmallows?
You can toast the marshmallows using a kitchen torch or under the broiler of your oven.
How do I cut this s'mores pie?
After toasting the marshmallows, allow everything to cool completely before slicing. Spray a sharp knife with a little non-stick spray to prevent the marshmallows from sticking to the knife.
Can I use semisweet or dark chocolate for the pie?
Milk chocolate is the most traditional for a s'more, but any variety of chocolate can be used. I recommend using chocolate bars rather than chocolate chips; chocolate chips have additional stabilizers added to help them hold their shape.
Can this pie be frozen?
The pie can be baked and frozen ahead of time – but I do recommend waiting to add and toast the marshmallows after thawing. If you have leftover slices with toasted marshmallows, freeze each slice on a cookie sheet until frozen solid, then wrap the slice in a layer of plastic wrap and aluminum foil. Unwrap before thawing at room temperature.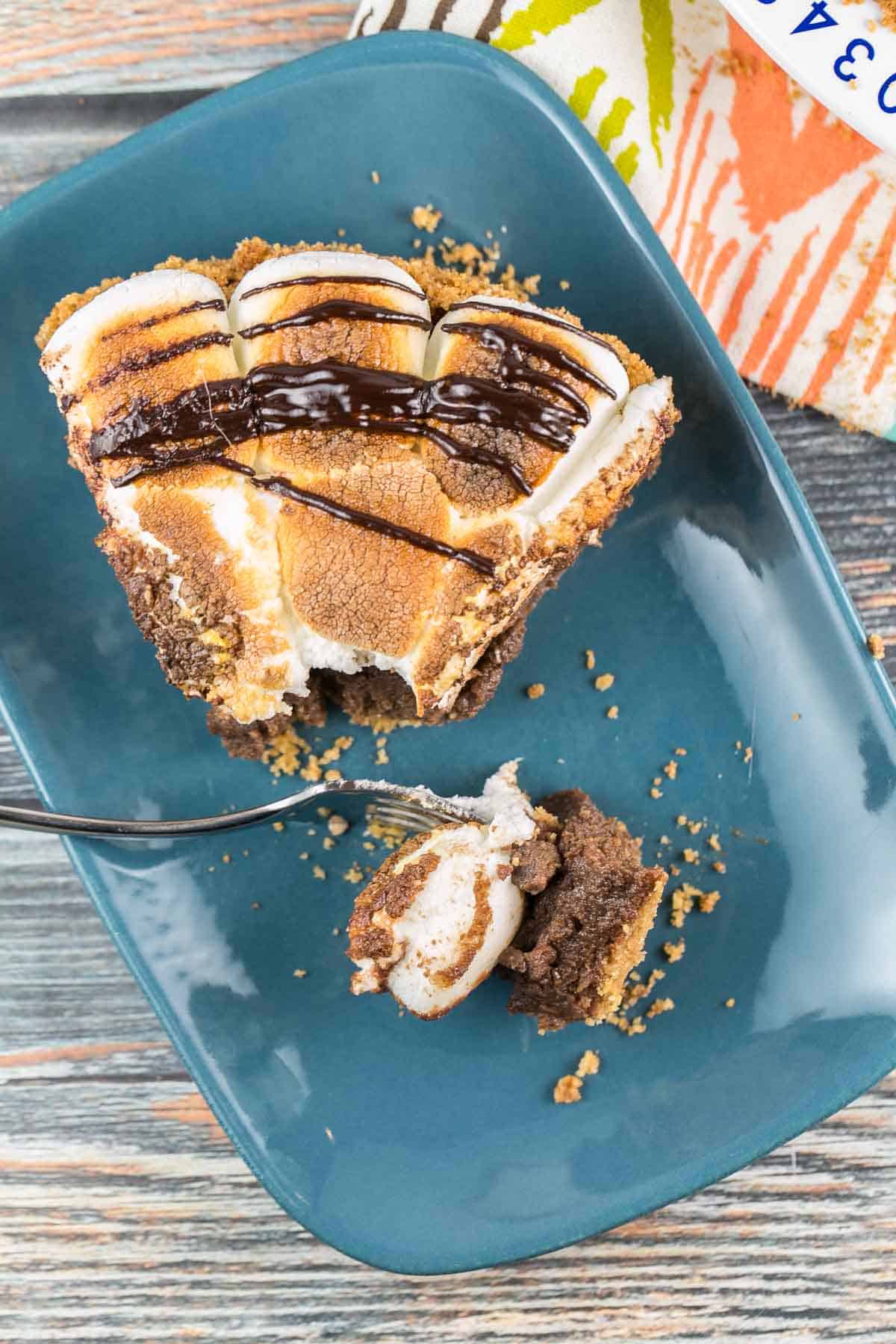 More S'mores Desserts: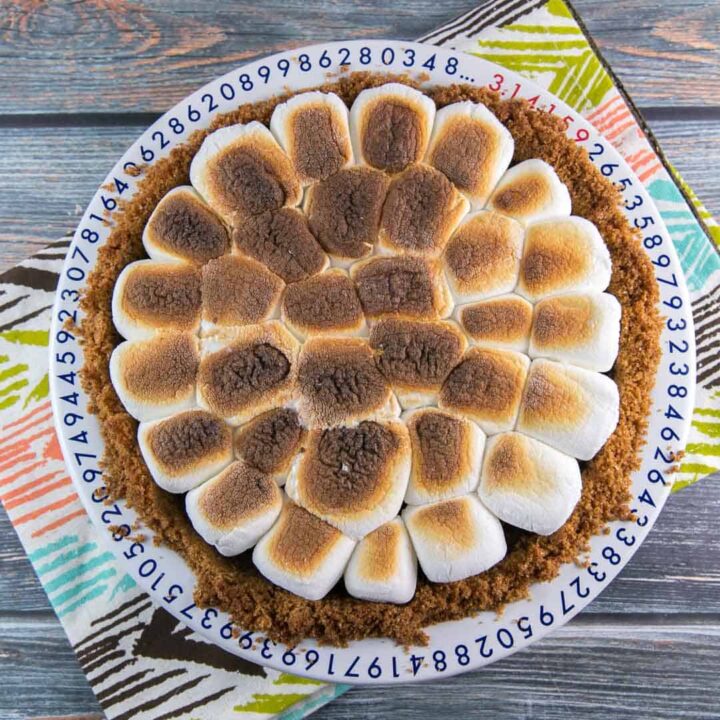 S'mores Pie
Bring the campfire inside with this S'mores Pie! A crispy graham cracker crust, a thick layer of milk chocolate filling, and toasted marshmallows taste just like the childhood favorite.
Ingredients
1 1/2 cups (213 grams) graham cracker crumbs (approximately 12 full size sheets, finely crushed)
1/3 cup (66 grams) granulated sugar
6 tablespoons (85 grams) unsalted butter, melted
8 ounces (227 grams) milk or semisweet chocolate, chopped, plus extra for drizzling
1 cup (227 grams) heavy cream
1 teaspoon vanilla extract
2 large eggs, room temperature
32 large marshmallows
Instructions
Preheat the oven to 350 °F.
Prepare pie crust according to perfect graham cracker pie crust recipe. Bake for 8 minutes, then set aside.
While the pie crust bakes, prepare the chocolate filling. In a small saucepan, combine the chopped chocolate and heavy cream. Place over medium heat and whisk until the chocolate is melted and completely smooth. Remove from heat and add in vanilla extract and two eggs, whisking continuously.
Pour the chocolate filling into the prepared crust and bake for 20 minutes, until soft but no longer jiggly in the center.
Top the pie with the marshmallows and broil until golden brown or toast using a kitchen torch. Top with drizzles of melted chocolate, if desired. Cool before serving.
Notes
S'mores pie can be stored at room temperature for up to 5 days or frozen for up to 3 months. To freeze the entire pie, bake, cool, and freeze without marshmallow topping; top with marshmallows and broil after thawing. To freeze individual slices of pie, place in the freezer on a cookie sheet. Once pie has frozen solid, wrap in plastic wrap followed by a layer of aluminum foil. Remove the foil and plastic wrap before thawing at room temperature.
Recommended Products
As an Amazon Associate and member of other affiliate programs, I earn from qualifying purchases.
Nutrition Information:
Yield:

8
Serving Size:

1 slice
Amount Per Serving:
Calories:

531
Total Fat:

30.2g
Carbohydrates:

62.2g
Protein:

4.6g