February 15, 2018
Brownies with Salted Tahini Buttercream
Elevate your brownie game with a thick layer of salted tahini buttercream. Lighter and fresher than peanut butter, with a subtle nutty flavor, tahini is the perfect flavor for thick, fluffy buttercream, topping easy mix by hand fudgy brownies. Tahini Brownies are a whole new level of delicious!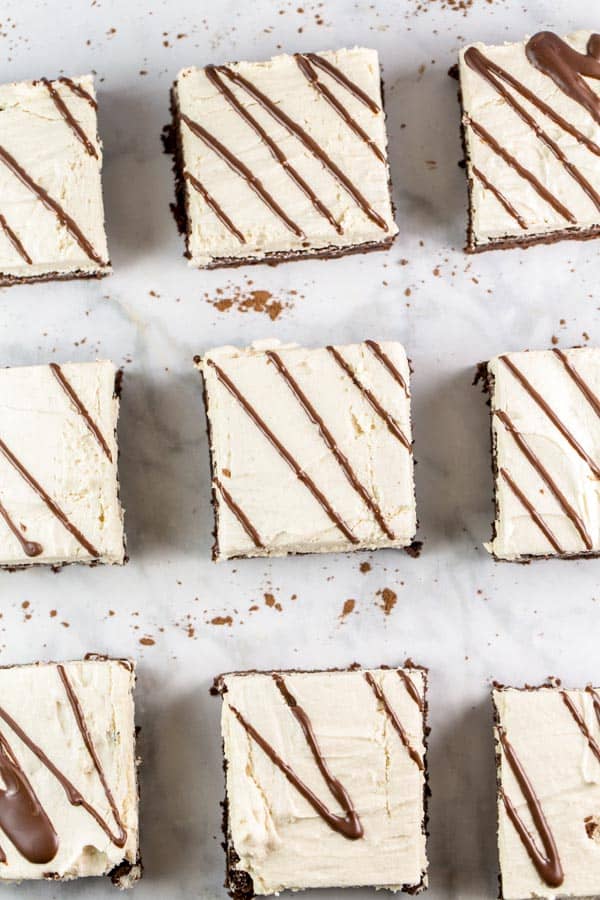 Guys, I have a problem. I'm pretty sure I have a legitimate addiction… to tahini. I can't quit it.
All summer long, I grilled chicken and covered it in a tahini marinade. This sweet potato kale chickpea bowl, covered with tahini sauce, is one of my favorite winter dishes. I have literally had multiple dreams about the tehina shake from Goldie (homeade version of the tahini shakes!).
And I have now made this salted tahini buttercream three times in a row, and smother everything I can with it (or uh, eat it out of the bowl with a spoon).
Step aside, peanut butter frosting. There's a new winner in town, and we're showing it off with some brownies. Brownies with salted tahini buttercream, to be exact.
What is Tahini?
Let's back up a second, and talk about tehina/tahini. Same thing, different name. Tahini is a paste made from ground toasted sesame seeds. Think peanut butter, except made from sesame seeds, rather than peanuts.
Here in the U.S., we usually call it tahini, but in Israel and other parts of the Middle East, it's known as tehina.
If you hear tahini and think hummus, you're right! It's a key part of many hummus recipes. But. BUT! Tehina is so, so much more than just hummus.
Think about sesame seeds. You'd put them on a deli roll, right? Or sesame seed cookies, or pressed into raw ahi tuna, or Chinese sesame seed dessert balls. Tahini works the same way: it can go savory or sweet.
And today, we're going sweet, with these brownies with salted tahini buttercream.
I first made this buttercream for a Hanukkah dinner party this year as a topping for some dark chocolate tahini cupcakes. Truth be told, the cupcakes were forgettable, but the buttercream? Three people at our 11-person dinner party told me it was the best buttercream frosting they ever had.
The best buttercream frosting ever, people. EVER. And as Americans, living a life full of cupcakes and cake, we tend to eat a lot of buttercream frosting. But this one here? It's been deemed the best.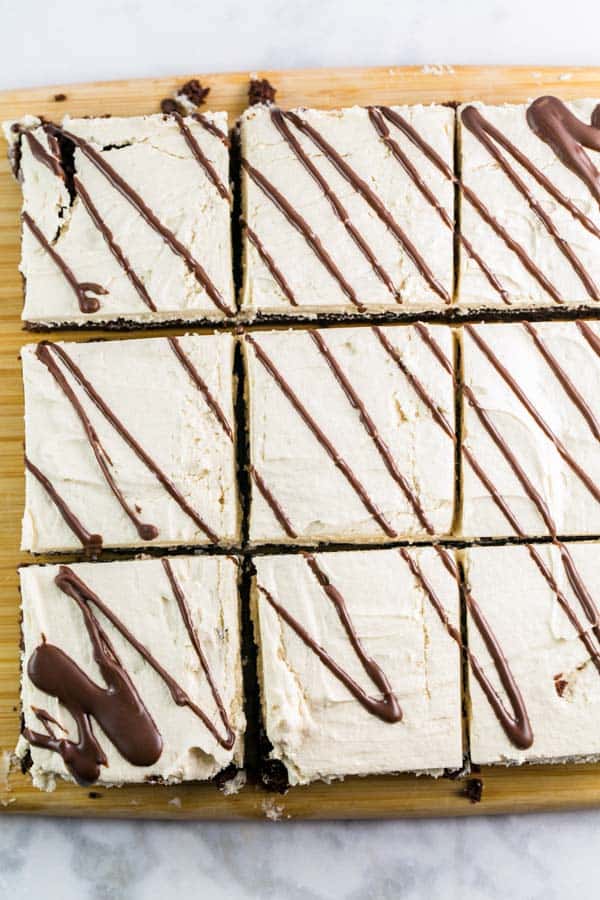 Ingredients and Substitutions
Butter: I always write recipes for unsalted butter. Adjust the salt accordingly if you use salted butter. For dairy-free brownies, use vegan butter in the brownie recipe and the buttercream (coconut oil can also be used in the brownies).
Sugar: Granulated sugar provides both the sweetness and is also essential for the structure.
Eggs: Make sure the eggs are at room temperature before adding – cold eggs will cause the melted butter to solidify. Flax eggs can be used for an egg-free variation.
Cocoa Powder: This recipe uses Dutch-processed cocoa powder for the best chocolate flavor and to maintain the proper pH of the batter.
Baking Powder: We don't want cakey brownies, so we're just using a little baking powder!
Vanilla Extract: Vanilla extract always makes chocolate taste even more chocolatey!
Flour: The recipe uses all-purpose flour, but to keep the brownies gluten-free, swap the all-purpose flour for a gluten-free 1:1 flour blend.
Tahini: Make sure to use smooth, creamy tahini, not dry, crumbly tahini. If the tahini is too dry, it will make the buttercream chalky.
Powdered Sugar: If your confectioners' sugar is older and lumpy, sift it first before adding it to the butter.
Dark Chocolate: Just a little melted chocolate provides the perfect decoration for the buttercream. Use milk or semi-sweet chocolate, if you prefer.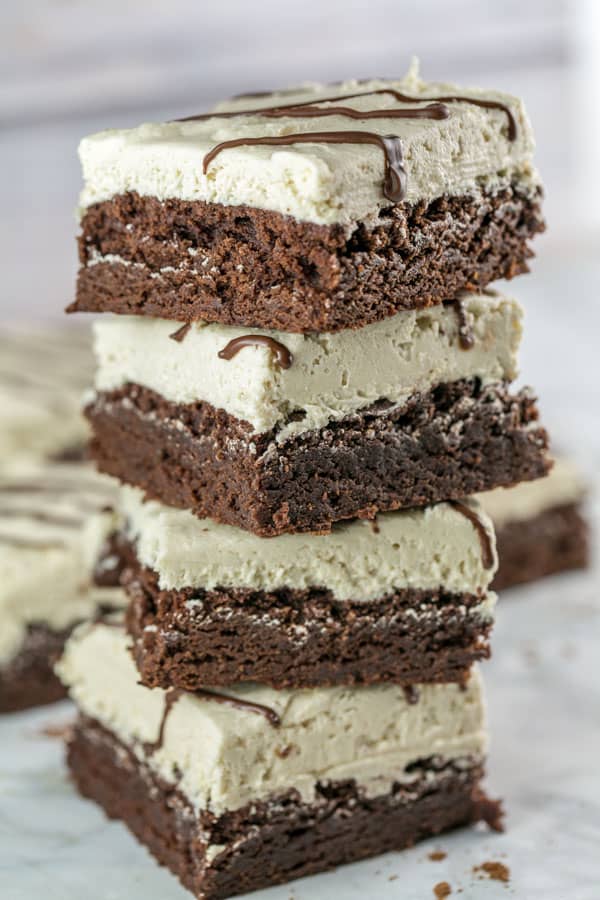 Homemade Salted Tahini Buttercream
So uh, what does tahini buttercream taste like anyway? It's kind of like peanut butter… but a little more mild.
It has that rich, nutty flavor, but a little more subdued. More refined. It's like the grown-up equivalent of a too-sweet peanut butter frosting. (Except that my 2-year-old loved it too, so it's not too grown up.)
Obviously, the most important part of the salted tahini buttercream is… the tahini! If you don't use tahini regularly, you might find that the jar in the back of your pantry has separated and you're left with a hard chunk of sesame paste below a layer of oil.
Why does this happen and how do we fix it? It's time for my favorite subject.. kitchen chemistry!
Kitchen Chemistry

High-quality tahini is made without emulsifiers or stabilizers. Sesame seeds contain a high amount of oil, and when the seeds are ground into a paste, this oil is released. Over time, the oil separates from the denser solids and water in the tahini. To return the tahini to its original well-mixed, smooth state, add the solids and oil to a small food processor or blender and mix until combined or stir by hand, adding a few drops of hot water while stirring.
Making the salted tahini buttercream is so easy! Simply beat together the butter, tahini, and confectioners' sugar using an electric mixer. Once well combined, beat on high for a few minutes until light and fluffy. That's it!
This salted tahini buttercream pairs well with so many things and I promise, it will make appearances again soon around here. But for now, we're kicking things off with brownies with salted tahini buttercream.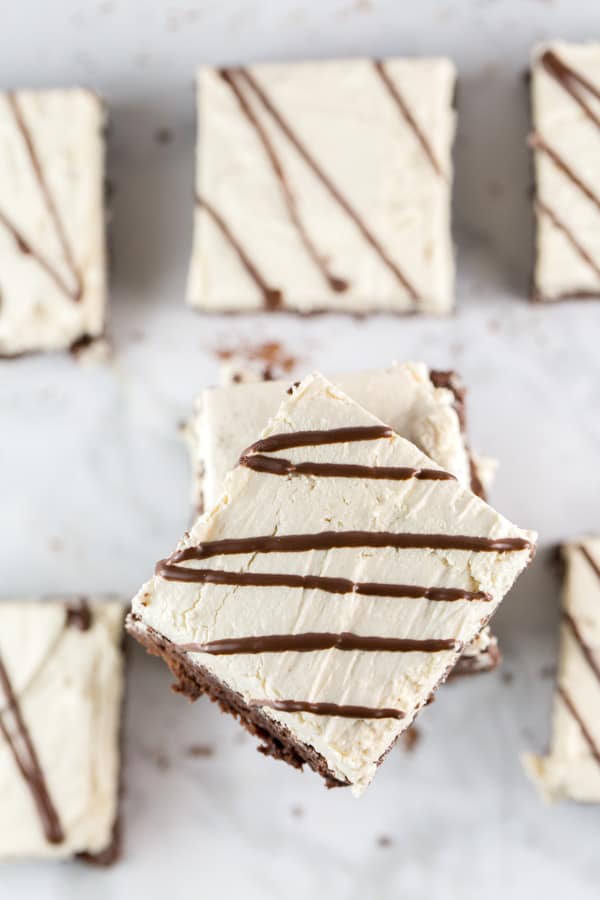 Best Easy Homemade Brownies
The easy, mix-by-hand, slightly fudgy brownies are the perfect pairing for this frosting.  Chocolate is such a natural flavor for tahini (so perfect, in fact, that my favorite tahini company sells chocolate tehina!).
If you're looking for a more semi-homemade approach, feel free to use boxed brownies for the base layer, but these homemade brownies are barely any more work than making brownies from a box.
Start with melted butter and sugar, whisking well until combined, and set aside to cool. In another bowl, whisk together the eggs, cocoa powder, salt, baking powder, and vanilla. This mixture is thick – you'll want to beat it with a wooden spoon for a few minutes to mix the eggs in well. Then add the melted butter/sugar to this egg mixture, followed by the flour, mixing just until no streaks of flour remain.
Once the brownies are cooled, top with your homemade salted tahini buttercream for the ultimate tahini brownie treat!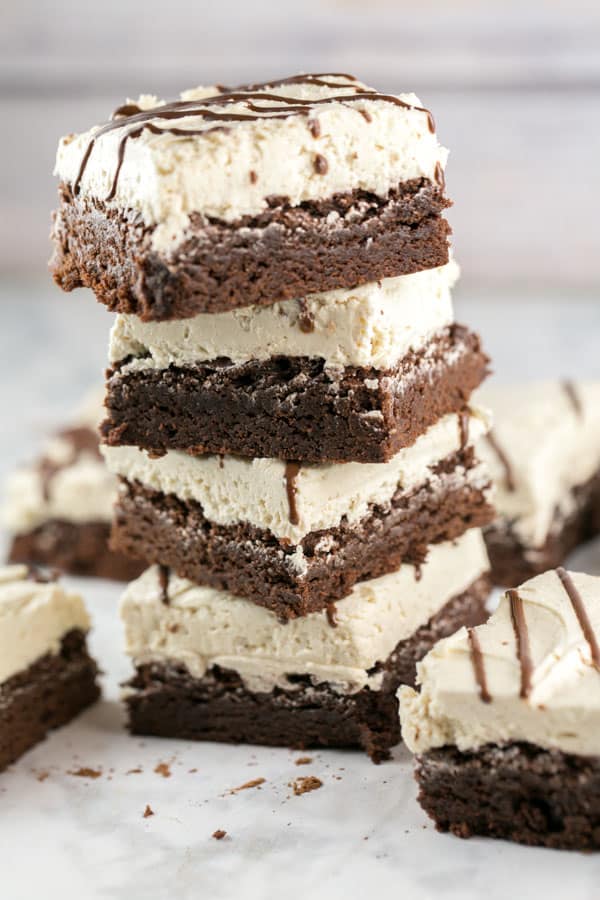 Recommended Tools to Make Tahini Brownies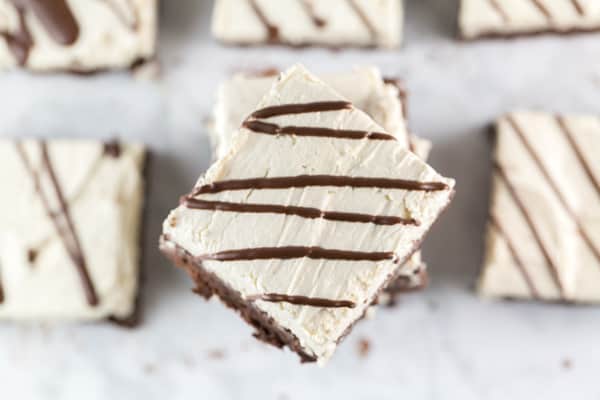 Tips and Tricks to Make the Best Brownies with Salted Tahini Buttercream
Make sure your eggs and butter are at room temperature before starting. Cold eggs will chill the melted butter in the batter, and firm butter will not beat properly for the buttercream frosting.
Don't overmix the brownie batter. Stir just until no streaks of flour are visible; overmixing will result in tough brownies.
Line the baking pan with parchment paper, leaving some overhang on the sides. This makes it easier to lift the brownies out of the pan before frosting them.
Allow the brownies to cool completely in the pan before adding the buttercream frosting. Adding buttercream to warm brownies will melt the butter in the frosting!
Ensure your tahini is well-stirred and smooth before adding it to the buttercream. If it has separated, use a food processor or stir well to bring the tahini back to a smooth, pourable consistency. Don't skim the oil off the top and just use the solid layer in the bottom, which will result in a thick, chalky frosting.
Tahini brownies can be stored in an airtight container at room temperature for up to 4 days, refrigerated for up to a week, or frozen for up to 3 months.
More Tahini Recipes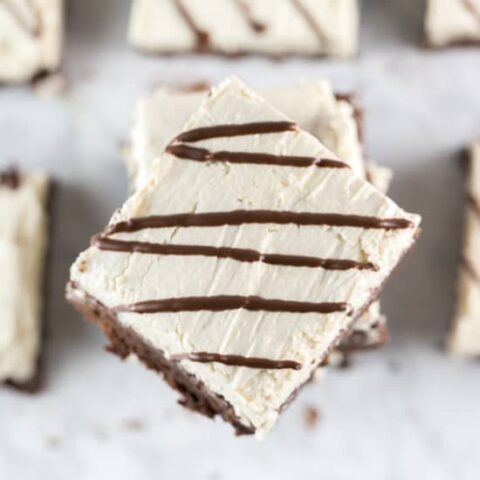 Brownies with Salted Tahini Buttercream
Lighter and fresher than peanut butter, with a subtle nutty flavor, tahini is the perfect flavor for thick, fluffy buttercream, topping easy mix-by-hand fudgy brownies.  
Ingredients
For the Brownies:
3/4 cup (170 grams) unsalted butter, melted
1 1/2 cups (297 grams) sugar
3 large eggs, room tempeature
3/4 cup (63 grams) Dutch processed cocoa powder
3/4 teaspoon salt
3/4 teaspoon baking powder
2 teaspoons vanilla extract
1 1/4 cups (150 grams) all-purpose flour
For the Salted Tahini Buttercream:
1 cup (226 grams) unsalted butter, cool room temperature
3/4 cup (186 grams) well-stirred tahini
2 1/4 cup (255 grams) confectioners sugar
1 teaspoon kosher salt
2 teaspoons vanilla extract
2 ounces (57 grams) dark chocolate, melted
Instructions
Preheat the oven to 350 °F. Line a 9″ square metal baking dish with parchment paper, extending the paper over the edges to form handles, and grease well.
Combine the melted butter and sugar together in a small bowl, whisking until smooth and shiny. In a large bowl, combine the eggs, cocoa powder, salt, baking powder, and vanilla. Whisk by hand for about 5 minutes, until well combined. Add the melted butter/sugar mixture to the egg/cocoa mixture, stirring until smooth. Add in the flour, stirring just until the flour is incorporated.
Spread brownie batter in prepared pan. Bake 20 to 25 minutes, until a toothpick inserted into the center comes out almost clean. Leave at room temperature until cool.
To make the buttercream frosting, combine the butter, tahini, and confectioners sugar in the bowl of an electric mixer and beat on medium speed until butter is light and fluffy, 3 to 4 minutes. Add in the salt and vanilla extract, then turn the speed up to high and beat an additional 1 to 2 minutes. Spread the buttercream frosting over the brownies, drizzle with melted chocolate, and refrigerate for 30 minutes, just until frosting is set. Cut into 16 brownies.
Notes
Tahini brownies can be stored in an airtight container at room temperature for up to 4 days, refrigerated for up to a week, or frozen for up to 3 months.
Recommended Products
As an Amazon Associate and member of other affiliate programs, I earn from qualifying purchases.