April 13, 2020
Chocolate Chip Tahini Blondies
Easy to make and unexpectedly delicious, these salted Chocolate Chip Tahini Blondies will be your new favorite (dairy free!) treat! Just a little salty, lots of sweet, and the classic barely-there nutty flavor of tahini.
This post may include affiliate links. As an Amazon Associate I earn a fee from qualifying purchases.
There are three important facts you should know about me right now. The relevance will soon become obvious.
I love good puns. And by good puns, I guess I probably mean really bad, eye-rolling puns. I can't resist them.
When things get stressful, I make bad jokes. I can't help it; sometimes I know the timing is off, but it's just hard-wired into me. I KNOW it's awful that I'm awkwardly laughing when things are bad.
I am borderline obsessed with good tahini.
So… maybe you know where this is going.
We're all stuck inside and life is totally stressful. I love good bad puns. Tahini is one of my top 5 favorite foods.
Welcome to… drumroll please… QUARANTAHINI WEEK on Bunsen Burner Bakery.
Yes, thank you, thank you — I'll be here all week.
(I really will! We have not one, not two, but THREE brand new tahini based recipes coming to Bunsen Burner Bakery this week!)
We're kicking of Quarantahini Week with a recipe that has been a long time coming, and probably my most favorite of all the tahini recipes that I make… salted chocolate chip tahini blondies.
They're chewy and chocolate chunky and slightly nutty with the perfect tahini flavor. You can make them super gooey or slightly firmer.
They freeze beautifully (9/10 chance I have some in my freezer at whatever point you're reading this.)
After many years of recipe tweaking, I've also figured out how to make them dairy free without sacrificing any taste or flavor, so tahini blondies have become my go-to dairy free dessert.
So add some tahini to your grocery delivery order, and let's kick off Quarantahini Week with these tahini blondies!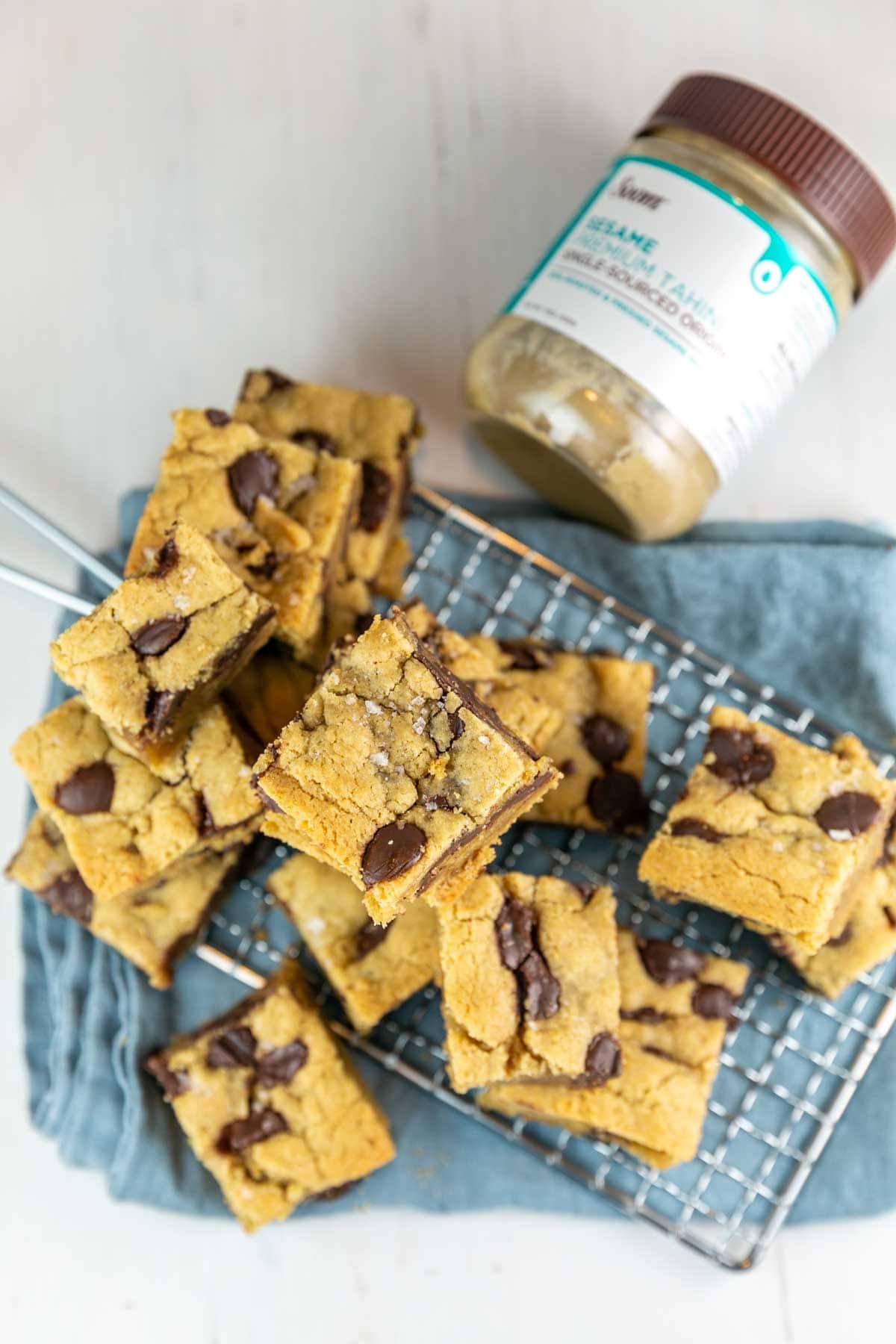 What Is Tahini?
Let's start with the basics, since we'll be covering a lot of tahini this week.
Tahini is a paste made from ground up, hulled sesame seeds. Tahini is to sesame seeds as peanut butter is to peanuts.
It's a staple in Middle Eastern cuisine and is perfect for cooking (creamy sauces, without adding dairy!) and baking.
You may also see me refer to it as tehina, which is what I usually call it at home. Same thing, different origin: tehina is what tahini is called in Israel and the Middle East.
If you think tahini and immediately picture a can full of a bitter, dry, crumbly substance, you're right — that's what I grew up with as well. But tahini is a LOT better these days – or more specifically, in the US, we now have access to much better tahini.
Soom Tahini is my absolute favorite. It's soft and creamy and not at all bitter. It's the only kind I use, so all my recipes are based on Soom tahini.
If you can't find it near you and don't want to order online, just look for a smooth, creamy consistency. If your tahini is hard and crumbly, stir in a little extra vegetable oil until it's smooth enough to pour into a measuring cup.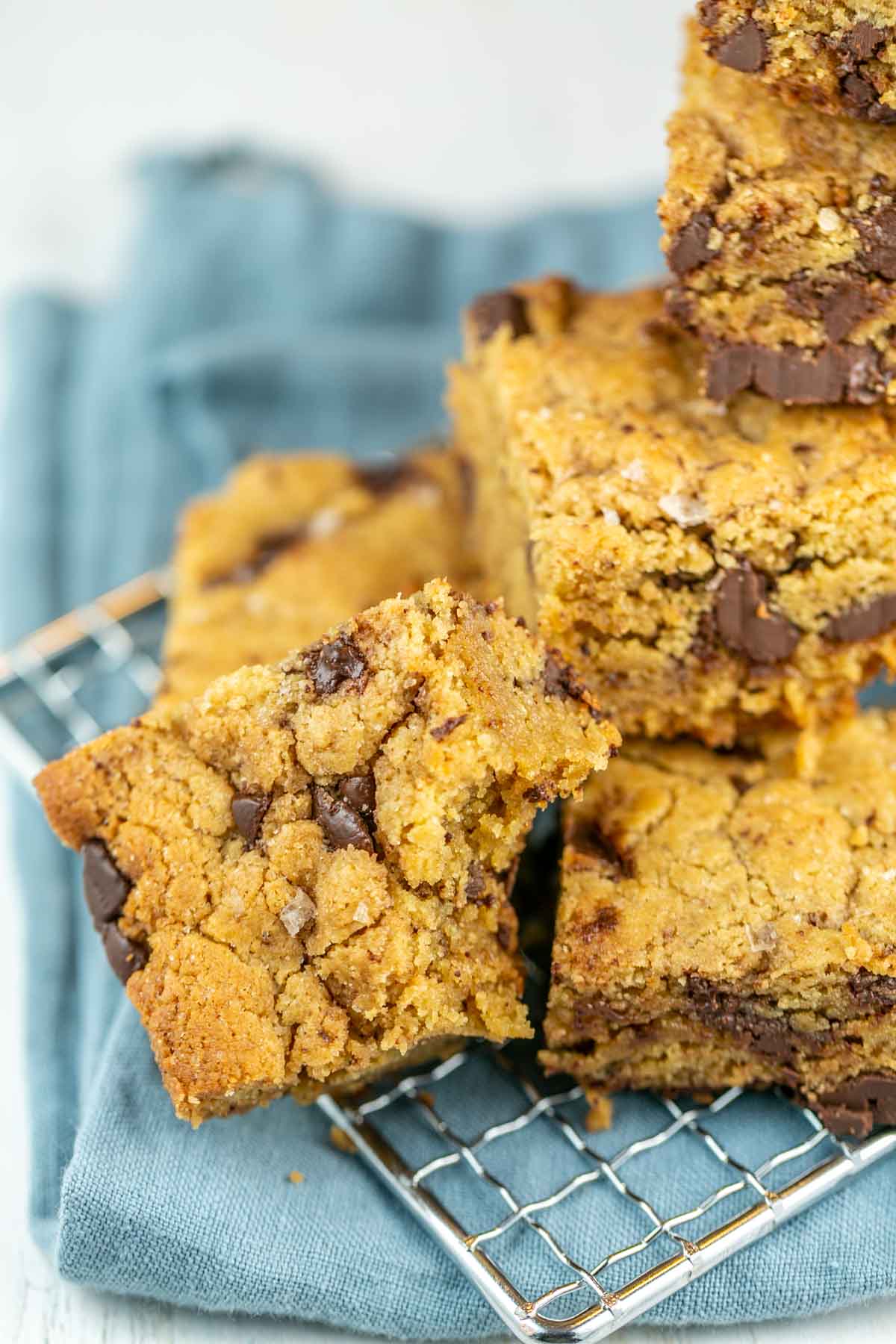 Baking with Coconut Oil
In order to keep these tahini blondies dairy free, we can't use butter.
I tried substituting in vegetable oil, but the texture was all wrong.
How do we solve this? We use coconut oil — cold coconut oil!
Why does the temperature matter here? It's time for my favorite subject… kitchen chemistry!
Kitchen Chemistry

The melting point of coconut oil is 76 °F (butter, in comparison, is 95 °F). When kept below 76 °F, coconut oil can be beaten with sugar, similar to butter. In the solid state, coconut oil can be creamed together with sugar, to create a lighter, airier texture by creating additional volume. When coconut oil is mixed with sugar as a liquid, the coconut oil does not provide any additional lift, resulting in flatter, chewier baked goods.
As we beat together the coconut oil and sugar, the temperature naturally increases from the friction of the beaters.
To combat this, we'll start with cold coconut oil, which will slowly warm as we mix everything together, but still provide more lift and structure than melted coconut oil.
My favorite trick: I melt the coconut oil, pour it into my measuring cup, and then put my measuring cup in the refrigerator for 10-15 minutes, until the coconut oil is chilled and solid.
Recommended Tools for Chocolate Chip Tahini Blondies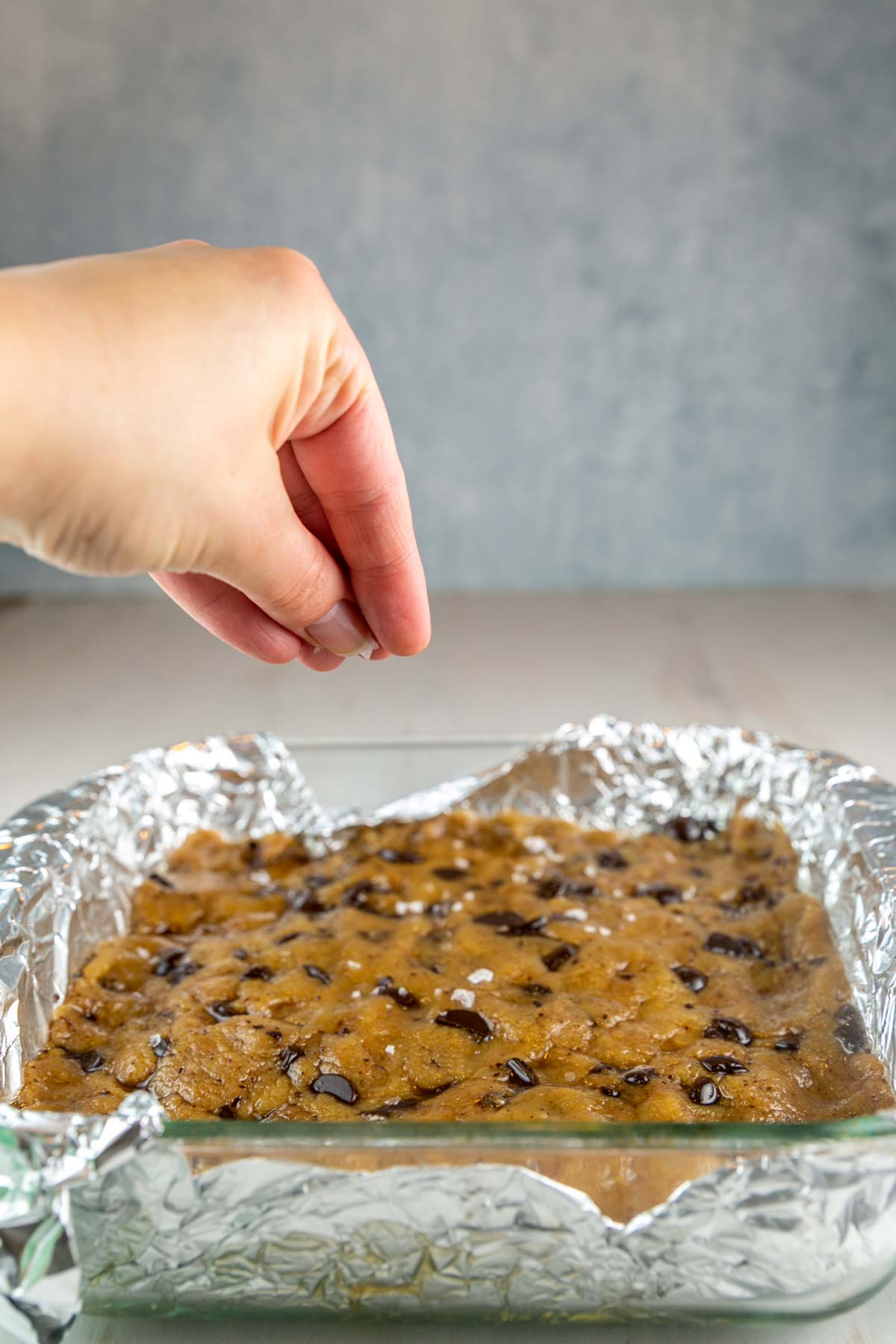 Tips and Tricks for the Best Chocolate Chip Tahini Blondies
Use chilled, solid coconut oil for the recipe. Melted coconut oil will result in a greasier texture and flatter blondies.
Use good quality tahini; tahini should be smooth and pour slowly once mixed. Soom Foods makes my all time favorite tahini. If your tahini is dry and crumbly, mix in a little vegetable oil before adding to the recipe to ensure the blondies do not turn out too dry.
Don't overmix after adding the dry ingredients. This over-activates gluten in the flour and makes these tahini blondies hard and tough.
The batter will appear shiny and a little oily from the coconut oil and tahini. This is normal; the blondies will not be greasy after baking.
The blondie dough is sticky! Press it into the pan using oiled hands or the bottom of a glass or measuring cup.
For soft, slightly gooey blondies, be sure not to overbake. The center should still look soft and shiny; it will continue to bake a bit once the pan is removed from the oven.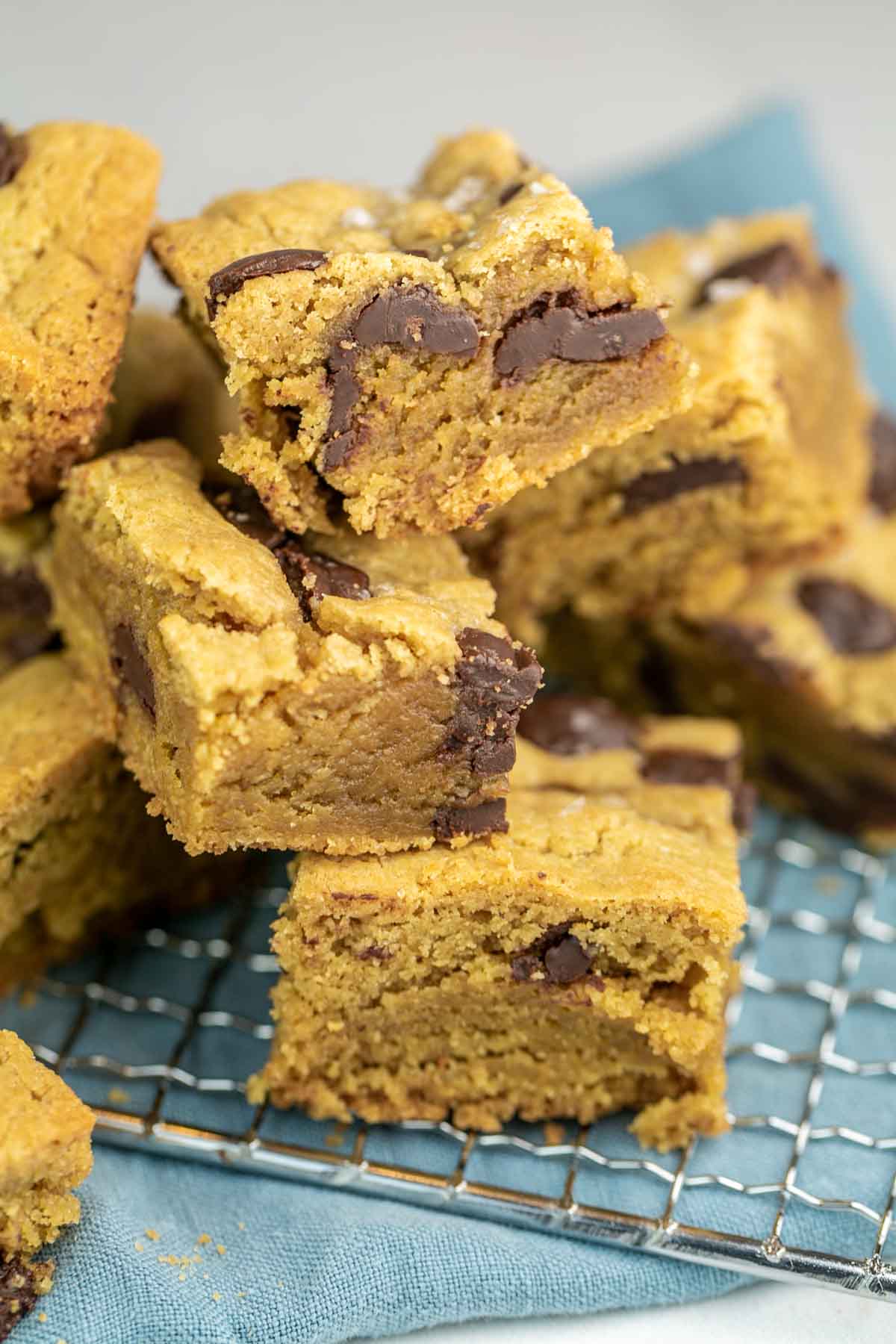 More Tahini Recipes: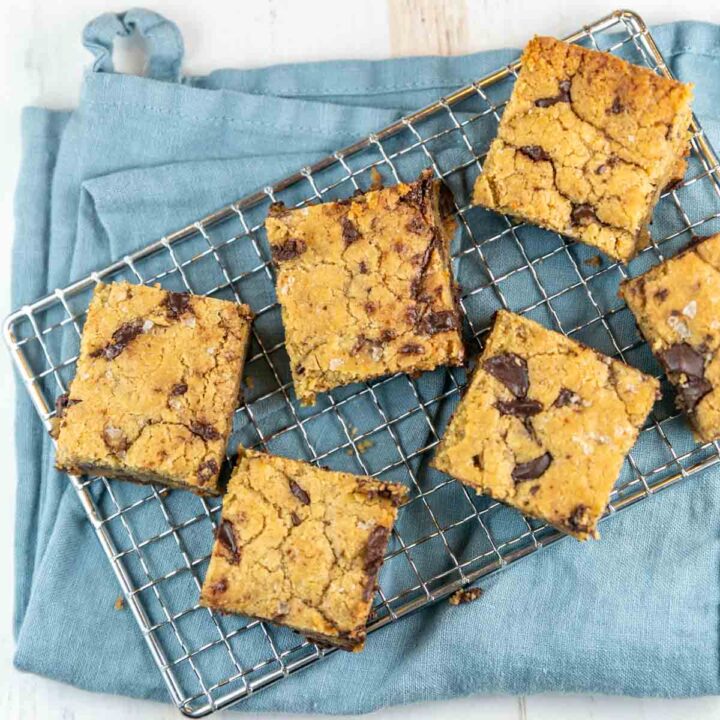 Chocolate Chip Tahini Blondies
Easy to make and unexpectedly delicious, these salted chocolate chip tahini blondies will be your new favorite (dairy free!) treat! 
Ingredients
1 cup (224 grams) tahini, well stirred
1/4 cup (56.5 grams) coconut oil, chilled
1/4 cup (49.5 grams) granulated sugar
1 cup (213 grams) brown sugar
2 large eggs
1 teaspoon vanilla extract
1 1/2 cups (180 grams) all purpose flour
1/2 teaspoon baking soda
1/2 teaspoon salt
1 cup (170 grams) chocolate chips or chopped chocolate
sprinkle of flaky sea salt
Instructions
Preheat oven to 325 °F. Line an 8-inch square baking dish with foil, then spray with nonstick spray.
Using an electric mixer, cream together the tahini, coconut oil, granulated sugar, and brown sugar. Mix for 2 minutes on medium speed, until all ingredients are well combined. The resulting batter will be fairly runny. Add in the eggs and vanilla extract and beat for 30 seconds.
Add in the flour, baking soda, and salt, and mix until just incorporated. Increase speed to medium and mix an additional 30 seconds. Fold in the chocolate chips.
Press the batter into the prepared pan, pushing into the corners with greased fingers or the bottom of a glass or measuring cup.
Bake for 30-35 minute, until the edges just start to look puffy and set. The middle will still look slightly wet. (For cakier bars, an additional 5-10 minutes, until the middle looks drier and puffier.) Cool completely on a wire rack, then cut into 16 bars.
Notes
Make sure the coconut oil is chilled and solid.
Use good quality tahini that is well-stirred and fluid, not dry and crumbly.
To press the sticky dough into the pan, oil your hands or the bottom of a cup before pressing the dough into place.
Chocolate chip tahini blondies can be stored in an airtight container for up to 5 days or frozen for up to 3 months.
Recommended Products
As an Amazon Associate and member of other affiliate programs, I earn from qualifying purchases.