September 19, 2019
Honey Apple Babka
Full of cinnamon and honey, this apple babka is perfect for Rosh Hashanah, Thanksgiving, or any fall celebration. It's sweet, sticky, and equally delicious for breakfast and dessert!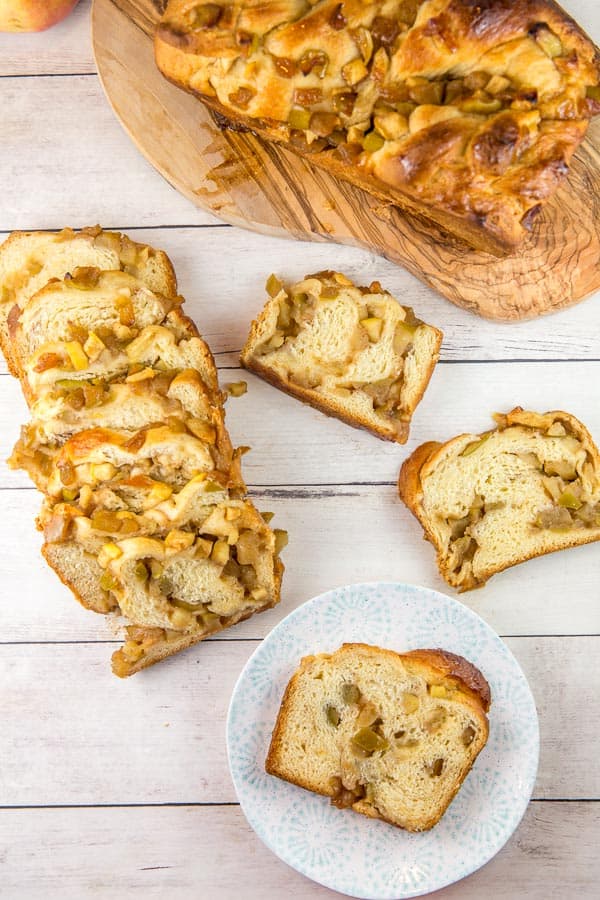 Rosh Hashanah, the Jewish new year, is right around the corner.  On Rosh Hashanah, it is customary to eat apples dipped in honey for a sweet and fruitful new year.
As I discussed in my first "Babka of the Year" post, The Best Chocolate Babka, babka is Eastern European Jewish in origin.
It only seemed fitting to combine the two and turn September's Babka of the Month into an apple and honey-themed babka to celebrate Rosh Hashanah!
But even if you don't celebrate, this is a perfect fall babka.  Apples, simmered in honey and cinnamon, rolled up in delicious rich, thick babka dough, covered in a honey-based simple syrup.  It's like if apple pie turned into a slice of bread and was somehow appropriate for breakfast (this is a very good thing, in case that's not clear).
Basically, what I'm saying is: you need this apple babka in your life!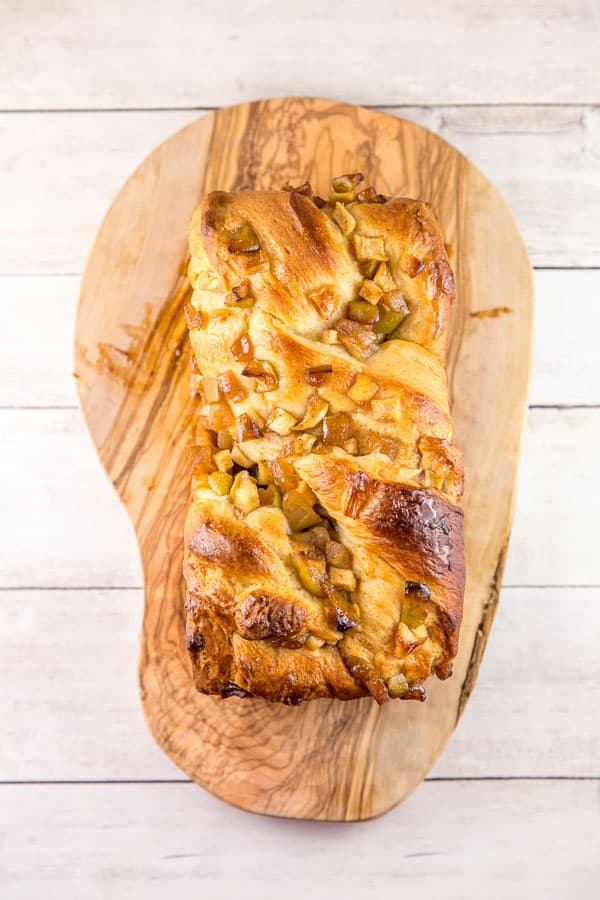 How to Bake with Honey
To pull on the apples and honey theme of Rosh Hashanah, we're going to simmer the apples in honey to soften them before rolling them up in the filling.  But wait!  You just pulled out your jar of honey from the back of the cabinet and found that it's crystallized into a solid.  Is it bad?  Can you still use it?  What the heck happened?
It's time for my favorite subject…. kitchen chemistry!
Kitchen Chemistry

Honey is a super-saturated sugar solution, containing over 70% sugar and less than 20% water – in other words, the water contains more sugar than it should naturally hold, and is thus unstable.  Exposure to oxygen pushes the honey into a crystallized state, which is normal, and not indicative of spoilage.  Slow exposure to heat will return the honey to a liquid state.
The best way to return your honey to a liquid state? Place the jar of honey in a pot of hot water and let it sit for a few minutes.  Another option: scoop the honey into a bowl and microwave for 30 seconds at 50% power (do not microwave directly in the jar!), then slowly stir.
(Pro tip: if your honey is in a plastic jar – do not — I repeat do not — microwave the honey in the container in an attempt to warm it, even on 10% power.  Just don't do it.  Scoop the honey out first.  You have been warned.)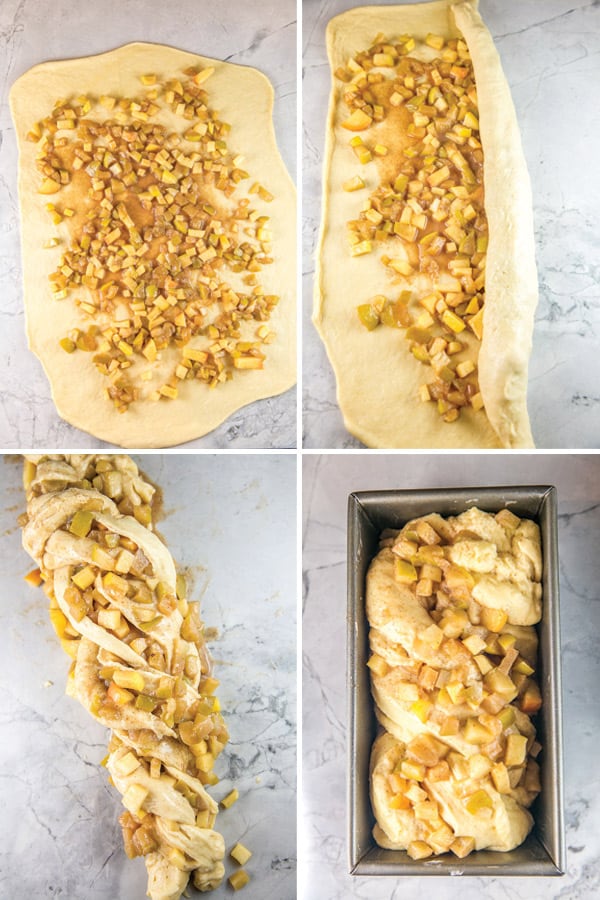 How to Make Honey Apple Babka
Like all the other babka recipes I've shared this year, we'll have to let the dough rise.  We'll do this in two steps: a room temperature rise, and then a refrigerator rise.
First, we'll make the dough — either with a stand mixer or kneading by hand.  The dough will rise for an hour in a warm, dark place; I use the 'proof' setting on my oven for this.
You can also fill a roasting pan with boiling water and set it in the bottom of your oven along with your dough to trap a little extra warm, moist heat for the same effect.
Now that it's getting chillier outside, you might find you need an hour and a half to two hours on the counter for the dough to rise to 1.75-ish times in size on the counter.
After this first step, we'll move the dough to the refrigerator.  The yeast will continue to work in the cold and the dough will still rise, but the whole process is slowed down.
For the honey apple babka filling, bring the honey to a very low simmer.  Add in the chopped apples, salt, and cinnamon, and simmer for 10 minutes, until the apples are soft and coated with the honey.
After baking the babka, we'll also brush the finished loaf with simple syrup.  Because this is a honey apple babka, we'll make our simple syrup with honey instead of sugar!  It makes the final product a little sticky – which also makes it extra delicious!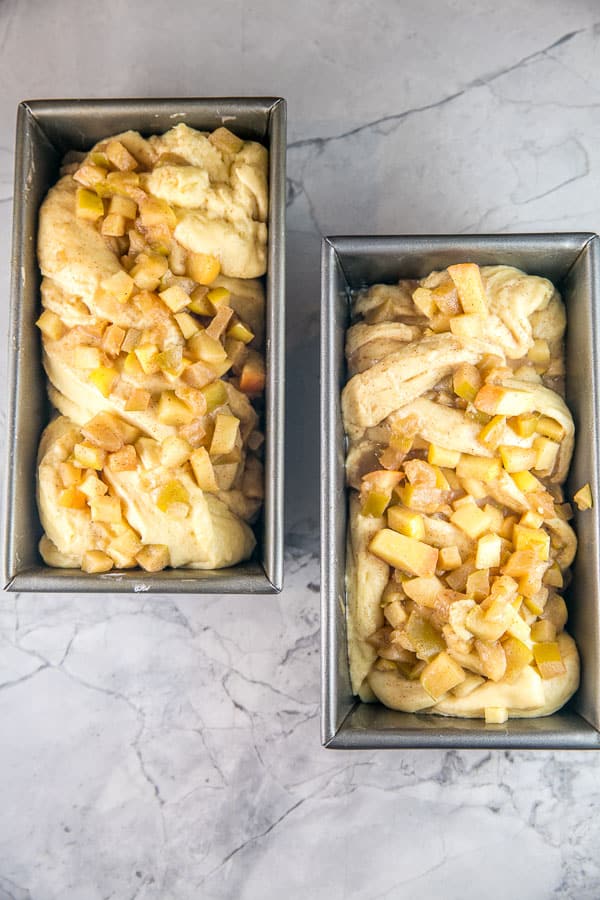 How to Store Honey Apple Babka
Like all my babka recipes, this recipe makes two loaves.  The recipe is easy to halve if you just want one (no splitting an egg in half), but I always recommend making two.
You can use a different filling for one if you want, or you can make two of the same and freeze one.  (We enjoyed eating one of these honey apple babkas last month, and have the other in the freezer waiting for Rosh Hashanah!)
Slices of babka can be stored at room temperature for up to 5 days (if they last that long!)
An entire loaf of babka can be frozen for up to 3 months.  Thaw overnight at room temperature before enjoying.
You can also freeze the proofed, unbaked dough and bake it fresh before enjoying if you want fresh baked apple babka at a later date!  Prepare the babka up through rolling and filling it, twisting it, and placing it into the loaf pan.  Cover tightly with several layers of aluminum foil, then place the entire loaf pan in a freezer bag and freeze for up to 3 months.
When you're ready to bake, defrost overnight in the refrigerator, bring to room temperature the next day for 2 hours, and then bake!
Tips and Tricks for The Best Honey Apple Babka
If you're new to baking babka, visit this "The Best Chocolate Babka" post for step-by-step photos of how to shape babka dough.
Refrigerate the babka dough for the second part of the first rise.  This makes the dough much easier to roll with no need for extra flour.
Use apples specifically cultivated for baking for the best texture and flavor — varieties like Granny Smith, Jonagold, Golden Delicious, Winesap, Braeburn, or Honeycrisp.
To make cleanup easy after measuring out honey, spray your measuring cup with cooking spray.  The honey will easily slide right out when you pour it.
If you don't want to make the babka all in one day, refrigerate the dough for up to 36 hours during the first rise.
Use a thermometer to determine when the babka is done.  When an instant-read thermometer inserted into the center of the loaf hits 190 °F, your babka is fully cooked!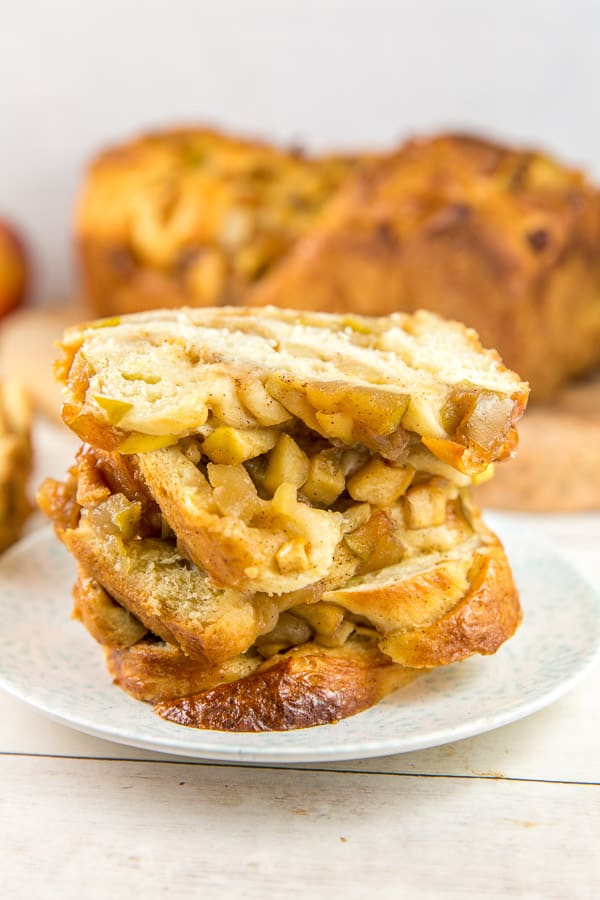 More Apple Dessert Recipes: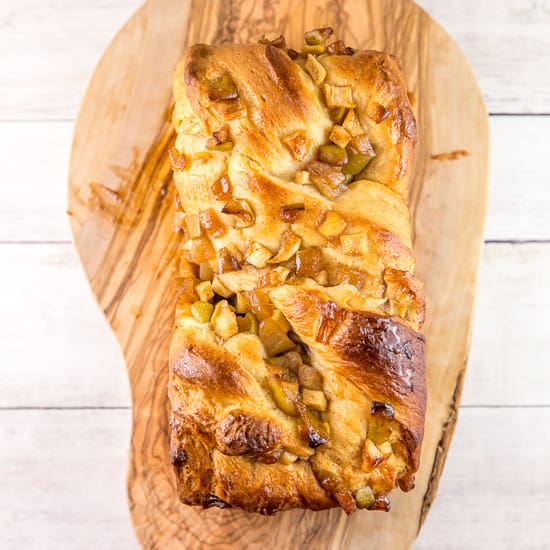 Honey Apple Babka
Prep Time:
3 hours
30 minutes
Total Time:
4 hours
15 minutes
Full of cinnamon and honey, this apple babka is perfect for Rosh Hashanah, Thanksgiving, or any fall celebration.
Ingredients
FOR THE DOUGH:
1 cup whole milk, heated to 110 degrees F
3 teaspoons instant yeast
1/2 cup + 1 tablespoon sugar
2 eggs
2 teaspoons vanilla extract
4 1/2 cups all purpose flour
1 teaspoon salt
1/2 teaspoon cinnamon
12 tablespoons unsalted butter, softened and cut into 12 pieces
For the apple filling:
1/2 cup honey
1 1/2 pounds apples (~ 4 golden delicious apples), chopped
1/4 teaspoon salt
1 /2 teaspoon cinnamon
for the simple syrup:
1/2 cup honey
1/2 cup water
Instructions
Prepare the dough. Combine the milk, yeast, and 1 tablespoon of sugar in the bowl of an electric mixer fitted with the dough hook or in a large glass mixing bowl. Mix together using the dough hook or whisk together by hand and set aside for 5 minutes, or until frothy.
On low speed (or by hand), beat in the remaining sugar, eggs, and vanilla extract. Add in the flour, salt, and cinnamon and mix just until the dough comes together, another 2-3 minutes. Increase the speed to medium low and add the butter one piece at a time, beating after each addition until all butter as been added. Continue mixing with the dough hook or kneading by hand until the dough is smooth and pulls away from the sides of the bowl, about 10 minutes.
Transfer the dough into a large lightly greased bowl and cover with plastic wrap or a clean kitchen towel. Set aside to rise in a warm location for 1 hour, until increased approximately 3/4 in size (room temperature may take closer to two hours). Transfer the bowl to a refrigerator, still covered, and set aside for at 1 hour, until dough has doubled in size and is firm to the touch.
Prepare the filling. While the babka is rising in the refrigerator, prepare the apple filling. Core and chop the apples into small pieces. Pour the honey into a small saucepan and bring to a slow simmer. Add in the apples, salt, and cinnamon and simmer for 10 minutes. Set aside to cool.
Shape the babka. Grease two 9x5-inch loaf pans. Remove the dough from the refrigerator and gently punch it down. Cut the dough in half; remove half from the bowl and recover the other half and set aside.
Roll the dough into a roughly 9-inch by 18-inch rectangle. Spread half the filling over the dough, leaving a slight border along the edges. Spread half of the apple filling across the dough. Working from the long side of the dough, roll the dough into a long cylinder. Using a sharp knife, cut the dough in half long-ways down the length of the cylinder to expose the apple filling, creating two logs of dough. Twist these two logs together. Fold in half one more time, twisting again, and place dough in the prepared loaf pan. Repeat with the remaining dough. Cover both loaf pans with plastic wrap or a dish towel and set aside to rise again at room temperature, for another hour. Preheat the oven to 350 °F.
Make the honey simple syrup. Combine the honey and water in a small saucepan over medium heat. Simmer for 5 minutes, stirring occasionally. Set aside to cool.
Bake the babka. Bake the loaves at 350 °F for 40 to 50 minutes, until the top of the loaf is golden brown and the inside registers 190 °F using an instant read thermometer. As soon as the babkas are done baking and come out of the oven, use a long skewer or knife to poke holes all over the bread, pushing all the way down to the bottom. Brush the simple syrup on top, equally dividing between the two loaves. Allow the breads to cool in the pans for 10 minutes, then transfer to a wire rack to cool completely before serving.
Notes
Babka can be stored in an air-tight container for up to 5 days, or frozen for up to 3 months. To freeze, wrap fully cooled loaf in aluminum foil and place inside a plastic freezer bag.
Unbaked babka can be prepared up and frozen in the loaf pan before baking. Fill the babka with the apple filling, shape and twist, and place in the loaf pan. Cover with several layers of aluminum foil and freeze for up to 3 months. Thaw for 24 hours in the refrigerator, then let stand at room temperature for 2 hours before baking.
A Bunsen Burner Bakery Original Protocol
Recommended Products
As an Amazon Associate and member of other affiliate programs, I earn from qualifying purchases.
Nutrition Information:
Yield:

24
Serving Size:

1 slice
Amount Per Serving:
Calories:

229
Total Fat:

6.8g
Net Carbohydrates:

39.7g
Protein:

3.6g