September 10, 2021
Caramel Apple Cake
This Caramel Apple Cake is perfectly spiced with three delicious layers of cake and a salted caramel frosting layered in between. When apple season rolls around, you have to make this decadent dessert!
Calling all apple lovers! (Or caramel lovers – I'm lukewarm on apples but LOVE anything with homemade caramel!) This is the fall cake for you!
Is it just me, or are caramel apples always better in theory than in reality? They look beautiful and should taste amazing, but somehow the caramel is always a little too hard or the apple is a little too soft and the whole concept falls a little flat. Instead, we're going to take those favorite flavors and put them into cake form!
This towering three-layer apple cake with homemade caramel frosting would be perfect to serve any time in the fall (though of course, Thanksgiving jumps out as a perfect opportunity!). Yes, like any layer cake, there are a few different steps involved to make it, but trust me when I say that the labor of love is absolutely worth it!
Spiced Apple Cake
Let's start off with the apple cake layers. We're using not only fresh apples but also applesauce, which makes this cake extremely moist and tender.
For the classic "fall spice" flavor, we'll add cinnamon and nutmeg (and it makes your kitchen smell amazing while it bakes!)
While the overall batter is easy to make and very similar to other layer cakes, I do have one trick for you to help keep the apples looking their best. Dice the apples just before adding them to the cake, rather than prepping them ahead of time. Why does this matter? The answer, of course, is all in my favorite subject… kitchen chemistry!
Kitchen Chemistry

Have you ever wondered why apples turn brown so quickly after cutting them? When an apple is cut, the cells inside the apple are exposed to oxygen. Polyphenol oxidase enzymes inside the cell oxidize compounds inside the cell, and this reaction create a brown-colored secondary product.
So how can we prevent browning? We need to reduce the amount of oxygen that interacts with the apple by limiting the amount of time it is exposed to air. Dice the apple, add it directly to the batter, and mix – the batter coats the surface and slows down the oxidation process.
Best Apples for Baking
While we're talking about the caramel apple cake layers, let's also address what kind of apples are best for baking!
Not all apples are made equally. Some apples are great for eating alone but often, they aren't the best baking apples. They may lose their texture and become too soft, or the apple flavor is too muted when combined in a cake.
For the ideal texture and flavor, choose a baking apple, like Granny Smith, Braeburn, Winesap, Honey Crisp, Jonagold, or Golden Delicious. My personal favorites are Braeburn or Winesaps, but they can be hard to find outside of farmers' markets. Fortunately, Granny Smith apples are sold everywhere and the tartness of the apple goes well with the sweet treats we usually bake.
Homemade Caramel Frosting
The homemade salted caramel frosting perfectly complements the tart Granny Smith apples for our caramel apple cake.
First, we need to make homemade caramel as directed in my Easy Salted Caramel Recipe. Once the caramel is cool, you'll mix it with butter and confectioner's sugar for a fluffy, dreamy frosting.
Even though making the homemade caramel sounds kind of scary, I promise it is super easy and so worth it! It has just three ingredients: sugar, heavy cream, and salt. My recipe has step-by-step instructions and photos to show you the entire process. Not only is the homemade caramel amazing in this frosting, but it is also lovely to have on hand and stir into your morning coffee or to dip some apples into (or my personal favorite – just eat with a spoon).
Assembling a Layer Cake
Here is where things start to get fun. To start, put a dollop of frosting on the plate or cardboard where you are assembling the cake, which helps to make sure the bottom layer of cake stays in place.
Then, place the first layer down on the dollop. Spread about 3/4 cup of frosting on top of that layer, then add the next layer of cake and repeat. When you get to the final layer, you add just a thin layer of frosting, as a crumb coat. This is just the first layer of frosting which is meant to make it easier to get a thicker layer on afterward.
To do the crumb coat, spread a small amount of frosting on the top and sides of the cake and then refrigerate the cake for 15-20 minutes. After being chilled, the frosting will set and trap any rogue crumbs, preventing them from smearing into the frosting. Then add another, thicker layer of frosting to the top and sides of the cake. Then decorate as desired with piped swirls of frosting, more caramel sauce (my favorite!), and/or your favorite fall nuts, like pecans or walnuts.
Tips & Tricks for the Best Caramel Apple Cake
If your cakes come out with a dome on the top, you can trim the dome off with a sharp knife. If you don't trim the cake, you might end up with a lopsided cake which is difficult to decorate.
Grease your cake pans well! The apples will stick to the pan if they touch it, so make sure the pan is nice and greased.
Adjust the ingredients to make a different size cake! This recipe is written for 3 8-inch cake pans. To bake in 6-inch pans, halve the ingredients. To bake in 9-inch pans, multiply each ingredient by 1.5.
Make the separate parts of the cake ahead of time and assemble later! Wrap the separate cake layers in plastic wrap and place them in the fridge for up to 3 days (or freeze them for up to 3 months!). You can also make the frosting ahead of time and keep it in the fridge for up to 4 days. Bring it to room temperature before frosting the cake.
More Apple Recipes to Try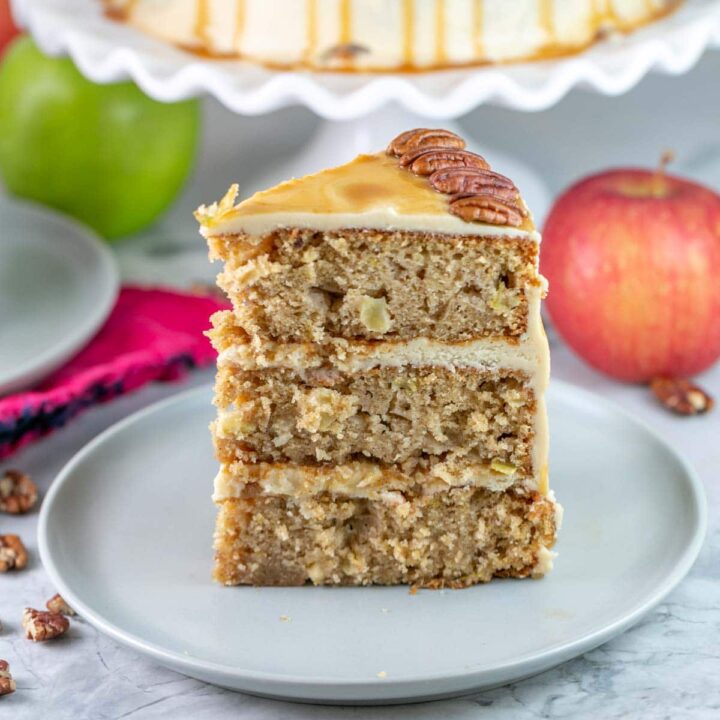 Caramel Apple Cake
Additional Time:
30 minutes
Total Time:
1 hour
35 minutes
This Caramel Apple Cake is perfectly spiced with three delicious layers of cake and a salted caramel frosting layered in between.
Ingredients
For the Cake:
1 1/2 cups (297 grams) vegetable oil
2 1/2 cups (532 grams) brown sugar
1/2 cup (123 grams) unsweetened applesauce
6 large eggs, room temperature
2 1/2 teaspoons vanilla extract
4 cups (480 grams) all-purpose flour
4 teaspoons baking powder
1 1/2 teaspoon kosher salt
4 teaspoons ground cinnamon
1 teaspoon ground nutmeg
5 cups (575 grams) diced apples
For the Frosting:
1 cup (226 grams) unsalted butter, room temperature
1 teaspoon kosher salt
4 cups 454 grams) confectioners' sugar
Instructions
Make the apple cake. Preheat the oven to 350 °F. Grease and flour three 8-inch round cake pans. Line the pans with parchment paper, then grease and flour the parchment paper.
In a large mixing bowl, stir together the vegetable oil, brown sugar, eggs, vanilla extract, and apple sauce. Add the flour, baking powder, salt, cinnamon, and nutmeg and mix until combined and no streaks of flour remain. Fold the diced apples into the batter.
Bake the cake. Divide the batter evenly among the three pans. Bake for 30-35 minutes or until a toothpick comes out with a few moist crumbs. Cool the cake in the pan for 15 minutes, then turn them out onto cooling racks to cool completely before frosting.
Make the caramel frosting. Using an electric mixer, beat together the butter and salt on medium-high speed until light and fluffy, 4 to 5 minutes. Reduce the speed to low and add in the confectioners' sugar, 1/2 cup at a time. Slowly pour in the caramel. Once all the caramel has been added, increase the speed to medium-high and beat for an additional 2 minutes. Refrigerate the frosting for at least 30 minutes.
Assemble the cake. Level the cakes if necessary. Cover the bottom layer of cake with 3/4 cup of the frosting. Top with a second cake layer and repeat. Place the final layer on top of the cake, face down, and frost the sides and top of the cake with a very thin coat of frosting. Refrigerate for 15-20 minutes to set the crumb coat, then frost with a thicker coat of frosting on the sides and top of the cake. Decorate the cake with additional caramel sauce, if desired. Heat the sauce slightly until it is a thinner, runnier consistency. Spread the sauce over the top of the cake and allow some to drip down the sides.
Notes
For ideal texture and flavor, choose a baking apple, like Granny Smith, Braeburn, Winesap, Honey Crisp, Jonagold, or Golden Delicious.
This recipe is written for 3 8-inch cake pans. To bake in 6-inch pans, halve the ingredients. To bake in 9-inch pans, multiply each ingredient by 1.5. Adjust baking time as necessary.
The cake can be baked ahead of time and stored at room temperature for up to 2 days or frozen for up to 3 months. The frosting can also be made ahead of time and kept in the refrigerator for up to 4 days. Bring to room temperature before frosting the cake.
Store the decorated cake at room temperature for up to 3 days or freeze the whole cake or slices for up to 3 months.
Recommended Products
As an Amazon Associate and member of other affiliate programs, I earn from qualifying purchases.