September 22, 2022
Best Jewish Apple Cake
Whether you call it a Jewish Apple Cake, Dutch apple cake, or German apple cake, this easy mix-by-hand cake full of cinnamon and apples is the perfect fall treat!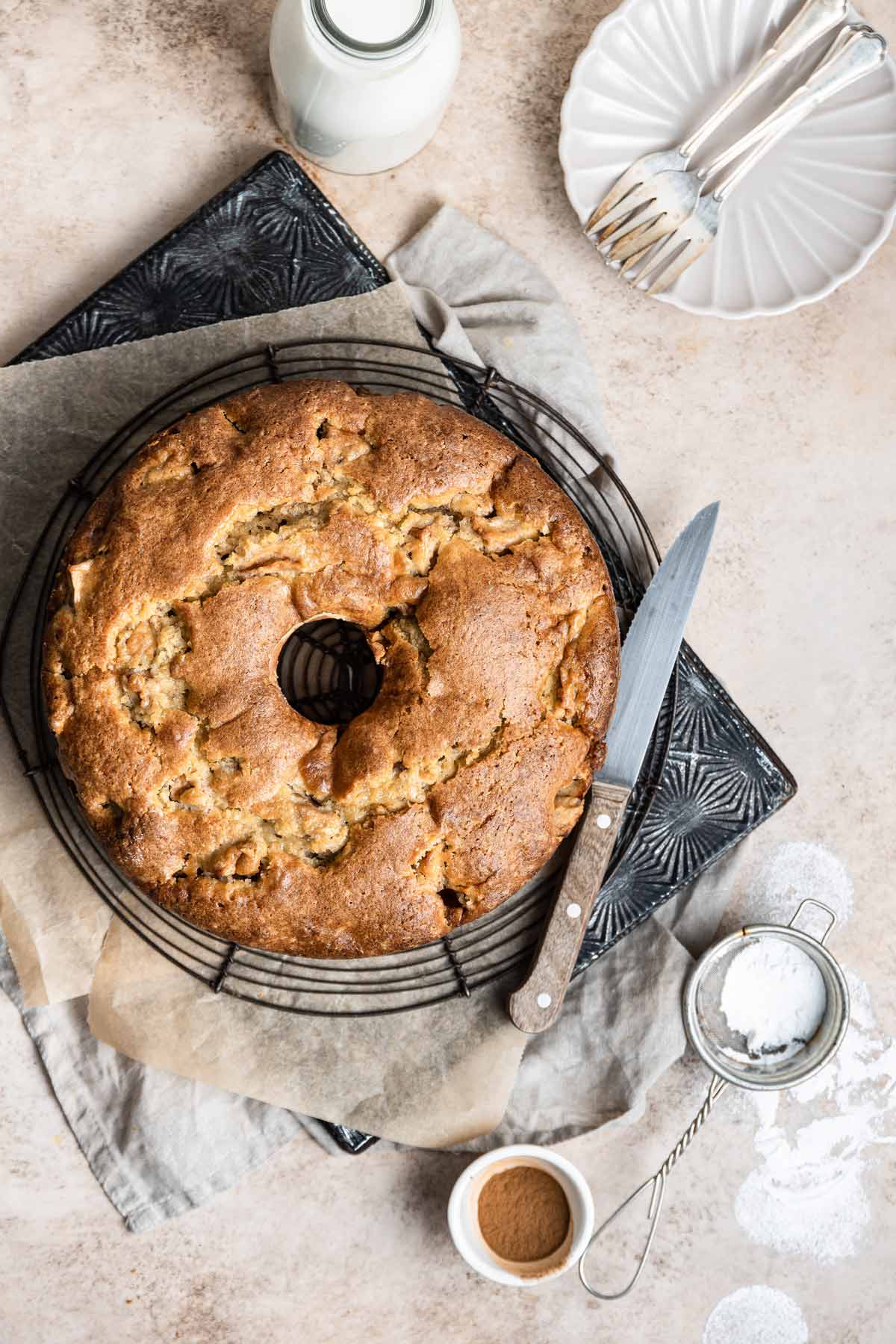 (This post contains affiliate links. If you make a purchase through one, I receive a small commission. For more information, please refer to my privacy policy.)
I've made this cake quite possibly more than any other cake I've ever made. It's a staple for us every fall and often makes an appearance for our Rosh Hashanah and Thanksgiving holiday dinners. (And let's be honest, it's just as good for breakfast as it is for dinner!)
Nearly every time I make it, someone asks for the recipe – because it's just that good. The apples make it super extra moist, the cinnamon is the perfect compliment, and it's such an easy cake to make. I never mind sharing the recipe, OR making it again by special request!
Fresh apples (read on for tips on the best apples to use for baking!), lots of cinnamon, and an extra-moist vanilla-flavored cake combine to make the ultimate fall treat. Apple season, we are ready for you!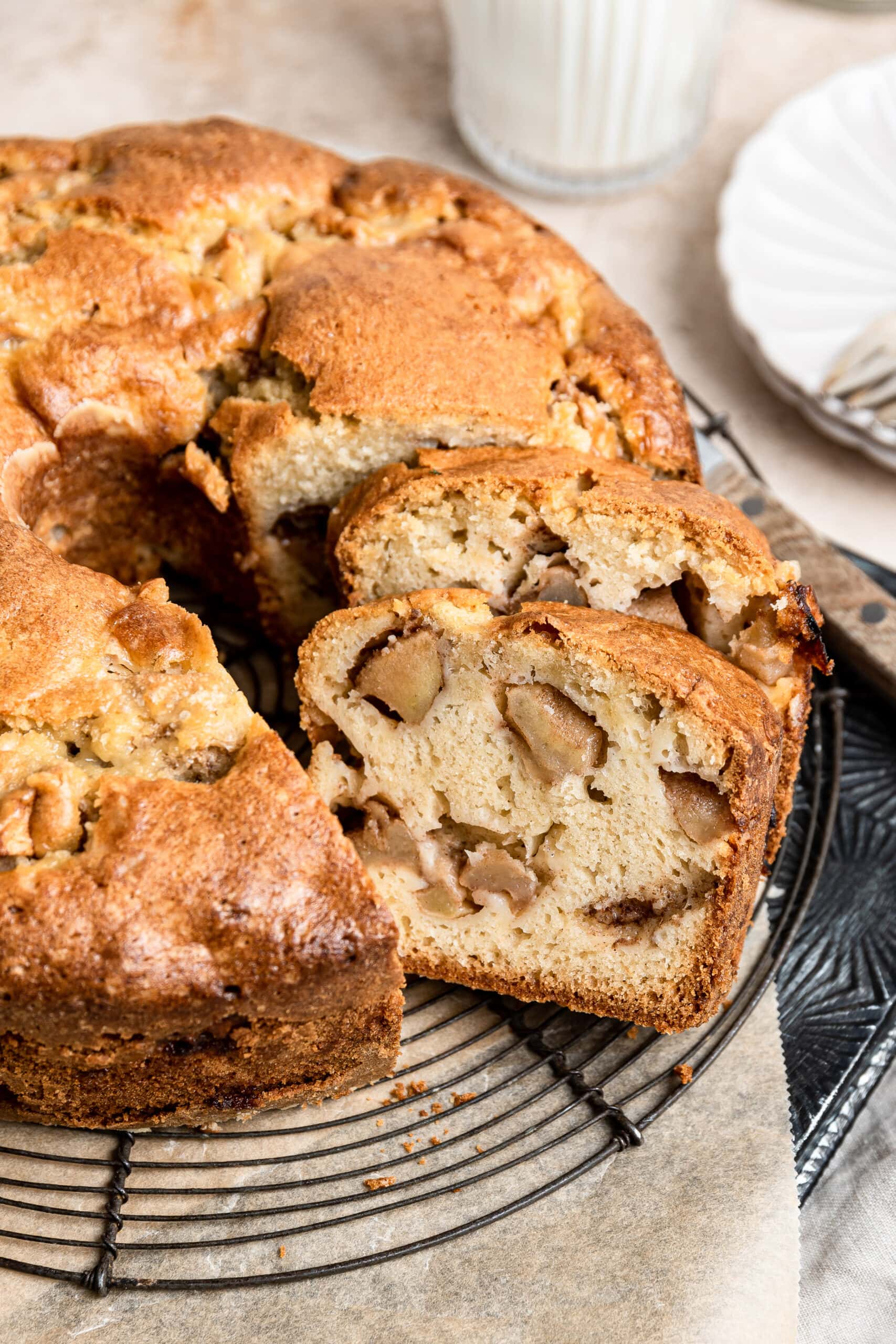 Origins of Jewish Apple Cake
Let's start with the basics. I know this as a Jewish apple cake – but what makes it Jewish? Is it different from a German apple cake or a Dutch apple cake? In short: no. They are basically all the same thing!
Most historical data points to the cake originating with the Pennsylvania Dutch; hence Dutch apple cake (or German apple cake, for the German ancestry).
The name Jewish apple cake likely came about because this cake is dairy-free since it is made with oil instead of butter, and thus can still be consumed with meals containing meat (in accordance with kashrut).
Probably adding to the naming confusion, apples are consumed at Rosh Hashanah, the Jewish New Year. On Rosh Hashanah, it is customary to eat apples dipped in honey for a sweet and fruitful new year.
While there is no honey in this Jewish apple cake, it's still a very popular Rosh Hashanah dessert. Even though the origin is likely not Jewish. Confused yet? Not Jewish in origin. But often consumed for a Jewish holiday. Got it.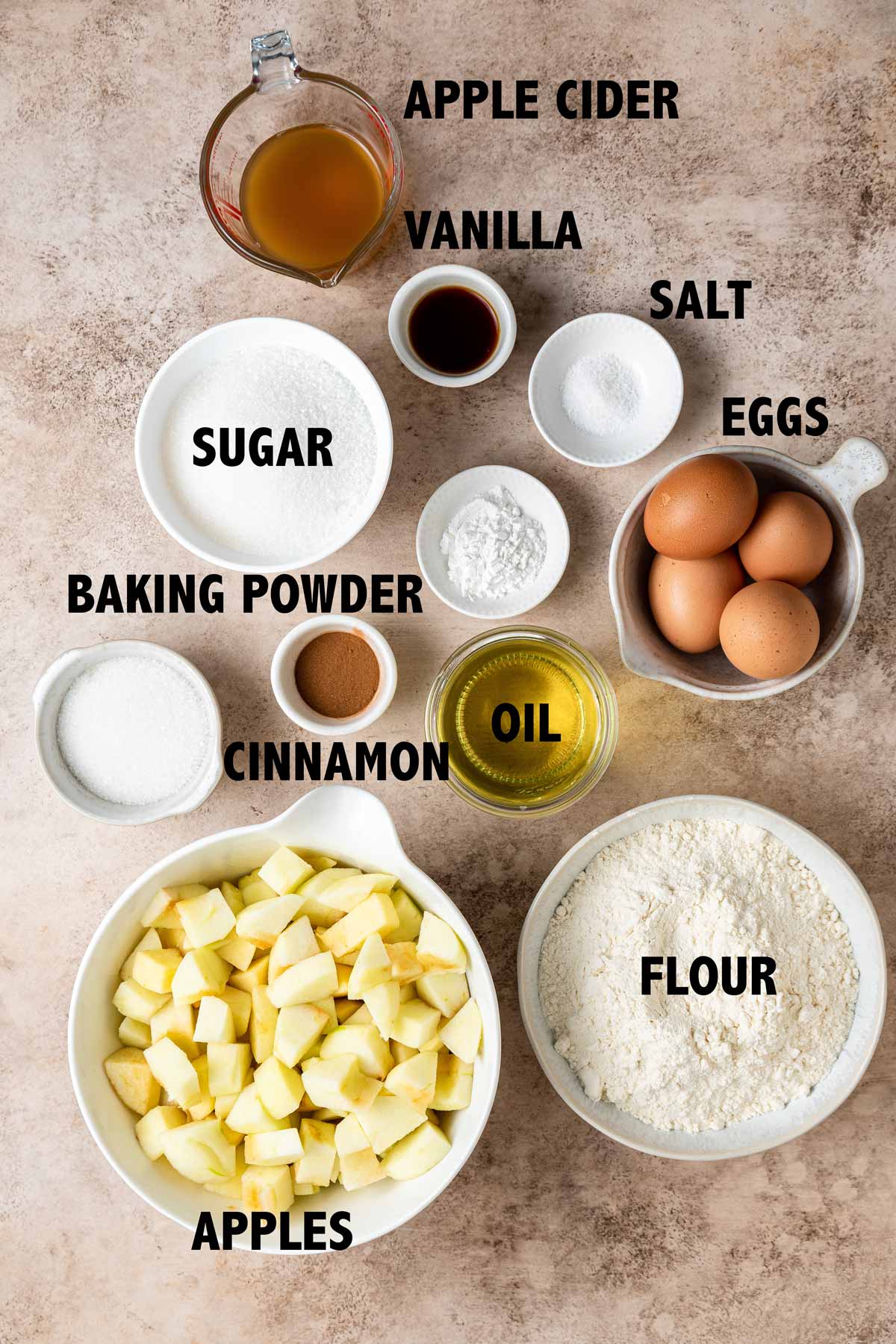 Best Apples for Baking
Before we get into the nitty-gritty of how to make this (super easy!) German/Dutch/Jewish apple cake, let's talk a little about baking with apples. I know how tempting it is to bake with whatever apples you keep on hand to eat. I did this for years, too — we like to eat gala apples, so I usually used them for baking.
But! An eating apple and a baking apple are two totally different things. And yes, you can taste the difference. I've made this cake plenty of times with gala apples, but switching to a baking apple does make a difference. The apples hold their shape better. There is no mealy/gritty texture.
In other words, buy specific apples for specific uses.
My personal favorite baking apples are Braeburn or Winesap, but these aren't always the easiest to find (I have only ever seen them at our farmer's market, not in a grocery store). Granny Smith apples are usually available everywhere and are great for baking; also keep an eye out for Jonagold, Golden Delicious, or Honeycrisp apples.
Easy Mix by Hand Cake
One of the reasons I love this cake so much is that it's so dang easy. Because it uses oil instead of butter, the cake is mixed by hand — no need to pull out your mixer.
To start, combine peeled and chopped apples with some cinnamon and sugar. Toss to coat and set aside. This will help draw out some of the juices from the apples, to ensure the final cake isn't too liquidy — and lets us pack in as many apples as possible without the cake falling apart!
One common question I get about this cake relates to the presence of apple cider (or orange juice, if you don't have apple cider on hand). As we previously discussed, this cake is dairy-free and thus contains no milk.
Not only does the cider provide the liquid component of the cake, but it also plays an important role in keeping the cake super tender and moist. It's time for a little… kitchen chemistry!
Kitchen Chemistry

An acidic ingredient, like apple cider, gives off hydrogen ions when dissolved in water. These hydrogen ions, released into the solution, play a major role in altering the shape of proteins. Free hydrogen ions are able to break the bonds that are necessary for protein structure, thus unfolding and denaturing the proteins. This protein denaturation helps create an extra tender cake. But too much acid, and the cake will lose its structure!
I like to use a vanilla bean paste for this cake — I think it adds an extra punch of vanilla flavor, and the white cake batter looks extra pretty with the brown specks from the vanilla beans. My favorite brand of vanilla bean paste is the Nielsen-Massey Madagascar Bourbon Pure Vanilla Bean Paste, but if you don't have any on hand, just use vanilla extract instead.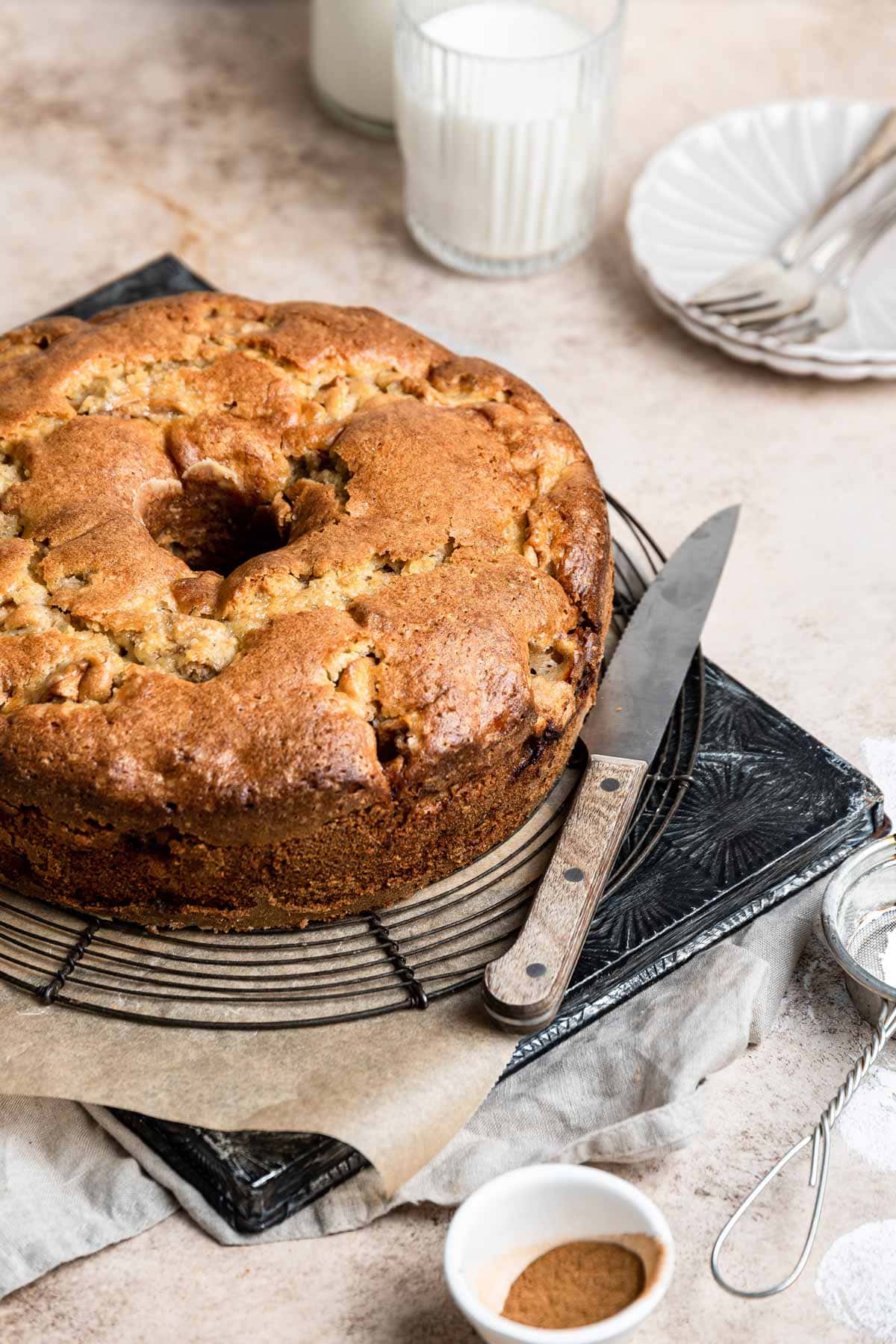 Layers of Baked Apples
My favorite part about this apple cake is that there are apples in every bite! We can achieve this by layering the batter and apples, rather than just adding apples to the middle or top. Mix the batter by hand, then layer a little batter, some apples, another spoonful of two of the batter, more apples, and repeat. Drizzle the batter over the apples, covering them a little, but not fully.
As the cake bakes up and around the apples, this helps to ensure there are some apples in every bite, and not just all settled at the bottom (or the top) of the cake.
Bake for an hour and a half, cool briefly in the pan, and then turn out to cool. Unlike a traditional bundt cake, which we flip upside-down, keep this apple cake right-side-up, so the top has a visible layer of apples. To achieve this, use a tube pan, where the top and bottom of the pan are the same width.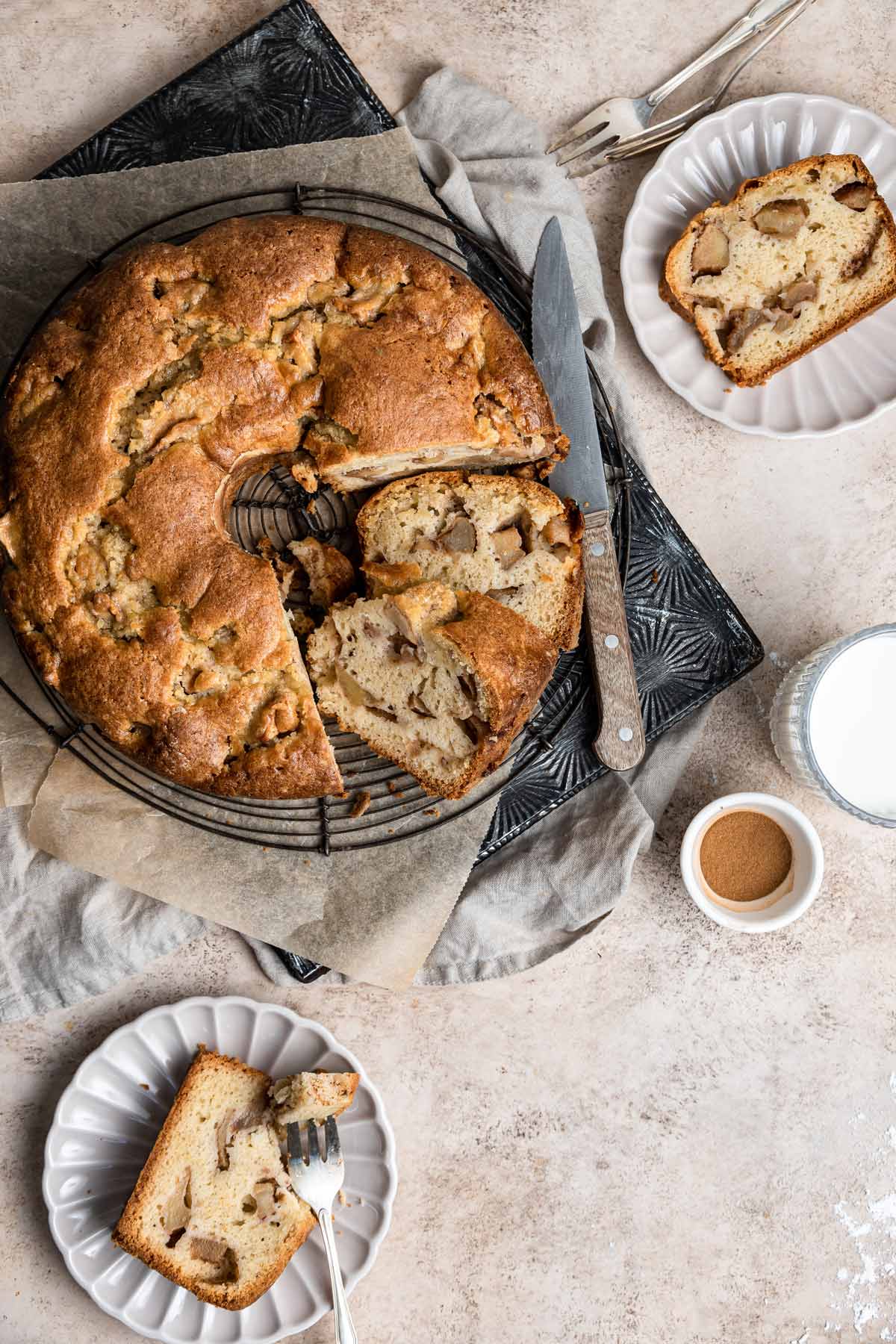 Storing Apple Cake
Once baked, your cake can be stored at room temperature in an airtight container for three to four days (if it lasts that long!).
(We don't usually have a problem with leftovers – it's delicious for breakfast with a cup of coffee, so I usually find it's devoured for breakfast by any overnight guests!)
For longer-term storage, wrap any leftover slices in plastic wrap, followed by a layer of aluminum foil, and store in a freezer-safe storage bag for up to 3 months. Thaw at room temperature before enjoying.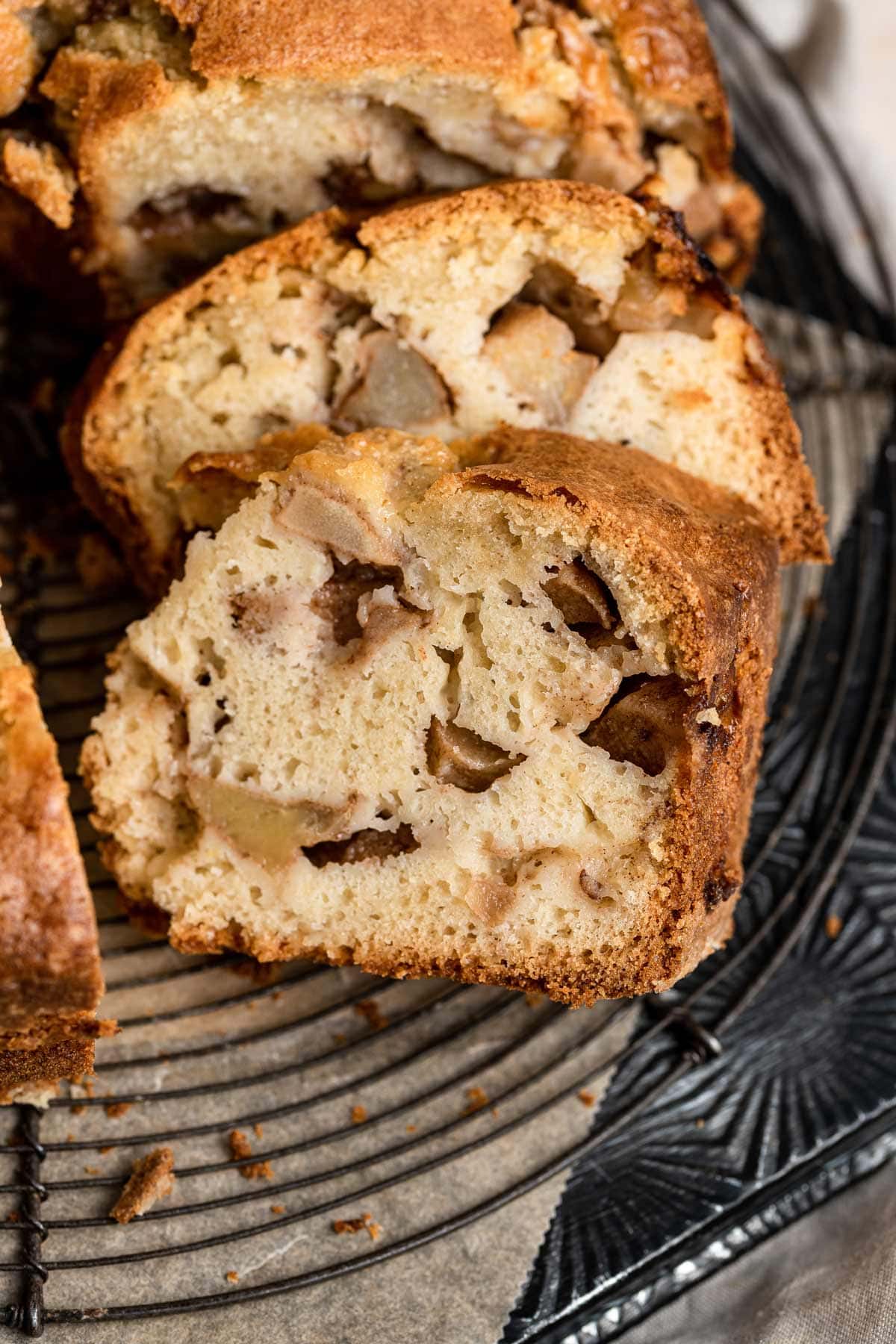 Tips and Tricks for The Best Jewish Apple Cake
While this is baked in a tube pan, you should still give this post on ESSENTIAL BUNDT CAKE TIPS a quick read — it covers everything from how to make sure your cake doesn't stick to how to prevent the bottom of the cake from doming!
Use apples that hold up well in baking, like Granny Smith, Jonagold, Golden Delicious, Honeycrisp, Winesap, or Braeburn.
Grease the pan well! Any apples that touch the edge of the pan will stick, so make sure to spray both the bottoms and the sides well.
Layer batter, then apples, more batter, apples, and then more batter into the prepared tube pan. The apples will sink to the bottom as the cake bakes, so layering helps to keep the apples distributed better throughout the cake.
After removing the pan from the oven, run a knife along the edges of the pan to loosen the cake slightly, then set it aside to cool for 10 minutes before inverting it onto a wire rack.
More Fall Dessert Recipes: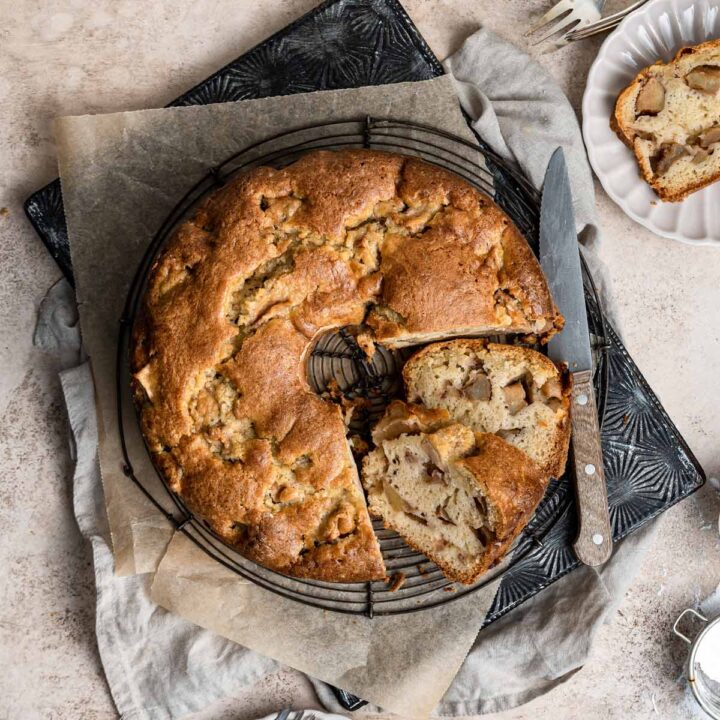 Jewish Apple Cake
Cook Time:
1 hour
30 minutes
Total Time:
1 hour
45 minutes
Whether you call it a Jewish apple cake, Dutch apple cake, or German apple cake, this easy mix-by-hand cake full of cinnamon and apples is the perfect fall treat!
Ingredients
FOR THE APPLES:
6 apples, peeled and chopped (about 5 cups/650 grams chopped apples)
1 tablespoon cinnamon
5 tablespoons (62 grams) granulated sugar
FOR THE CAKE:
1 cup (198 grams) vegetable oil
1 1/2 cups (297 grams) granulated sugar
1/4 cup (80 grams) apple cider or orange juice
2 3/4 cup (330 grams) all-purpose flour
1 tablespoon baking powder
1 teaspoon salt
4 large eggs
Instructions
Preheat oven to 350 °F. Grease a tube or bundt pan with nonstick spray.
Combine apples with cinnamon and sugar in a small bowl and set aside.
Whisk together the oil, apple cider, sugar, and vanilla paste or extract in a large bowl. Stir in the flour, baking powder, an salt. Mix together until combined (batter will be thick), then add the eggs, one at a time, stirring after each addition.
Spoon a few tablespoons of the batter into the bottom of the prepared pan. Cover the batter with a layer of apples. Spoon a few more tablespoons of batter into the pan, drizzling batter over the apples but not covering them completely. Add more apples to the pan. Repeat, ending with a layer of batter.
Bake for 1 hour and 30 minutes, or until a tester inserted into the cake comes out clean. Cool in the pan for 10 minutes, then remove from the pan and cool on a wire rack.
Notes
Use apples that hold up well in baking, like Granny Smith, Jonagold, Golden Delicious, Honeycrisp, Winesap, or Braeburn. 
 Cake can be made ahead of time and frozen.  Once fully cooled, wrap cake in plastic wrap, followed by a layer of aluminum foil and freeze for up to 3 months.  Thaw overnight at room temperature.
Recommended Products
As an Amazon Associate and member of other affiliate programs, I earn from qualifying purchases.
Nutrition Information:
Yield:

16
Serving Size:

1 slice
Amount Per Serving:
Calories:

400
Total Fat:

19.8g
Carbohydrates:

51.3g
Protein:

5g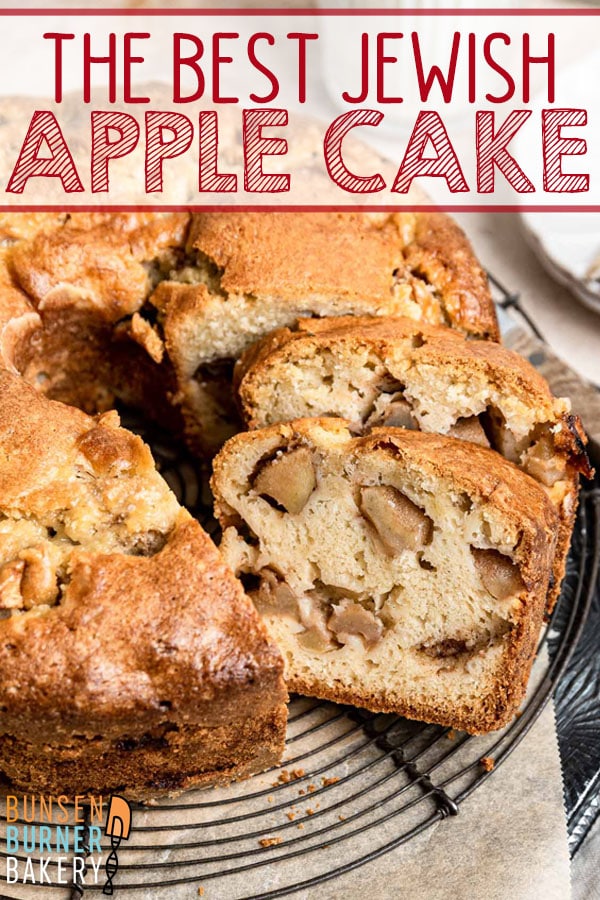 This recipe was originally posted September 2018 and updated with new photos and helpful tips September 2022.