September 29, 2016
Apple Bread with Cinnamon Crumble
Cinnamon crumble apple bread is fall baking at its finest.  All the delicious flavors of fall, but so much easier than a pie and perfect to share!
It's time for our next edition of my Quick Bread of the Month series!  The grocery stores are selling fresh apples by the bag and our CSA has included a few, so… it's officially apple season!
How better to celebrate the arrival of fall than with some cinnamon crumble-topped apple bread?
I love fall.  I love the cooler weather (finally! No sweating profusely walking to work in the morning!).  I love the return of football (and especially fantasy football).  I especially love fall baking — fresh loves of bread, pies in the oven, muffins and quick breads galore.
But what I don't love?  The lack of delicious summer produce.  Fall is hard for seasonal eating.  There's only so many sweet potatoes and squash I can handle.  I like pumpkin, but not in the OMG PUMPKIN EVERYTHING craze kind of a way.  And I can generally take or leave apples.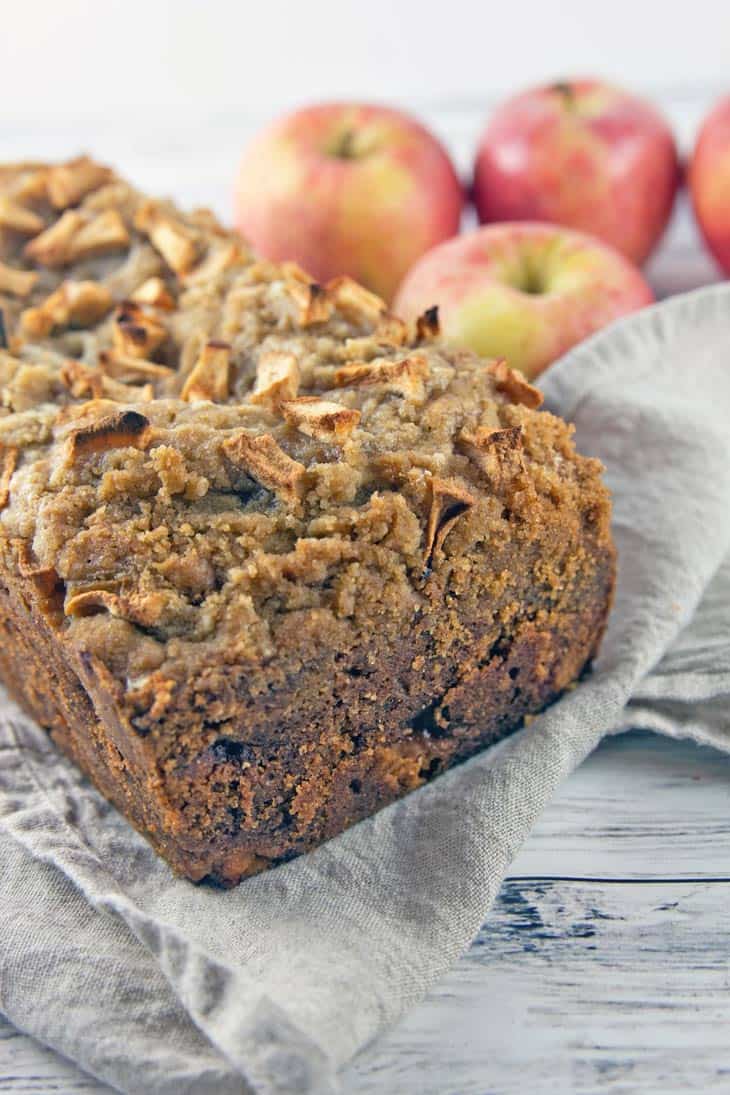 Unless they're baked into a perfectly sweet and moist, extra cinnamon-y, crumble-topped quick bread, that is.  Then I'll gladly take all the apples.
This apple bread has all those delicious flavors of an apple pie, except it's a quick bread.  Which means it's, you know, quick.  And easy.
It's also much more portable than a pie and perfect to share.  It also makes your entire house smell just like fall.  Aaaaaaaah.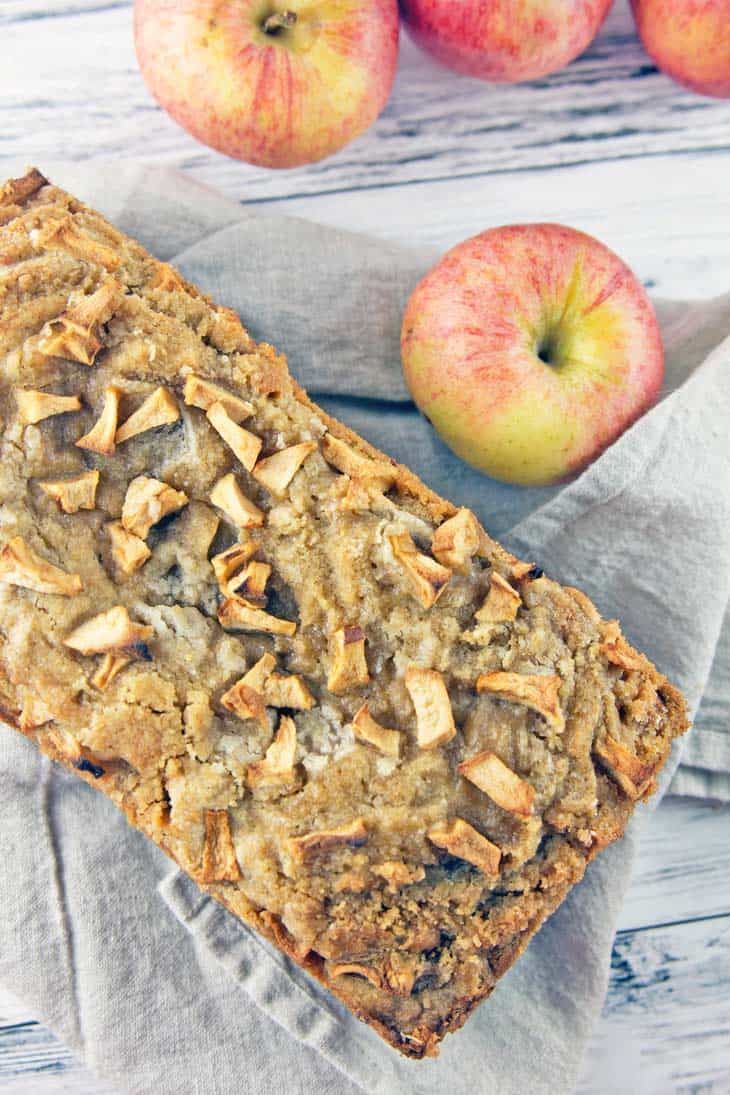 How to Make Apple Bread with Cinnamon Crumble
The quick bread recipe is pretty standard.  We'll add in some decent sized chunks of apple which will steam and as they cook in the bread.  You might notice that in this recipe, we combine the eggs, sugar, and oil.  Then we stir in the apple chunks.  After this, we add in the dry ingredients.
This seems backwards, right?  Normally you add in your "mix ins" after the rest of the batter is finished, yes?  Let me share a little trick with you.  You know how a lot of recipes tell you to toss your fruit with a little flour to prevent it from sinking to the bottom?  By adding the fruit before the flour, you can eliminate this step.  The flour will coat the apple pieces as you stir everything together.
Trust me on this one, it works.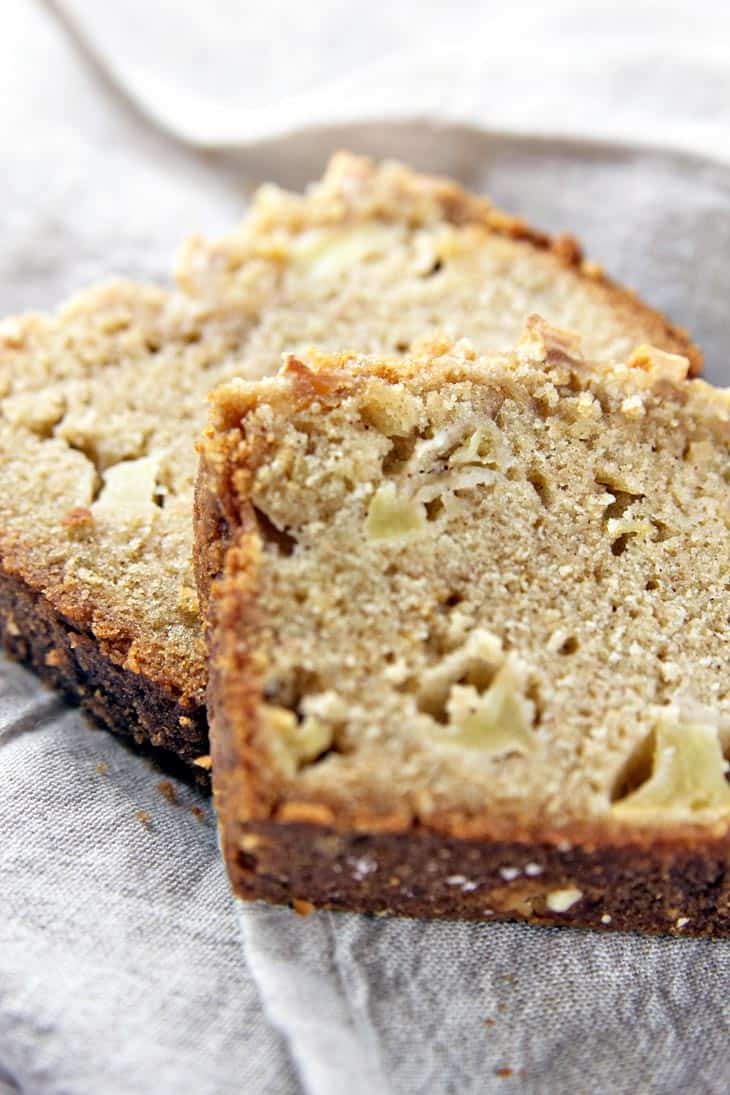 Finally, we'll top the apple bread with a cinnamon crumble.  Let's talk about this crumble for a minute.  Cold butter, flour, brown sugar, cinnamon.  Add some chopped apples to get even more fall baking deliciousness.  That's it.  So easy, and yet… so. freaking. delicious.
True to the name, it crumbles a little when you cut it, so I definitely suggest cutting this at home when no one is around, so you can eat all the delicious crumbly bits that fall off the top.  Don't worry, plenty of the crumble still stays on the bread.   Your friends/family/whomever you are sharing this with will get plenty.  You'll just get a little extra.
Consider it your bonus for baking and pre-slicing the bread for them. 😉
How to Serve Apple Bread
This cinnamon crumble apple bread is the perfect versatile addition to your fall baking lineup.
Rosh Hashanah starts this weekend – serve it as dessert with a scoop of honey ice cream, or grab a slice on your way to shul in the morning.
Bake up a batch for Thanksgiving – it's the perfect way to appease guests the morning of (or after!) when you have so much prep to do, you can't think about making breakfast.
Bring a batch to your child's fall soccer game and share with the other parents.  Drop off a few slices with friends or neighbors or coworkers, because quick breads are made for sharing.
Happy fall baking, everyone!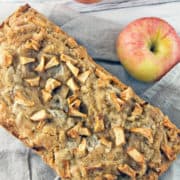 Yield:
1 loaf (12 slices)
Apple Bread with Cinnamon Crumble
Cinnamon crumble apple bread is fall baking at its finest.  All the delicious flavors of fall, but so much easier than a pie and perfect to share!
Ingredients:
For the bread:
2 eggs
1/2 cup brown sugar, packed
1/2 cup granulated sugar
1/2 cup vegetable oil
1 tablespoon vanilla extract
2 large apples, peeled and chopped
2 cups flour
1 teaspoon salt
1.5 teaspoons baking powder
2 teaspoons cinnamon
For the crumble:
1/4 cup cold butter, cubed
1/2 cup flour
1/2 cup brown sugar, packed
1 teaspoon cinnamon
1/2 apple, chopped
Directions:
Preheat oven to 350 °F.  Grese a 9×5-inch loaf pan.
Whisk together the eggs, brown sugar, and granulated sugar in a large bowl until combined.  Add in the vegetable oil and vanilla extract and whisk.
Add the chopped apples, stirring until fully incorporated with the batter.
In a small bowl, mix together the flour, salt, baking powder, and cinnamon.  Add this to the batter, stirring to combine.  Some flour will stick to the apples; this is fine! Do not try to overmix.  The resulting batter will be thick.  Use a spatula to scrape the batter into the prepared loaf pan.
In another small bowl, combine the cubed butter, flour, brown sugar, and cinnamon with a fork.  Sprinkle the crumble over the bread.  Top with the remaining chopped apples.
Bake for 50-60 minutes, until a tester inserted into the bread comes out with a moist crumb.  Check the bread at the 40 minute mark; if the top is browning quickly, cover the pan with aluminum foil.
Allow the bread to cool in the pan, then remove and slice before serving.
Bread can be frozen for up to 6 months.  Once fully cool, wrap the bread tightly with aluminum foil, then place inside a gallon-sized freezer bag.  To defrost, move the bread to the counter and allow it to sit at room temperature for several hours.
A Bunsen Burner Bakery Original Protocol