September 29, 2016
Apple Bread with Cinnamon Crumble
A freshly baked loaf of Apple Bread with Cinnamon Crumble is fall baking at its finest. All the delicious flavors of fall, but easy to make and perfect to share!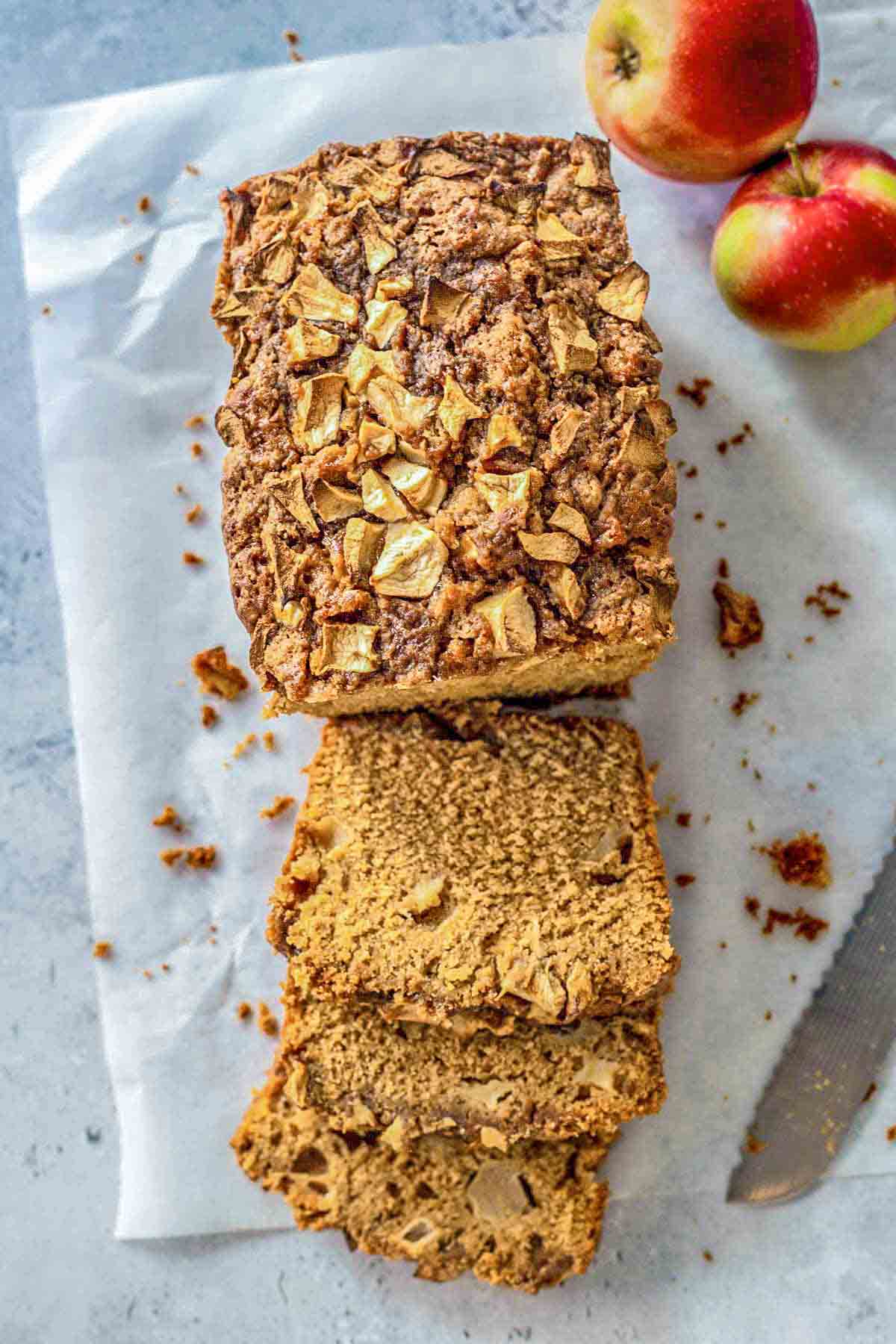 It's time for our next edition of my Quick Bread of the Month series! The grocery stores are selling fresh apples by the bag and our CSA has included a few, so… it's officially apple season!
How better to celebrate the arrival of fall than with some cinnamon crumble-topped apple bread?
I love fall. I love the cooler weather (finally! No sweating profusely walking to work in the morning!). I love the return of football (and especially fantasy football). I especially love fall baking — fresh loves of bread, pies in the oven, muffins and quick breads galore.
But what I don't love?  The lack of delicious summer produce.  Fall is hard for seasonal eating.  There's only so many sweet potatoes and squash I can handle.  I like pumpkin, but not in the OMG PUMPKIN EVERYTHING craze kind of a way.  And I can generally take or leave apples.
Unless they're baked into a perfectly sweet and moist, extra cinnamon-y, crumble-topped quick bread, that is. Then I'll gladly take all the apples.
This apple bread has all those delicious flavors of an apple pie, except it's a quick bread. Which means it's, you know, quick. And easy.
It's also much more portable than a pie and perfect to share.  It also makes your entire house smell just like fall.  Aaaaaaaah.
Ingredients and Substitutions
Eggs: The eggs can be substituted using flax eggs or applesauce. To make a flax egg, mix 1 tablespoon of ground flaxseed with 2.5 tablespoons of water and let it sit for a few minutes to thicken.
Sugar: Using a mixture of brown sugar and granulated sugar provided a little extra moisture and deeper flavor, without adding too much moisture. If you only have granulated sugar on hand, you can use all granulated, but the texture and flavor really is better with brown sugar, too!
Vegetable Oil: Using oil for the base of this bread keeps it moist and tender for days, meaning the bread won't turn stale as quickly. You can use any neutral oil, such as canola oil or grapeseed oil.
Apples: Use apples designed for baking for the best texture and flavor.
Flour: The recipe calls for all-purpose flour, but to make a gluten-free version of the bread, use a 1:1 gluten-free all purpose baking mix.
Cinnamon: While I like all cinnamon for the bread, add in your other favorite warm spices, like ground nutmeg, allspice, or cardamom for a unique twist.
Butter: I always bake with unsalted butter, but if you're using salted, reduce the added salt in the recipe accordingly.
Best Apples for Baking
When it comes to baking, not all apples are created equal. The best apples for baking are those that hold their shape, provide a good balance of sweet and tart flavors, and offer a pleasing texture after being cooked.
I used to always cook with gala apples, because we always have some around the house. But! Once I switched to apples grown for baking, I noticed a huge difference!
What makes some apples better for baking than others? It's time for my favorite subject… kitchen chemistry!
Kitchen Chemistry

Apples contain a natural substance called pectin, a type of soluble fiber found in the cell walls of fruit. Pectin plays a crucial role in maintaining the structural integrity of apples. The best apples for baking have higher pectin content. This pectin helps the apple pieces maintain their shape and structure during baking, resulting in a better texture in baked goods.
While there are many more options, these are some of my favorite apples when it comes to baking: Granny Smith, Honeycrisp, Braeburn, Jonagold, Golden Delicious, Pink Lady, and Cosmic Crisp.
I also really love to mix-and-match and use multiple varieties of apples in the same recipe. You really can notice the flavor and texture differences between apples!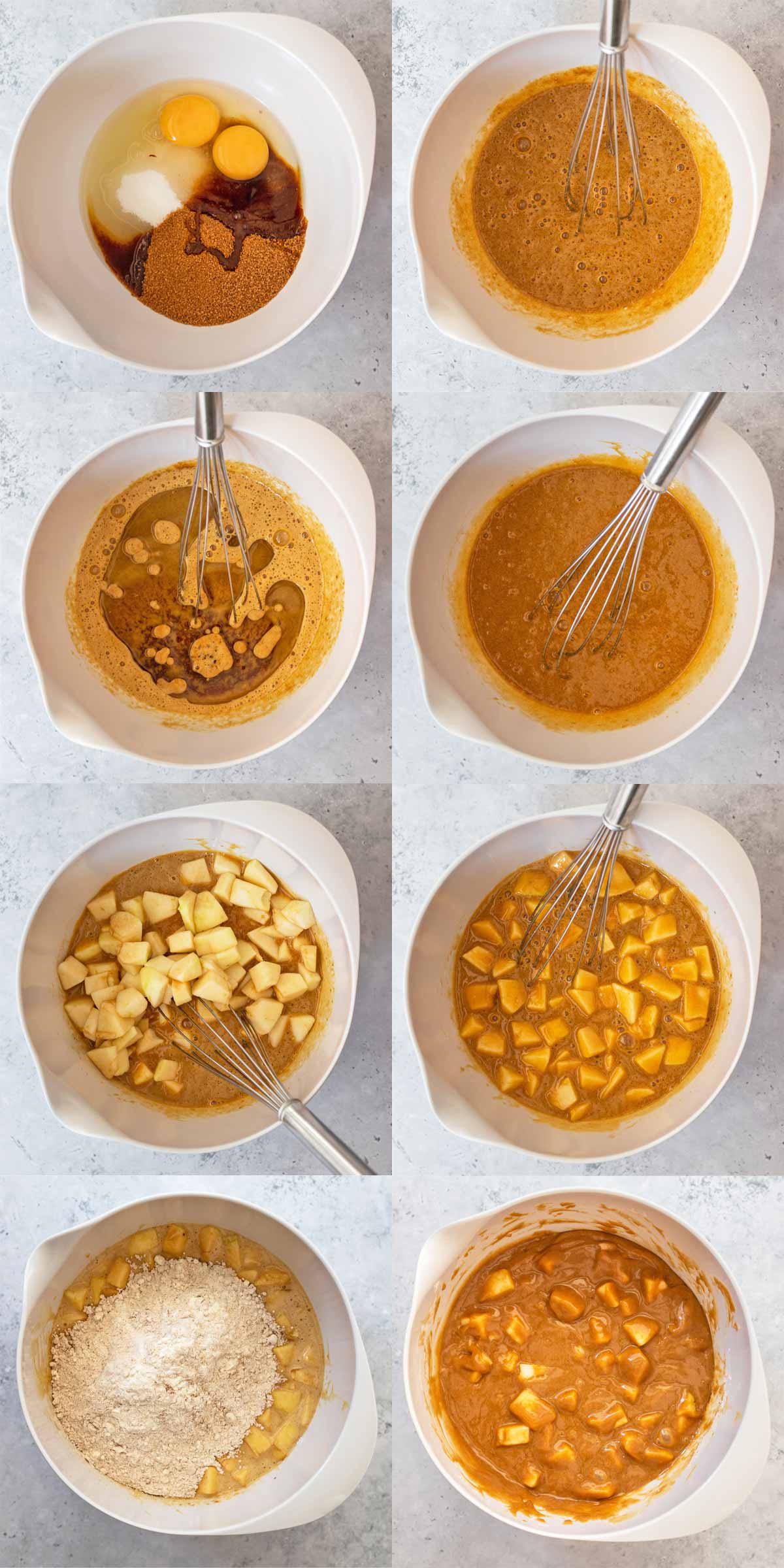 Easy Mix-By-Hand Apple Bread
The ingredient list for this quick bread is pretty standard — nothing out of the ordinary. To make it an apple quick bread, we'll add some decent-sized chunks of apple, which will steam and soften a bit as they cook in the bread.
There is one unexpected twist, however, and that is the order of how we'll mix the ingredients. You might notice that in this recipe, we combine the eggs, sugar, and oil. Then we stir in the apple chunks, after this, we add in the dry ingredients.
This seems backward, right? Normally you add in the "mix-ins" after the rest of the batter is finished, yes? (Think about adding chocolate chips at the end of a chocolate chip recipe).
Let me share a little trick with you. You know how a lot of recipes tell you to toss your fruit with a little flour to prevent it from sinking to the bottom? By adding the fruit before the flour, you can eliminate this step. The dry flour will coat the apple pieces as you stir everything together.
Trust me on this one. It works!
Cinnamon Crumble
Before baking, we'll top the apple bread with a cinnamon crumble.
Use a fork or two knives to cut together cold cubes of butter, flour, brown sugar, and cinnamon. (Feel free to add in your other favorite fall spices, like nutmeg or ginger!). Add some chopped apples to this as well – the apples on top will start to dry out a little in the oven, creating a whole different texture.
True to the name, it does crumble a little when you cut it. I definitely suggest cutting this at home when no one is around, so you can eat all the delicious crumbly bits that fall off the top. Don't worry, plenty of the crumble still stays on the bread. Your friends/family/coworkers/whomever you are sharing this with will get plenty. You'll just get a little extra.
Consider it your bonus for baking and pre-slicing the bread for them. 😉
Serving Ideas for Apple Bread
This cinnamon crumble apple bread is the perfect versatile addition to your fall baking lineup.
Rosh Hashanah starts this weekend – serve it as a dessert with a scoop of honey ice cream, or grab a slice on your way to shul in the morning.
Bake up a batch for Thanksgiving – it's the perfect way to appease guests the morning of (or after!) when you have so much prep to do, that you can't think about making breakfast.
Bring a batch to your child's fall soccer game and share it with the other parents.  Drop off a few slices with friends or neighbors or coworkers, because quick breads are made for sharing.
Recommended Tools to Make Apple Bread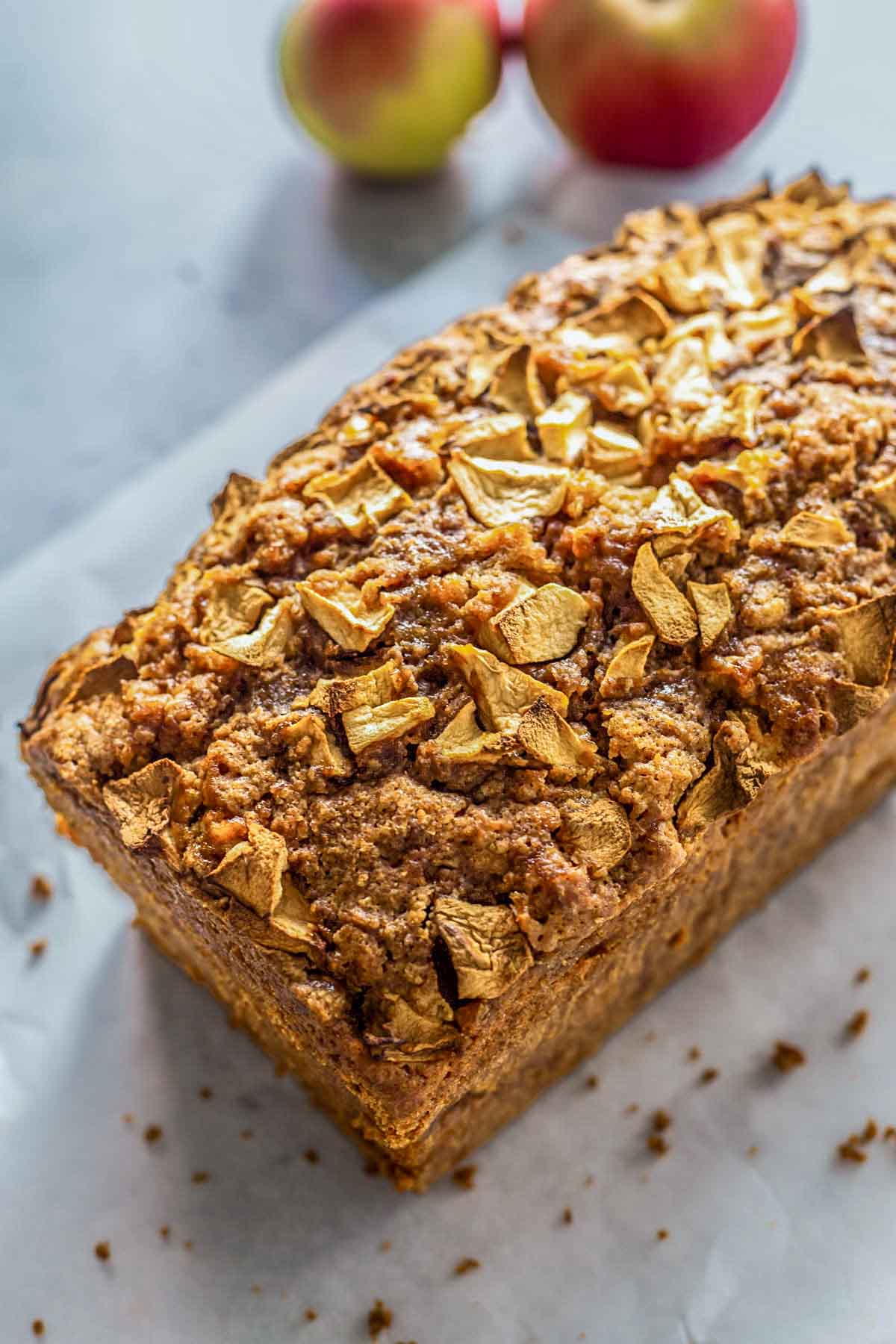 Tips and Tricks for the Best Apple Bread with Cinnamon Crumble
Choose the Right Apples: Opt for firm, tart apples like Granny Smith or Braeburn for the best texture and flavor in your bread.
Chop Apples Uniformly: When chopping the apples, aim for uniform pieces to ensure even distribution throughout the bread. This helps maintain consistent texture in each bite.
Avoid Overmixing: Mix the wet and dry ingredients until just combined. Overmixing can lead to a tougher texture in your bread. A few lumps are perfectly fine.
Don't Skip the Crumble: The cinnamon crumble topping adds a delightful crunch and extra flavor to your bread. Don't skip it; it's worth the extra step!
Let It Cool: Allow the bread to cool in the pan for about 10 minutes before transferring it to a wire rack. This helps it set and prevents it from falling apart.
Store Properly: Store any leftovers in an airtight container at room temperature for up to 2 days or in the refrigerator for longer shelf life. The bread can also be frozen for up to 3 months. Warm a slice in the microwave for a fresh-from-the-oven experience.
More Apple Recipes:
2016 Quick Bread of the Month Recipes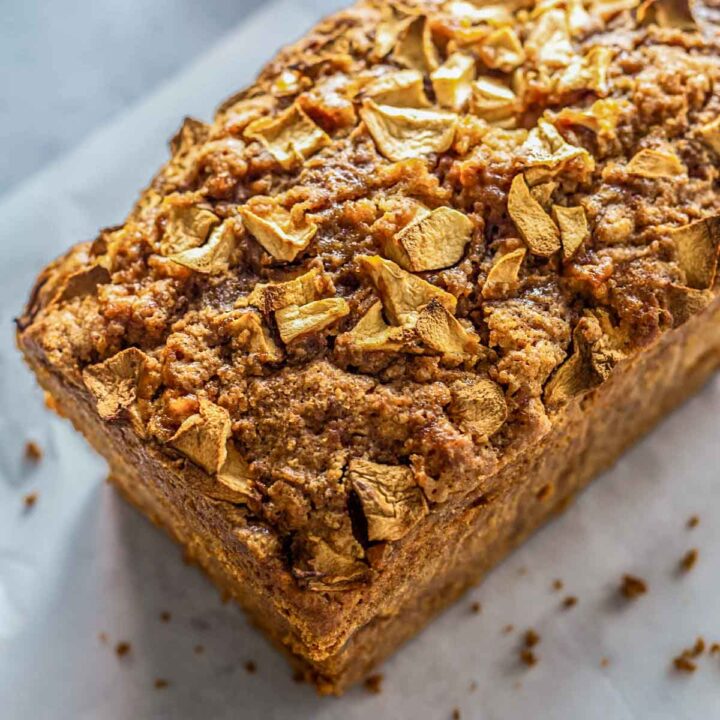 Apple Bread with Cinnamon Crumble
Yield:
1 loaf (12 slices)
Total Time:
1 hour
15 minutes
Cinnamon crumble apple bread is fall baking at its finest.  All the delicious flavors of fall, but so much easier than a pie and perfect to share!
Ingredients
For the Bread:
2 large eggs, room temperature
1/2 cup (107 grams) brown sugar, packed
1/2 cup (99 grams) granulated sugar
1/2 cup (99 grams) vegetable oil
2 teaspoons vanilla extract
2 large apples, peeled and chopped
2 cups (240 grams) all-purpose flour
1 teaspoon salt
1 1/2 teaspoons baking powder
2 teaspoons cinnamon
For the Crumble:
1/4 cup (57 grams) cold butter, cubed
1/2 cup (60 grams) flour
1/2 cup (107 grams) brown sugar, packed
1 teaspoon cinnamon
1/2 apple, chopped
Instructions
Preheat oven to 350 °F. Grease an 8.5 x 4.5-inch loaf pan and line with parchment paper.
Whisk together the eggs, brown sugar, and granulated sugar in a large bowl until combined. Add in the vegetable oil and vanilla extract and whisk.
Add the chopped apples, stirring until fully incorporated with the batter.
In a small bowl, mix together the flour, salt, baking powder, and cinnamon. Add this to the batter, stirring to combine. Some flour will stick to the apples; this is fine! Do not try to overmix. The resulting batter will be thick. Use a spatula to scrape the batter into the prepared loaf pan.
In another small bowl, combine the cubed butter, flour, brown sugar, and cinnamon with a fork. Sprinkle the crumble over the bread. Top with the remaining chopped apples.
Bake for 50-60 minutes, until a tester inserted into the bread comes out with a moist crumb. Check the bread at the 40-minute mark; if the top is browning quickly, cover the pan with aluminum foil.
Allow the bread to cool in the pan for 10 minutes, then remove and cool completely on a wire rack before slicing.
Notes
Use baking apples, like Granny Smith, Honeycrisp, Braeburn, Jonagold, Golden Delicious, Pink Lady, or Cosmic Crisp.
Store any leftovers in an airtight container at room temperature for up to 2 days in the refrigerator for up to a week, or freeze for up to 3 months.
Recommended Products
As an Amazon Associate and member of other affiliate programs, I earn from qualifying purchases.