July 3, 2018
Cherry Almond Pie
Skip the canned filling and make this Cherry Almond Pie entirely from scratch. Fresh summer cherries, a star-spangled crust, and a scoop of vanilla ice cream make this the ultimate summer pie!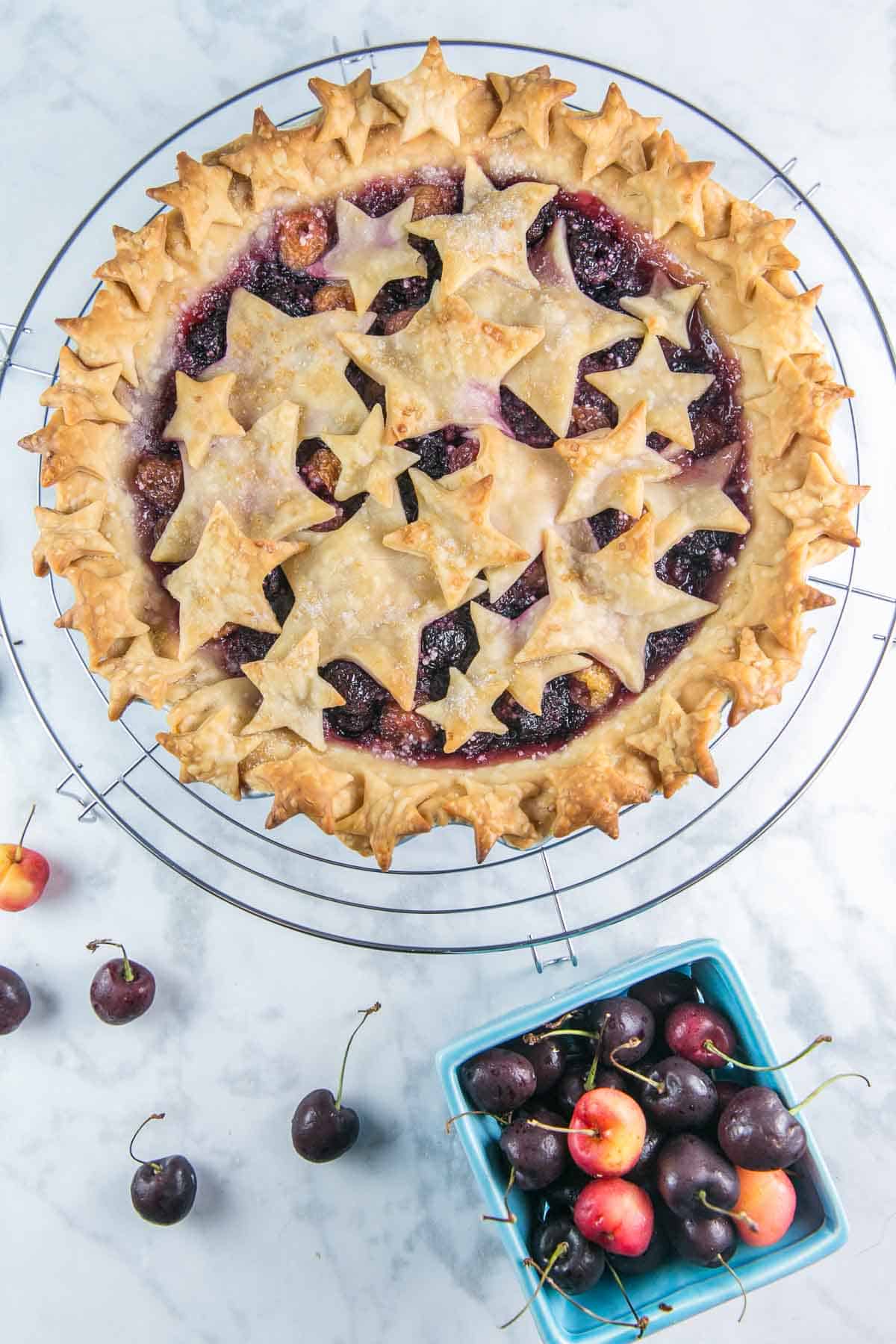 It's July. We're at peak summer produce, we're about to celebrate the 4th of July, and I'm doing a yearlong "Pie of the Month" series. The choice is obvious.
What could possibly be more all-American and summery than a star-spangled cherry pie?
Nothing, that's what. A cherry pie with a big scoop of ice cream on top is about as perfect as a summer dessert comes.
I really, really love the almond + cherry flavor combination, so this is actually a cherry almond pie. It's amazing what a difference a little almond extract makes! (Not into almond? Leave it out! This is also a perfect plain cherry pie!)
Even my husband, who doesn't generally like fruit pies, commented on how much he liked this cherry almond pie.
So let's talk logistics. Step aside, strangely gelatinous canned cherry pie filling. We're making a real cherry pie from scratch today.
Best Pie Crust
Any great pie starts with a stellar crust that is buttery, tender, and perfectly flaky.
While there are tons of recipes out there, I always use my favorite, which works so well that I've deemed it a "No Fail Pie Crust." You can find alllll the tips and tricks you need in that post. My recipe uses both butter (for delicious flavor) and shortening (for perfect flakes).
The key to achieving that flakey texture lies in ensuring that the fat (i.e., butter and shortening) is COLD. By cutting the cold butter and shortening into small cubes and cutting it evenly into the flour, you create pockets of fat that will later melt during butter, resulting in a light and airy crust.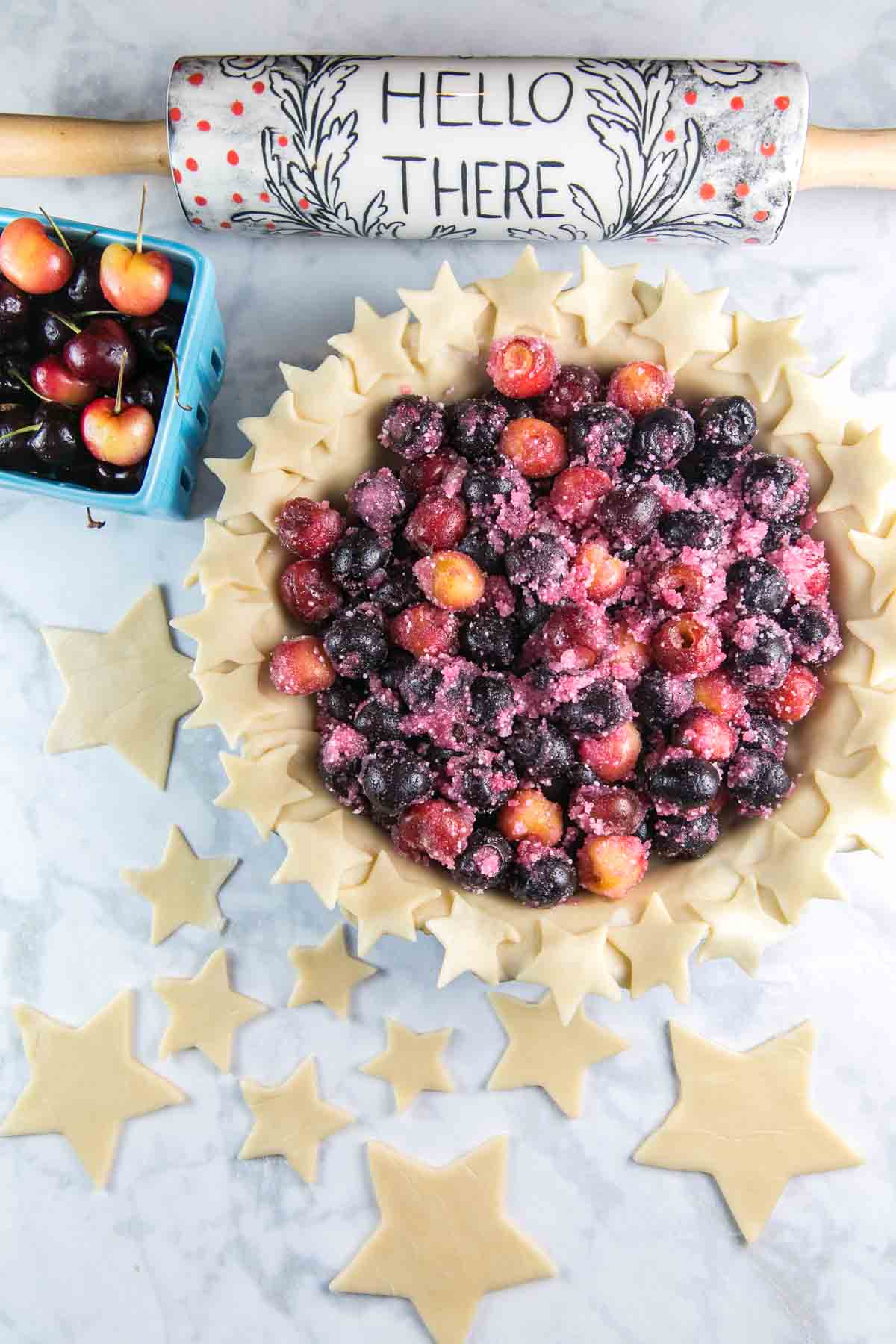 Homemade Cherry Pie Filling
Fresh cherries are the shining stars of this pie. Because we're using fresh cherries, this means you're going to be pitting a lot of them. I recommend this four-at-a-time cherry pitter (Amazon links are affiliate). This is no time for pitting one cherry at a time!
Choose fresh, ripe, juicy cherries. I used a variety of both sweet Bing cherries and Ranier cherries for this pie because I love the visual contrast in color. Sour cherries are also abundant at farmers' markets this time of year and are perfect for pie baking; just increase the sugar by 1/4 cup.
Because we're using fresh cherries, the cherry pie takes on the color of the actual cherries. In this case, the dark almost black from the Bing cherries and the pale orange of the Ranier cherries. If you want to mimic the bright red color of canned cherry pie filling, stick with lighter-colored cherries and add a few drops of red food coloring.
We're also going to infuse the cherry pie filling with a little almond extract. The almond extract amplifies the cherries' natural sweetness, adding just a little nutty undertone. Don't be afraid to experiment with other extracts (like vanilla) or slices to create your own unique twist!
Thickening a Pie
I mentioned on my blueberry rhubarb pie recipe that I like to use instant tapioca to thicken fruit pies. It thickens beautifully, never feels gummy, and doesn't leave the filling cloudy and opaque. Instant tapioca pearls can be pretty large, however. To make sure the filling isn't lumpy, I like to break it down a bit in a food processor (or a spice grinder/coffee grinder, if you have one!).
Unlike other thickeners, such as cornstarch or flour, tapioca creates a glossy, translucent filling with a smooth mouthfeel. The tapioca granules absorb the juices released by the cherries during baking, creating a gel-like consistency that holds the filling together.
Additionally, tapioca's ability to withstand high temperatures without breaking down ensures that your pie filling will maintain its integrity even after it's baked to perfection.
Assembling Cherry Pie
Now that we have our flaky crust and flavorful filling ready, it's time to assemble the pie and bring it to life! Roll out the bottom crust and gently place it into your pie dish. Fill the crust with the cherry filling, making sure to distribute it evenly. Next, we'll add a touch of whimsy by using star-shaped cutouts for the top crust. Place the cutouts on top of the filling, allowing some of the vibrant red cherries to peek through.
You can, of course, top this pie with a full double crust. Or a lattice crust, which is probably the most traditional for cherry pies.
But I couldn't resist breaking out some star cookie cutters and making this a star-spangled cherry almond pie, worthy of a patriotic celebration. (Or basically any time between Memorial Day and Labor Day, or Christmas, or a birthday… so really, a star-topped pie is perfect all the time.)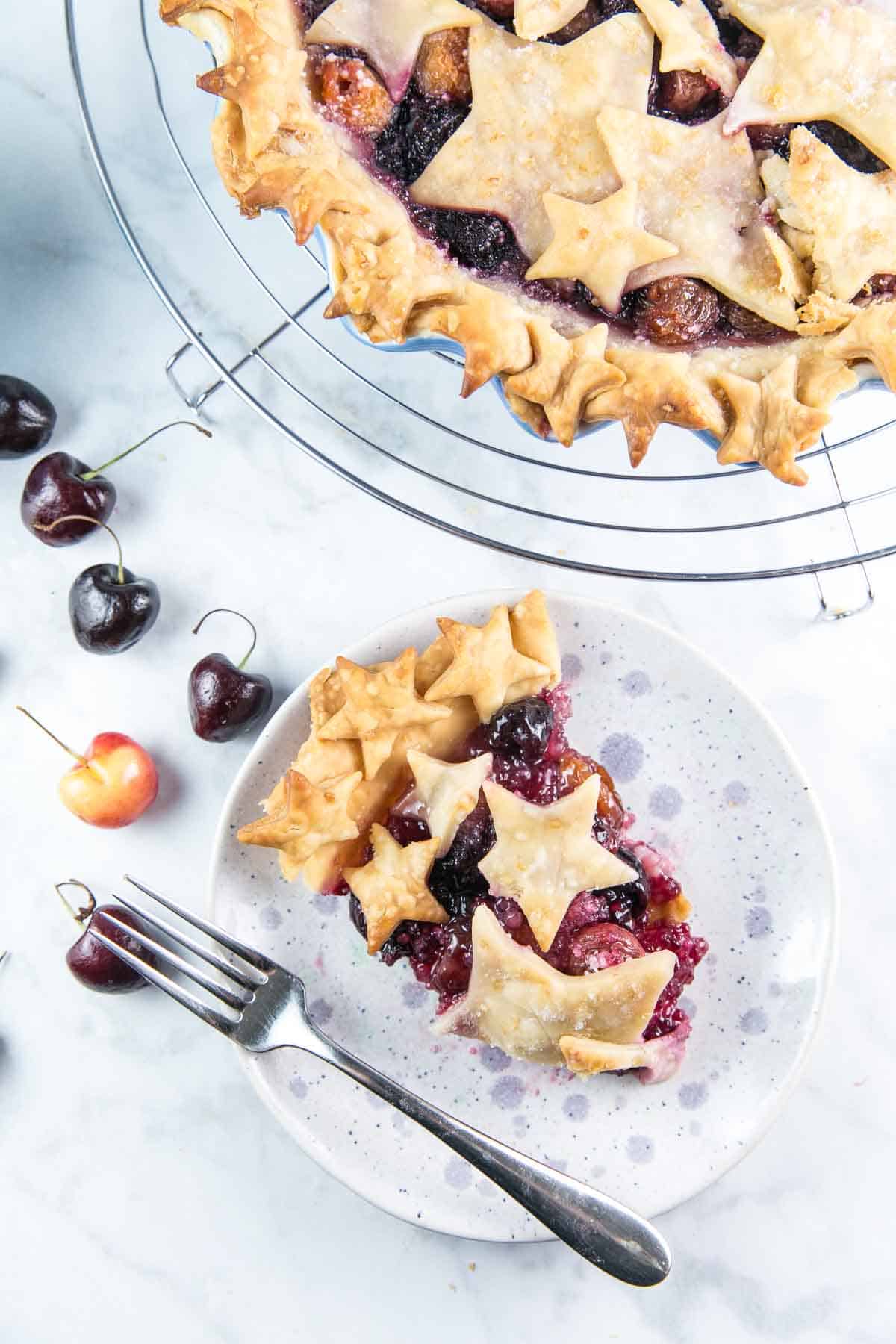 Let Your Pie Rest Before Slicing!
I know, I know. It's so hard to resist slicing into a freshly-baked, still-warm slice of pie. But if you want a picture-perfect pie slice and an ideal filling, let your pie rest overnight before cutting into it!
When the pie is baked, the starches in the filling (in our case, tapioca) absorb moisture and swell, creating a network that trips liquid and thickens the filling. You know a pie is done when the filling is rapidly bubbling and making a thumping sounds as it pushes up against the top crust.
Once the pie is baked, however, we have to let it fully rest and cool before slicing. Why does this matter, since the filling has already gelatinized? It's time for my favorite subject… kitchen chemistry!
Kitchen Chemistry

While a pie cools, the starches and proteins in the pie continue to set and solidify. This allows the starch gel to create the firm and stable structure it needs, progressing from thickened to structured. Slicing a pie too soon results in a runny filling, as it hasn't had sufficient time to set and hold its shape.
Recommended Tools for the Best Cherry Pie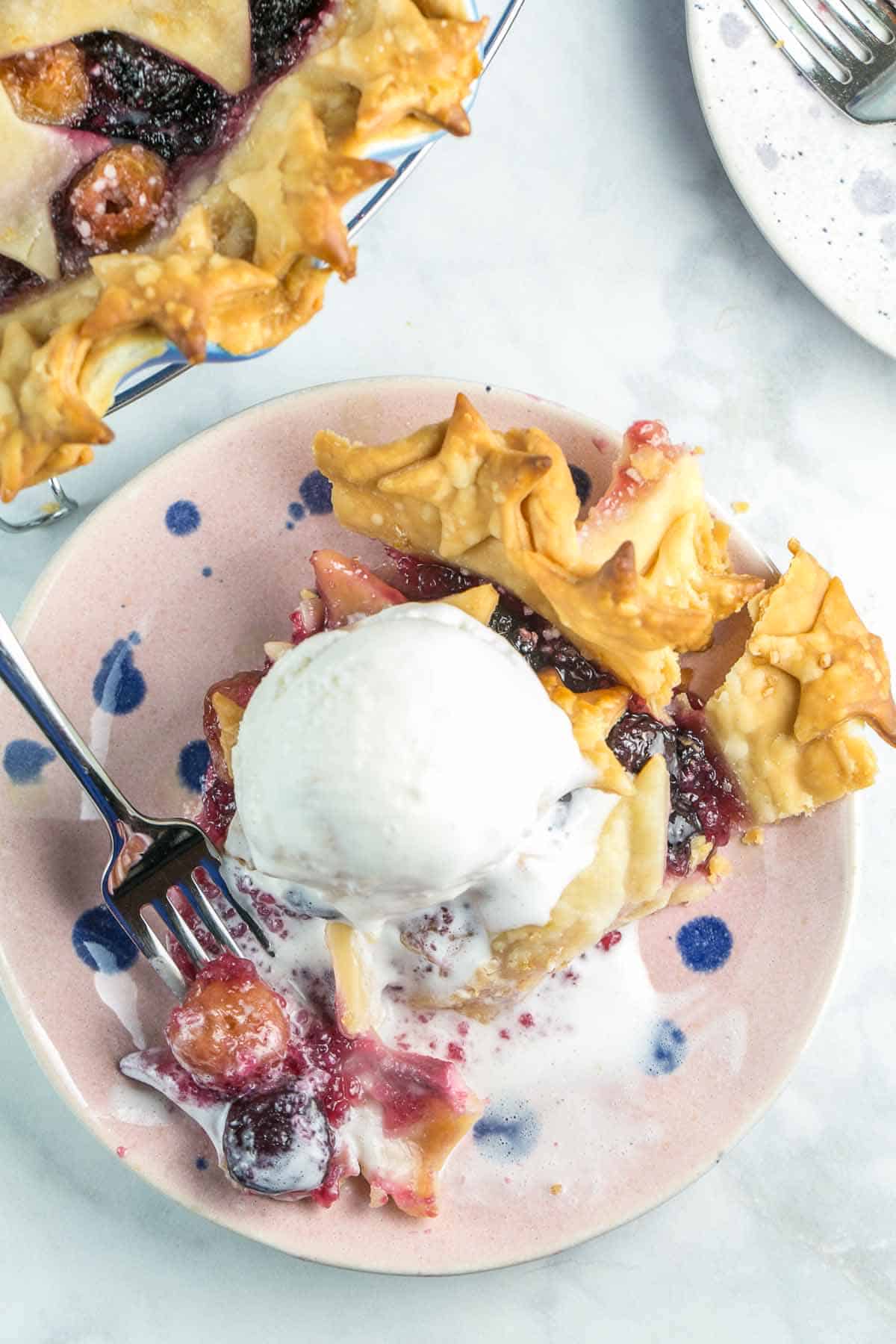 Tips and Tricks for the Best Cherry Almond Pie
To make this a gluten-free cherry pie, use this recipe to make the pie crust. The cherry filling is naturally gluten-free.
After you've made the pie dough, refrigerate it for at least 30 minutes before rolling it out. Chilled dough is easier to handle and results in a flakier crust.
Once you roll out the pie crust and press it into your pie plate, freeze the pie plate for 15 minutes while you make the cherry filling. This helps the fat in the dough remain solid, which is crucial for achieving a tender and buttery texture.
Cherry pie can be stored at room temperature for up to 2 days, refrigerated for up to 5 days, or frozen for up to 3 months.
Before serving, refresh a slice of pie in the oven at low temperature (around 325 °F) for 5 to 10 minutes to restore the crispness of the crust and warm the filling.
More Cherry Desserts:
2018 Pie of the Month Series
Cherry Almond Pie
Skip the canned filling and make this cherry almond pie entirely from scratch with fresh summer cherries.