July 3, 2018
Cherry Almond Pie
Skip the canned filling and make this cherry almond pie entirely from scratch.  Fresh summer cherries, a star-spangled crust, and a scoop of vanilla ice cream make this the ultimate summer pie!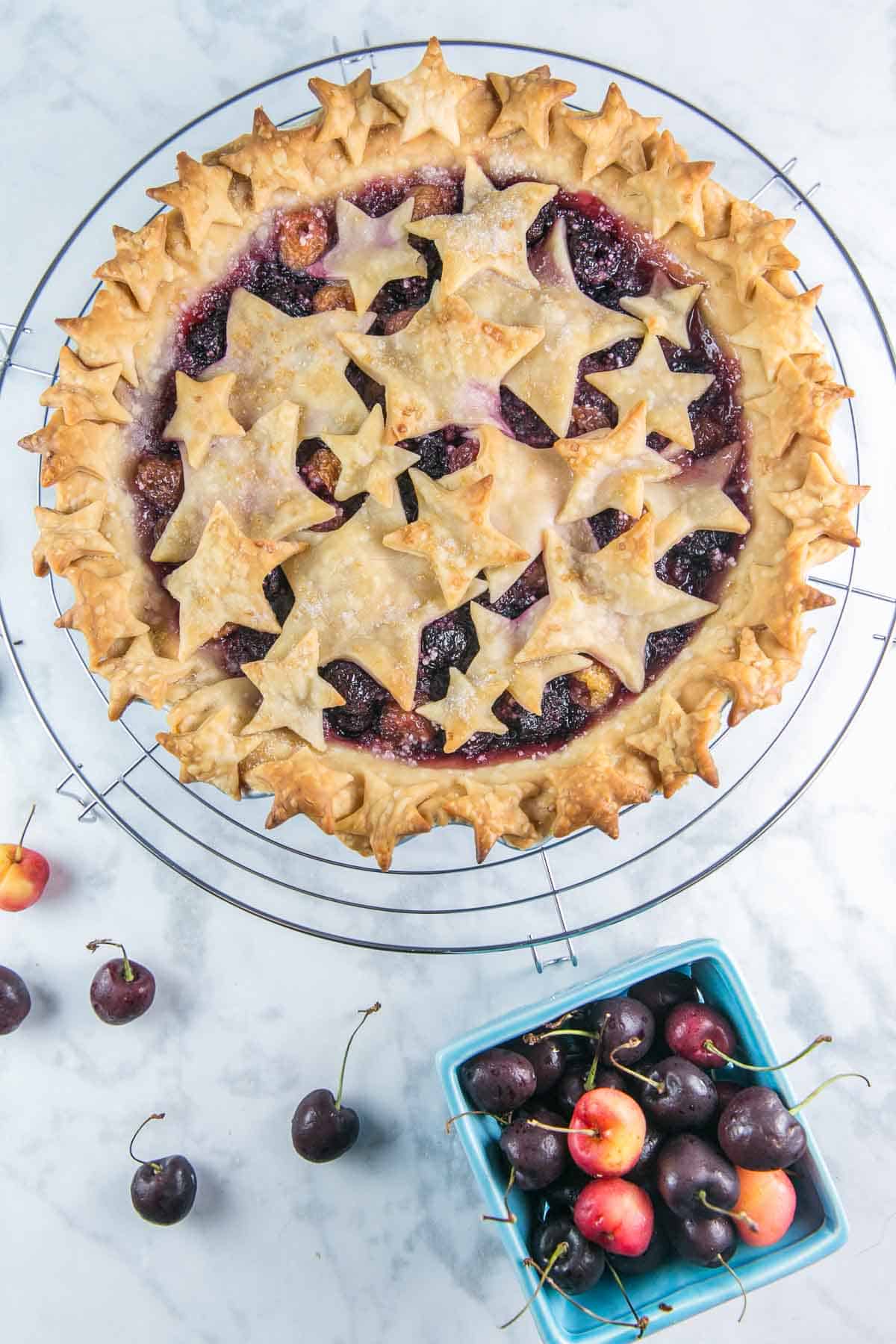 It's July.  We're at peak summer produce, we're about to celebrate the 4th of July, and I'm doing a yearlong "Pie of the Month" series.  The choice is obvious.
What could possibly be more all-American and summery than a star-spangled cherry pie?
Nothing, that's what.  A cherry pie with a big scoop of ice cream on top is about as perfect as a summer dessert comes.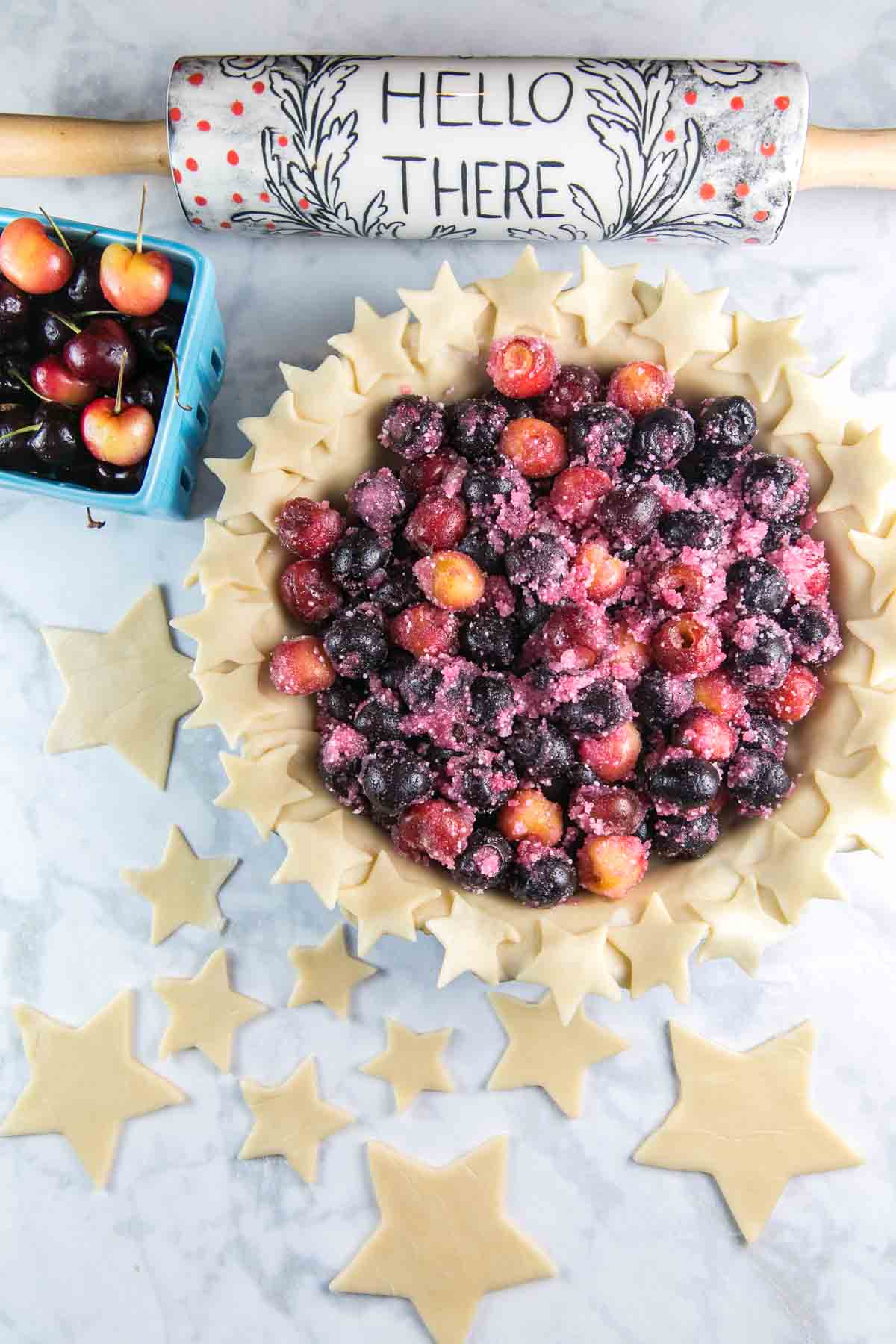 I really, really love the almond + cherry flavor combination, so this is actually a cherry almond pie.  It's amazing what a difference a little almond extract makes!
Even my husband, who doesn't generally like fruit pies, commented on how much he liked this cherry almond pie.
So let's talk logistics.  Step aside, strangely gelatinous canned cherry pie filling.  We're making a real cherry pie from scratch today.
So yes, this means you're going to be pitting cherries.  Lots of cherries.  I recommend this four-at-a-time cherry pitter (Amazon links are affiliate).  This is no time for pitting one cherry at a time!
As far as what cherry to use – any!  I used a variety of both sweet bing cherries and Ranier cherries, because I love the visual contrast.
Sour cherries are also abundant at farmers markets this time of year and perfect for pie baking; just increase the sugar by 1/4 cup.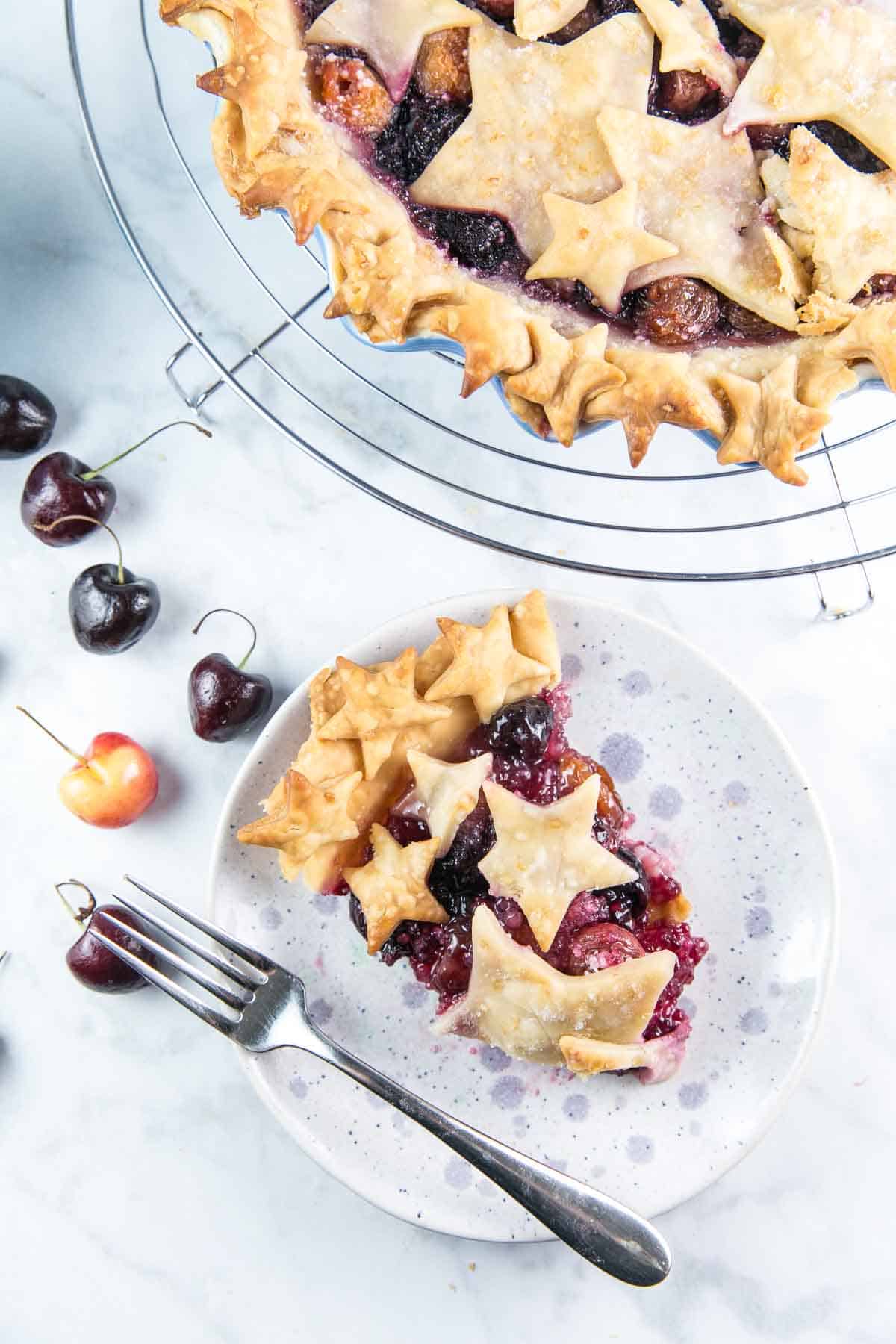 Because we're using fresh cherries, the cherry pie takes on the color of the actual cherries. In this case, the dark almost black from the bing cherries and the pale orange of the Ranier cherries.
If you want to mimic the bright red color of canned cherry pie filling, stick with lighter colored cherries and a few drops of red food coloring.
I mentioned on my blueberry rhubarb pie recipe that I like to use instant tapioca to thicken fruit pies.  It thickens beautifully, never feels gummy, and doesn't leave the filling cloudy and opaque.
Instant tapioca pearls can be pretty large, however.  To make sure the filling isn't lumpy, I like to break it down a bit in a food processor (or a spice grinder/coffee grinder, if you have one!).
You can, of course, top this pie with a full double crust. Or a lattice crust, which is probably the most traditional for cherry pies.
But I couldn't resist breaking out some star cookie cutters and making this a star-spangled cherry almond pie, worthy of a patriotic celebration.  (Or basically any time between Memorial Day and Labor Day, or Christmas, or a birthday… so really, a star-topped pie is perfect all the time.)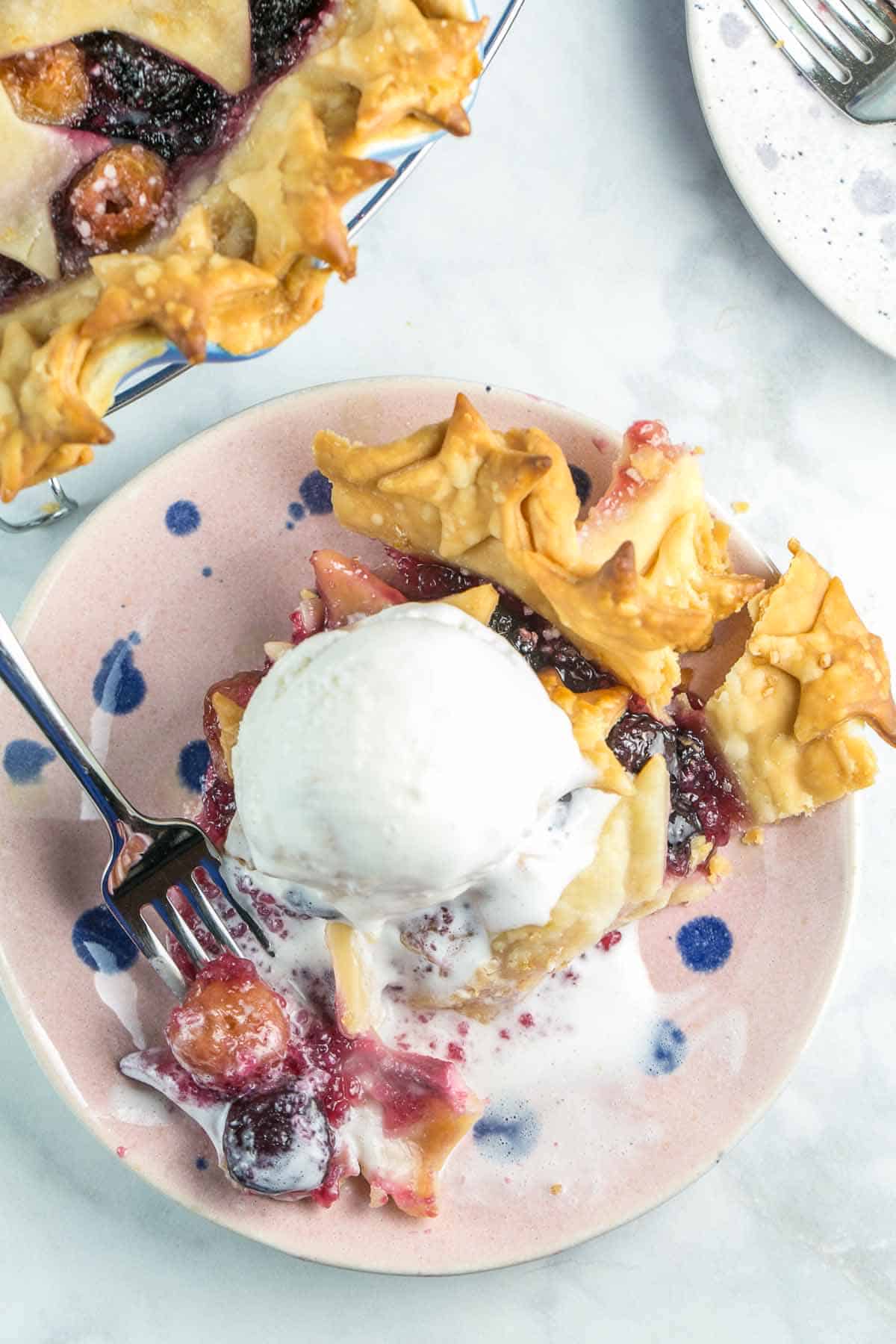 I asked in an Instagram story if cherry pies were the best pies, and 67% of responders voted true. But that means 33% said false. So tell me: what kind of pie is YOUR favorite pie?
Personally, my favorite has always been this almond crumble blueberry pie. (See? Almond and fruit pies go so well together!)  But 4th of July is my favorite holiday, and cherries are my favorite fruit, so I just might have to change my vote. Cherry almond pies ARE the best pies, especially with a big scoop of vanilla ice cream on top.
Cherry Almond Pie
Skip the canned filling and make this cherry almond pie entirely from scratch with fresh summer cherries.
Ingredients:
1 full recipe (2 crusts) unbaked No Fail Pie Crust (use this for gluten free)
4 1/2 cups cherries, pitted
1 cup sugar
4 tablespoons instant tapioca, ground in a food processor or spice grinder
1/2 teaspoon salt
2 tablespoons lemon juice
1 teaspoon almond extract
2 tablespoons butter
coarse salt, for sprinkling
Directions:
Preheat oven to 400 °F.
Fit one pie crust (half of the No Fail Pie Crust recipe) into a 9-inch pie plate and press the crust along the edges of the plate.  Place the pie plate in the freezer for 15 minutes to allow the dough to firm up.
Roll out the other pie crust to 1/6″ thickness.  Cut out 26-28 small (approximately 1-inch) stars and various larger stars with the remaining crust.  Place these cut out stars in the refrigerator.
In a large bowl, mix together the cherries, sugar, tapioca, salt, and lemon juice.  Place the bowl in the refrigerator for 10 minutes.
Remove the pie crust from the freezer and the cherry mixture from the refrigerator.  Transfer the cherries into the pie crust.  Cut the butter into small pieces and dot the butter on top of the pie filling.
Brush the edges of the pie with water, then gently press small stars along the edge of the crust.  Cover the top of the pie with the remaining cut out star shapes.  Brush these with water and sprinkle with coarse sugar.
 Bake at 400 °F for 20 minutes.  Turn the temperature down to 375 °F and bake an additional 30 to 35 minutes, until the filling starts to bubble up between the star crust.  If crust is browning too quickly, tent with aluminum foil for the last 15 minutes of baking.
Allow the crust to rest at least 4 hours, preferably overnight, before serving.