August 29, 2019
Chocolate Chip Cherry Upside Down Cake
An easy one-bowl sour cream coffee cake filled with chocolate chips and fresh cherries, this Chocolate Chip Cherry Upside Down Cake is perfect for breakfast, dessert, or anytime in between.  Keep one in the freezer for unexpected visitors!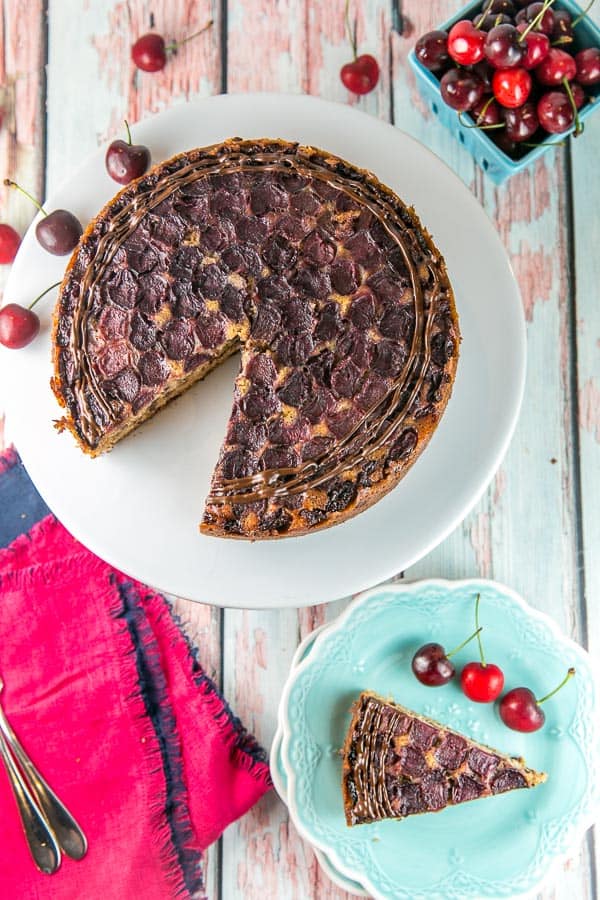 Look, I get it.
It's the last week of August.
You're in back-to-school mode.  It's all about school night dinners and baking with apples.  I hear you.
But just let me cling to summer fruit produce for one more week. (Maybe two, if we're being honest. Or three.)
In just a few weeks, there will be no more cherries. The strawberries and blueberries will be sad and imported. The delicious corn will be gone. The big, ripe tomatoes will be a thing of the past.
Apples and pumpkin and crock pot dump-and-go recipes can wait, because the cherry recipes cannot.  We have reached the end.  Go buy your last few bags, make this chocolate chip cherry upside down cake, and say farewell to all the fantastic fresh summer produce.
It will be a long, boring, and sad fall and winter while I wait… and wait… and wait…. for berries and cherries and peaches to return.
(For me, at least. My chocolate-loving husband is ready. By the end of summer, he is definitely tired of all the fruit desserts!)
So over here, we're still eating peaches and nectarines and all the bags of cherries we can find. And of course, baking all the fresh fruit desserts we can… like this chocolate chip cherry upside down cake.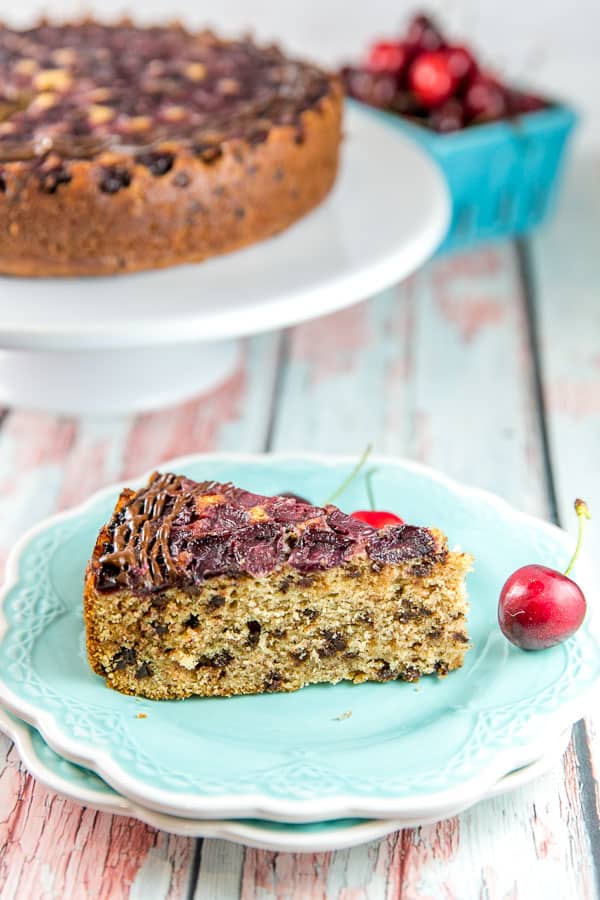 Upside-Down Cakes
Upside-down cakes are baked in a single layer with the toppings on the bottom of the cake, rather than the top. After baking, the cake is flipped upside-down to serve — hence the name.
Usually the 'toppings' part of an upside-down cake are sliced fruit, such as pineapple (the retro classic!), nectarines (like my nectarine upside-down cake!), or cherries, like this chocolate chip cherry upside down cake.
Upside down cakes are a great choice because they're generally easy and low maintenance.  Since the fruit is baked on the bottom, minimal decorating is necessary.  No frosting or icing.  No crumbles or streusels.  No piping intricate designs.
It's like a coffee cake with a baked-in fruit top.
Easy and delicious. The perfect 'thanks for stopping by!' cake to have when friends come to visit.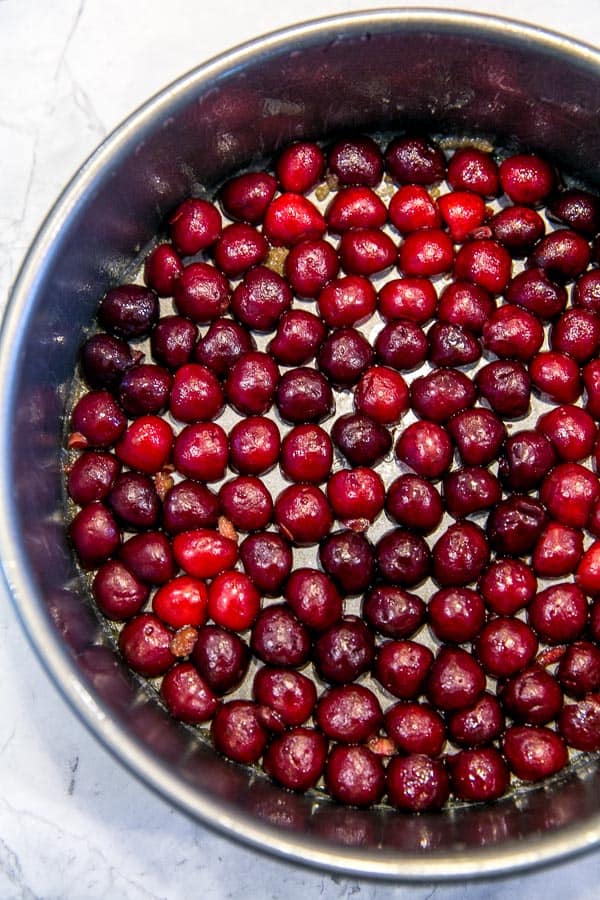 Cherry Upside Down Cake with Fresh Cherries
We'll make this upside down cake with fresh cherries.
By fresh cherries, I really mean real cherries — you can use frozen cherries here, too. But not cherry pie filling. Lots of cherry cakes use cherry pie filling; in this case, we want the subtly sweet-tart cherry flavor, not the over-the-top sugary sweet flavor of cherry pie.
If you're using fresh cherries, the first step is to pit them. I always recommend this four-at-a-time cherry pitter (affiliate Amazon link) — mine has been going strong for years, and has pitted thousands of cherries at this point (seriously!)
If you're using frozen cherries, you'll want to slice them in half while still frozen. Thawed cherries get very soft, and it's easier to slice while still frozen. Halve the cherries, then set aside to thaw in a colander to allow the cherries to drain. Pat dry with some towels.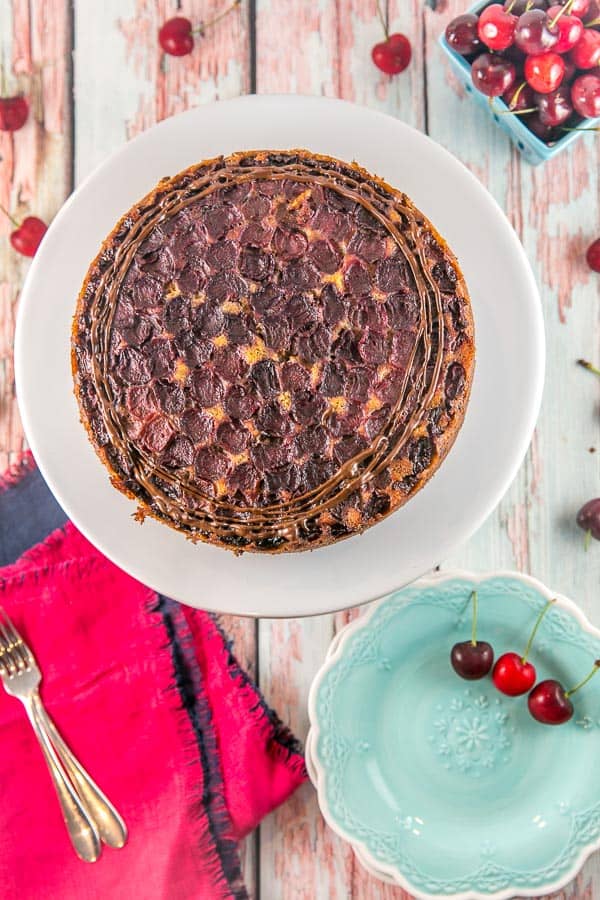 Making an Easy Cherry Upside-Down Cake
I already mentioned that upside-down cakes are super easy because they require no decorations.  This chocolate chip cherry upside down cake is also super duper easy because it's a one-bowl cake.
It's also a fresher, more modern take on an upside down cake.  There's no gloopy brown sugar syrup coating.  Usually, upside down cakes involve melting butter and brown sugar together and using this as the base coating for the fruit.  
But guys? In season cherries are delicious enough on their own. Pair with a sour cream chocolate chip studded coffee cake and a chocolate drizzle and you do not need that syrupy brown sugar layer. I promise.
All you need to do is halve the cherries, arrange them face down along your springform pan, mix together the cake ingredients in one bowl, and pour them on top.  So easy!
For the cake, we're using a sour cream-based cake.  Adding sour cream to a cake adds both rich flavor and keeps the crumbs of the cake tender and moist.  How does this work?  It's time for my favorite subject… kitchen chemistry! 
Kitchen Chemistry

Adding sour cream to baked goods adds acid (and extra fat) to the batter. Acid in the batter effects the structure of the cake. The additional hydrogen ions from the acid break apart protein bonds, causing them to unravel. This tenderizes the gluten in the flour, and results in a more tender crumb.
Since this cake includes both butter and sour cream, it is thick, so you'll want to use a spatula to scoop it into the springform pan and carefully spread it across the cherries.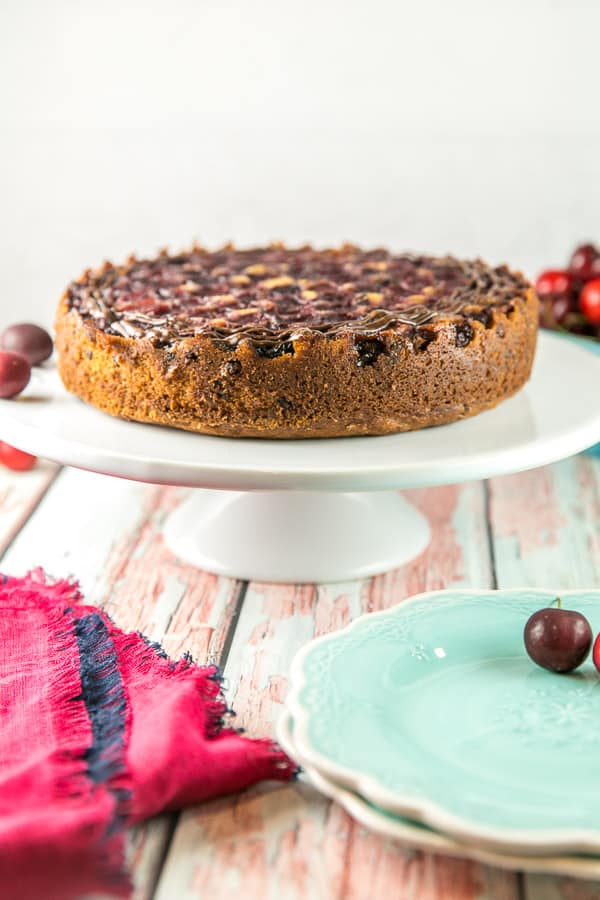 Serving Ideas
As I already mentioned, no additional decorating necessary for upside down cakes!
I wanted to play up the chocolate flavor a little, however, so I added a few circles of chocolate drizzle along the outside after baking.
This would also be delicious with some freshly whipped cream and chocolate sprinkles.  Or served warm with a scoop of vanilla ice cream!
Or enjoy it as is as a special breakfast treat, no extra chocolate or ice cream or whipped cream necessary.
A lovely breakfast cake, perfect with your morning cup of coffee.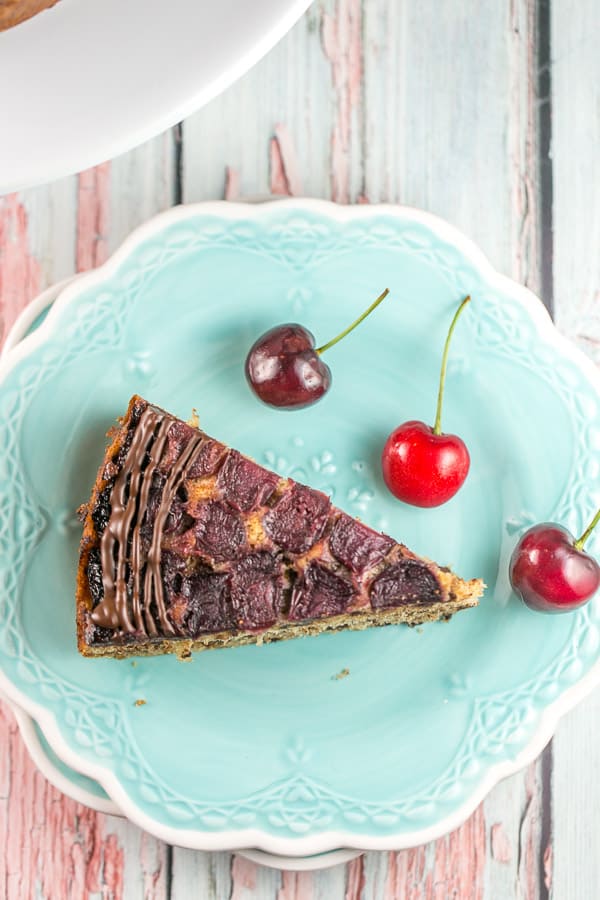 Tips and Tricks for the Best Chocolate Chip Cherry Upside Down Cake
If using fresh cherries, a cherry pitter makes life easier. I recommend this four-at-a-time cherry pitter.
No cherry pitter on hand? No problem! To pit a cherry without a cherry pitter, push a plastic straw through the stem of the cherry until the pit pushes out the other side.
Baking outside of cherry season? Use frozen cherries when you can't find fresh! Halve the cherries while still frozen, then thaw, drain the juice, and pat dry before using.
Don't like almonds? Allergic to tree nuts? Use 1 tablespoon vanilla extract instead of 1 teaspoon vanilla extract and 1/2 teaspoon almond extract.
The batter will be thick! Use a rubber spatula to carefully spread the batter across the halved cherries.
More Cherry Dessert Recipes: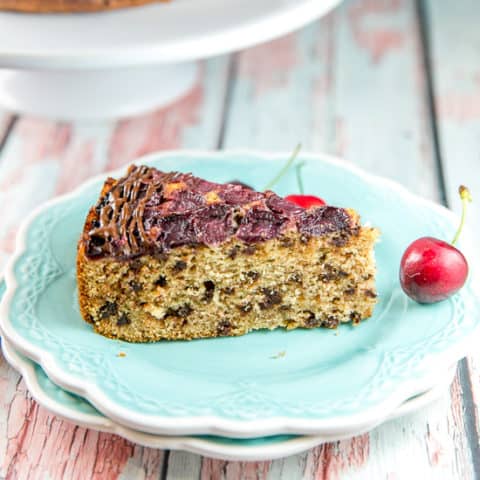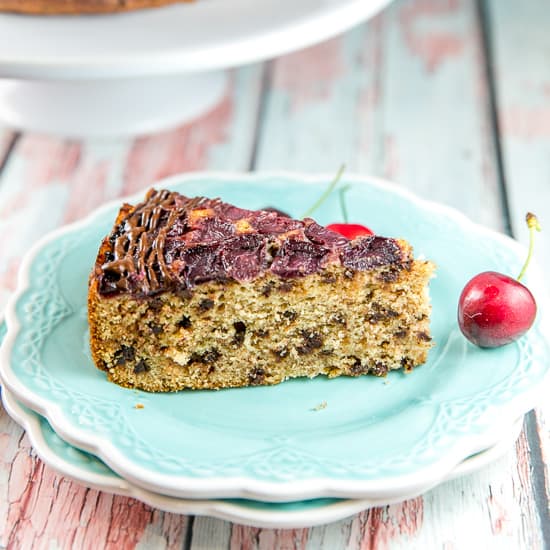 Chocolate Chip Cherry Upside Down Cake
An easy one bowl sour cream coffee cake filled with chocolate chips and fresh cherries, this chocolate chip cherry upside down cake is perfect for breakfast, dessert, or anytime in between. 
Ingredients
2 cups (300 grams) pitted cherries, halved
1/2 cup (113 grams) butter, room temperature
1 cup (198 grams) granulated sugar
2 large eggs, room temperature
1 cup (227 grams) sour cream, room temperature
1 teaspoon vanilla extract
1/2 teaspoon almond extract
2 cups (240 grams) all purpose flour
1 1/2 teaspoons baking powder
1 teaspoon baking soda
1/2 teaspoon salt
1 teaspoon cinnamon
1 cup (177 grams) miniature chocolate chips
Instructions
Preheat oven to 350 °F. Grease a 9-inch springform pan.
Place cut cherries cut-side down in the springform pan, arranged to cover the entire bottom surface of the springform pan. Set aside.
Using an electric mixer, beat together the butter and sugar on medium speed until fluffy, 2 to 3 minutes. Beat in the eggs, one at a time, followed by the sour cream, vanilla extract, and almond extract. Turn the speed down to low and mix in the flour, baking powder, baking soda, salt, and cinnamon, mixing until no dry streaks of flour remain. Use a rubber spatula to fold in the chocolate chips.
Carefully spread the batter over the cherries in the prepared pan. The batter will be thick.
Bake in the preheated oven until a tester inserted in the center of the cake comes out clean, 30 to 35 minutes. Cool in the pan, then open the sides of the springform pan and invert onto a serving plate. Run a knife carefully under the bottom and remove to expose the cherries as the top of the cake.
If desired, drizzle with melted chocolate or serve with a scoop of ice cream.
Notes
Cake will keep stored in an airtight container at room temperature for 3-4 days. To freeze, wrap cake tightly in plastic wrap, followed by a layer of aluminum foil. Allow to thaw at room temperature before serving.
Recommended Products
As an Amazon Associate and member of other affiliate programs, I earn from qualifying purchases.
Nutrition Information:
Yield:

12
Serving Size:

1 slice
Amount Per Serving:
Calories:

351
Total Fat:

16.8g
Carbohydrates:

46.3g
Protein:

4.5g