August 13, 2018
Cinnamon Sugar Peach Bundt Cake
Skip the frosting and go for a crunchy melted sugar crust with this Cinnamon Sugar Peach Bundt Cake. Full of fresh summer peaches, it's an easy mix-by-hand, dairy free dessert (or breakfast!).
We are, sadly, approaching the end of peach season, which runs from late July through early September, here in the mid-Atlantic. I couldn't let the summer go past with at least one peach-filled dessert, and this one.. well, this takes the cake. The bundt cake, to be precise.
The idea behind this cake came from the need to make a dairy-free dessert for someone with an extreme dairy allergy. It's generally really easy to substitute in a nut or soy milk for dairy milk, but that.. you know… requires actually purchasing said faux-milk. I am all about using what I already have on hand!
One of my most-made recipes is an amazing Jewish apple cake. There's actually nothing "Jewish" about an apple cake (it's actually probably Pennsylvania Dutch in origin), but rumor has it that it inherited the Jewish designation because it's dairy free, and thus a popular Kosher dessert.
How to Make Peach Bundt Cake
Just as I suspected, the transition to a peach bundt cake worked beautifully. Just a few simple modifications necessary. Peaches (especially perfectly ripe end of summer peaches!) are a lot juicier than apples, so we'll drain off some of the juice first. But! Don't discard it — we'll use the juice to coat the outside of the cake.
The rest of this cake is super easy. It's mixed together in one bowl by hand. Because it uses vegetable oil instead of butter, there's no need to bring ingredients to room temperature beforehand. Since we're not using any milk in this dairy free cake, we'll use a little juice for moisture. Peach juice helps play up the peach flavor even more, but like I said earlier: I'm all about using what you have on hand. Orange juice works fine. Apple juice would, too!
When we pour the cake into the bundt pan, do it in three layers. Batter, peaches, batter, peaches, batter, peaches. The peaches are heavy and will sink to the bottom, which becomes the top when you flip the cake. Adding them in layers ensures peachy deliciousness in every bite. Even though we're going to end with peaches on top, the batter will rise up around them, giving us a layer of cake on the top of the bundt pan (which then becomes the bottom when we flip it) so there's a nice flat surface for the peach bundt cake to sit on.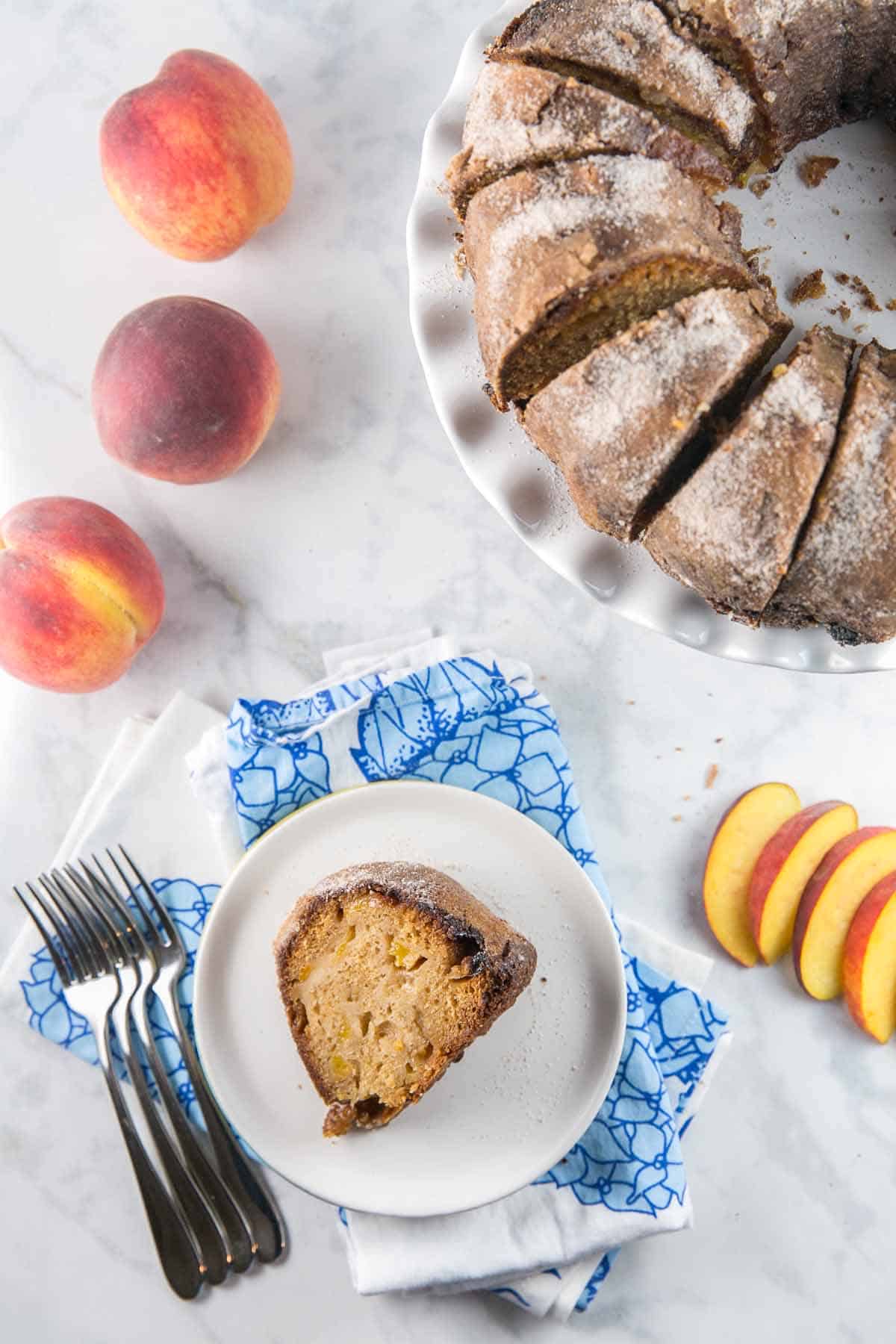 How to Make a Sugar Crust on a Bundt Cake
I've made an awful lot of bundt cakes, but all have some sort of frosting or glaze. Frostings usually involve butter, while glazes are usually made from confectioners sugar with milk. It would have been easy enough to use vegetable shortening or juice, but I wanted to try something different: a cinnamon sugar crust.
Food bloggers are gearing up for fall, and I keep coming across posts for apple cider donuts with a cinnamon sugar coating. What if we made a bundt cake with a cinnamon sugar coating on the outside? Can we do that? (Yes.) Would it be as amazing as it seemed in my head? (YES!)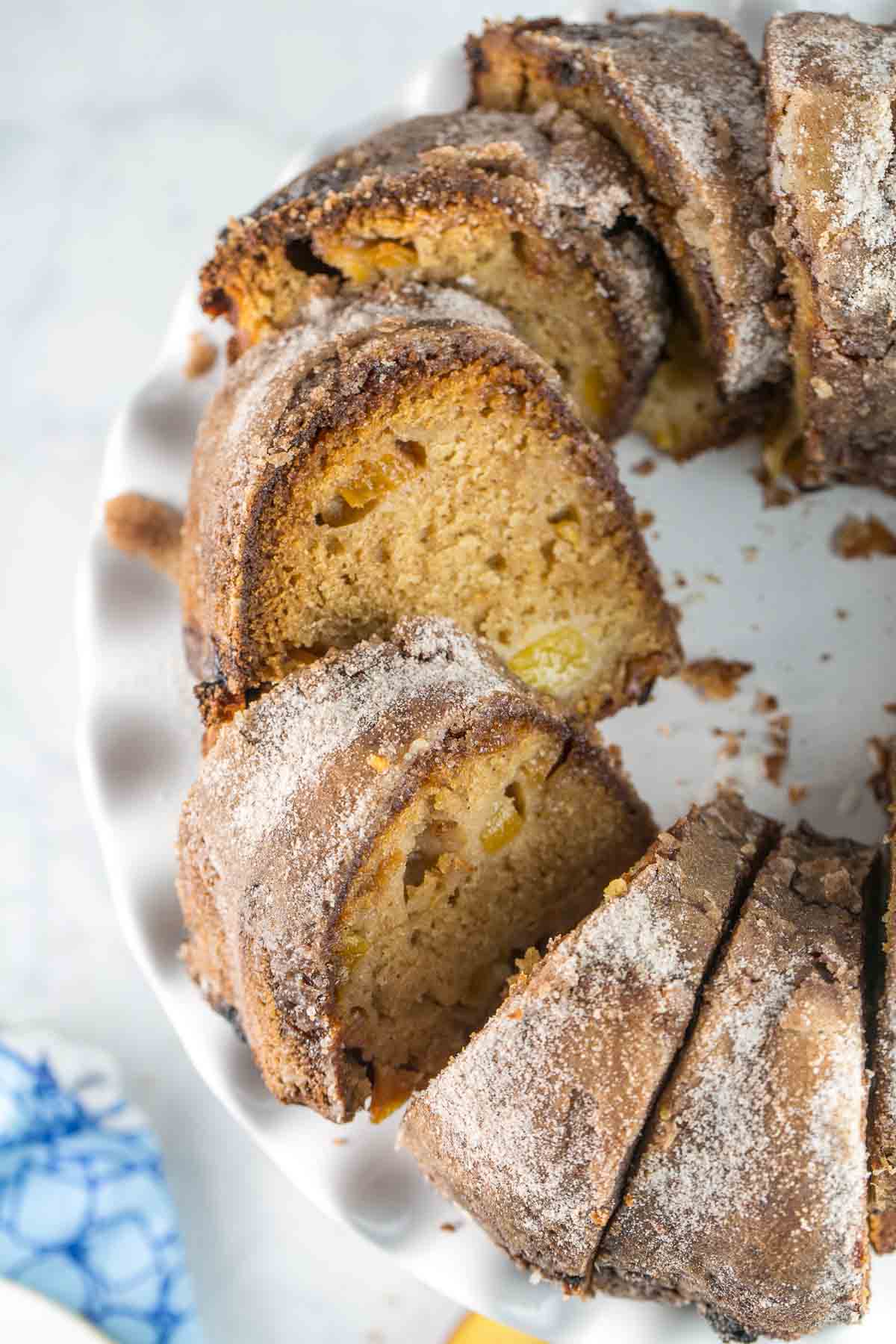 But what I really wanted was a hard, crunchy, cinnamon sugar shell. If we're skipping the frosting or a traditional glaze, let's really play up the crispy outside of a bundt cake. How do we make this work? It's time for a a little… kitchen chemistry!
We're all familiar with sugar for its sweetness. Adding sugar to a cake makes it delicious! But sugar also creates the shiny, crackly crust on top of brownies and cakes. While a cake bakes, moisture evaporates from the surface, which causes the sugar to re-crystallize.
But this on the top of the cake, and the top of a bundt cake is what bakes on the bottom. The top of a bundt cake touches the bottom of the pan, however, which gets really hot. If you coat the bundt pan itself with a thick layer of cinnamon sugar, it will start to melt and dissolve, and then cool again after you remove the cake from the oven, making that delicious crunchy crust.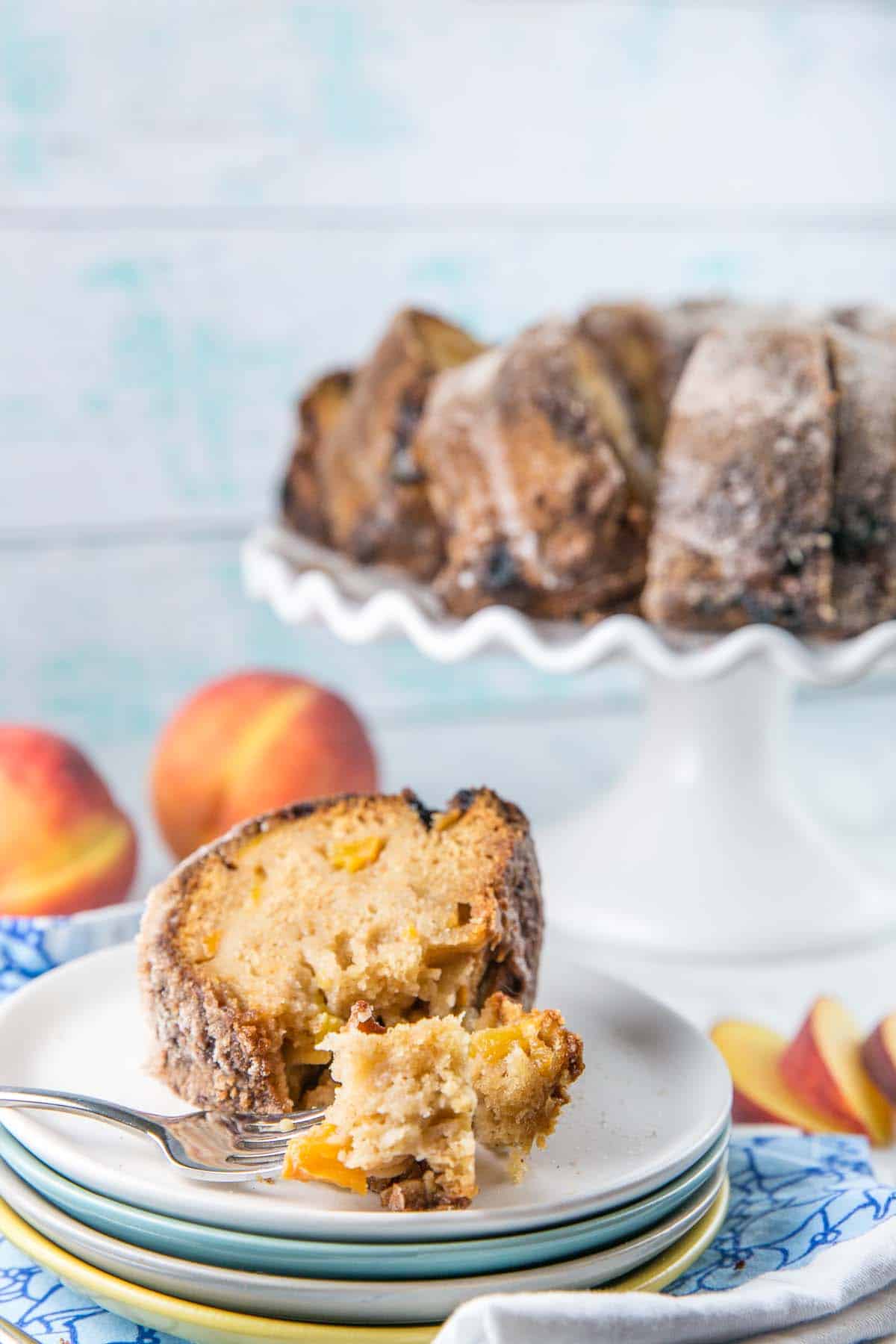 Two things we have to keep in mind. (1) It's important to use vegetable oil rather than melted butter for this. Butter has a high water content (~16-20%) and the sugar will dissolve into the butter, and thus into the batter. (2) The cinnamon sugar layer has to cool back to a solid crust before removing from the bundt pan.
The crunchy cinnamon sugar coating worked perfectly, and is delicious. (I wound up bringing the majority of this cake to my lab, and a few of my coworkers commented on how much they liked the crunchy outside.) But in all honesty, it wasn't the prettiest – once the sugar melts a little, it loses some of the 'sparkle.'
So remember that peach juice we saved? We're just going to go ahead and brush a little bit of it right on top of the cake and dust some additional cinnamon sugar on top. Talk about the best of both worlds.
A moist, peach filled cake? Check. A crispy, crunchy cinnamon sugar crust? Check. Easy to make with ingredients you probably already have on hand? Check.
This cinnamon sugar peach bundt cake might be my new favorite summer dessert. Or breakfast. I mean, it has fruit, so obviously it's a totally viable breakfast choice, right? ?
**Before starting this recipe, check out all my tips on making a perfect bundt cake –>HERE!!**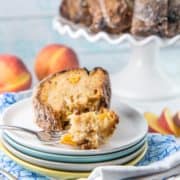 Cinnamon Sugar Peach Bundt Cake
Skip the frosting and go for a crunchy melted sugar crust with this Cinnamon Sugar Peach Bundt Cake.  Full of fresh summer peaches, it's an easy mix-by-hand, dairy free dessert (or breakfast!).
Ingredients:
For the batter:
5 ripe peaches
2 cups plus 2 tablespoon sugar, divided
2 3/4 cup all-purpose flour
1 tablespoon baking powder
1 teaspoon salt
2 tablespoons cinnamon, divided
1 cup vegetable oil
1/4 cup peach juice or orange juice
1 tablespoon vanilla extract
4 eggs
For the cinnamon sugar coating:
1 tablespoon vegetable oil
2/3 cup sugar, divided
1 tablespoon cinnamon, divided
Directions:
Preheat oven to 350 °F.
Peel and chop peaches.  Place peaches in a bowl, sprinkle with 2 tablespoons of the sugar, and set aside.
In a large mixing bowl, whisk together the oil, juice, 2 cups of the sugar, and vanilla extract.  Stir in the flour, baking powder, salt, and cinnamon.  Add the eggs, one at a time, mixing with each addition.
Coat a 12-cup bundt pan with 1 tablespoon of the vegetable oil, brushing along the entire surface.  Combine 1/3 cup of sugar and 1/2 tablespoon of cinnamon.  Spread this all along the inside of the bundt pan, ensuring the entire pan is coated.
Carefully pour 1/3 of the batter into the pan, spooning in to prevent dislodging the cinnamon-sugar coating.  Top with 1/3 of the peaches, leaving the released juices behind in the pan.  Add another 1/3 of the batter, followed by 1/3 of the peaches.  Top with the remaining batter and remaining peaches.
Bake for 80-90 minutes, or until a tester comes out clean.  Cool for 20 minutes in the pan, then invert onto a wire rack.  Brush the reserved peach juice on the top and sides of the still-warm cake, and sprinkle with the remaining 1/3 cup sugar and 1/2 tablespoon cinnamon.  Cool completely before serving.
A Bunsen Burner Bakery Original Protocol