July 23, 2020
Cinnamon Sugar Peach Bundt Cake
Skip the frosting and go for a crunchy melted sugar crust with this Cinnamon Sugar Peach Bundt Cake.  Full of fresh summer peaches, it's an easy mix-by-hand, dairy-free dessert (or breakfast!).
If you know me, you know I love fruit desserts more than just about anything in the world.
I couldn't let the summer go past with at least one peach-filled dessert, and this one.. well, this takes the cake. The bundt cake, to be precise.
This cake is a summery twist on one of my most frequently made recipes, an amazing Jewish apple cake.
There's actually nothing "Jewish" about an apple cake (it's actually probably Pennsylvania Dutch in origin), but rumor has it that it inherited the Jewish designation because it's dairy free, and thus a popular Kosher dessert.
It's full of apples and cinnamon and perfectly embodies fall. Would it work if we gave it a summery twist with fresh peaches?
Why yes, yes it does – it works deliciously!  (Dare I say… even better than the original apple version?!)
And perhaps my very favorite part: in lieu of frosting, we're covering the outside with a crunchy cinnamon sugar crust – it's unlike anything you've had on a bundt cake, and it is amazing!
Perfect Peach Cake
Just as I suspected, the transition to a peach bundt cake worked beautifully. Just a few simple modifications necessary.
Peaches are a lot juicier than apples, so we'll drain off some of the juice first.
But! Don't discard it — we'll use the juice to coat the outside of the cake.
The rest of this cake is super easy. It's mixed together in one bowl by hand. Because it uses vegetable oil instead of butter, there's no need to bring ingredients to room temperature beforehand.
Since we're not using any milk in this dairy-free cake, we'll use a little juice for moisture.  Peach juice helps play up the peach flavor even more, but as I said earlier: I'm all about using what you have on hand.  Orange juice works fine.  Apple juice would, too!
When we pour the cake into the bundt pan, do it in three layers. Batter, peaches, batter, peaches, batter, peaches.
The peaches are heavy and will sink to the bottom, which becomes the top when you flip the cake. Adding them in layers ensures peachy deliciousness in every bite.
Even though we're going to end with peaches on top, the batter will rise up around them, giving us a layer of cake on the top of the bundt pan (which then becomes the bottom when we flip it) so there's a nice flat surface for the peach bundt cake to sit on.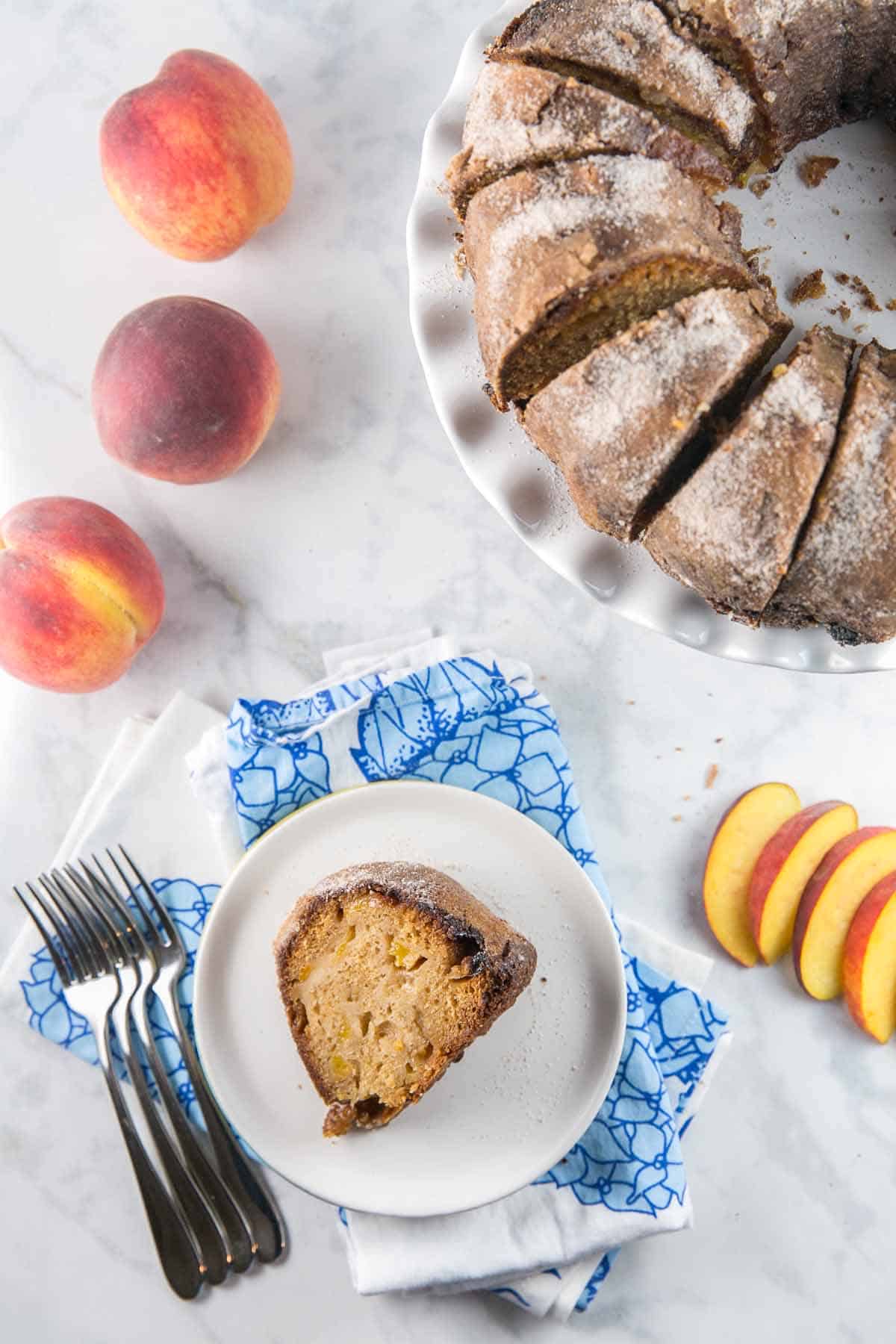 Sugar Crust on a Bundt Cake
I've made an awful lot of bundt cakes, but all have some sort of frosting or glaze. This time I wanted to try something different: a cinnamon sugar crust.
Last year I made an apple cider donut cake, dusting the cinnamon and sugar on the outside after the cake bakes. But… this time, I wanted a thicker layer. Something crunchier. A whole layer, not just a dusting.
How do we make this work? It's time for my favorite subject… kitchen chemistry!
Kitchen Chemistry

We're all familiar with sugar for its sweetness. Adding sugar to a cake makes it delicious! But sugar also creates the shiny, crackly crust on top of brownies and cakes. While a cake bakes, moisture evaporates from the surface, which causes the sugar to re-crystallize.
With brownies or cakes with a high sugar content, this crackly crust occurs on the top. But the top of a bundt cake touches the bottom of the pan and we flip it. The part touching the pan, however, gets really hot.
If you coat the bundt pan itself with a thick layer of cinnamon sugar, it will start to melt and dissolve, and then cool again after you remove the cake from the oven, making that delicious crunchy crust.
Two things we have to keep in mind for this to work:
It's important to use vegetable oil rather than melted butter for this. Butter has a high water content (~16-20%) and the sugar will dissolve into the butter, and thus into the batter.
The cinnamon sugar layer has to cool back to a solid crust before removing from the bundt pan.
The crunchy cinnamon sugar coating worked perfectly, and is delicious. But in all honesty, it wasn't the prettiest – once the sugar melts a little, it loses some of the 'sparkle.'
So remember that peach juice we saved?  We're just going to go ahead and brush a little bit of it right on top of the cake and dust some additional cinnamon sugar on top.  Talk about the best of both worlds.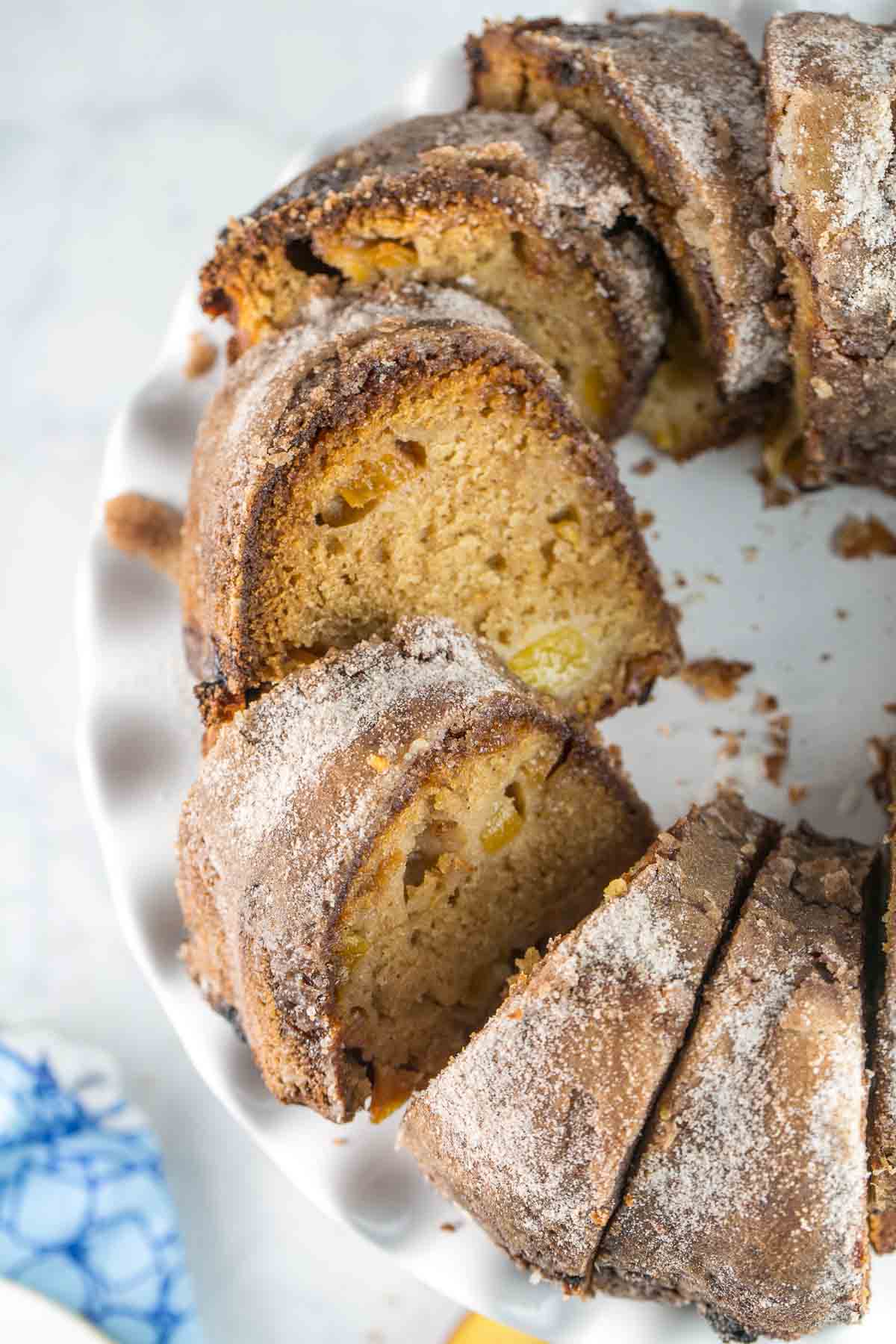 Recommended Tools to Make Peach Bundt Cake
Mixing Bowls: My all-time favorite set of mixing bowls (microwave and dishwasher-safe, too!).
12 Cup Bundt Pan: You'll want to use a 12-cup metal bundt pan to bake this cake.
Pastry Brush: Use a silicone pastry brush to brush the bundt pan with vegetable oil and to brush the cake with the remaining peach juice.
Cooling Rack: This three-layer cooling rack is foldable for easy storage but sturdy enough to support cooling a bundt cake still in the pan.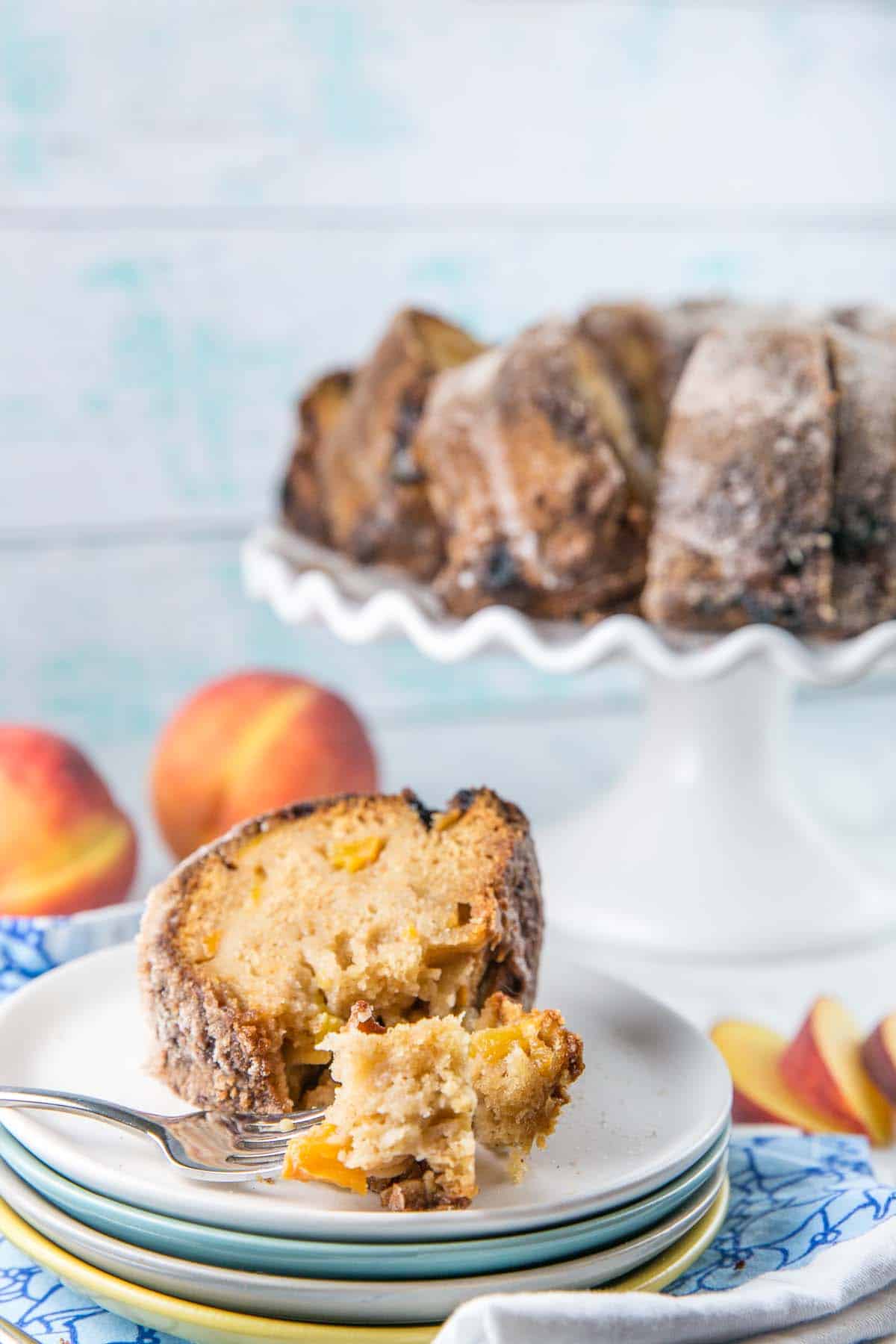 Tips and Tricks for the Best Peach Bundt Cake
New to baking in bundt pans? Looking for the best tips and tricks to ensure your cake turns out perfectly? Check out THIS POST for all my best bundt tips!
Use ripe, juicy peaches for the most peach flavor. Under-ripe or un-flavorful peaches will lead to a blander tasting cake.
Don't overbake the cake – this will result in a drier, crumbly texture. Bake just until the edges begin to pull away from the pan and the top is springy when pushed back.
Grease the pan well so the sugar crust sticks to the cake and not to the pan!
More Peach Recipes: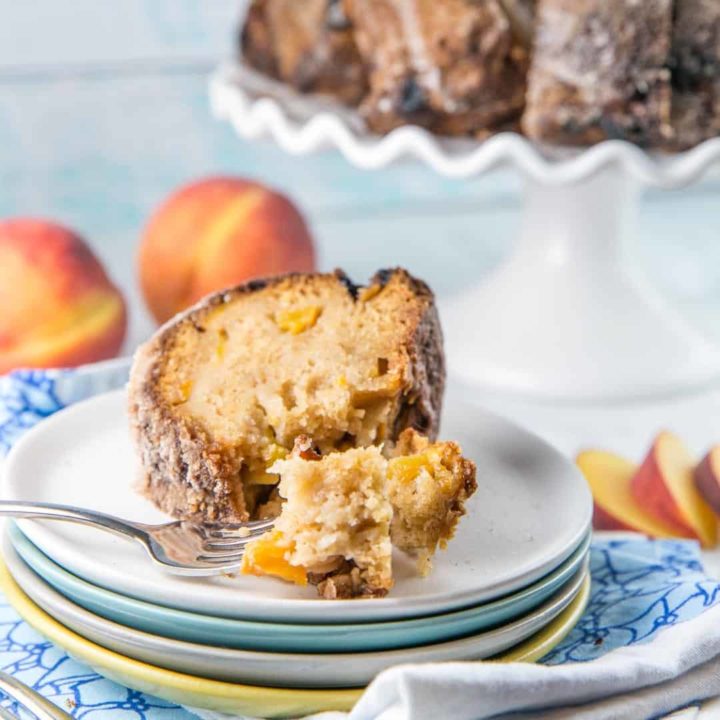 Cinnamon Sugar Peach Bundt Cake
Cook Time:
1 hour
30 minutes
Total Time:
1 hour
45 minutes
Skip the frosting and go for a crunchy melted sugar crust with this Cinnamon Sugar Peach Bundt Cake.  Full of fresh summer peaches, it's an easy mix-by-hand, dairy free dessert (or breakfast!).
Ingredients
For the Cake:
5 ripe peaches
2 cups plus 2 tablespoon sugar (421 grams), divided
2 3/4 cups (330 grams) all-purpose flour
1 tablespoon baking powder
1 teaspoon salt
2 tablespoons cinnamon, divided
1 cup (198 grams) vegetable oil
1/4 cup (56 grams) peach juice or orange juice
2 teaspoons vanilla extract
4 large eggs
For the Cinnamon-Sugar Crust:
1 tablespoon vegetable oil
2/3 cup sugar (132 grams), divided
1 tablespoon cinnamon, divided
Instructions
Preheat oven to 350 °F.
Prepare the peaches. Peel and chop peaches. Place peaches in a bowl, sprinkle with 2 tablespoons of the sugar, and set aside.
Make the cake batter. In a large mixing bowl, whisk together the oil, juice, 2 cups of the sugar, and vanilla extract. Stir in the flour, baking powder, salt, and cinnamon. Add the eggs, one at a time, mixing with each addition.
Prepare the bundt pan. Grease a 12-cup metal bundt pan with 1 tablespoon of the vegetable oil, brushing along the entire surface. Combine 1/3 cup of sugar and 1/2 tablespoon of cinnamon. Spread this all along the inside of the bundt pan, ensuring the entire pan is well coated.
Carefully pour 1/3 of the batter into the pan, spooning in to prevent dislodging the cinnamon-sugar coating. Top with 1/3 of the peaches, leaving the released juices behind in the pan. Add another 1/3 of the batter, followed by 1/3 of the peaches. Top with the remaining batter and remaining peaches.
Bake the cake. Bake for 80-90 minutes, or until a tester comes out clean. Cool for 20 minutes in the pan, then invert onto a wire rack. Brush the reserved peach juice on the top and sides of the still-warm cake, and sprinkle with the remaining 1/3 cup sugar and 1/2 tablespoon cinnamon. Cool completely before serving.
Notes
Use ripe, juicy peaches for the most flavorful cake.
Bake the cake just until the edges begin to pull away from the pan and a tester inserted into the center comes out with a moist cake. Overbaking the cake will result in a dry, crumbly texture.
Peach bundt cake can be stored at room temperature for up to 4 days, refrigerated for up to a week, or frozen for up to 3 months.
Recommended Products
As an Amazon Associate and member of other affiliate programs, I earn from qualifying purchases.
Nutrition Information:
Yield:

16
Serving Size:

1 slice
Amount Per Serving:
Calories:

391
Total Fat:

16.1g
Carbohydrates:

58.9g
Protein:

4.4g
This Peach Bundt Cake recipe was originally published on 08/13/2018. It was republished with updated text and tips on 07/23/2020.